If you're anything like the rest of us, you're likely channeling valuable time and resources into growing your email list with quality leads and converting prospects into customers.
While doing that, you might also be focusing heavily on customer acquisition and overlooking a critical stage in the customer lifecycle: retention.
Contrary to popular belief, email marketing isn't only an effective channel for recovering abandoned carts or promoting your products. In reality, it's also one of the best channels to keep your brand top-of-mind, engage your customers and prospects with relevant offers, and thank them for being on your email list.
Today, we'll look into how you can write high-converting customer appreciation emails by breaking down the best examples from top e-commerce brands.
Here are seven effective types of customer appreciation emails to inspire your own—with 15 real-life examples from our favorite e-commerce brands.
Table of Contents
1. Special Day Emails
One of the most common types of appreciation emails is birthday emails. Why? Because e-tailers are able to scale and automate them without losing the personal touch consumers know and love.
On this special day, you can simply wish your customers a happy birthday with a heartfelt note, or use it as an opportunity to engage them with an incentive.
Many successful e-commerce brands, unsurprisingly, choose the latter, and it's for a good reason. By sending engaging birthday emails, you don't only appreciate your customers and build a personal connection with them, but you also keep your brand top-of-mind, especially when they're likely in the mood to treat themselves.
Check out this email Estee Lauder sent to Rikke on her last birthday:

It's hard to resist a personalized subject line addressing you by your name. Yet, Estee Lauder takes it one step further and wishes you a happy birthday even before you open the email.
In the email, the company aims to make you feel good with a friendly compliment and invites you to celebrate this day with an exclusive gift: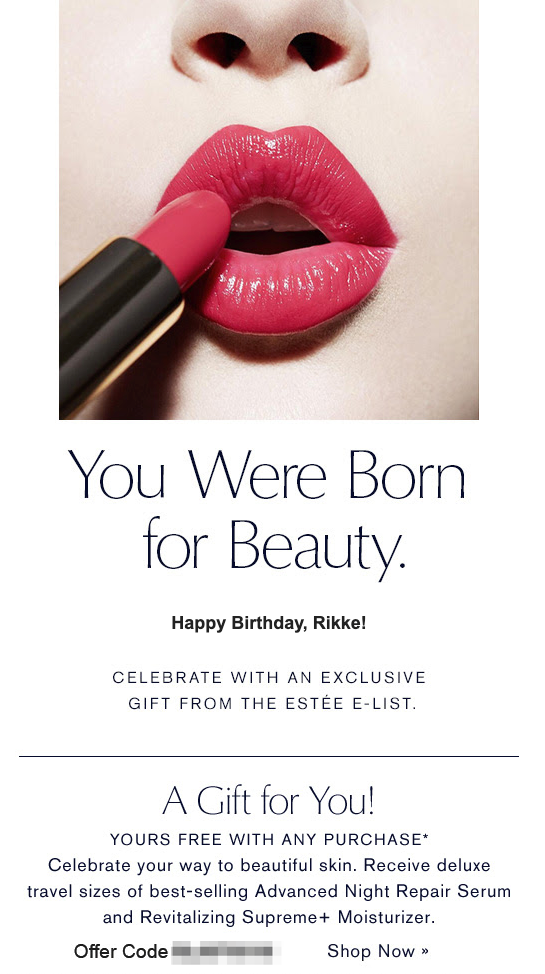 While doing so, Estee Lauder chooses a physical product as a gift, rather than a discount code (unlike other online retailers). By offering a free gift with any purchase, the company incentivizes your next order with a tangible benefit, instead of a coupon code.
Interestingly, the free gift Estee Lauder offers on this day is actually a part of its customer loyalty program. Meaning, if you're part of the company's rewards program, you can redeem a free birthday gift on the website during your birthday month. (If you're running a similar program, consider offering a free birthday gift as a compelling selling point.)
While Estee Lauder frames its birthday email around its loyalty program, L'Occitane highlights what they're offering you on your big day. But first, they evoke your curiosity with this subject line:

When you open this email promising a birthday surprise, you get a detailed description of your three exclusive gifts: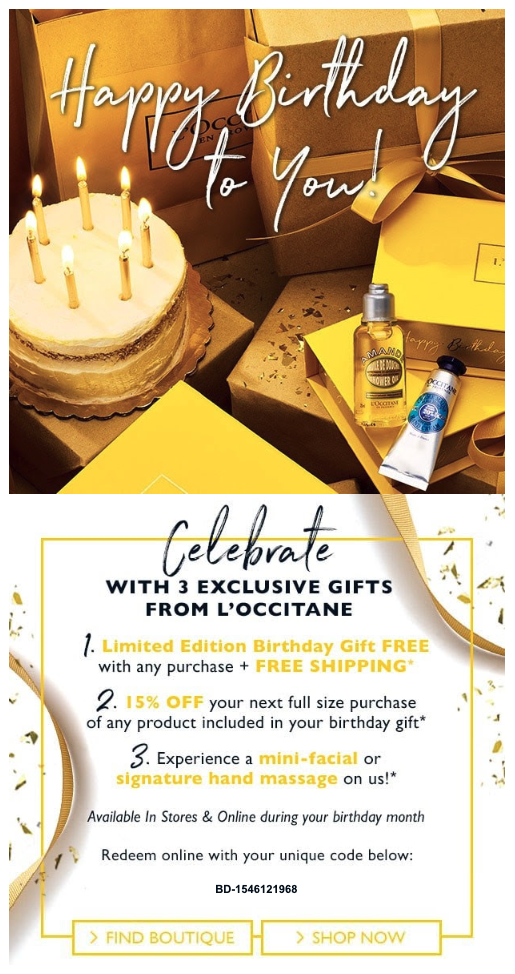 After wishing you a happy birthday, L'Occitane explains the three different gifts you can claim, bullet by bullet.
In this combination of discounts, free products, shipping, (and massage), L'Occitane wants to make sure that you have a great birthday and spoil yourself with their products.
This way, the company makes itself memorable by giving you a big birthday gift and engages its email list on autopilot.
While birthdays come once a year, there's always a holiday around the corner.
As most holidays are great excuses to express your gratitude to your subscribers, Thanksgiving is, easily, the perfect time to do so.
Check out how Brooklinen smartly uses Thanksgiving to thank their subscribers: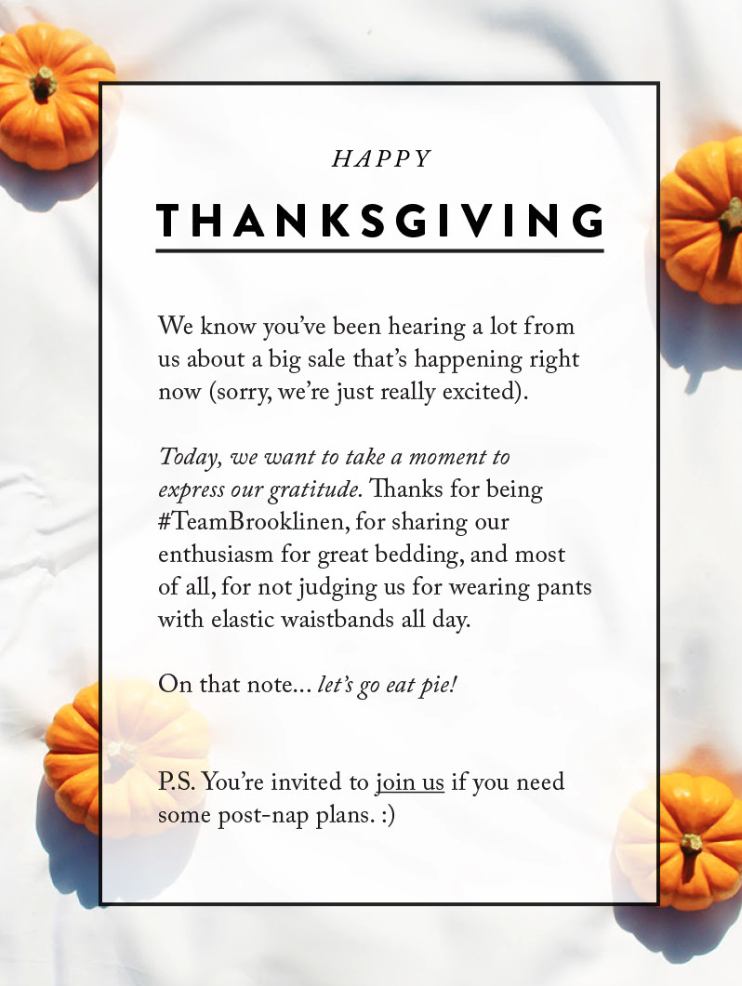 The company, first, apologizes for sending out lots of Black Friday emails and then, humbly shares its gratitude.
While Brooklinen's message doesn't resemble a typical promotional email at first, the short P.S. at the end of the email takes you to their bestsellers.
It's a subtle yet effective way to invite customers back to your site on special days like these.
Want to make a workflow like this?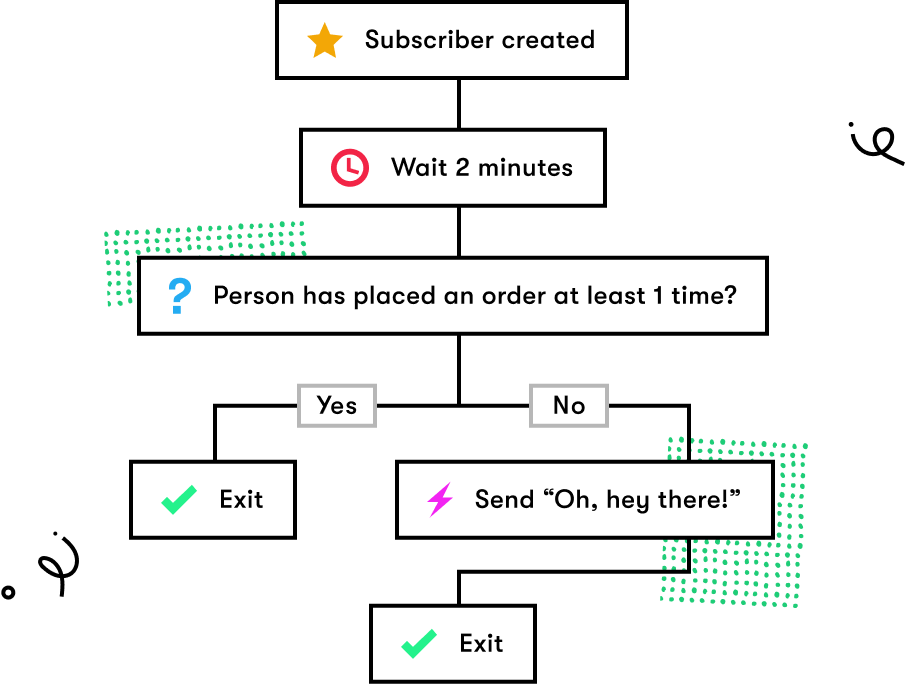 Hit the ground running with our pre-built workflows.
2. Anniversary Emails
While birthdays are about the person and holidays are about the public, anniversaries are about something far more momentous: the celebration of two parties coming together.
Whether it's the day someone signed up for your email list or placed their first order, there's something worth celebrating there.
Celebrating unique anniversaries helps you build a stronger relationship between you and your customers. What's more, all it requires is a simple email (and maybe a discount code as Bonobos does.)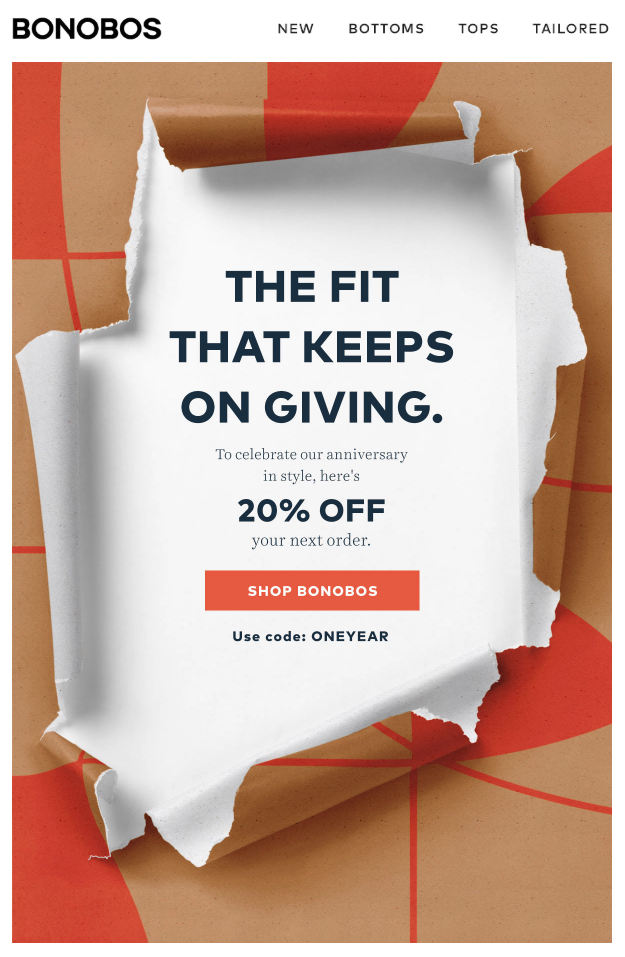 In this email, sent with the subject line "Our one-year gift to you," Bonobos gives you 20 percent off your next order for being on their email list for a year. This way, the company converts its subscribers, who've spent a long time on their list but haven't yet made a purchase.
Chairish, on the other hand, chooses a money-off incentive, instead of a percentage discount, to celebrate your subscriber anniversary: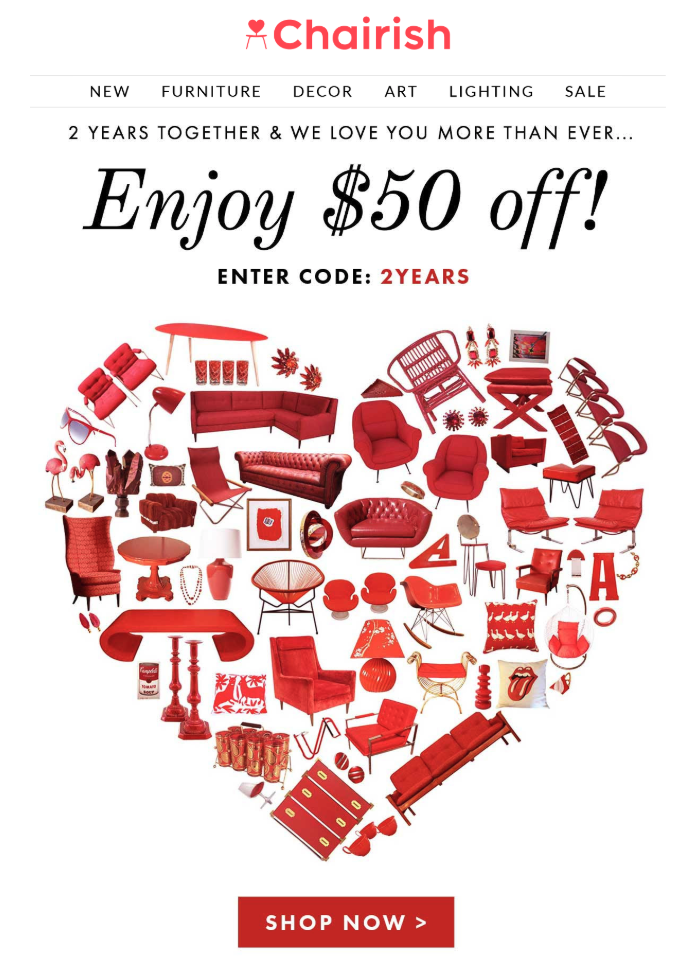 To redeem your $50 store credit, Chairish invites you to spend more than $150, and therefore, takes you up to a specific price point.
In the remainder of the email, the company displays its popular, discounted, and handpicked items: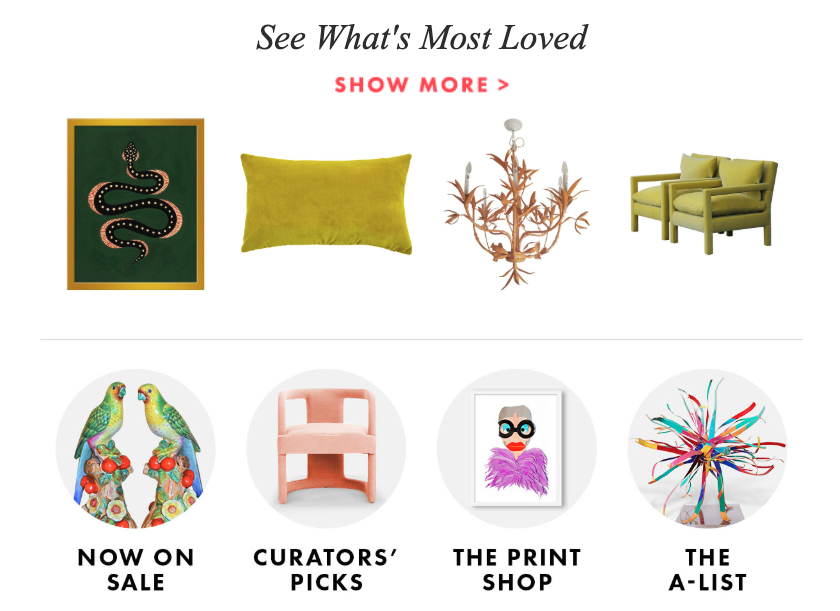 And if something catches your eye, you can start browsing from a category and find a product to redeem your anniversary gift for.
3. Milestone Emails
You don't necessarily have to wait for holidays or anniversaries to engage your subscribers with appreciative emails.
Celebrating your company milestones with announcement emails is a great way to share your excitement and build a personal connection with your subscribers.
Check out how ban.do celebrates its 11th business anniversary with a fun email: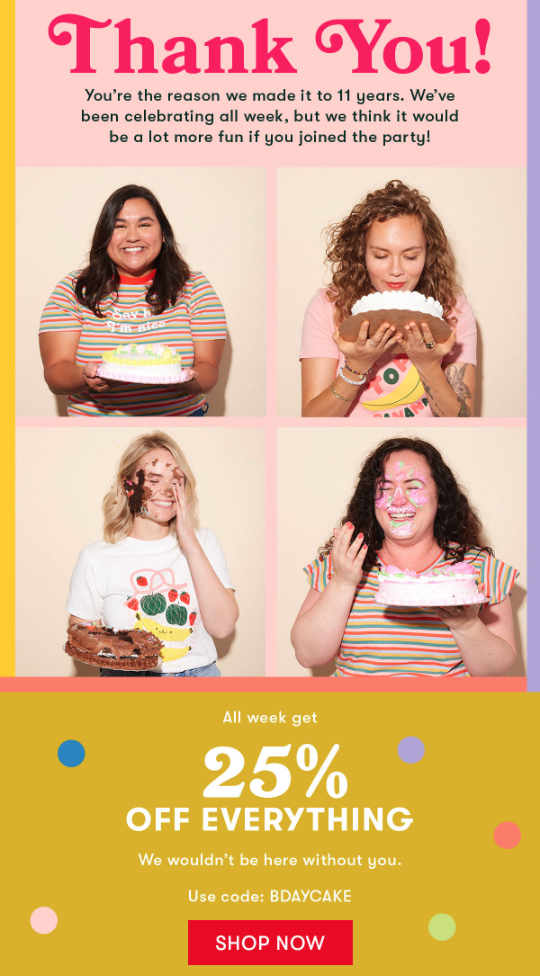 With this email, ban.do not only puts a face on their brand but also expresses its gratitude for its customers.
Although they're celebrating a company milestone, ban.do puts the customer in the spotlight, rather than the company. To show their appreciation, ban.do even offers you a special birthday discount off everything.
While a discount code is the cherry on top of a well-written customer appreciation email, there are other ways to show your gratitude, and Allbirds uses one of them: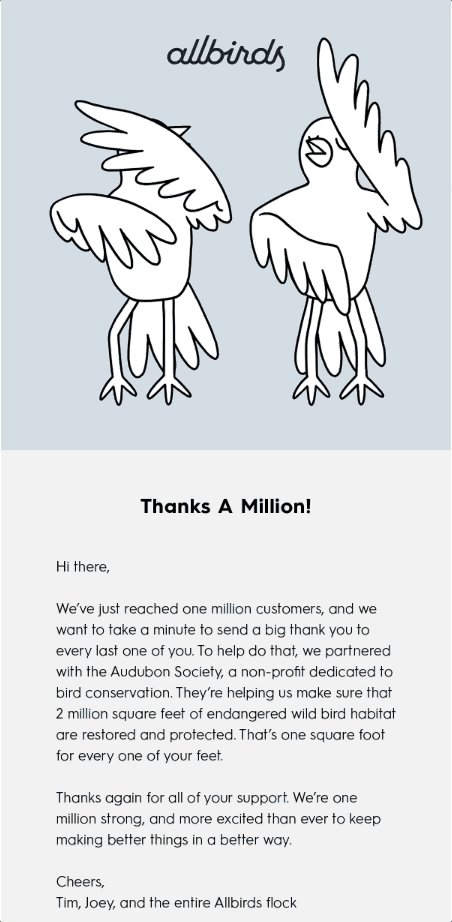 In this email, where the company shares that they reached one million customers, Allbirds simply thanks their email list for their support. As a token of their gratitude, Allbirds partners with a nonprofit organization rather than giving away discount codes.
This way, Allbirds builds a positive brand image in their subscribers' eyes, appreciates their customer base with a personal message, and creates social proof by showing the number of customers they have.
Whether you hit a company goal or it's simply your business' birthday, take a minute to share it with your email list and remember to focus on your customers who made it possible for you to reach where you are now.
4. Exclusive Offer Emails
While getting new subscribers is a challenge, keeping them happy is another.
The key to earning subscriber loyalty is to make people feel special for being on your email list. Offering subscriber-only deals and discounts is the perfect way to show your appreciation and create a sense of belonging among your subscribers.
Take a look at this subject line from Benefit Cosmetics for a great example:

Knowing that emojis can make a subject line stand out, Benefit begins by expressing their fondness of you, and then, grabs your attention with two compelling incentives.
When you open the email, this is what it looks like: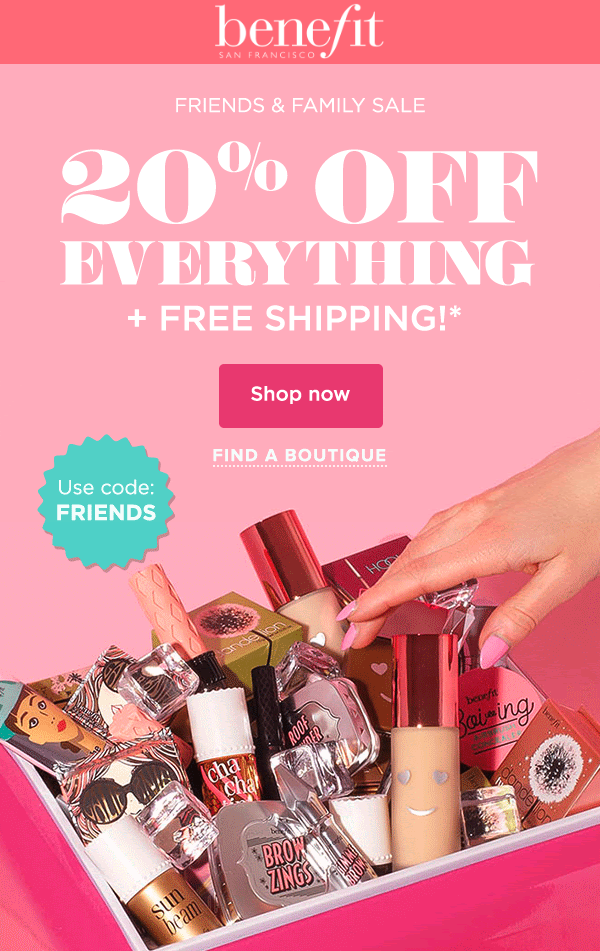 In it, the company repeats the two incentives—20 percent off and free shipping—yet, they frame it as a friends and family sale. While doing so, Benefit makes you feel like you're "one of them," by building an association with the words "friends and family" and their subscribers.
It's a clever tactic to turn a regular sales campaign into an exclusive offer, and evoke a sense of belonging.
OUAI takes this one step further and adds exclusivity all over its email:

It's not every day that you're called "your highness," especially in an email subject line. But if that's not enough to grab your attention, OUAI adds a 20 percent off to make you open its email: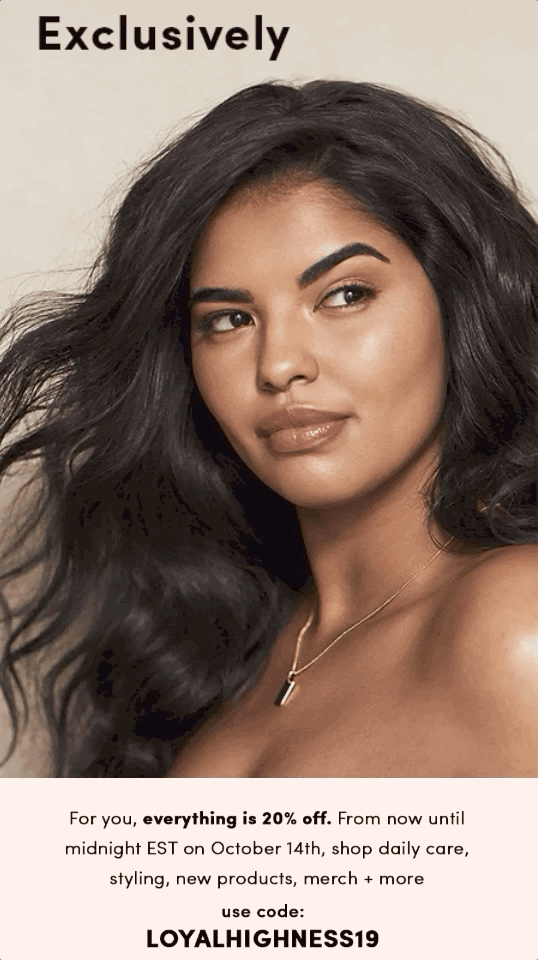 With an offer exclusively for you, that you can redeem through the code loyalhighness19, OUAI wants you to feel good for being on their email list. And they ensure to evoke this feeling, from the top to the bottom of this email.
It doesn't take much to create a unique discount code for your subscribers and focus on its exclusivity in your emails.
5. Early Access Emails
You don't necessarily need to create a unique sales campaign for your email list.
If you're already planning to run a campaign, you can give your subscribers early access and engage them with a hint of exclusivity.
Check out how elf Cosmetics does that cleverly: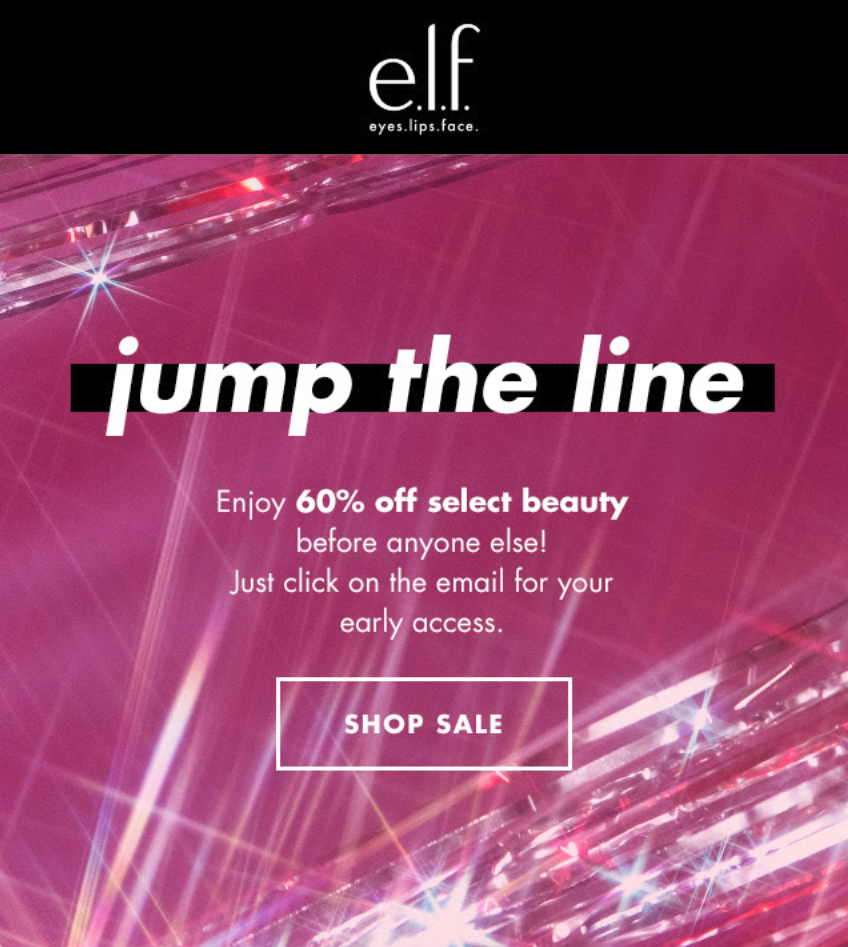 With an action-driven headline that reads "jump the line," elf gives its subscribers early access to its upcoming sales before anyone else. What's more, the company makes the offer extremely easy to claim—as easy as clicking a button and visiting a landing page.
While this is an all-year-round strategy, it works particularly well during busy shopping seasons, such as Black Friday and Cyber Monday.
One Kings Lane is aware of this, and that's why they send this email to their subscribers one day before their Black Friday sales begin: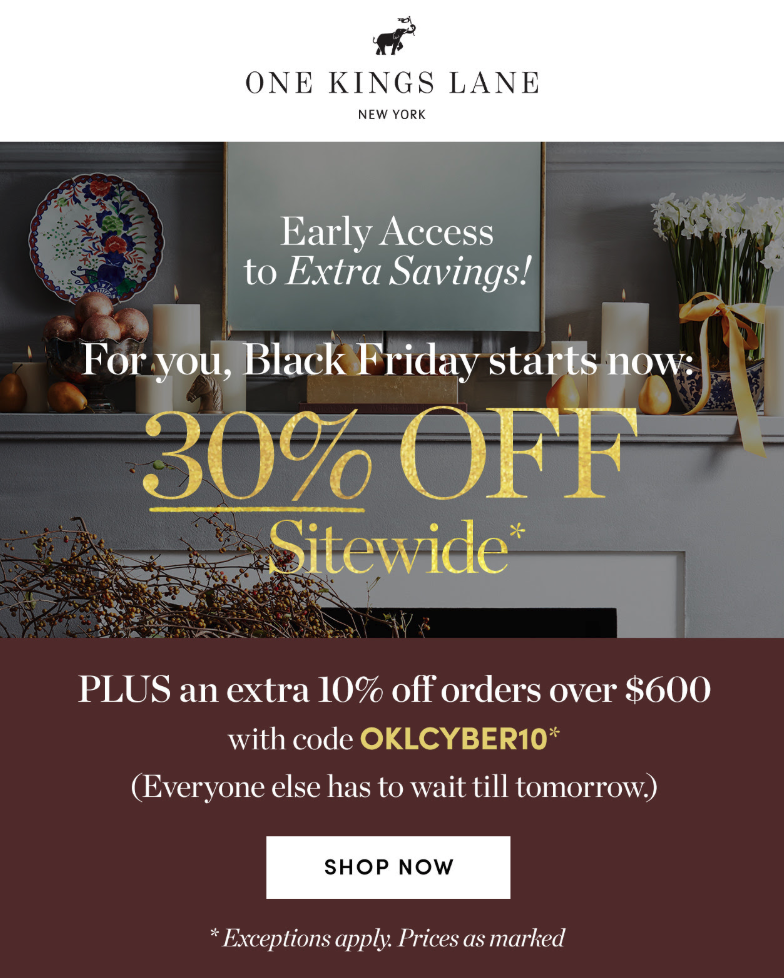 Notice how the company highlights exclusivity a few times during the email. First, they say "for you, Black Friday starts now," and then, add "everyone else has to wait till tomorrow."
And in case you think an early access discount code isn't actionable enough, they display a few product categories at the bottom of the email you can start browsing from: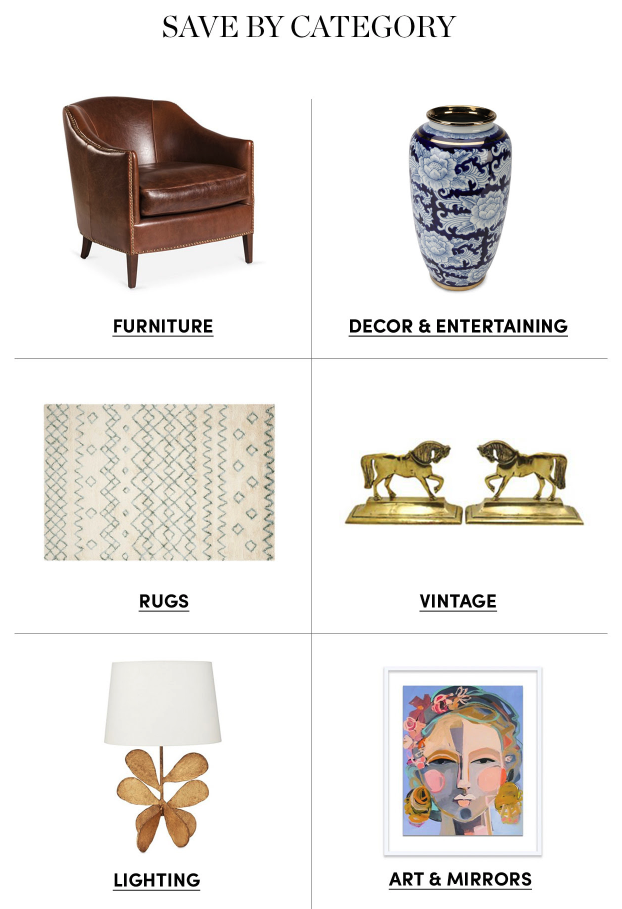 One Kings Lane successfully combines appreciation with an incentive, offered at the right time. Plus, they cleverly insert product recommendations into the email so their subscribers can easily engage with them during Black Friday.
6. Engagement Emails
While many companies try to activate their email list with a discount code or a sales campaign, a few of them choose to engage their subscribers in a different way.
Take Birchbox, for instance: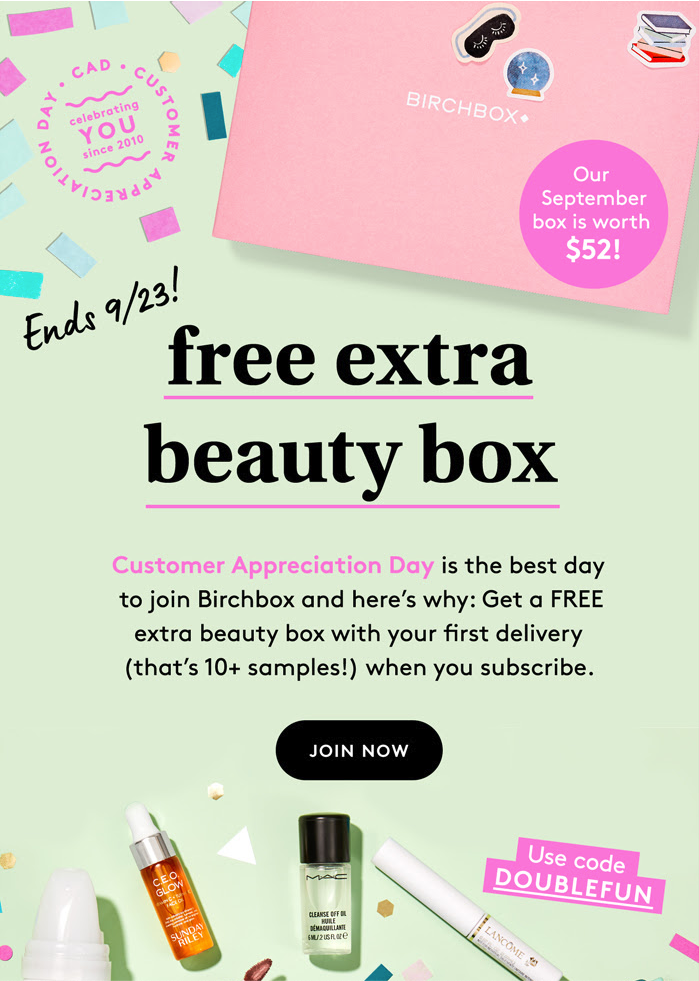 In this email, where they celebrate Customer Appreciation Day, Birchbox offers you a free beauty box as a token of their gratitude. But this free gift is only valid for first-time customers.
If you've been on the Birchbox email list for a while, thinking of subscribing to their service, you know that today is the best day to do that. By using Customer Appreciation Day as an excuse, Birchbox engages its email list and pre-appreciates its future customers.
Given that not all their subscribers are ready to become customers, Beardbrand uses customer appreciation emails to engage their email list with content.
But first, you read a message from the company's famous faces, expressing how grateful they are: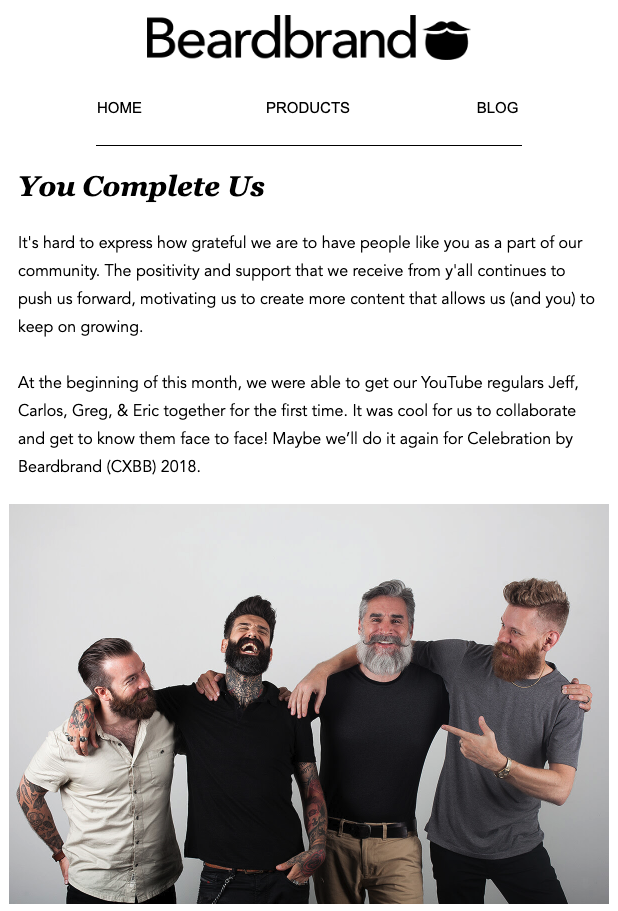 Similar to many others, Beardbrand evokes a sense of belonging by positioning you as part of their community.
Instead of sending their subscribers directly to product pages, Beardbrand invites them to their blog in the remainder of the email: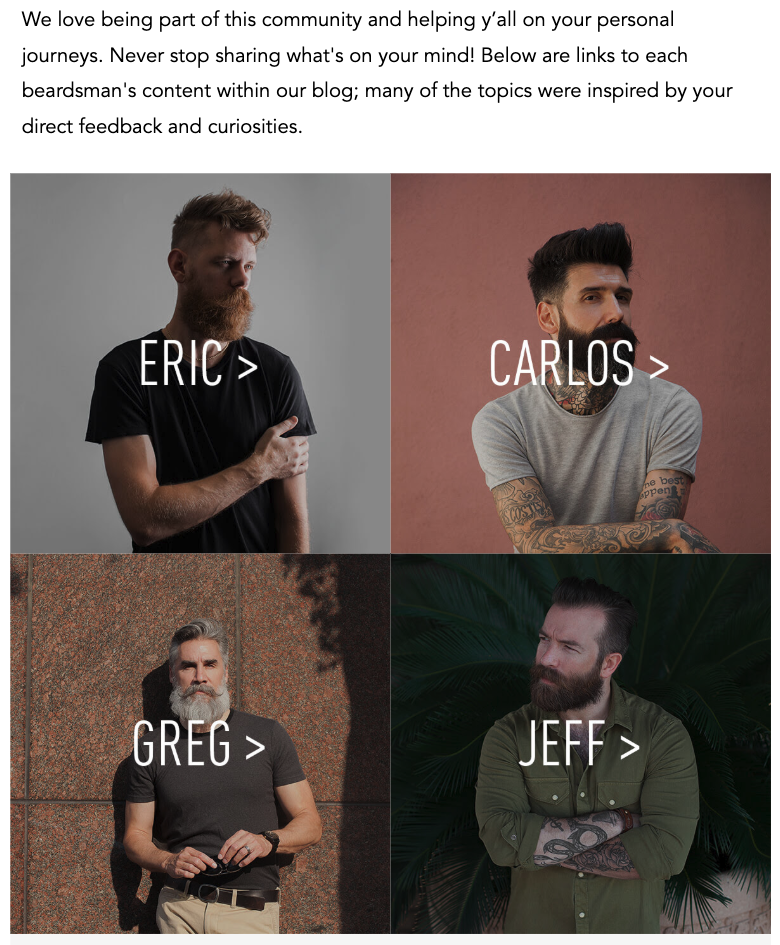 This way, Beardbrand can gently move prospects through their sales funnel with informative and entertaining content instead of hard-selling them when they're not ready to buy.
7. Gratitude Emails
While your subscribers' inboxes are full of the same type of promotional emails, sometimes, people simply want to see a brand that can put a smile on their faces.
Recently, I got an email from AYR with a simple subject line that reads "love you."
Naturally, I opened the email without much thinking and I saw this: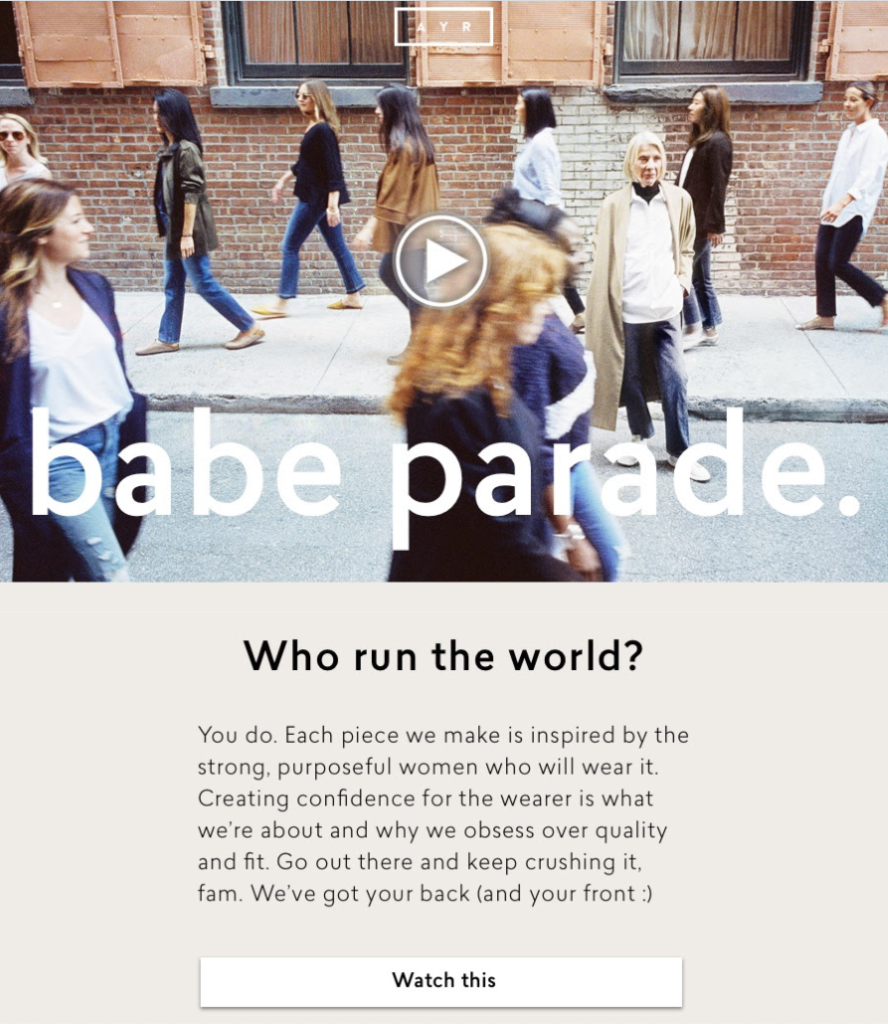 In this email, AYR appreciates its customers (or more specifically, women) for inspiring them.
What's more interesting is, every link and button in this email takes you to a landing page where you see a 15-second YouTube video and a short thank you text: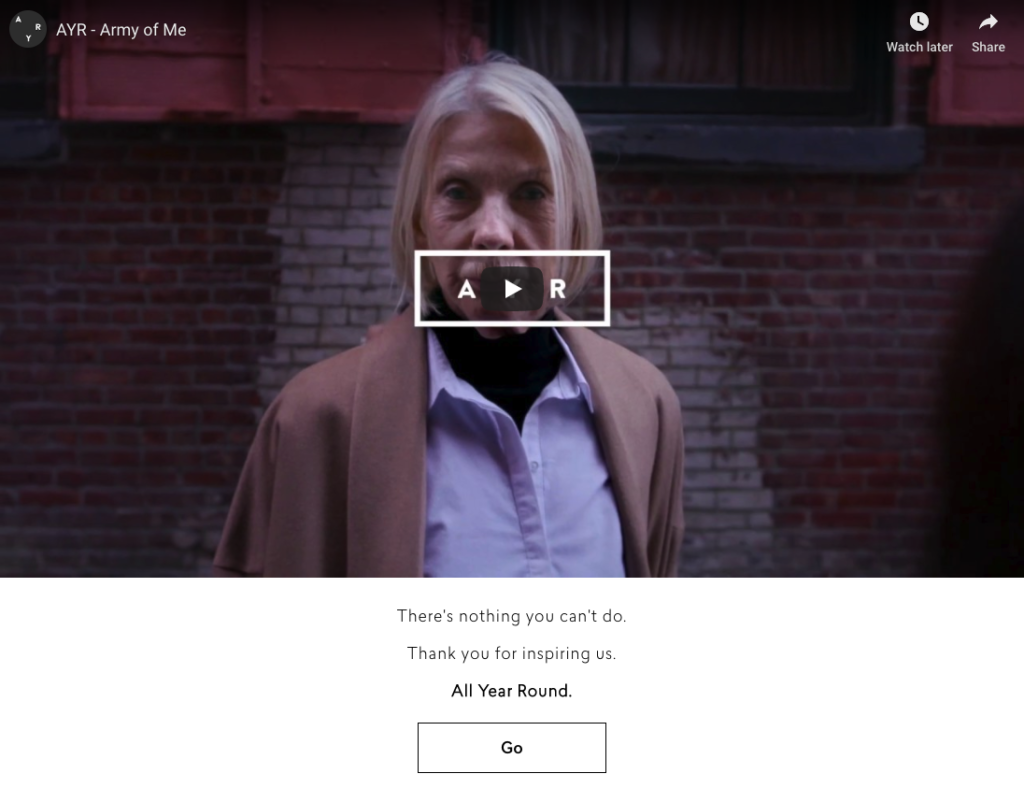 Although there are no promotional calls-to-action or product links in the email, clicking the "Go" button beneath the text takes you to their product pages. It's a subtle touch to guide visitors to promotional pages without being too salesy.
Last but not least, one of the most straightforward yet powerful customer appreciation emails I've seen is from Glossier: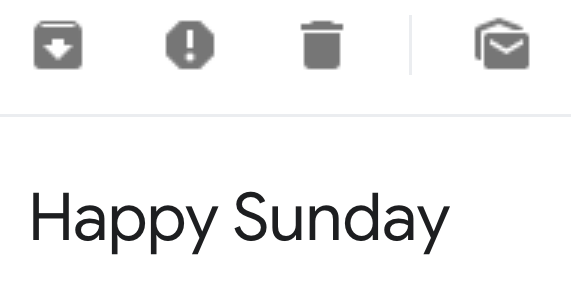 Sent with a simple subject line, this was the content of the email: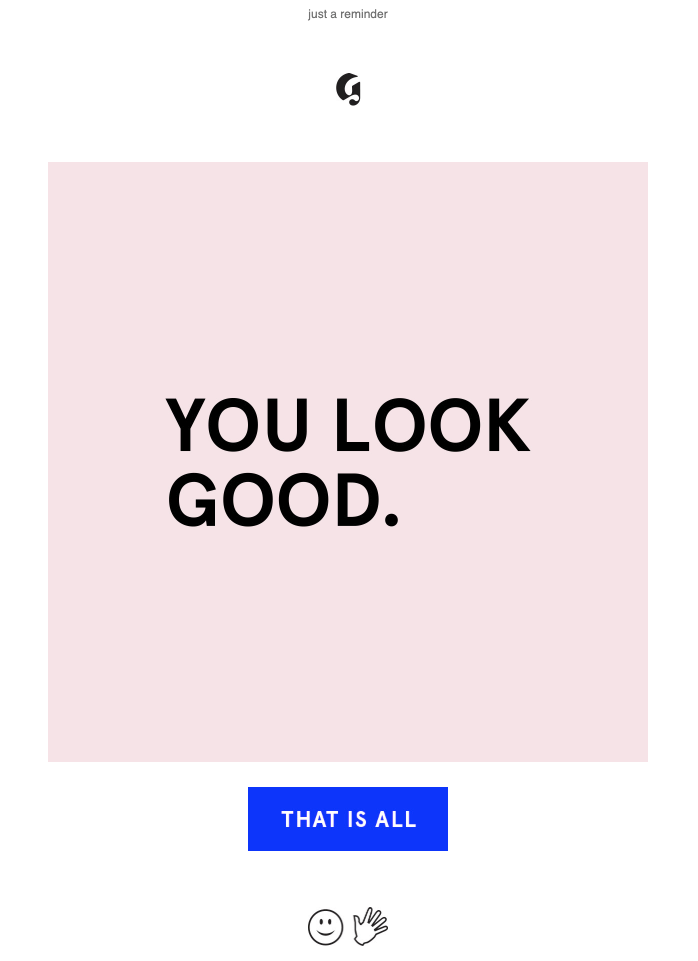 A plain background, a small compliment, and a button that reads "that is all." No products, no announcements, no calls-to-action.
Although Glossier's primary purpose is to simply appreciate their engaged subscribers, there's a gentle promotional touch to it.
Whether you click the image, the button, or the icons, Glossier takes you to its product pages. But the company does that without taking the focus away from the email and their gratitude for you.
Conclusion
Whether you want to convert subscribers to first-time buyers, re-engage a dormant email list with relevant offers, or promote your loyalty program, customer appreciation emails are the perfect tool to achieve that.
Remember to make your customers the center of your emails and don't get too salesy by talking only about yourself.