St. Patrick's Day is an occasion to have some fun and get creative with your marketing emails.
According to Statista, over 60% of Americans plan to celebrate St. Patrick's Day, which makes it a great opportunity to reach out to customers in a more festive way.

It's a great opportunity to engage your customers with something unique, engaging, and relevant.

If you're looking for some fresh ideas for St. Patrick's day emails, look no further. I browsed through the email library of Drip to pull the best examples of St. Patrick's Day emails and subject lines you can use in your own campaigns.

Let's start!
The 7 Best St. Patty's Day Emails We've Ever Seen
1. Chubbies: FREE ADVICE
One of my all-time favorite St. Patrick's Day examples is from Chubbies.

It's just cleverly made, including a combination of different marketing strategies.

Relevancy, trust, and the fear of missing out (FOMO) all play a role.

It starts from the shouting subject line "FREE ADVICE," which makes you want to click, wondering what's on the other side.

The title is something that might not work for every brand. If you're familiar with Chubbies's brand tone, it's quite straightforward and shouting at times, so it matches their tone well, but definitely not all brands.

When you click on the email, you straight away see what it's all about.

The large image displaying their St. Patrick's inspired Chubberall is back in stock: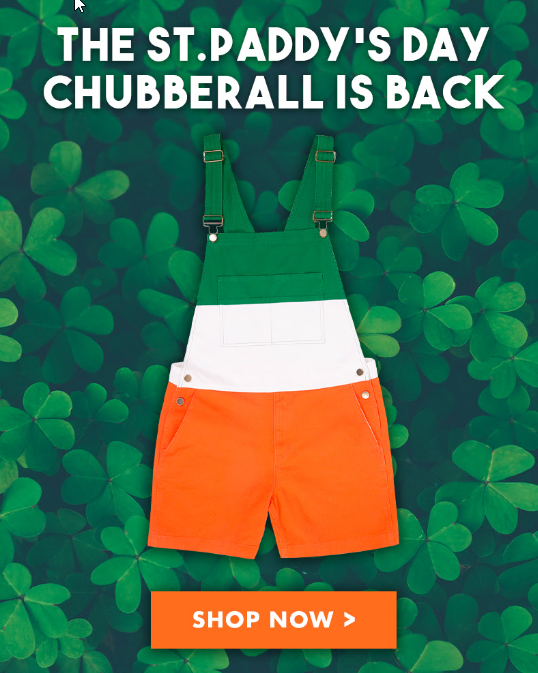 If this image was the only thing in the email, it wouldn't have the same impact. Sure, it is well-designed, and the colors match and go well with the theme of St. Patrick's Day.

However, the text beneath is what makes it stand out.

It starts with trust "for 3 years straight we've sold out," and the text pieces "almost instantly, sold out" create a fear of missing out. While the text is quite minimal, it's powerful.

Underneath the St. Patrick's section, Chubbies smartly links their everyday products to the email.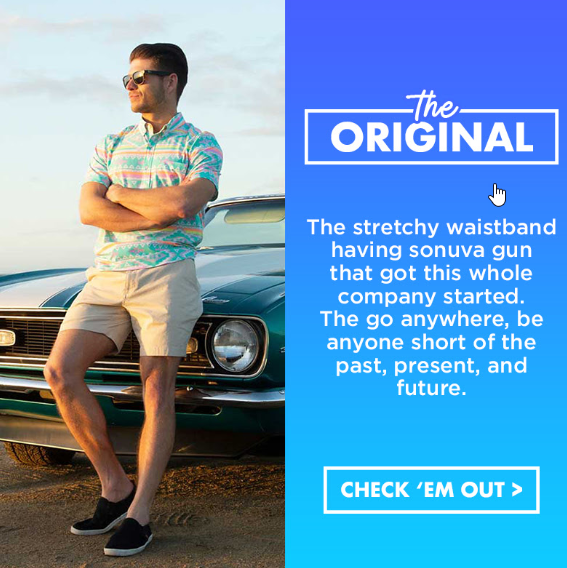 If you're not interested in buying their St. Patrick themed product, you might still consider buying from the "everyday" product section.

And even these products are selected with St. Patrick's day in mind (the colors kind of match):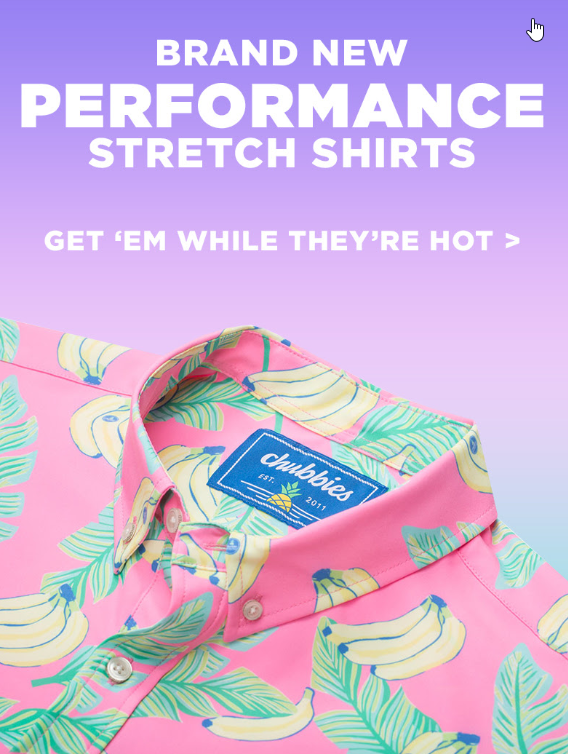 Chubbies show a prime example of how you can market your St. Patrick's day themed product and still maximize the sales of your normal offerings.
2. Mancrates: 24 Hours of St. Paddy's Savings!
Mancrates has a simple St. Patrick's Day email that you can execute in any niche.

Their visual images are especially worth taking inspiration from.

Before you get a customer to see any of that, you have to catch attention with a proper subject line, and Mancrates does this well:

First of all, the combination of the emojis is well thought out; the clover (St. Patrick's Theme) and a beer (what Mancrates sells) help customers understand what they can expect from the email.

Also, the subject line raises a question and makes you curious about what gifts there might be if you open it.

Once you click on the email, you see the visual images that I was talking about, starting with a captivating banner image: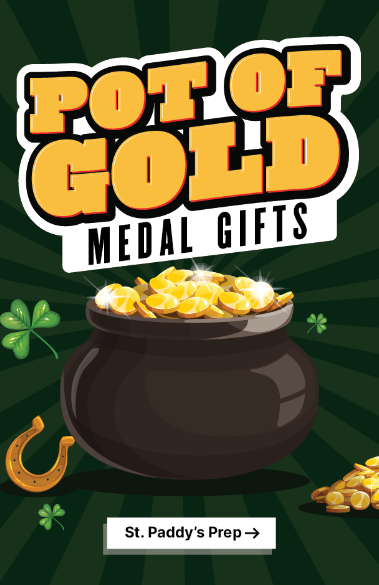 The banner image includes a huge title that attracts you to click through the call to action that is under it.

And to bring more relevance to the St. Patrick's theme, underneath the banner is a sales text talking about the ongoing sale:

The text is not the most outstanding, but it does include St. Patrick's day-related humor, which is better than nothing.

My favorite part of the text is that it directly talks about Saint Patrick, with words like "Help him feel the luck" and "guaranteed to sham-rock his world."

Under this, they follow up with relevant product recommendations.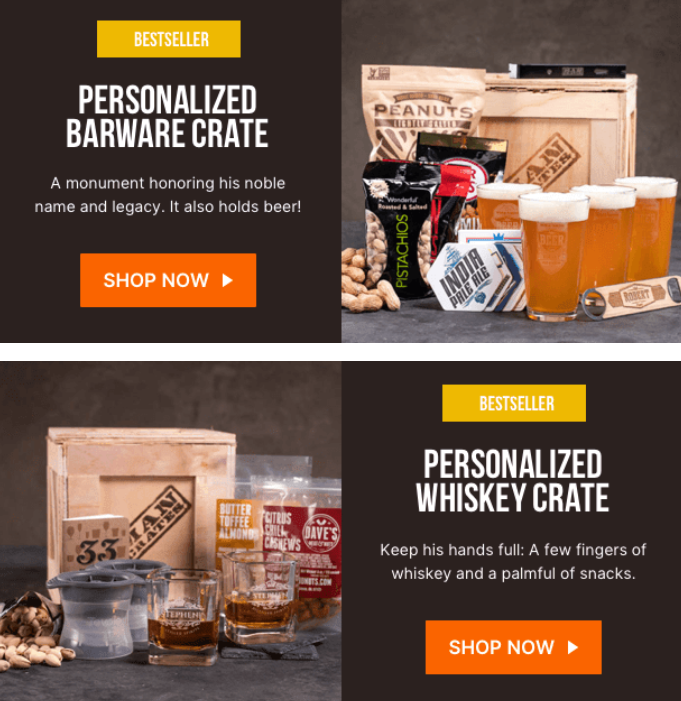 Here again, they use the same text format, talking about Saint Patrick and how you can honor him and his day.

Mancrates didn't specifically design new products for St. Patrick's Day. Instead, they used their existing products and only changed the text to match the theme. For this reason, it stands as a good example of how you can make the best use of your current products but still rock the St. Patrick's theme.
3. Death Wish Coffee: Irish AF Golden Ticket!
For St. Patrick's Day, Death Wish Coffee designed a coffee mug that is relevant to the theme, along with a free product promotion and charitable cause.

That sounds like lots of moving parts, but they explained all of it clearly in their St. Patrick's Day email.

Starting with the mug they specifically designed, they display a large image of it first thing in the email: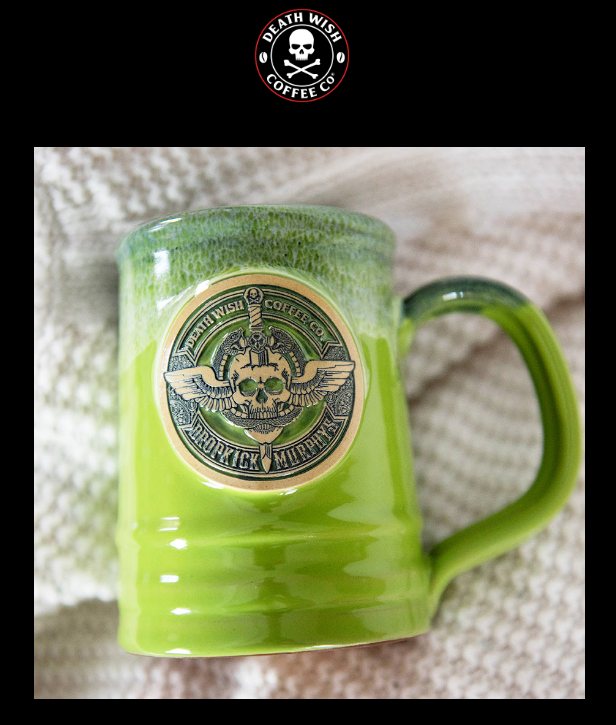 No text, no call to action, just one large image. Simplicity is many times the best approach.

Under it, they do have St. Patrick's day related text.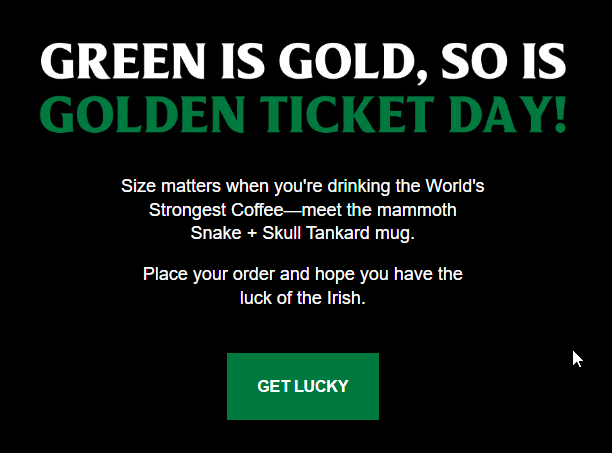 What immediately caught my attention from the text were the words "Golden Ticket Day".

I didn't know what that meant, so I scrolled to find out and quickly found an answer.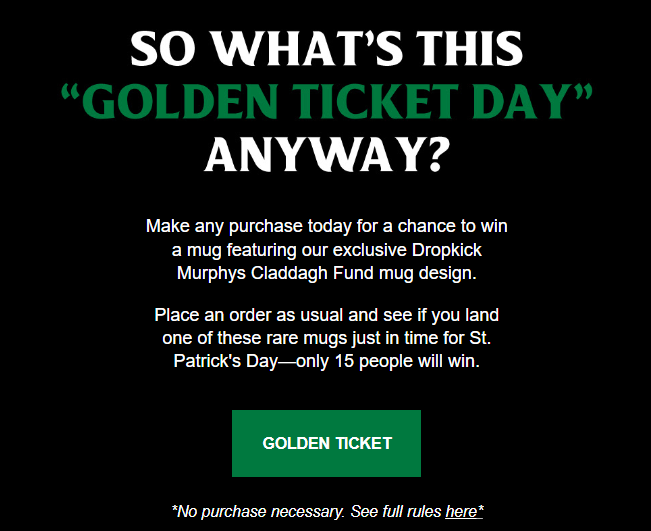 Turns out that "Golden Ticket Day" is the promotion by Death Wish Coffee on St. Patrick's Day that gives you a chance to win a free mug.

It encourages you to place an order, and then you can possibly win a rare mug. I like that they also display that "15 people will win." It visually tells how many will win and encourages the readers to take action.

But that's not even all.

As I said earlier, Death Wish Coffee also had a charitable cause linked to their St. Patrick's Day email.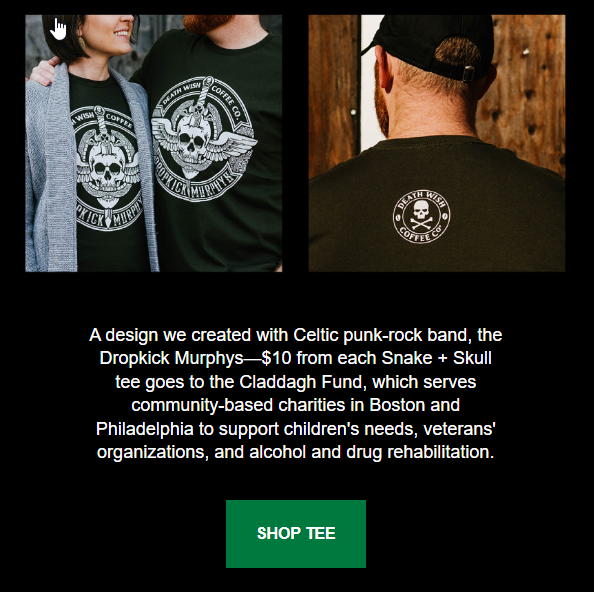 In collaboration with a band, they designed Snake and Skull tees, and for every order made, $10 goes to charity. Such a good idea to combine an offer with good will.

Worth noting is also the colors used in the email.

They normally use black and red as their main colors, so they just changed the red to green to bring more relevance to St. Patrick's Day.

Death Wish Coffee's email serves as a nice example because it doesn't focus solely on product sales but also creates a sense of community and helping others.
Death Wish Coffee shows both a great St. Patrick's Day email example, and a great way to have several moving parts in a promotion, and still keep your email clear and engaging.
4. MAC Cosmetics: Get lucky for St. Patrick's Day!
MAC Cosmetics provides an excellent example of how you can incorporate St. Patrick's Day into your existing brand.

The email isn't overly flashy, just the right combination of colors, text, and products to match St. Patrick's Day.

It starts from a relevant subject line:

Once you open the St. Patrick's Day email, you straight away see their main holiday product, which is eyeshadow in green (Olive Suede), matching the St. Patty's color theme: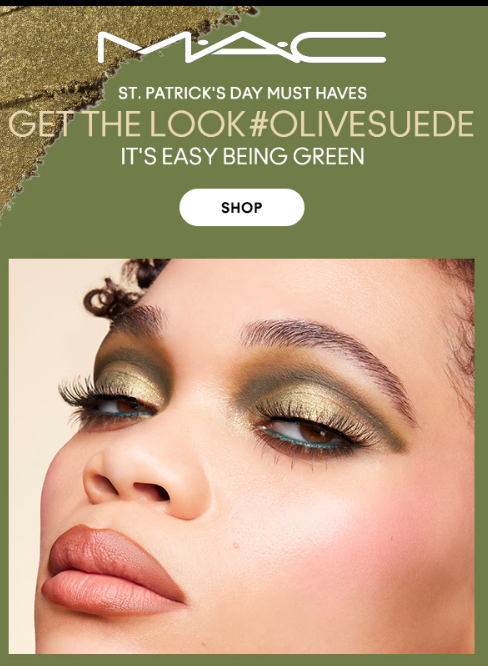 Without a doubt, the image is visually appealing, and the text beneath it works well together with the image.

Short taglines like this are great for ecommerce brands, especially in this case since it heavily references St. Patrick's Day.

MAC Cosmetics continues to showcase its other relevant products under this: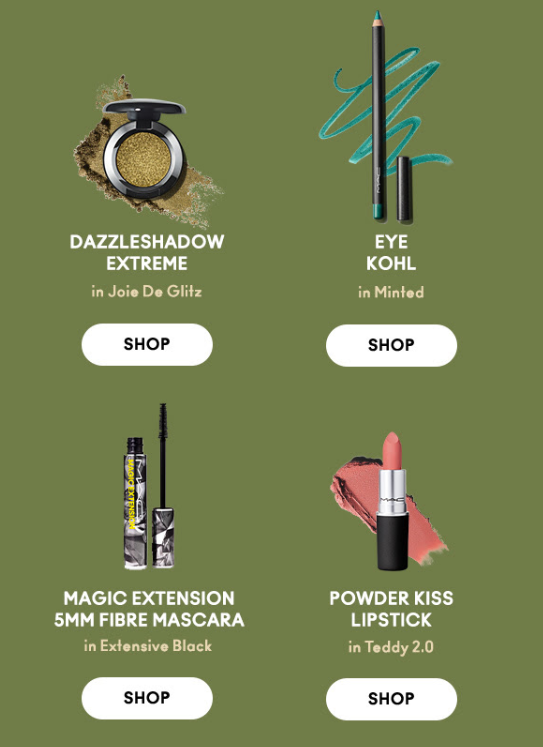 The products don't necessarily have anything to do with St. Patrick's Day, but the color scheme of the section goes perfectly with this ecommerce holiday.

Considering it's customary in the US to wear green on St. Patrick's Day, showcasing products that your customer might need to participate in the tradition is a great idea.

This makes it an excellent way to both highlight their products subtly and showcase the St. Patrick's Day theme at the same time.
5. 4Ocean: Wear Green, Think Blue
Wear Green" combines St. Patrick's theme and their bracelets, and "Think Blue" reminds you of their mission, which is to protect oceans.

In fact, they promise to pull a pound of plastic from the ocean with each purchase made, and they make it obvious in the email: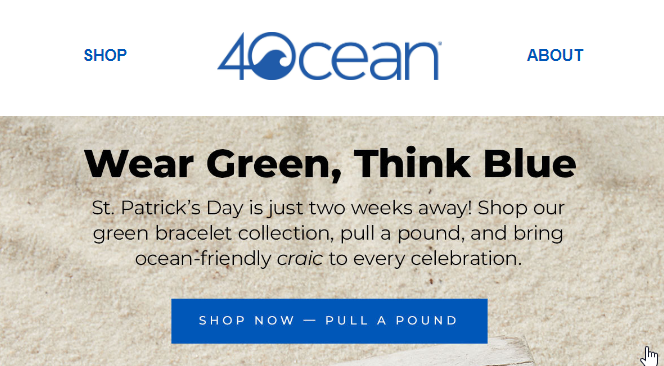 Under this, they carry on the St. Patrick's day idea by displaying some of their products: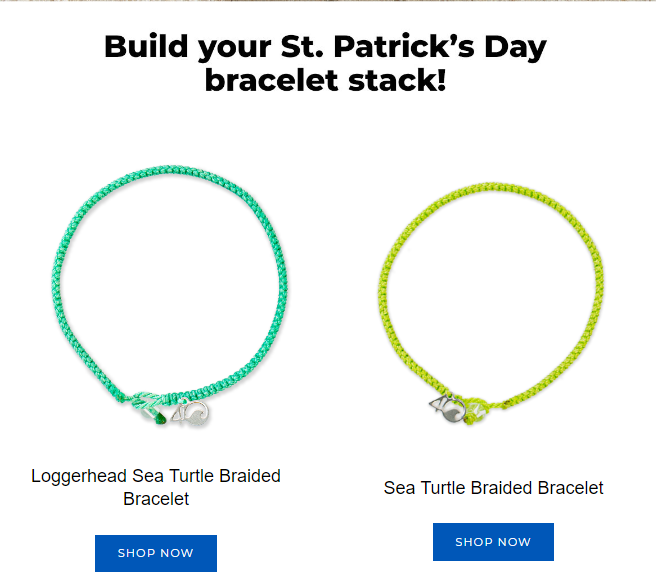 Like many other brands, 4Ocean has not designed exclusive products for St. Patrick's day, rather, they display products that are compatible with the holiday's color scheme.

The main reason that their email is effective is that they combine their products with the environmentally friendly angle, to reduce waste.

Under the product section, they explain it further: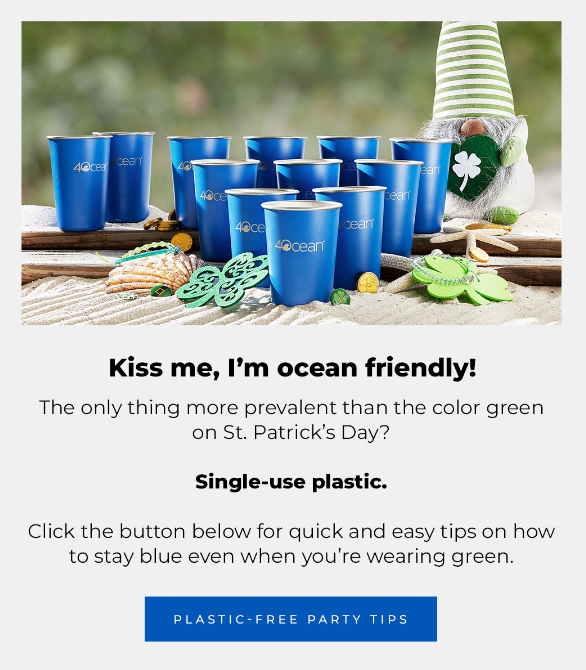 The image is the first thing that catches attention, as it's custom done for St. Patrick's Day, but what makes you act is the text under it.

The text includes a powerful message about the high usage of single-use plastic on St. Patrick's Day, and a call to action of plastic-free party tips. The call to action leads to their website, which contains a blog post with tips on how to celebrate St. Patrick's Day without plastic.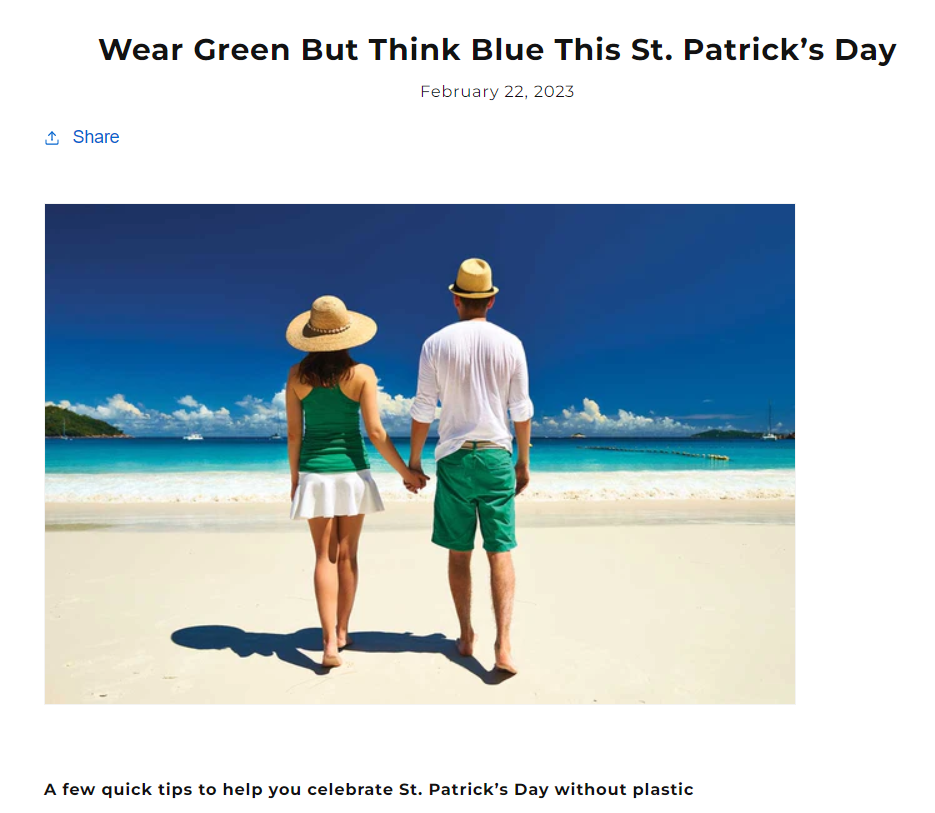 4Ocean's email shows a way to combine a big mission with a holiday sale. Even though their market and color themes are vastly different, they executed it well.

They also show how to build relationships with customers, they focus more on a long-term game of educating and building transparency, and then later on only, selling their products.
This call-back to their core mission reminds their customers why they support this brand in the first place, and is a holiday-appropriate display of those values.
6. Saucey: Essentials for St. Patty's
Another brand that sells alcohol, Saucey uses a combination of time-relevancy and valuable content in its St. Patrick's Day email.

With time-relevancy I literally mean that, as they promise to deliver your alcohol the same day you order it.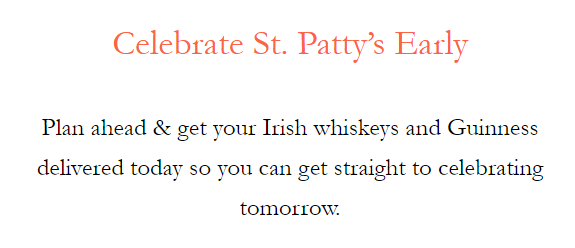 The same-day delivery promise is a great advertisement for St. Patrick's Day as it's only one day long, so you don't have time to wait for your order. This is not something most ecommerce brands can offer, but if you're a more local brand, you should take inspiration from this.

Saucey also provides valuable content that helps the reader to find out what drinks are good for St. Patrick's Day, and how to make them with their products: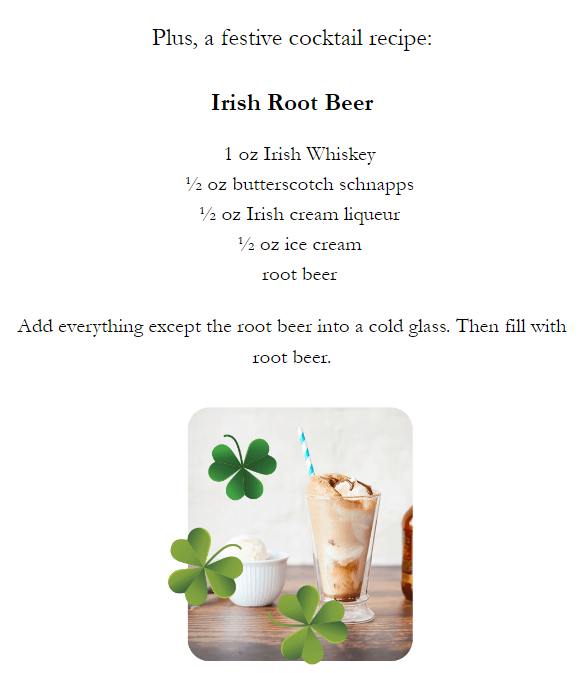 You could purchase the ingredients from the above image at any normal store, but including the recipe will make customers more likely to purchase the alcohol from Saucey for St. Patrick's Day.
Not only is this a fantastic St. Patrick's Day email, but it's a great example of why you should always add value to your customers at every touchpoint.
7. KitchenAid: It's Your Lucky Day 🍀
More of a subtle approach to St. Patrick's Day comes from KitchenAid.

Their St. Patrick's Day email includes many elements that are common in ecommerce stores, including social proof, discounts, and a limited time to act.

Starting from the subject line, KitchenAid promises 17% OFF for all of their Stand Mixers.

That's the first part of their strategy, to create value to the customers (17% off for stand mixers).

The discount might not sound like a lot, but if you've ever shopped for or purchased a stand mixer, you know it's actually quite the deal.

Once you open the email, KitchenAid continues with its subtle approach: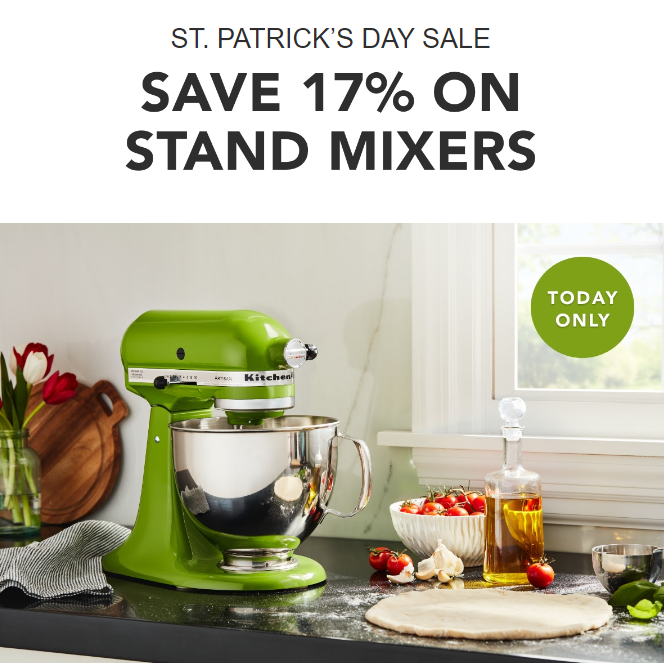 The colors and the title match St. Patrick's Day, but that's about it. It's part of KitchenAid's strategy to keep it low key, and it works for them.

The text underneath the image is powerful. Now comes the limited-time offer that I mentioned earlier "Celebrate 3/17", and "today only" both create urgency to act today, so you don't lose the St. Patrick's Day deal.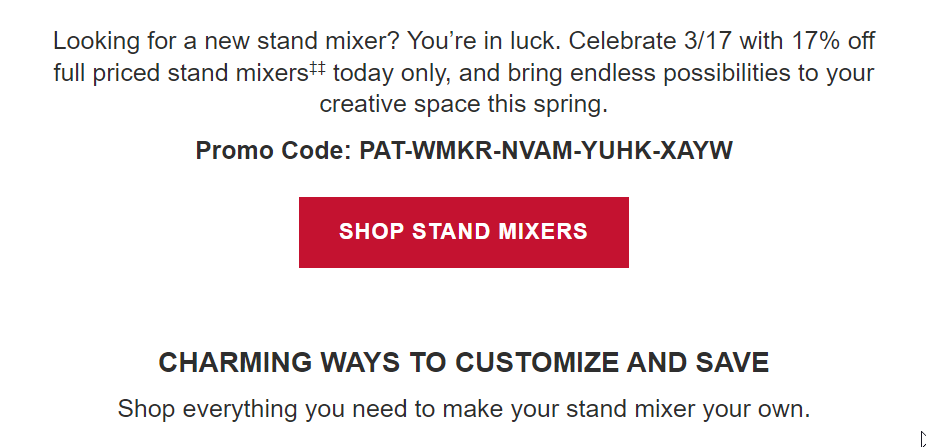 I also like that you have to apply the promo code at checkout, as it encourages customers to get first to the product page, and then to checkout to apply the code.

The combination of a discount, limited-time offer, and the holiday makes KitchenAid's email campaign effective.

Regardless of your niche, you can implement a similar St. Patrick's Day email campaign.
Make Your St. Patrick's Day Emails Stand Out
When creating your St. Patrick's Day emails, standing out can be difficult if you don't have the right tools.

There is no reason for it to be that way.

With Drip, you can easily create emails with festive graphics and messaging that will catch your customers' attention.

Drip's powerful automation tools also make it easy to segment your list and send content that will be more relevant to each customer's interests.

This way, your St. Patrick's Day emails can be more personalized and effective in helping you reach your campaign goals.

Take advantage of Drip's 14-day free trial!