As of mid-2020, there were 1.3 million e-commerce businesses in the US alone.
And that number is growing every day. That means e-commerce is thriving, and there's plenty of opportunity.
However, it also means there's some stiff competition. Because of this competition, it's absolutely essential that you distinguish your brand from others in your industry.
One of the most fundamental ways to go about that is to create a memorable e-commerce slogan or tagline.
For this post, I'm going to highlight some of the best e-commerce slogans and taglines from brands that are crushing it.
That way, you can take a page and use those examples for inspiration in your own branding efforts.
Table of Contents
Slogans vs. Taglines
I first need to make a quick point. The terms slogans and taglines are very similar, and as a result, they're often used interchangeably.
It should be noted, however, that there are some subtle differences between a slogan and tagline.
BusinessDictionary defines a slogan as a "simple and catchy phrase accompanying a logo or brand, that encapsulates a product's appeal or the mission of a firm and makes it more memorable."
"There are some things money can't buy. For everything else, there's MasterCard" is a good example.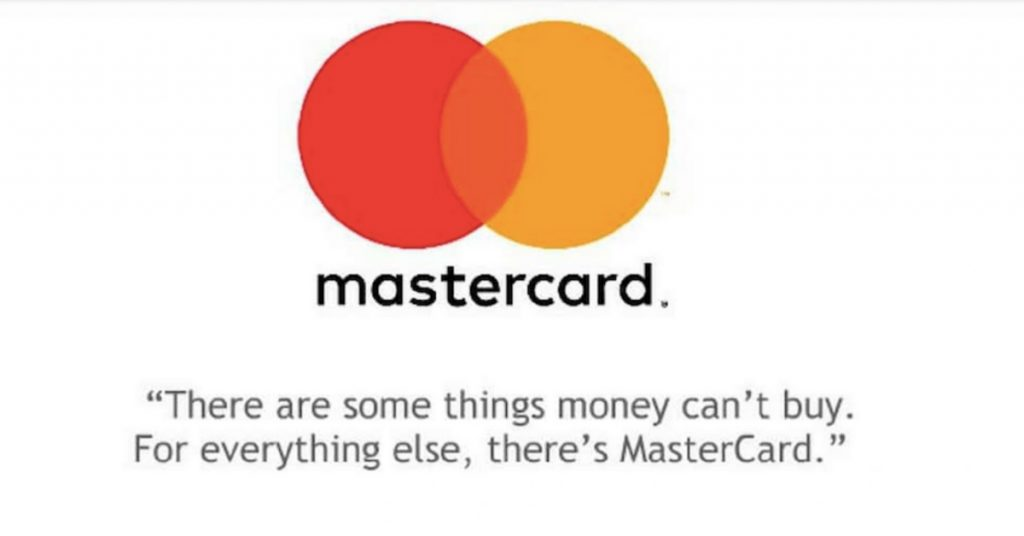 On the other hand, The Balance Small Business defines a tagline as a "short, memorable phrase that is used throughout your marketing. It should convey the main sentiment or feeling that you want people to associate with your brand."
Take "I'm Lovin' It" from McDonald's, for instance.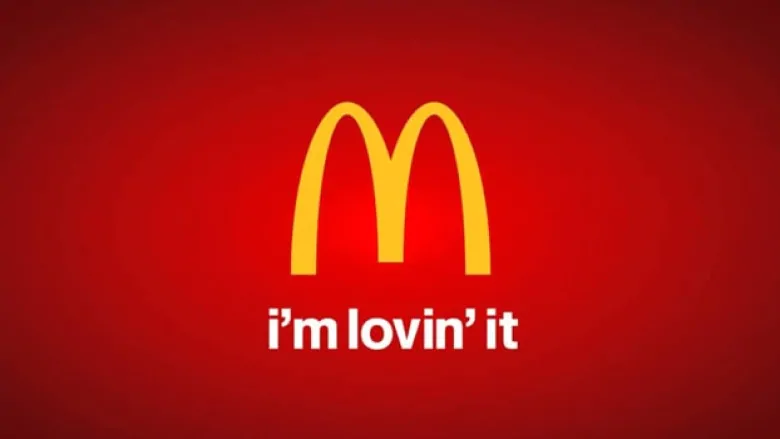 So one of the main ways they vary is with length, where slogans are usually longer than taglines.
Slogans also tend to be a bit more concrete, focusing on what a brand is selling and why it's beneficial, whereas taglines tend to be more abstract and strive to create a feeling.
While there are some slight differences, they both have one overarching objective—to make a company more identifiable and help shoppers associate a phrase with their brand.
That's the ultimate goal and is vital for making a business recognizable and building brand equity.
Beyond that, there are some other major commonalities between great e-commerce slogans and taglines.
They're simple;
They're memorable; and
They create positive feelings for shoppers.
12 of the Best E-Commerce Slogans and Taglines
Now that I've cleared that up let's get into the nitty-gritty.
Here's a mix of the 12 best e-commerce slogans and taglines from some of today's top brands, along with insights on what makes them so effective.
1. Allbirds: "The World's Most Comfortable Shoes"
Allbirds is one of my favorite footwear brands and a company that truly "gets it."
The brand uses natural materials to construct their shoes and place a heavy emphasis on being eco-friendly.

Besides that, its shoes are all about comfort. So what better slogan to use than "The World's Most Comfortable Shoes?"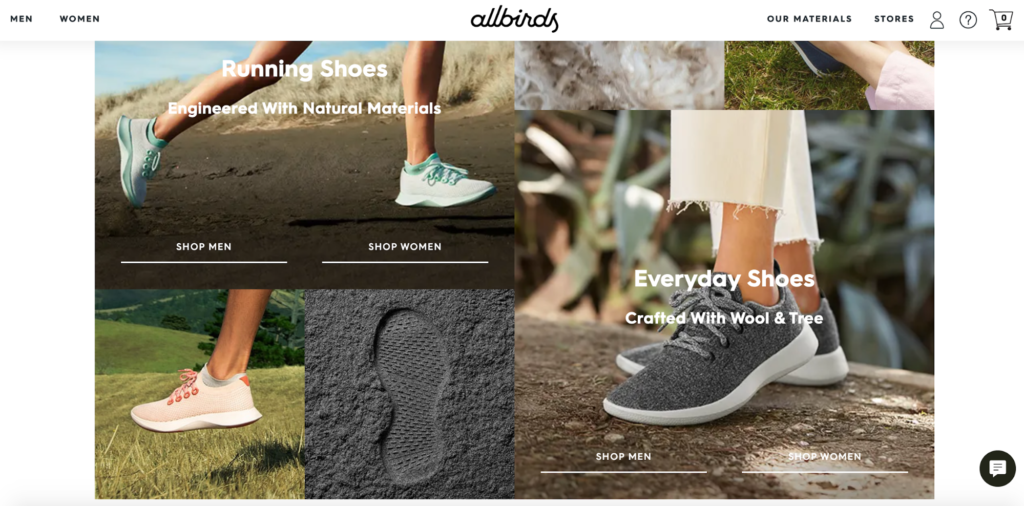 It checks all of the boxes. It's simple, memorable, helps distinguish Allbirds from competitors, and imparts positive feelings.
Besides that, it instantly piques the interest of many shoppers. I don't know about you, but comfort is massively important for me when choosing a pair of shoes.
I'm instantly drawn to a brand that promises to offer the world's most comfortable shoes. So there's a lot to be learned from this example.
2. Two Chimps Coffee: "Awesome Coffee. No Nonsense."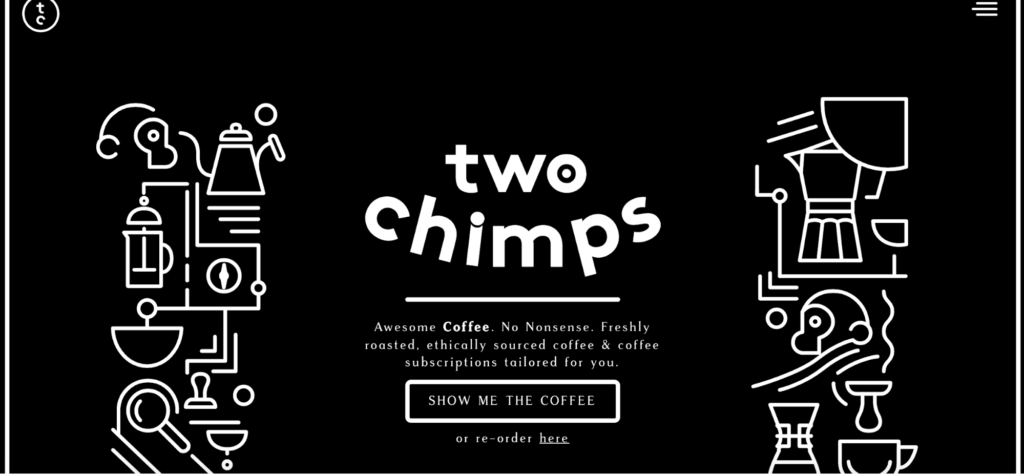 Here's a coffee subscription brand that sells products that are freshly roasted and ethically sourced.
The brand has generated a lot of buzz lately for its high-quality coffee and intelligent branding.
And a big part of that lies in its slogan "Awesome Coffee. No Nonsense." With just four words, Two Chimps Coffee perfectly encapsulates what it's selling and establish that it's something worth buying.
It also works given that the brand is no-nonsense, meaning shoppers don't have to deal with any drama or friction when dealing with Two Chimps Coffee.
Instead, they can expect a professional and enjoyable experience.
3. Bonobos: "Menswear Founded on Fit, Built on Service, and Focused on Style. However You Fit, Bonobos Fits You."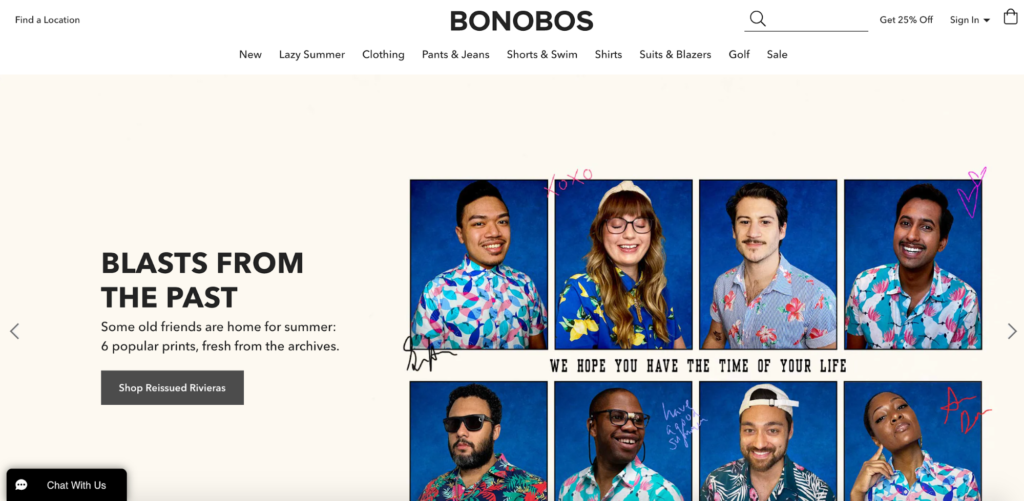 This is definitely one of the longer slogans, clocking in at 17 words.
But Bonobos does a great job of summing up what it sells (menswear), what they value (amazing style) and why it's a brand worth doing business with (they have fantastic products and excellent customer service).
As a result, it's able to attract an audience and generate some strong initial interest.
Once shoppers check out the brand's site, they can instantly tell that Bonobos is super professional with an extensive collection of unique men's products like these pastel shorts and shirts.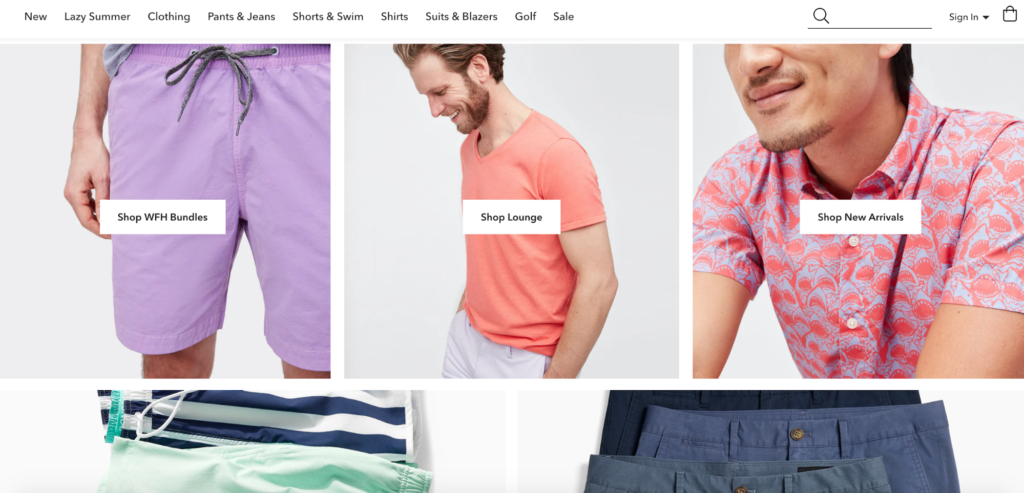 It's all about getting your foot in the door with your slogan or tagline and persuading potential shoppers to give your brand a chance.
4. Lunya: "Sleepwear for the Modern Woman"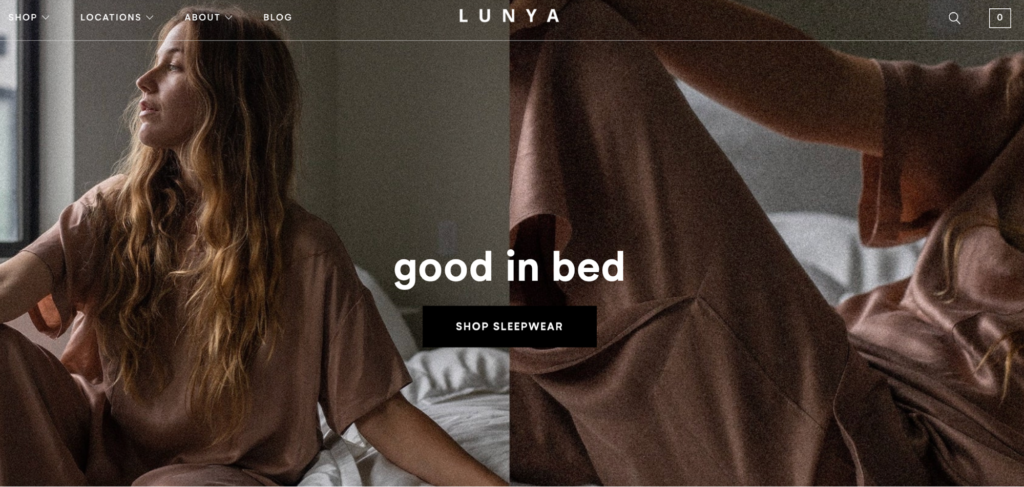 Just like Allbirds and Two Chimps Coffee, Lunya succinctly explains what they're selling using just a few words.
And considering its products are specifically geared for half of the population (women), it's done a fantastic job of working that into their e-commerce slogan as well.
This ensures that Lunya piques the interest of their target demographic and attracts the right shoppers.
Once they land on Lunya's website, the products jive with their e-commerce slogan, and shoppers can peruse a nice selection of robes, rompers, sleep masks, and more.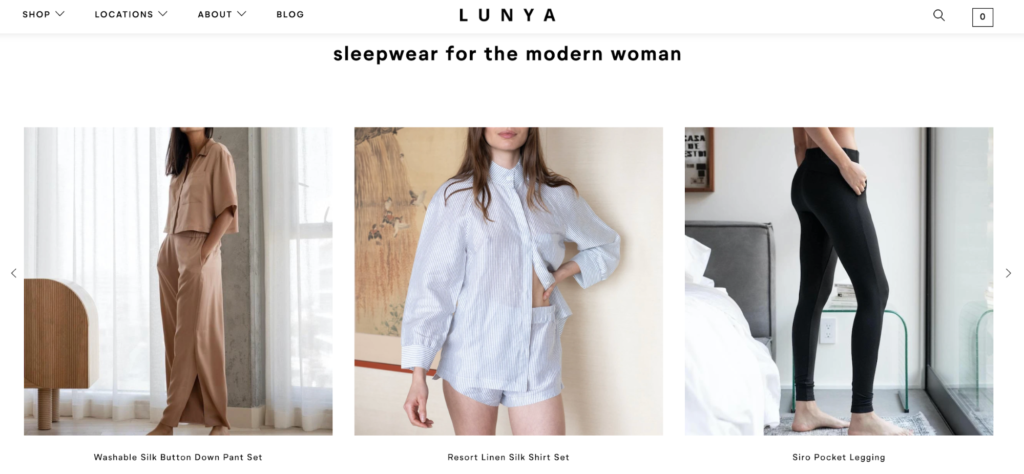 So when it comes to simplicity and being super straightforward, this slogan definitely nails it.
5. Birchbox: "Monthly Beauty and Grooming Subscription Boxes"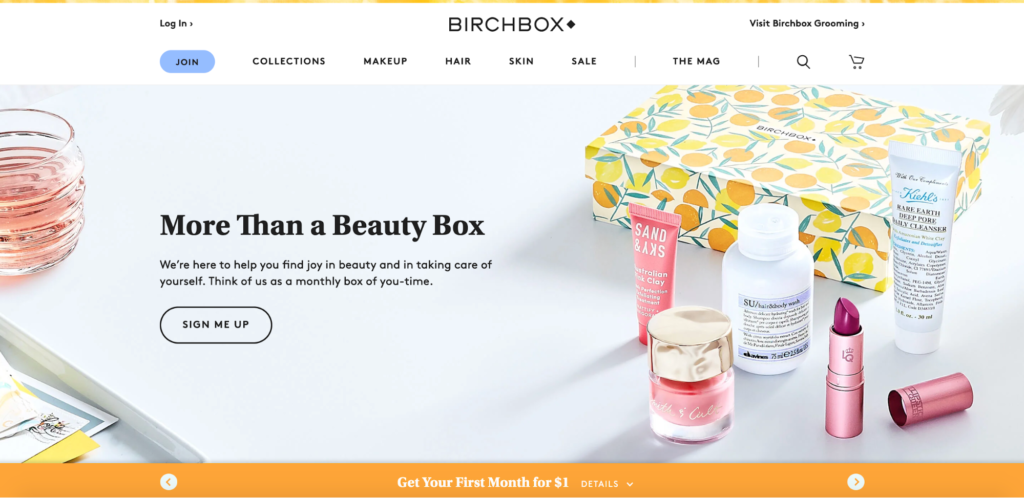 Birchbox is one of the top online subscription services for makeup, skincare, and hair care products.
The brand has built a loyal following, largely because of its transparency and the streamlined ordering process it offers its customers.
The e-commerce slogan, "Monthly Beauty and Grooming Subscription Boxes," is about as straightforward as it gets and quickly lets shoppers know what Birchbox is offering.
After visiting their site, Birchbox provides a quick rundown of how the process works, letting shoppers know what to expect when ordering a subscription box.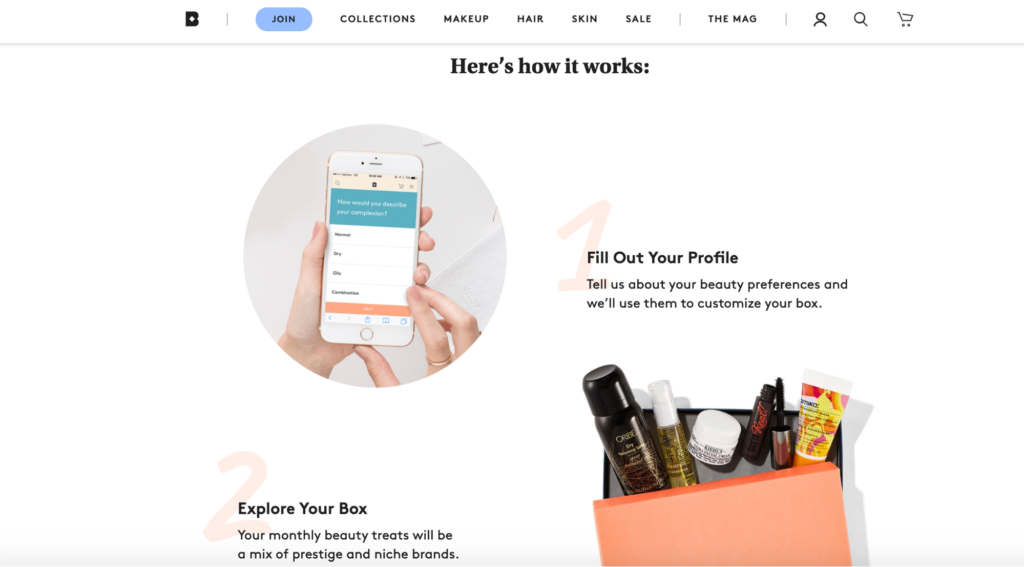 Again, this example shows that the best e-commerce slogans and taglines keep it simple and concisely relay key information prospects need to know.
6. Flat Tummy Co: "Cleanse & Debloat or Cut the Cals"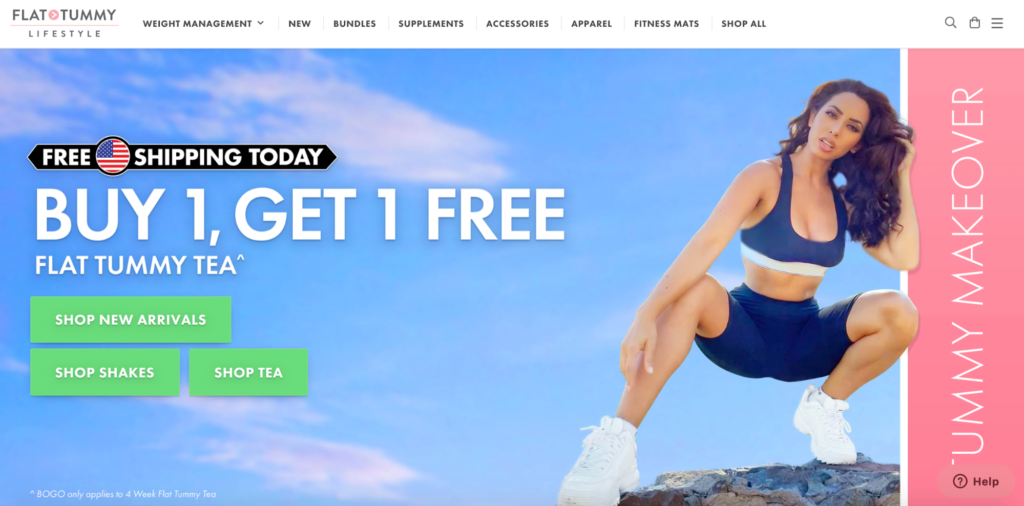 Here's an e-commerce brand that specializes in weight management products for women, such as shakes, teas, and lollipops, as well as fitness apparel and mats.
Given that the brand currently has 1.7 million Instagram followers, it's done a great job of connecting with its core audience and building a strong digital community.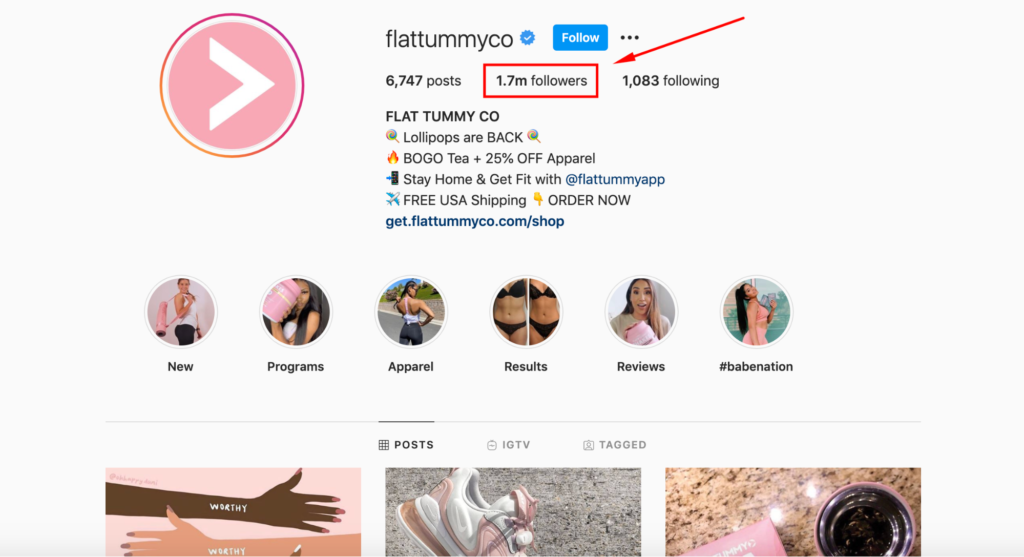 As I mentioned earlier, a critical first step for getting to this level is creating an e-commerce slogan or tagline that communicates what your brand is all about.
Flat Tummy Co pulls this off flawlessly by using "Cleanse & Debloat or Cut the Cals" as its slogan.
With just a handful of words, prospects know what they can expect to accomplish by purchasing Flat Tummy Co's products, which grabs the attention of their core audience.
7. Everlane: "Modern Basics. Radical Transparency."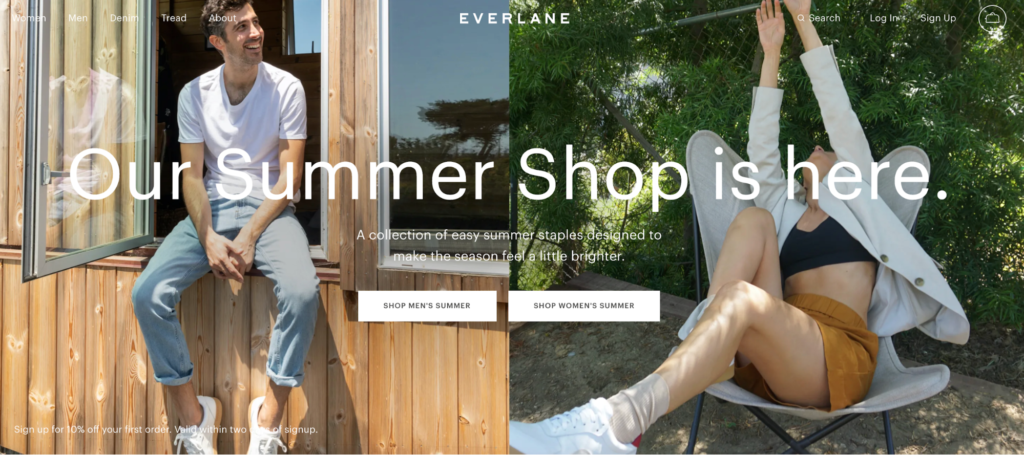 Everlane is a popular online clothing retailer that's gained massive traction over the years. The brand has built a great reputation, and at the moment, it's closing in on one million Instagram followers.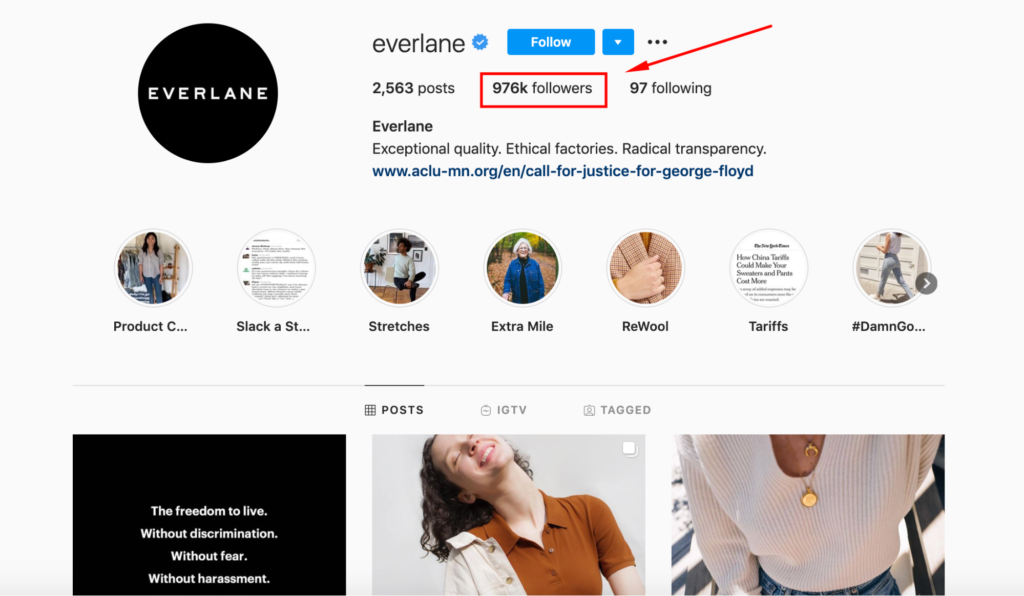 Everlane does a lot of things right, and its e-commerce slogan does a great job of capturing what they're all about—providing basic, minimalist-centric clothing and apparel while being fully transparent about their values.
To be clear, its values are creating clothing using sustainable materials, while sourcing them ethically.
8. Girlfriend Collective: "Ethically Made Activewear"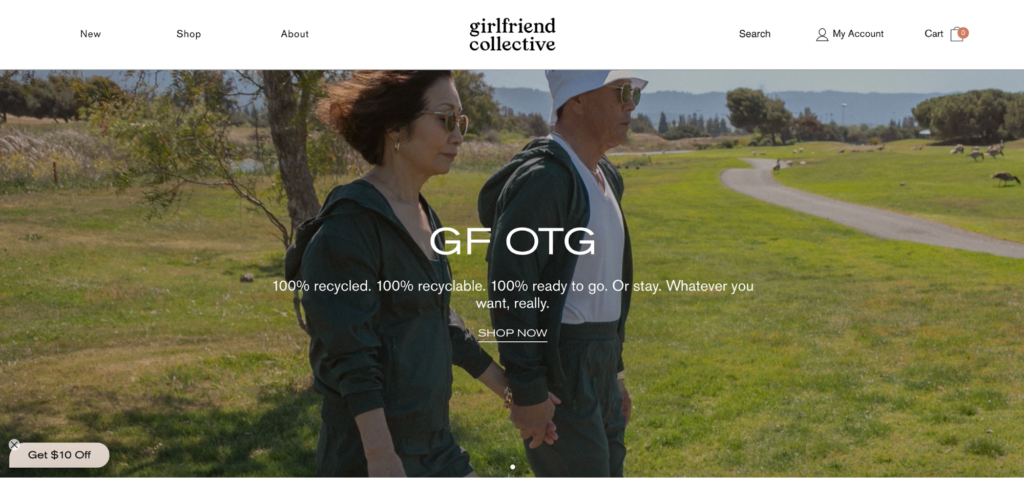 This is a brand that makes activewear from 100 percent recycled materials.
On its site, you'll find fun, playful copy that says, "Girlfriend Collective makes activewear out of recycled materials because trash looks better on you than it does polluting the planet."
And its slogan falls perfectly in line with its unique value proposition by using only three words—"Ethically Made Activewear."
This instantly lets prospects know what Girlfriend Collective is all about and goes to show that it's possible to condense your brand's mission, values, and philosophy down into an ultra-simple slogan.
9. Primary Clothing: "Brilliant Basics for Babies and Kids"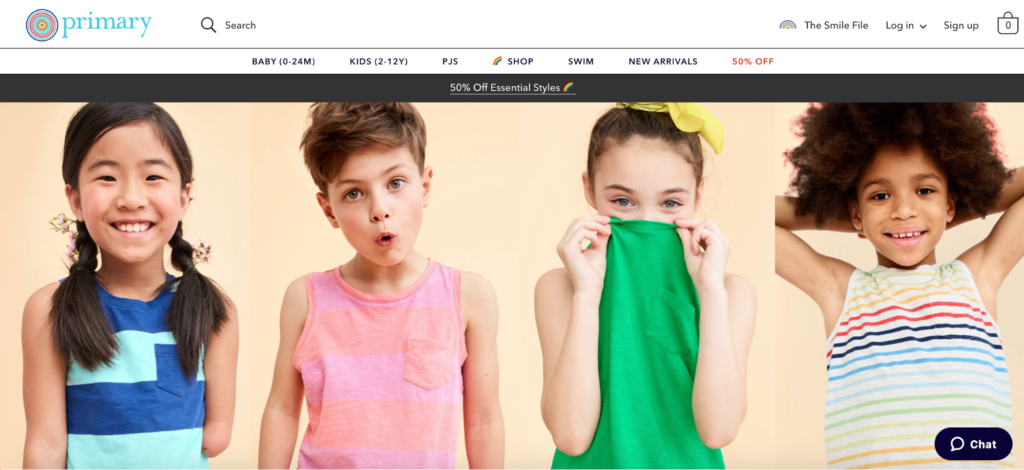 Here's another company that uses the word "basics" in their slogan.
Primary Clothing is a brand that focuses on offering "unexpected quality kids clothes at a fraction of the price." By reading its slogan, shoppers know that Primary Clothing caters specifically to kids.
And by using the words "brilliant basics," shoppers know they can find a high level of quality, helping Primary Clothing differentiate themselves from similar competitors in the market.
This is something they reinforce on their website, where they explain exactly what it is that makes them great.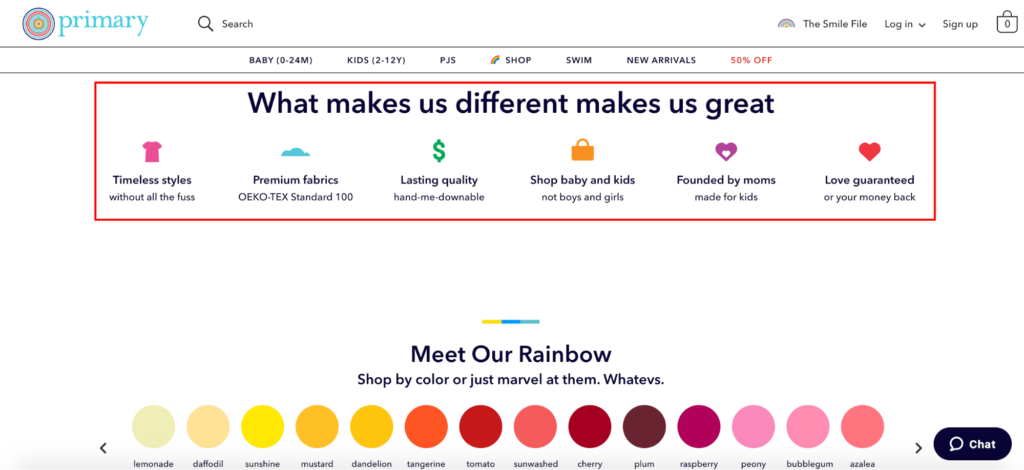 10. Sephora: "Let's Beauty Together"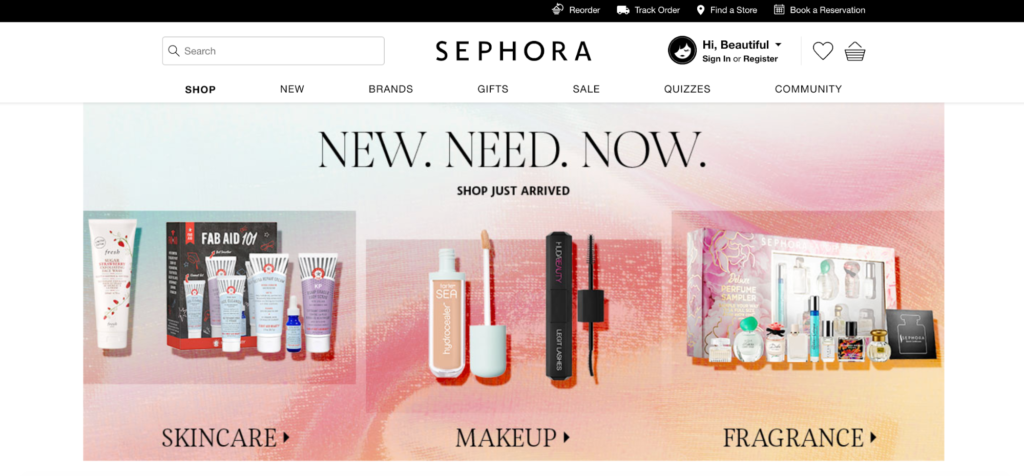 For my final examples, I'm going to provide brands with great taglines. As I said before, taglines tend to be a bit more abstract than slogans and focus on evoking an image in shoppers' minds.
At the end of the day, taglines are mainly about helping shoppers form associations between a particular phrase and a brand—think Nike's "Just Do It."
Therefore, it's more common to see larger, more established companies using taglines because they already have a certain amount of built-in brand equity.
One of the best examples is Sephora's "Let's Beauty Together." This clearly lets shoppers know that the brand is selling beauty products and is a creative way of conveying their approachable attitude.
And at only three words, it's short, sweet, and rolls off the tongue.
11. TOMS: "We're in Business to Improve Lives"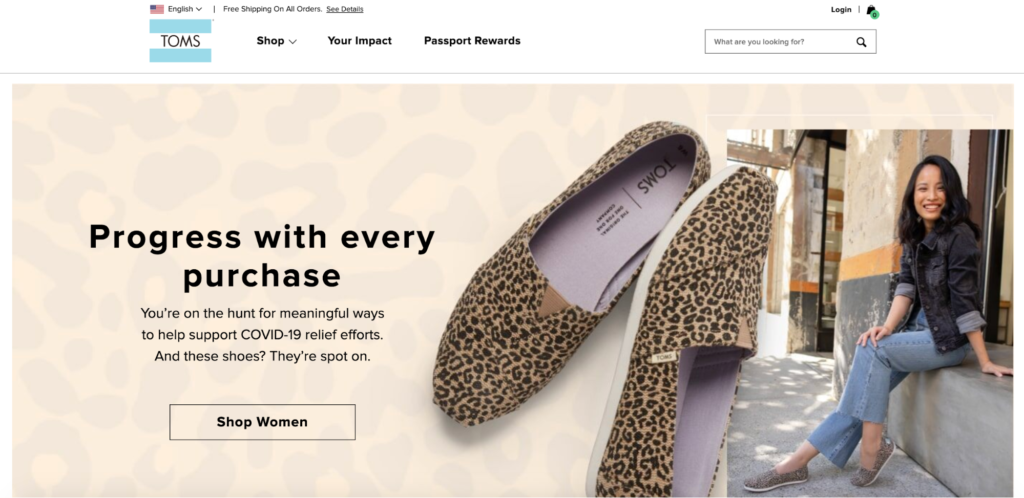 TOMS was one of the originators of the "one-for-one" business model where for every pair of shoes that were purchased, they gave away a pair of shoes to someone in need.
As the brand has scaled up over the years, it's tweaked that model slightly, but its brand identity is still based heavily on helping people around the world and fueling progress.
Using the tagline, "We're in business to improve lives," is perfect for articulating TOMS' values and showing that positive change is the driving force behind their company.
This should be enough to pique the interest of many people and direct them to the TOMS site. From there, shoppers can learn more about its mission and check out their products.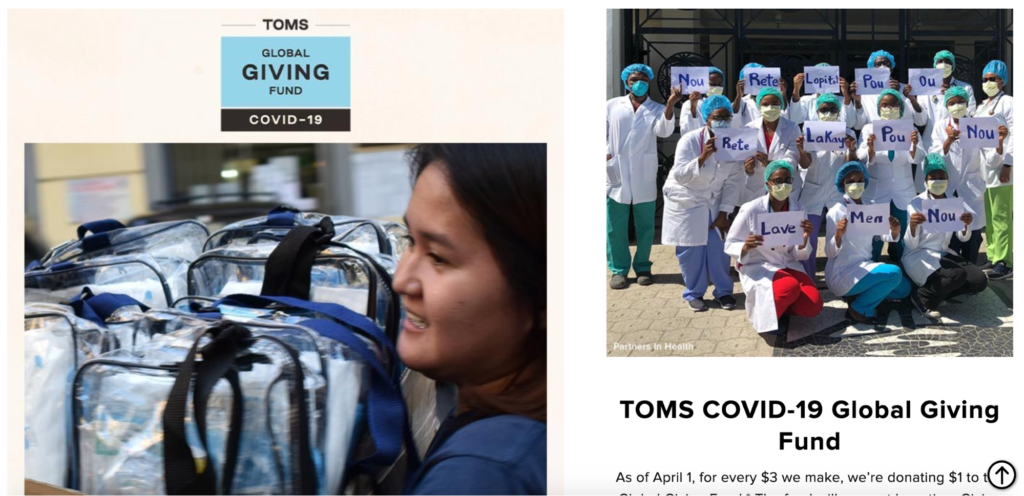 And this is something you can take a page from and implement into your e-commerce brand.
12. Chubbies: "The Weekend Has Arrived"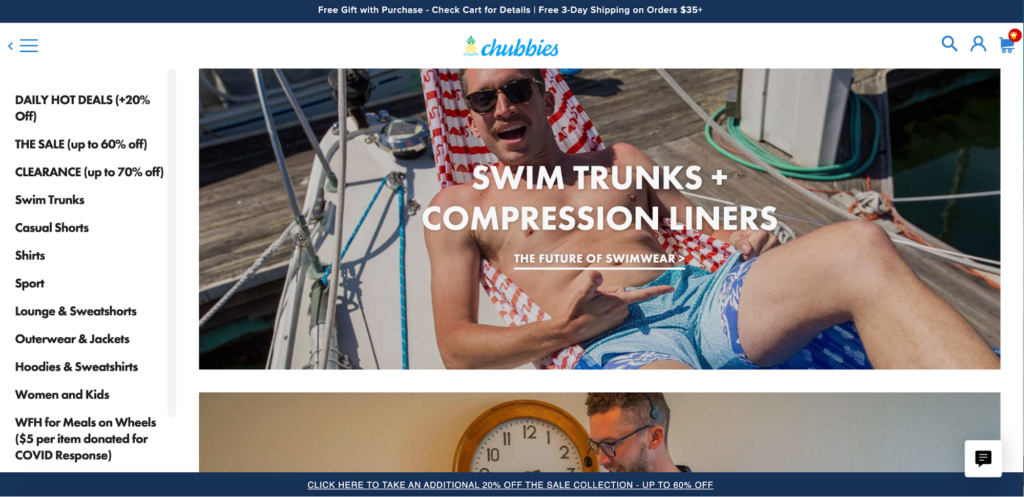 Finally, there's Chubbies, one of the hippest and most humorous men's clothing brands out there.
Admittedly, "The weekend has arrived" is one of the more ambiguous e-commerce taglines there is. And if you weren't already familiar with Chubbies, you probably wouldn't know what to expect.
That's why this isn't necessarily the best route to take if you're a fledgling company that's still trying to solidify a following of loyal customers.
But if you already have a sizable audience and you're looking to strengthen your brand identity, going this route can certainly make sense.
In Chubbies' case, using "The weekend has arrived" conjures up images of fun and excitement, which definitely aligns with their brand identity.
Just look at some of the funky products it sells like these men's swimming trunks.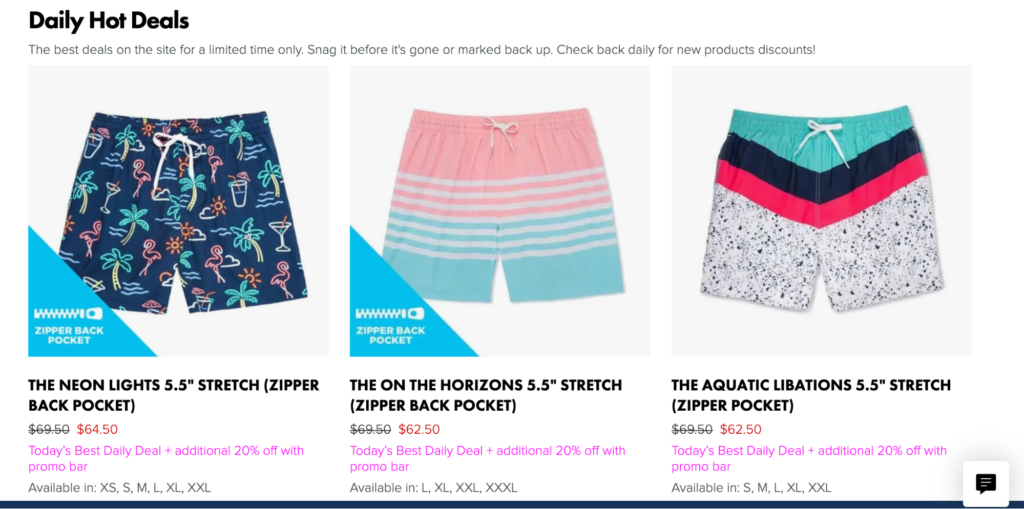 And check out some of the hilarious posts on its Instagram page.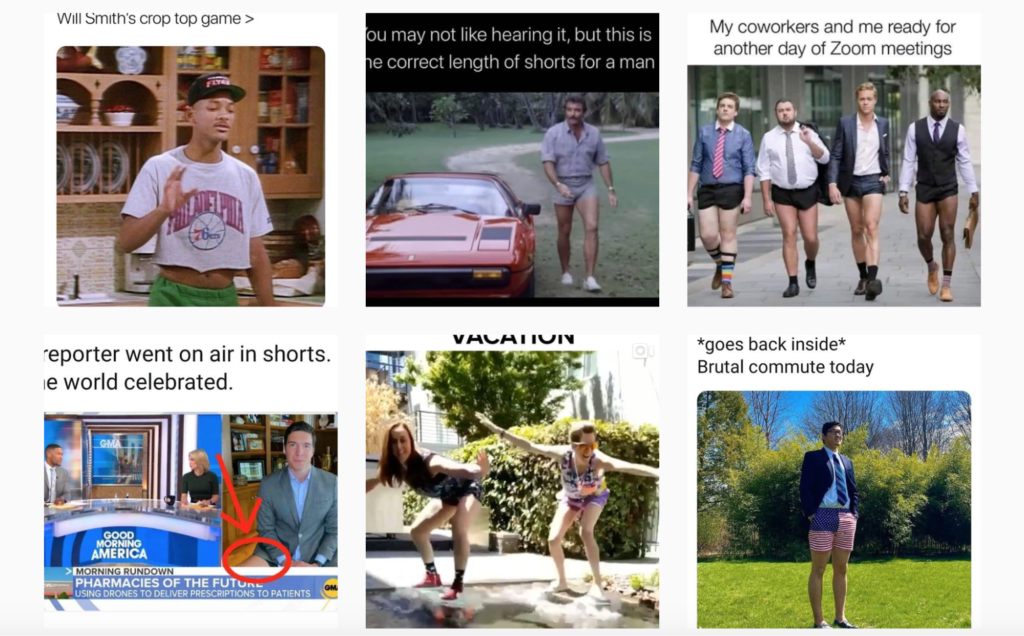 My point here is that creating an amazing tagline requires a bit of finesse and a certain amount of rapport with an existing audience.
But Chubbies is proof that it can be done when you follow the right formula.
Conclusion
Creating an e-commerce slogan or tagline is a critical part of establishing your brand identity and directing targeted shoppers to your store.
Slogans and taglines vary slightly but have the same underlying purpose of making your brand recognizable and building equity.
Some things that awesome slogans and taglines have in common is that they're simple, memorable and creative positive feelings for shoppers. And in some cases, they mention a specific benefit of choosing a particular brand.
The examples featured here are some of the best e-commerce slogans and taglines I've seen and demonstrate how to go about the process. Hopefully, they've given you some inspiration that you can use to create your own slogan or tagline.