Just a few years ago, marketing automation software was widely regarded as advanced technology—something only available to the highest-spending, most forward-thinking businesses.
It's fair to say things have changed. Today, marketing automation is commonplace. And with new use cases and workflows emerging all the time, the global marketing automation software industry is expected to reach 3X its 2020 value by 2027.
Why do we love automation so much?
It's not all about efficiency savings. Sure, 38 percent of marketers say automation software allows employees to better use their time. But there are myriad other benefits, including:
Improving the customer experience (cited by 43 percent of respondents)
Better data and decision-making (35 percent)
Improved lead generation

and nurturing (34 percent)
Better use of budget (33 percent)
Increased

personalization options

(24 percent)
Of course, you'll only unlock all that good stuff if you choose the right automation products for your business.
To help you out, I've rounded up seven of the best marketing automation software options:
1. Drip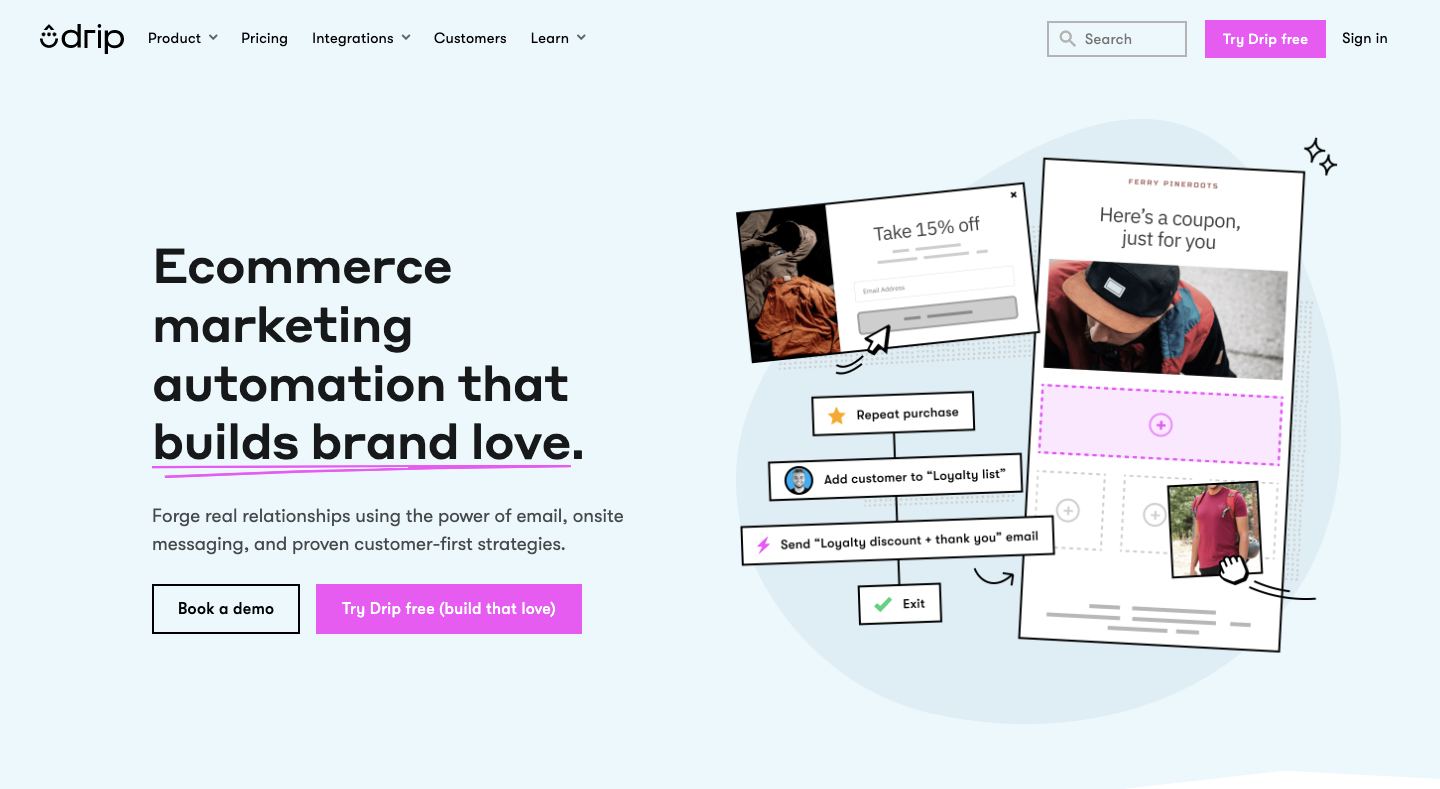 As CMO of Drip, I'm contractually obliged to include us in this roundup.
But don't worry, we definitely deserve our spot.
For the unfamiliar, Drip is an ecommerce marketing automation platform that gathers audience data, tidies it up, and allows retailers to use it for crafting highly personalized omnichannel customer journeys.
Because we understand marketers would rather spend their time fine-tuning campaigns than starting from scratch, we've created a bunch of proven pre-built email workflows, including:
Welcome series
Post-purchase emails
They're ready to use in an instant—just add your own branding and messaging.
Need something more customized? Our point-and-click visual builder allows you to craft automated, personalized sequences without requiring any coding skills.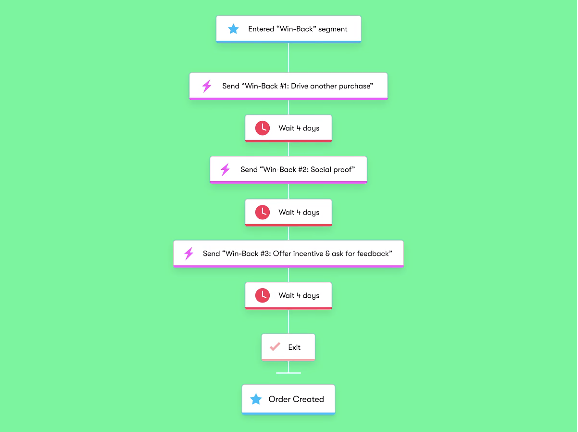 Whether you want to remind a lapsed customer how great you are, drive purchase intent with laser-targeted product recommendations, or nudge a shopper back to their abandoned cart, we've got the automation tech to make it happen.
No wonder The Spice House saw a 90 percent year-on-year upturn in sales, a 40 percent increase in its email list size, and a 183X return on investment after switching to Drip.
Integrations
Drip integrates with all the big ecommerce platforms, including Magento, Shopify, and WooCommerce. It even works with custom ecommerce stores.
But that's not all. In total, we integrate with 200+ plus platforms and technologies, covering everything from analytics and accounting to CRMs and social media tools.
Explore our full list of integrations—and if you don't see your favorite tool, feel free to suggest an integration and we'll take it from there.
Pricing
Drip's pricing is based on your email list size and send volume, with no hidden fees or charges.
Our prices start at $39 per month for up to 2,500 contacts, including unlimited email sends, email support, and free migration.
Customers with 5,500+ contacts (priced from $99 per month) get email and chat-based support, while enterprise-level packages—including 110,000+ contacts—offer access to a dedicated customer success manager.
All packages start with a 14-day free trial with no credit card required, so why not give us a try?
2. Zoho CRM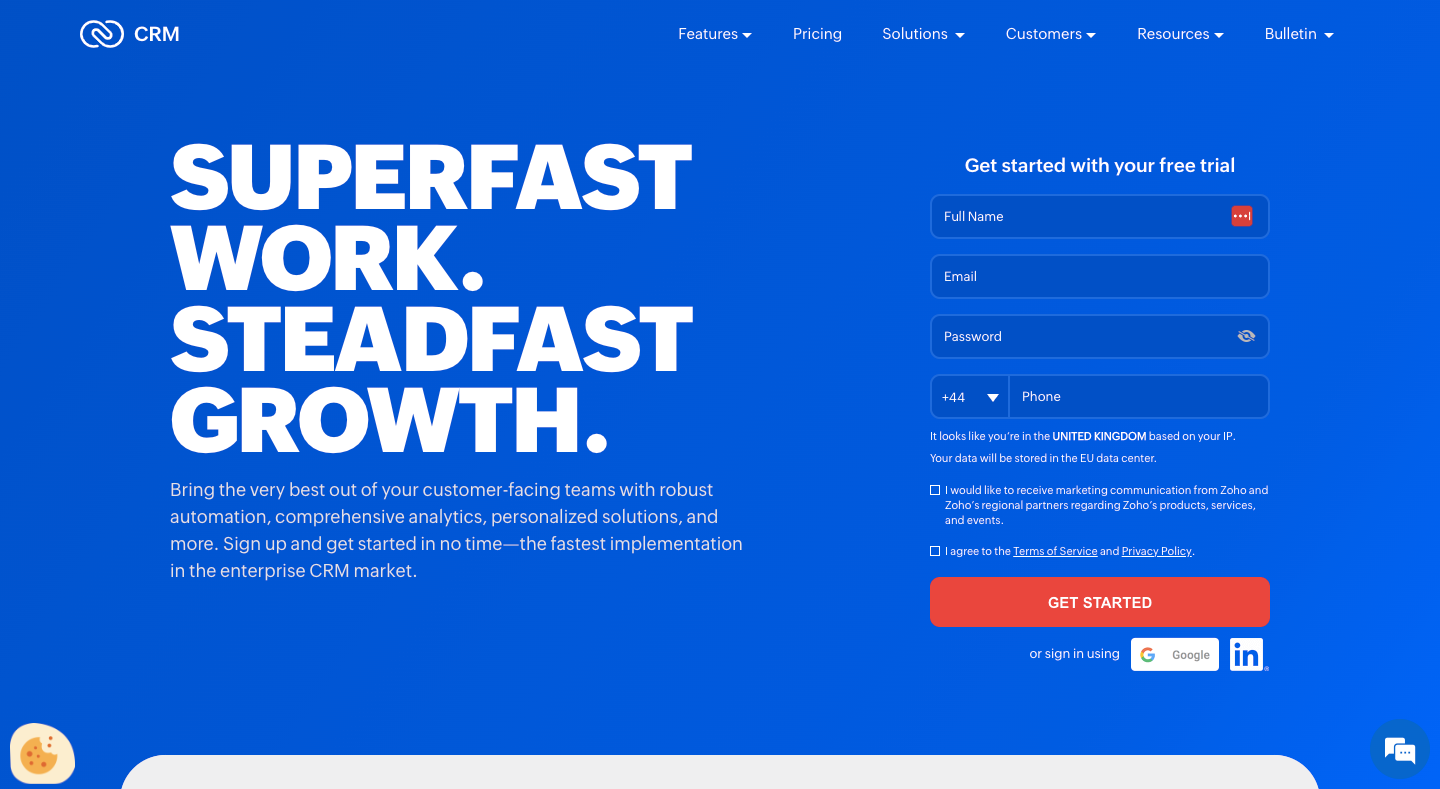 Zoho offers a vast suite of business solutions, covering everything from sales and marketing to finance, HR, and legal. But I'm going to focus specifically on its CRM platform.
The Zoho CRM boasts various tools for customer-facing teams, including automation, analytics, and personalization.
Its marketing automation functionality allows users to segment customers based on predefined criteria. Audience records can be tagged with keywords—such as lead source, company size, industry, or priority status—to easily group and identify customers and leads with similar traits.
Zoho also allows marketers to manage events from within the CRM, sending invites to CRM contacts or leads, and reaching out to new leads collected during the event. Invitations can be created as email templates and scheduled to send ahead of an upcoming event.
Only want to reach the most relevant contacts? Add custom criteria—such as location or job role—to give your event the best chance of success.
Integrations
Zoho CRM integrates with 500+ third-party apps, including collaboration and productivity tools, storage solutions, social media platforms, and marketing automation services.
Popular integrations include Google Workspace, Microsoft 365, Slack, Shopify, and Facebook Ads.
Pricing
Zoho CRM is priced from €14 per user per month, which includes access to essential marketing automation tools like:
Email templates
Email authentication
Mass email sending
Social profile integration
Upgrade to a higher product tier to unlock additional functionality, such email relays, attribution, segmentation, and auto-responders.
All plans offer a 15-day free trial.
3. HubSpot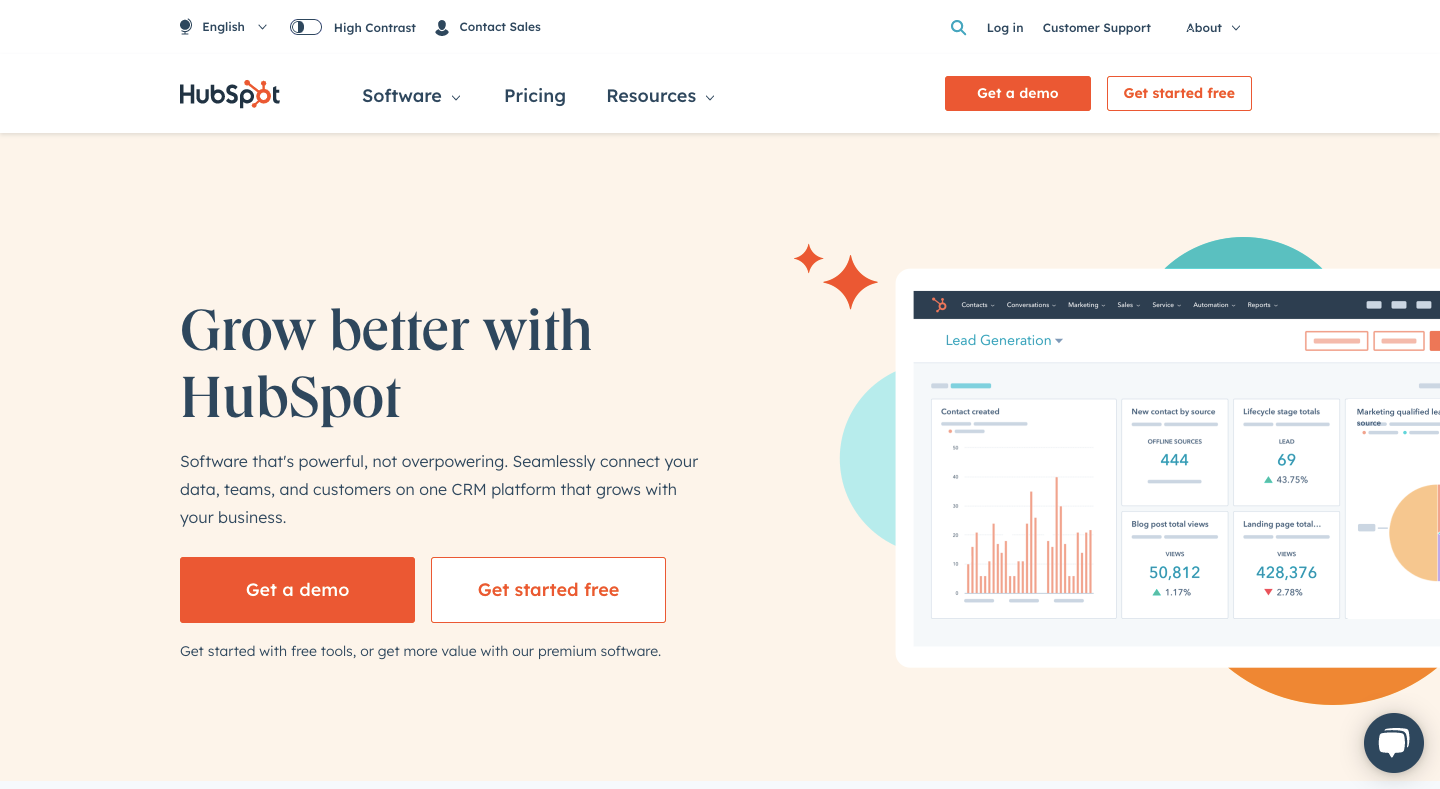 Like Zoho, HubSpot offers a lot of tools. So I'm going to cover its Marketing Hub, which incorporates marketing automation software across its free and premium plans.
HubSpot is essentially an all-in-one marketing platform, giving marketers all the tools they need to reach the right audiences, run automated marketing campaigns at scale, and turn leads into paying customers.
Its resources help users to attract and convert prospects through SEO, content marketing, social media, paid ads, and other channels.
Marketing automation features allow marketers to easily and efficiently score lead quality, build personalized, scalable campaigns spanning multiple channels, and manage big audience data sets.
Use HubSpot's email marketing tools to develop professional-quality email sequences that look beautiful on any device type, without requiring any design or IT skills.
Integrations
If you use an existing sales or marketing tool, chances are HubSpot has an integration for it.
You'll find more than 1,250 custom integrations in our App Marketplace, making it easy to connect HubSpot to your favorite tools in just a few clicks. Popular app integrations include Gmail, Google Calendar, and HubSpot for WordPress.
From a marketing perspective, HubSpot's integrations cover account-based marketing, analytics and data, ecommerce, email marketing, and much more besides.
Pricing
HubSpot offers an extensive suite of free sales and marketing automation tools. For instance, users can send 2,000 emails per month (albeit with HubSpot branding), maintain five active email lists, and run one automated email action—all without paying a cent.
More advanced functionality and HubSpot-free branding are unlocked at higher product tiers, with prices starting at $45 per month per 1,000 marketing contacts.
4. Capsule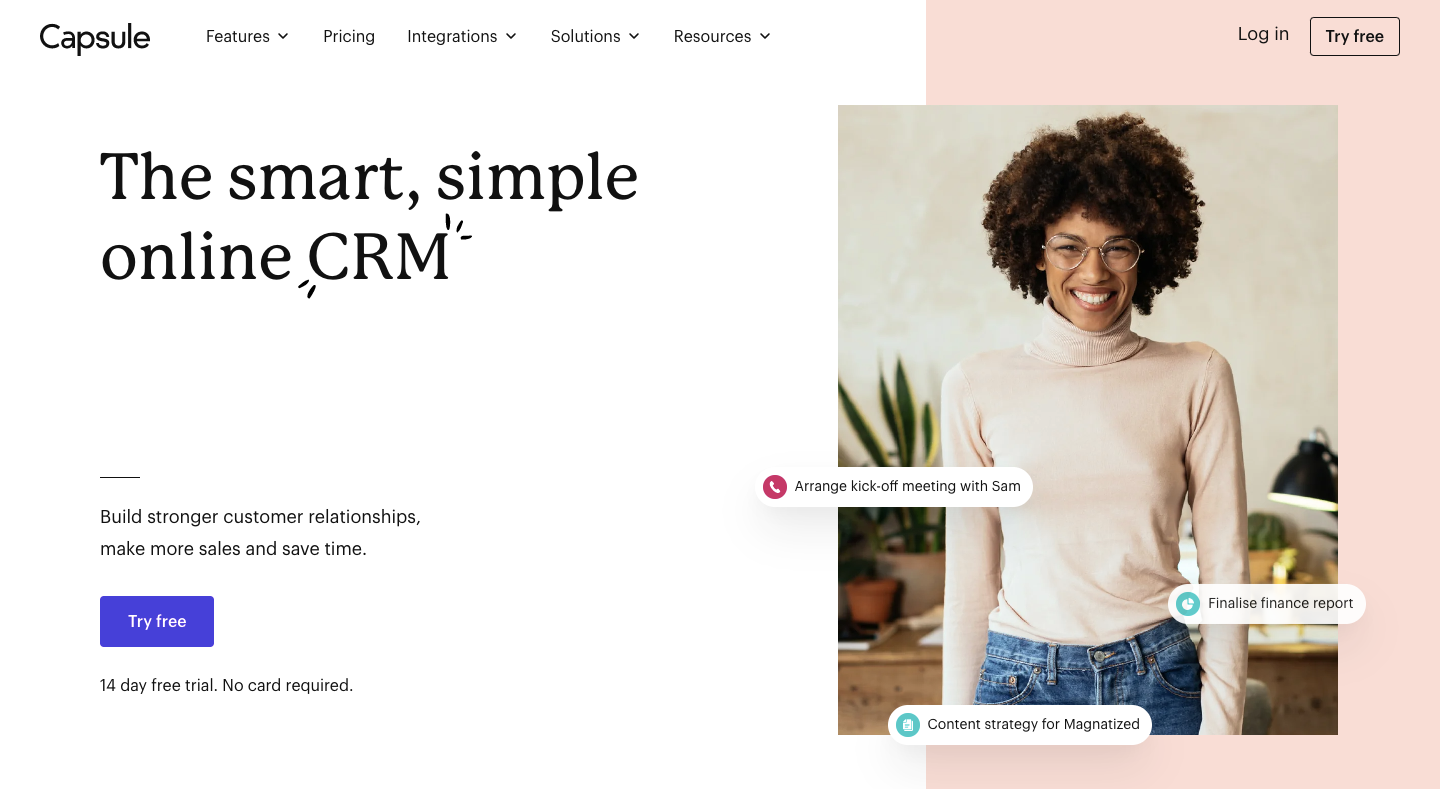 Capsule is a simple online CRM aimed at businesses of all sizes.
Currently, Capsule's workflow automation tools are at beta stage and only available through its two highest product tiers. However, it integrates with Zapier, opening the door to a whole world of marketing automation.
The platform includes Transpond, a built-in email marketing tool that allows customers to run campaigns to contacts within Capsule.
Use it to craft dynamic email campaigns aimed at specific customer segments, create lead capture forms with Transpond's drag-and-drop editor, and build simple automations based on actions within the CRM.
Integrations
Capsule lacks the extensive integrations of larger CRM platforms like HubSpot and Zoho. But it still offers support for 50+ third-party apps across multiple categories, including marketing, inventory management, and customer success.
And, as I've already noted, it integrates with Zapier—capable of automating your work across 5,000+ app integrations.
Pricing
Capsule's prices start at $18 per user per month for up to 50,000 contacts and 10 GB of storage per user.
Its entry-level product tier offers all the tools a small team needs to boost sales and marketing performance and efficiency, including project management, email sending and templates, and activity reporting.
For more advanced features—including workflow automation—and larger email lists, you'll need to upgrade to Capsule's Teams or Enterprise tiers.
Or you can choose the totally free plan, suitable for up to two users and 250 email contacts.
All premium Capsule plans include a 14-day free trial.
5. Salesforce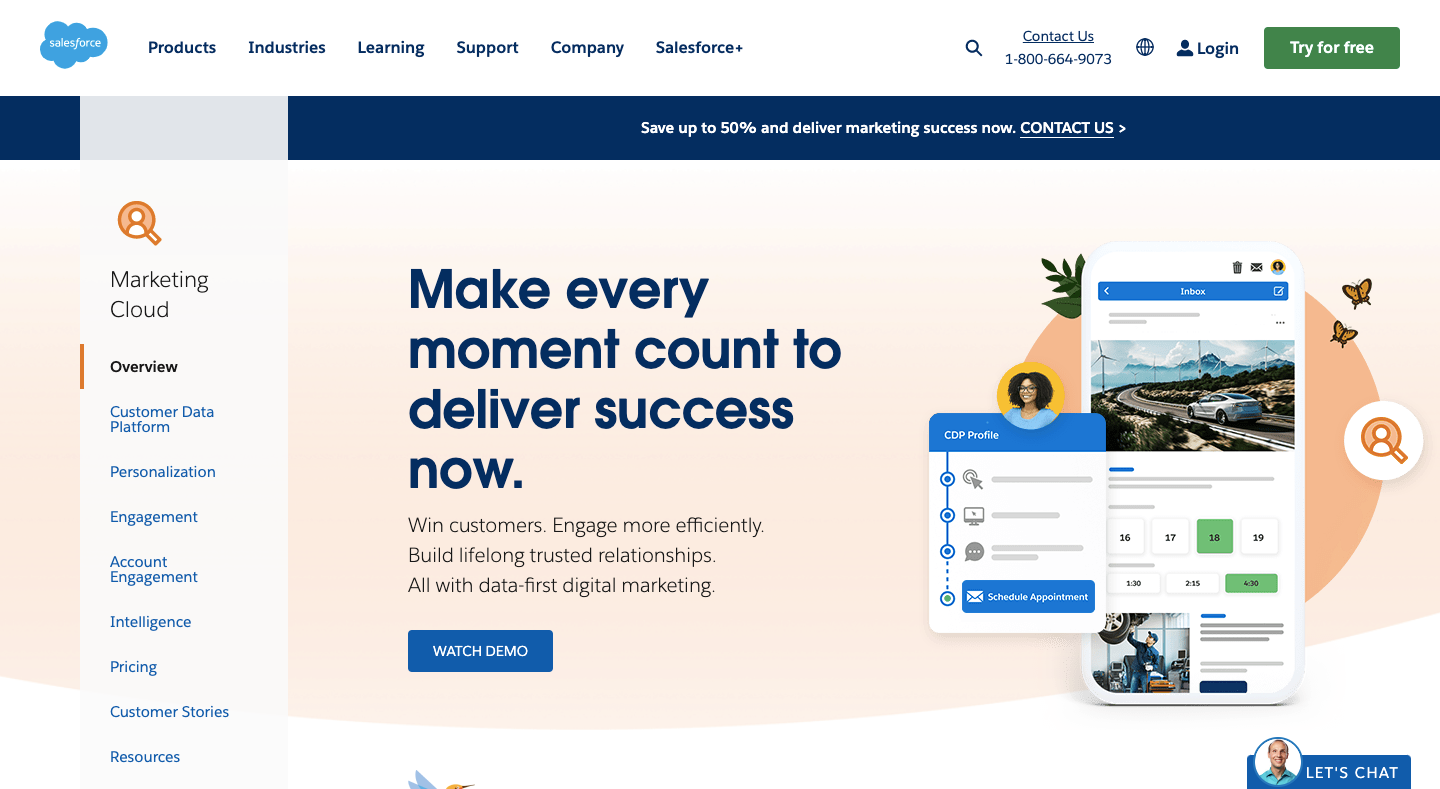 Again, I'm not going to discuss Salesforce's full product suite, because we'd be here all day. Instead, I'm focusing on Salesforce Marketing Cloud, billed as a "real-time digital marketing platform".
According to Salesforce, Marketing Cloud helps users reduce customer acquisition costs by an average of 27 percent.
How? By automating audience engagement across every channel, freeing up marketers to create and deliver more relevant, personalized content. Automated A/B/n testing helps lower costs by identifying your most effective messaging, while AI-driven recommendations and offers speed up the path to purchase.
Integrations
Because it's such a massive name, you'll find the vast majority of other sales and marketing products integrate with Salesforce.
For its part, the Salesforce website references integrations with various productivity and collaboration tools for sales and marketing teams, including Google Cloud, Slack, LinkedIn, and Mailchimp.
Pricing
There's no single price for Salesforce Marketing Cloud; it all depends on the functionality you require and the size of your business.
For instance, the Marketing Cloud Customer Data Platform—a single source of truth for all your audience data—is priced from $12,500 per month. Meanwhile, prices for Salesforce's Marketing Cloud Engagement product start at $400 per month, giving users access to personalized promotional email marketing tools.
Salesforce also offers a free trial including pre-configured processes, reports, and dashboards, guided content and best practices, and online training.
6 Act!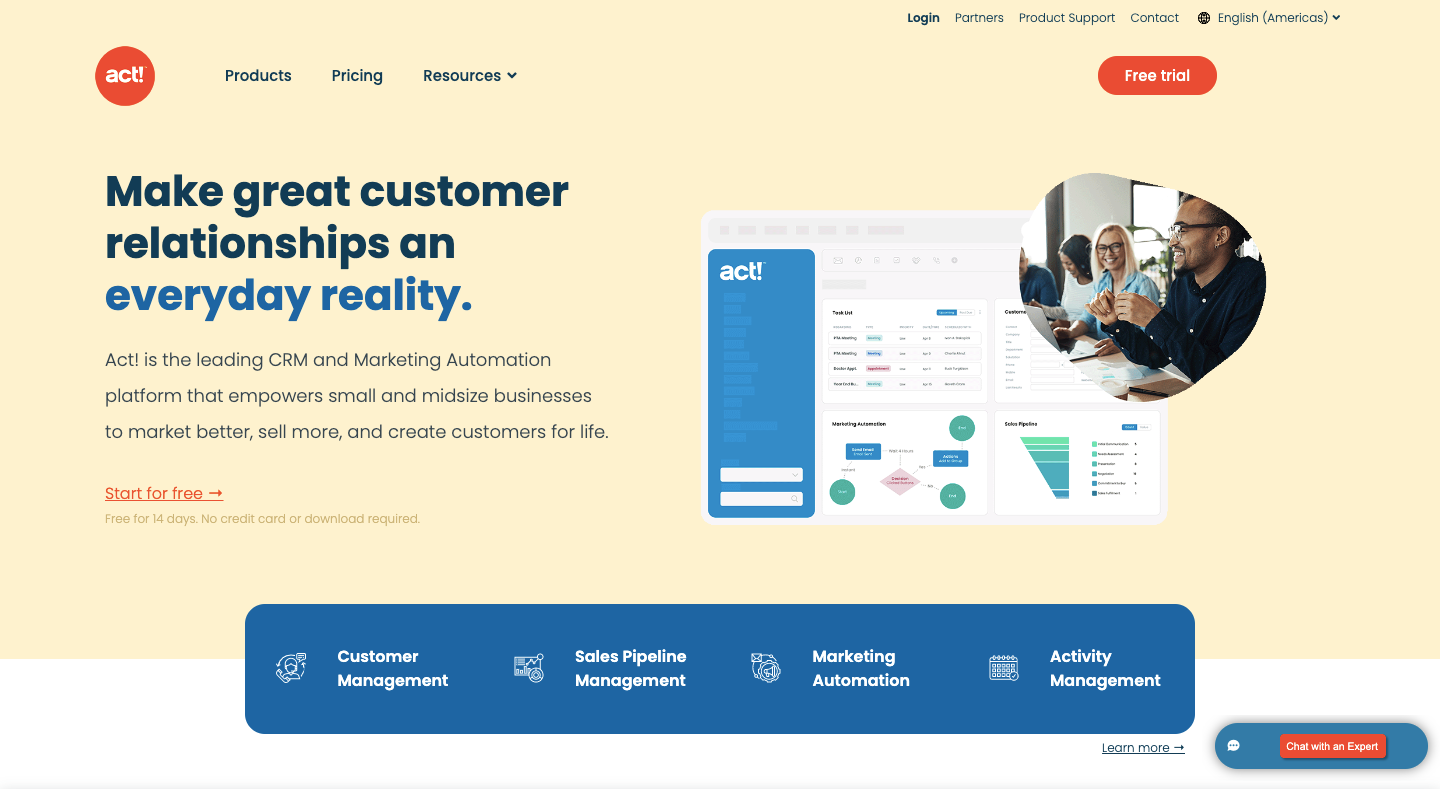 Act! is a CRM and automation platform targeted at small and midsize businesses looking to level up their sales and marketing.
Its automation features can cope with everything from short-and-sweet ad hoc email blasts to automated, response-driven campaigns.
Users can leverage Act!'s library of over 170 email, newsletter, and landing page templates—or import their own into the interactive HTML editor. The simple drag-and-drop interface features mobile and desktop preview tools that ensure your designs look perfect on any device type.
Integrations
Act! Connect allows users to integrate with hundreds of popular third-party apps across six categories:
Sales and marketing
Social media
Customer service
Back office
Ecommerce
Business productivity
Popular marketing integrations include SurveyMonkey, Eventbrite, and Wufoo. It also works with major ecommerce platforms like Shopify and BigCommerce.
Pricing
Act! Premium offers two packages:
Cloud-based CRM and automation platform, priced from $30 per user per month
On-premises CRM and automation platform, priced at $37.50 per user per month
Beneath those top-level packages are various product tiers. The basic option allows marketers to send up to 2,500 emails per month to unlimited contacts and access 170+ responsive email templates.
For higher email volumes, you'll need to upgrade to Act! Premium Select (25,000 emails per month), Complete (50,000 emails per month), or Advanced (100,000 emails per month).
Act! also offers a 14-day free trial to Premium.
7. Monday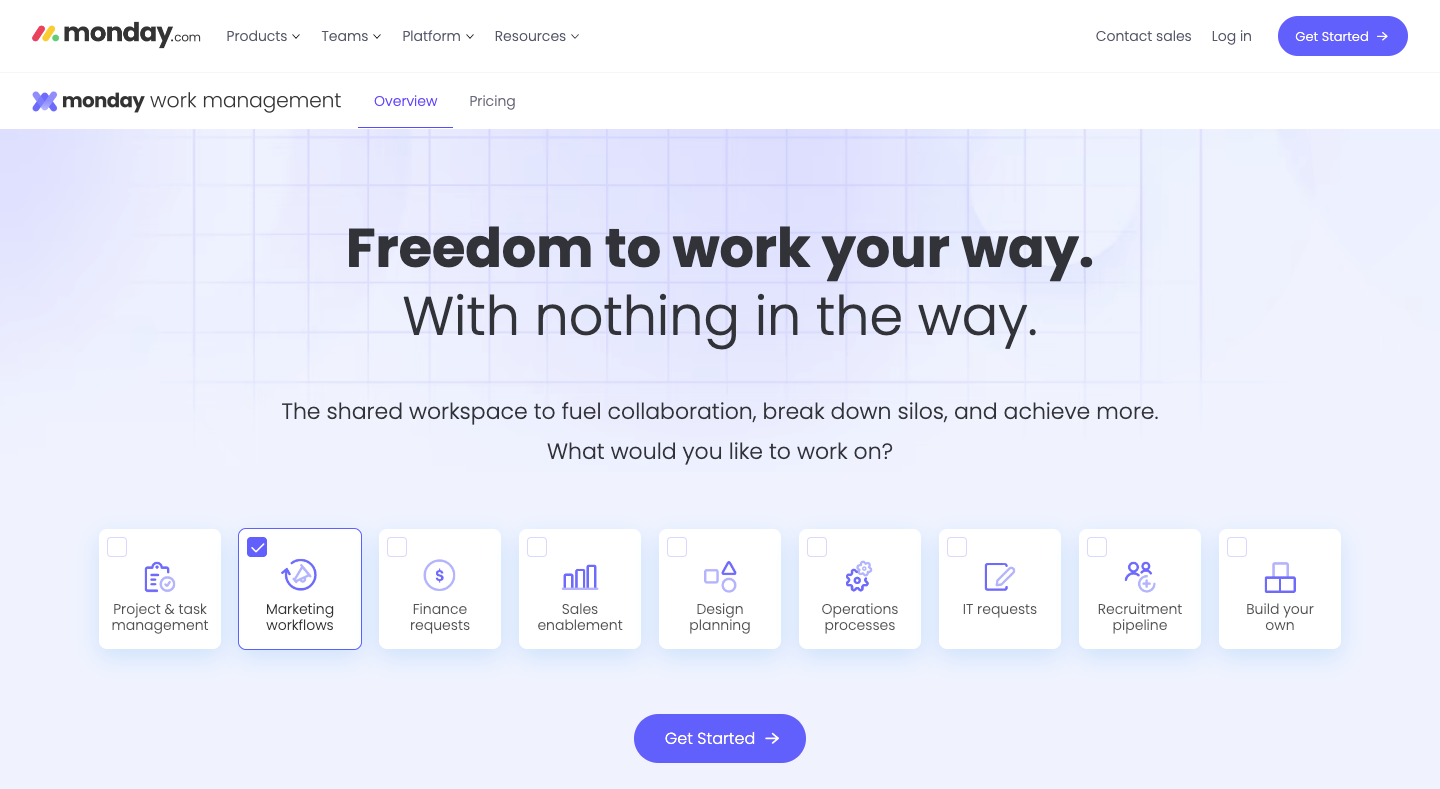 Monday is a work management and sales CRM platform.
Its sales CRM allows users to save time by automating repetitive processes, assign leads to individual reps, and receive notifications whenever a lead opens an email. And it's totally customizable to your sales funnel, giving customers the ability to edit deal stages and add new columns without requiring any dev support.
The platform also offers a host of marketing and creative management tools, helping users hit key deadlines and keep projects on track through automated workflows. For instance, Monday can instantly send emails when a due date arrives or a task is completed.
Integrations
Monday integrates with dozens of CRM, marketing, software development, and project management apps.
Popular Monday integrations include Outlook, Microsoft Teams, and Dropbox. It also works with a host of major marketing platforms, from HubSpot and Salesforce to Mailchimp and HootSuite.
Pricing
Monday's pricing starts from $24 per month for three users and increases based on team size and product requirements.
The platform's entry-level paid CRM plan supports unlimited customizable pipelines and contacts, while additional functionality—such as email tracking and automations—are unlocked at higher product levels.
Monday also offers a 14-day free trial and a totally free product tier for up to two users and 1,000 contacts.
Conclusion
There's no such thing as the "best marketing automation software". Rather, it's about finding the platform that fits your needs and budget.
Fortunately, your choice needn't be based on intuition alone, because all the products in this roundup offer free trials and/or totally free product tiers, allowing you to try before you buy.
Like the sound of Drip's ecommerce marketing automation functionality? Sign up for your 14-day free trial today.