Not all that long ago, online shopping and retail shopping in brick-and-mortar stores were completely separate experiences.
A shopper would buy a product digitally through their phone, tablet, or computer, or they would make an in-store purchase. There was little to no overlap between online shopping and retail shopping in a physical store.
But things have changed dramatically in recent years. And we're now at a point where there's a great deal of overlap.
For example, a shopper might perform product research on their laptop, check a local store's inventory on their smartphone and go pick up an item at a brick-and-mortar location.
To accommodate the needs of the modern customer, it's becoming increasingly important to develop an omnichannel marketing strategy that allows shoppers to shift from digital to physical seamlessly.
In this article, I'm going to explain the fundamentals of an omnichannel strategy, why it's essential in 2023, and offer some specific examples of brands that are leading the way.
Let's start at the top.
Table of Contents
What is an Omnichannel Strategy?
There's no lack of buzzwords in the digital marketing world. And "omnichannel strategy" is a hot one at the moment.
I feel like it's a term that people love to throw around, but they may not necessarily fully understand the exact meaning — especially when it concerns omnichannel vs multichannel marketing.
To clarify, having an omnichannel strategy means developing an integrated customer experience where shoppers can effortlessly move from digital channels like an app or website to a brick-and-mortar store.
I've found several definitions, but I think this one from HubSpot nails it:
"The ability to deliver a seamless and consistent experience across channels, while factoring in the different devices that consumers are using to interact with your business."
It all boils down to having a framework in place that allows shoppers to conveniently go back and forth from digital to physical during their buying journey with minimal friction.
Why an Omnichannel Strategy is Essential
The Harvard Business Review performed a study that examined the shopping behavior of over 46,000 customers over a 14-month period from June 2015 to August 2016.
It specifically looked at all phases of the shopping journey and focused on the channels that led customers to brands.
They found that only 7 percent of respondents shopped strictly online, and 20 percent only shopped in brick-and-mortar stores.
The vast majority of respondents used multiple channels during their shopping journey at 73 percent.
This means that nearly three-quarters of shoppers were omnichannel customers.
And this data is four years old.
With the growing ubiquity of mobile devices, I can only imagine that the number of omnichannel customers has increased even more in 2020.
The Harvard Business Review also found, "the more channels customers use, the more valuable they are."
Omnichannel customers spent an average of 4 percent more when purchasing a product in-store than single-channel customers, and they spent 10 percent more online.
And the omnichannel customers that used 4+ channels spent 9 percent more in-store than single-channel customers.
This data shows that having an effective omnichannel strategy can have a dramatic impact on your average order value.
Not only that, customers who use numerous channels tend to make purchases more frequently.
"A recent Fluent survey found that 47 percent of shoppers who engage with retailers across ten or more channels make purchases from their favorite retailer's website at least once a week, compared to just 21 percent for those who engage across one to four channels."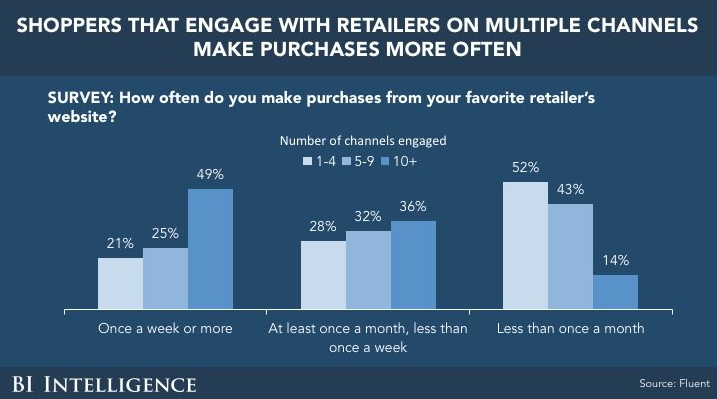 So it's clear that brands that can deliver an omnichannel experience have a significant advantage over those that don't.
And that advantage should only continue to grow moving forward.
One brand putting this into action is Heart Soul Heat. Founder Raoul Benavides explained to us how he thinks about his marketing strategy from an omnichannel standpoint, with both digital and traditional marketing channels being used.
When you start from an omnichannel perspective, it's a lot easier to market to your customers in a big-picture way.
Brands That Are Leading the Way
Now that we have an understanding of exactly what an omnichannel strategy is and its benefits, let's take a look at some brands that get it and some specific ways they're using this strategy to create an amazing customer experience.
Sephora
Sephora is an insanely popular cosmetics and beauty store that has a massive online and offline presence.
And they're one of the best in their industry when it comes to delivering a superb omnichannel experience.
For starters, they have a free mobile app called Sephora: Buy Makeup & Skincare.

It gives shoppers access to exclusive offers and deals, allows them to shop for their favorite beauty products with ease, discover recent beauty-related trends and releases, and more.
They can also "try on" products like lipsticks virtually through the app to see what it would look like before buying.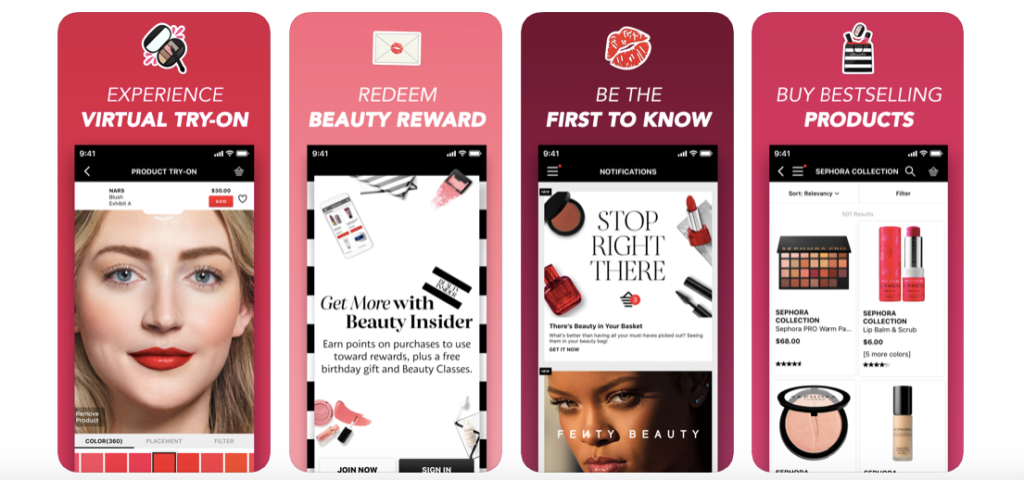 After finding a product that a shopper likes, they can add it to their cart and pick it up later at one of their brick-and-mortar stores.
Or if a shopper is already browsing through one of their stores, they can use the app to instantly see which items are currently discounted or out of stock.
Sephora also has some smart features on its website that bridge the gap between the online world and the brick-and-mortar.
In their website footer, there's the "Store Locations" feature.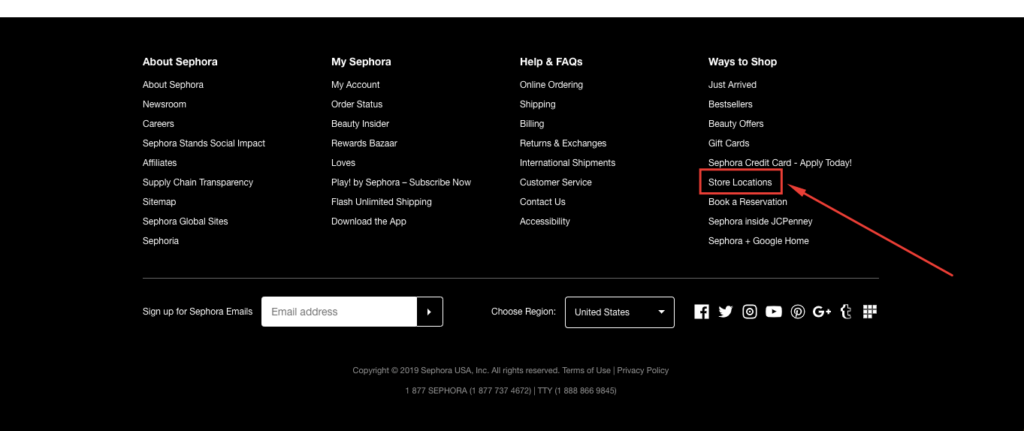 This page allows shoppers to enter their city and state or ZIP code to find locations in their area.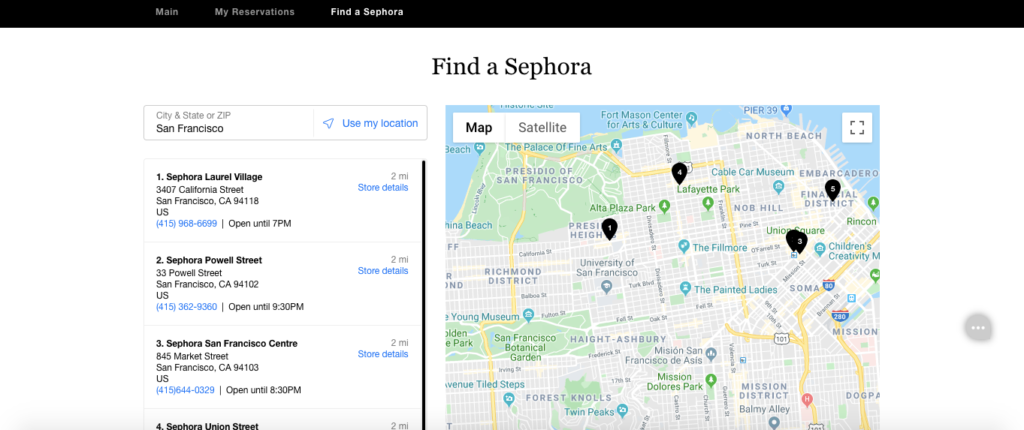 Shoppers can find in-store services through their website, such as makeovers and free lash service.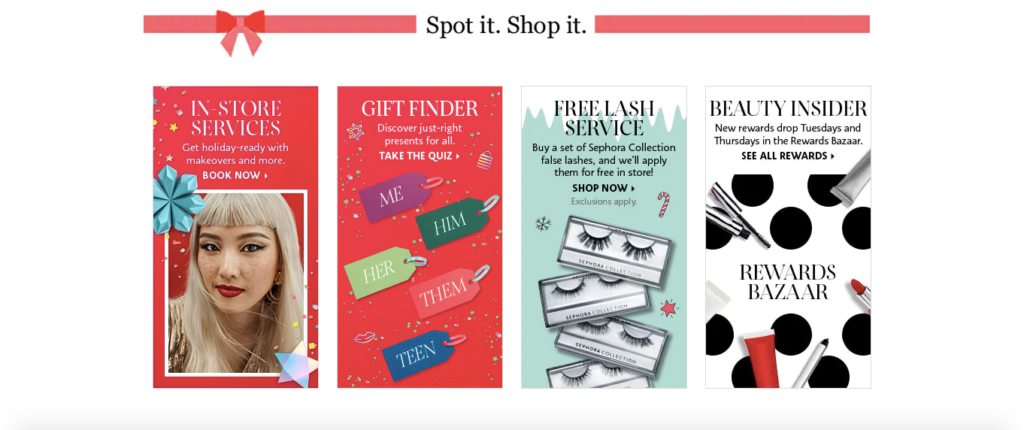 So if someone is interested in getting a makeover, they can choose from a full range of services and find the nearest location to them.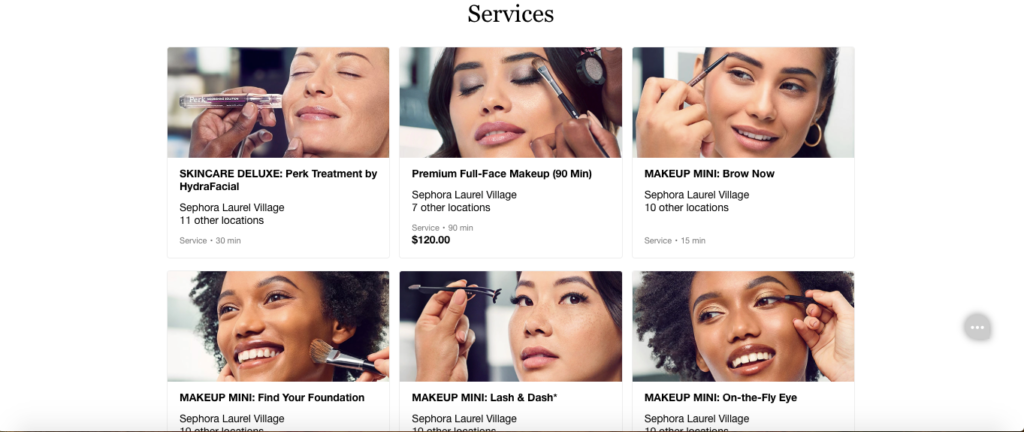 They simply choose whatever they're interested in and can book a reservation.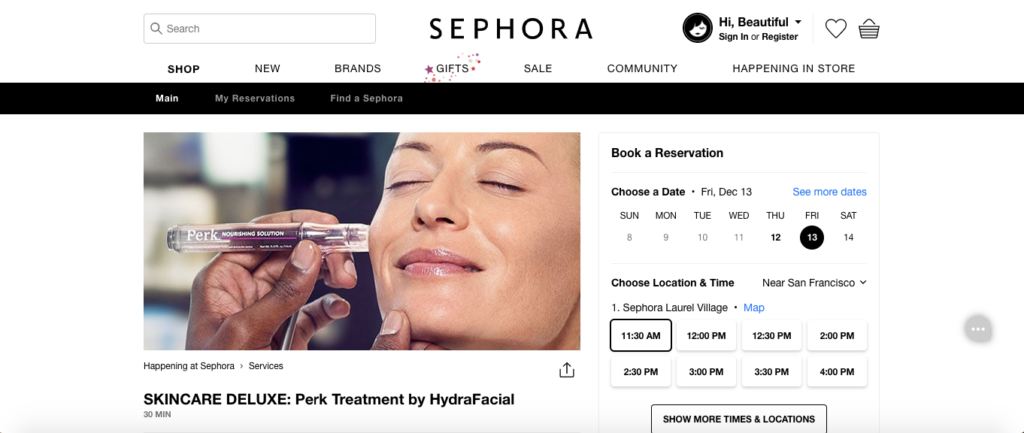 Sephora has a "Happening In Store" page on their site where shoppers can find out about classes and events that are happening near them.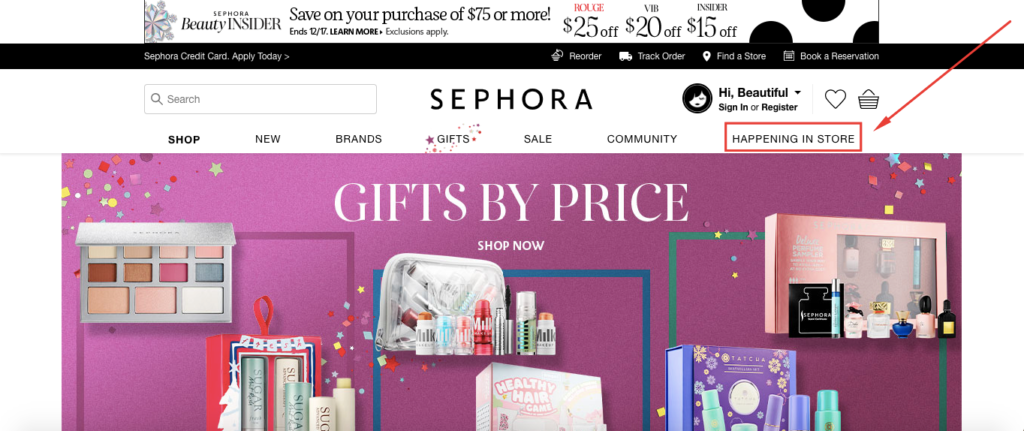 Here are just a few examples of what's coming up in December in San Francisco.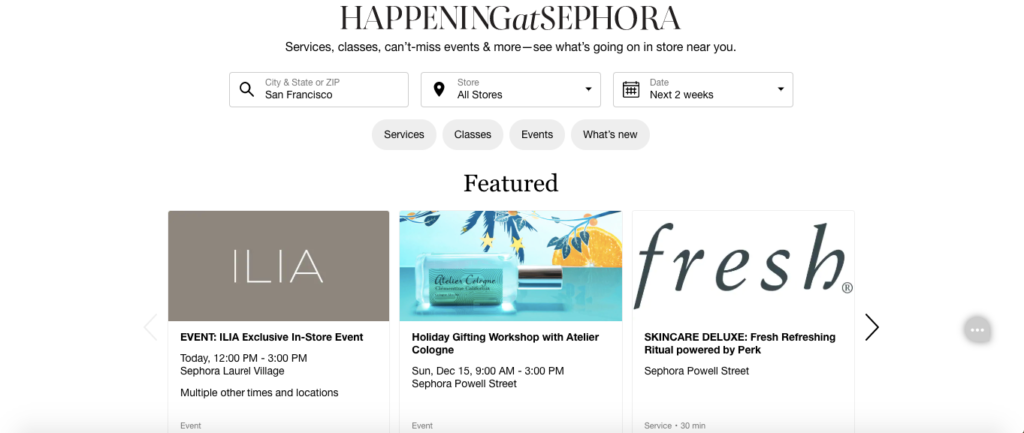 And if that wasn't enough, they've started equipping some of their stores with digital "beauty stations" where shoppers can use tablets to learn from tutorials and find their color palette.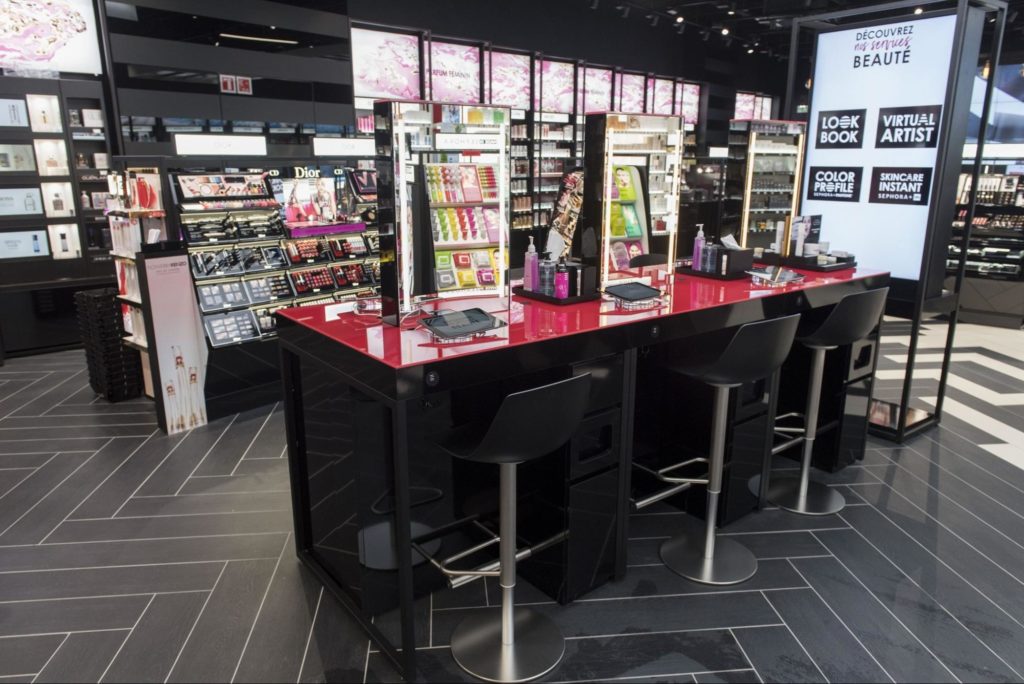 They even have "Beauty Boards," which feature images and products from what customers have shared on social networks.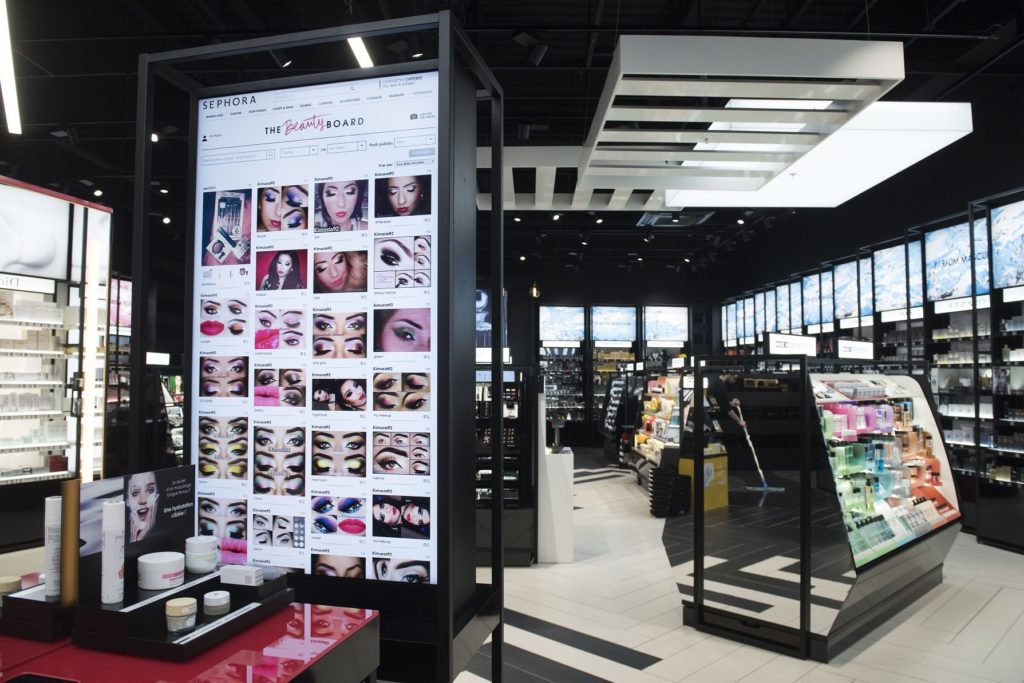 This article from the Fashion Network explains everything in detail and talks about how Sephora is one of the first brands to test out "phygital stores."
Although implementing robust technology like this probably isn't viable for most smaller brands, there's a lot that can be learned from Sephora and shows how far one can take an omnichannel strategy.
Neiman Marcus
Headquartered in Dallas, Texas, this is a brand that specializes in designer clothing, shoes, handbags, and beauty products.
And they've made major efforts to provide an integrated online and offline shopping experience.
It all starts with the Neiman Marcus app, which has a ton of cool features.

On it, customers can shop for products and purchase the latest designer arrivals.
They can check their points from the Neiman Marcus rewards program.
They can text, email, call, or FaceTime sales reps from within the app, which is perfect for enhancing the customer service experience.
Besides that, they can check on upcoming events to find out about designer experiences and promotions.
They also have a section on their website where shoppers can learn about store events in their area.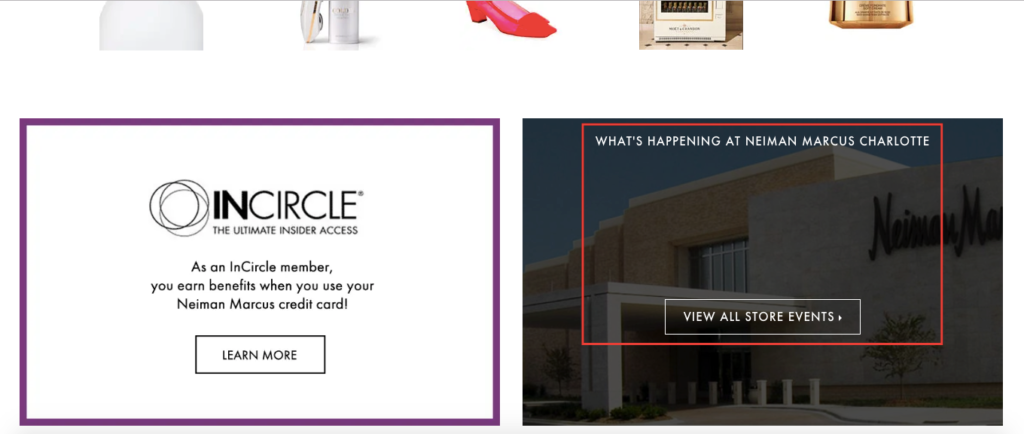 Here you can see a list of events that are happening over the next week in their Charlotte, North Carolina store.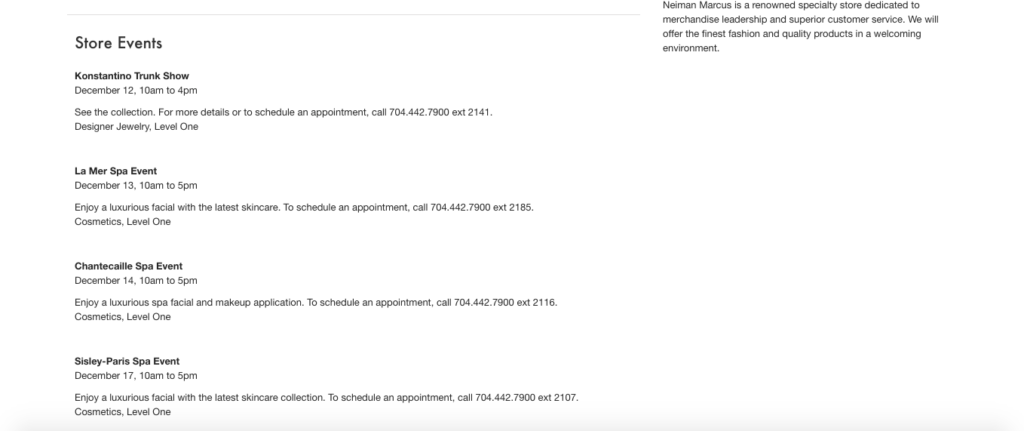 Shoppers can also find information on other in-store services like clothing alterations, personal shopping, bridal registries, and fur services.

Neiman Marcus also has one of the most innovative features I've ever seen in select stores called the "Memory Mirror."
With it, shoppers can record a 360-degree video using the world's first digital mirror to see what clothing looks like from all angles and in different colors.

"As you might expect, snapshots from the digital mirror can be shared, so you can ask your Facebook friends if red really is the best choice," writes Billy Steele, senior news editor at Engadget.
"There's also an option to share the session with a salesperson so they can recommend new items next time."
Here are a few pictures of the Memory Mirror in action.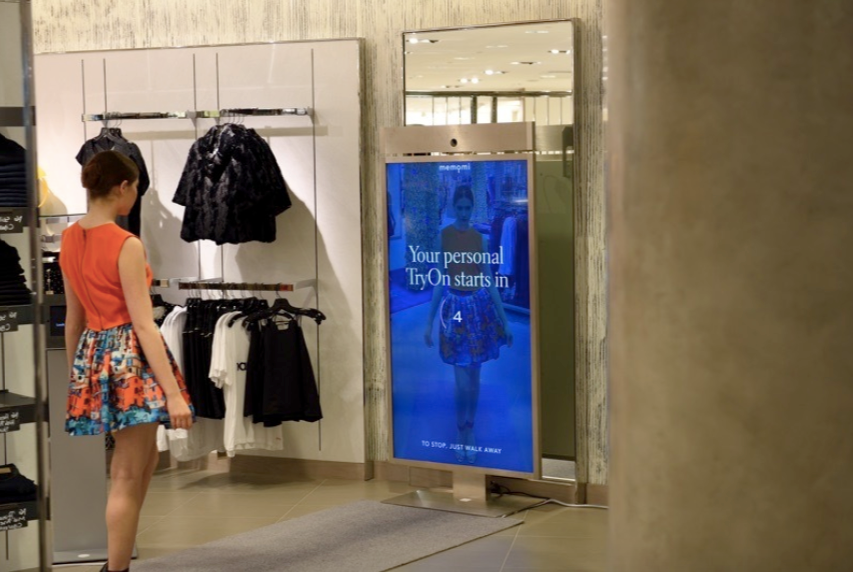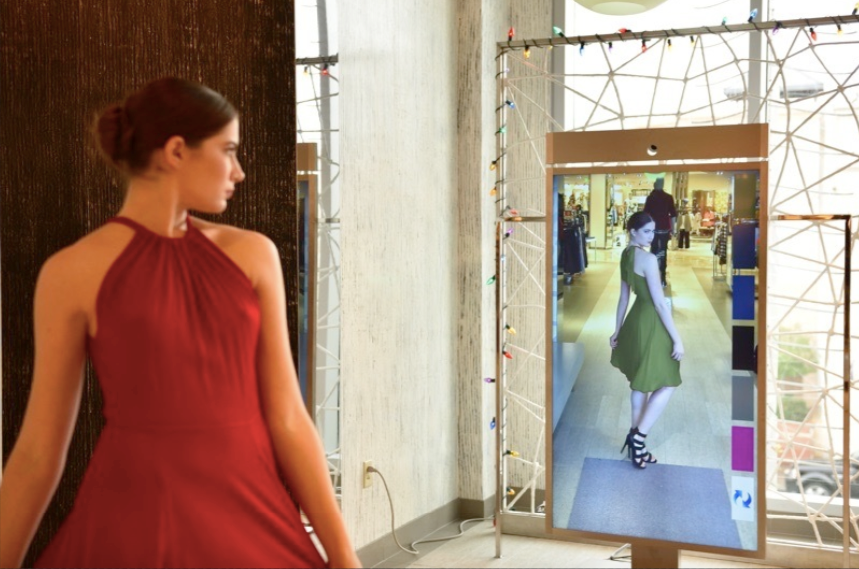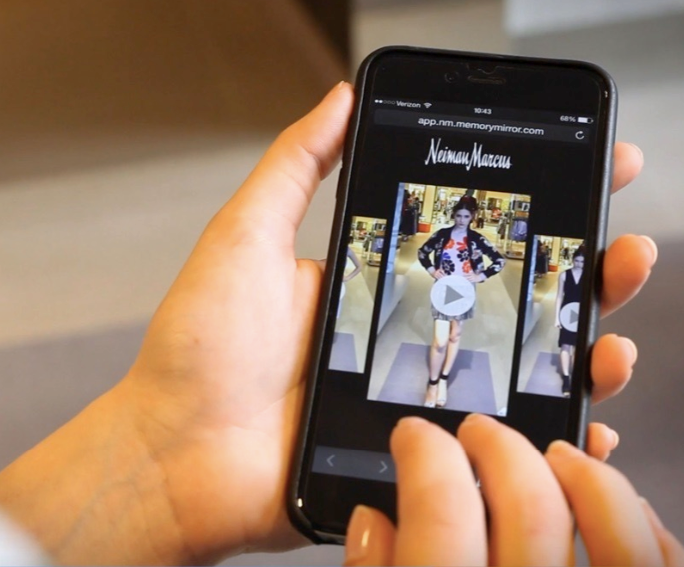 Now I'm by no means a fashion expert, but I would imagine that this type of technology would be a huge selling point to shoppers and would be instrumental in motivating them to buy.
And this goes to show that there's no limit to what you can do with your omnichannel strategy.
The more creative you are at providing an integrated experience, the happier your customers will be.
Crate and Barrel
For my final example, there's Crate and Barrel, which is a chain of retail stores that specializes in furniture and home decor.
From the moment shoppers land on their website, it's clear that Crate and Barrel provides a great omnichannel experience.
For instance, they quickly let shoppers know that they can buy items online and pick them in a store.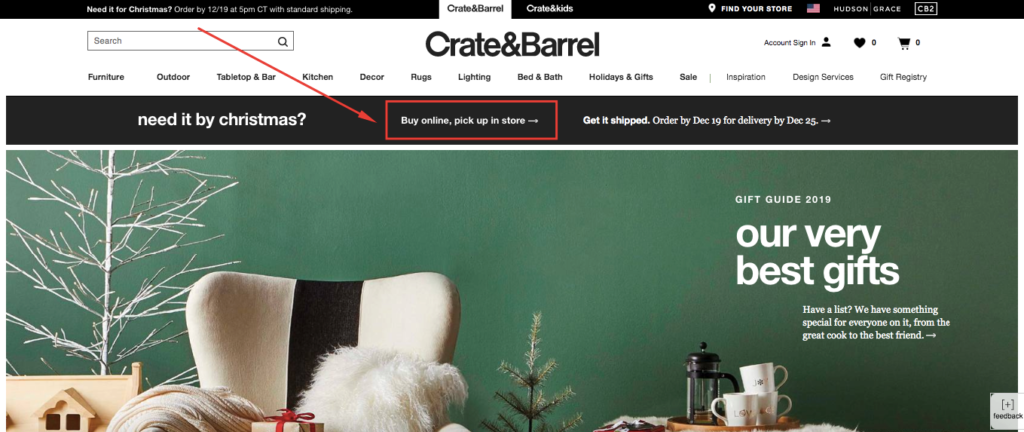 Whenever a shopper clicks on this link, they get a quick rundown of how the process works, their FAQs, and more.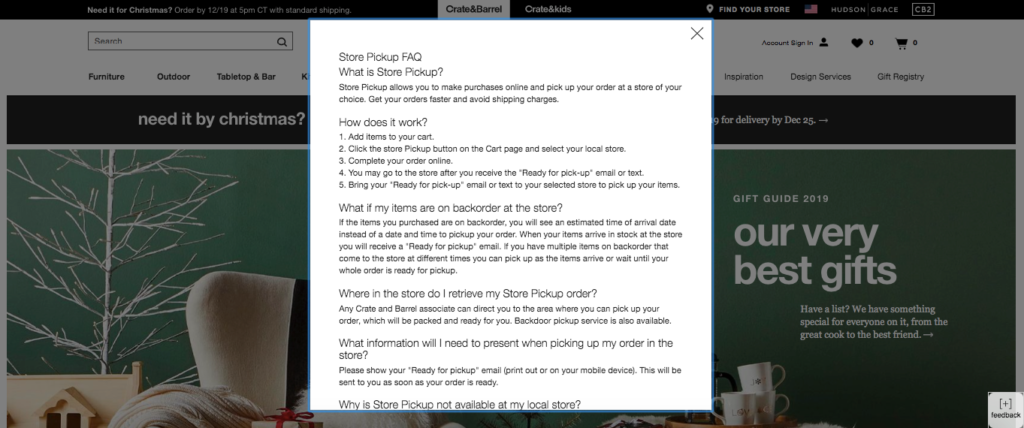 Another thing I love about Crate and Barrel is how easy they make it to switch from device to device when shopping.
2017 research from Statista found that US shoppers use a variety of devices, with:
Sixty-eight percent of shoppers using a smartphone
Forty-seven percent using a laptop
Thirty-three percent using a desktop
Thirty-one percent using a tablet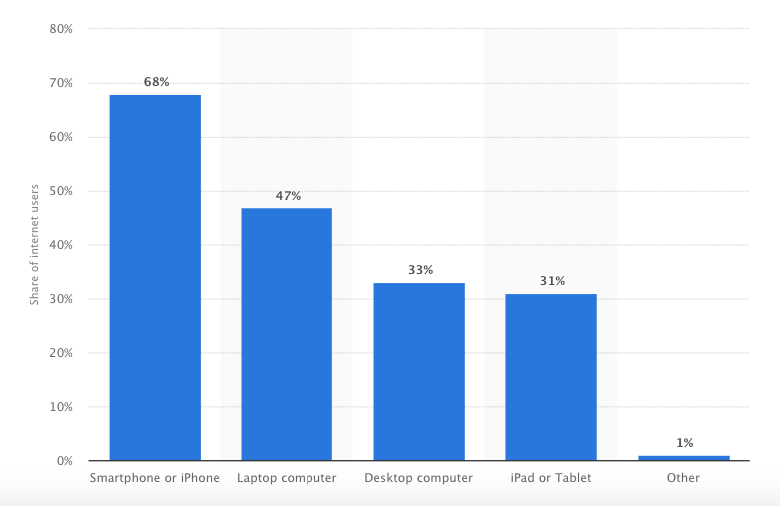 To accommodate the variety of devices shoppers may use throughout the buying journey, Crate and Barrel automatically save their shopping cart and browsing data whenever they're logged into their account and makes the information accessible on different devices.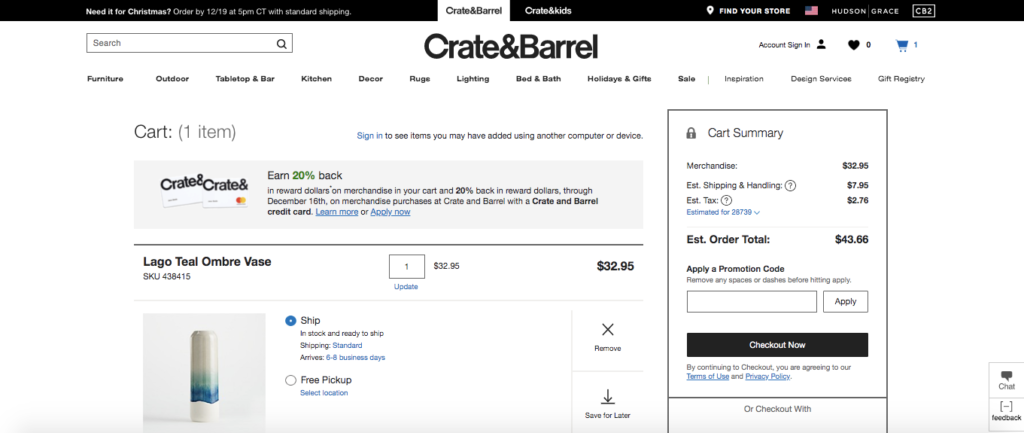 This way, a shopper could start by adding an item to their cart using their smartphone and go back later to buy it using their desktop without having to search for the product all over again.
Not only does this save shoppers a lot of time, but it also increases Crate and Barrel's conversion rate because fewer sales slip through their fingers.
They also have the "Crate Design Studio" where shoppers can create custom designs.
There's the free complimentary option where they can communicate with home decorating professionals through email or by visiting one of Crate and Barrel's stores.
And there's the premium version where they get:
A professional floor plan;
A digital 3D image of their design; and
An optional in-home design consultation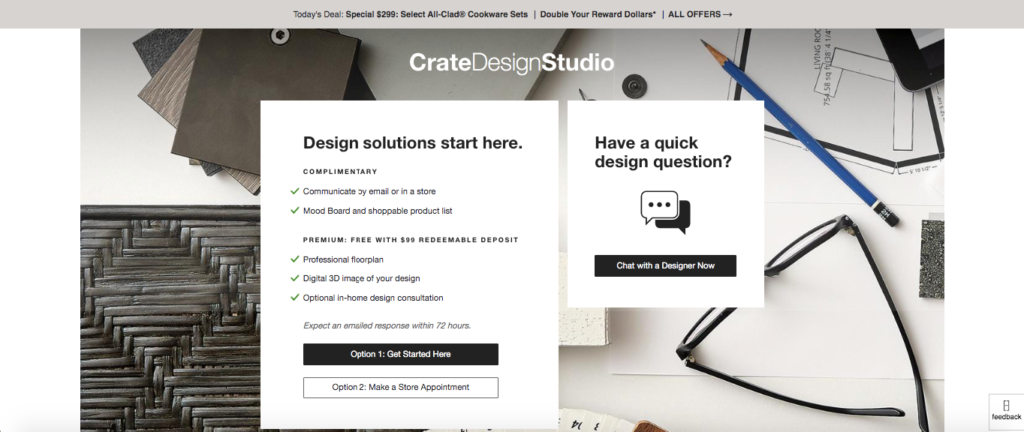 Crate and Barrel even allow shoppers to create a "Mood Board" where they can save their favorite products and see what they would look like together.

And of course, they have the option of ordering online or picking items up in an in-store location.
On top of that, Crate and Barrel have an awesome mobile app to flesh out their omnichannel strategy, which puts "the whole store in the palm of your hand."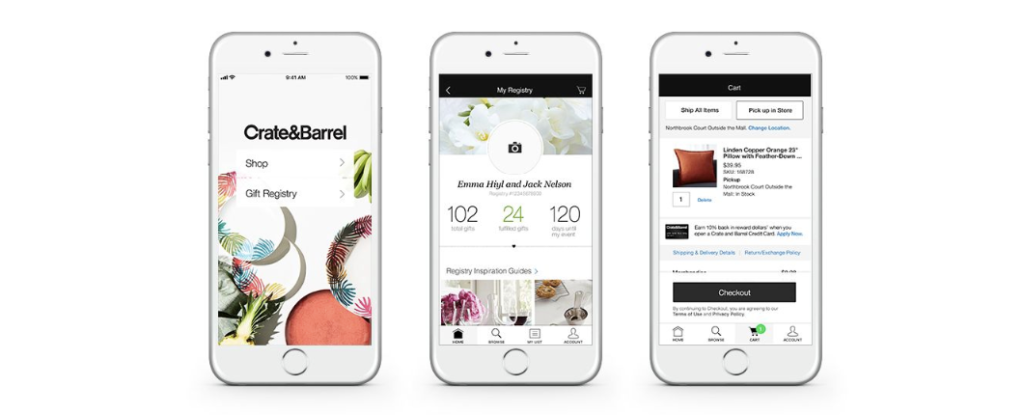 This way, shoppers can get access to new offers and sales, build favorites lists, and buy a product online and pick it up in-store with ease.
Shoppers can also scan items in-store to get an instant price check or view additional colors and sizes.
It's quite impressive.
Conclusion
The merging of the digital and physical shopping worlds was an inevitability that's been a long time coming.
Smartphones, in particular, have been a big catalyst, with 81 percent of Americans owning one in 2018.
As technology continues to evolve, this overlap will only continue to grow.
Smart brands understand this trend and continually look for new ways to integrate the digital with the physical, or as Sephora calls it, phygital.
And as we've just learned, the way you do this is by developing an effective omnichannel strategy.
The data clearly shows that this can increase both average order value, as well as purchase frequency.
Therefore, it's something that's definitely worth your attention as we move forward into the next decade.
Hopefully, the three examples I mentioned above provided you with some inspiration and ideas that you can implement into your brand, allowing you to better cater to omnichannel customers and be more competitive.