Picture the scene: you've searched high and low for the perfect pair of fringed moccasins.
Thrilled, you click through to the product page and prepare to add-to-bag.
But then disaster strikes… they're out of stock.
This scene has become all too familiar to online shoppers in the past couple years.
A perfect storm of supply chain disruption and surging demand in certain categories meant out-of-stock messages climbed by an astonishing 172 percent on pre-pandemic levels heading into the 2021 holiday season, according to Adobe Analytics, with stock shortages most common in:
Apparel
Sporting goods
Baby products
Electronics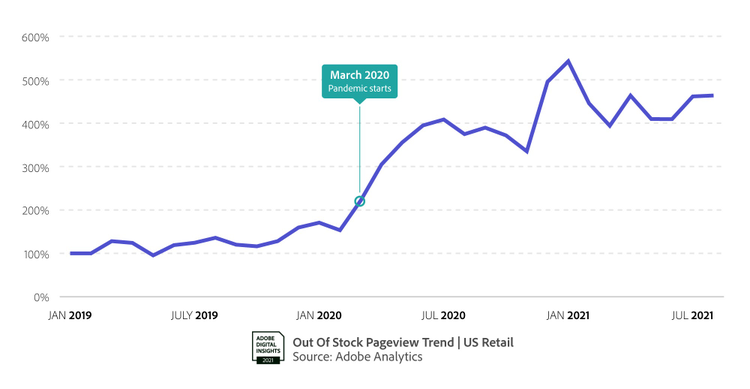 If you don't have an item in stock right now, you can't expect shoppers to wait patiently for it to reappear. A 2020 McKinsey survey discovered that, of the 34 percent of consumers who have shopped with new brands, retailers, or websites since the pandemic hit, 29 percent did so because of product availability issues.
But it doesn't have to be like that.
If you get your out-of-stock product pages right, you have one final chance to convince customers to stick with you rather than navigate straight to your competitors.
So without further ado, let's look at nine strategies to help you win the sale even when you're struggling with stock shortages.
How to Increase Conversions on Out-of-Stock Product Pages
1. Incentivize Shoppers to Buy Something Else
I'm going to start with my favorite approach to mitigating stock issues: giving shoppers a compelling reason to buy something else instead.
Think about it: if you walked into a brick-and-mortar store to enquire about a product and the assistant told you it was out of stock, then promptly ignored you, you'd think that was a pretty poor experience.
So why offer exactly the same experience on your e-commerce store? It's lazy, it annoys your customers, and it costs you potential sales.
Streetwear retailer Karmaloop shows us an alternative approach. When you try to purchase an out-of-stock product, you're redirected to a boilerplate page urging you to search for alternative: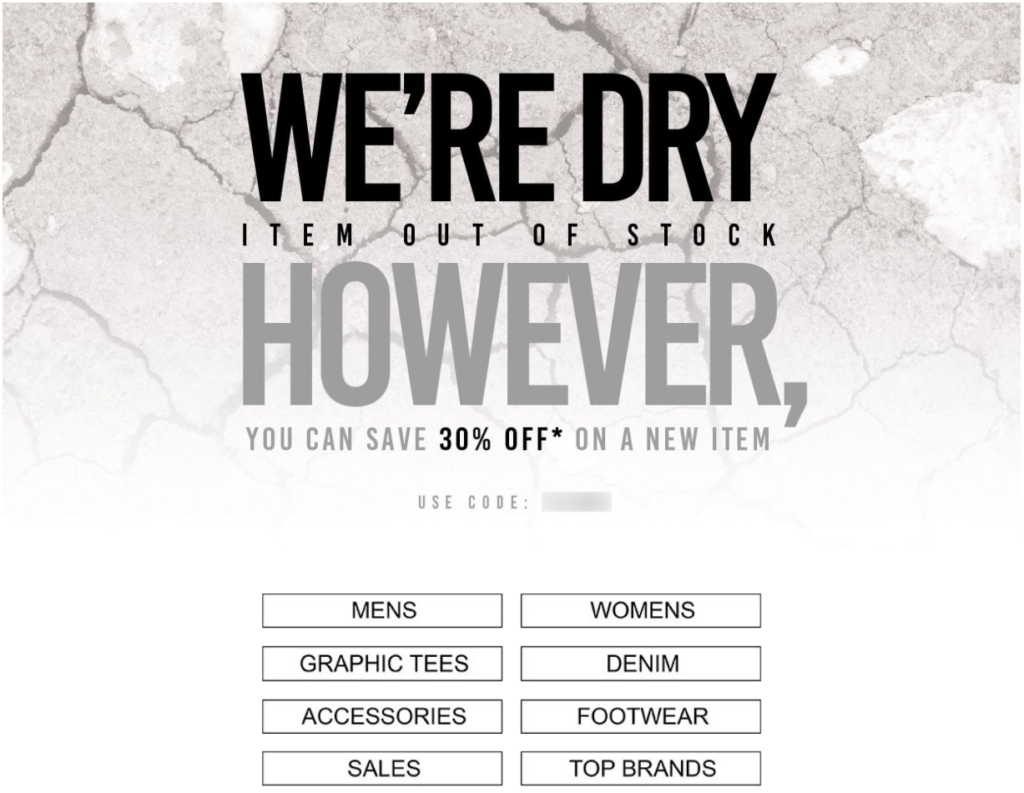 Best of all, you're offered a juicy 30 percent discount for your trouble.
That's a pretty aggressive saving, but it's a smart approach. Better to sell something at a 30 percent discount than to lose the sale completely.
2. Suggest Alternative Products
An iteration of the previous strategy is to recommend alternative products yourself, rather than giving customers an incentive to shop around.
That way, you can be certain that the options you present are available right now. The last thing you want is for a customer to find a second product they want to buy, only to discover it's out of stock too.
This approach also means there's no need to offer a discount, which keeps your margin intact. Here's how it could look: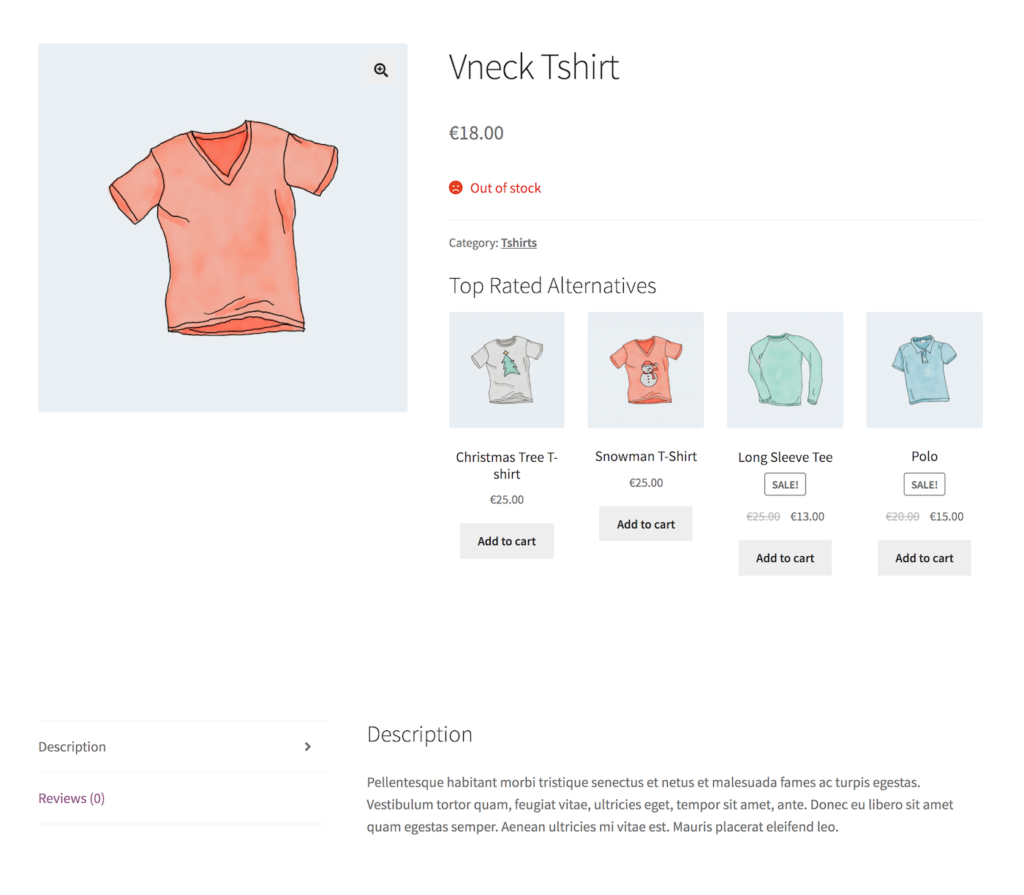 Source: WooCommerce
Those "top-rated alternatives" are popular, in-stock products that come from the same category as the unavailable product. As long as the customer wasn't 100 percent sold on their original selection, this strategy gives you a great chance of retaining them.
The only minor downside is that it requires a little technical wizardry to implement, although there are plenty of add-ons and plug-ins to popular e-commerce platforms that can do the job for you.
3. Capture the Customer's Email Address
The best way to build an effective out-of-stock product page is to think about what other value you can offer the customer.
Sure, you can't sell them the product they want right now, but that doesn't mean you should just give up.
If you're experiencing a temporary stock shortage that's likely to be resolved in the near future, one smart technique is to ask for the customer's email address so you can let them know when it's back with a back-in-stock email.
Let's look at one way that can work in practice. First, the customer is presented with a call to action (CTA) telling them the product is out of stock, but that they can register for notifications: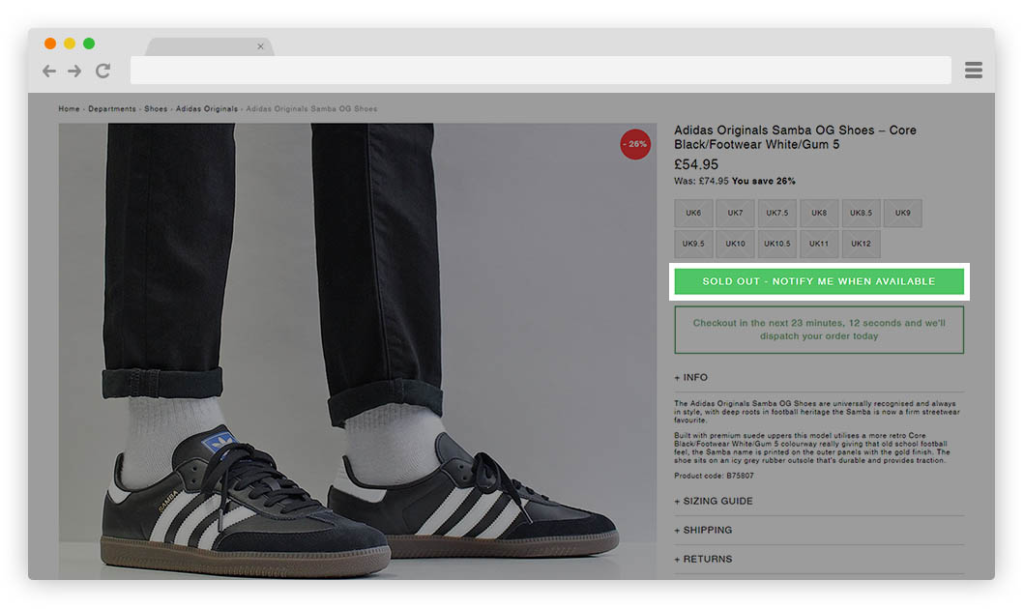 Source: Back in Stock
Then, they're shown an email capture popup to confirm the specifics of their prospective purchase: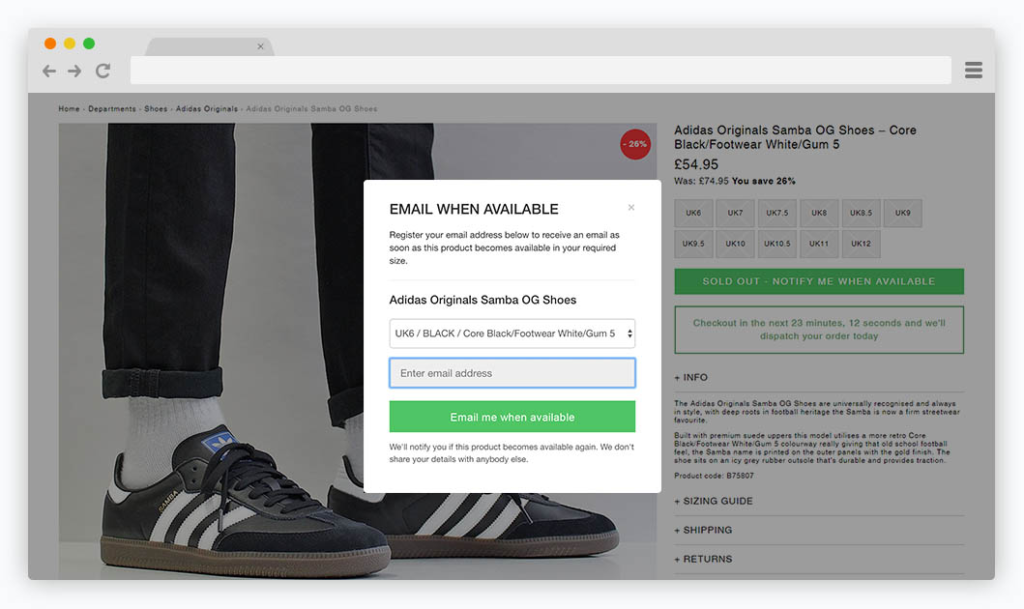 Source: Back in Stock
This approach has twin benefits:
It gives you the opportunity to retain the sale; and
You can add the customer to your marketing list (provided they give you permission).
4. Clearly Explain Sizing Availability
What if the products you sell aren't one-size-fits-all? Or if you sell the same item in multiple colorways, all from a single product page?
You can't just slap up a single "out-of-stock" page to cover all eventualities, because some sizes or colors might still be available. This is a massive headache in fashion e-commerce in particular.
ASOS can generally do no wrong when it comes to all things user experience-related, but in my view, it misses a trick here: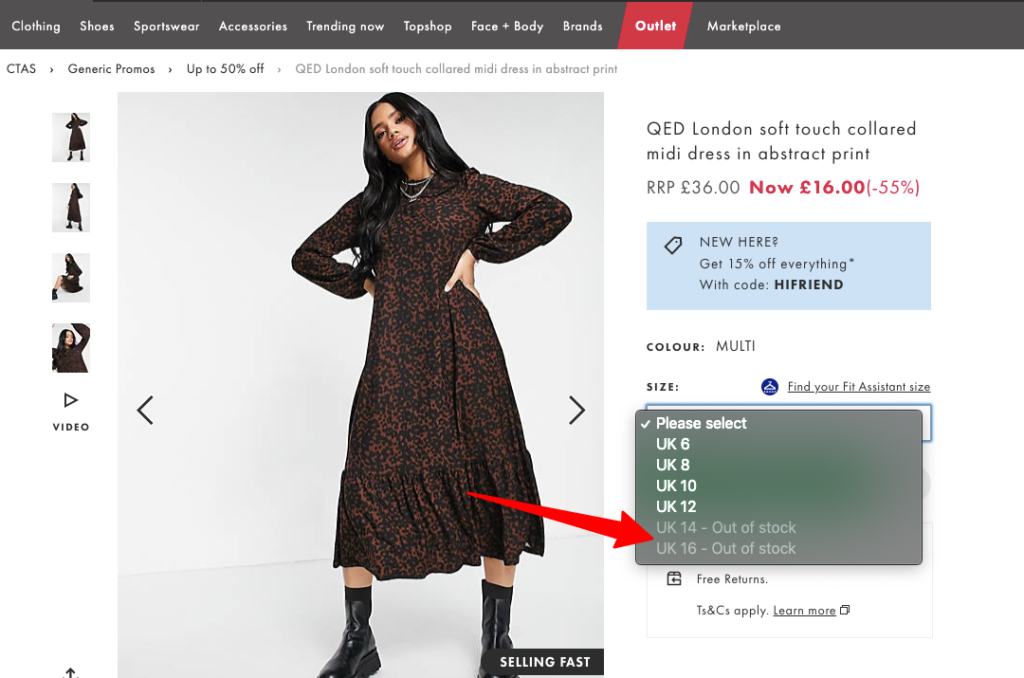 As you can see, there's no indication of stock shortages on certain sizes until you click the dropdown menu. That's pretty frustrating for customers.
By contrast, look at how Sophie & Trey tackles the same issue: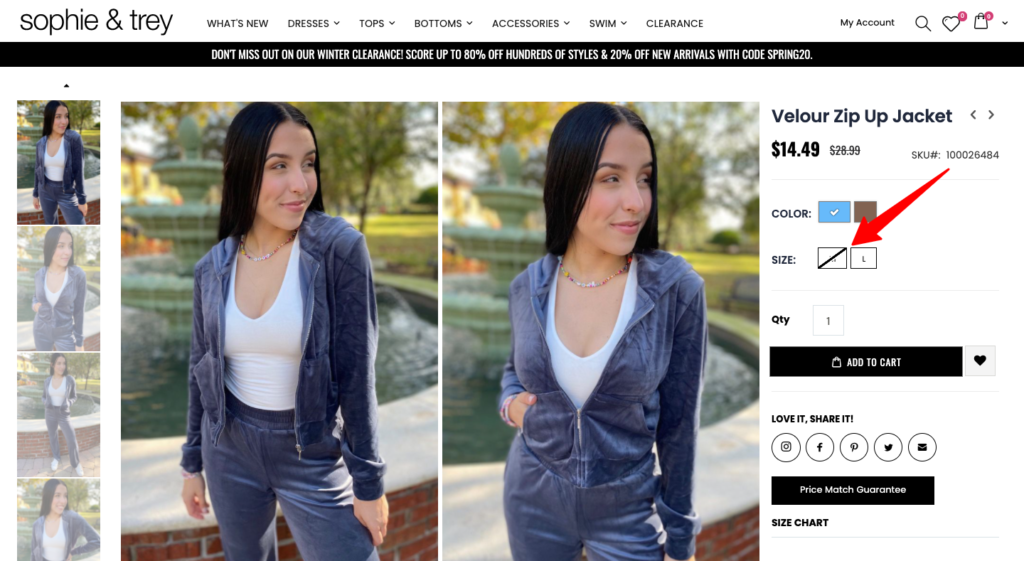 It's immediately obvious this product is out of stock in a medium.
Admittedly, this doesn't fully mitigate the issue: the product is still out of stock. But Sophie & Trey at least makes the situation feel less irksome by explaining availability levels without forcing the user to click any extra buttons.
It's all about setting expectations as early in the buying process as possible.
5. Bump Out-of-Stock Products to the Bottom of Category Pages
Unless you have an extremely limited product range, chances are your category pages and internal search results span multiple pages.
Few, if any, shoppers are going to cycle all the way to the end of those pages. For instance, take a look at H&M's men's category: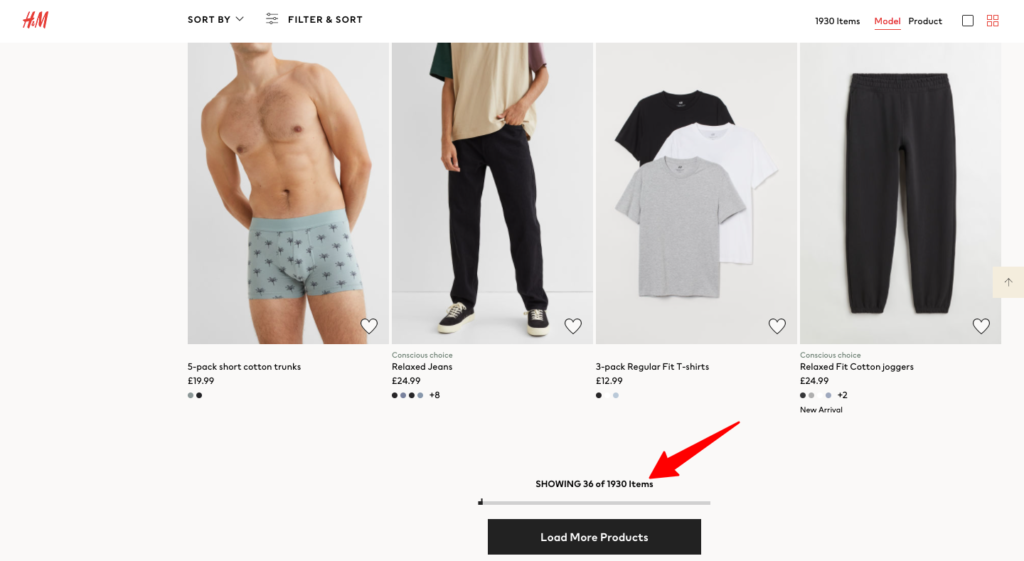 You'd have to hit "load more products" a ridiculous 53 times to view its entire range.
So there's really no harm in hiding your out-of-stock products away at the very bottom, or end, of those results. That way, you'll prioritize the stuff that's actually available.
Unfortunately, it's not quite that simple. That approach works perfectly well for shoppers who search for products within your website. But what if they search on Google and come across a product listing in SERPs?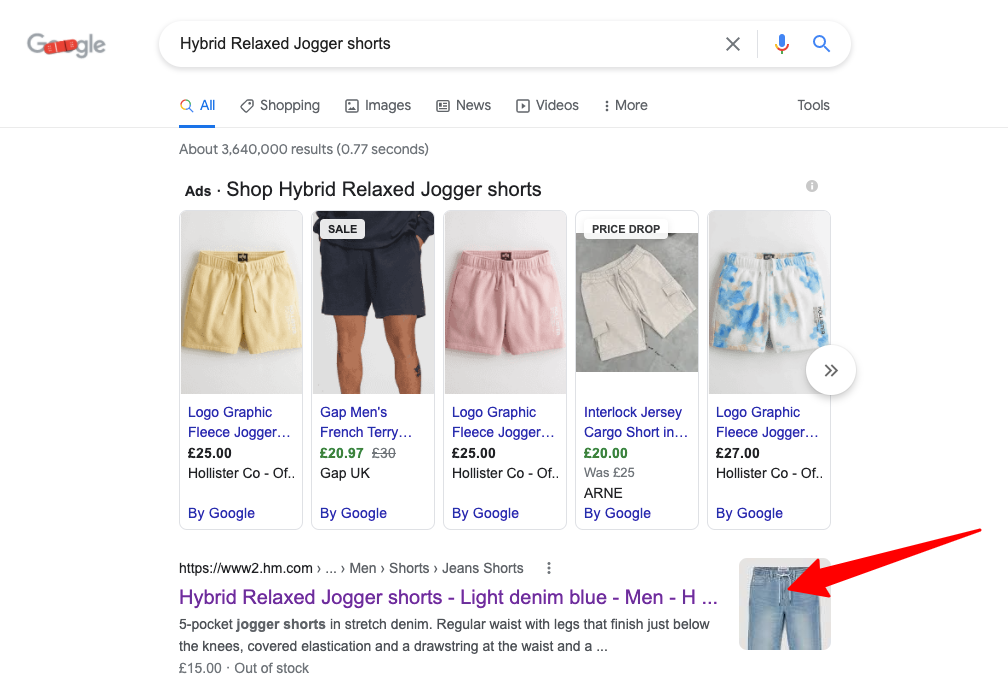 They'll click through to the page, only to discover you don't have the product in stock. Then they'll bounce. That's why this strategy only works in tandem with one (or more) of the other out-of-stock product page strategies in this article.
6. Allow Customers to Create Custom Wishlists
This smart out-of-stock product page strategy comes from the geniuses at Amazon.
At any one time, Amazon lists something like 350 million products. Inevitably, some of them will occasionally be out of stock.
Let's say that, for some reason, you're desperate to buy a brand new iPhone 6S. Funnily enough, even an e-commerce behemoth like Amazon and its myriad vendors are struggling with stock levels on a 6.5-year-old smartphone, so we're presented with two options: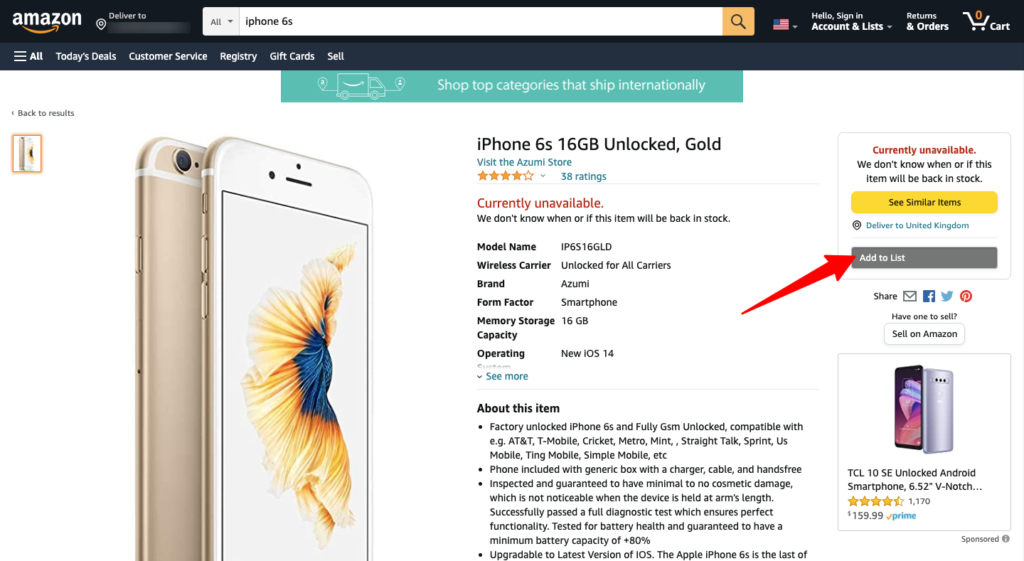 We've already covered the first option: presenting us with alternative products. The second option allows us to add this box-fresh iPhone 6S to a "wishlist" of products we're desperate to buy:

That way, you can easily find the product again in the future. You can even share a wishlist with friends so they can buy it for you if/when it's back in stock (as long as you have generous friends).
7. Offer Pre-Orders On Unavailable Products
Just because a product is out of stock, that doesn't mean you need to abandon the transaction. It also doesn't necessarily mean you need to point the customer in a different direction.
Instead, you can allow them to place a pre-order. If they want a product badly enough, they'll jump at the chance.
As you can probably guess, pre-orders are orders on products that aren't currently in stock. They give customers the opportunity to request shipping as soon as the product becomes available.
Here's an example of how this strategy looks, courtesy of skateboard brand H-Street: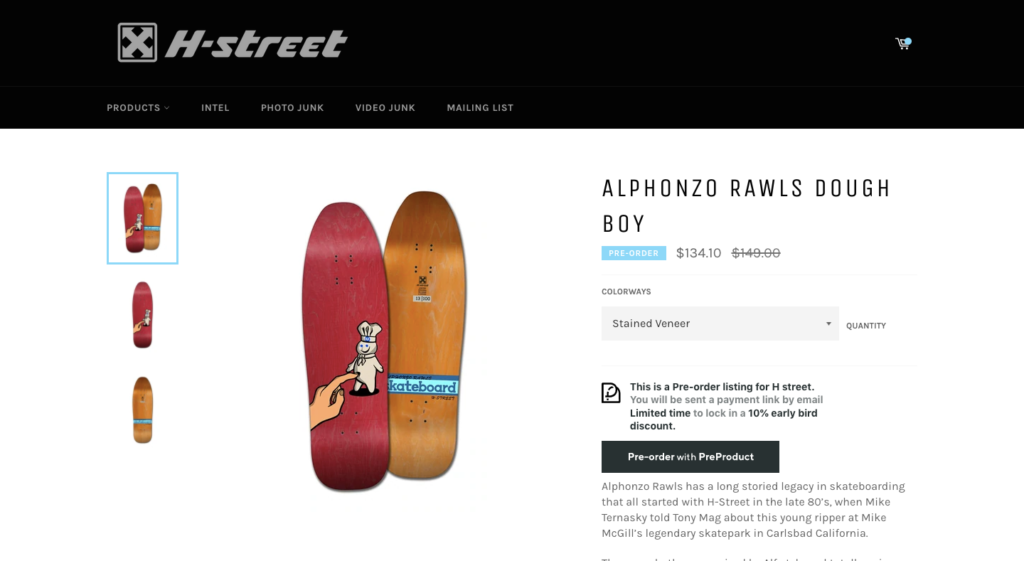 H-Street makes this option sound even more appealing by offering a 10 percent discount for anyone who places a pre-order. With this approach, lack of stock isn't a barrier to closing the deal here and now.
As a side note, this same tactic can be used to great effect on products that haven't yet hit the market. For instance, Sony implemented it ahead of the release of its long-awaited PlayStation 5 console.
Bear in mind that, as with any out-of-stock product strategy, it's absolutely vital your communication is on point. If customers are going to hand over the cash while a product is unavailable, you need to be crystal clear about when they can expect to receive it.
Follow up with an order confirmation email as soon as the transaction is complete. And provide regular updates around expected delivery times so the customer doesn't feel abandoned.
8. Use a "Product Key" On Category Pages
One underutilized way to deal with out-of-stock product pages is to dissuade shoppers from clicking on them in the first place.
That's exactly what Good as Gold does by displaying a "product key" on its category pages: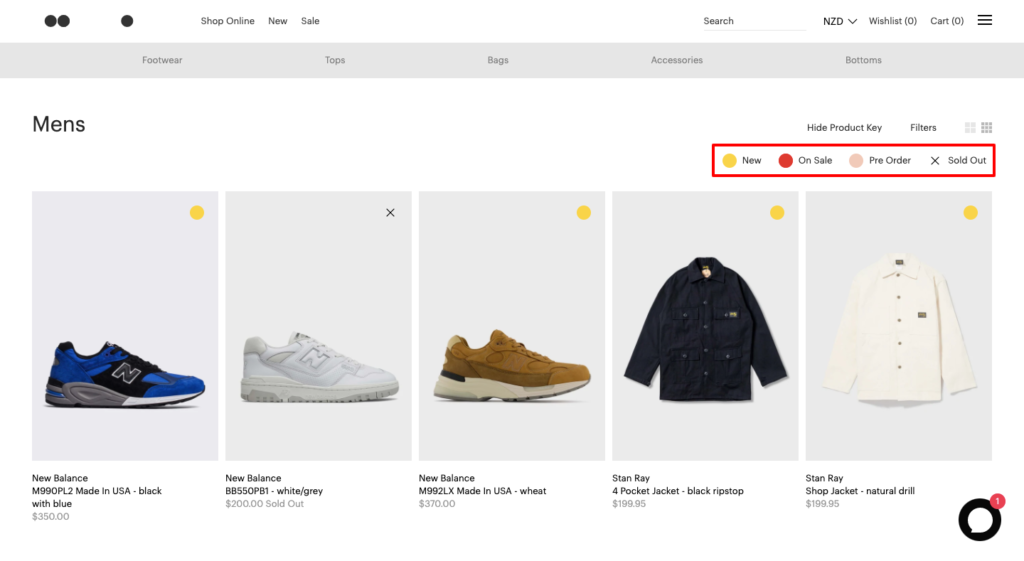 Any items marked with an "X" are out of stock, which means there's little reason for customers to navigate to them.
At the same time, shoppers can see all the other products sold by Good as Gold that are in stock, giving them plenty of reason to simply look for something else.
9. Increase Your Shipping Time
Full disclosure: I'm not a massive fan of this strategy, because it can come across as a little misleading.
However, in situations where you're absolutely certain that a product will be back in stock in a day or two, you can simply add those extra days onto your shipping time.
That way, customers can buy straight away without ever learning about your availability issues.
Clearly, this strategy has the potential to backfire, particularly at a time when supply chains are shrouded in uncertainty. If the product doesn't come back into stock when you expected, you'll be left with some serious explaining to do.
It makes for a pretty poor customer experience. So while it might have won you one sale, it could come at the expense of dissuading that same customer from shopping with you again in the future. It could earn you a bunch of negative customer reviews, too.
Conclusion
As you can see, out-of-stock products don't have to equal lost sales.
There are plenty of approaches you can take to retain the customer and close the deal—either right now, or whenever the product comes back in stock.
Whichever tactic(s) you choose, it's important to be as transparent as possible.
Don't keep the customer waiting indefinitely; if you've captured their email address, provide regular updates so they know you haven't forgotten them.
And consider offering some sort of reward for their patience, because let's be honest: you're not the only e-commerce store out there.