Chances are, most of your marketing strategies and workflows are geared toward acquisition.
Because without a constant stream of new customers, you'll never hit your growth goals.
But, as marketers, our work is only just beginning at the point when a shopper places their first order. Now your focus shifts to building a mutually beneficial long-term relationship with them by:
Letting them know when their order will arrive
Explaining your exchange and returns policies
Helping them get the most out of their purchase
Encouraging them to review your product
Asking them to refer a friend
Tempting them with an

upsell or cross-sell offer
In short, you need a sophisticated post-purchase workflow that delights customers, answers their questions, makes them look forward to their next order, and ultimately turns them into fully-fledged brand advocates.
With that in mind, in this article I'll explain exactly what advanced post-purchase workflows look like — and I'll provide real-world examples to help you build your own.
But first…
Why You Need Advanced Post-Purchase Workflows for Ecommerce
In the cut-throat world of ecommerce, it's all too easy to fixate on poaching customers from your rivals at the expense of fostering relationships with your existing customers.
This is borne out by the fact that just one in five ecommerce professionals have a dedicated customer retention budget, while almost two-thirds allocate more budget to acquisition than retention.
That makes sense if you're faced with a binary choice between acquisition and retention. After all, as long as your products are half-decent, you'll inevitably retain some customers — but you (probably) won't pick up any new ones without making a concerted effort.
But it's not a binary choice, is it? There's no reason you can't do both.
Marketers should absolutely be committing more time, effort, and budget to retaining existing customers.
Especially given that research from Gorgias reveals repeat buyers represent just over a fifth of the average ecommerce brand's customer base, yet account for:
44 percent of revenue
46 percent of total orders
If you're looking to up your retention game, building a post-purchase email workflow is an obvious place to start.
It sets expectations early and puts customers on the path to becoming loyal repeat shoppers.
And for the removal of doubt, having lots of loyal customers is definitely a good thing. Zendesk found that 52 percent of consumers go out of their way to purchase from their favorite brands, while Yotpo discovered that 56 percent of loyal customers will spend more on a brand — even when cheaper alternatives exist.
Sounds good, right?
Okay, so we're agreed: brands should be focusing more on retention. And post-purchase workflows are one of the most effective ways to turn first-time buyers into loyal repeat customers.
Now, let's consider what an advanced post-purchase ecommerce email workflow might look like…
Try This 8-Touch Advanced Post-Purchase Workflow for Ecommerce (That Build Loyalty)
The first "phase" of your post-purchase workflow centers on transactional emails: those sent to individual customers who perform a specific action (in this case, placing an order).
According to Silverpop, transactional emails have an average unique open rate of 45 percent, which is about twice as high as non-transactional emails.
That makes them a seriously valuable piece of email real estate. Yet many brands don't get the full benefits because they only provide the most basic information.
Add these email types to your post-purchase workflow to answer common questions, spark excitement, and help customers get the highest-possible enjoyment from their new product…
Email #1: Order Confirmation Emails
Order confirmations are the crown jewels of the transactional email world, with impressive average open rates of 58+ percent.
Clearly, they're not predominantly a marketing email. Customers expect order confirmation emails to contain important information like:
The product(s) they ordered
The order price
The shipping method and address
But provided you give them all those essentials, there's nothing to stop you adding a little flair to your order confirmations.
In my first example, razor subscription company Estrid makes the customer feel good about their purchase by explaining that a portion of the sale goes to the brand's charity partners: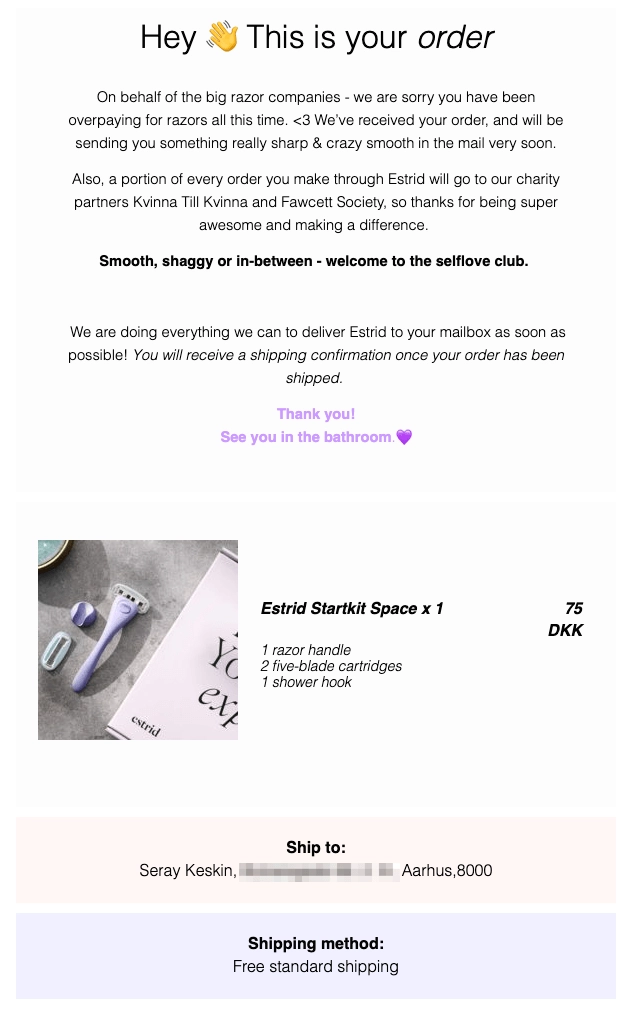 What better way to guard against buyer's remorse than telling customers that their actions will help support a good cause or two?
Email #2: Shipping Confirmation Emails
Once they know their purchase went through smoothly, customers eagerly await the shipping confirmation email, which tells them when they'll finally get their hands on their shiny new product.
Again, open rates are through the roof for these transactional emails, so why not use them to support your marketing efforts?
Glossier does this by sparking excitement with some effective email copywriting that prompts customers to clear some shelf space ahead of their delivery date: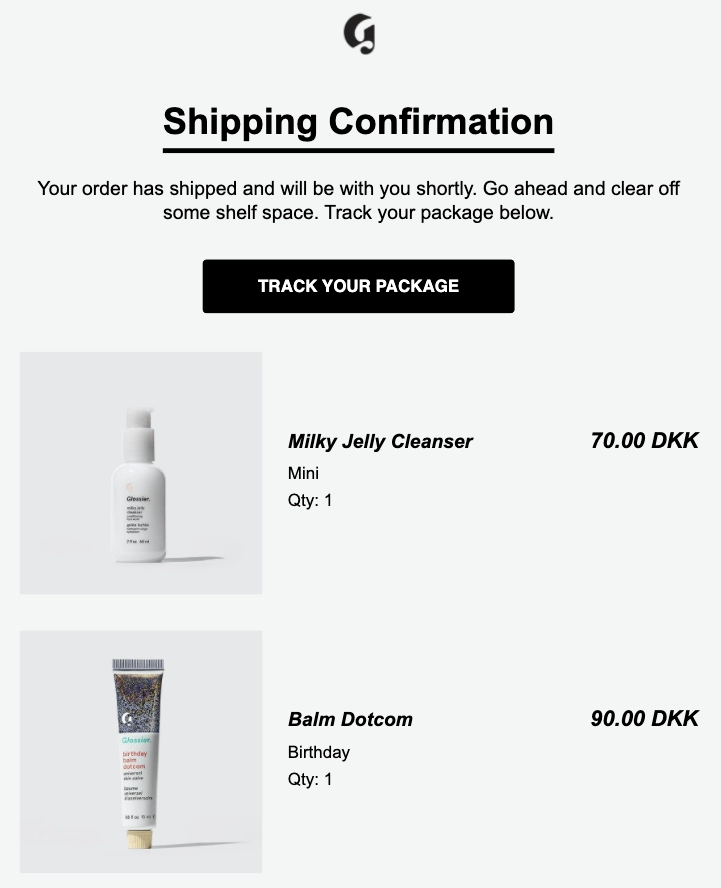 Email #3: Delivery Confirmation Emails
The final step in the transactional email phase of your post-purchase workflow is to confirm that the customer's order has been delivered successfully.
Ostensibly, delivery confirmation emails give consumers an opportunity to reach out if there are any issues with their product (or if it just hasn't turned up).
But you can also use them to share valuable information about their new purchase, just like flower delivery company Bloom & Wild does here: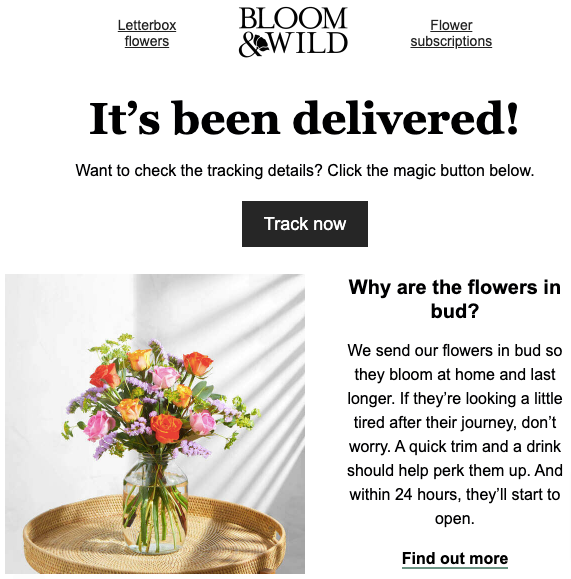 This simple email sets customers' expectations about what their flowers should look like, which no doubt saves a bunch of calls and emails to Bloom & Wild's support team.
If transactional emails are the meat and potatoes of your post-purchase workflow, the next phase — your marketing email sequence — is the champagne and caviar.
These emails are all about delighting the customer by providing tons of added value and (hopefully) encouraging them to:
Write a review
Recommend you to friends and family
Buy more stuff
Here are five email types to consider for this stage of your workflow…
Email #4: Send a Thank You Email
Think of thank you emails as a halfway house between transactional and marketing emails.
On one hand, they provide the type of basic info you'd expect from a transactional email, such as a brief summary of the customer's purchase.
Canadian pet supplies retailer Homes Alive shows us how that looks: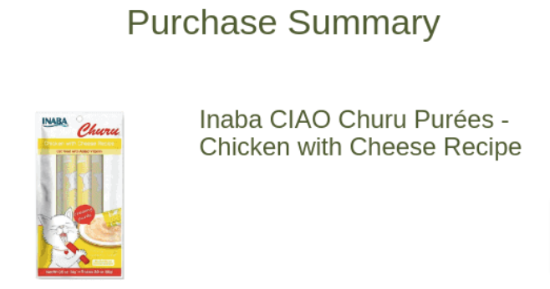 But this isn't just another transactional email, because it also shares a little of Homes Alive's brand story — kind of like you'd get in a welcome email: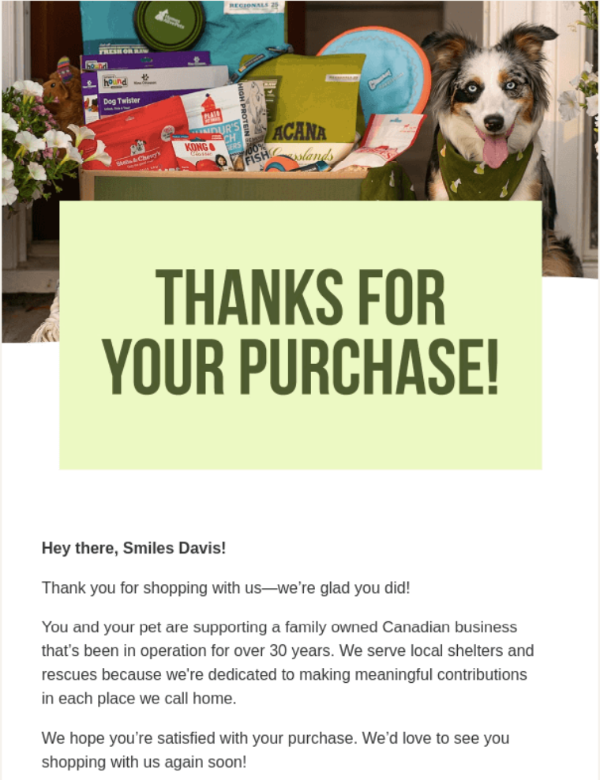 Image source
This helps customers understand who you are and what you stand for — a smart play in a world where 82 percent of consumers prefer a brand's values to align with their own.
Email #5: Request a Product Review
Over 93 percent of consumers read reviews before buying online from unfamiliar brands.
So it's clearly in your best interests to generate as many reviews as possible.
And there's no better time to ask than just after a customer receives their new product, because they're most likely to be excited about it (and ready to tell the world).
One word of caution: don't expect customers to do all the work.
Instead, remind them of what they love about your product, or what led them on their path to purchase. That way, it's a lot easier for them to find the words for their review.
For instance, organic juice brand Evergreen applauds customers for putting their health first by purchasing its organic wheatgrass juice, and prompts would-be reviewers to share their wheatgrass journey: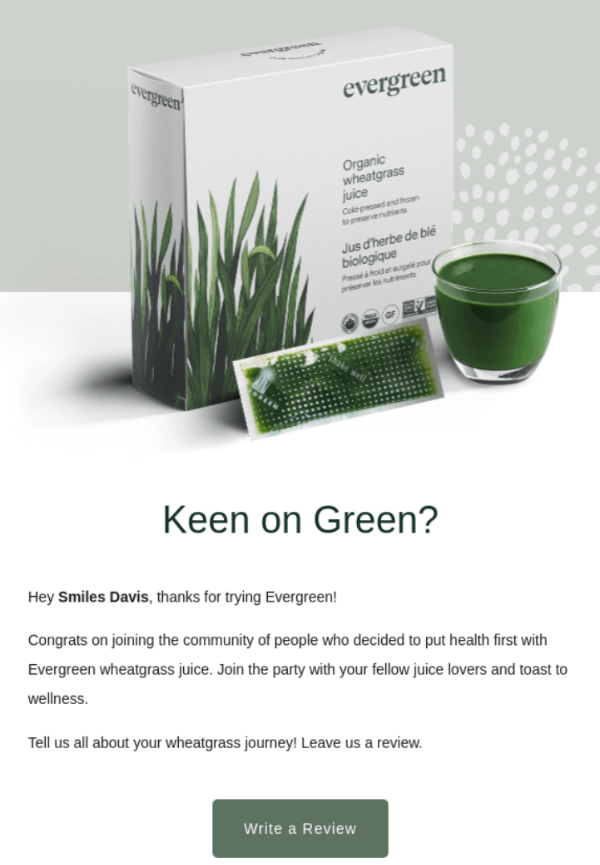 Image source
Email #6: Share Additional Product Info
We consumers are notoriously quick to jump to conclusions.
For instance, research published in the journal Behaviour & Information Technology claims that it takes us just 50 milliseconds to assess the visual appeal of a website.
Most customers should take a little longer to make their mind up about their latest purchase. But if they're not won over fast, it's highly unlikely they'll recommend it to their friends or buy from you again.
For that reason, it makes sense to share supplementary information about your product to help customers get the most possible benefit and enjoyment from it.
Plant subscription and delivery brand Rooted does this by sharing an introductory infographic explaining how customers should unbox their newly arrived plants without damaging them in the process.
The whole thing is too big to include in full, but here's a brief tidbit: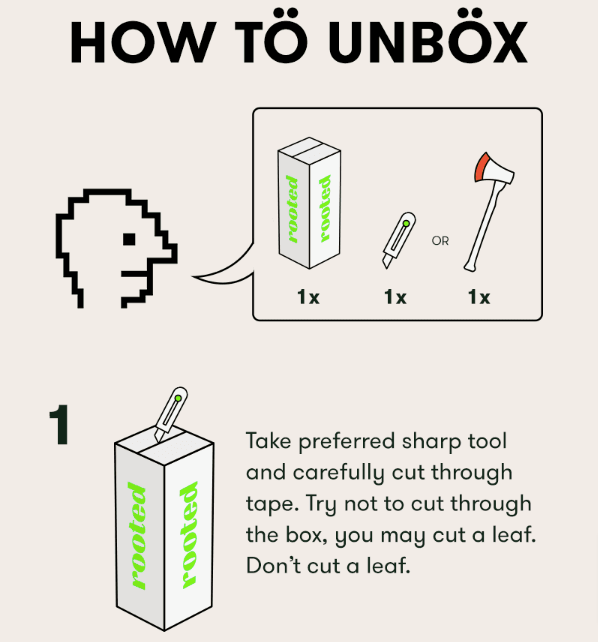 Image source
This is a smart move.
Because if the customer's first perception of your product involves damaging it while opening the box, you can kiss goodbye to a glowing review.
Email #7: Promote an Upsell or Cross-Sell Offer
Timing is everything in the email marketing game.
Sure, you're desperate to generate more sales and revenue from your newly acquired customers.
But if you strike too soon, you risk coming off as pushy, which could turn them off your brand completely.
As such, it pays to wait until late in your post-purchase workflow to target shoppers with an upsell or cross-sell promotion.
When the time comes, make sure your offer is relevant. Three-quarters of consumers expect brands to understand their unique expectations and needs, so don't expect to get anywhere with a generic sales pitch.
Instead, take a leaf from Ten Thousand's book by encouraging customers to "complete" their order with a bunch of complementary products: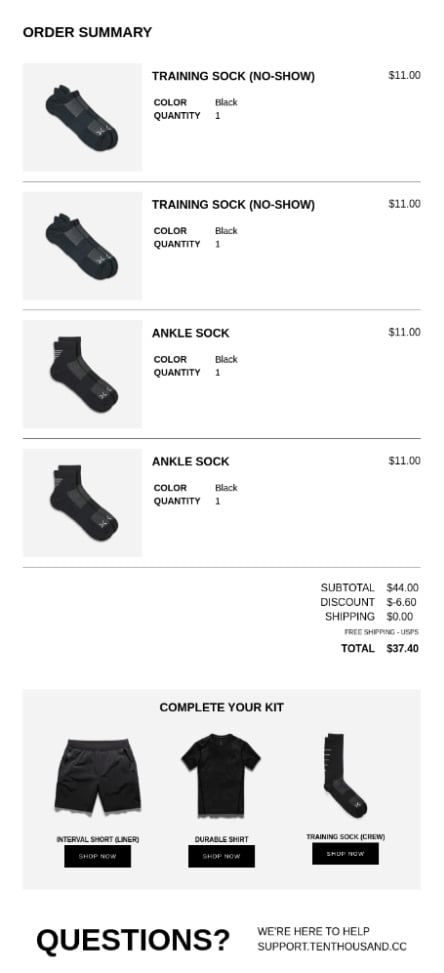 Image source
Even better, try boosting conversions by pairing upsell and cross-sell emails with a limited-time offer — such as a percentage discount or free shipping — if the customer buys another product in the next 24 hours.
Email #8: Ask for a Referral
Referrals can be an invaluable source of revenue, with one study revealing that customers referred by other customers:
Generate higher profit margins
Display more brand loyalty
Show a higher customer lifetime value
Of course, customers need to get to know your brand and product before they feel comfortable recommending them to their nearest and dearest.
But if you've nurtured them with a timely upsell offer, shared valuable product information, and coaxed them into writing a review, there's a decent chance they'll also feel comfortable referring friends and family.
Discounts are a powerful force when it comes to driving referrals, with research from Mention Me citing them as the fourth-biggest reason people refer brands — only behind brand trustworthiness, great customer service, and free shipping and returns.
Just be sure to keep your offer simple, succinct, and attractive. Because customers need a compelling (and easy-to-understand) reason to go out to bat for you.
Fashion brand Italic gets it right with this referral email, which offers a $15 discount for both the referrer and the customer they refer: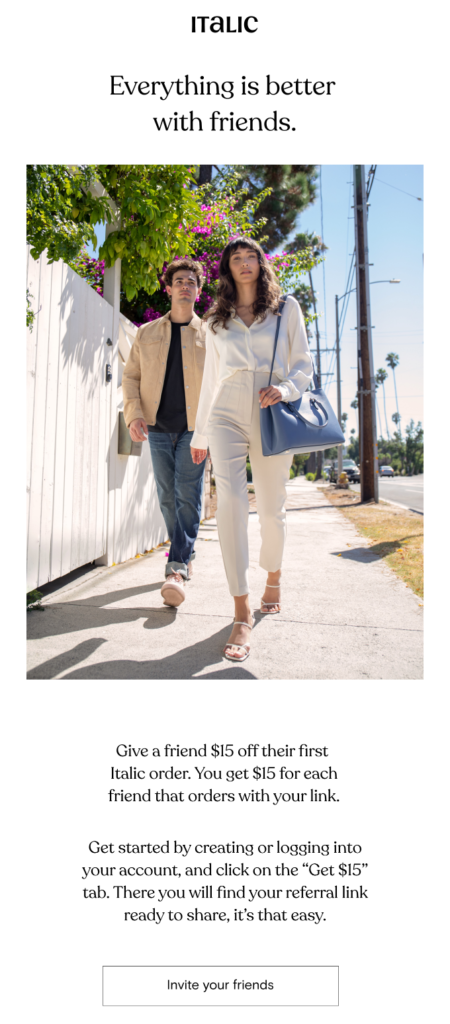 Image source
Boost Customer Retention & Repeat Orders With Drip
Retention is all about understanding what makes your customers tick.
Are they interested in a specific product category? Do they browse half-a-dozen products then place an order the following day? Have they got a regular purchase frequency?
The more you know, the better you'll be able to deliver unique, highly personalized shopping experiences — which, in turns, means your customers are more likely to become repeat buyers.
Drip gives you all the tools to make that happen.
Our powerful segmentation features let you bring together marketing, store, and visitor data to create behavior and engagement-based customer segments — opening the door to laser-targeted messaging that compels shoppers to buy from you time and again.
Sounds good? Take us for a test drive by signing up for your 14-day free trial.