Haven't got SMS marketing totally figured out yet? You're not the only one.
Around a quarter of marketers don't think they're using SMS to its full potential and believe they need to do more to get more value out of their efforts.
That's why I've put together this list of statistics to give you data-backed advice that'll help you get the most out of SMS marketing.
From these statistics, you'll learn:
The value of SMS as a marketing channel
Consumer reception of SMS
What SMS marketing strategies garner the best results and more.
SMS Marketing Statistics
1. 66.5 Percent Of Consumers Signed Up to Receive Text Messages From More Brands Over the Past Year (Attentive)
Customers are showing an increasing interest in receiving text messages from brands. This means the channel has a great potential reach.
And what's particularly great is it's a cross-generational thing. Younger generations may be more likely to text, but research shows that older generations use the channel regularly, too.
Think about it. You have to download and sign up for other messaging apps. But everybody with a phone can receive an SMS.
Thus, texting is a great way to reach a ton of people from multiple demographics.
2. 19 Percent Of Consumers Are Interested in Hearing From Their Favorite Brands via Text Message Once per Day (Attentive)
Also, 58 percent are happy to hear from brands multiple times per week. This speaks to the frequency with which you should message customers.
But remember, it's likely to differ from company to company. You should analyze your own data to see what the optimal frequency is for your brand. For instance, you might track unsubscribe rates in relation to message frequency.
Another point to note here is that it's better to err on the side of caution. Even though almost a fifth of customers are happy to receive texts daily, it doesn't mean you should start bombarding your customers. Make sure your messages provide value and aren't flagged as spam.
3. The Average Open Rate for SMS Is 95 Percent (TextAnywhere)
SMS has a notoriously high open rate compared to other channels, e.g., email and direct mail. This means the marketing messages you want your customers to see are indeed more likely to be seen when you use SMS.
With 75 percent of people reading every message they receive, it's clear SMS needs to be part of your marketing mix.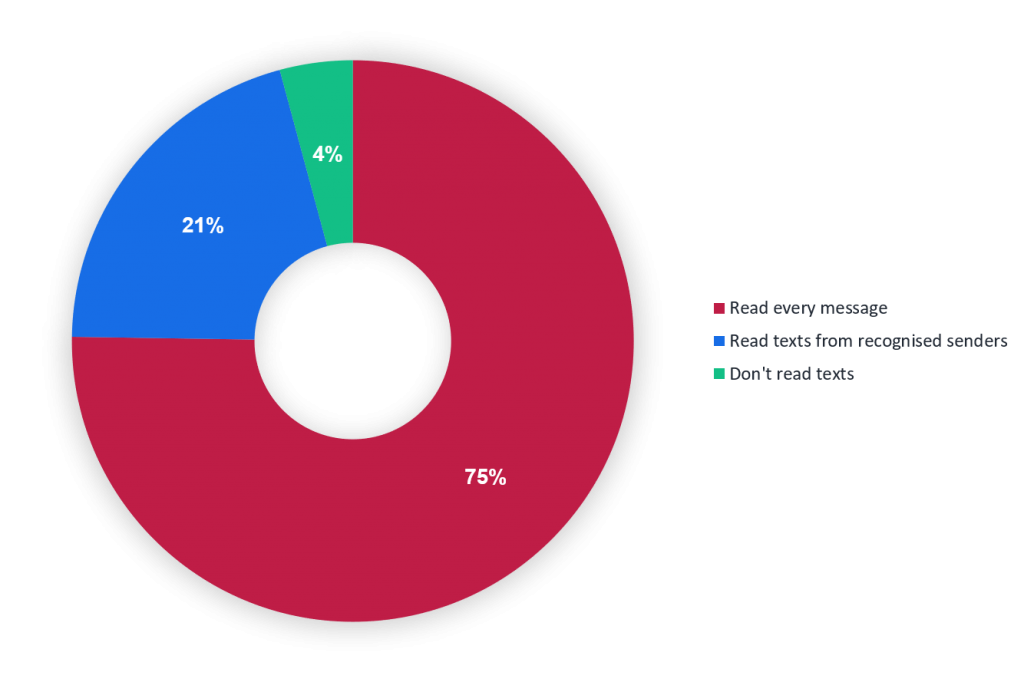 However, we still recommend a multichannel approach overall. SMS is fantastic for short, snappy, time-sensitive comms, while you may use email for campaigns with more content, for example.
4. 43 Percent Of Business Owners and Digital Marketers Report an Sms Click-Through Rate of Between 20 and 35 Percent (SimpleTexting)
In case you need a reminder, the click-through rate is the percentage of views that result in a click. And SMS clearly has great click-through rates overall.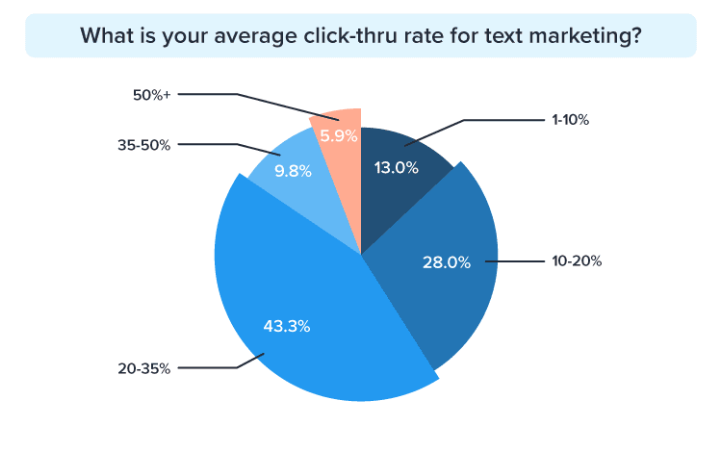 It's important to track click-through rates to see how effective your SMS campaigns are.
How do you get in the top tier and bag more clicks?
One way is to include a clear call to action. Most brands use the CTA "Shop now." You have a limited set of characters to work with, so, unfortunately, you can't use a lengthy CTA.
Domino's Pizza goes slightly different with a URL-based CTA: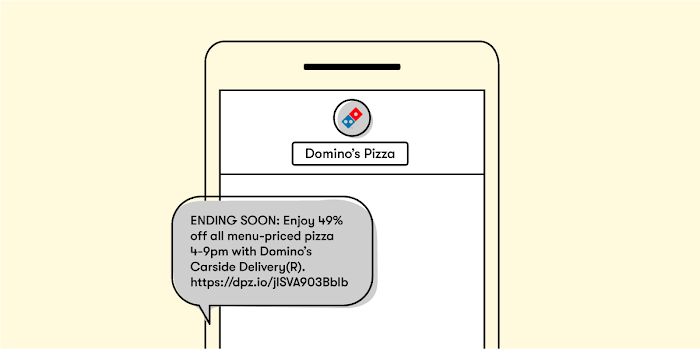 This adds a sense of urgency that makes users more likely to tap the link. Consider how you can get creative (and strategic) with your CTAs.
5. Strong Customer Engagement Is the Number One Reason Marketers Pursue SMS (Forrester)
SMS marketing has a plethora of benefits. Here are the top reasons marketers use the channel:
Strong customer engagement (70 percent)
Easy to implement (65 percent )
Needed a more direct channel (60 percent )
Improved ROI (56 percent )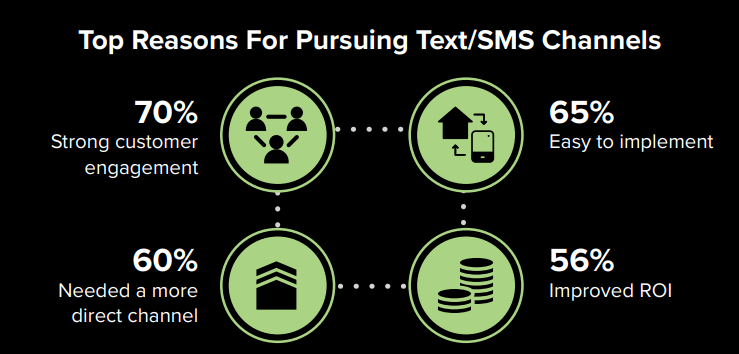 Customer engagement tops the list, and this makes total sense given the stats you've already seen. SMS has high open and click-through rates compared to other channels.
SMS marketing is indeed easy to implement as you can use software to message customers at scale. It's an affordable option and integrates well with other marketing channels.
Another bonus marketers cite is that it's a more direct channel. It's not like posting on social media hoping that an interested consumer stumbles across your content. You're reaching them one on one and making your brand more accessible to them.
6. 63 Percent Of Marketers Have Seen or Expect to See Better Acquisition and Conversion Rates From SMS Marketing (Forrester)
Not only that, 57 percent have seen or expect to see an increased number of purchases and repeat purchases. Plus, 56 percent have seen or expect an increase in customer satisfaction.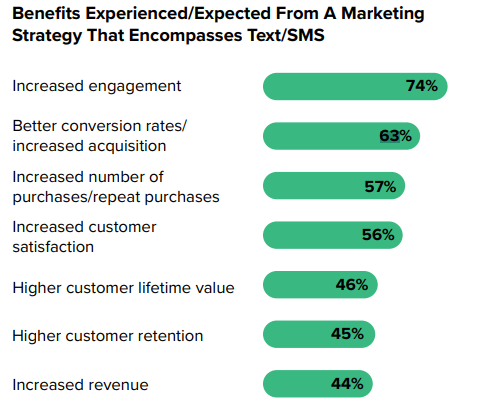 SMS marketing has significant gains at every stage of the marketing funnel, therefore.
You can segment customers at different stages of the funnel and send them the types of messages that are most likely to inspire action at each stage.
For instance, you might send customers in the middle of the funnel promos and notifications about product launches. But offer bottom-of-the-funnel subscribers personalized customer support via text, and so on.
7. Marketers Attribute 12.8 Percent Of Online Revenue to Sms and Anticipate This Will Grow To 17.4 Percent Over the Next Two Years (Forrester)
SMS is of significant value to marketers in the ecommerce space. A chunk of online revenue comes from SMS marketing, and this is only set to grow.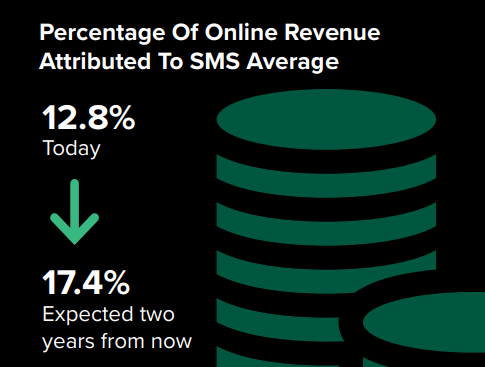 Smart ecommerce businesses diversify the channels through which they acquire revenue. This is because the world of marketing changes all the time. If one channel starts to struggle for whatever reason, they have other means to back it up.
Marketers are able to drive revenue through SMS via personalized recommendations, time-limited offers, abandoned cart messages, and more.
8. Ecommerce and Retail Companies Generate $71 for Every Dollar They Spend on SMS Marketing (Attentive)
SMS marketing has an enormous return on investment for ecommerce brands. The Attentive study here also showed that SMS generally performs better than other marketing channels.
The truth is, it costs very little to send thousands of SMS messages. When calculating the ROI of your campaigns, remember to factor in other costs such as those associated with setting up your database or marketer's/consultant's fees, and so on.
This being said, you will no doubt find that SMS is good for your bottom line.
9. 38 Percent Of Business Owners Use SMS Marketing to Boost Sales and Offer Promotions (SimpleTexting)
There are a number of use cases for SMS, from order updates to customer service inquiries. But a big one from a marketing perspective is to advertise a sale or promotion.
The thing about text is you can do this in a timely manner. For instance, somebody might check their email a couple of times a week and miss a sale whereas an SMS is more likely to be seen, opened, and acted on immediately.
Here's an example of a last-call message from Tommy Hilfiger reminding users its sale is about to finish, so they need to act fast:
10. Abandoned Cart Messages Sent via SMS Have Particularly Strong CTR Rates (11–19 Percent) And Conversion Rates (7–14 Percent) (Postscript)
Compared to other types of SMS campaigns, abandoned cart messages have particularly great click-through and conversion rates. This suggests you should set up an automated sequence for sending abandoned cart messages via text right away.
The following is a nice example of an abandoned cart text from telecoms company BT. It's not too pushy. It's just a friendly reminder that the cart is still there when the user is ready, and of course, it includes a handy link so the recipient can return to their purchase easily: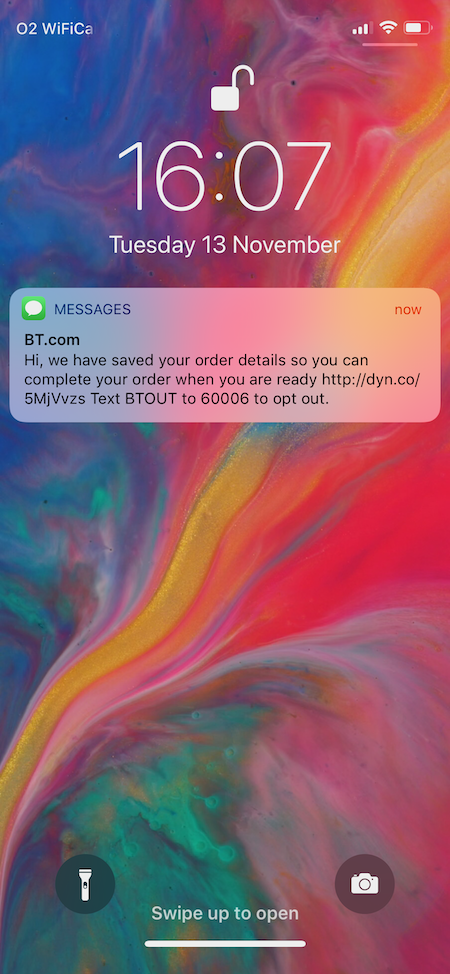 11. 68 Percent Of Marketers Believe a Multichannel Communication Strategy Is Very or Extremely Important for the User Experience (OneSignal)
Use multiple channels, including SMS, to engage more customers. According to one OneSignal study, other channels such as push notifications and in-app messages are also extremely effective.
The study also found marketers use these various channels in a versatile way, incorporating both transactional messages, e.g., order updates and the like, plus marketing messages.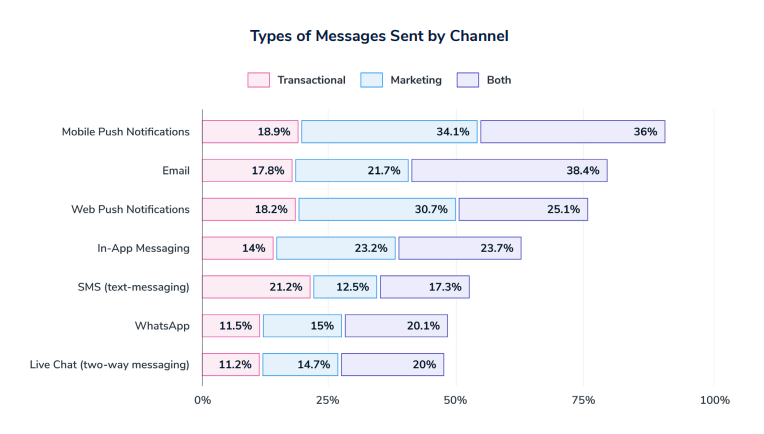 You can even use SMS to support and complement other channels. For instance, when email subscribers are unresponsive, you can reach them via text and ask them for an up-to-date email address.
And you should certainly use SMS to ask users to sign up to receive communications from other channels and vice versa. This means you have multiple ways of reaching customers and can work out what the most effective channels for your company are.
12. Segmented Messages See 83percent Higher Engagement (OneSignal)
Place users into groups according to their demographic information, previous actions, on-site behaviors, how they respond to campaigns, and so on. When you do so, your SMS is more personalized and relevant to the recipient. Hence the much higher engagement rate.
What's more, customers expect a personalized experience these days. They're frustrated by irrelevant offers and content. They want brands to understand their needs and desires.
It's also great from a strategic perspective. When you segment users according to behaviors or what stage they're at in the customer lifecycle, you can send the right message at the right time.
Here Merrell asks new users to save their contact details, for example: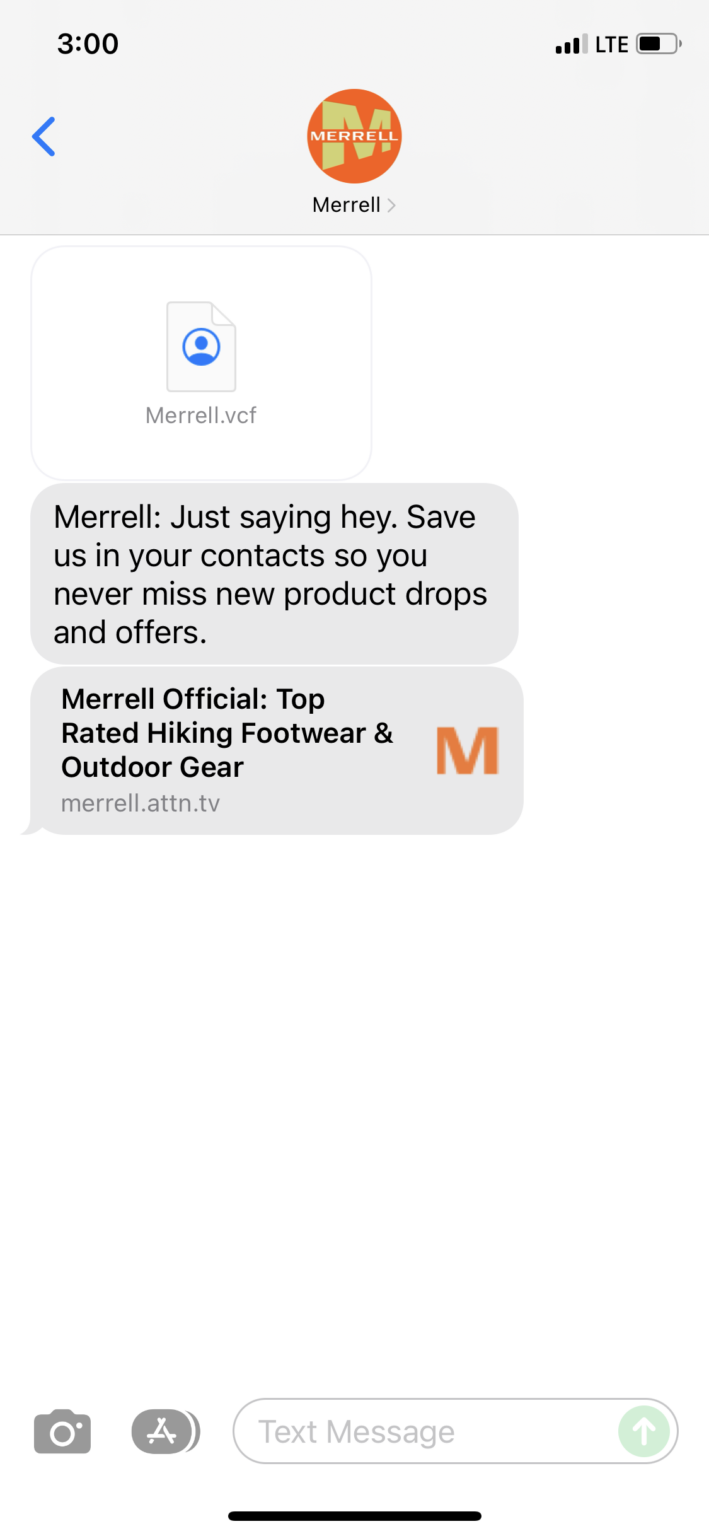 This is, of course, an important step in onboarding a new subscriber that increases future engagement. Customers won't see an unknown number and immediately ignore messages.
13. A Dollar-off Discount Is the Best Opt-in Incentive According to Customers (Attentive)
You don't need to wonder what will encourage customers to sign up for your SMS program any longer. Research shows the top incentives for consumers are:
Dollar-off discount
Percentage-off discount
Free gift with next purchase
Loyalty or rewards points
Access to exclusive content
Entry into a giveaway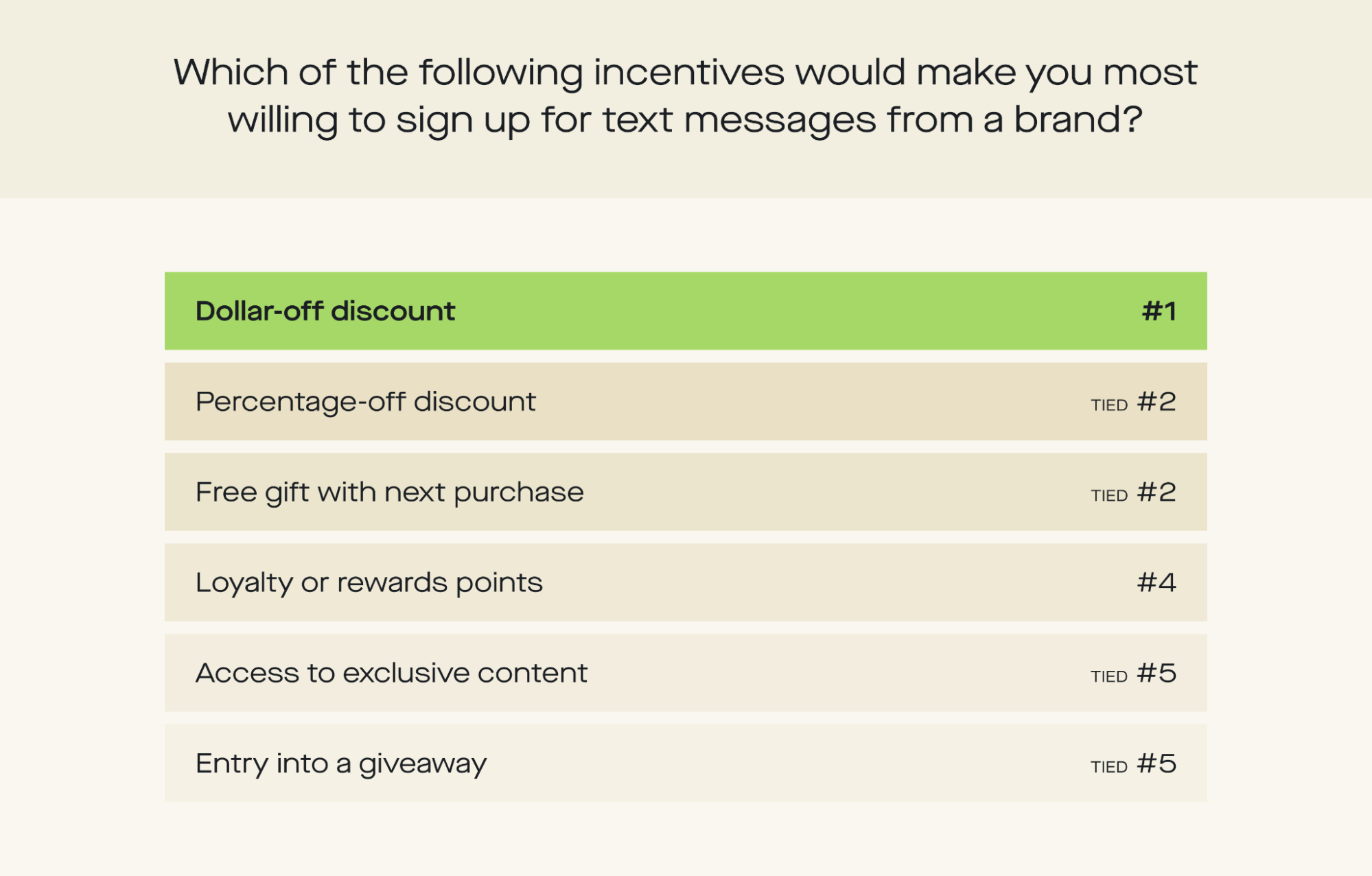 This is a great insight into the minds of consumers. It proves that there are incentives available for every brand's budget.
Say you don't want to drop your margins too significantly with a bunch of discounts. Then you can offer access to exclusive content, such as early access to new product drops.
Here's an example of exclusive content in the form of a back-in-stock notification from Merrell: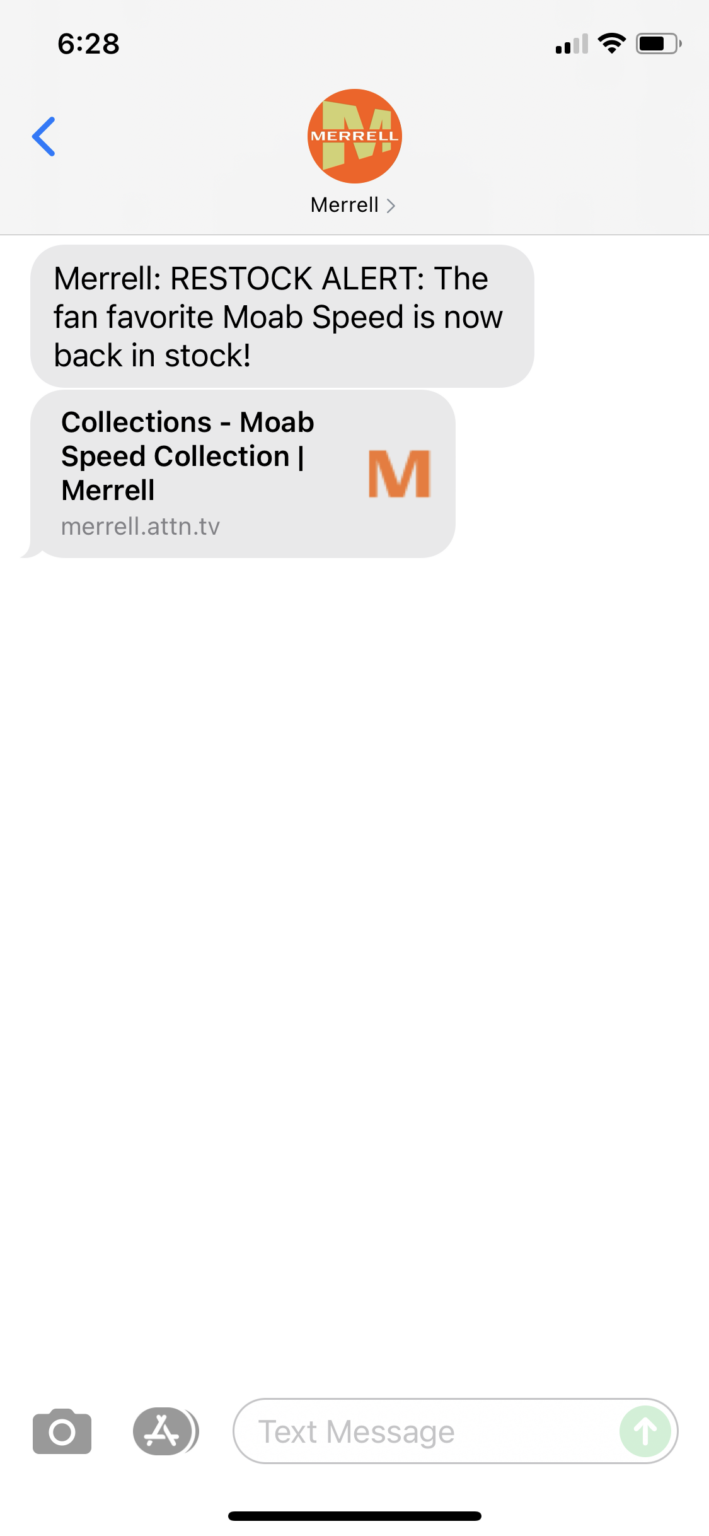 It's also interesting to see that a dollar discount is more appealing than a percentage-off discount. Given this info, it's worth testing which kind of discount appeals most to your customers.
14. Spam Messages Are the Number One Reason Consumers Opt Out of SMS (eMarketer)
While a lovely discount is the top reason users opt in; spam is the top reason to opt out, followed by:
The company sent too many texts (30 percent)
Texts weren't relevant (18 percent)
Didn't opt in to receive texts (16 percent)
Prefer not to text with business (6 percent)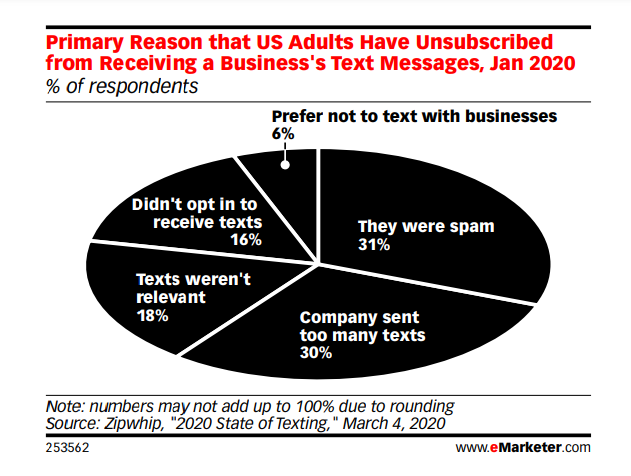 All but the last reason are certainly spam-related.
Too many meaningless, irrelevant texts scream spam. And when users didn't opt in to receive texts from you, but you send them anyway, it's going to make them see your brand as a shady spam machine and turn them off completely.
As mentioned above, you need to understand your audience, personalize messages, and send messages that provide genuine value. That way, customers won't perceive your messages as spam.
Final Word
SMS marketing is an increasingly popular way for customers and brands to communicate with one another. It's easy to see why, with its fantastic engagement, CTR, and conversion rates.
To get the most from SMS marketing, you need to use the right tactics and incentives. The data here shows what works and what doesn't. But also be sure to monitor your campaigns and keep an eye on what works for your audience specifically.