February is an interesting month for email marketers.
On one hand, it historically sees the lowest retail sales of any month. That's not ideal.
But that doesn't tell the full story. Data from GetResponse shows that February enjoys higher-than-usual email open rates—at 20.66 percent vs. a full-year average of 19.66 percent—and click-to-open rates that are 27.5 percent higher than the average month.
So consumers are more likely to open your emails in February—and, when they do, there's also a much better chance they'll click through to your website.
This tells me two things:
Sales are at a premium early in the year, with many consumers actively

striving to save money…
…but there's a real opportunity for email marketers to drive opens, clicks, and sales if they get their messaging right.
To make part #2 a little easier, I've rounded up seven of the best February newsletter ideas from Drip's exhaustive email marketing archive.
Top 7 February Newsletter Ideas
Bean Box: Share Valentine's Day Gift Inspiration
Valentine's Day is a big deal for retailers—especially online ones.
Figures from the National Retail Federation show 53 percent of US consumers celebrate the occasion. Planned Valentine's Day spending climbed to $23.9 billion in 2022, with the average American dropping over $175 on gifts.
The best news for ecommerce brands? Online is the top shopping destination for Valentine's Day purchases, with 41 percent of consumers buying online—compared to 32 percent who shopped at department stores, 28 percent at discount stores, 18 percent at local small businesses, and 17 percent at florists.
My colleague Seray has previously rounded up a bunch of high-quality Valentine's Day email examples, so I'd recommend checking them out if you want a deeper dive into this ecommerce holiday.
But last time I checked, the celebration of love happens on February 14th, placing it squarely within this article's jurisdiction, so I've included a couple of Valentine's Day examples here too.
First up is coffee subscription service and gifts brand Bean Box, which reached out to its audience with a V-Day buyer's guide. It opened with a persuasive email subject line promising inspirational ideas for Valentine's shoppers:

This is a smart play, because it turns out a lot of us feel pretty anxious about buying Valentine's Day presents. A survey from eMediHealth revealed that 28.5 percent of consumers worry about being judged based on their choice of gift, while 24.5 percent admit V-Day shopping is a source of financial stress.
Bean Box's email contains a bunch of coffee-themed Valentine's gifts, each accompanied by product imagery, a short description, and a "Buy Now" CTA: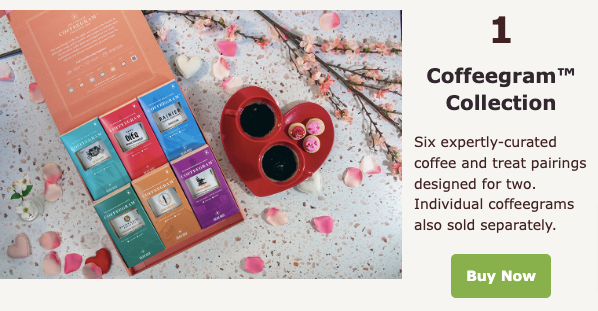 And if you don't like what you see, there's also an above-the-fold call to action prompting customers to browse Bean Box's full gift selection:

Greetabl: Send a Valentine's Day Reminder Email
Sticking with the Valentine's Day theme, it's worth remembering that while we all approach gift buying with good intentions, life sometimes gets in the way.
Sure, we'd all love to buy and wrap the perfect present for our significant other weeks in advance. But next thing we know, it's early February, and we're desperate to find something—anything—that will arrive on time.
Aaron Powell of Bunch Bikes highlighted how he created a personalized promotion for Valentine's day, specifically targeted last-minute shoppers. Instead of just sending an email campaign, he backed it up with an offer of overnight shipping so that customers could gift the bike to their significant other if they wanted to, and still make the holiday. (Bunch Bikes even went above and beyond, offering a $200 off coupon for Valentine's day, saying "We'll pay for your date night.")
Google Trends data shows that search activity around Valentine's Day climbs steadily throughout January before accelerating sharply as the day approaches: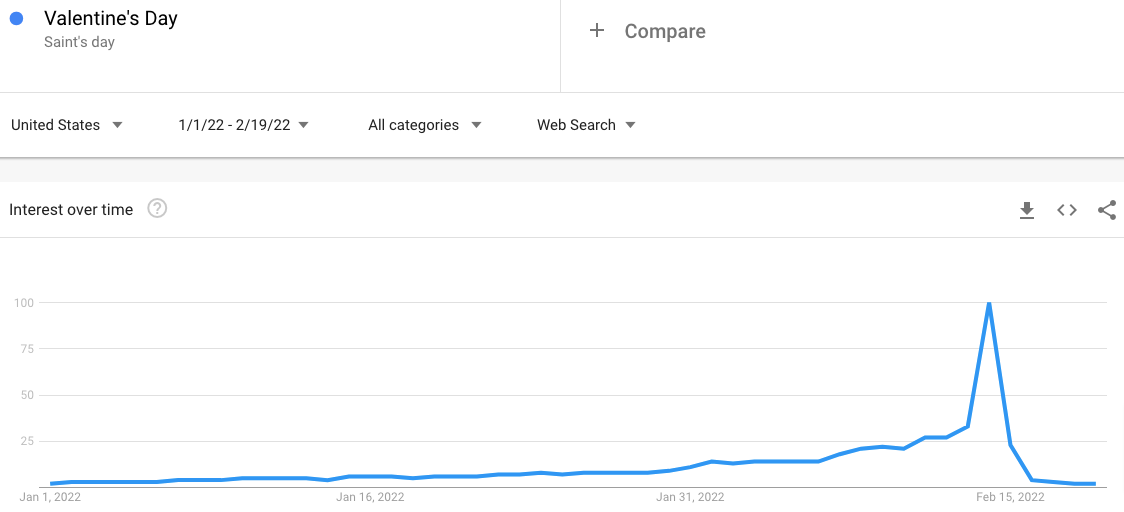 That suggests there are a lot of last-minute V-Day shoppers out there.
For that reason, your audience will definitely appreciate a reminder or two as the big day approaches. Especially one that warns them of the deadline for online deliveries.
As a personalized gifts retailer, Greetabl is well aware that shoppers are desperate for their Valentine's Day purchases to arrive on time.
Ahead of V-Day 2022, it shared an email urging subscribers to buy now to avoid their gifts turning up late.
The subject line grabbed attention with actionable messaging that stressed the urgency of ordering straightaway:

As you can see, it all also featured an emoji—a tactic that has been shown to capture attention in a crowded inbox.
The theme of urgency continued in the email body, with Greetabl adding a countdown timer showing how much—or, rather, how little—time customers had to place an order for guaranteed Valentine's Day shipping: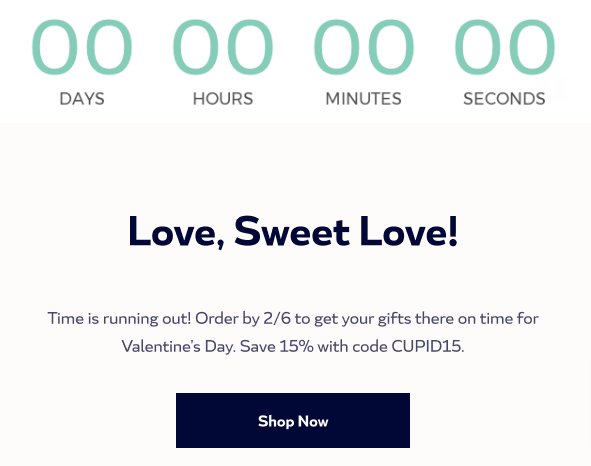 Clearly, you shouldn't add countdown timers to every email you send—they'll lose their impact. But used sparingly, they're a highly effective way to drive action, with data from Sale Cycle revealing that countdown timers in emails and on-site messages result in:
30.49 percent higher click-through rates
200 percent higher conversion rates
Those figures sound too good to be true. A 200 percent upturn in conversions, just from adding a countdown timer to your emails? Surely not.
However, we discovered something similar in our analysis of 20+ million on-site popups. Our research revealed that popups with countdown timers see a 113 percent higher conversion rate than those without timers, so they're clearly a potent tool for prompting customers to take action.
The Body Shop: Offer a Free Gift With Purchase
As you'll recall from the introduction of this very article, February is traditionally a slow month for retail sales.
When consumers aren't in the buying mood, the last thing you need is a high volume of returns eating into your bottom line.
Fortunately, there's a solution: offering a free gift with purchase.
Research published in the journal Psychology & Marketing revealed that it's better for retailers to position a promotion as a "free gift" rather than a "bundle".
Why? Because free gifts increase the perceived loss felt by customers thinking about returning a purchase, thereby reducing return rates.
Interestingly, this strategy is especially effective when the free gift with purchase is offered by a familiar brand. Which makes it a perfect tactic to leverage in your February email marketing campaigns.
That's exactly what The Body Shop did in my next example: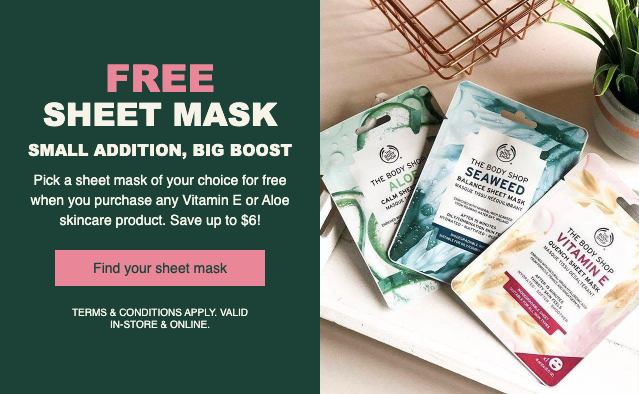 Sure, the free gift—a sheet mask—isn't a big-money purchase in its own right. As you can see from the email copy, the promotion only saves customers up to $6. But it turns out that, from a psychological perspective, we just love gifts.
While I've included this example as one of my February newsletter ideas, you can obviously use it at any time of year to drive down those pesky returns.
Oribe Hair Care: Share Your Best Product Reviews
Reducing returns is all well and good. But what can you do to boost salesat a time of year when consumers just aren't looking to spend their hard-earned cash?
One tried-and-trusted tactic is to share customer reviews of your most popular products.
Combine a top-selling product with a convincing, persuasive, user-generated review and you've essentially created a license to print money.
Fact is, even if you're the world's best copywriter, you'll never write anything as convincing as a testimonial from a genuine customer.
According to Tint's State of User-Generated Content 2022 report, 72 percent of consumers feel customer-submitted reviews and testimonials are more credible than branded content. What's more, a staggering 93 percent of marketers agree that consumers trust user-generated content (UGC) more than content created by brands.
Oribe Hair Care is one brand using UGC to its advantage. In this example, it showcases no fewer than five real-world customer testimonials to promote its anti-humidity spray (including the one in the screenshot):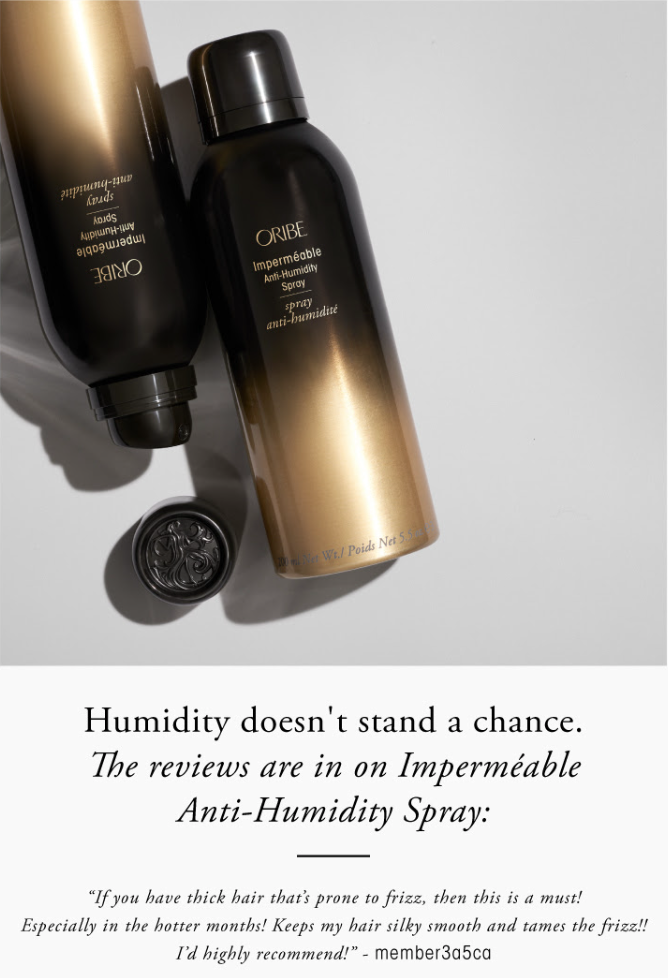 And, of course, it wraps the whole thing up with a call to action encouraging customers to buy now.
For an even more actionable strategy, consider promoting a limited-time discount code, free shipping, or gift-with-purchase offer alongside your product reviews to give your audience an added incentive to buy.
Chubbies: Promote Summer Vacation Products
February isn't exactly famed for glorious weather (at least, not in the northern hemisphere).
Even sun-drenched California can be gray, gloomy, and wet.
So it might not sound like the smartest time of year to promote summer vacation-related products, like Chubbies did in my next February newsletter example: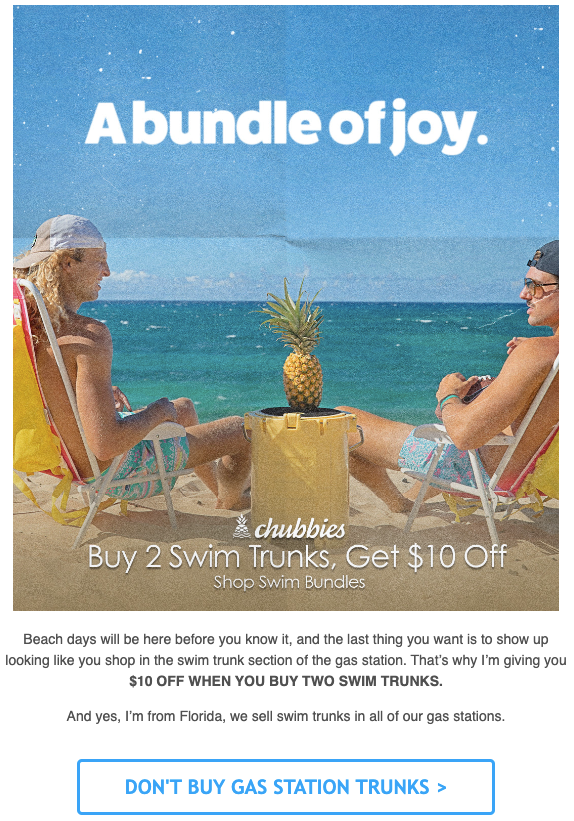 Trust me, there's method to the madness.
Google Trends data shows us that mid-to-late February is actually a peak period for vacation-related searches, with spikes in activity around terms like:
All-inclusive vacation packages
Best vacation packages
Hawaii vacation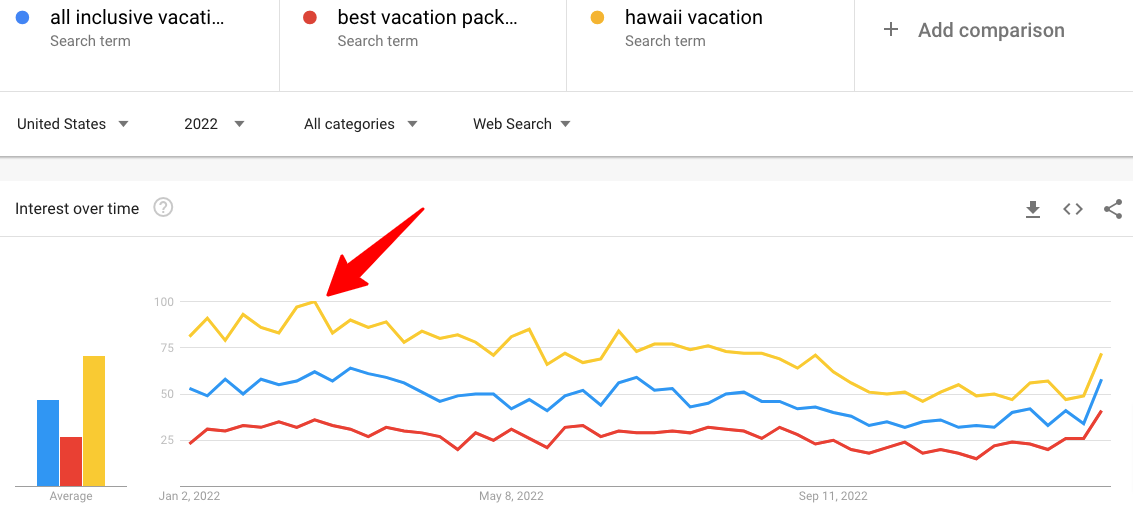 When you think about it, it all adds up. Consumers are sick of staring out the window and seeing drab, dreary skies, so they start day-dreaming about sun-kissed beaches and cocktails around the hotel pool.
Next thing they know, they're frantically Googling flight information and hotel deals.
So it makes sense for brands selling vacation-centric products—from apparel to accessories to skincare—to reach out when customers have travel on their mind.
Mavi Jeans: Showcase Your Spring Collection
Speaking of sunnier times, February is also the perfect month to lift the lid on your spring collection.
Our trusty companion, Google Trends, suggests there's a pretty small window in which consumers are interested in spring shopping trends, with a peak in search activity stretching from late February to early April: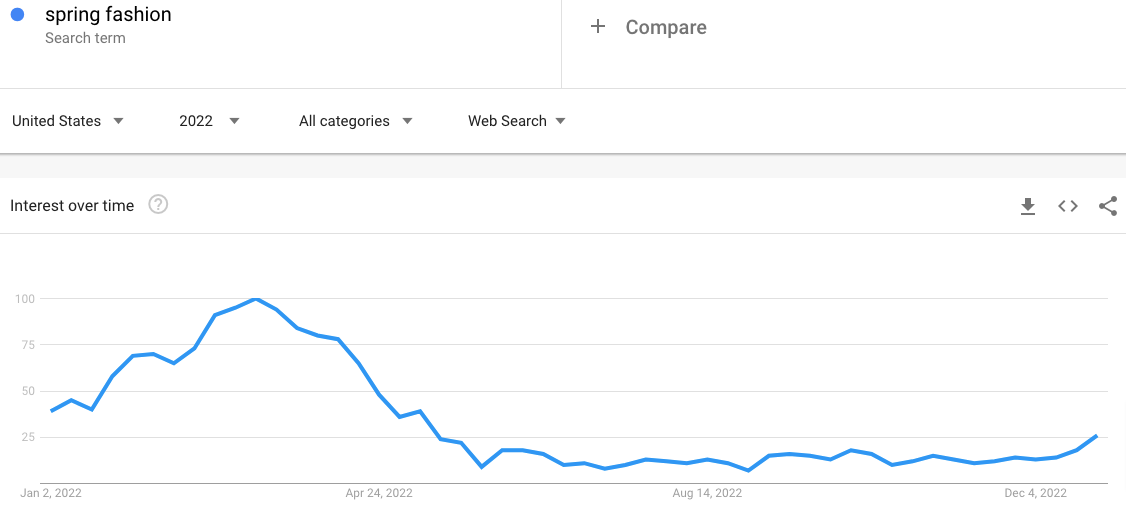 In other words, if you want maximum attention on your spring product range, you should start promoting it by the end of February at the latest.
It seems Mavi Jeans got the memo. This email, sent in late February 2022, offers subscribers a glimpse at its recently launched spring collection, with plenty of product imagery and persuasive copywriting that highlights key selling points: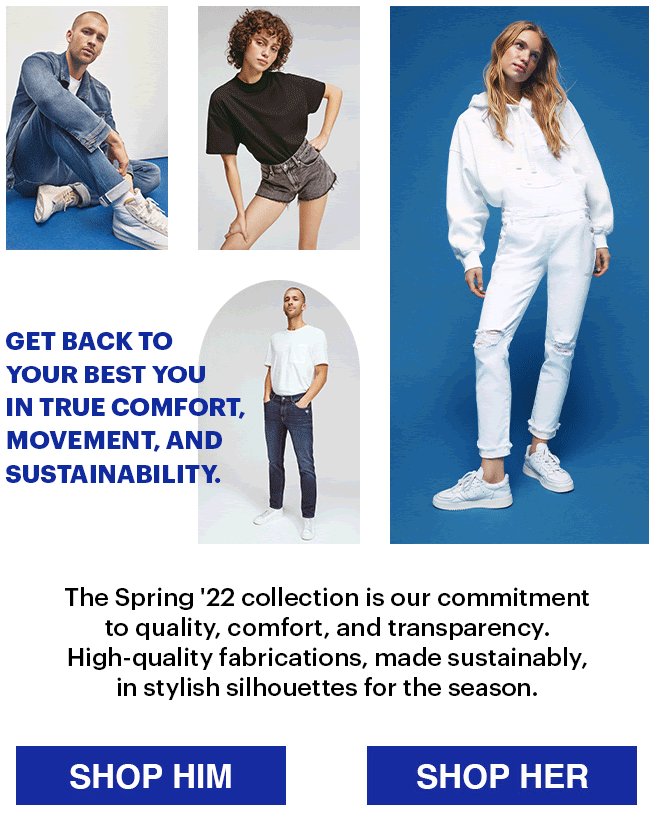 Then there are two calls to action pointing readers in the direction of its "for him" and "for her" collections.
Mavi Jeans makes this email even more persuasive by adding a 15 percent discount code for customers who sign up for its SMS marketing list:

This is a smart play, with Shopify research revealing that multichannel marketing can boost revenue by 38 percent, 120 percent, and 190 percent for each extra channel a customer engages with.
Fabletics: Honor Black History Month
February is US Black History Month—an opportunity to recognize the struggles and successes of African Americans throughout the nation's history.
This represents a dilemma for marketers.
On one hand, you want to demonstrate your support for African American communities. Especially given that four-fifths of consumers prefer a brand's values to align with their own, according to research from Google.
But on the other, no brand wants to be accused of leaping on the Black history bandwagon in a cynical attempt to drive sales. Indeed, Google's research also revealed that three-quarters of consumers have "broken up" with a brand due to a conflict in values.
Fabletics got things right in 2022: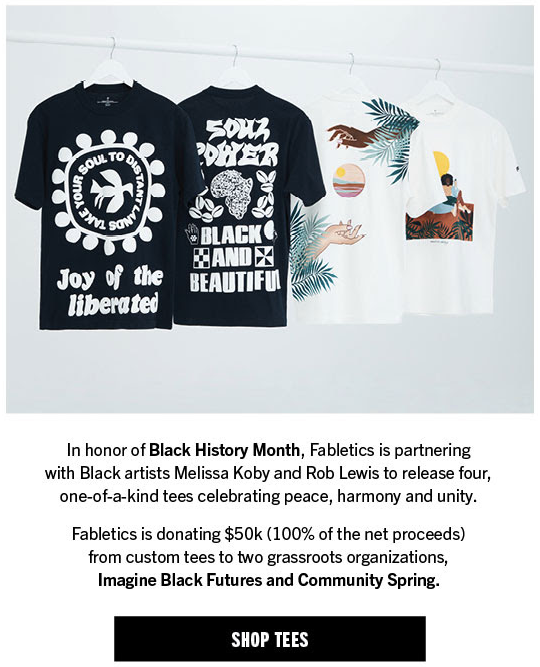 Not only did it join forces with two Black creatives, but it also pledged to donate 100 percent of net proceeds to grassroots organizations targeting that support Black communities.
If you're going to get involved in Black History Month, remember: it's not all about you.
Ensure you're centring Black voices. Don't fall silent the moment Black History Month ends. And don't use the event as an attempt to boost your profits.
Build Revenue-Driving Email Automations With Drip
It takes a bunch of time, effort, and data analysis to come up high-performing newsletter ideas.
So the last thing you need is to spend even more time on low-value tasks like building, segmenting, and sending individual emails.
That's why you need Drip.
Our proven pre-built email workflows are ready to go when you need them—just add your own branding and email copy.
Want to customize your workflows? That's easy, too, thanks to our point-and-click workflow builder.
Give our marketing automation tools a spin by signing up for your 14-day free trial.