If you're like most e-commerce marketers, you're investing in email marketing. You're growing your email list, sending well-written email campaigns, and engaging return visitors with personalized onsite messages.
But as effective as email marketing is, it's not enough on its own.
Why? Because e-commerce email marketing isn't about the right strategy; it's about the right sequencing.
Mail the right emails at the wrong time to the wrong prospect, and people will opt out of your emails (or worse, move to a competitor).
But mail the right emails at the right time to the right prospects, and you won't just have lifelong customers, you'll have brand evangelists.
Today, I want to share 11 e-commerce marketing campaigns that will help you build a following of raving fans. Whether you're looking to increase engagement, boost revenue, or reduce unsubscribes, there's something for you in the post.
Let's get started.
11 of The Best Email Marketing Examples We've Ever Seen
What Is E-Commerce Email Marketing?
E-commerce email marketing is a marketing channel that allows you to notify your subscribers of new products, discounts, deals, and other promotions.
You can also use email to soft sell by educating your audience on the value of your brand and staying top of mind, keeping subscribers old and new engaged between purchases.
1. The Welcome Email
You have one chance to make a good first impression. And if your introduction to a new subscriber isn't memorable, your follow-up campaigns won't be, either.
Driving 3 times the transaction and revenue per email than any other promotional mailing, the welcome email is an integral campaign in your repertoire.
Its role is to thank subscribers for joining your list, set expectations for what's to come (e.g. how often you'll email) and, when done right, simplify your sales process.
Pandora, for example, rewards new subscribers for signing up by offering a discount code: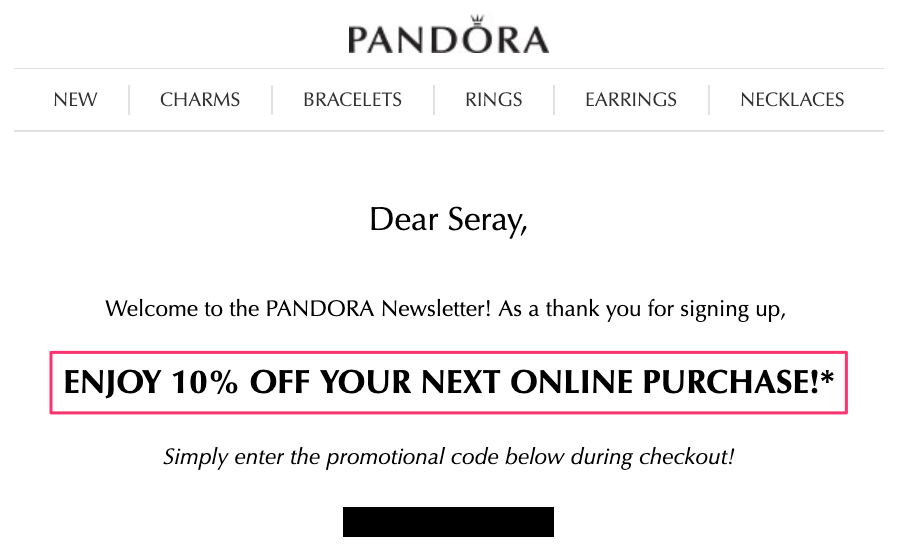 Levi's, another retailer that realizes the importance of a good welcome email, gives their subscribers the chance to browse by buying preference:

A few things to consider:
Aim for originality. If you want to rise above the noise in your audience's inbox, you need to be original. And that means doing something that subscribers aren't expecting. Offer a discount. Speak their language. Tell them to reply to your email. Give them everything they need to inform them that they're in the right place.
Design for simplicity. If you have a big product range, remove barriers for making purchases. Whether that's by product category or something else, make it easy for new subscribers to browse what they're looking for.
Want to make a workflow like this?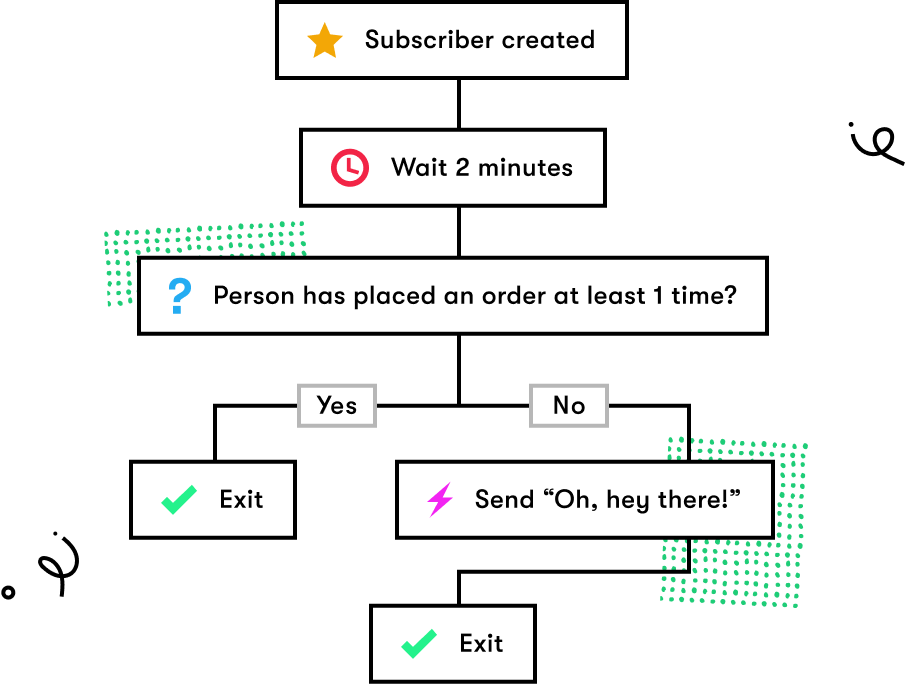 Hit the ground running with our pre-built workflows.
2. The Curation Email
One by The Beatles. The Immaculate Collection by Madonna. Gold: Greatest Hits by Abba.
What do they all have in common?
(Apart from being best of compilations?)
They're some of the best-selling albums of all-time.

Why?
Because people LOVE curated content.
It doesn't matter whether it's music—or, in our case, physical products—people love buying the best of the best.
It's no surprise, then, that the curation email is popular among e-commerce marketers.
If you're unfamiliar, the goal, with the curation email, is to share a brand's best assets.
That might be sharing popular content from a previous week, like One King's Lane does: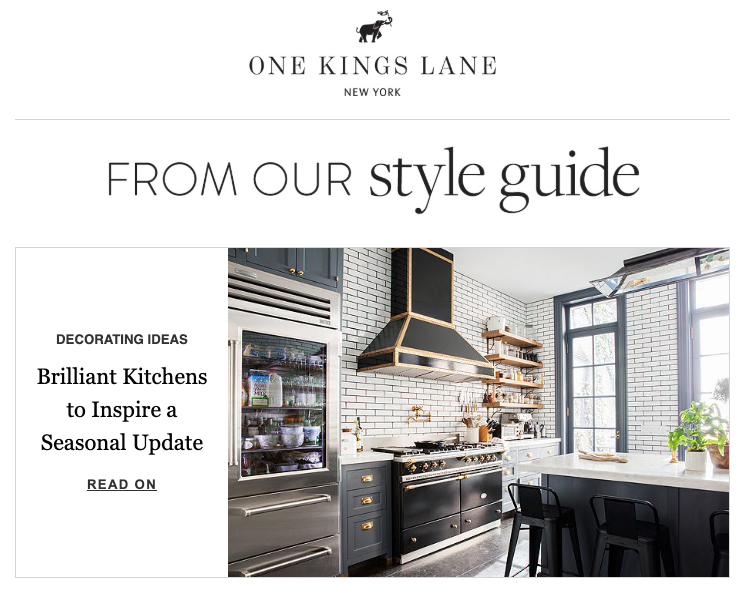 Or, promoting popular products, as Huckberry does in their email: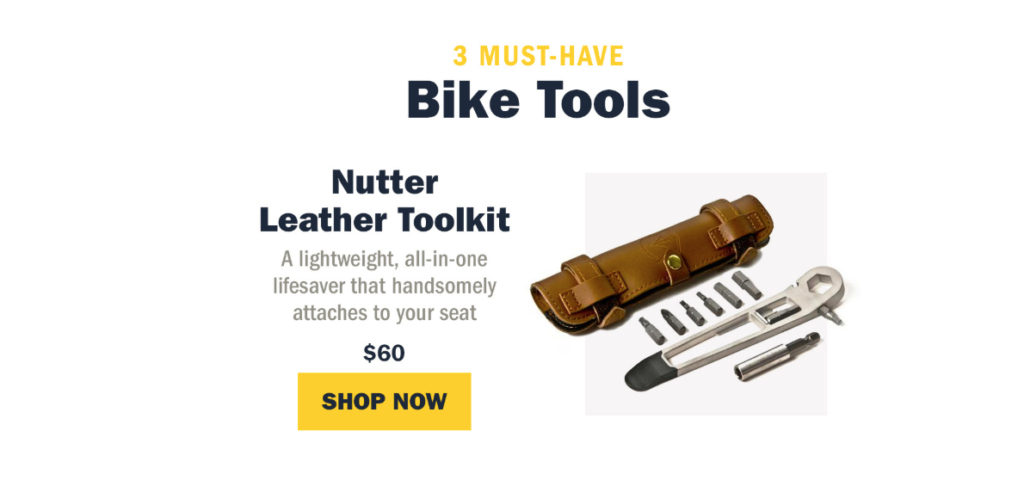 Curating the best of the best works because it allows subscribers to choose what they want to learn more about.
It's why many websites have "start here" pages, and why product pages are often filtered by bestselling by default.
But there's another reason why it's effective:
It allows email marketers to segment recipients based on interest.
Here's an example:
Imagine you're running an online furniture store and your newsletter curates the best furniture under the following categories:
Seating
Lighting
Storage cabinets
Decorative objects
Tables
Serveware
Other
If you're tagging subscribers using an email service provider (ESP) like Infusionsoft, you can begin scoring them based on their behavior. For example, if a user ONLY clicks seating-related promotions, it's safe to assume that you can focus your promotional campaigns related ONLY to seating.
3. The Engagement Email
Back in the golden age of direct response marketing, copywriter Gary Halbert was famous for attaching "grabbers" like dollar bills to mailings.
Why?
Because he needed to get his prospects' attention.
With the average office worker receiving as many as 122 emails per day, it's crucial you invite subscribers to engage with your emails if you stay visible in their inbox.
While attaching cryptocurrency to campaigns might not be a viable option, it is possible to increase engagement in other ways (and without breaking the bank).
Brooklinen, for example, encourages engagement by offering free shipping: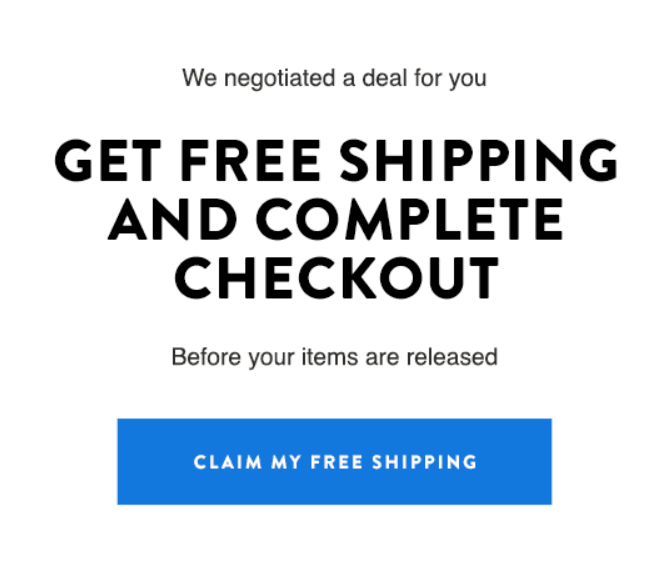 Brooklinen knows that shipping is a common reason for cart abandonment. So, not only do they offer free shipping to subscribers, but they also give them a way to activate it. And it's clever. Brooklinen knows that people value things they have to work for … and getting free shipping is no exception.
Campaigns like the above not only encourage engagement; it also builds a two-way relationship between Brooklinen and their customers.
So, whether you're offering free shipping or inviting users to start a free trial, give readers a reason to engage with your campaigns and remember, make it memorable.
It's no secret that inviting customers to refer friends and family to a brand is a great source for free leads.
According to a recent survey by BigCommerce, 74% of consumers identify word-of-mouth as a key influencer in their purchasing decision.
And with numbers like that, it's not hard to see why brands invest time in setting up good referral programs.
You might already be asking for referrals on your thank you page (and if you're not, you ought to be). But are you doing it in your email campaigns, too?
Bombas is a good illustration of asking for referrals. Not only do they give clear instructions in their email, but they also offer an incentive: a free pair of socks: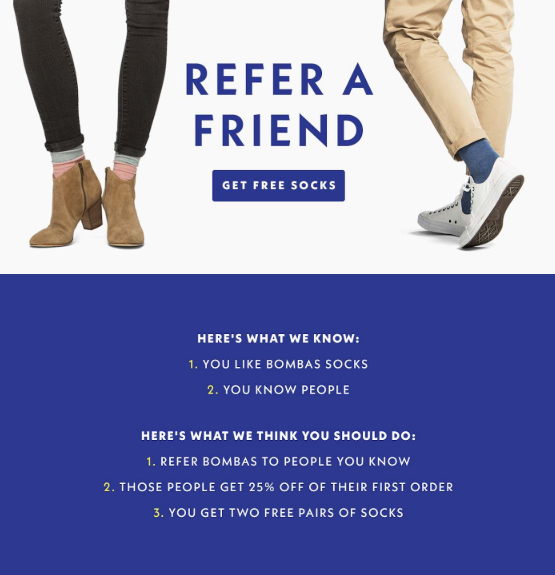 You might not be able to offer free socks with each referral (few can), but you certainly have enough money in your marketing budget to offer a thank you (or at least an Internet high five).
5. The Discount Email
Discounting is an effective e-commerce marketing strategy.
And with brands like Apuls getting conversion rates as high as 5.13%, it's not hard to see why.
One study by VWO found that 72% of Millennial shoppers are open to retargeting via discounts.
Moreover, 54% of shoppers are likely to purchase abandoned products if they're offered again at a discounted price. (More on that shortly).
Blue Apron, an American meal delivery service, regularly offer discounts to their subscribers to entice more purchases (note the scarcity to evoke the fear of missing out):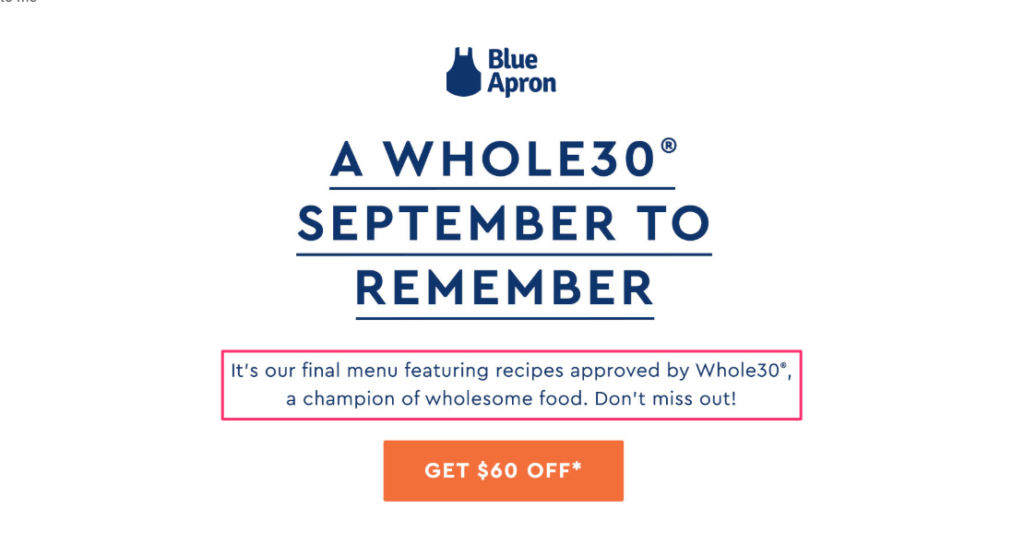 Be warned, though:
While discounting is effective, you need to strike a balance.
Too often and your profits will plummet; too little and you risk driving customers to a competitor.
The silver lining, then, is to offer discounts to ONLY subscribers that engage with your campaigns (e.g. opening emails, clicking links, etc.).
6. The Cart Abandonment Email
We've all done it.
We're online, going through a website's checkout, when something diverts our attention.
There's a knock on the door, we get a Facebook notification, our phone rings…
And we abandoned our cart without batting an eyelid.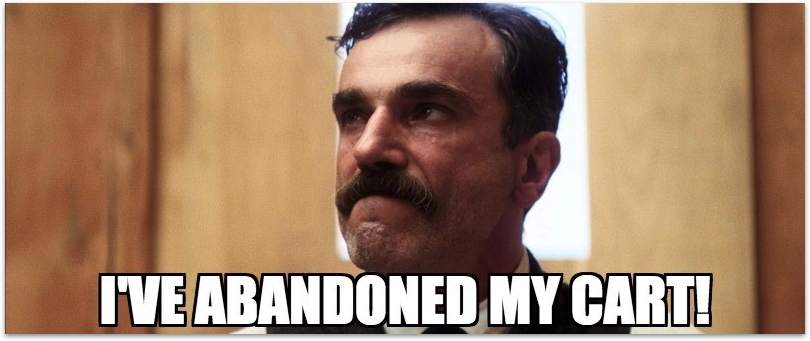 According to a recent report by Baymard Institute, 69% of all e-commerce visitors abandon their shopping cart with 61% of visitors citing shipping costs as their number one reason: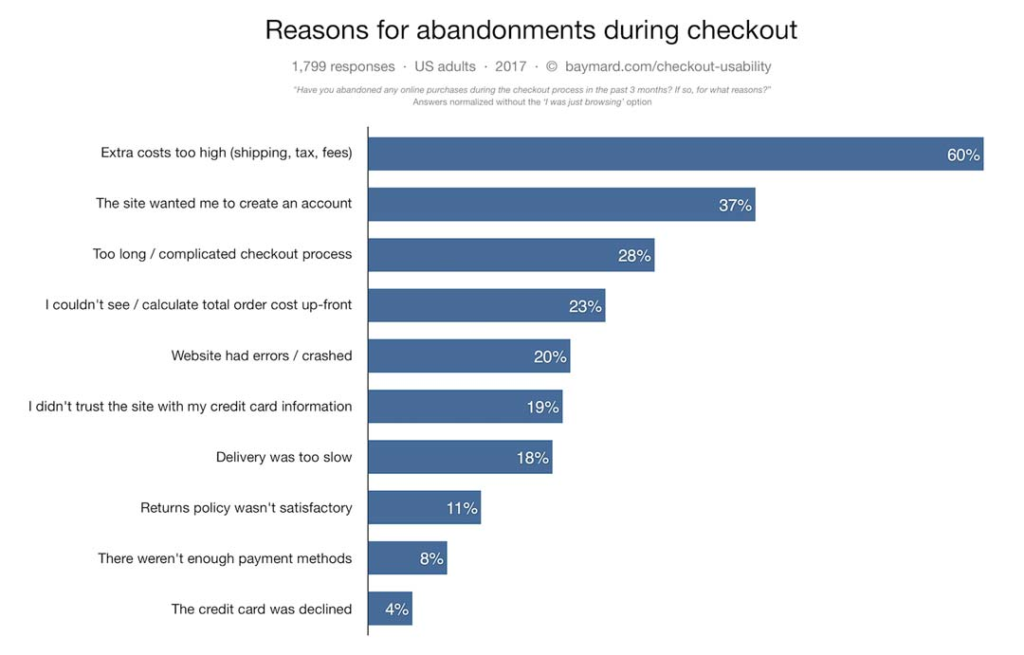 Beardbrand, a men's grooming brand, turn cart abandoners into customers by addressing the above objection—shipping costs—and overcoming it in a cart recovery email: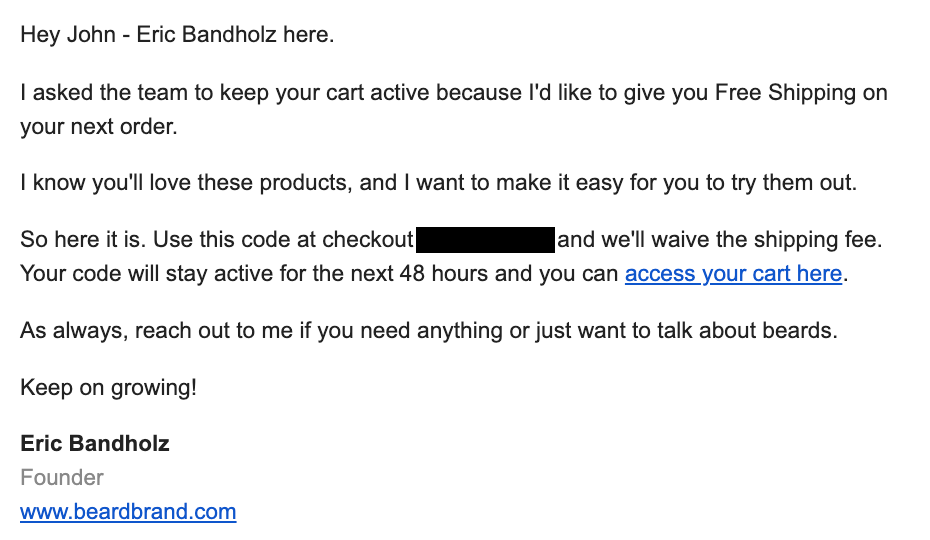 When you know the lifetime value of a customer, as Beardbrand likely does, you can afford to offer discounts to incentivize cart completion.
I know what you're thinking:
"But what if your margins are too thin to compete on shipping?"
The answer is simple: ask for feedback.
That's exactly what Ugmonk does.
After abandoning my cart, I received this email a few hours later: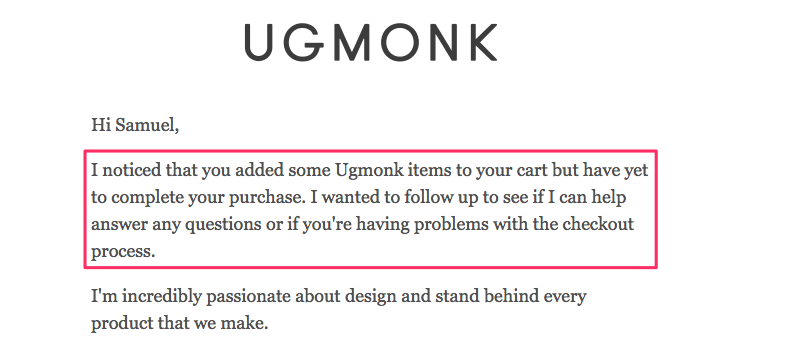 You can't always convert abandoning shoppers. That's a given. But you can make an effort to learn why they didn't complete their order. Then, learning from that feedback, you can improve your checkout process for future customers.
7. The Order Confirmation Email
After analyzing 100,000+ email receipts, Conversio made an interesting discovery:
Every order confirmation email earns e-commerce stores $0.25 of extra revenue: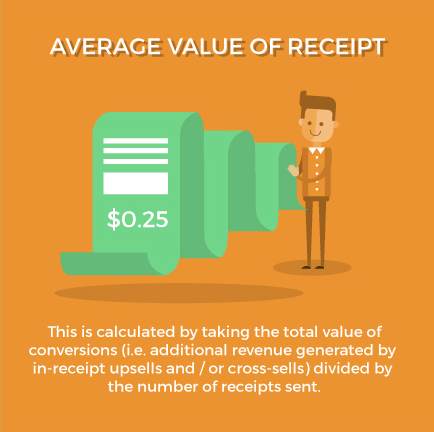 Doesn't sound like much, right? I didn't think so, either. But then I looked at the math: For every 100 receipts you send, you can make an average of $25 of extra revenue with no extra effort.
Not bad for an automated email, right?
While the order confirmation email is another way to boost sales, it's also a way of setting customer expectations.
Joybird, an online furniture store, include an explainer video in their order confirmation email to explain their delivery process: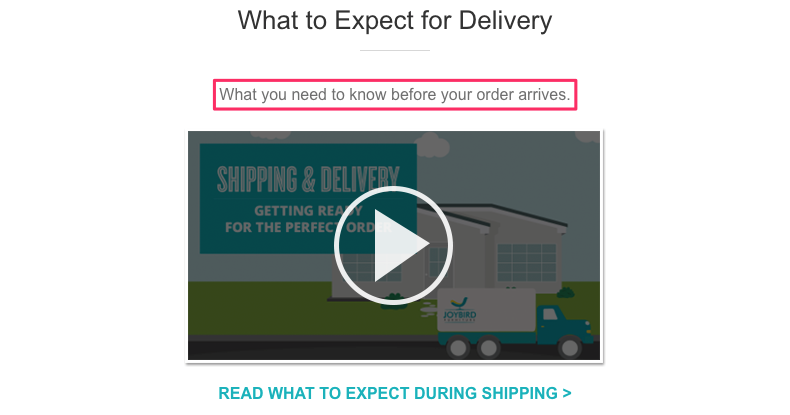 Remember, your order confirmation email is more than a digital receipt; it's also a way of reminding shoppers that buying from you was the right decision.
8. The Upsell Email
You're likely familiar with upselling and its close relative, cross-selling.
If you're not, here's a refresher:
Upselling is when you invite a prospect to buy a more expensive item in a bid to boost their average order value.
Cross-selling involves recommending a related or complementary product.
It's why McDonald's asks, "Do you want fries with that?" and why Amazon shows you products that are often bought together: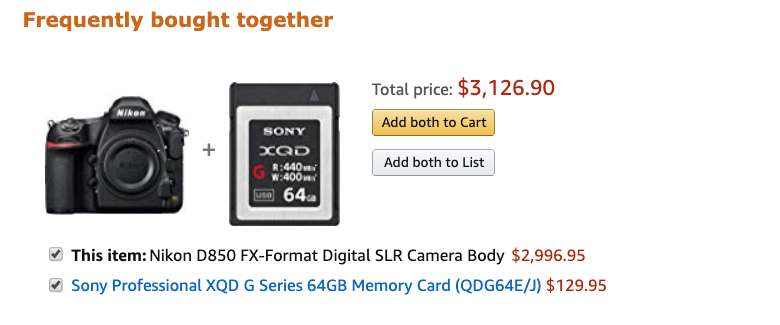 With the average repeat customer spending 67 percent more in months 31-36 of his or her shopping relationship than in months zero-to-six, it's no surprise that many e-commerce brands regularly use upsell emails to upsell products to customers who have already made a purchase.
After receiving an order, Beardbrand emails new customers recommended items: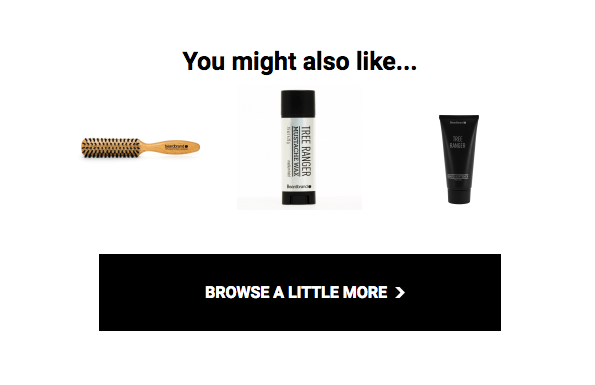 If cross-selling isn't a viable option for you, considering using tiered-pricing.
Apuls, an online retailer specializing in exercise equipment, invites visitors to spend more by offering a value ladder in one of their popups.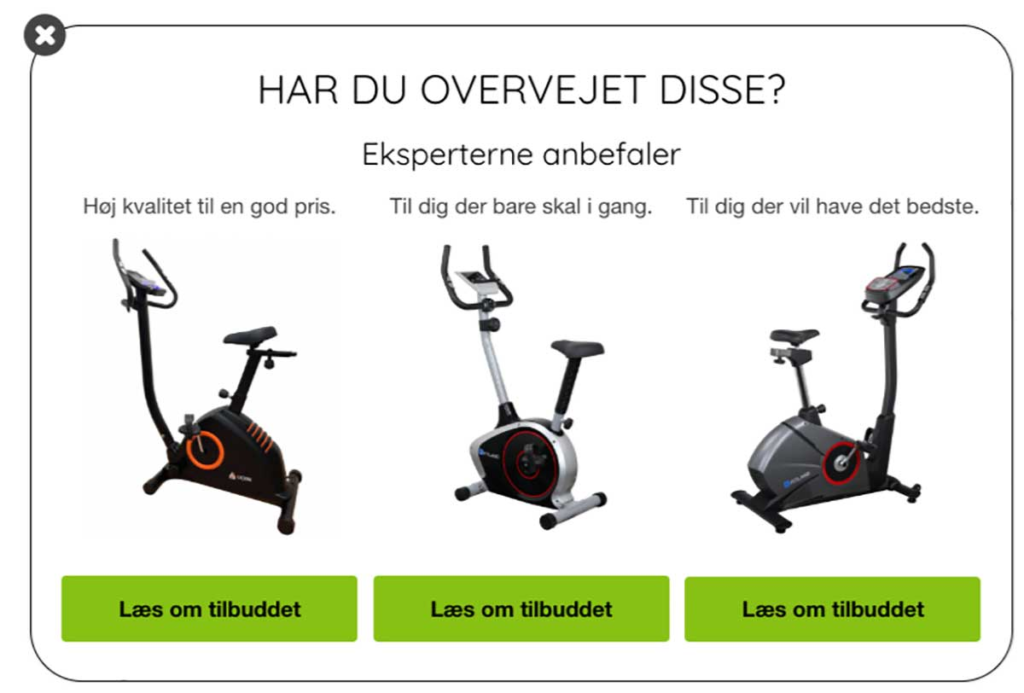 From left to right, the item they offer, an exercise bike, increases in price, giving visitors more choice and Apuls a chance to make more from each customer.
9. The Win-Back Email
It's happened to me and it's likely happened to you, too.
You invest your time, attention, and energy in growing your email list only to have a percentage of your readers unsubscribe, or worse, disengage entirely (costing you money in the process).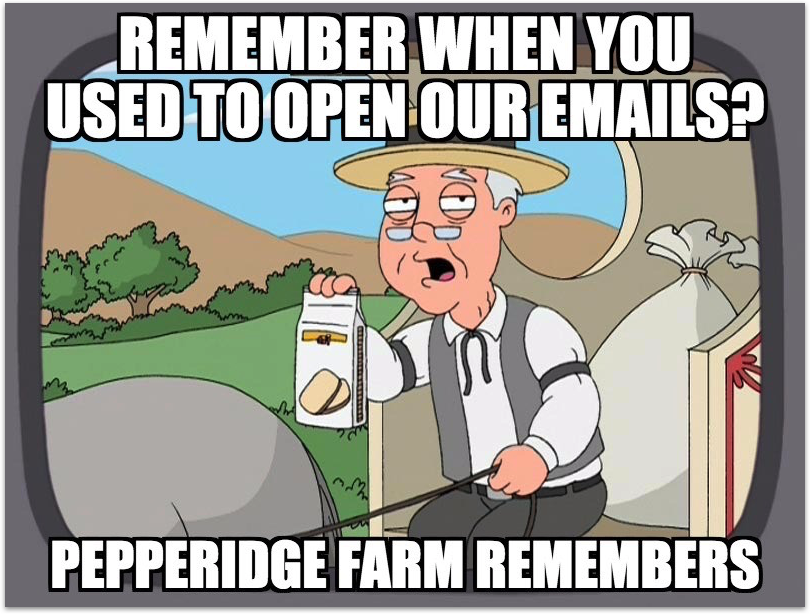 Email marketing databases naturally degrade by about 22.5% every year. So, with that in mind, it's crucial you re-engage members who have emotionally "checked out" (especially if you want to reduce email unsubscribe rates).
After moving from Fotolia to a competitor (sorry, Fotolia) and ignoring their emails for a few weeks, I received the below email, inviting me back: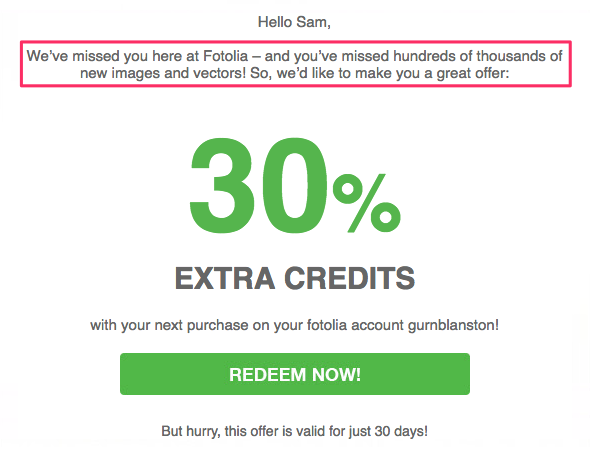 It doesn't always work (again, sorry Fotolia) but it's always worth reminding previous buyers you're still thinking of them (even if they've switched to a competitor).
10. The Survey Email
If you don't ask…
(Say it with me now…)
You don't get.
Similarly, if you don't regularly ask your subscribers what they're looking for, how can you expect to give them what they want?
Surveying your customers does more than offer valuable insights into their goals, desires and pain points; it gives you an opportunity to improve your email marketing.
Many brands, like Frye, offer recipients a chance to win a gift certificate if they participate: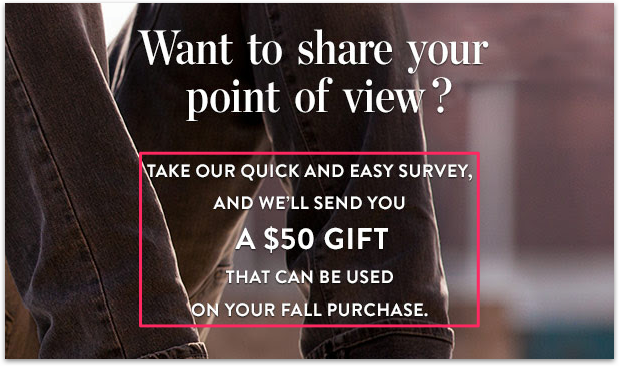 Others, like The Ask Method Company, founded by survey expert Ryan Levesque, argue otherwise.
"If you include a free gift for taking the survey, your data will be biased toward people who just want the free thing," writes Levesque in his #1 national bestseller, Ask. "If you do want to offer some individual incentive to increase your survey uptake, that incentive should be a discount off the paid solution to their problem in exchange for their feedback.
Revolution Tea follows Levesque's advice to a tee (no pun intended) by offering a discount to users after they completed their survey: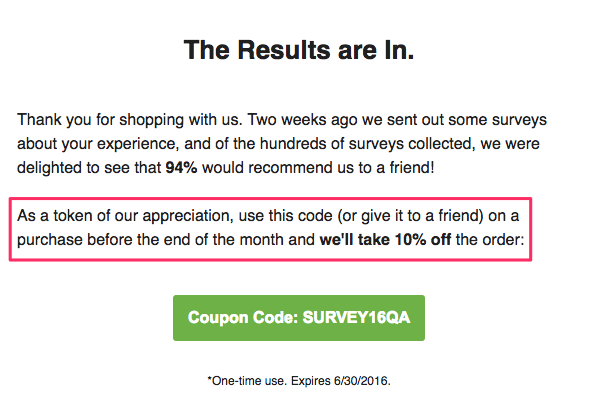 Asking what your customers want works for many brands, and it can work for yours, too.
11. The Thank You Email
Sometimes, we don't say thank you enough. And even if we do, rarely do we really mean it.
Thanking your audience goes beyond thanking them for subscribing to your newsletter or making a purchase; it's about recognizing they are the reason why you're in business.
It's why, once in a while, companies like Brooklinen will write from the heart and thank their customers for helping make what they do possible: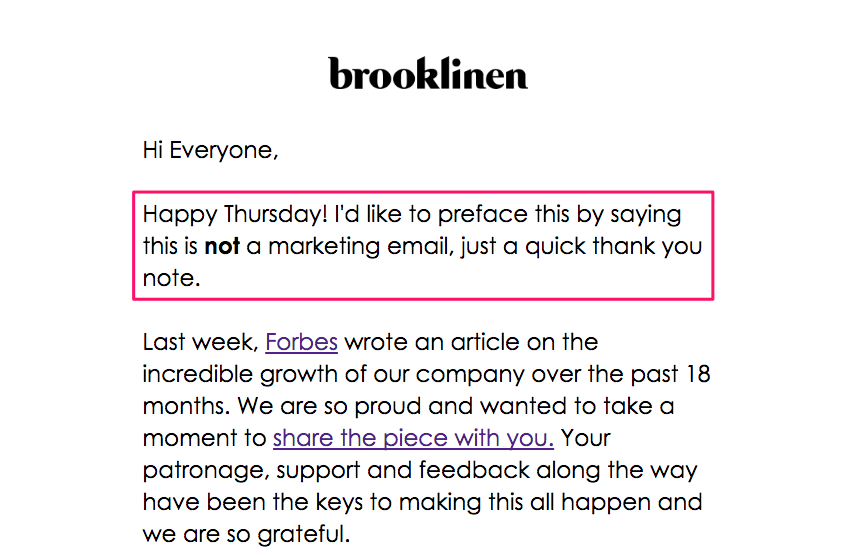 It's easy to get caught up in the minutiae of everyday business life. But sometimes, thanking your customers goes a long way.
How can you give back to the people who've made you are your company what it is today?
Conclusion
I mentioned in the introduction that email marketing is about sequencing rather than strategy.
But there's something else that's equally important:
Your brand's unique voice.
I've included the above emails not because of what they say (the copy isn't what matters, here). Rather, I've included them because of how they say what they're saying.
If you haven't found your voice, yet—keep searching.
If you do, and you become a recognizable brand like those above, your email marketing will pay for itself.