If you're interested in building a robust e-commerce marketing strategy, you're in the right place.
In this guide, I'll cover everything you need to know about e-commerce marketing.
From top e-commerce marketing strategies to everything in between, I'll share how today's top brands are growing their reach, and how you can, too.
E-Commerce Marketing 101
Part 1. What Is E-Commerce Marketing?
E-commerce marketing is the process of intentionally driving awareness for, and demand of, a business's product or service digitally.
Part 2. What Are the 7 Types of E-Commerce Marketing?
According to Southern New Hampshire University, there are seven types of marketing:
SEO
Pay-Per-Click (PPC)
Social Media Marketing
Content Marketing
Email Marketing
Mobile Marketing
Influencer Marketing
While mobile marketing is important for reasons we'll explore later, I feel product marketing is more important, particularly for e-commerce.
Let's explore each marketing type in more detail.
1. Email Marketing
With an average ROI of $42 for each dollar invested, email marketing is, and, for the foreseeable future, continues to be, the best marketing channel to invest in.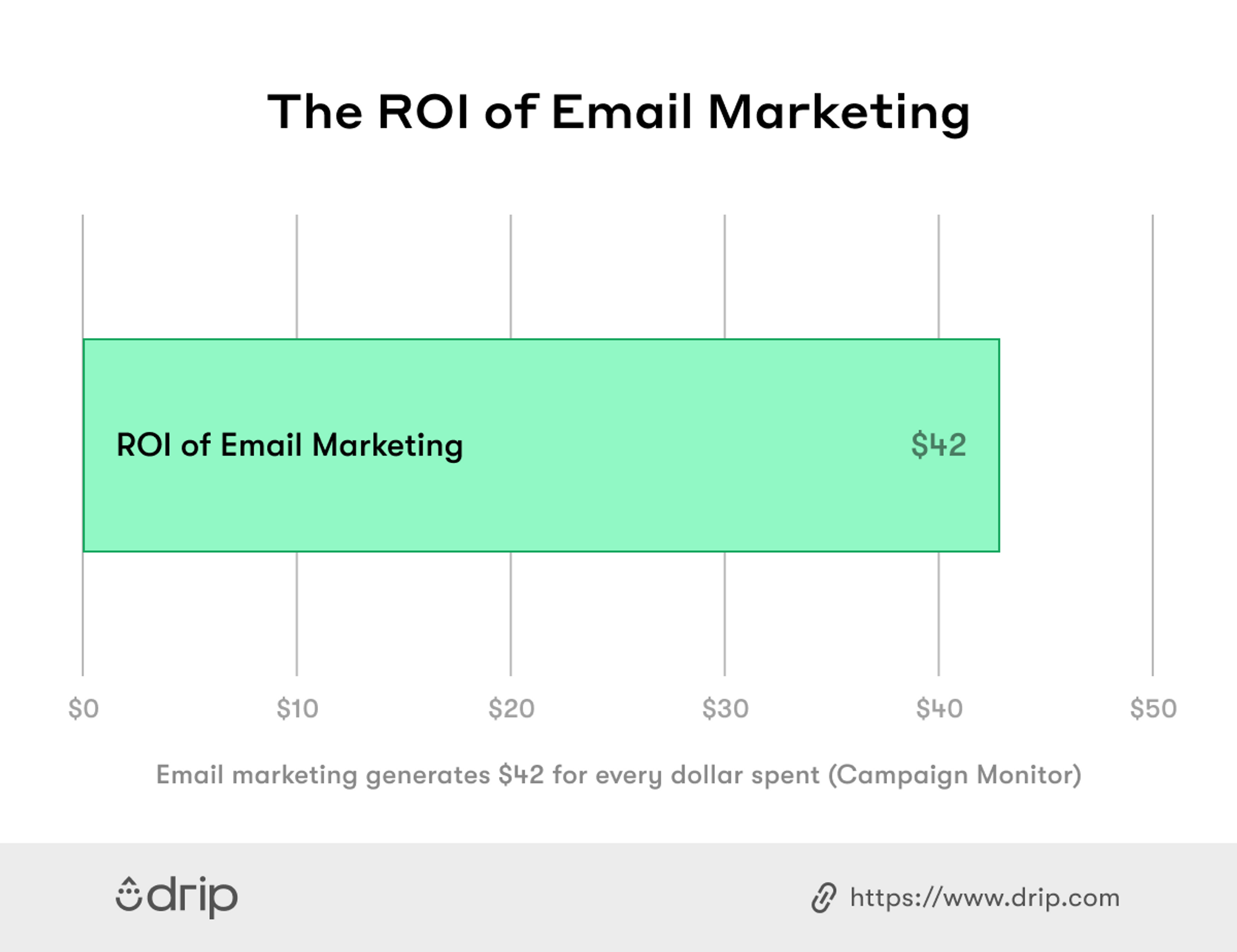 We've identified 11 e-commerce emails marketers need to drive repeat revenue, but the most important of all of them, in my opinion, is the welcome email.
One welcome email I love comes from Frank Body, an Australian skincare brand. In it, Frank Body includes a 10 percent discount, delivering on the promise it made on its homepage.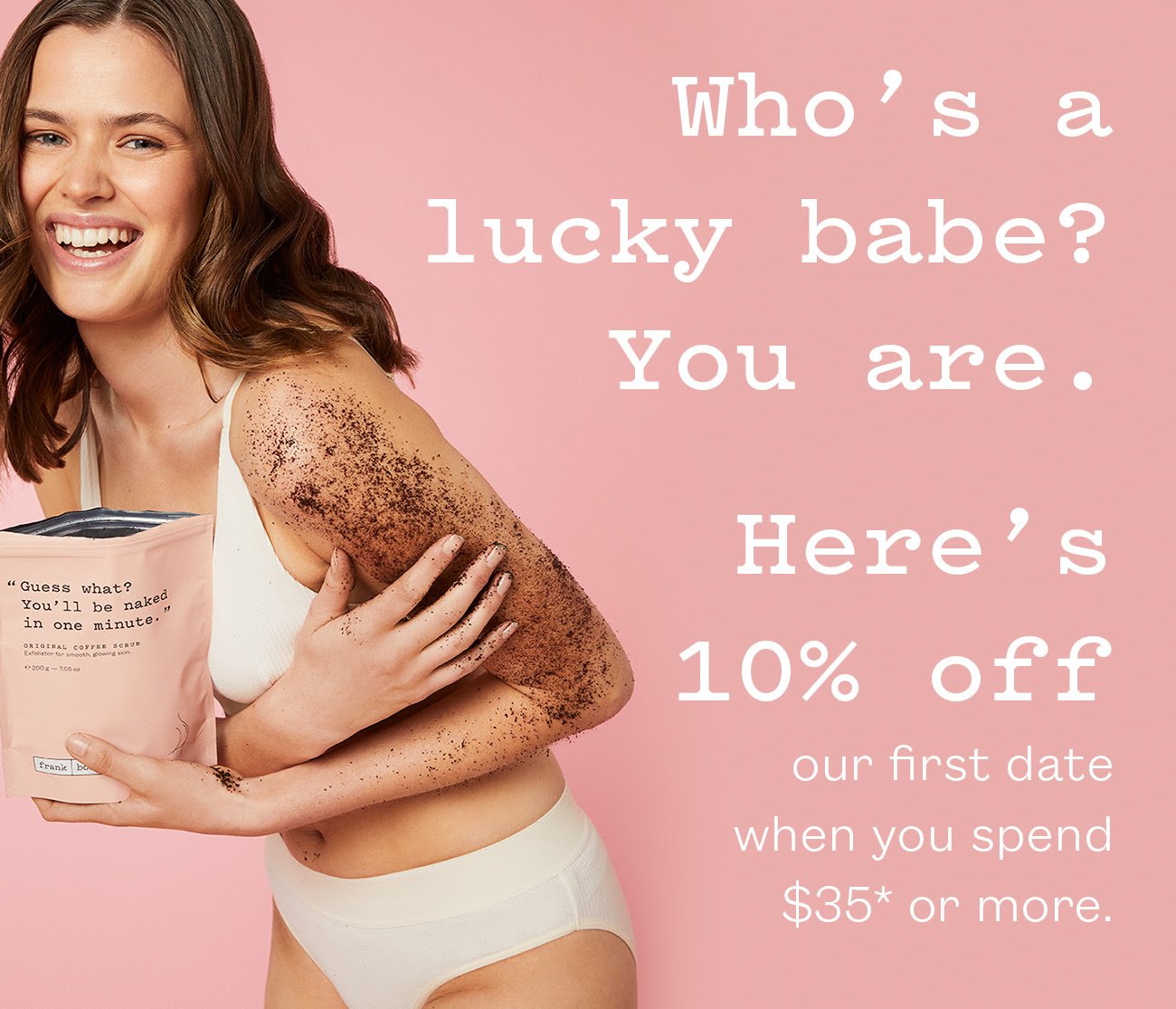 Below the fold is an invitation to enter the code at checkout, but with a catch. The code, titled "me" rather than "it" is due to expire within 14 days of receipt.

The brand's character copy continues what's more, with an invitation to "get to know me better," in order to "get more comfortable with one another."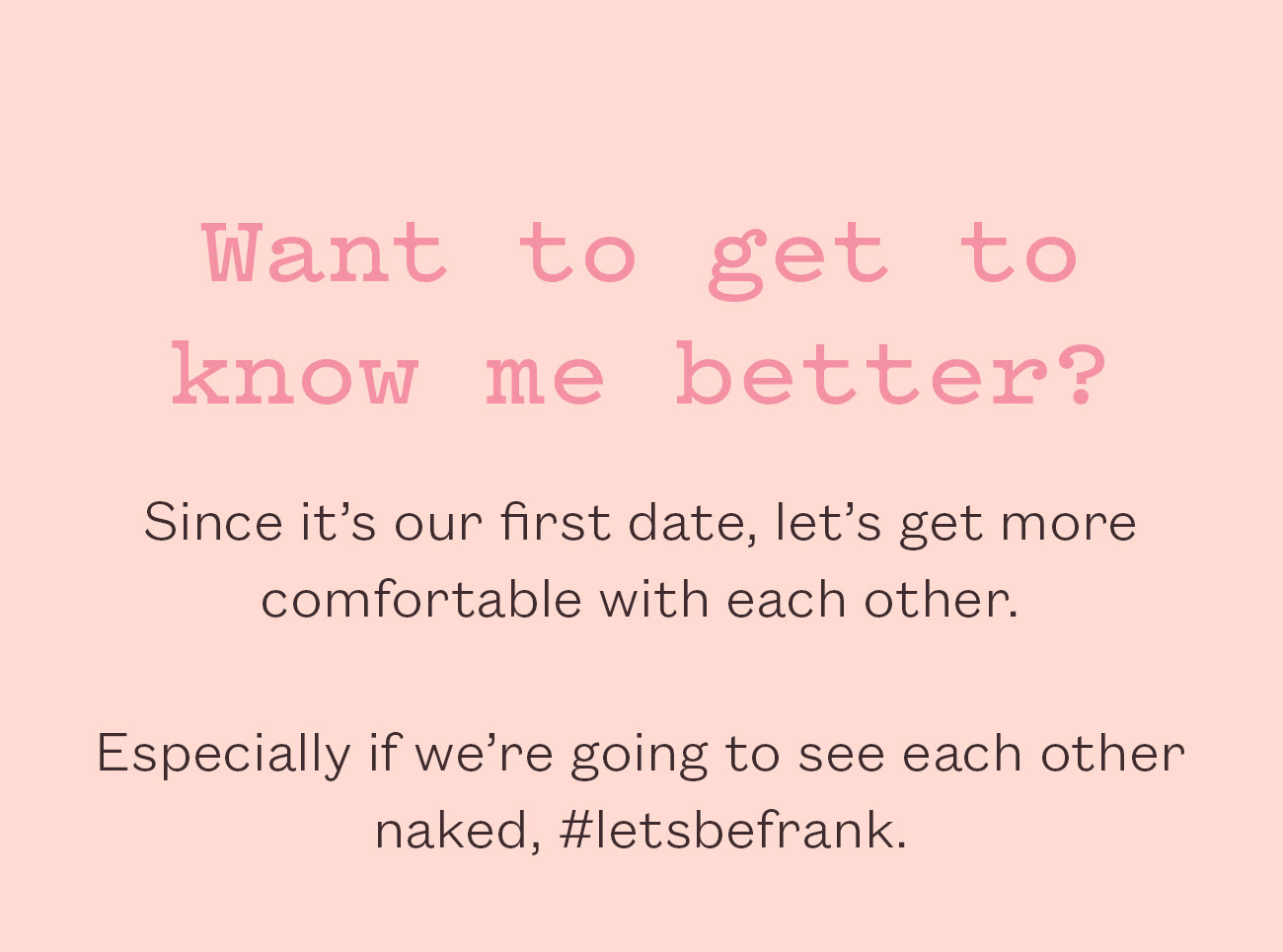 ​​Below that, the brand lists some of its value propositions, from why Frank Body uses coffee in its products, to its satisfaction guarantee which promises "the smoothest skin of your life."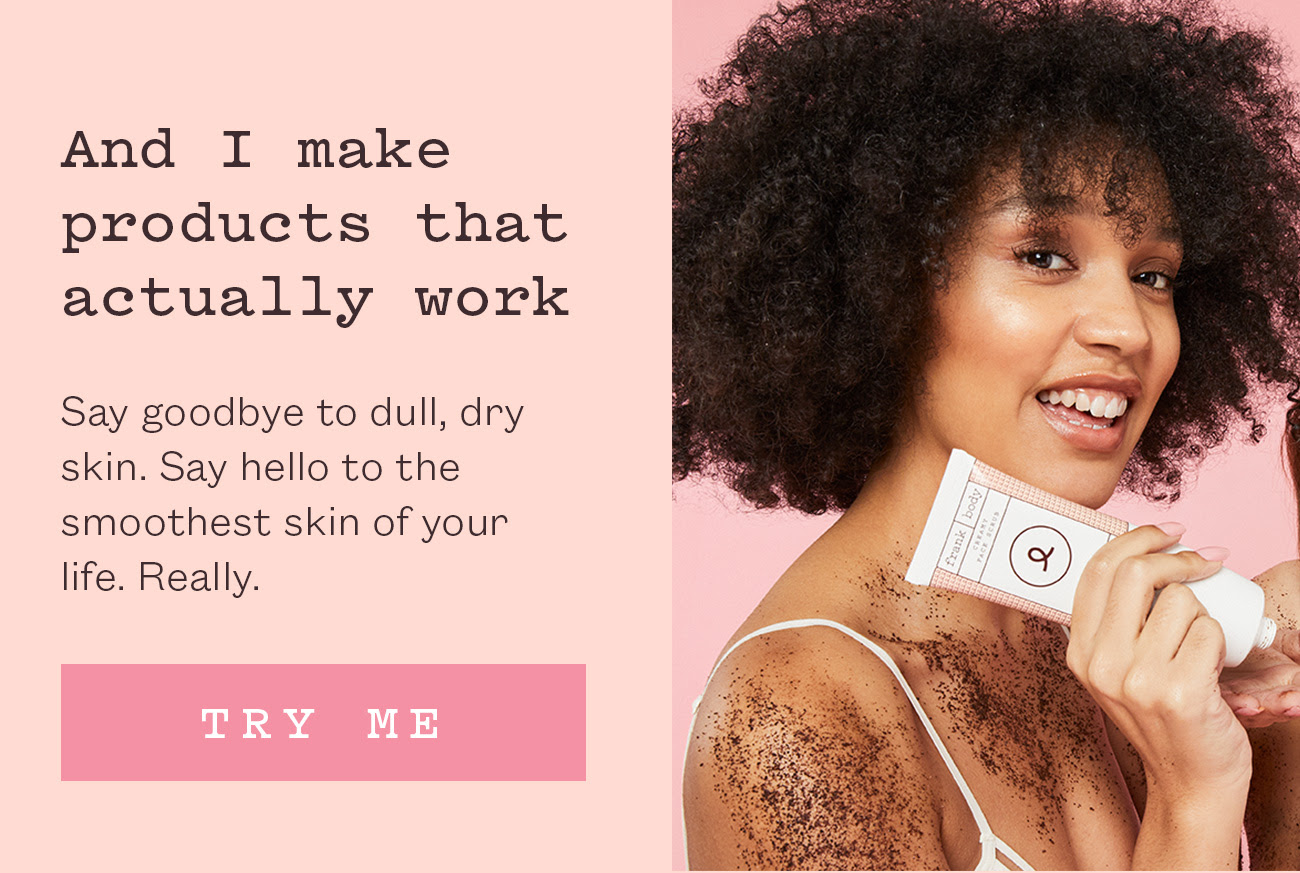 If the subscriber clicks "Try Me," the brand redirects them to its online shop where the subscriber can use their coupon on a range of Frank Body's bestsellers.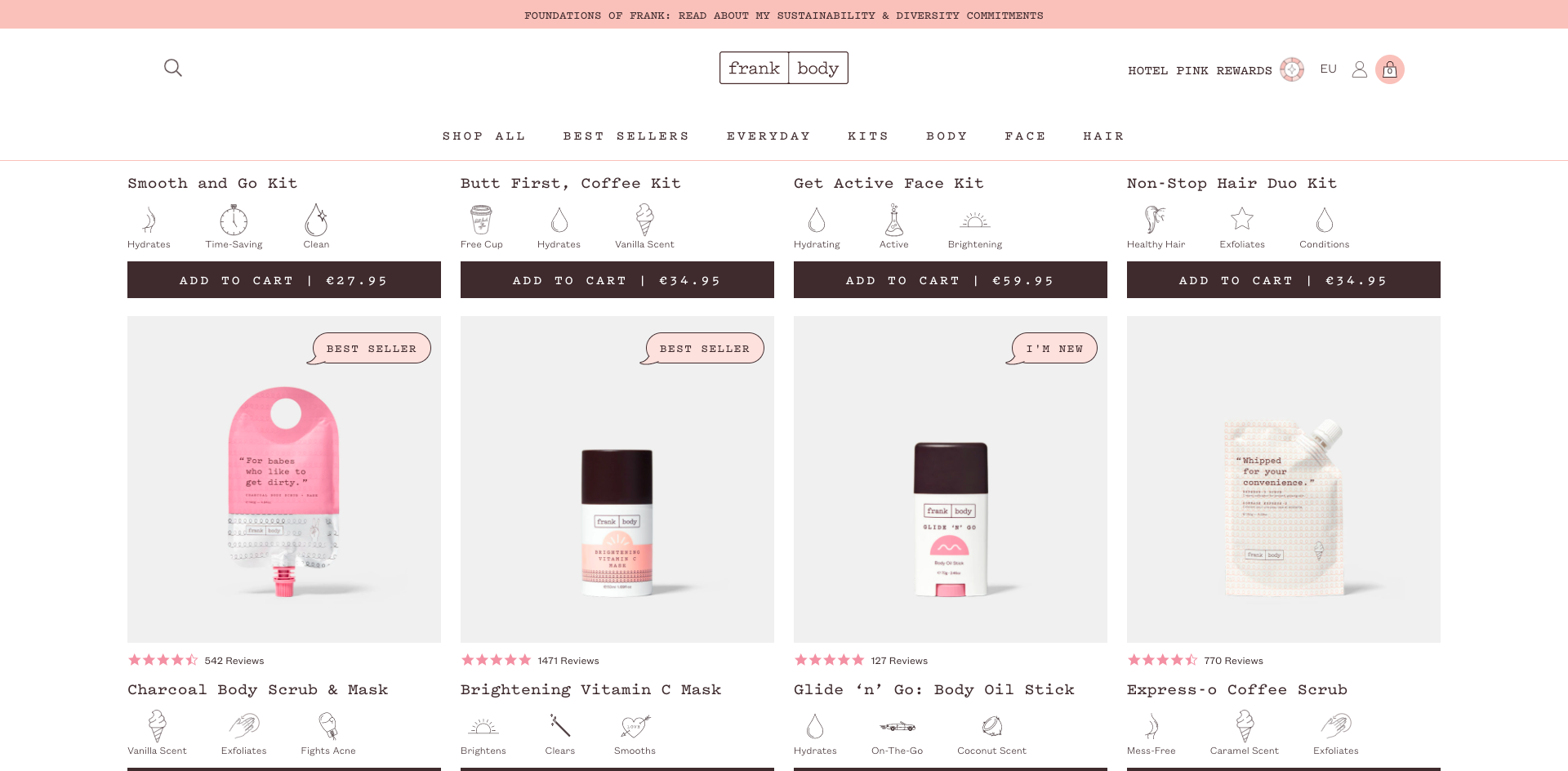 One brand that builds well on its offer for a coupon is Mavi Jeans. Like Frank Body, Mavi Jeans includes a coupon in its welcome email. But if the subscriber doesn't use it, the brand follows up with a reminder.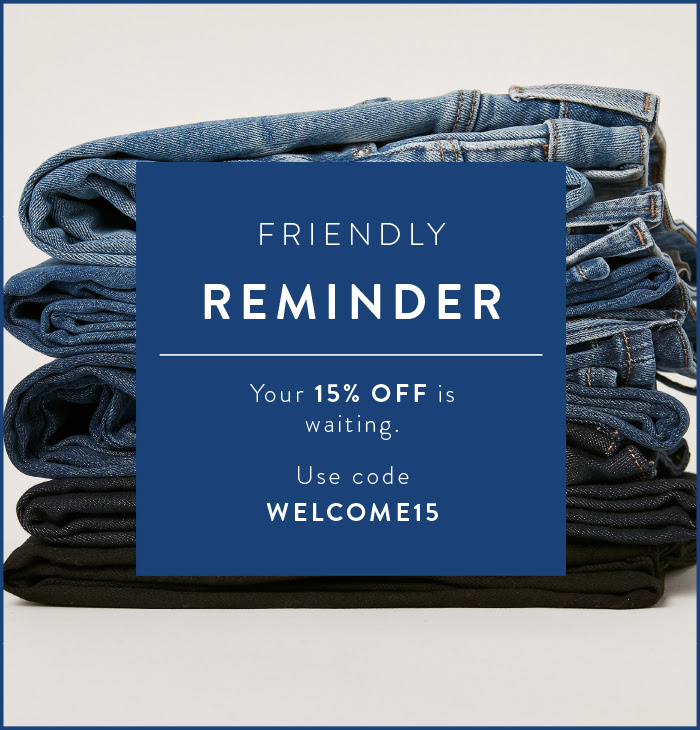 And, to remove purchase friction, suggests "trending styles picked for you" at the bottom of the email. (Granted, the trending styles aren't evergreen, but it's better than nothing.)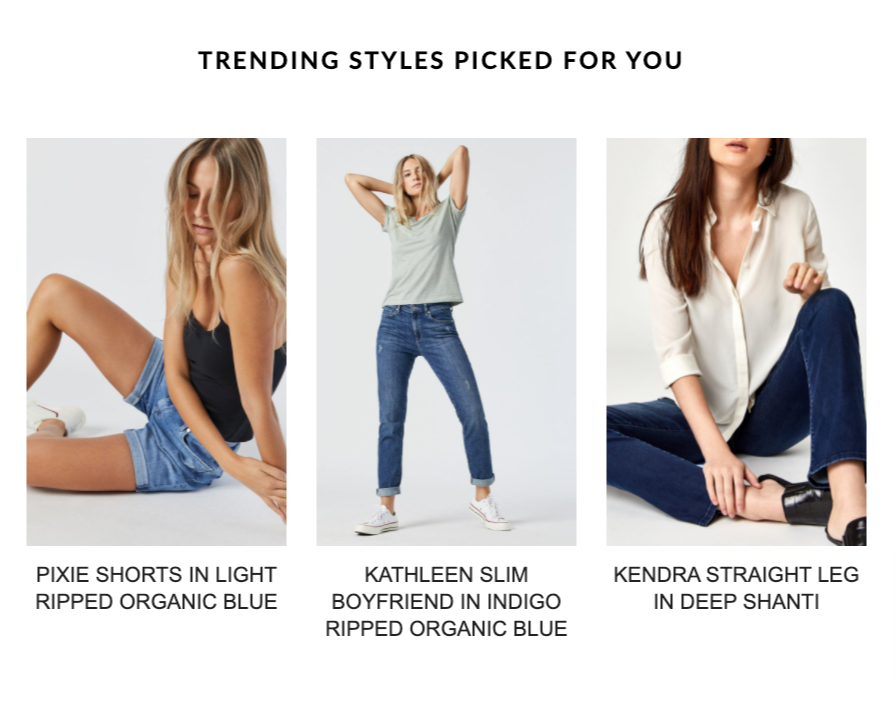 We've written at length about e-commerce email marketing. Here are a few of our favorite articles to get you started and inspire future campaigns:
2. Paid Advertising
Paid advertising is the best acquisition channel for any e-commerce brand. In fact, e-commerce advertising spending in the United States is expected to reach 28.57 billion U.S. dollars by 2022. (Source.)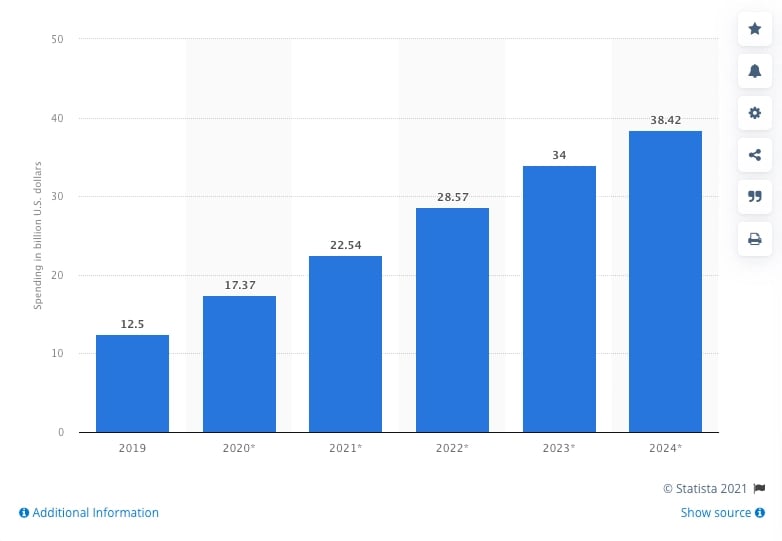 We've written a lot about paid advertising on our blog, but there are three paid advertising strategies I want to focus on in this guide:
Translate Your Ads
Optimize for Mobile
Retarget Abandoning Shoppers
1. Translate Your Ads
A good e-commerce marketer knows which countries are driving the most traffic to their site.
And the marketing team at Casper is no exception.
According to SimilarWeb, the majority of Casper's traffic comes from the United States, followed by the United Kingdom, Canada, France, and Germany.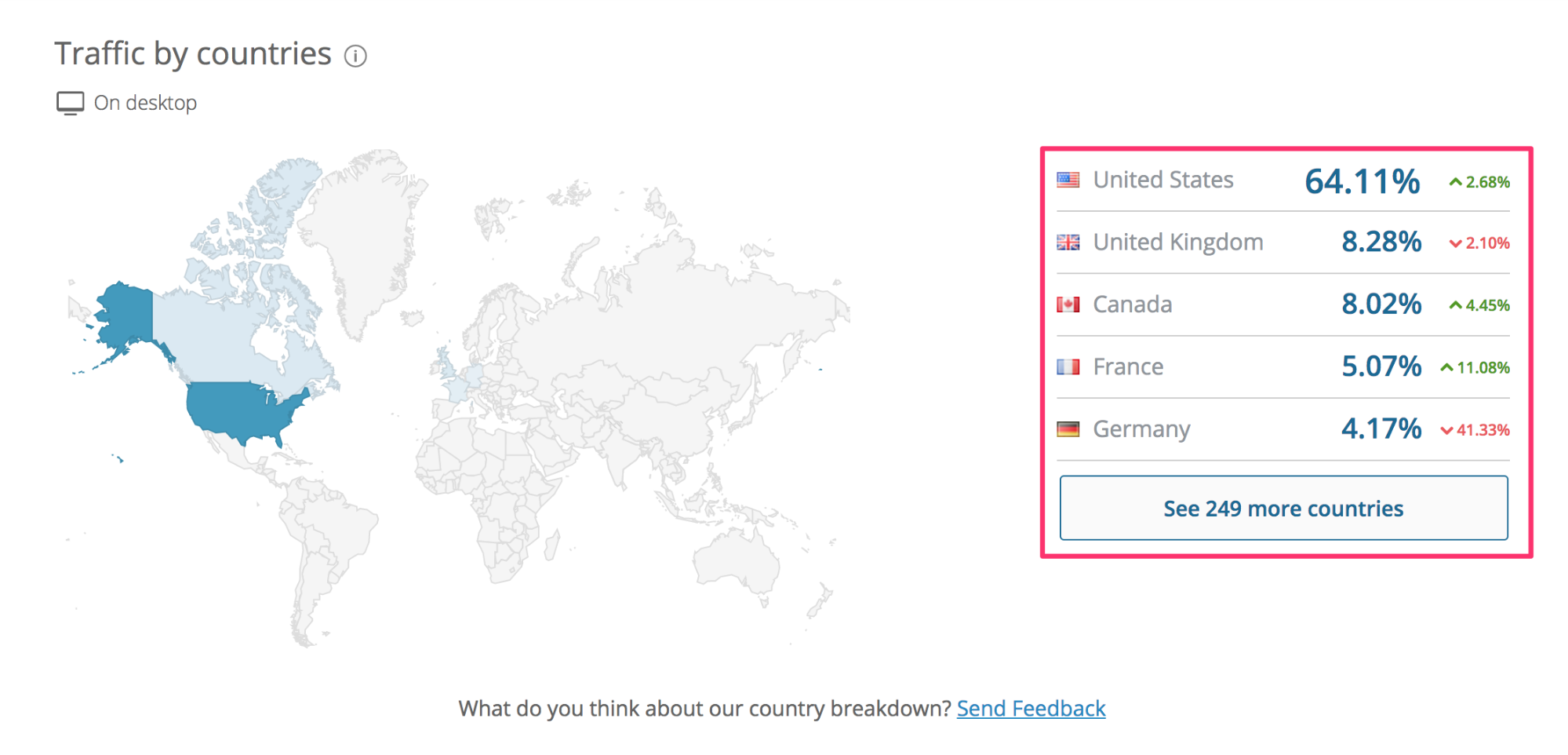 So, it makes sense that Casper advertises to potential customers in those countries in English. After all, for the US and the UK, (and 56.9 percent of Canada), English is the native tongue.
But what about countries like France and Germany where English isn't the first language? How is Casper marketing to those countries?
The answer, as it turns out, is Casper is translating their top-performing ads into the target country's first language.
Take, for instance, the following display ad, shown to German visitors who have previously visited Casper's site.

When clicked, visitors go to a landing page complete with German copy and customer support.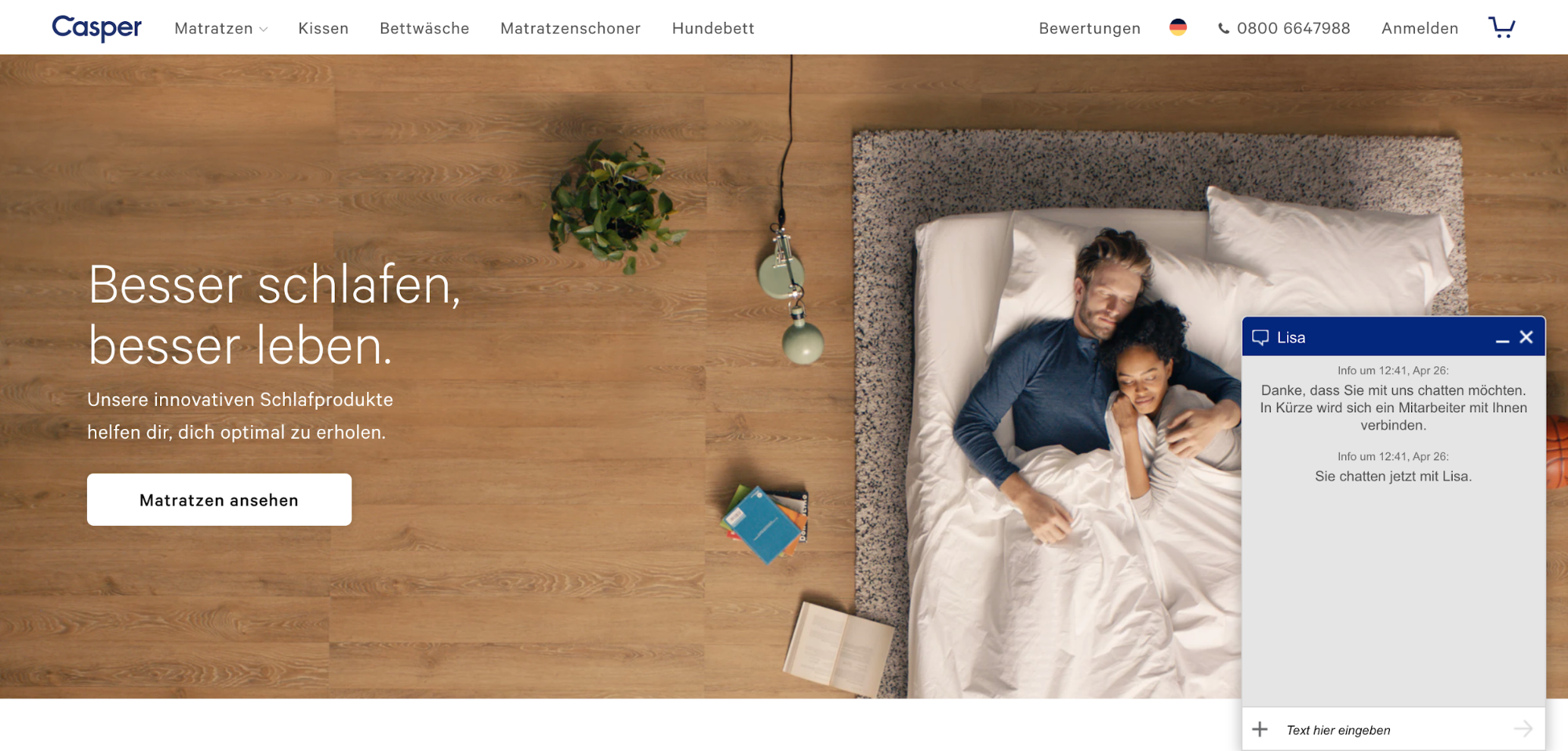 And if you try to leave the page? Casper shows an exit-intent popup asking for your email address.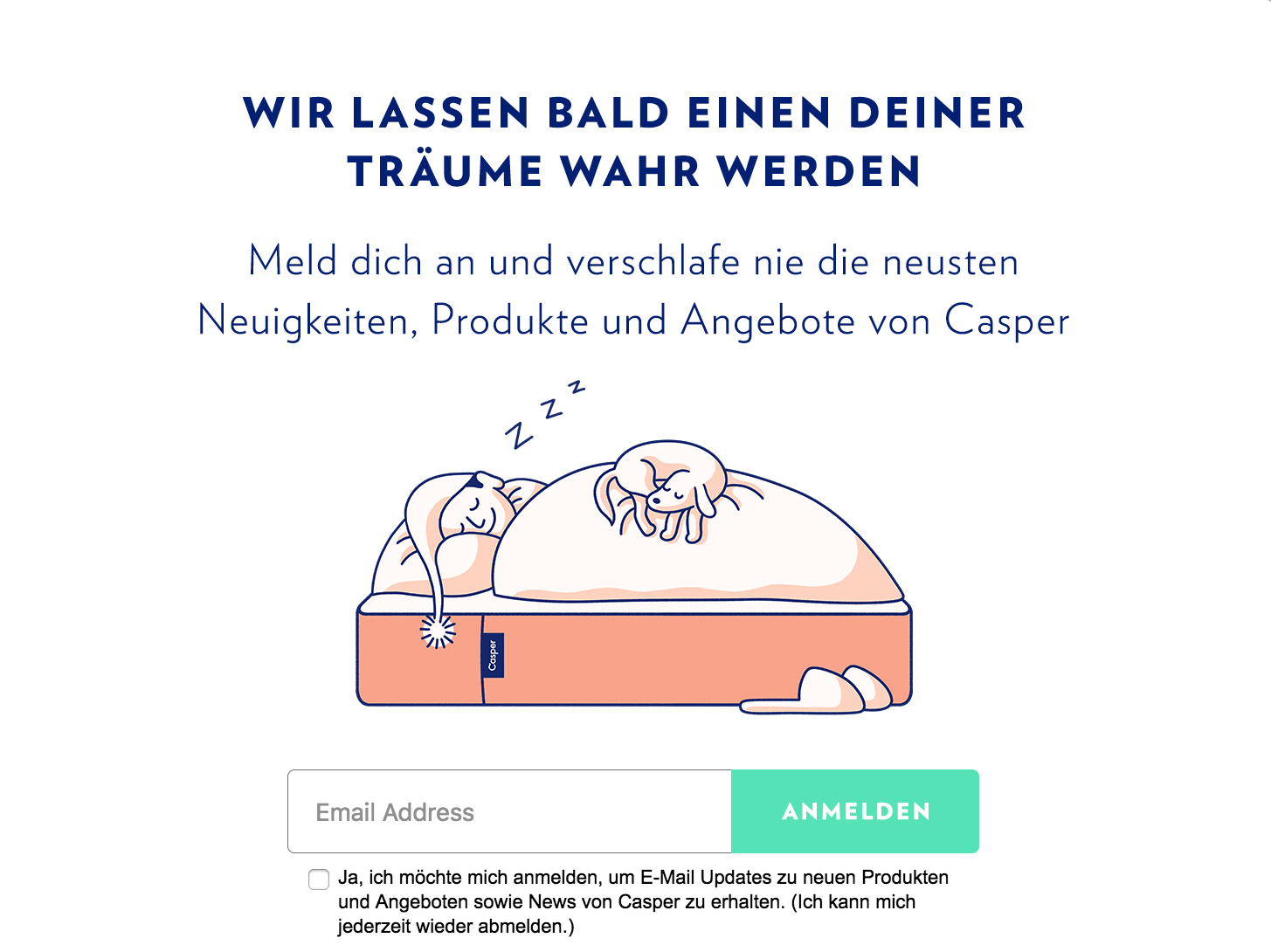 In English it reads:
"We will soon make one of your dreams come true. Sign up and never 'sleep over' from news, products, and discounts from Casper."
Casper's ad strategy is genius because:
Translating ad copy into a target market's language personalizes their marketing;
Offering customer support helps readers overcome objections to buying; and
Capturing abandoning visitors' email addresses gives you an opportunity to convert them later through email.
Of course, if Google Display ads aren't your forte, you can consider one or both of the next strategies: optimizing for mobile and/or retargeting abandoning shoppers.
2. Optimize for Mobile
Marketers know that more people browse online on mobile than they do on desktop. (Source.)
And for that reason, aim to convert as much of that traffic as possible into leads.
ChiliSleep, a sleep technology brand focused on the future of sleep-driven health, knows that better than anyone having experimented with paid advertising.
In one mobile-first Facebook ad campaign, the brand used a mobile ad to "find more potential new customers, encourage those familiar with the brand to purchase, and increase overall online sales." (Source.)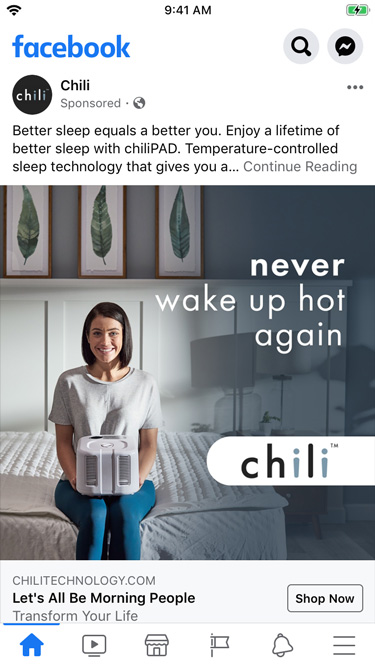 Partnering with tech platform Social Native, ChiliSleep built a variety of photo and video ads, including a photo ad of a woman happily holding her chiliPAD with a text overlay, "Never wake up hot again."
The result of its prospecting and remarketing approach?
21-point lift in purchases
19-point lift in unaided brand awareness
9-point lift in brand familiarity
20-point lift in ad recall
It's easy to forget about mobile when planning marketing campaigns. But it's worth considering users on all devices, especially when conversions tend to be higher on mobile, too.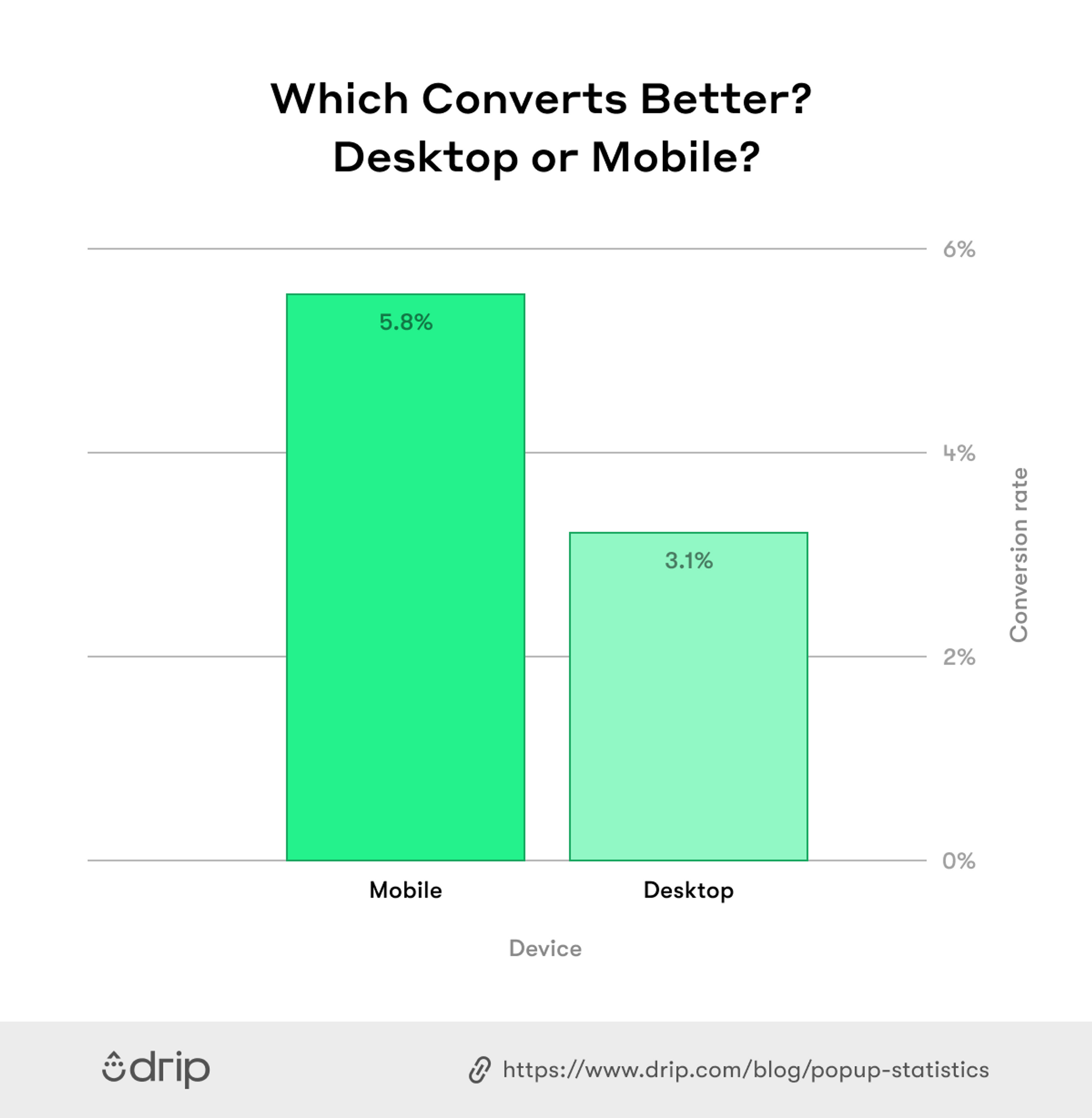 3. Retarget Abandoning Shoppers
Not everyone will become buyers through email marketing. In fact, as many as seven out of every 10 buyers will abandon their cart before purchasing (69.80 percent according to Baymard).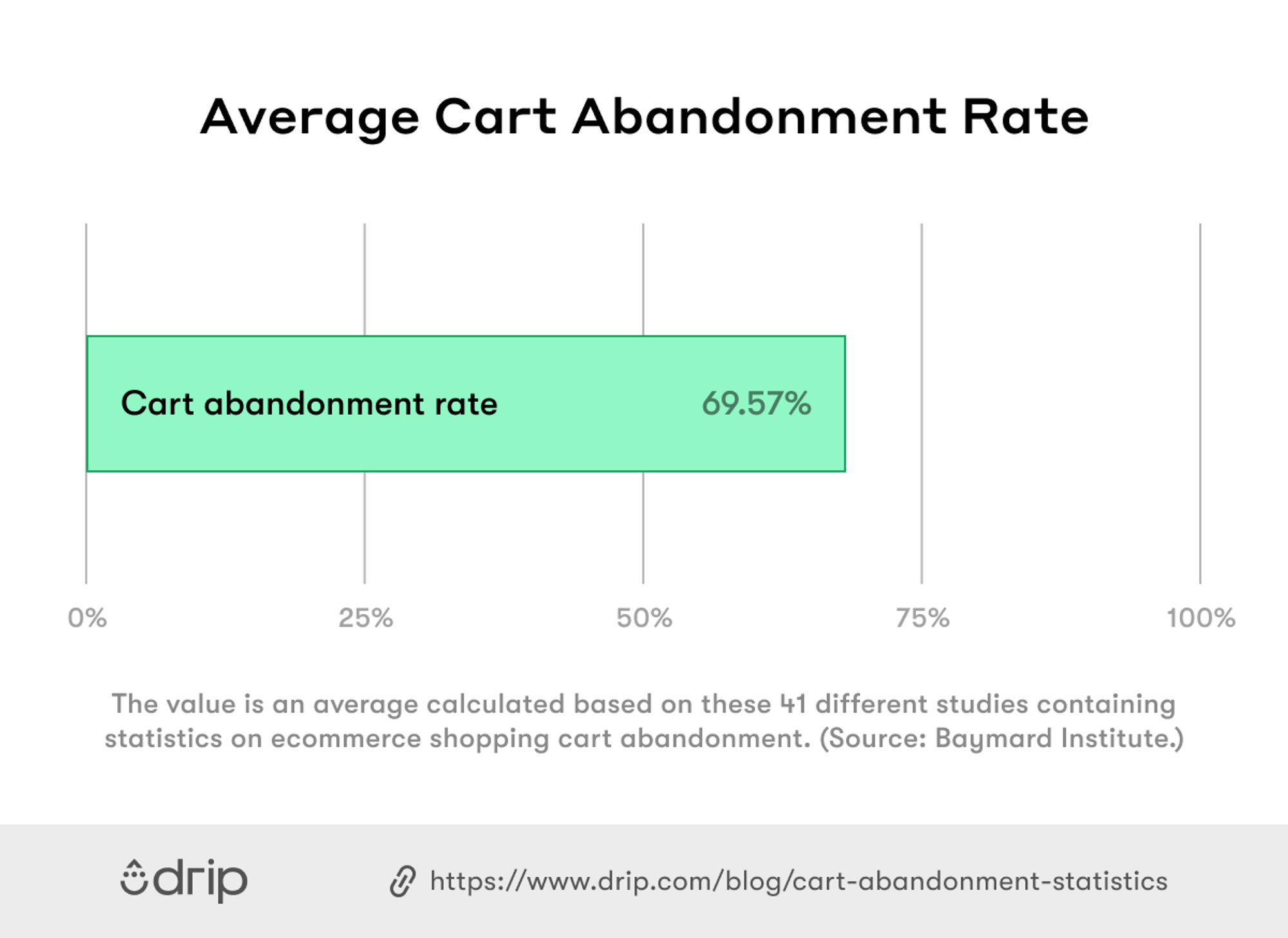 While using cart abandonment emails is an effective way to recover lost sales, there's another, equally-effective way—and that involves creating retargeting ads.
A while back, I wrote a blog post about Bellroy's marketing strategy. And after abandoning my cart as part of my research, I saw the following Facebook ad: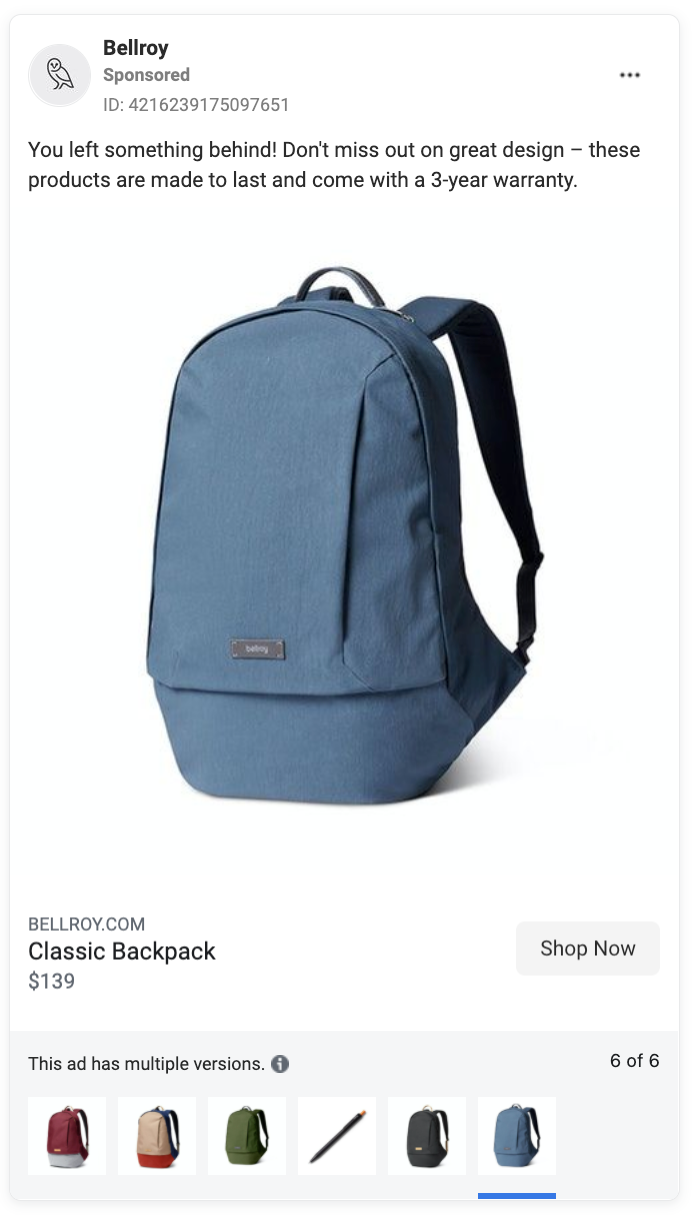 In it, Bellroy:
Reminds you, "you left something behind" and reiterates its satisfaction guarantee;
Offers the item in a range of colors in case you weren't aware the first time around; and
Provides a link back to its product page to simplify the process even further.
You don't need a big budget for paid advertising. But you do need to understand the fundamentals before diving in.
If you're new and interested in getting started, I recommend Seray's article on Facebook Ad examples.
3. Product Marketing
You can have the best products or services in the world. But if you don't have good product marketing, no one will be any the wiser.
One brand that nails its product marketing is Billie, a wellness company that offers shaving supplies and body products.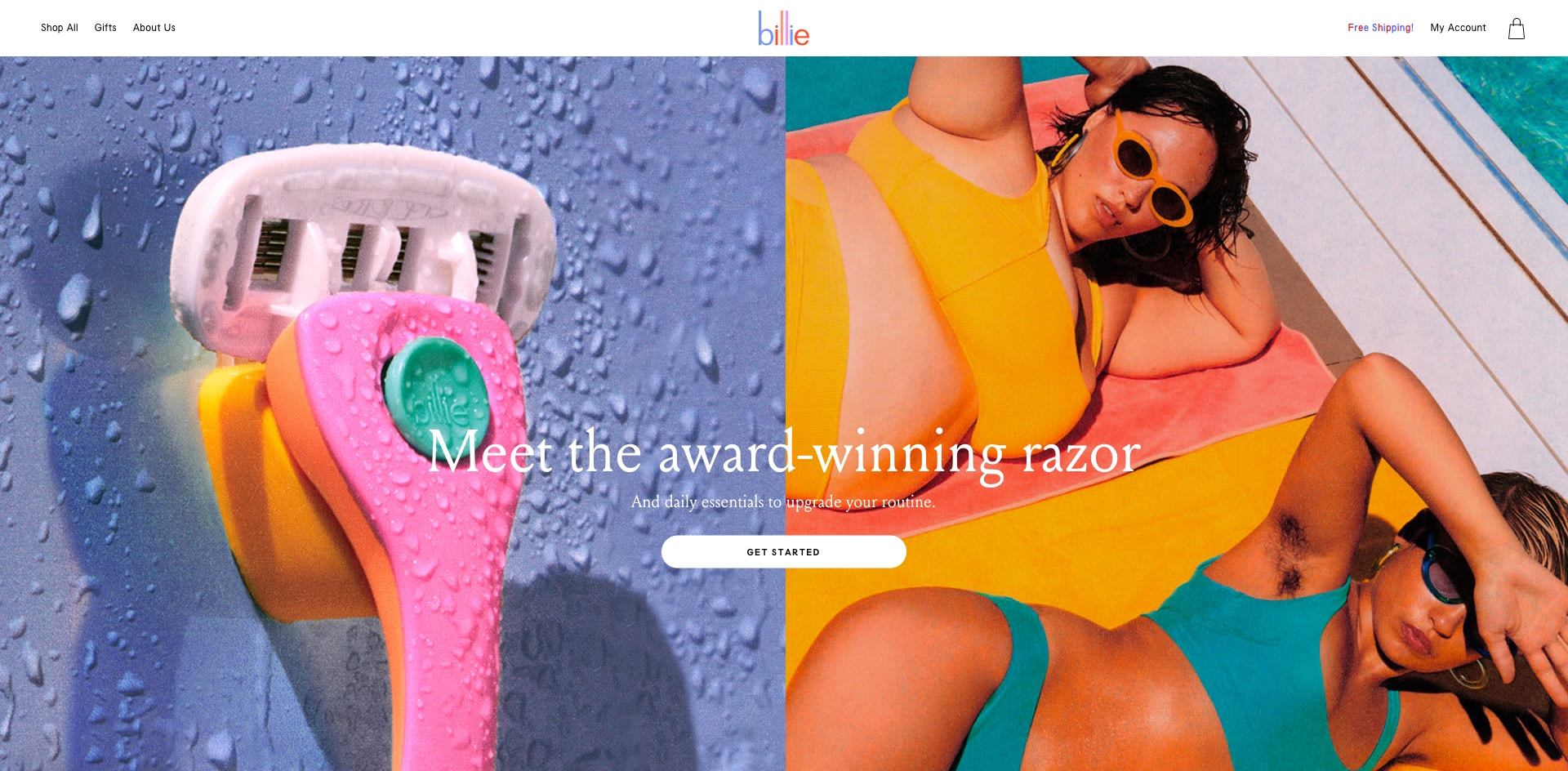 The brand's recent announcement email promoted several of its bestsellers (sold as a set) that subscribers could purchase at a steal (read: free shipping).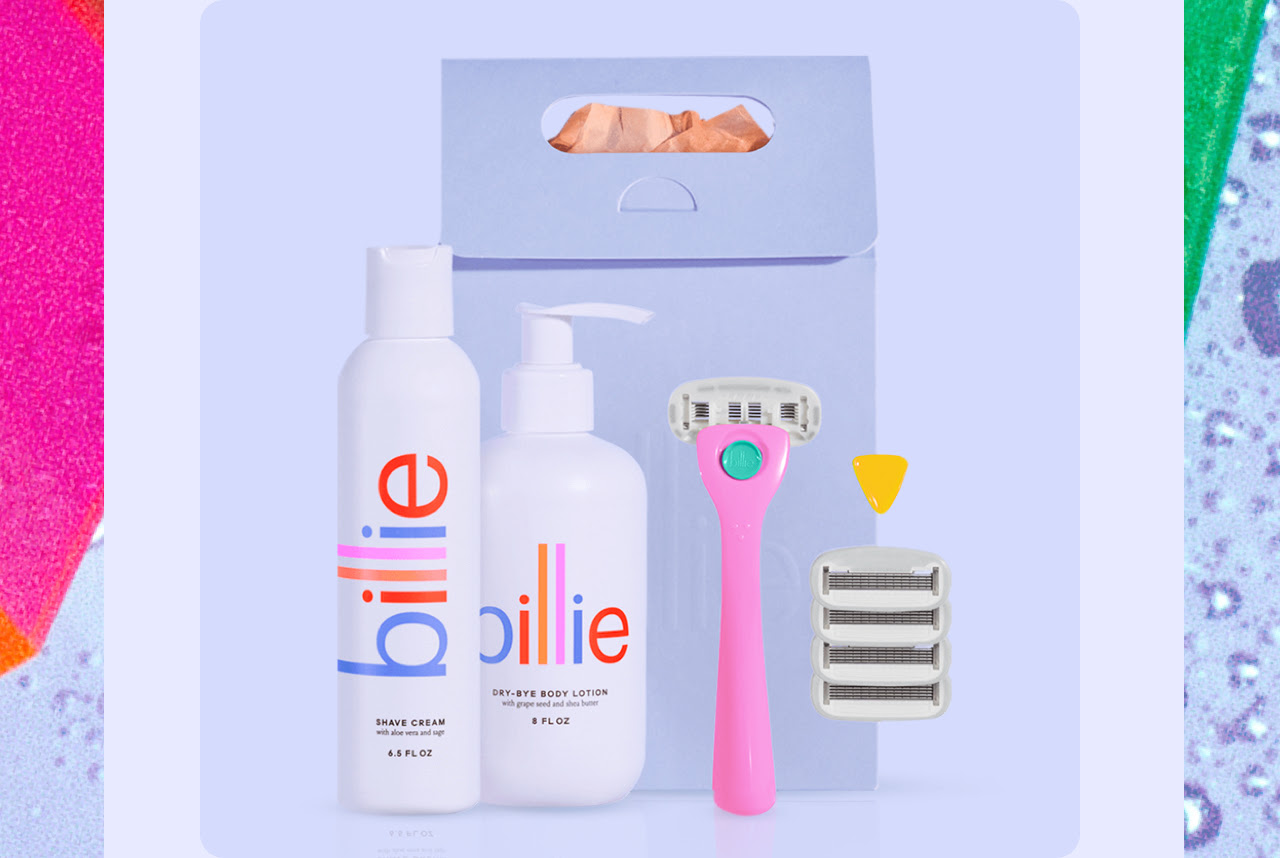 When I clicked the email's CTA, the brand redirected me to a superb landing page that deserves its own explanation.
First, the brand offers the option to see the product in multiple colors, which updates the product in real-time.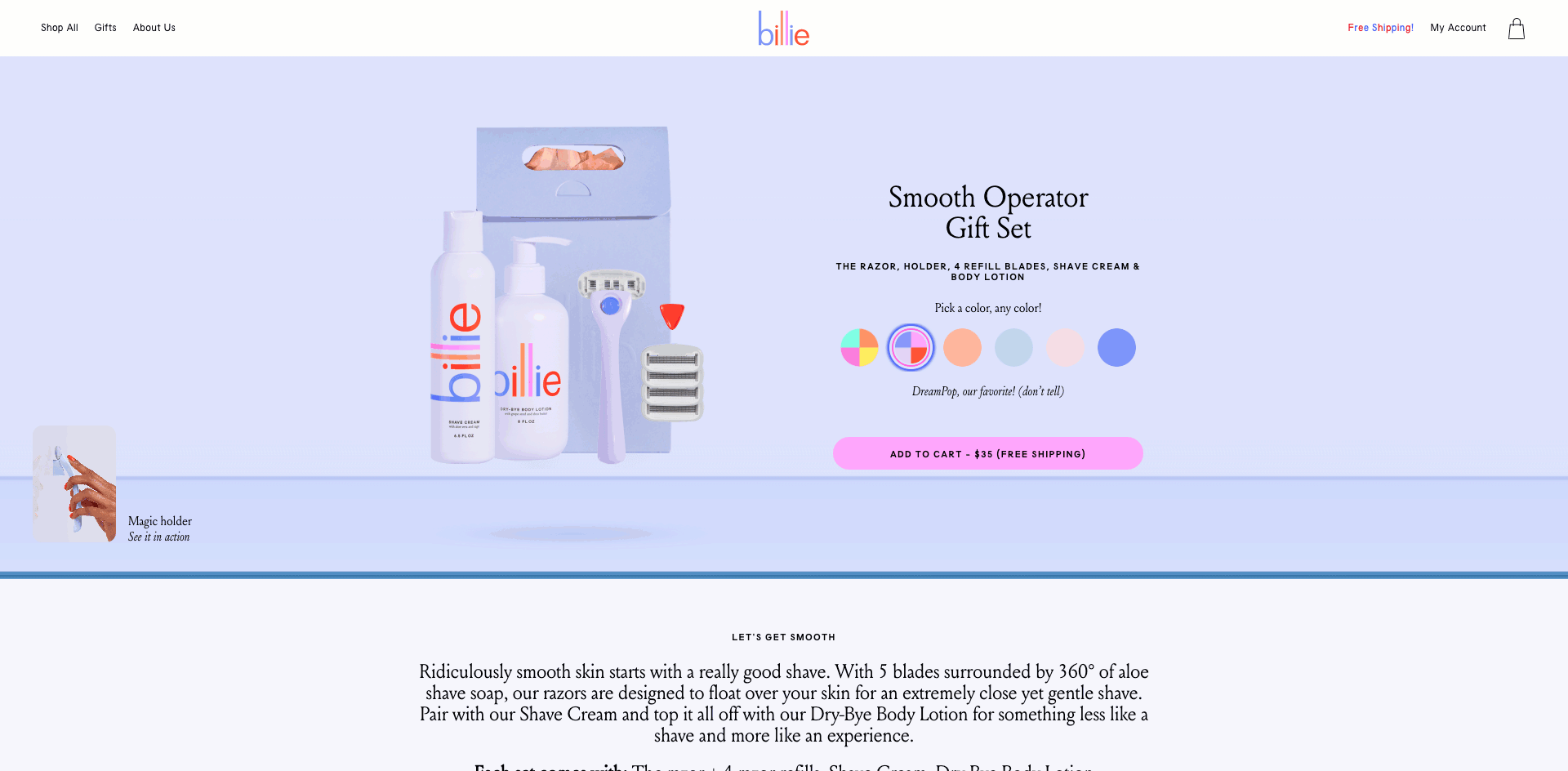 The brand also shows the product "in action" (notice how even the model's fingernail color changes).

Next, below the fold, Billie follows with classic feature/benefit copy to position its set as the best on the market.

Below that, the brand elaborates on each item and includes trust badges from known brands in its market to showcase authority.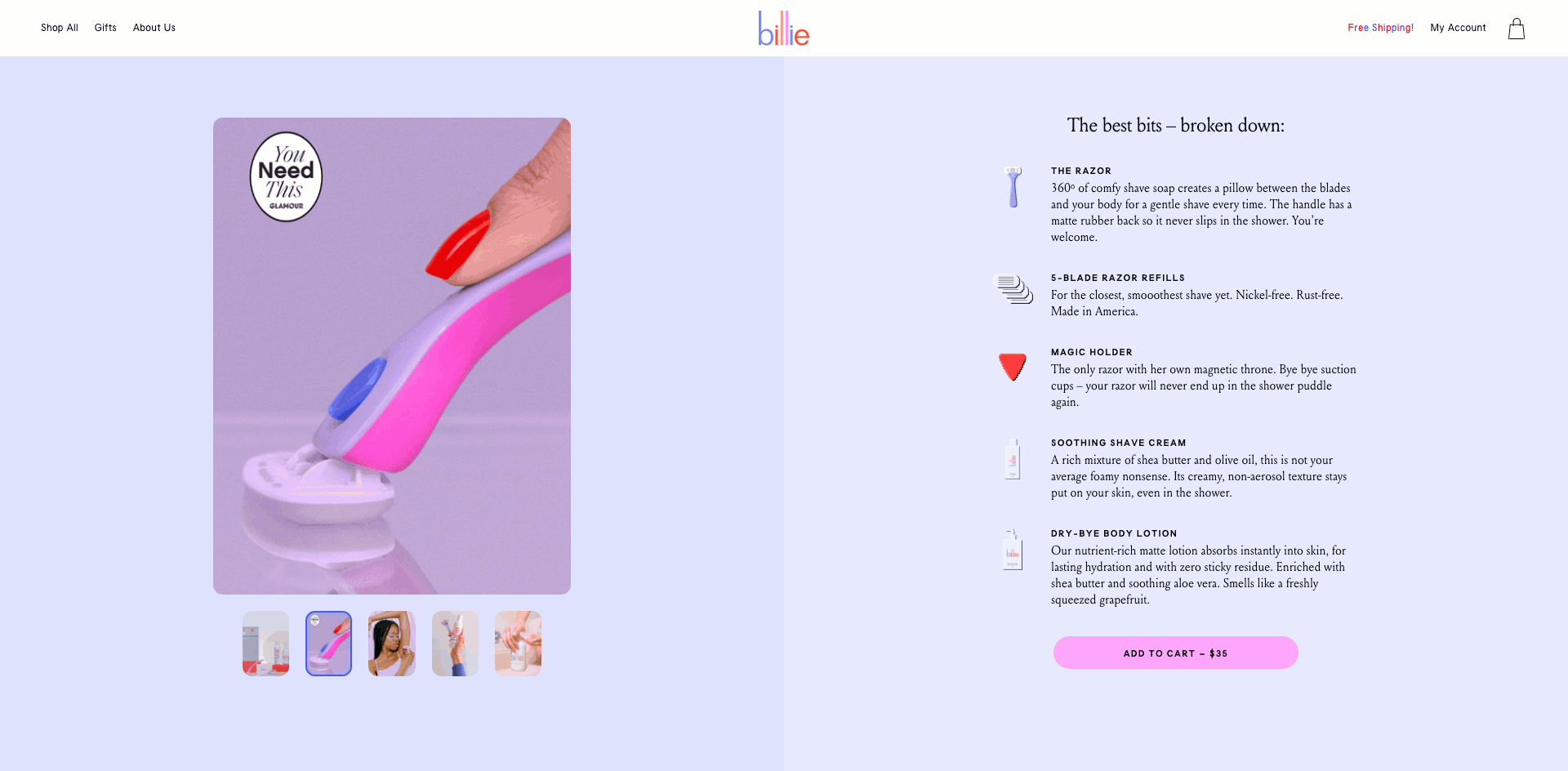 And if that isn't enough to nudge you to buy, Billie even links to an alternate offer in the footer.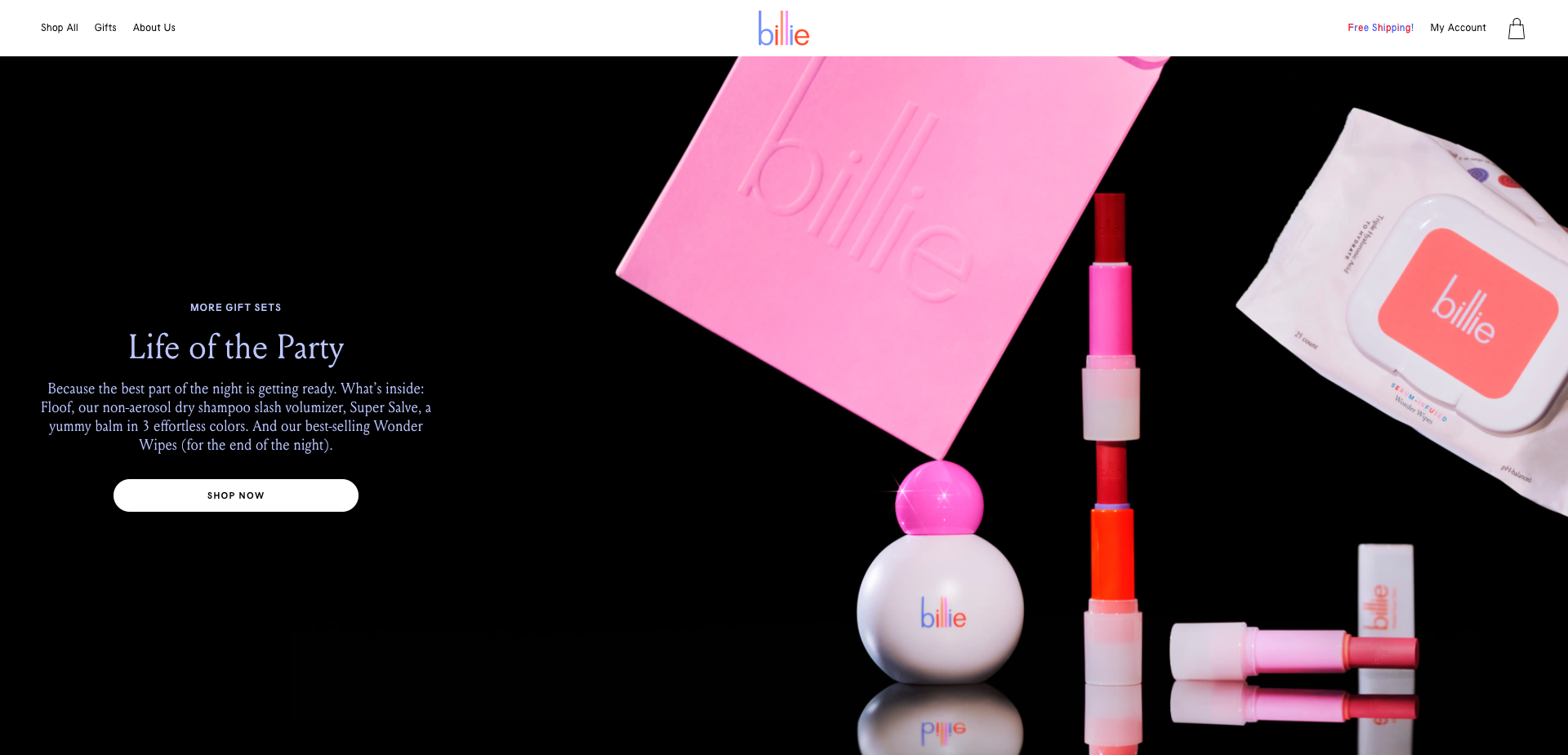 Of course, good product marketing doesn't always require putting bells and whistles on your product pages like the above (although, it certainly will help).
Sometimes, writing good product descriptions and having good product photography is more than enough to leave an impression on potential buyers.
4. Social Media Marketing
Say it with me: social media is everywhere. And with more than 3.78 billion people using it every day, many brands are taking advantage of the opportunity to reach new audiences.
One such brand worth highlighting is apparel brand Chubbies, an online retailer that focuses primarily on men's short shorts and swimming trunks.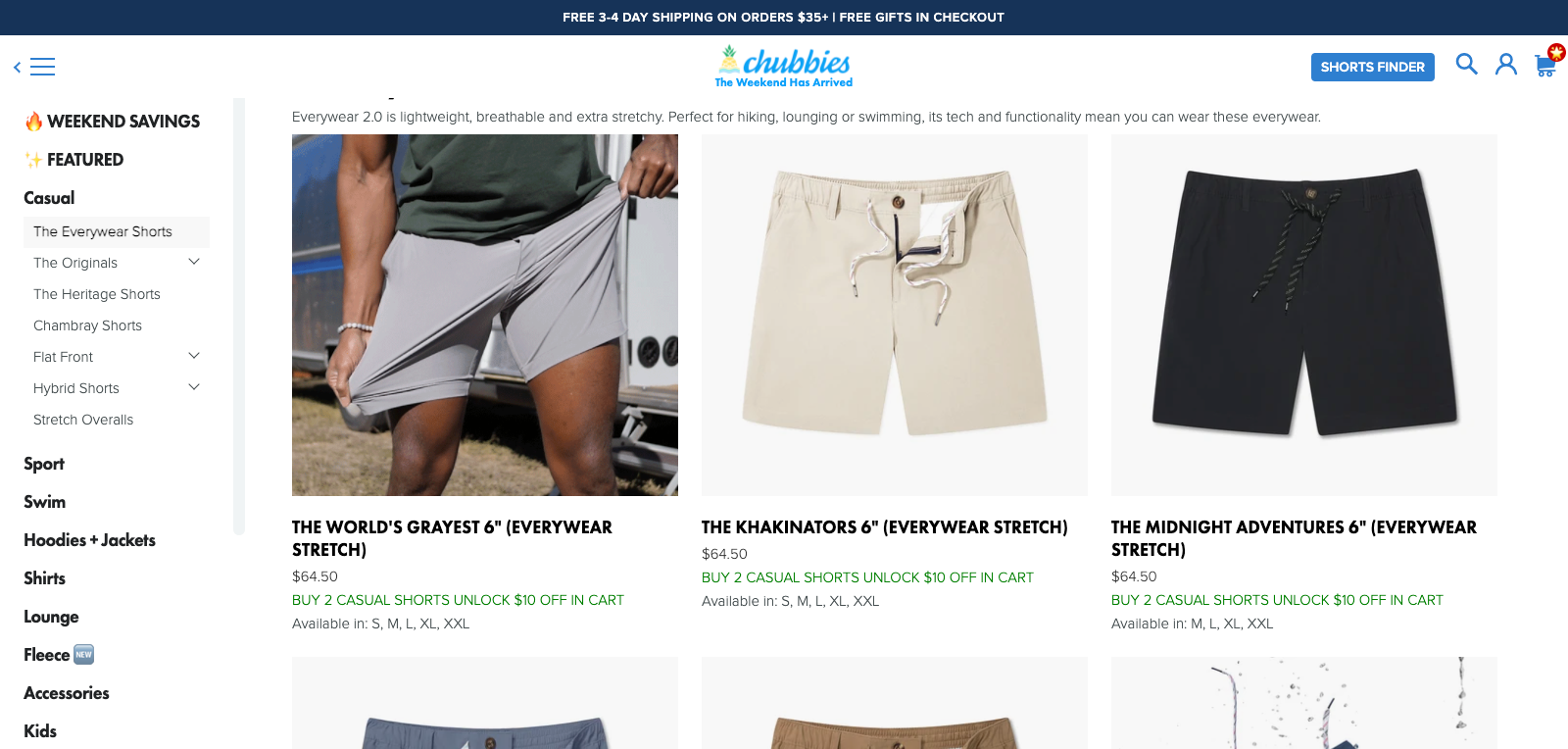 Known for its sophomoric humor, the brand has amassed a following of 2.5 million followers, including, more recently, more than 1.5 million on TikTok.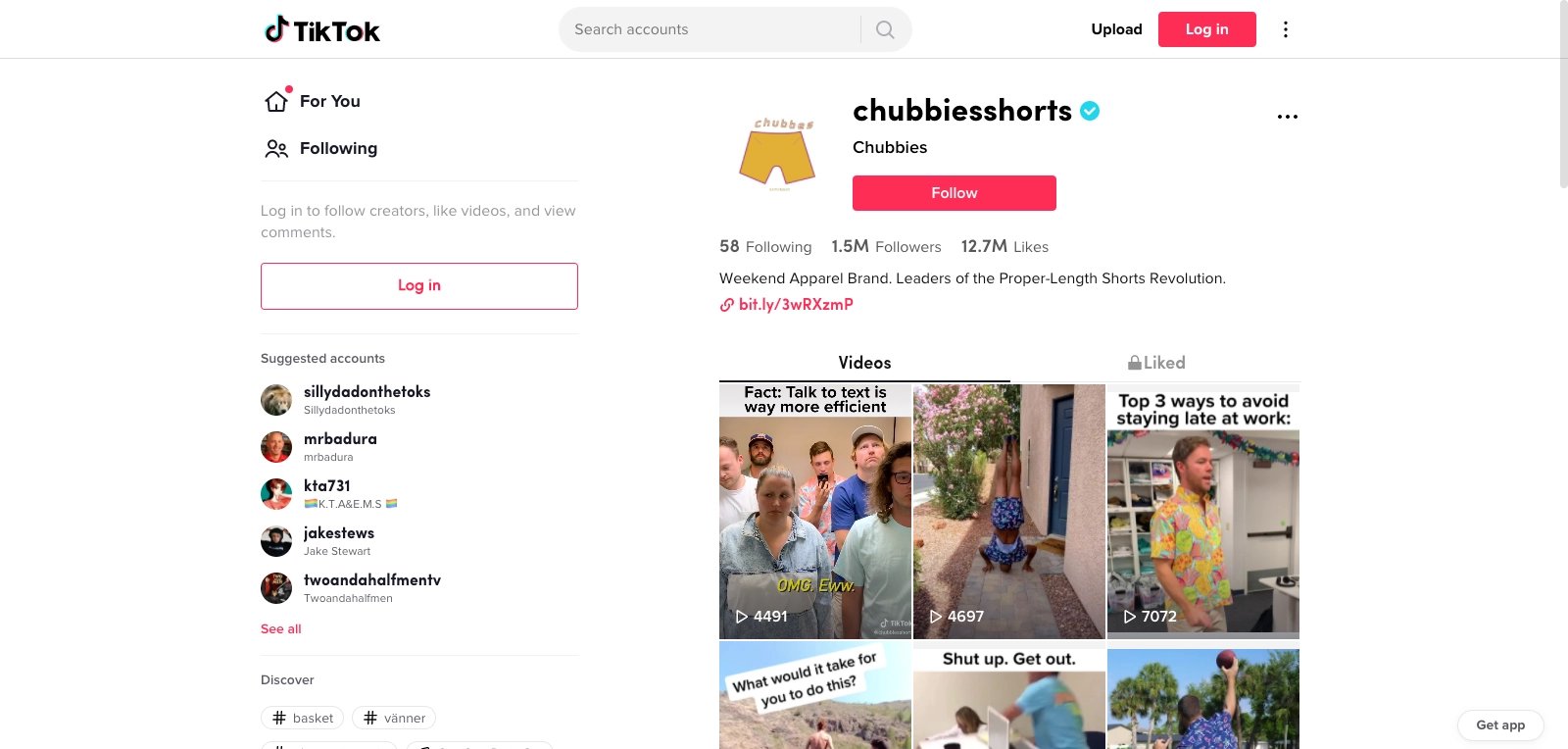 While its unique brand of humor no doubt contributed to its meteoric rise (its videos, especially, are a sight to be seen), one can't help but praise the brand for its relatability, particularly in its product marketing.
Rather than using professional models or actors in its product photography, Chubbies instead uses real people—often customers wearing its products.
One fun example saw Chubbies repurposing a picture of a guy asking a girl out to prom (complete with a reference to the brand, of course), and turning it into a meme.
Tagging the customer in the picture was a particularly nice touch, especially since it likely went a long way in making the customers feel like she's part of something.
That isn't to say, though, that Chubbies is afraid to get serious once in a while. In fact, breaking expectations, as Chubbies does from time to time, makes an impact when it comes to addressing social responsibility.
In a recent post, the brand highlighted several couples, donning Chubbies apparel, in support of Pride and in solidarity with the LGBTQ community.
Growing a social media following doesn't happen overnight. Nor does it come easy. But it is worth investing time in, particularly if you're considering our next marketing type...
5. Influencer Marketing
Influencer marketing and Instagram go together like peanut butter and jelly (or jam as we Brits say).
And it makes perfect sense—especially when it comes to showing off a product in all its glory
While influencer marketing is common on Instagram, particularly when running giveaways, it isn't limited to the platform.
In fact, leveraging a celebrity's influence on other marketing channels, like email, can be just as fruitful.
Take Fabletics, for instance.
In April 2020, the lifestyle brand expanded to menswear and signed American comedian Kevin Hart as an investor and the face of the new brand.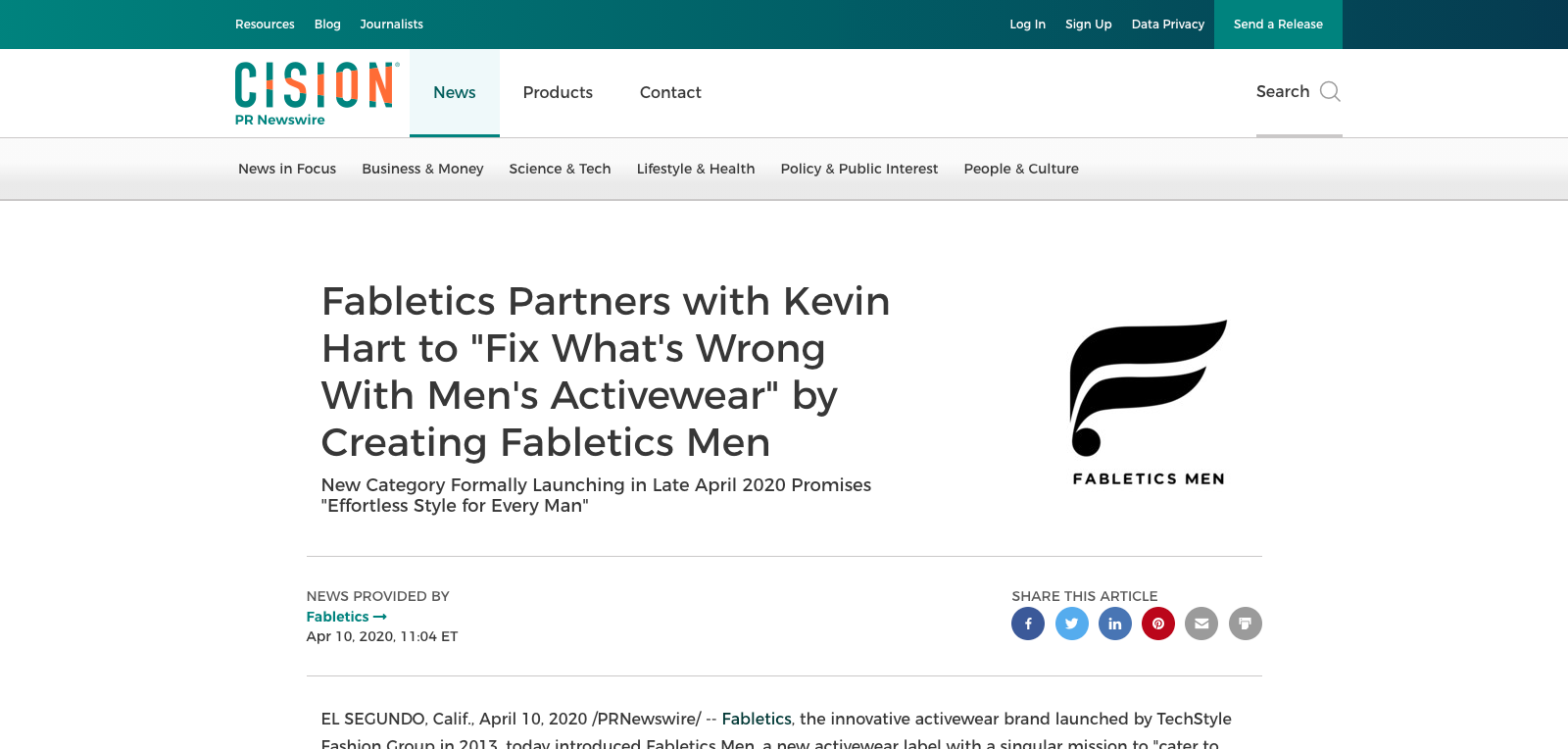 In October 2021, the brand launched its Kevin Hart Collection, running a multi-day campaign via email. In its first email, the brand used several eye-catching GIFs to announce its launch: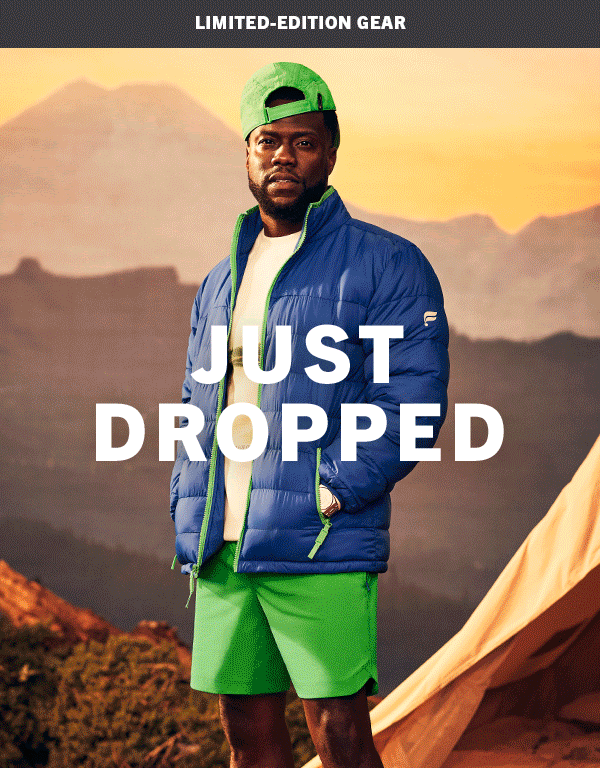 Further down, the brand invited its subscribers to "Shop Kevin's favorites in his new line that's ready for anything" before ending with a call to action to "Shop the Collection."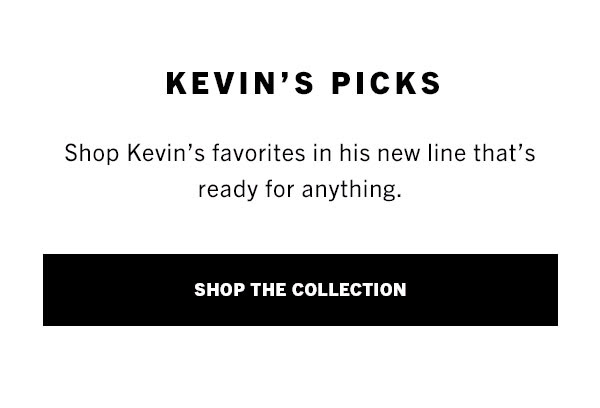 After clicking the call to action, the brand redirects you to a dedicated product category page where you can view each item in the collection. Here's a preview of the page: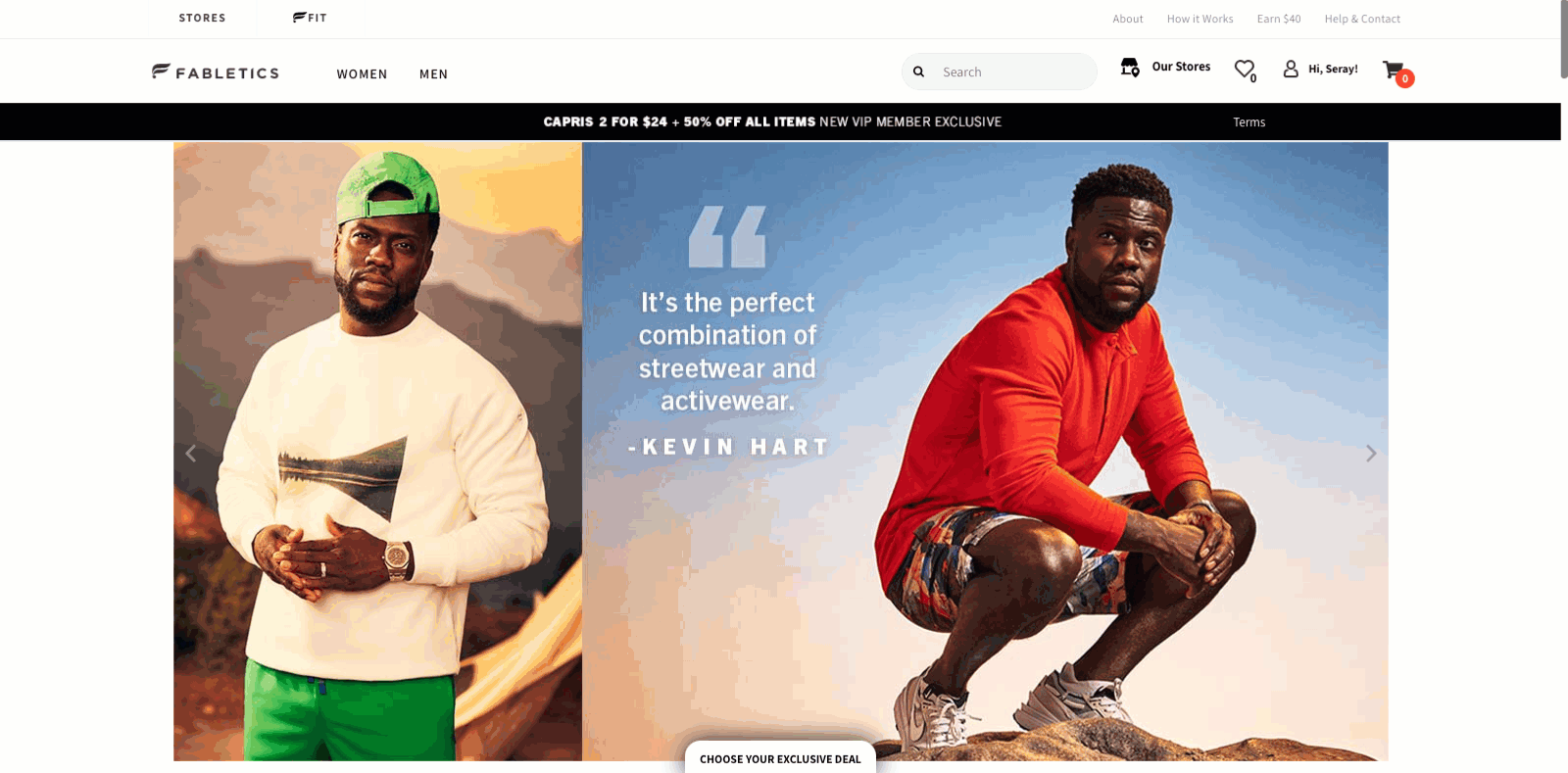 A nice added touch I want to highlight is Fabletics's Hello Bar, found at the bottom of the page.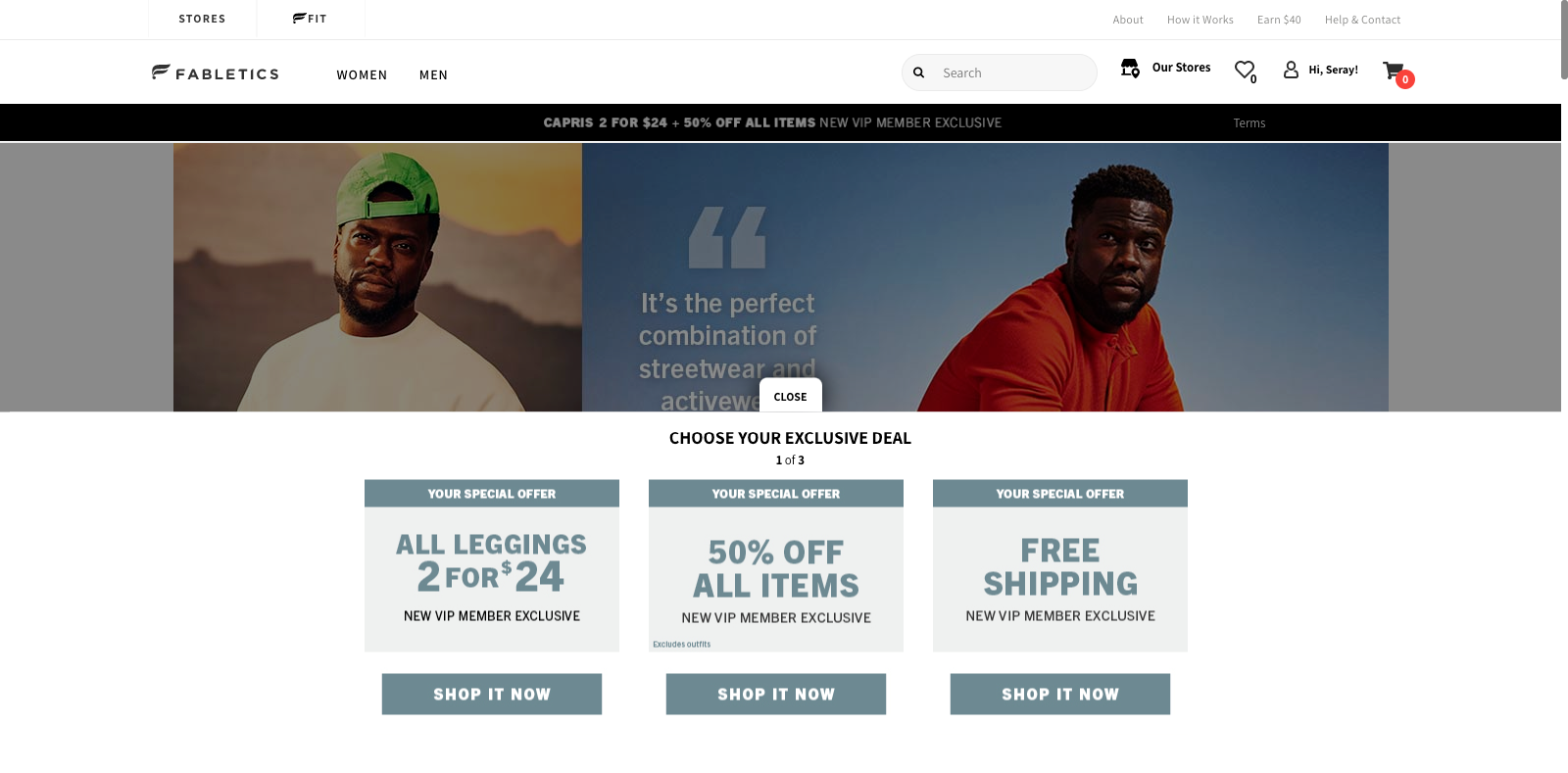 After opening the hello bar, the visitor can choose from one of three "exclusive" deals:
All leggings 2 for $24
50% off all times
Free shipping
Interestingly, choosing any of the above options takes you to a landing page where the brand tries to sell you on its continuity-based VIP membership.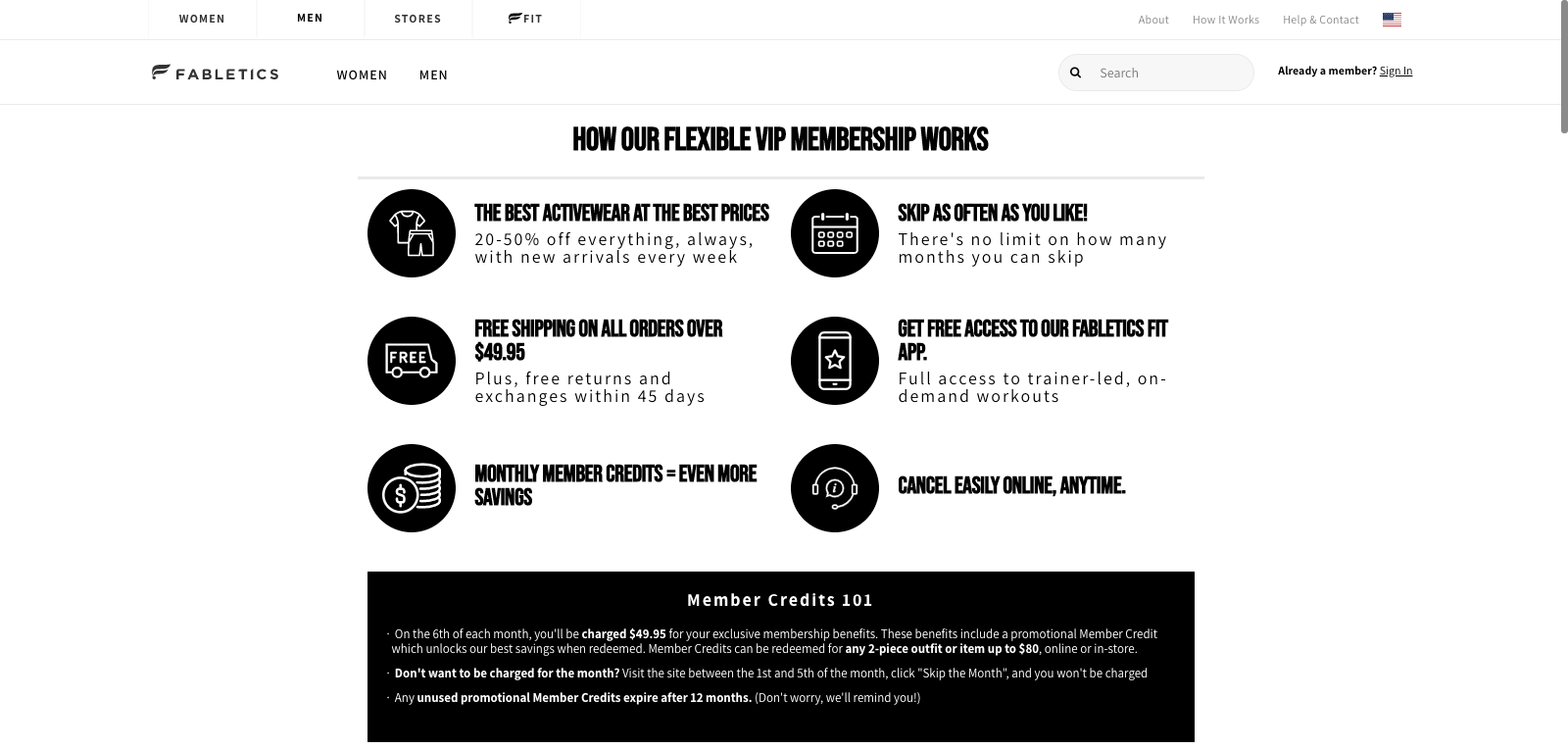 What's more, the brand's offer changes depending on whether you're an existing VIP member. When Seray logged into her account, Fabletics offered a whopping 70% off all items:​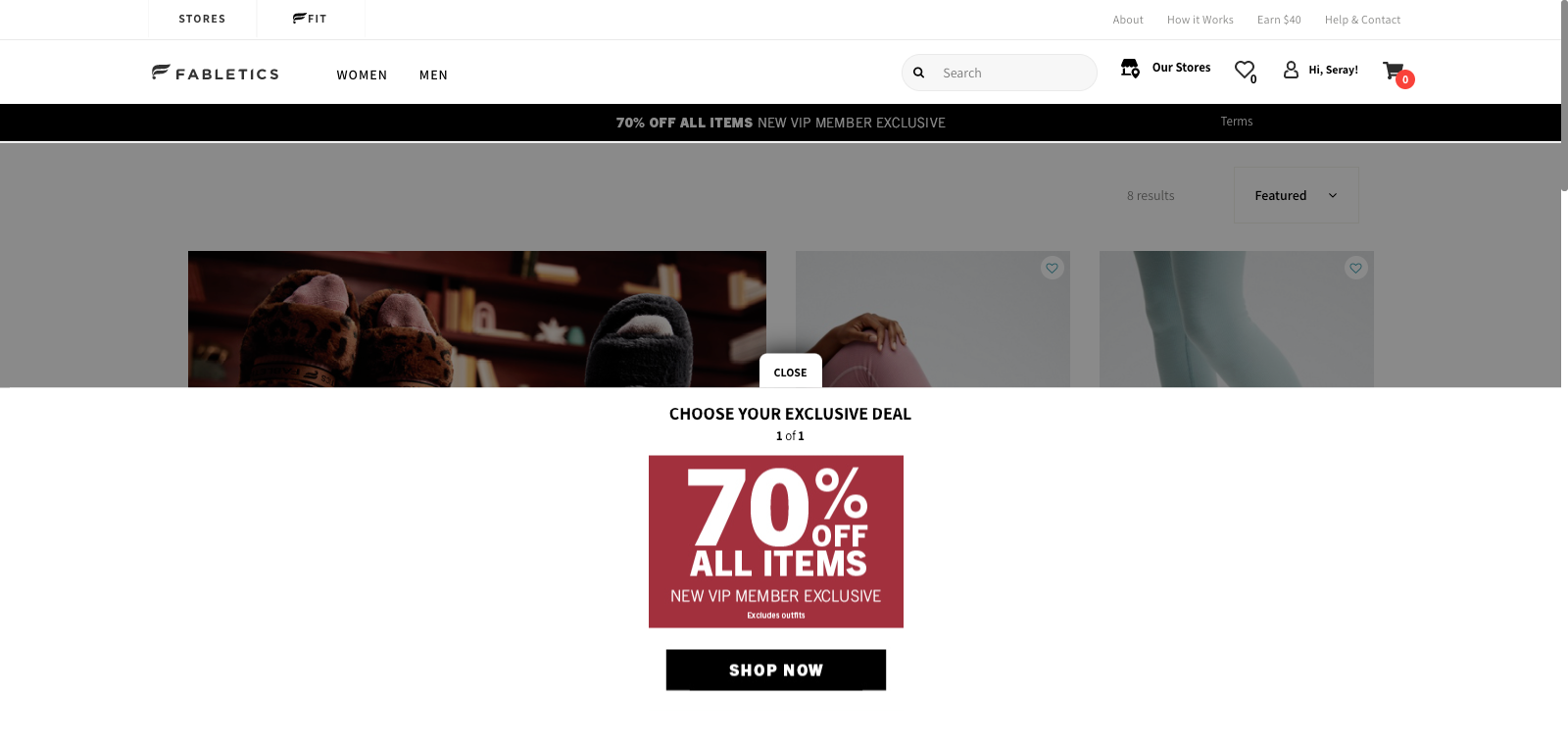 ​Influencer marketing isn't for everyone. And it might not be for you, especially if you don't have the budget.
But if you're in a competitive industry—like fashion and apparel—it might be worth considering what even a micro-influencer could do for your business. The results might surprise you.
6. Referral Marketing
According to research by Extole, customers acquired through referrals have a 37 percent higher retention. What's more, 81 percent of buyers are more likely to engage with brands that have reward programs.
It's no surprise, then, that many e-commerce brands turn to referral marketing to nudge their email subscribers into becoming affiliates (aka brand advocates).
Murad Skincare is one such example worth discussing. In a recent referral email, the brand wrote an email promoting its referral program called "Give $15, Get $15."
Here's the email's subject line (the emoji is a nice added touch if I do say so myself):

In the email, the brand uses an eye-catching callout box to explain its referral program.

The idea is simple: share an exclusive link with friends, and Murad sends your friend an invite for $15 of their first $50. And when they redeem the offer? You get $15 off, too. It's really that simple.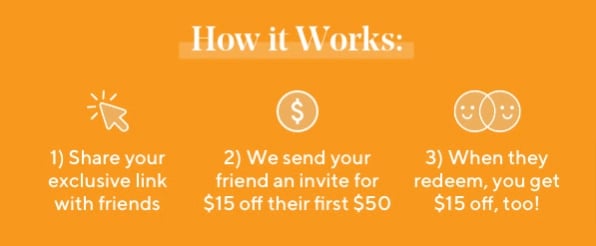 When the reader clicks any of the callout boxes, Murad redirects them to a dedicated landing page on its website. Here's how it looks above the fold: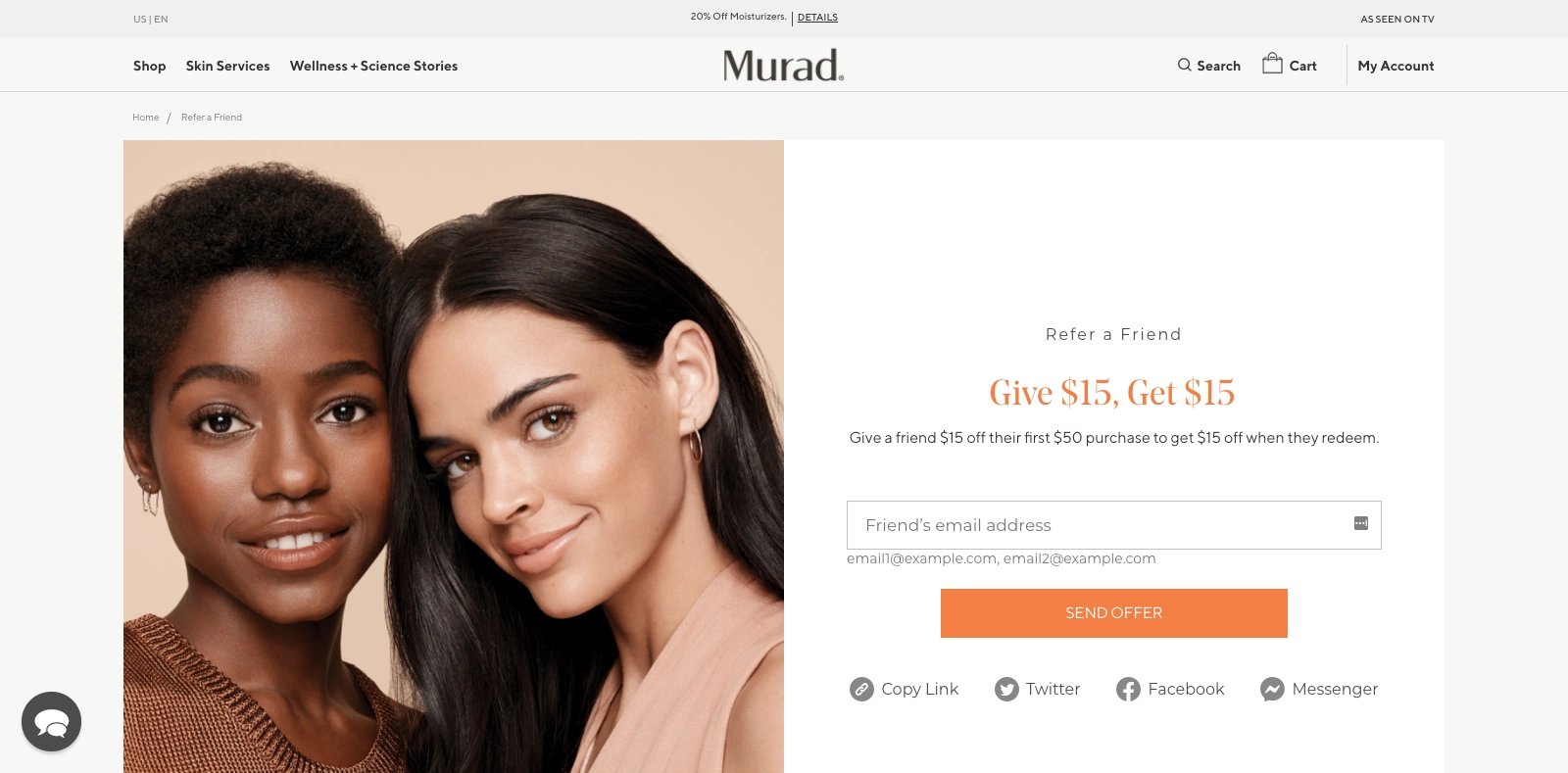 What I love most about Murad's landing page, and what I want to direct your attention to, is how it's made referring a friend as simple as possible.
Most people, quite understandably, don't know their friends' email addresses, so Murad gives the referrer the option to refer through Facebook Messenger.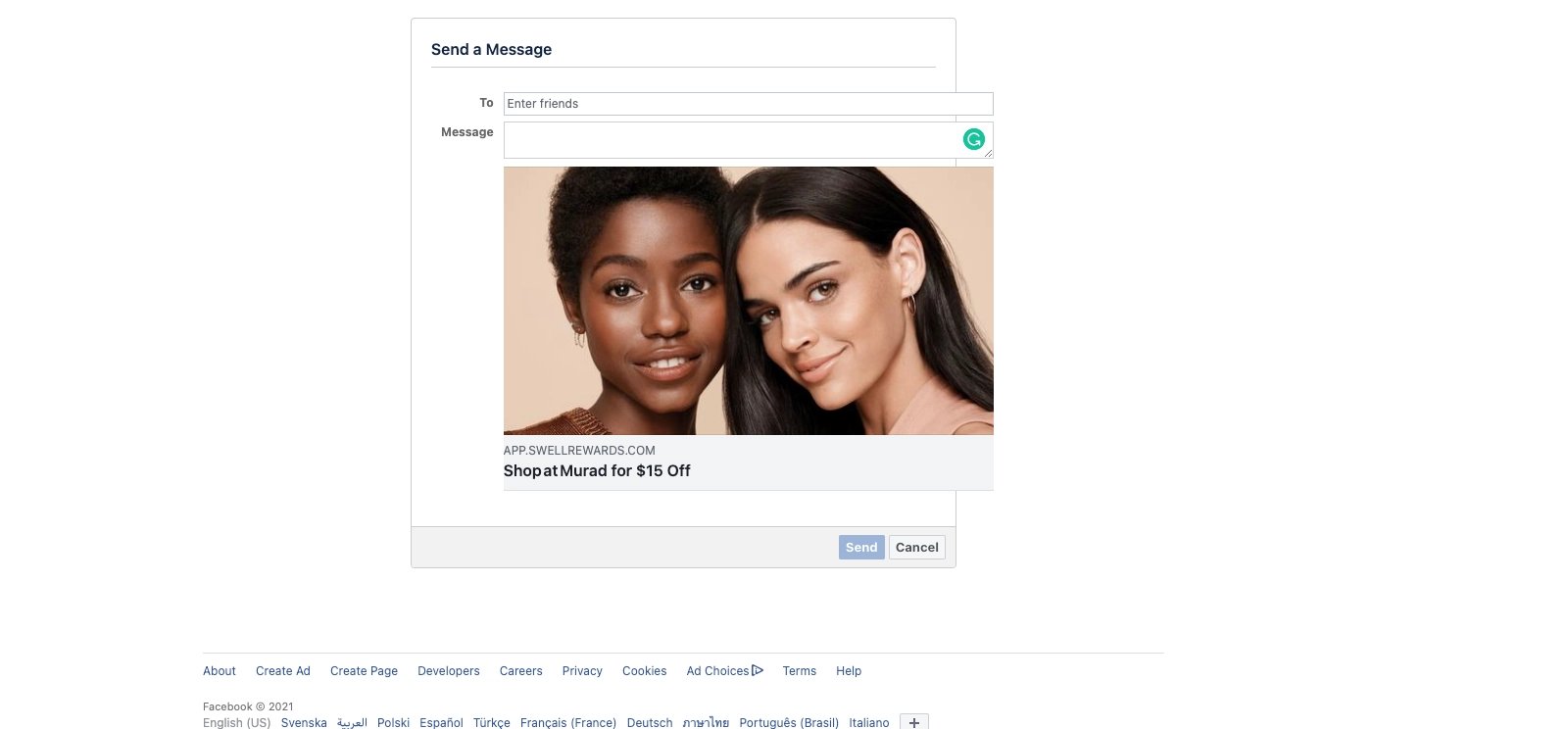 And if that wasn't enough. The brand also includes frequently asked questions below the fold to overcome any concerns the potential referrer might have.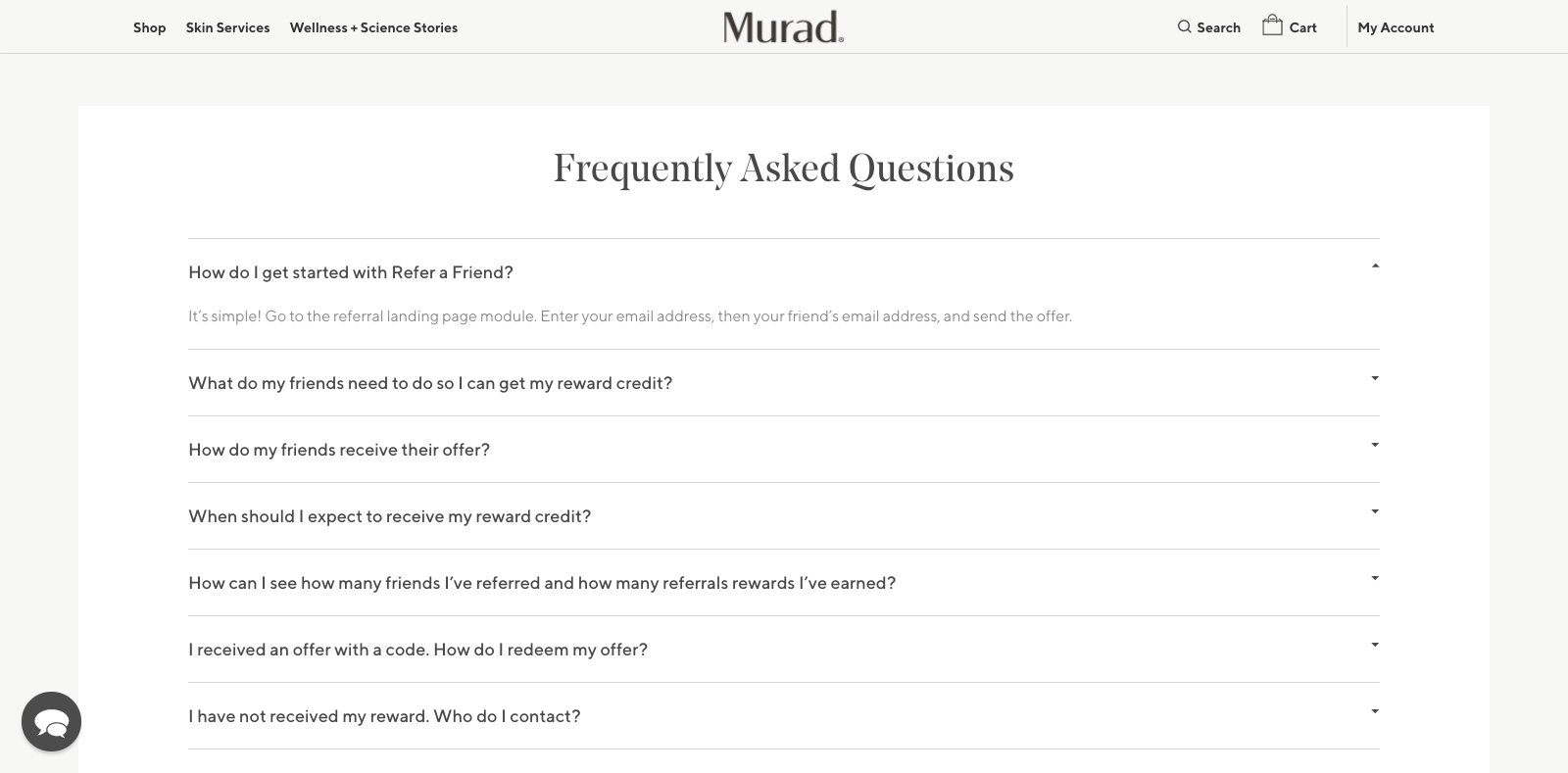 To see the number of referred friends, all the subscriber needs to do is log into their account and head over to the Rewards area (which, incidentally, also doubles as its loyalty program).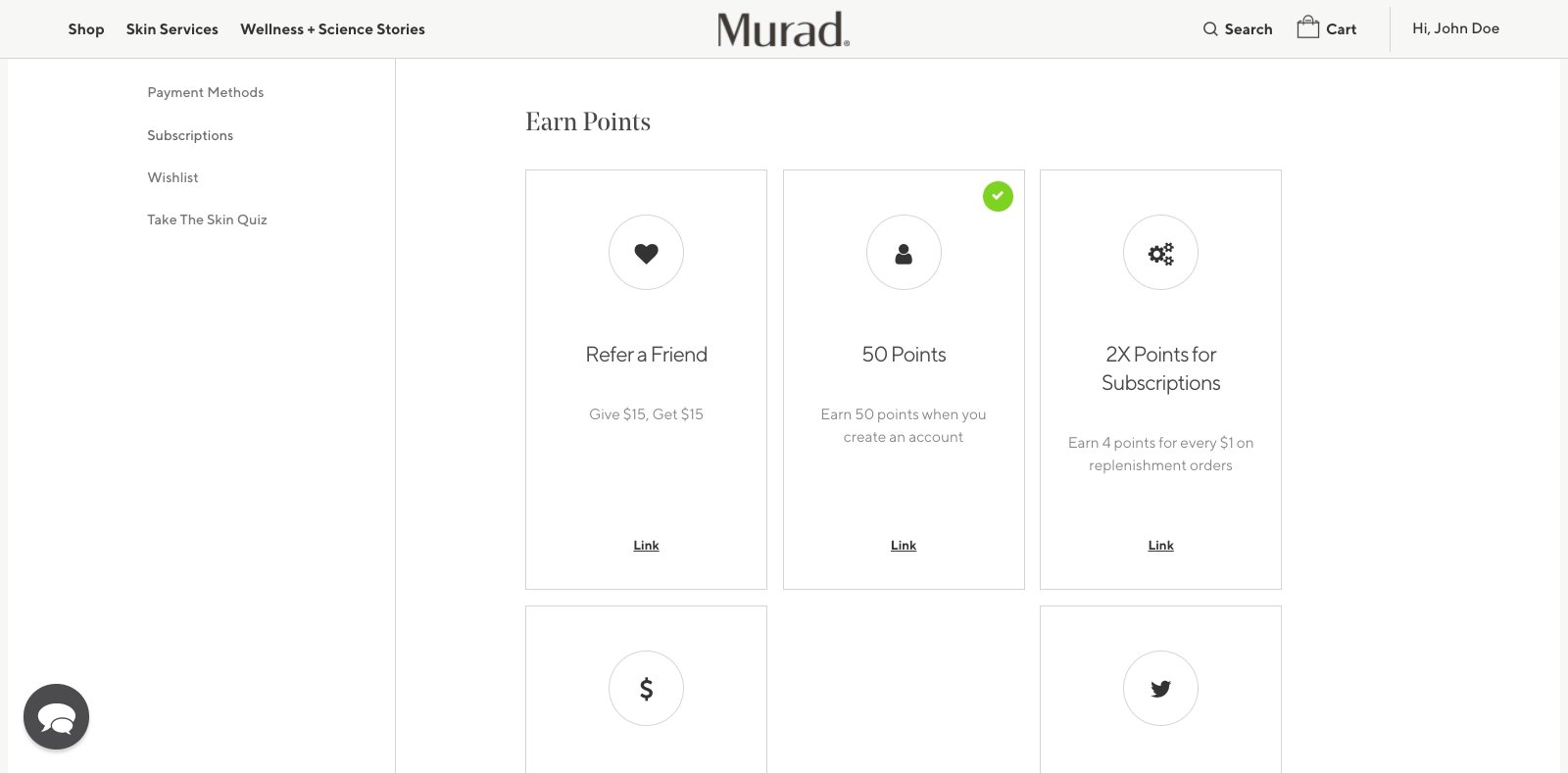 Referral marketing is a no-brainer for many e-commerce marketers. And with tools like ReferralCandy and Yotpo, it's never been easier to implement—or more affordable—to grow your business on autopilot.
7. Content Marketing
Believe it or not, content marketing has origins that date all the way back to 1895 when John Deere published a customer magazine. So it's existed in some capacity for a very long time.
But it's only in recent years that content marketing has really caught on and become a widespread strategy used by countless e-commerce brands.
According to recent data, 92 percent of marketers consider their content to be a business asset, and 56 percent say they want to increase their content creation spending.
One brand that falls into the above is men's grooming company, Beardbrand. In fact, according to Ahrefs, the company drives over 117,000 visitors a month from organic alone.

To do that, the brand solves how-to-based search queries. For instance, if you google "how to grow a beard," you will see Beardbrand's guide ranked position #2.

And when you click the link, it's not hard to see why. At 7,906 words in length, it's an outstanding article, offering thorough advice on how to grow a beard.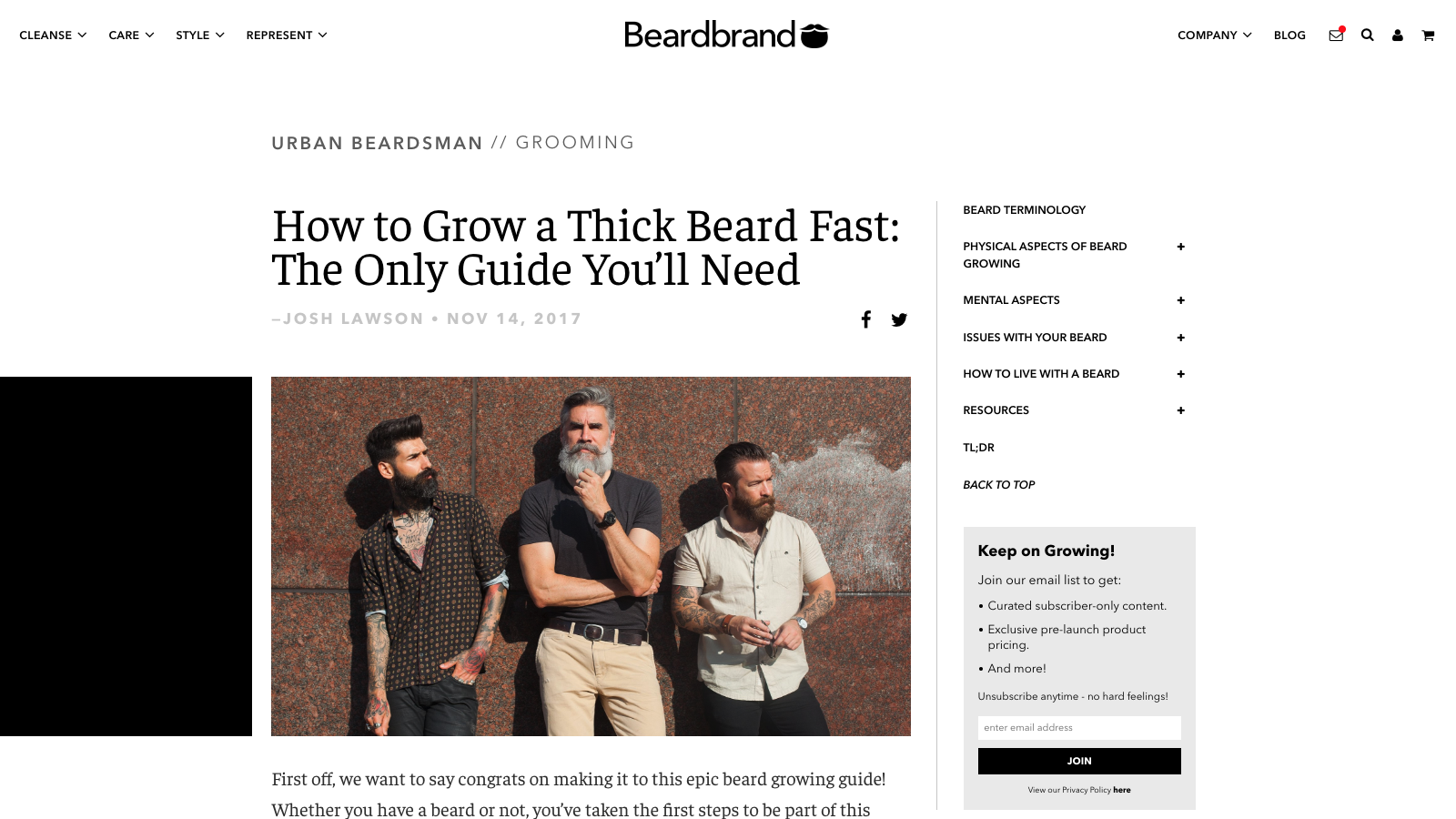 But the post also ranks for 3,329 other keywords. In other words, it ranks for similar keywords like "how to grow facial hair" and "what makes a beard grow."

Beardbrand's goal isn't to convert these visitors into customers upon their first visit (although a small percentage will likely buy on a whim if interested).
Instead, its goal is to raise brand awareness and invite visitors to join its email list for the company to market to later via email and paid advertising.
Bottom line: Use this example as a template to fine-tune your own content marketing campaign, keep a steady volume of leads coming your way, and maximize conversions.
Part 3. Bonus: Seasonal Marketing Examples
So far, we've covered the seven types of marketing you can use to grow your website traffic and business.
But there's one type that combines the best of the seven, and that's seasonal marketing.
Here are five strategies to help drive more leads, sales, and profits during the holiday season.
Black Friday Marketing Strategies
Holiday Marketing Strategies
Labor Day Marketing Strategies
Summer Marketing Strategies
Valentine's Day Marketing Strategies
1. Black Friday Marketing Strategies
Black Friday is the biggest and busiest shopping day of the year. In just seven years, American Black Friday online sales have more than tripled and don't show any signs of slowing down. (Source)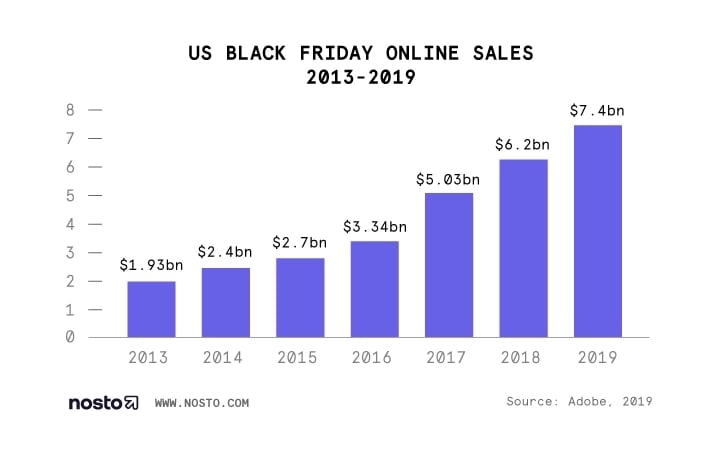 This makes it one of the hottest days of the year for brands to make major sales, especially when combined with Black Friday marketing emails.
Much like a trailer teases a blockbuster movie, the Black Friday teaser email is a way to build a subscriber's excitement for your upcoming Black Friday deals.
One of my favorite teaser emails belongs to leather goods maker Bellroy. After opting in for its "Black Friday Subscriber Exclusive" in 2019, I got an email with the subject line, "Psst. Don't miss our Black Friday gift."

When I opened the email, Bellroy masterfully teased its upcoming Black Friday promotion. Here's an excerpt of the email I received, mentioning its upcoming promotion.
Bellroy gave me an option to browse before the big day, but even if I didn't, the brand set an exciting expectation for what was to come during the promotion.
Other retailers, like Sweaty Betty, build on Bellroy's teasing, not only by highlighting its upcoming Black Friday offers but also by mentioning its products' popularity using customer reviews.
In one of its recent Black Friday marketing emails, the brand introduced one of its popular bestsellers, Zero Gravity Leggings, by name-dropping Jenifer Aniston as a way to borrow authority.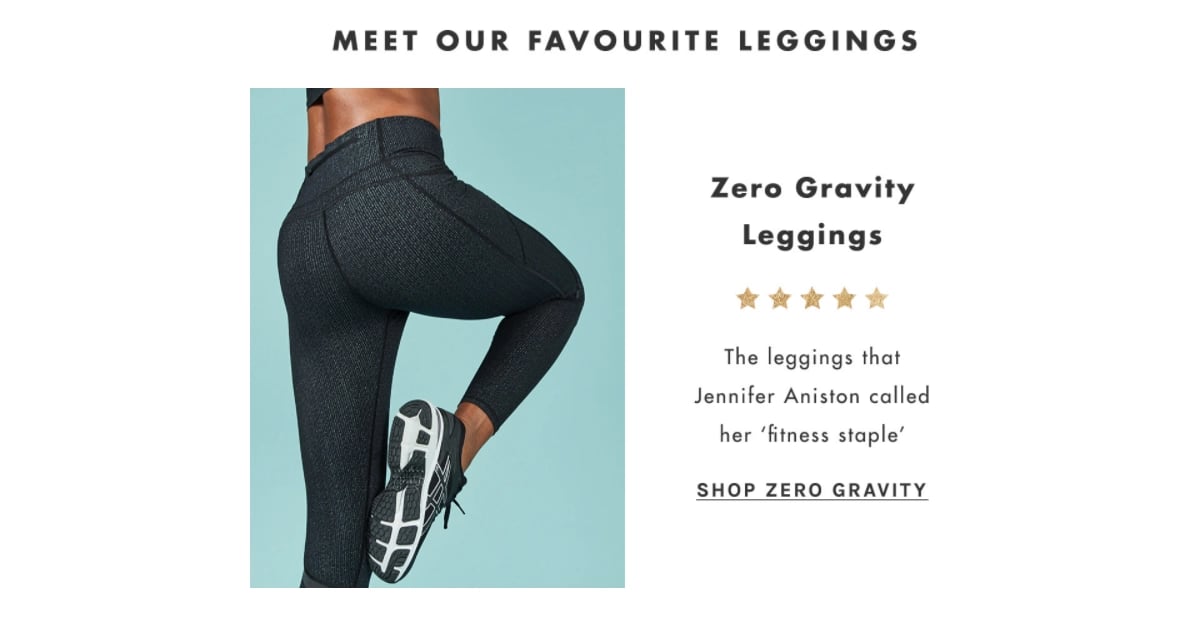 Inviting subscribers to click-through before Black Friday can gauge pre-engagement—and help you better segment your email campaigns before the big day comes around.
2. Holiday Marketing Strategies
With a limited budget and a laundry list of presents to buy, gift shopping during the holiday season isn't always easy.
But with holiday gift guides, you can help buyers find the right products for the right person on their list.
Many brands, like Birchbox, go all in and dedicate a landing page to their holiday promotion: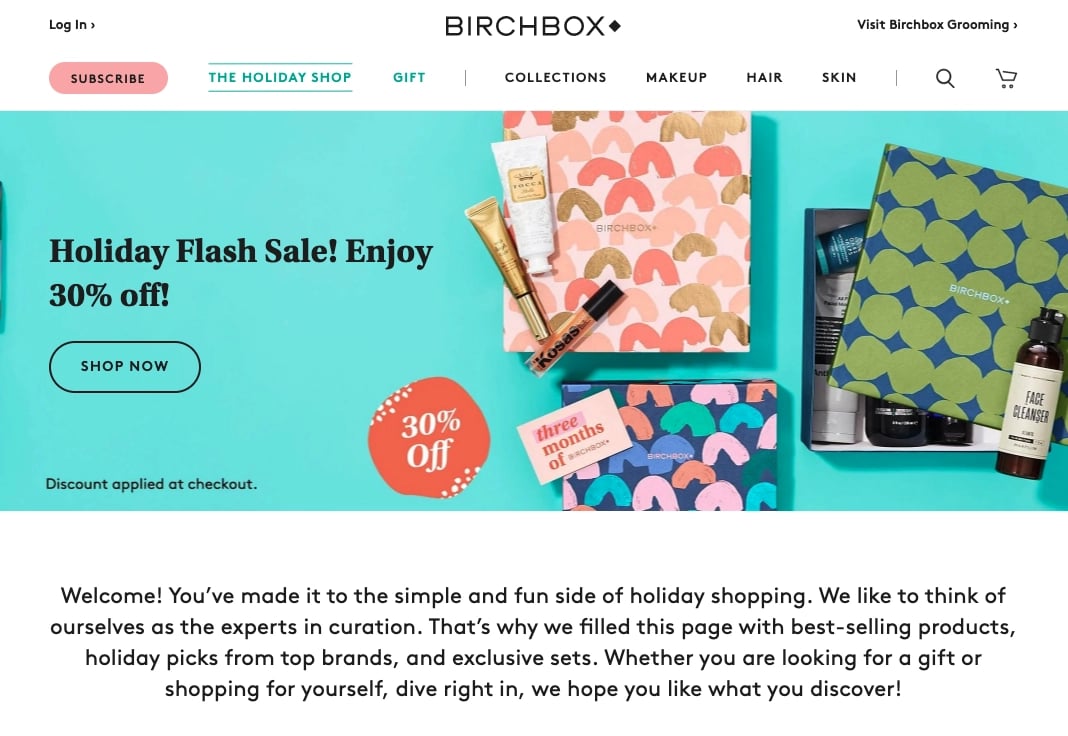 After positioning themselves as experts in curation, the brand suggests several gift options, categorized by price: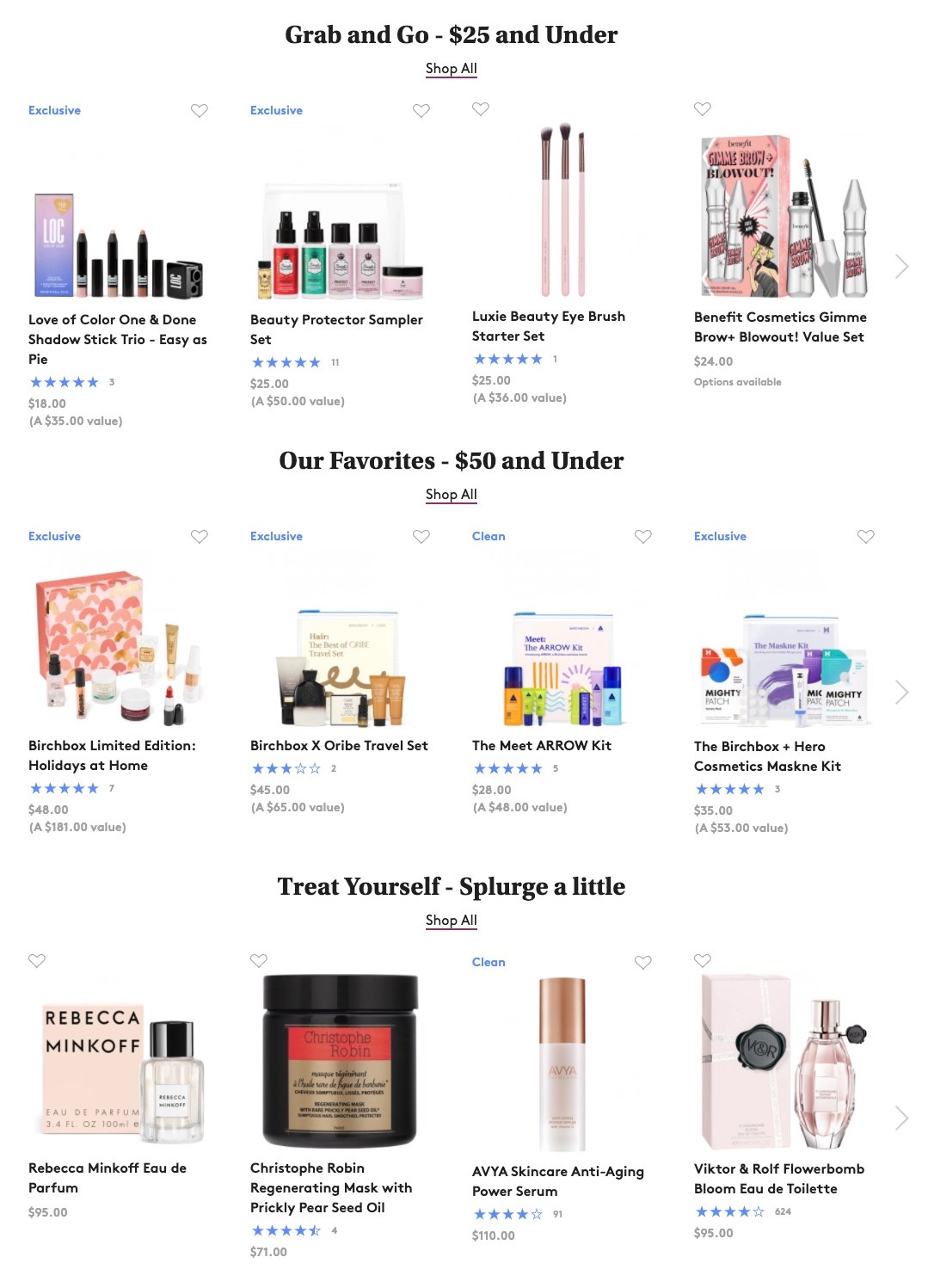 (As an aside, notice how Birchbox frames the last category: "Treat Yourself" rather than "Over $50.") In addition to on its homepage, Birchbox also promotes its holiday gift guide via email, with the subject line "Perfectly packaged & ready to gift":

Another brand that uses gift guides, albeit with a twist, is luggage and travel accessories retailer Away.
With the Covid-19 pandemic affecting many companies, the brand emailed its subscribers its gift guide, complete with an optimistic subject, "Give them something to look forward to."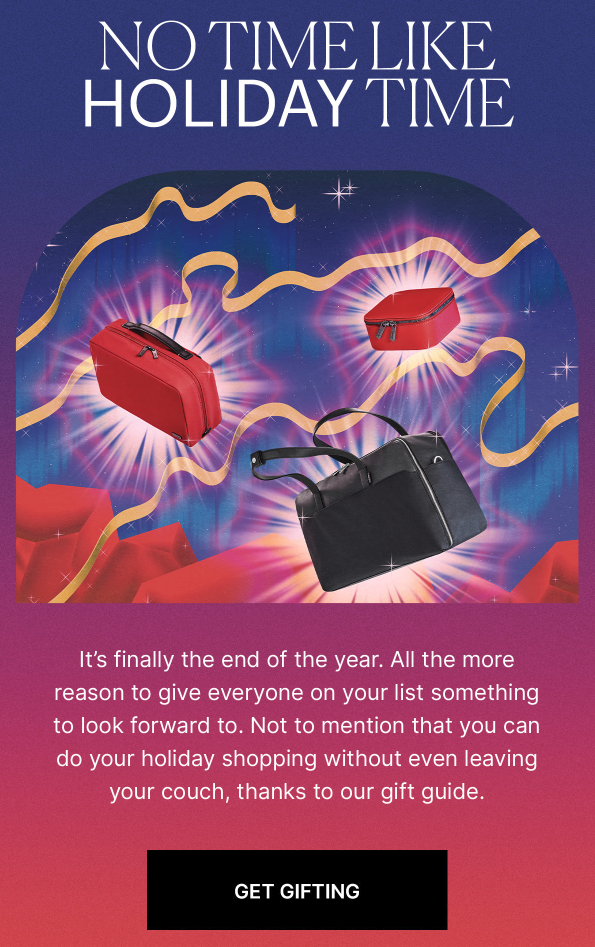 Notice here that the brand doesn't ask you to buy luggage; it gives you the gift to travel again in the new year. And not only that, Away simplifies the buying process by recommending gifts based on personality type.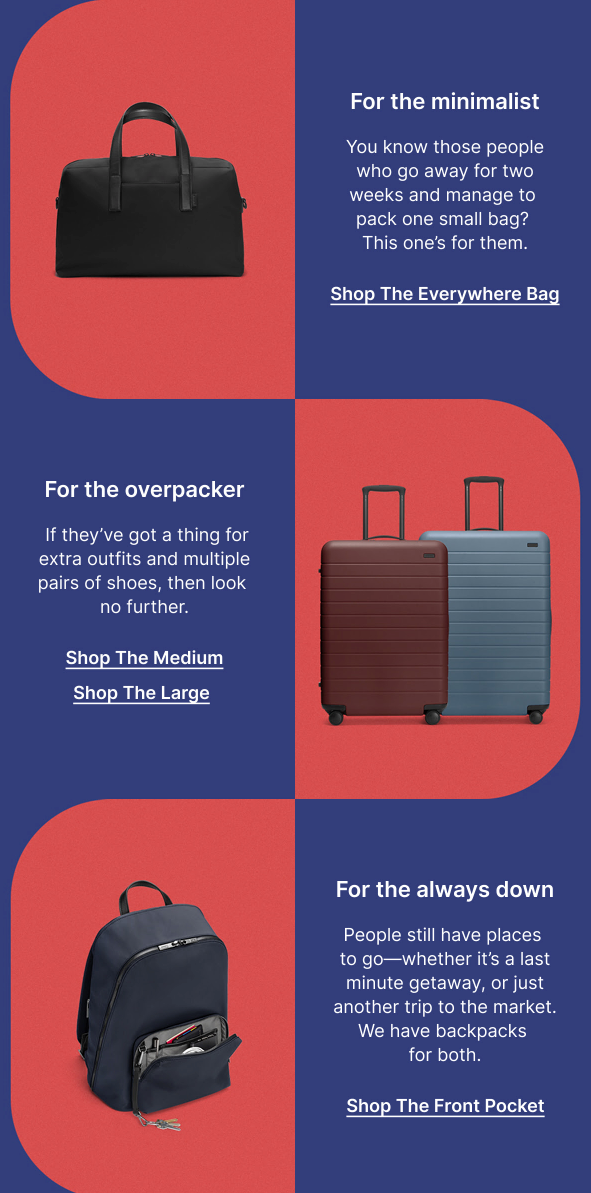 Of course, if you don't have the resources to create elaborate gift buying guides, consider recommending trending or bestselling products instead. It's easy to implement as a last-minute solution, especially if you have few product categories.
3. Labor Day Marketing Ideas
If you're planning to launch your own Labor Day sale, make sure that the only purpose of sales isn't to let your existing customers buy your products for less—it's also about bringing in new customers; people who otherwise wouldn't have bought from you.
With that in mind, you really need to be promoting your sales weeks in advance. Run ads announcing your sale, and email your list to let them know more details about the types of offers you'll be running.
Take a look at this example from Joybird, a lifestyle brand that used Labor Day to push a simple promotion—25 percent off its entire product range: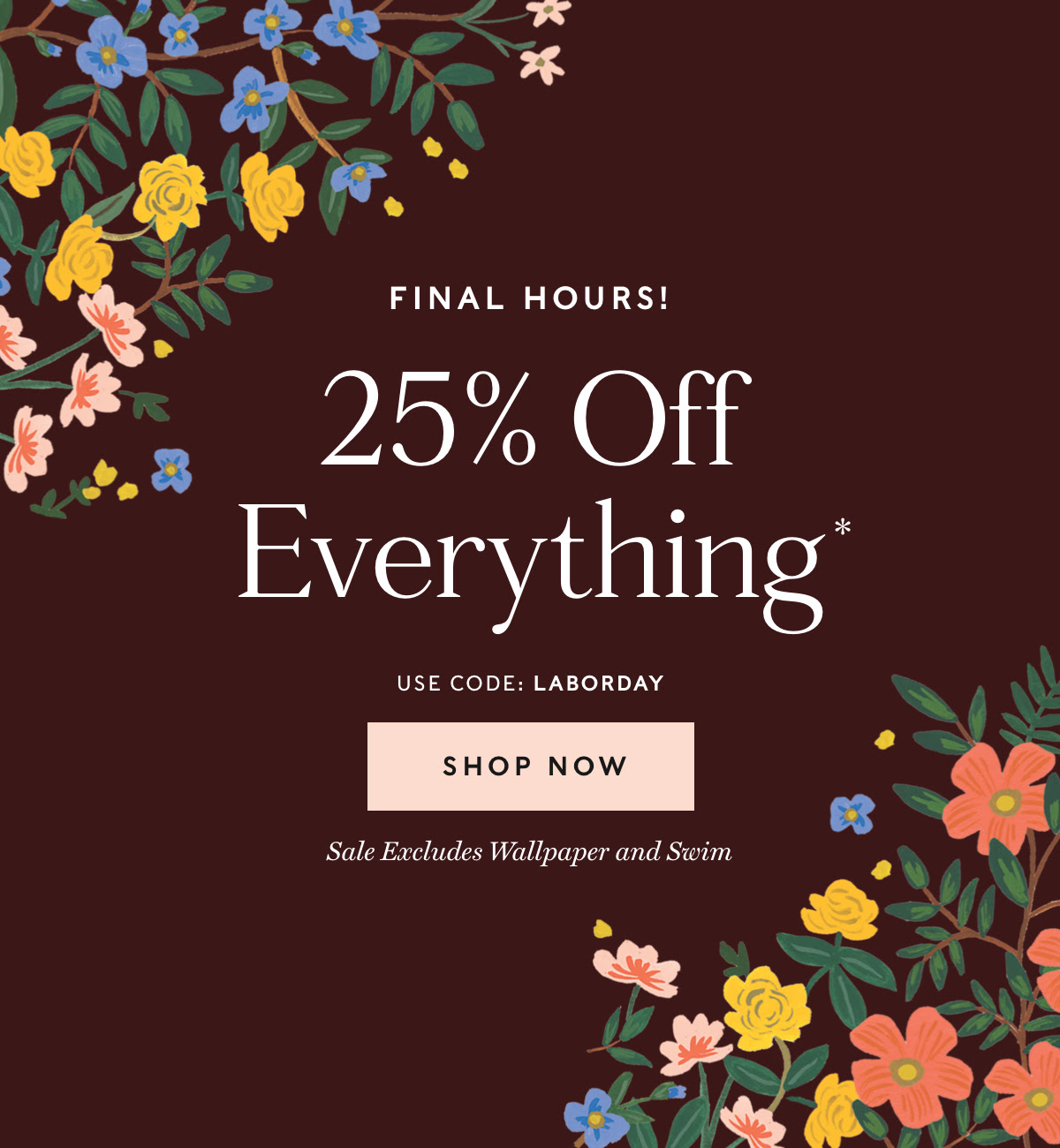 In my second example, Joybird does exactly the same thing, albeit with a slightly more generous 35 percent discount: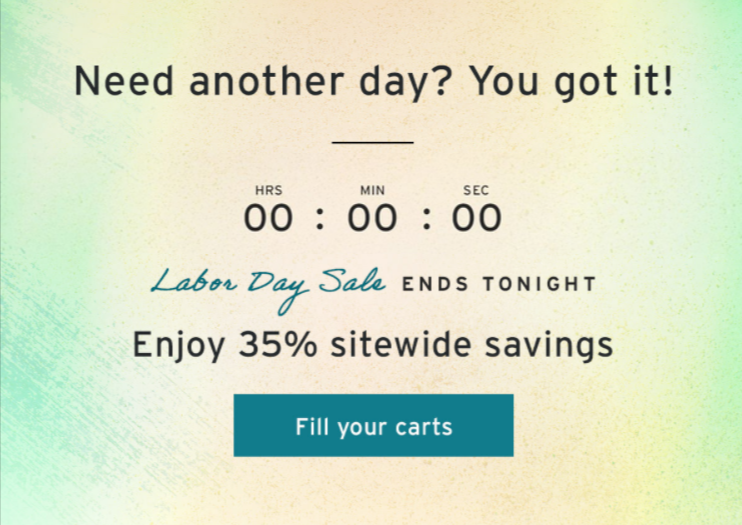 Both of these emails are simple. There are no overly copywriting or gimmicky visuals; just a clear header highlighting that the email is about a Labor Day sale, followed by a concise explanation and a discount code.
There's no reason to do anything more complex.
4. Summer Marketing Strategies
Summer may not be the busiest season for online shopping. But that's not to say there aren't big opportunities to generate more sales around key dates.
But to do that, you need to understand what those key dates are, and how they apply to your business.
The US National Retail Federation can lend a hand here. According to its research, two of 2020's three biggest "shopping events" were back to college and back to school: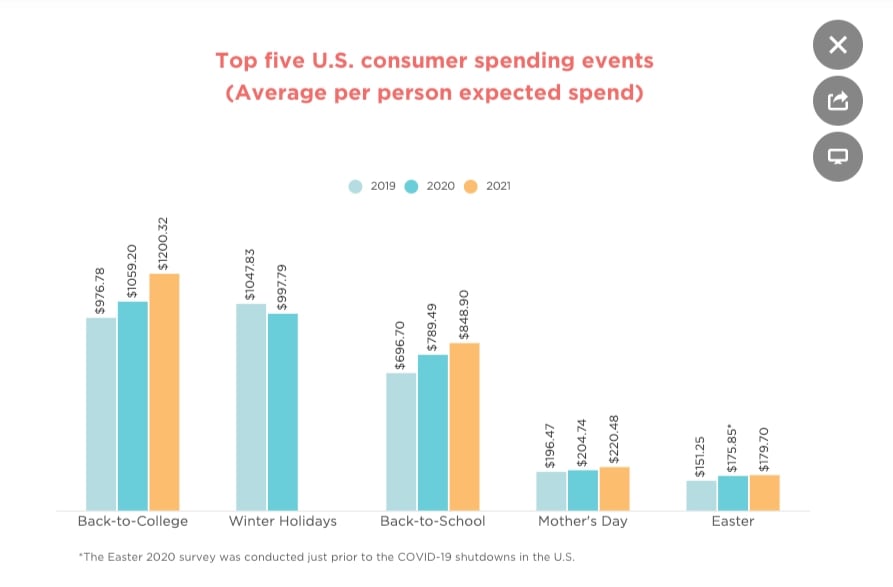 What's more, 2021 looks poised to see a bumper haul of school and college spending, with parents of preschool children planning to spend up to 32 percent more than last year, and parents of college-aged students preparing to shell out about 13 percent more.
Obviously, the exact dates when students return to school or university vary, but they typically fall in late summer or early autumn. That makes these key events a target for your summer marketing strategies and emails.
But how do you do back-to-school marketing when Covid-19 continues to cause uncertainty around physical attendance? That's a challenge a lot of brands faced in 2020, and continue to face in 2021.
For backpack brand JanSport, "BTS" is one of its busiest periods.
Since the dawn of the pandemic, it's been forced to rethink its approach to marketing around these events, as the company's head of marketing and e-commerce Monica Rigali told PR Week in a May 2020 interview:
In the past, we would have had all of our media assets done, baked, in the can and ready to distribute throughout the back-to-school season. Today, we are working on a much shorter timeline. We don't want to start putting out BTS messages like, 'It'll be great getting back in the classroom!' right now because that would be tone deaf.
Instead, in 2020 JanSport launched its traditional back-to-school messaging a month earlier than usual. Titled "Lighten the Load," the campaign centered on the issue of mental health in young people, coinciding with Mental Health Awareness Month in May.
Evidently, it worked, because the brand continued the campaign this year by launching a dedicated resource hub on its website:
5. Valentine's Day Marketing Strategies
With spending expected to reach $22 billion this year in the US alone, Valentine's Day is fast becoming a favorite holiday for e-commerce brands.
And while many retailers offer Valentine's Day coupons, other incentives, like free shipping, can differentiate you from the realms of competitors.
Of course, not all brands can afford to offer free shipping, year-round or for holidays. So, if that's you, consider presenting free shipping as a limited-time offer to add a sense of urgency, like Madsen Cycles:
While cargo bikes aren't typical Valentine's Day gifts, Madsen Cycles ties its product to the big day. In this email, in particular, the brand offers subscribers free shipping "now thru Valentine's Day."
The incentive is compelling; that's a certainty. But it's also one that's adaptable for any holiday, especially for products with higher delivery costs.
Estee Lauder, on the other hand, a brand that specializes in skincare, makeup, fragrance, and hair care products, uses free shipping as an upsell during Valentine's Day: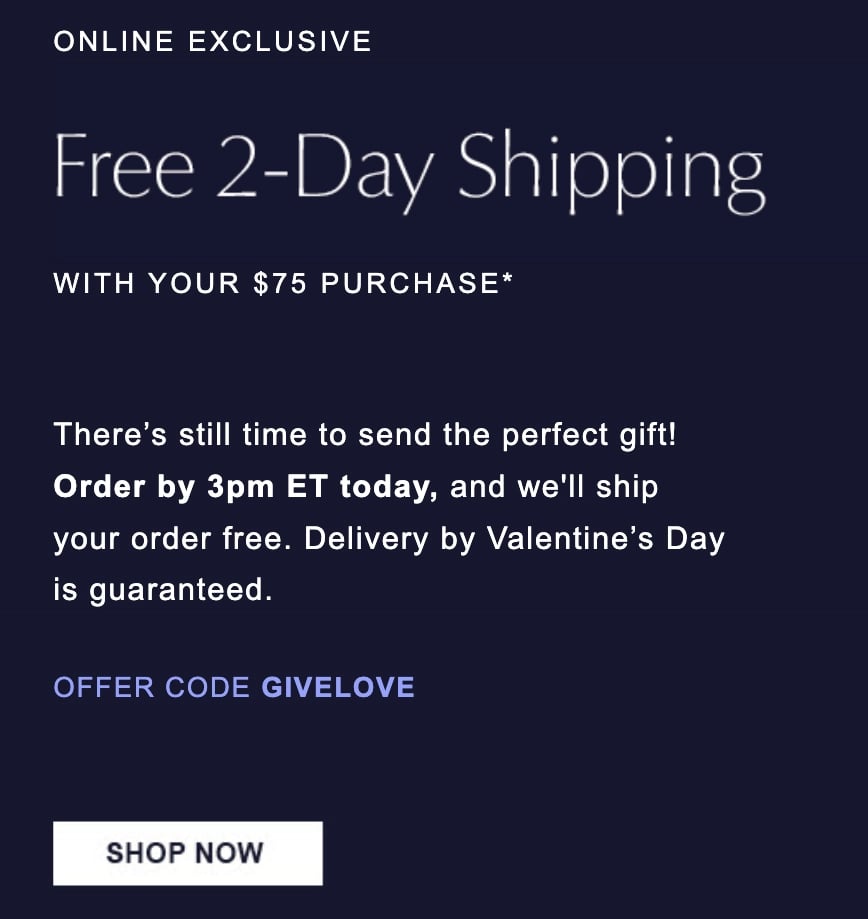 To claim the free 2-day shipping and receive your gift in time, the brand gently nudges you to spend over $75, which is clever. After all, who wants to risk disappointing their loved one on Valentine's Day?
If you want to strengthen your hand further, take note of these brands. Offer free gift-wrapping as an extra benefit and save customers from the fear of not getting their order on time.
Conclusion
And that's it! I covered a lot here. But e-commerce marketing is a broad topic, and what I covered in this guide is only the beginning.
If you're interested in keeping abreast of what's working today, bookmark our category page.
Got a question? Let me know on Twitter @SamThomasDavies.