Data is the lifeblood of marketers. We'd probably write romantic love songs to data if we had the time.
Why do we heart data so much? Well, without analytics you just have guesswork. And that's a massive waste of time, resources, and budget.
Fifty-three percent of companies around the world use data and analytics to drive strategy and change. This is what you can do for your email campaigns if you utilize email marketing analytics effectively.
Aspects such as your open and click rates are vital. But bear in mind there are other metrics you should track too if you want to fully optimize your email marketing campaigns and improve performance.
7 Email Marketing Metrics You Need to Track
What Is Email Marketing Analytics?
Email marketing analytics is the process of collecting and examining data on your email marketing performance. You do this to gather useful insights that you can apply to improve performance.
In particular, you want to track important metrics. These are sets of data pertaining to particular aspects of your email marketing performance such as the rate at which people subscribe or the number of recipients who convert.
Analytics allows you to take a deep dive into the performance of an email campaign. You can see more precisely what's working and what isn't in relation to your goals.
Thus, you're able to make tweaks and improvements where necessary or test new strategies to see if they help you reach your goals more effectively.
The 7 Most Important Email Marketing Metrics
1. List Growth Rate
This refers to the rate at which you gain new subscribers to your email list. To calculate your list growth rate accurately, you must also take into account the number of unsubscribes.

The growth rate of your email marketing list should be a top priority. At the end of the day, email is a vital marketing channel.
Corey Dilley, Marketing Manager at Unbounce, says, "Email allows us to engage our audience in a creative, personalized way that blog posts or tweets can't." And with more subscribers comes a greater opportunity to do those things.
Step one in improving your email list growth rate is to up your acquisition efforts. The OG way to do this is through pop-ups and subscription forms.
If you want to take this strategy to the next level, you could try dynamic pop-ups. This is when you personalize the experience by customizing offers, the timing of the pop-up, whether they appear at all, and so on. Track on-site behaviors to get the timing and content of pop-ups right for every single visitor.
To give you a real-life example, I've already taken the introductory quiz on the Bombas website. So now, this offer pops up when I visit the store: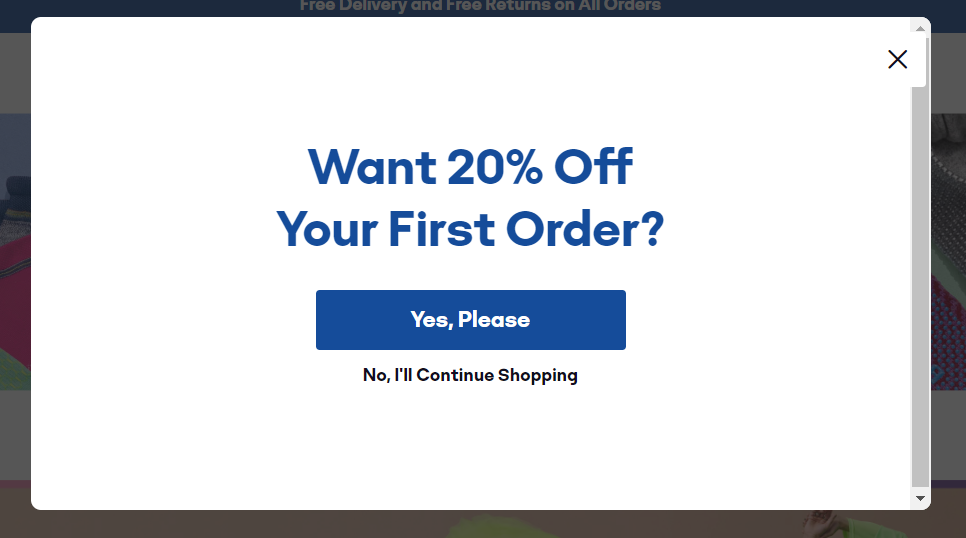 Based on my previous activity, it would be pointless to show me the quiz again. Thus they're now trying to tempt me to make my first purchase with this 20 percent off offer. They may show a returning customer that has already made a purchase an altogether different offer.
Step two in improving your email list growth rate is to reduce the number of unsubscribes. The best way to do this is to segment customers and only send the most relevant, personalized content and offers to them.
Users are more likely to engage with stuff they're interested in. Whereas irrelevant content seems spammy and makes people hit the unsubscribe link.
2. Open Rate
Open rate is the percentage of people who open the email you send them compared to the number of emails you send.

Your open rate can help you figure out if you're getting the timing and frequency of your emails right. Plus, whether users are engaged with your brand or not.
Furthermore, it helps you determine the efficacy of your subject lines. Are they compelling enough for your audience to want to click?
Bear in mind, however, that it can be difficult to get an accurate measurement of your open rate as sometimes an email is only classed as opened if the user receives an image. And some email providers use image blocking.
Another potential issue here is that email providers, such as Apple, are starting to bring in mail privacy rules. These rules prevent companies from tracking whether a user has opened an email or not.
To cut a long story short, your open rate may soon be a metric that you're no longer able to track.
That being said, you still want as many users as possible to open your emails even if you're unable to track open rates. So you should continue to craft appealing subject lines that pique user curiosity.
Here's a nice example from Boozt:

The company uses large numbers to grab attention and an emoji to stand out. This is a great way to encourage more people to open the email. But remember, different tactics work for different brand personalities.
3. Bounce Rate
Bounce rate refers to the number of sent emails that bounce back.

These are split into two categories. A soft bounce means the user has a temporary problem with their email account. A hard bounce means there's an unfixable problem.
Bounce rate helps you discover the true value of your email list. If there are a lot of hard bounces then users may have provided fake email addresses or they may have switched email providers perhaps. There's no point in crafting great emails if they're just being sent into a dark hole.
So, the first thing you need to do to remedy this issue is to remove any emails that cause hard bounces from your list. This stops you from wasting time and resources.
Next, you can ask new subscribers to double opt-in. This means they have to actually receive an email and confirm their subscription via a link in that email. Your email may look something like this: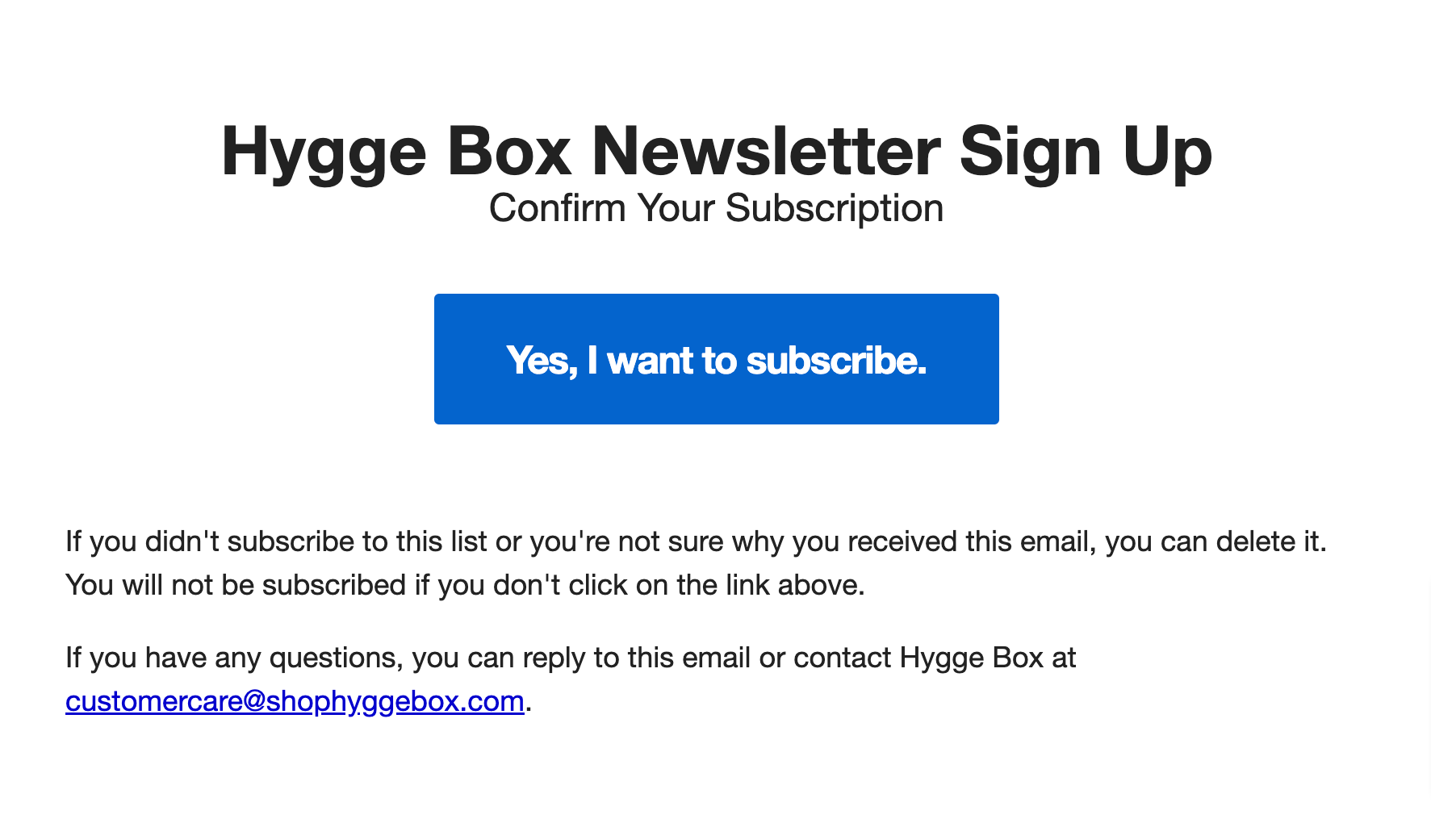 It prevents signups from fake email addresses or addresses with typos, for instance. And it will help you keep a clean, functioning list of emails.
There are further ways to improve the deliverability of your emails. For instance, you may wish to reduce the number of images you use as some email service providers flag emails with lots of images as spam.
4. Click-Through Rate
Click-through rate (CTR) is the number of emails in a campaign that get at least one click measured against the number of emails you sent (successfully).

These clicks might be on your call to action (CTA), an image, or another link within the email.
If the goal of an email is to drive traffic to a particular page, e.g. a product page or sale, the number of clicks show whether you're succeeding. CTR also helps you determine aspects such as how appealing your CTA is or how attractive a particular offer is.
The average email CTR for retail is a minuscule 0.79 percent so you'll need to do everything in your power to encourage clicks.
One way to improve CTR would be to remove distractions from your emails. This way the user is more likely to complete an action without getting sidetracked.
Here, for instance, Simply Gum keeps things simple: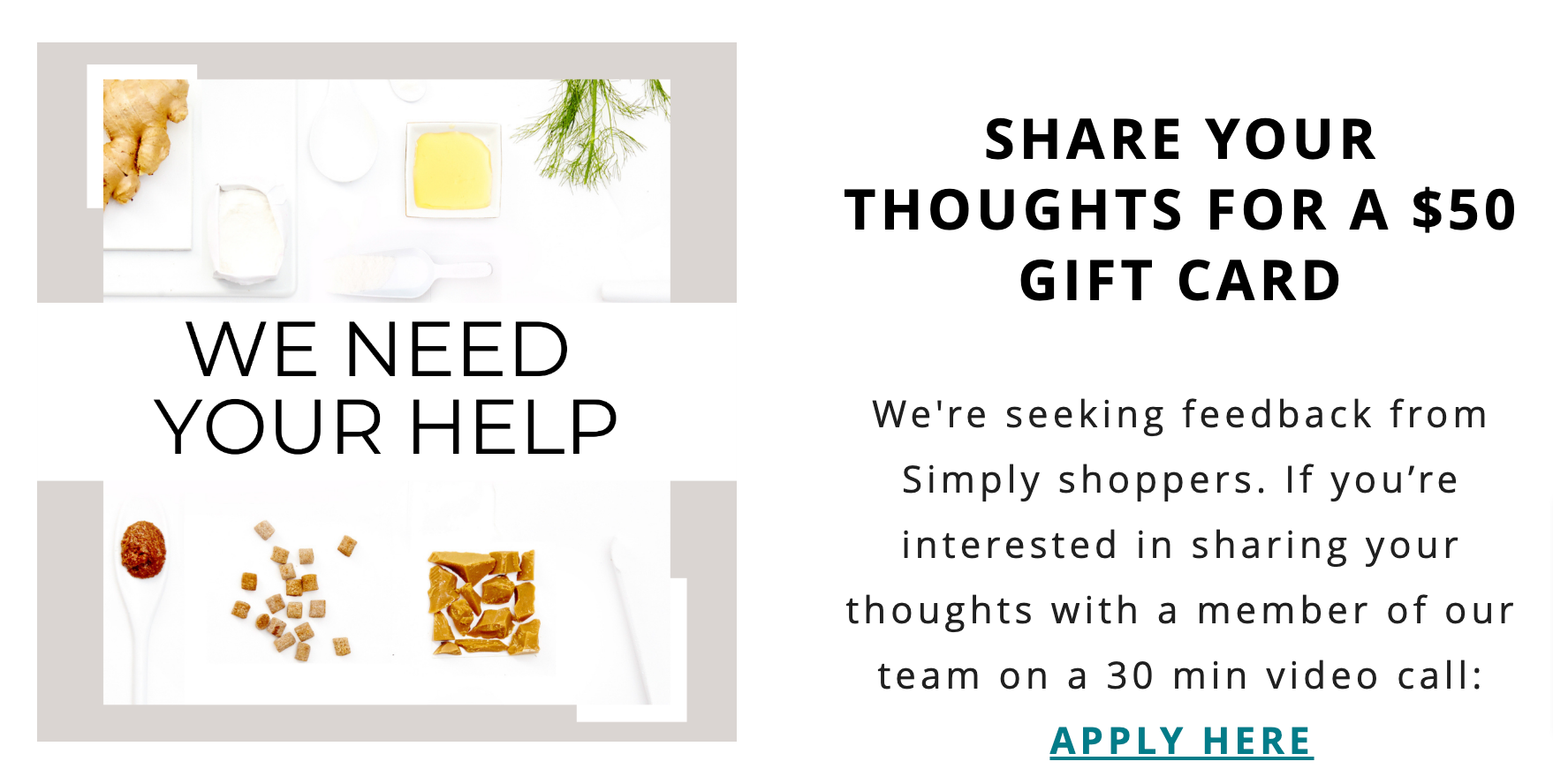 There are no bells and whistles, no featuring other products or information. It's only focused on the end goal—getting the user to take part in a survey.
Moreover, the main CTA stands out as it's a button. The less important links appear as text links underneath. This is a best practice and you should follow suit.
There are, of course, other tactics you can use to drive more clicks. For instance, use action-driven copy in your CTA, such as "Shop now" or "Order today".
5. Conversions
Your email conversion rate concerns the number of users that complete a desired action.

They don't just click the link in the email, they follow through with the purchase, leave a review, or whatever the goal of the email campaign is.
To see how a particular campaign is performing, you can use a tool like Drip to compare open rates against conversion rates. If, for instance, an email gets a lot of opens but not many conversions then you know you need to take action to improve your conversion rate.
The cool thing about Drip is it'll compare your performance against current benchmarks for the type of campaign you're using, e.g. an abandoned cart series. So you'll know precisely where you stand in terms of performance.
If your conversion rates are below average, you should find ways to assure customers that they're making the right move. In this example, Huckberry uses customer success stories to convince customers to make a purchase: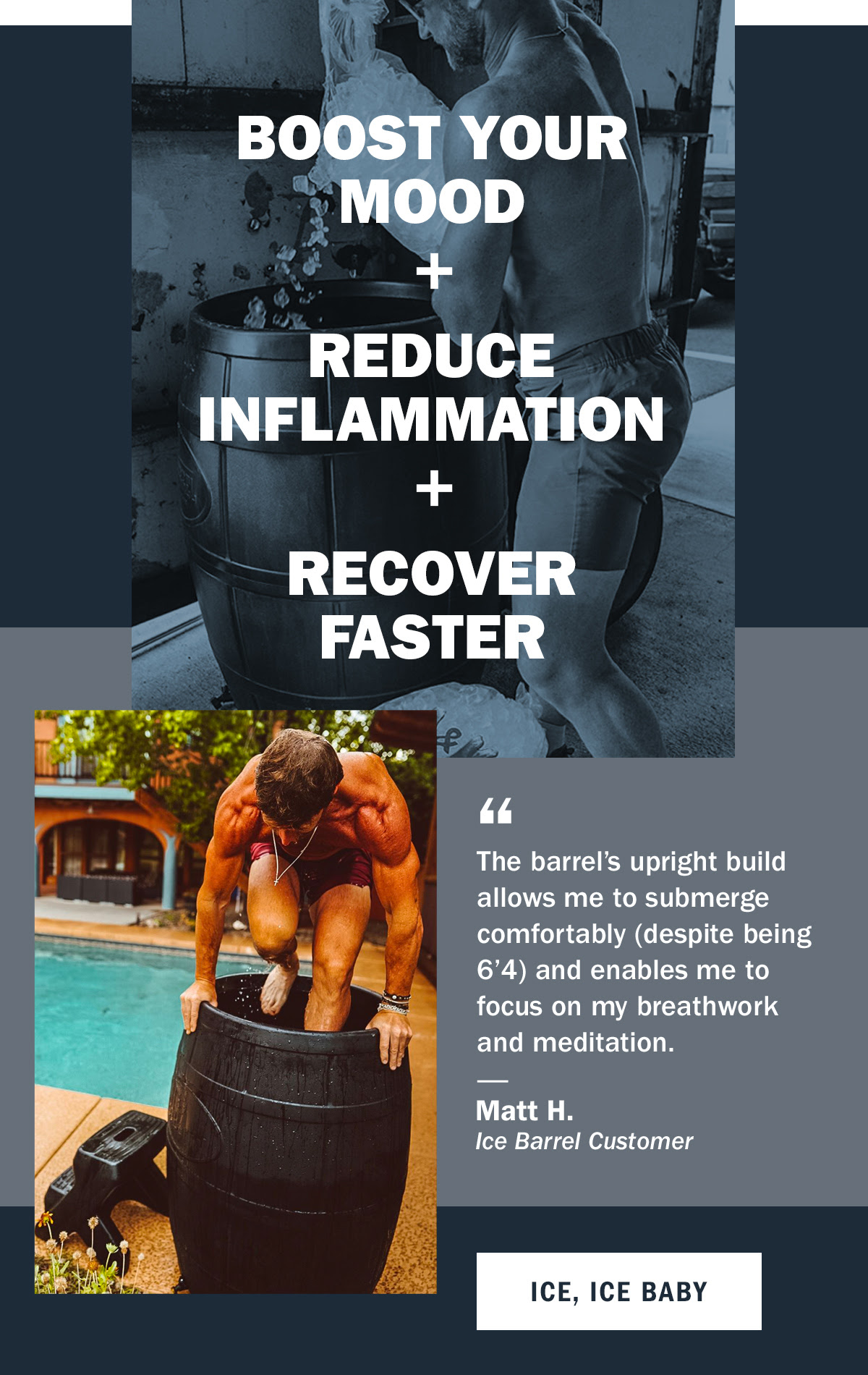 This kind of thing works on many levels. First, users are able to relate to the featured customers and thus more easily envision themselves using the product.
The stories also touch on customer pain points and how the product resolves them. Here, it's how busy professionals can make use of a home gym to fit workouts into their schedules.
You could also use customer reviews, user-generated content, and the like to have a similar effect.
6. Unsubscribes
Your unsubscribe rate refers to the rate at which people opt out of your email list.

And let's be honest, it's the bane of an email marketer's life.
It's a vital metric as you want to hold onto subscribers to create long-term relationships. You also want to be able to send marketing messages that draw customers back to your store.
There are a number of elements that may cause users to unsubscribe. Here are some of the top reasons:
Emails come too often (34 percent)
Emails are spammy or over-promotional (17 percent)
Emails are no longer valuable (9 percent)
This indicates that you need to look at the frequency of your emails in order to reduce your unsubscribe rate. It might not necessarily be the case that you send too many emails. But you need to know what works for your audience.
You also need to make sure email content is relevant to the user in question and it's not too sales-y all of the time.
Here's a nice example from Away: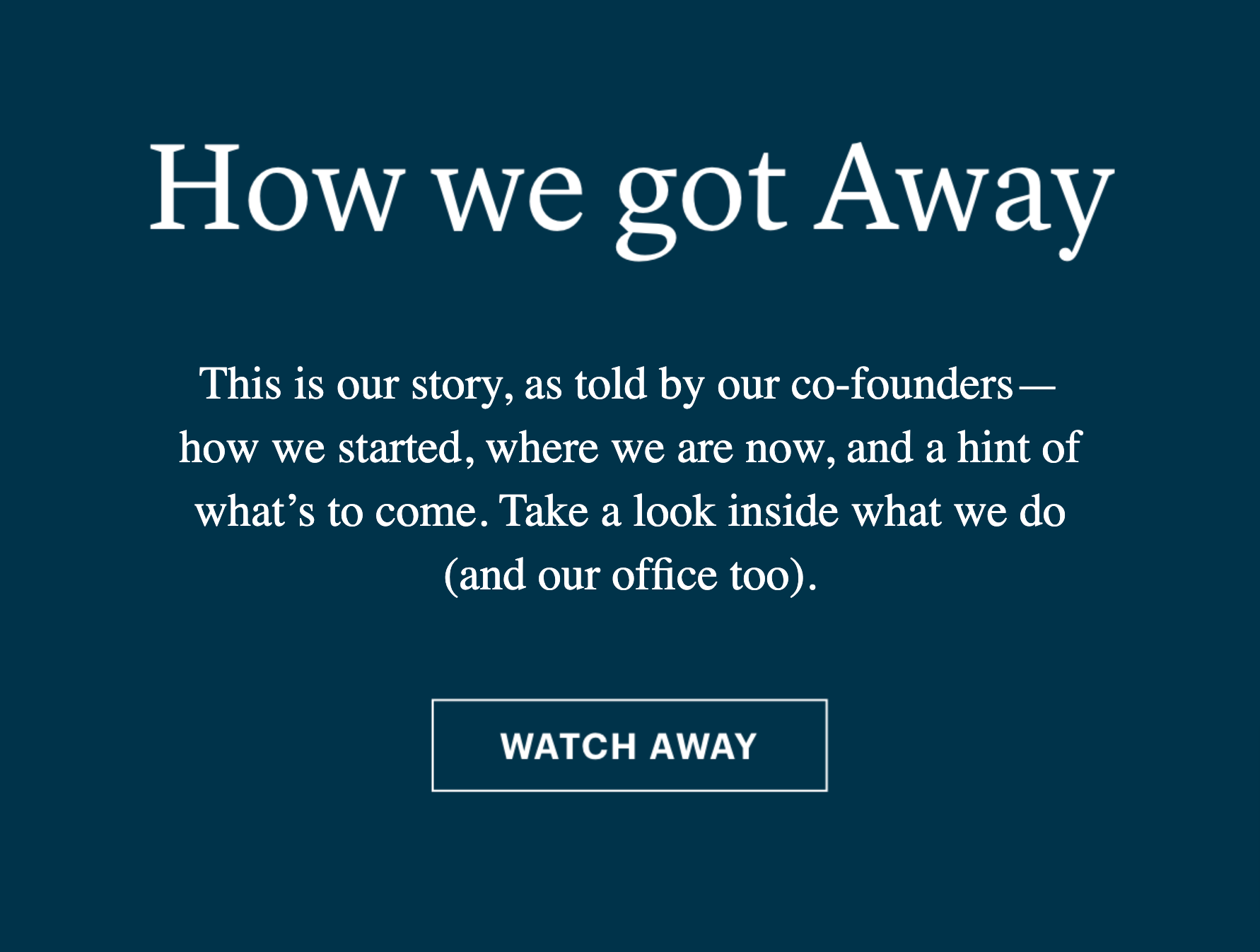 It goes into the background of the brand and why it was founded. All the while, it subtly outlines the benefits of the product without being too pushy.
Like this email, you can use interesting or helpful content to vary your emails. Just make sure it's catered to your audience's interests.
7. ROI
Your return on investment (ROI) is the amount of revenue a campaign has generated compared to what it cost to implement the campaign.
Sometimes an email will have a different kind of return such as a lift in brand awareness. But if you're purely focused on the financials then you'll need to be able to attribute web traffic and conversions to campaigns. Which is something you can do easily with an analytics tool.
ROI is one of the most important metrics. You need to know that you're allocating your marketing budget appropriately and whether your hard work is paying off. Thankfully, email has a great ROI generally - as much as $36 for every $1 spent.
Boosting ROI involves all of the above points put together. You need to keep tracking, testing, and improving your email marketing campaigns. It's also a good idea to automate email marketing to ensure that the right email content always reaches the right person at the right time.
Final Word
Though opens and click-throughs are the Beyonce and Jay Z of email marketing metrics, there are many other valuable metrics that you need to be monitoring to up your email marketing performance. Your list growth and unsubscribe rates for example are key to ongoing email marketing success.
Different tactics may help to increase performance in different areas. But, all in all, your emails should be relevant and appealing to your audience specifically.
What's next? Define your email marketing goals. That way you can determine which metrics are most important to a campaign or your email marketing efforts overall.