Your Best Food Friend
Bite Squad is a food delivery service headquartered in midwestern metropolis Minneapolis, Minnesota (say that 10 times fast). Noticing a serious lack of variety across the delivery food wasteland of yore, the idea of Bite Squad was born. It was founded on the desire to bring people the exact dish they're craving from any restaurant, even if it's not the typical delivery fares of pizza or Chinese.
Bite Squad's been busting food delivery barriers since 2012, and now with its latest customer loyalty program, Bite Club, they're on a quest to smash every email marketing automation goal you can think of.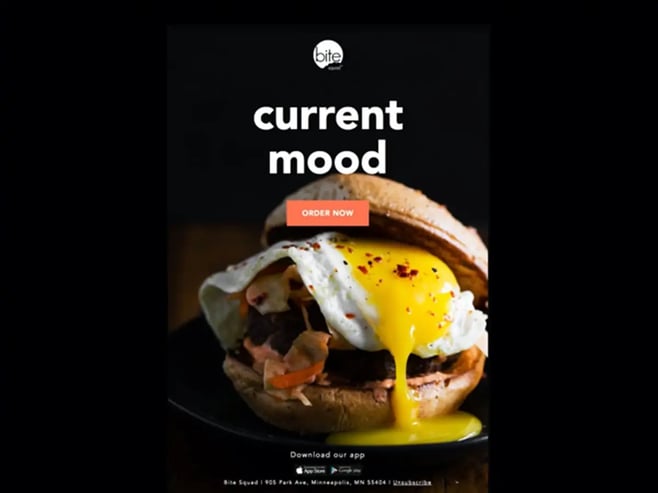 Not Your Mother's Food Delivery
Food delivery is exploding. With new delivery services creeping into every big city, it's a critical time for each business to make a lasting impression with hungry patrons.
By the year 2022, the food delivery biz is predicted to have an annual growth rate of nearly 20%. To add to the pressure of keeping up, it's been found that 80% of customers never or rarely leave one platform for another, creating a heated "winner-takes-all" dynamic.
Bite Squad has seen its own tremendous growth, though, and has recently expanded to 30 markets across the U.S. with plans to tackle more as 2018 moves on. So how does Bite Squad plan to win over the stomachs of the hungry? Say "Hey!" to Bite Club.
How does Bite Squad plan to win over the stomachs of the hungry? Say "Hey!" to Bite Club.
Bite Squad's loyalty program is hot outta the oven, but is already making a big impact on their stake in the food delivery game.
"When we have that level of data, we get to know you. We get to know your tastes. We get to know that you love Thai food on Friday nights, but you're into burger and fries on Sunday afternoons."
Craig Key, Chief Marketing Officer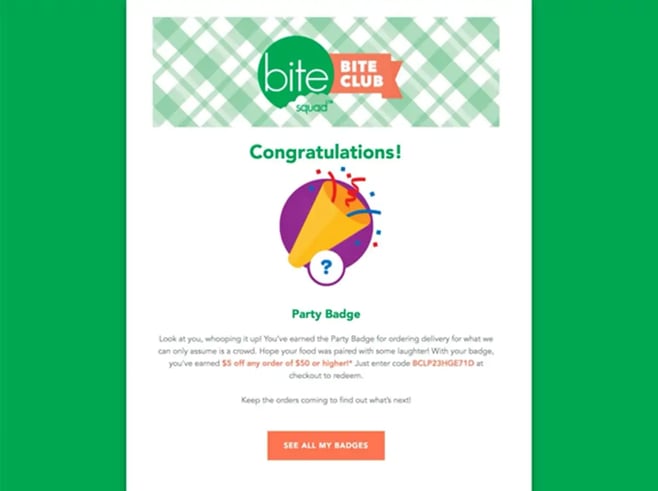 Drip Makes Deep Personalization Possible in Bite Club
Bite Club, in a nutshell, rewards users for coming back by way of charismatic badges and other incentives. Not only do you get handsomely rewarded for hitting various order milestones (Woohoo! You've ordered 10 meals!), but your collection of badges grows when you choose new cuisine, order at obscure times, and hit other creative foodie landmarks.
Bite Club isn't fueled by magic, though. Instead, this engaging loyalty club gets its secret sauce straight from Drip. Drip makes it possible for Bite Club to deliver badges automatically when customers hit milestones by keeping track of what every customer is up to.
"Because of Drip, I'm able to see at a very high level, how our overall email communication is performing, how we're making decisions about when, where, and why to reach customers."

Drip helps Bite Squad track all of this stuff about customers:
When they last placed an order
What restaurant they ordered from
If they ordered a meal for themself or many meals for lots of pals
What specific dish they ordered
What specific cuisine they ordered
And much more
With such a deep vat of customer data, Bite Club is able to dole out badges and rewards at the exact moment the customer is most engaged with the brand, which creates a completely delightful experience that has their customers craving more.
Hyper-Specific Messaging Boosts Email Opens, Order Rates, and Sheer Joy
With the insight Drip is able to dish out, Bite Squad communicates with each customer way beyond "Hello, ."
The team at Bite Squad has built a clever network of automated workflows that are constantly working to pull customers in and out of the most relevant experiences based on what actions they're taking.
Just signed up? Awesome—Bite Squad's warm welcome workflows will take care of you.
Just placed your third order? You'll be automatically plunked into Bite Club where you'll start triggering badges, coupons, yummy-looking emails for nearby food, and beyond.
This precise level of personalization has done some seriously heavy lifting, too. In just the first couple months of Bite Club's existence, hyper-targeted communication has proven to be a grand slam.
"We have a dynamic landing page, a completely personalized email, a semi-gamified loyalty program, and I don't know any JavaScript. That's amazing."
Tara Tankersley, Marketing Automation Specialist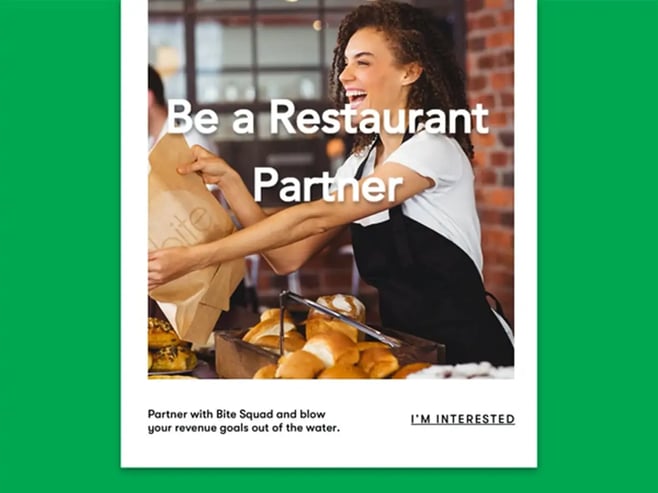 Bite Squad Reaches Beyond Email with Drip's Integrations
Being able to tag, segment, and target each unique customer with tailored emails has engaged and delighted customers more than ever. But Drip is helping complete Bite Squad's total marketing automation package.
Beyond an impressive email strategy, Bite Squad also uses Drip to pull customers in and out of Facebook custom audiences based on their order history. Landing pages built in Leadpages are completely personalized to each customer based on information inside of Drip. And Bite Squad even employs Drip's API integration for a smart direct mail strategy.
"There's this combination of a team at Bite Squad who was thinking outside the box and pushing for innovation and ways to connect with the customer that we had never done before, and you had a team at Drip that was just willing to say, 'Ok, let's figure this out!'"
Craig Key, Chief Marketing Officer
The All-in-one Platform for Every Form of Communication
Not only does Bite Squad use the marketing automation powers of Drip to drive Bite Club, but it also employs tagging and segmentation capabilities to communicate with the thousands of drivers and restaurants in their network.
As Bite Squad keeps growing, so too does their roster of tasty options and their fleet of bag-toting drivers—all of which need to be kept in the loop. Instead of tacking on a separate email service provider for these types of "internal" communications, Bite Squad is able to use Drip just as easily.
It's their all-in-one communication hub, which saves time and money.