You may have seen the "Expectation Vs. Reality" posts where customers bash products that are far from what they expected.
They buy a sun hat that looks gorgeous online, but on them, it looks like something straight out of American Horror Story.
This is the problem that customers face. They see an item they think they like. But how do they know that it's going to fit or if they really will like it when they see it in real life?
Savvy shoppers will choose not to make the purchase.
70 percent of customers say they struggle to find clothes online that fit. This, of course, contributes to high numbers of returns which costs online retailers around $550 billion per year.
The ability to try before you buy would put a dent in this massive problem. And thanks to augmented reality, virtual try-on is now a possibility.
As you're about to see, companies are making leaps and bounds in this arena. Let's take a look at what virtual try-on are all about and the six best virtual try-on examples to inspire your own.
Virtual Try-On: Everything You Need to Know
What Is Virtual Try-On?
Virtual try-on means that consumers try on products, such as clothing, jewelry, and makeup virtually using their phones or tablets. The technology uses augmented reality which layers visuals over the real world via their device's camera.
Online stores offer virtual try-on on their websites, in their apps, or via social media. You can build a virtual try-on solution or have it built for you by specialists. Plug and play options, such as Fittingbox, are also emerging.

The Benefits of Virtual Try-Ons
Virtual try-on helps consumers in the decision-making process. They get to experiment with products at their own pace until they find the right choice for them. For instance, they might play around with accessories in different colors to see what works with the outfit they have on.
Source: Sayduck
The fact that consumers get to try before they buy means they're less likely to return items. They're more likely to pick the right product in the first instance.
Also, trying something on virtually is a fun experience that consumers want to share. Picture somebody using Snapchat to try on your products then sending their snazzy snap to all of their friends. That's great marketing for your brand.
Another major benefit of virtual try-ons is that it makes cross-selling easier. For example, a user might mix and match different makeup products using your virtual try-on tool.
6 Best Virtual Try-On Examples
1. Farfetch
You may have thought Snapchat was on its way out when Instagram introduced Stories and WhatsApp added disappearing photos. But it turns out Snapchat is killing it in the AR realm, which may keep them alive.
Farfetch and other brands, such as Prada, have partnered with Snapchat to introduce virtual try-ons.
In the case of Farfetch, a user simply stands in front of their camera and says, for instance, "Show me a windbreaker jacket with a pattern". The software chooses an appropriate product from the brand's product catalog and it's placed on their body.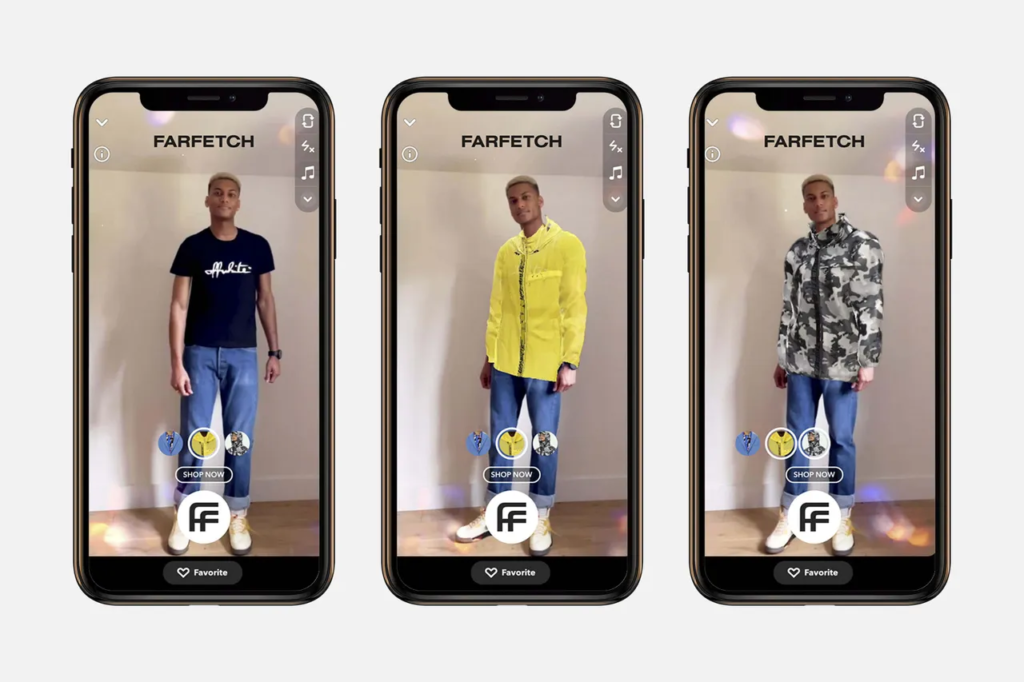 It uses advanced technology called 3D Body Mesh that maps the body and cloth simulations that make it seem as if the clothes are responding to gravity in a realistic way. Users can switch outfits using voice commands, share their images, and purchase the products directly within Snapchat.
The AR tools are available to everybody for free. But you can also pay to promote your virtual try-ons on Snapchat.
To use the AR technology you must upload your product catalog and 3D product assets to the platform. There are pre-existing AR shopping templates which means you can create AR Lenses (Snapchat's name for its augmented reality experiences) quickly.
2. e.l.f. Cosmetics
Unlike Snapchat, YouTube does AR try-ons mainly through paid ads and influencer content. Google has partnered with a number of beauty tech companies, such as Perfect Corp. to make this possible.
e.l.f Cosmetics has seen great success with its AR campaigns on YouTube. The results: increased traffic, a reduced bounce rate, and a 63 percent lower cost per unique user than previous campaigns.
There's a button that says "Try It On" beneath e.l.f. Cosmetics' in-stream ads.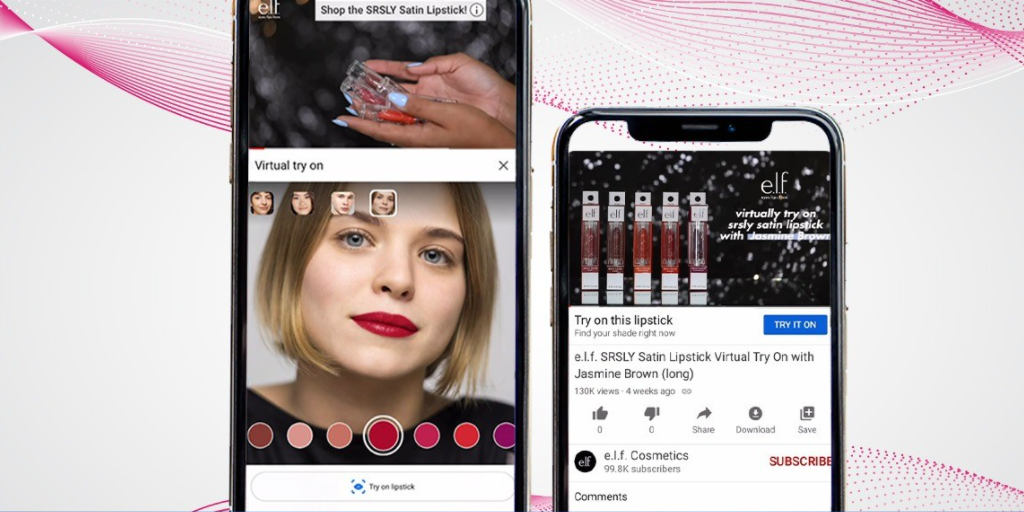 When users tap the button, their camera launches and displays the featured product on them. As you can see, they can cycle through color and shade options, for example.
They can then choose to purchase the product and will be taken to the corresponding product page on the e.l.f. Cosmetics website. This way, shoppers can connect with the product on a deeper level than if they were to look at a picture of the lipstick.
There are a few ways to get on the Google/YouTube AR train. You can access AR opportunities through YouTube's content platform BrandConnect or speak to a Google sales rep.
Alternatively, you can work with a third-party platform, like Perfect, and use it to create AR beauty effects, then feed those assets to YouTube.
3. Baume & Mercier
If you have high-end, expensive products, it makes sense to offer a virtual try-on since customers don't make such purchase decisions lightly given the hefty price tag involved. So anything you can do to help them along their journey is going to be beneficial.
Luxury watch company Baume & Mercier partnered with Haptic Media to create an unbelievable virtual try-on experience on their website.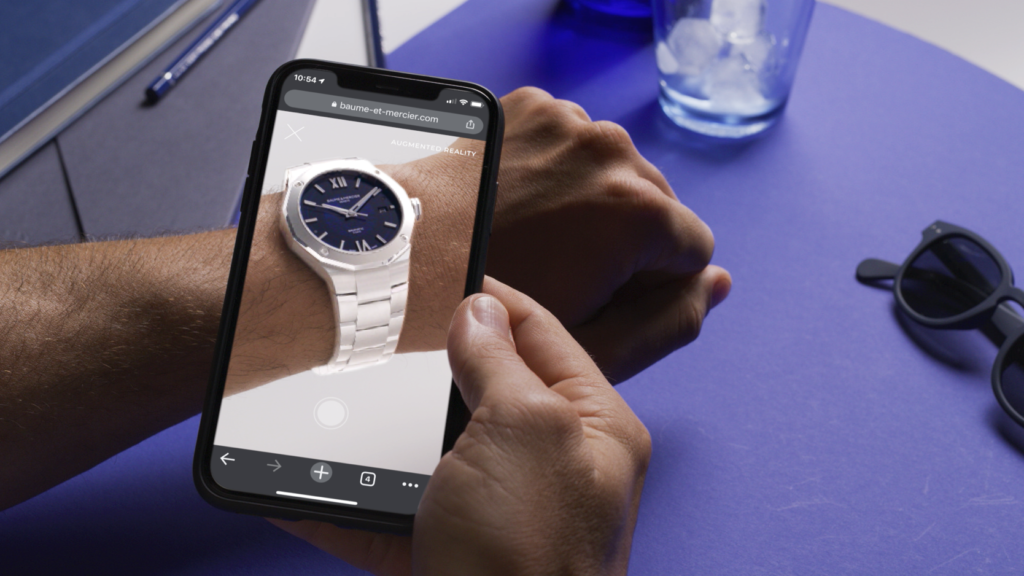 One thing that makes the experience so realistic is that the watches were modeled in several different wrist sizes and variations to create the virtual try-on. Plus, special attention was paid to lighting and shadow effects.
When Haptic Media was building the virtual try-on experience, they also carried out user testing. This allowed them to see how people would instinctively hold out their wrist and at which angle they'd hold their device.
It's a good idea to take steps like these if you decide to create a virtual try-on feature. The point is that you shouldn't see virtual try-on as a mere novelty. If you do it well, it will help users see if the style and shape of an item are flattering for them and encourage them to make a purchase.
The fact that the virtual try-on tool is on the company's website is also a plus. It makes the tool accessible and easy for everybody. Customers don't need to have the company's app (and all the annoying notifications that might come with it) to use the feature.
4. L'Oreal
It seems that everybody's trying to up their AR game at the moment. This naturally includes Facebook (or Meta).
The social media platform has partnered with L'Oreal's AR and AI company ModiFace to introduce virtual try-ons for makeup companies on Instagram Shopping.
L'Oreal brands Urban Decay, NYX, Maybelline New York, and Lancome are the first to utilize AR, with more on the way.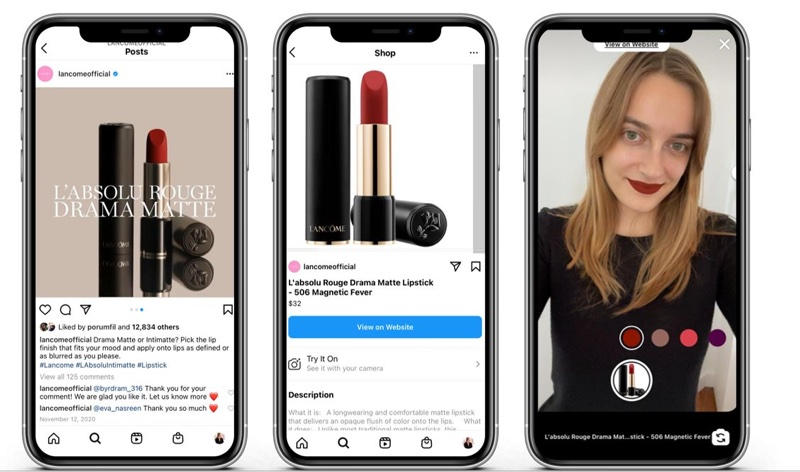 It's a smart move for cosmetics and beauty companies to use social media's AR tools since customers go on platforms like Instagram to search for beauty content and get inspiration on what to buy. So, it's easy to target shoppers on these channels.
Plus, social shopping is on the rise. In the US, over 55 percent of social media users aged 18-24 and around 48 percent of users aged 25-34 have made a purchase through social media.
It makes sense to offer a personalized shopping experience using AR on social media channels, particularly if your target customers belong to these demographics.
If you'd like to offer a virtual try-on experience on Instagram, you'll have to work with a Facebook AR partner. These include ModiFace, the Perfect Corp., and Facebook's Spark AR Hub.
5. Wacoal
If you can use technology to solve a major customer pain point, then you're onto a winner. That's what underwear brand Wacoal did when they worked with AI tech company Sizer to develop an innovative bra sizing app called mybraFit™.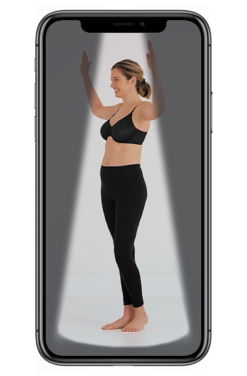 Shoppers stand in front of their phone camera and receive instructions for different body poses. The app captures a few secure images and uses a proprietary algorithm to digitally size the user.
They must answer a few questions about their body size and shape. Then they receive an email with their bra size and personalized recommendations from the Wacoal product catalog, and Wacoal stores the customer's size in their profile.
This is personalization at its finest. Wacoal builds a customer profile that makes future purchases easier for the customer and therefore increases the likelihood of repeat purchases. It also provides the opportunity to gather useful customer data that will help with business and marketing decisions.
The bra-sizing app has resulted in an increase in traffic and sales for the company. Plus they've seen a $12 higher average order value.
The opportunity to make tailor-made recommendations that increase sales is an amazing bonus of this kind of tech. Nike has also previously done something similar with its Nike Fit app that measures customer shoe size through their phone camera.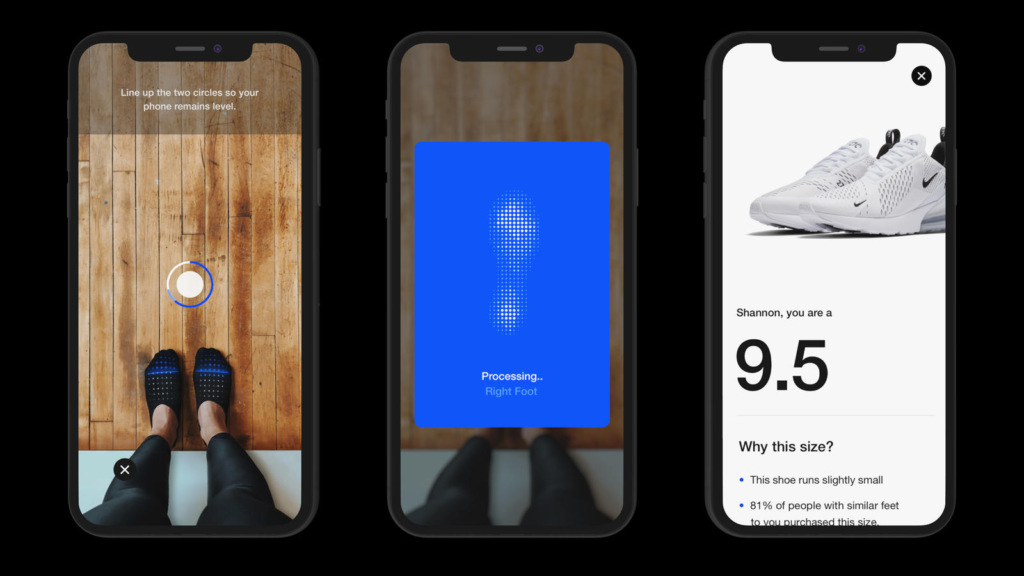 Consider if sizing tech could work for your store. Combine it with personalized recommendations and virtual try-ons for an ingenious way to acquire customers.
6. Warby Parker
Warby Parker is an interesting case as one of a small group of e-commerce providers that allows at-home try-ons. Customers are sent five test models of glasses for free to help them decide which to purchase.
The company adopted this model as they knew that shopping for glasses was a social experience. By sending out frames people can try, they encourage social sharing, engagement with the brand, and word-of-mouth marketing.
Warby Parker's AR tool compliments this idea. Plus, in some cases it allows them to streamline the buyer's journey. In other words, they don't always have to cover the costs of shipping frames if they can bag customers earlier by having them try on the glasses virtually.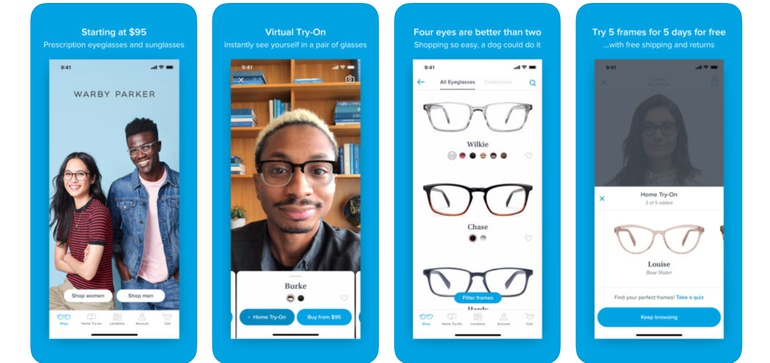 Warby Parker's software was built using Apple's ARKit and uses a proprietary algorithm to get a more accurate fit for users than a standard social media filter might provide.
The only downside here is that the virtual try-on tool is only available to iPhone users and thus the company could be missing out on a number of potential customers that use other devices.
But the Warby Parker case is still proof that even companies that offer physical try-ons still want to capture customers sooner in their journey. And they can achieve this using AR.
Conclusion
Hopefully, you've seen here that virtual try-ons take e-commerce personalization to the max. When somebody gets to see what a watch or a jacket will look like in real life and in real-time, it's not only impressive but also pretty persuasive.
Virtual try-ons help customers in the consideration stage of their journey. Case studies have shown that AR-assisted try before you buy increases awareness and sales.
It's certainly something worth looking into for your brand. The above cases show that the technology is only getting better as platforms and AR providers compete to create the most realistic and user-friendly visuals.