It was just over 25 years ago (1994) when the first documented online purchase was made.
Since then, online shopping has grown from being a novel concept to a multi-trillion dollar industry.
To put it into perspective and get a glimpse of the current state of things, I've compiled a list of some of the most eye-opening online shopping statistics for 2023.
These will show you where the industry is currently at, the opportunities that are out there, where it's heading and what you can do to be more competitive.
Let's jump right in.
Online Shopping Statistics 101
1. E-Commerce Sales Are Expected to Reach $4.2 Trillion by the End of 2020 (Statista)
There's been significant growth in e-commerce in recent years. In 2014, total sales reached just $1.3 trillion.
But that number has more than tripled in 2020 to $4.2 trillion and is anticipated to keep growing as we move deeper into the 2020s.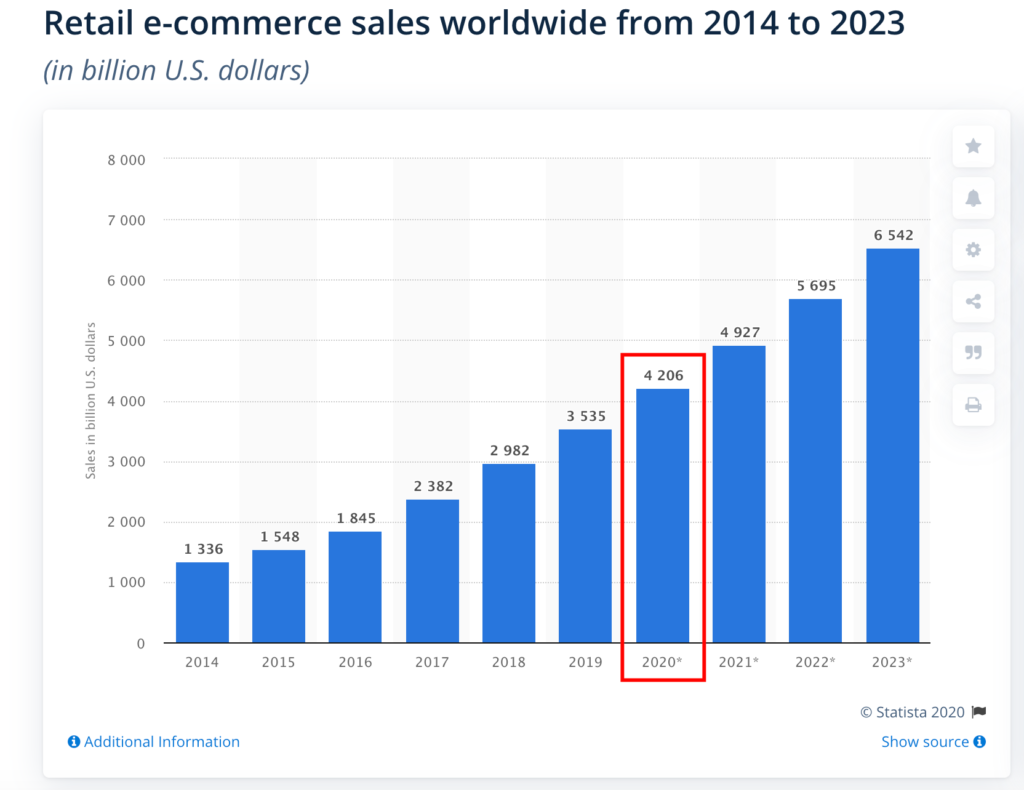 2. E-Commerce Sales Are Predicted to Hit $6.5 Trillion by 2023 (Statista)
In fact, experts have projected annual revenue to climb all the way to $6.5 trillion in just three years.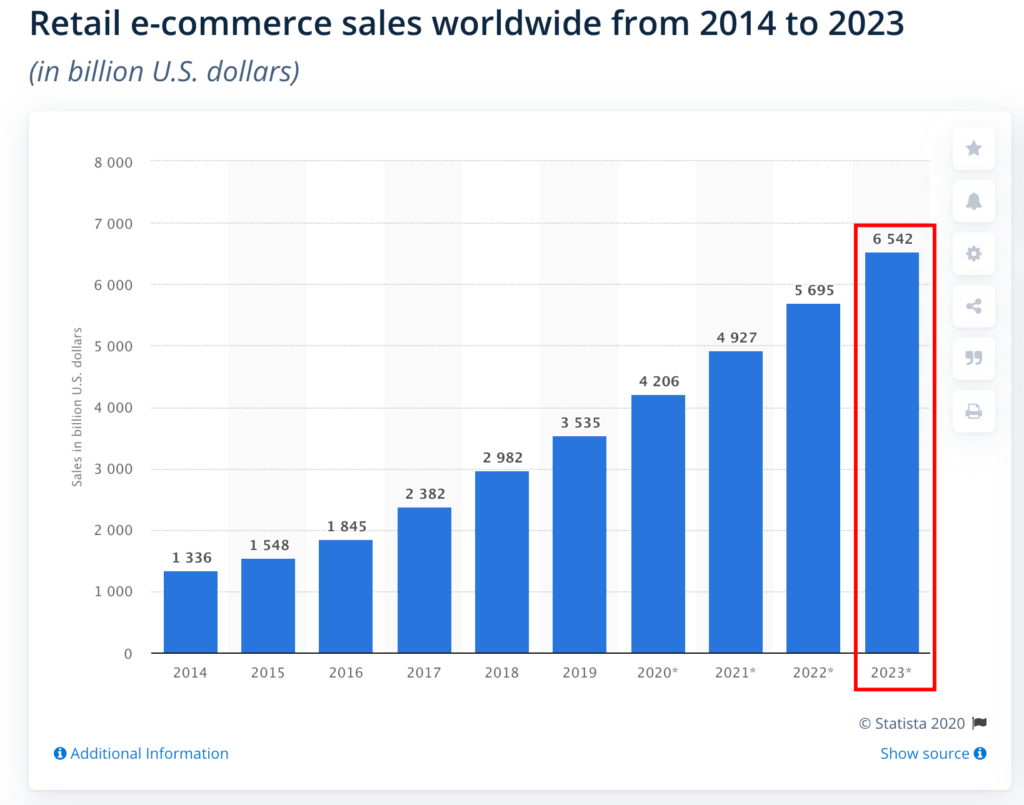 If this trend maintains its trajectory, e-commerce sales could potentially reach $8 trillion per year by 2025.
This is great news for digital brands and shows just how much opportunity there is.
Although the level of competition will certainly increase, so will the revenue.
So, now is the perfect time to jump on board.
3. There Are 2.05 Billion Online Shoppers in 2020 (Oberlo)
As of 2020, there are roughly 7.8 billion people in the world. And just over a quarter (26.28 percent) of them are online shoppers.
As you can see, there's been a considerable increase in the number of digital shoppers over the years, where it's climbed from 1.32 billion in 2014 to 2.05 billion in 2020.
With more and more people buying digitally, this means e-commerce brands have the chance to reach a massive audience.
4. 75 Percent of People Shop Online at Least Once a Month (Statista)
It's also worth noting that the vast majority of people who shop online do so quite frequently.
Research from Statista found:
20 percent shop online once a week
24 percent shop online once every two weeks
31 percent shop online once a month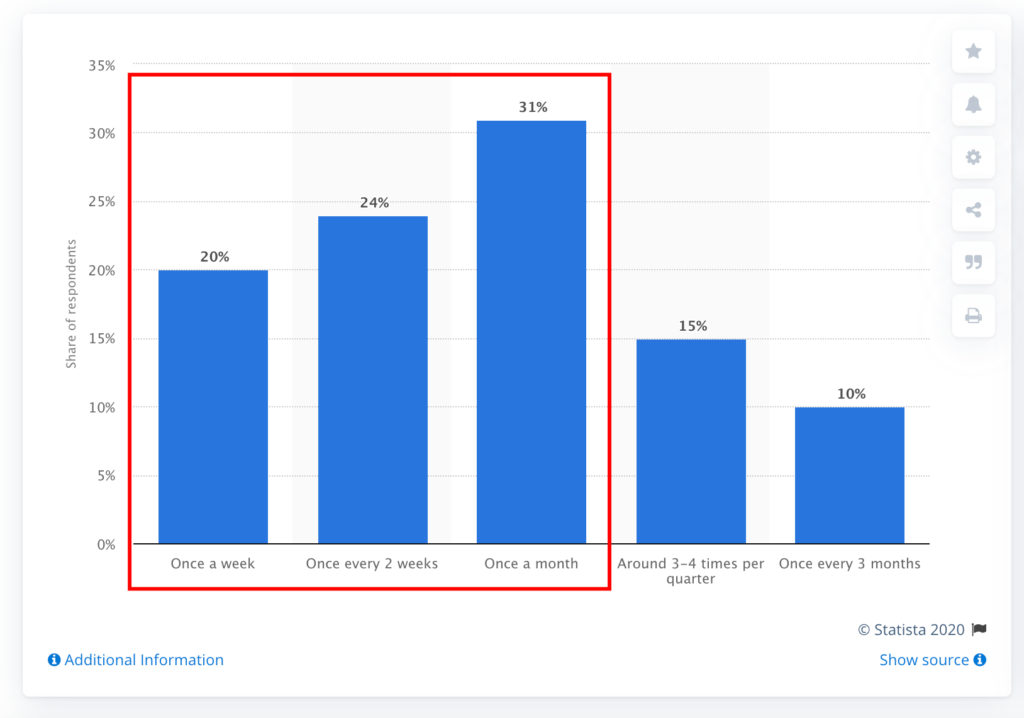 By comparison, a far fewer number (15 percent) shop 3-4 times per quarter, and only 10 percent shop once every three months.
The point here is that online shopping is becoming the norm, and there are major opportunities to land repeat customers who will buy from you again and again.
5. 63 Percent of Shopping Journeys Start Online (Think with Google)
One of the more interesting online shopping statistics is that more than six out of every ten shopping journeys begin online. (Source.)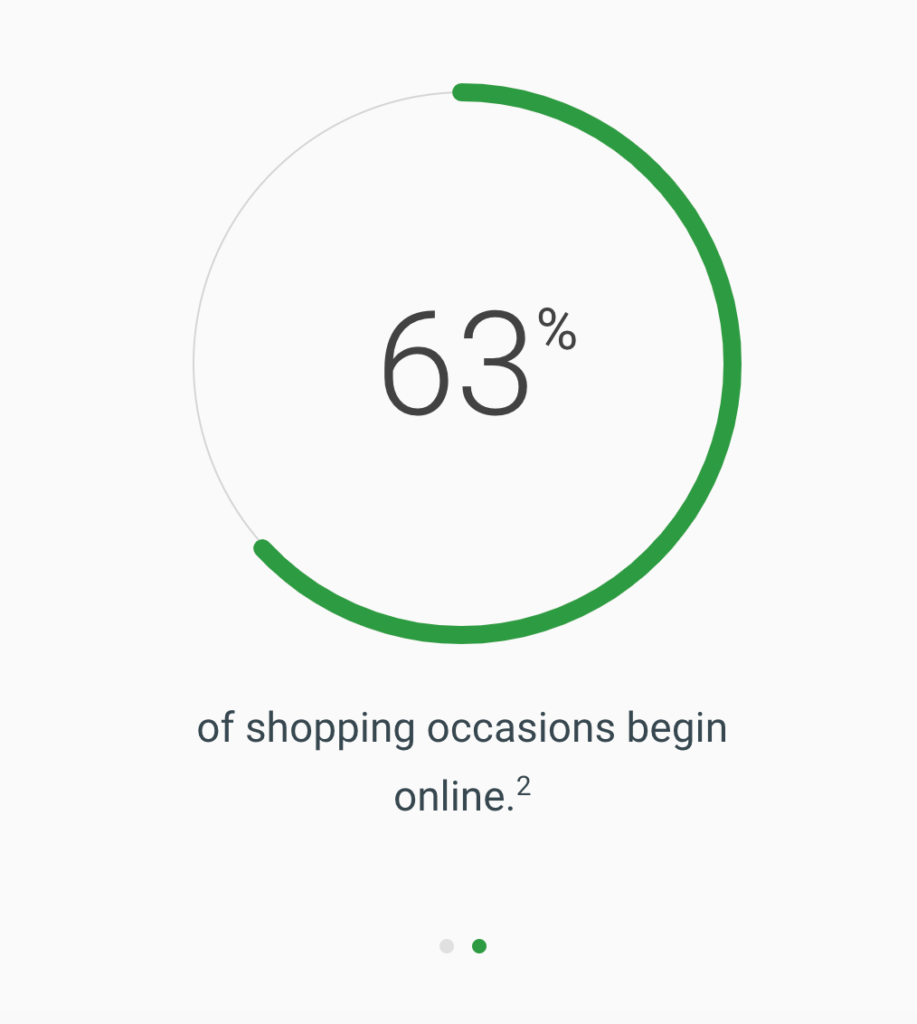 Whether a person ends up buying from an e-commerce store or from a brick-and-mortar one, most of the initial research starts in a digital setting.
"That's why it's crucial for brands to have a strong online presence," explains e-commerce and dropshipping writer Maryam Moshin.
"By improving the customer experience from the very first step, businesses have a higher chance of getting customers to buy from their store."
Therefore, it's smart to invest in digital marketing strategies like SEO and social media.
Brands that do so can generate a high volume of leads and build brand equity that can pay off when shoppers are deciding who they want to purchase from.
For instance, body scrub company Frank Body currently has 745k Instagram followers—something that factors in heavily to their brand exposure and success.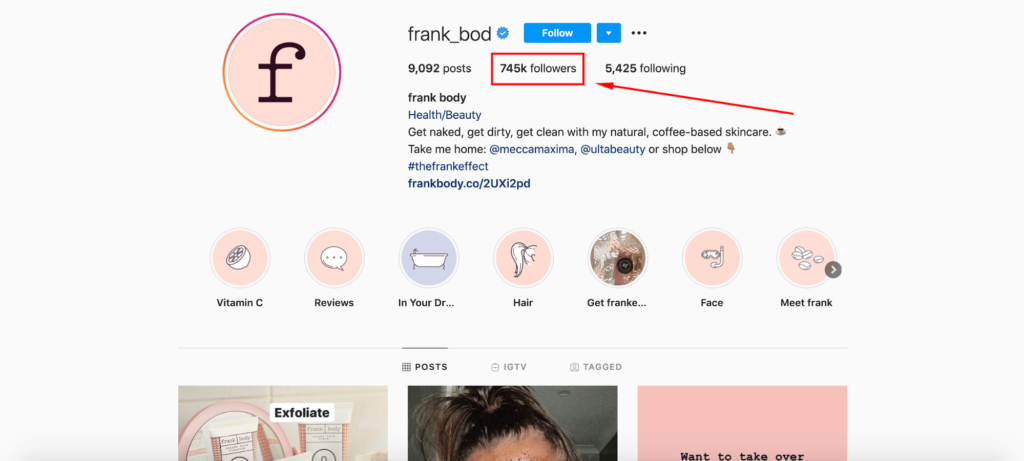 6. Nearly Half (49.2 percent) of E-Commerce Sales Are Made Through Mobile Devices in 2020 (Statista)
Online shoppers making purchases through mobile devices is nothing new. But it's increased by nearly 15 percent over the last four years.
In 2017, just 34.5 percent of e-commerce sales came through mobile, but that number is at nearly 50 percent in 2020.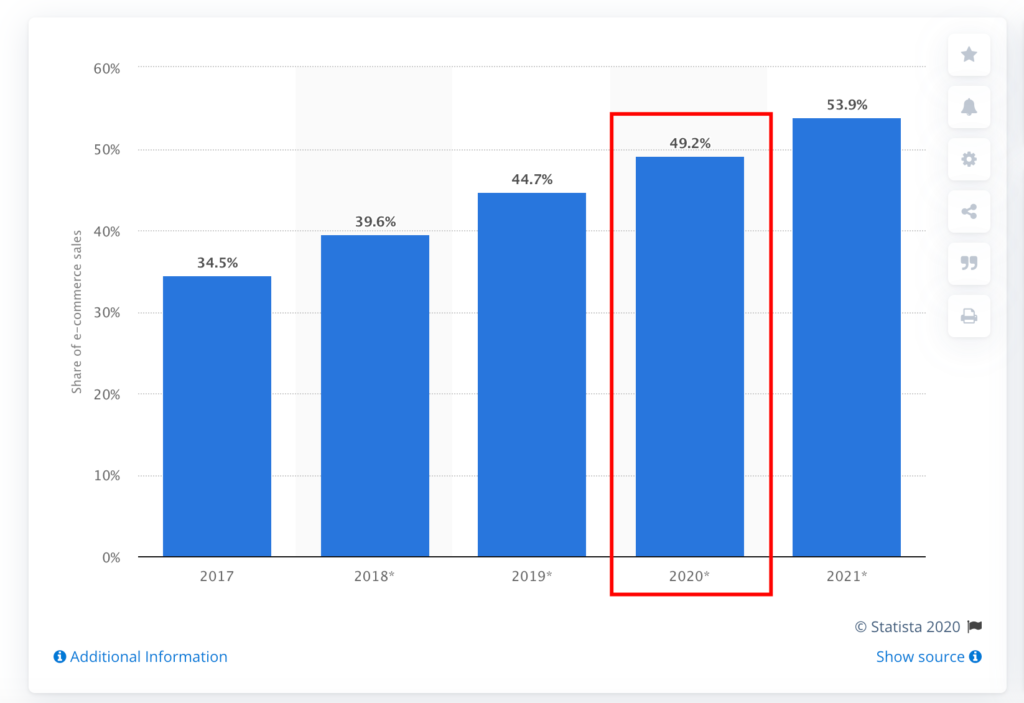 7. By 2021, 53.9 Percent of E-Commerce Sales Will Be Made Through Mobile Devices (Statista)
And 2021 should mark the official tipping point where more sales will come through mobile than from desktops and laptops. (Source.)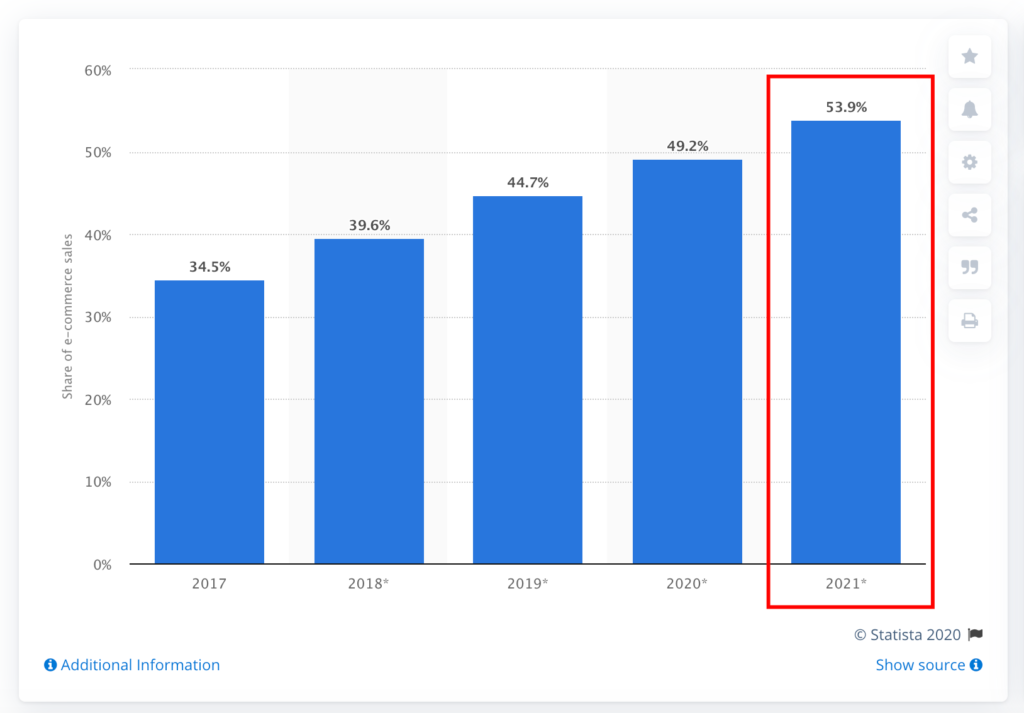 This shows the importance of optimizing for mobile and providing this segment of visitors with a seamless shopping experience.
8. Amazon Accounts for 47 Percent of All US E-Commerce Sales in 2020 (Statista)
I probably don't need to point out that Amazon is an e-commerce juggernaut that owns a massive percentage of the market.
But their power has really increased over the past few years, where they went from having 34 percent of US e-commerce sales in 2016 to 47 percent in 2020.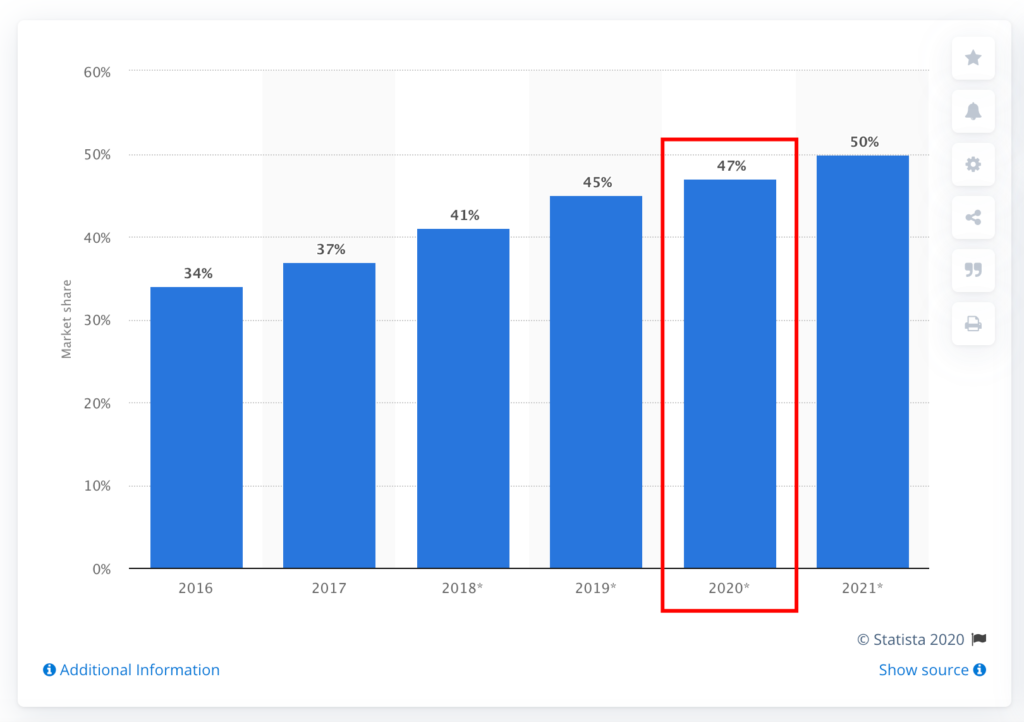 9. Amazon Will Account for 50 Percent of All US E-Commerce Sales by 2021 (Statista)
And by 2021, they're projected to officially account for half of all US e-commerce sales. (Source.)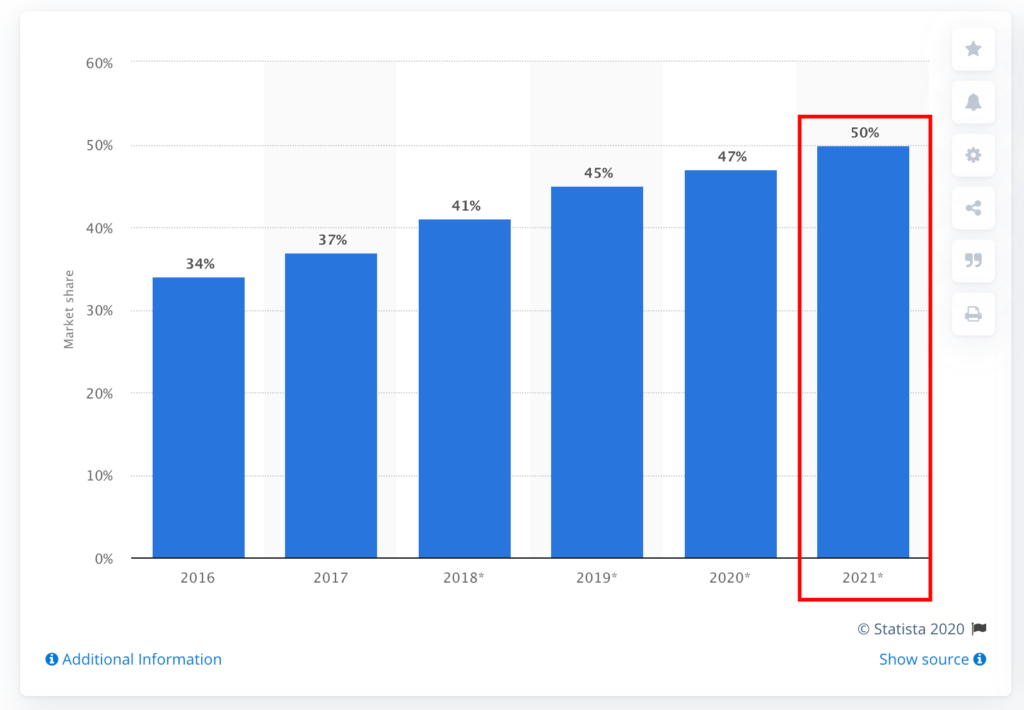 Although Amazon has come under a considerable amount of scrutiny and criticism as of late, it's impossible to deny its presence in online shopping.
They seemingly have a hand in everything—from books to electronics to groceries to music streaming. I'm not saying this to frighten or discourage small e-commerce brands.
But it's definitely something you need to take into account, and it's vital to come up with a realistic strategy that allows you to compete with Amazon.
10. 80 Percent of Online Shoppers and 63 Percent of Mobile Shoppers Think That New Technologies and Innovations Improve Their Experience (National Retail Federation)
Given that the very basis of online shopping revolves around cutting-edge tech, it should come as no surprise that these shoppers are fans of new technologies and innovations. (Source.)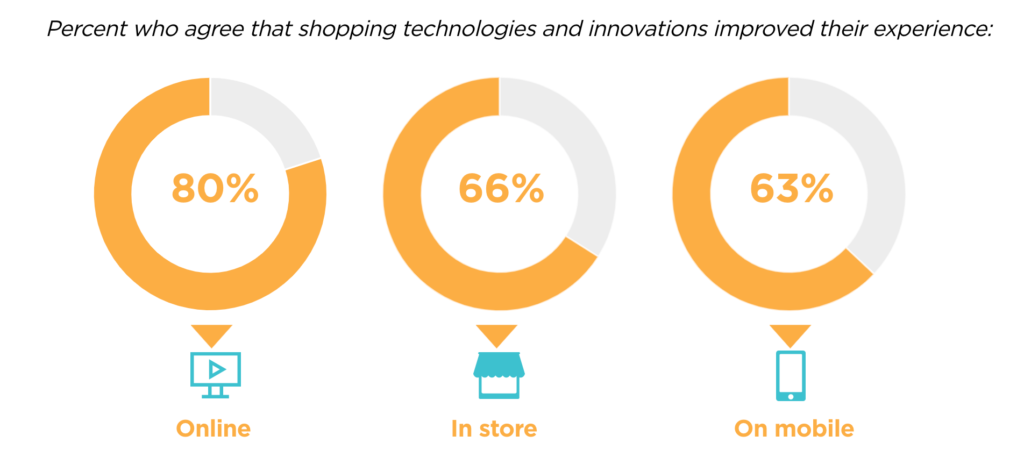 Sophia Martin, tech lead and content writer at Xicom.biz, offers some examples like:
AI to provide 24/7 customer support
Chatbots to provide instant solutions for practically any problem shoppers may have
Machine learning to deliver personalized messaging
Product recommendations based on prior shopping history, preferences, location, and so on
Here's an example of Pandora, a Danish jewelry company, using product recommendations to help shoppers discover other products they may be interested in.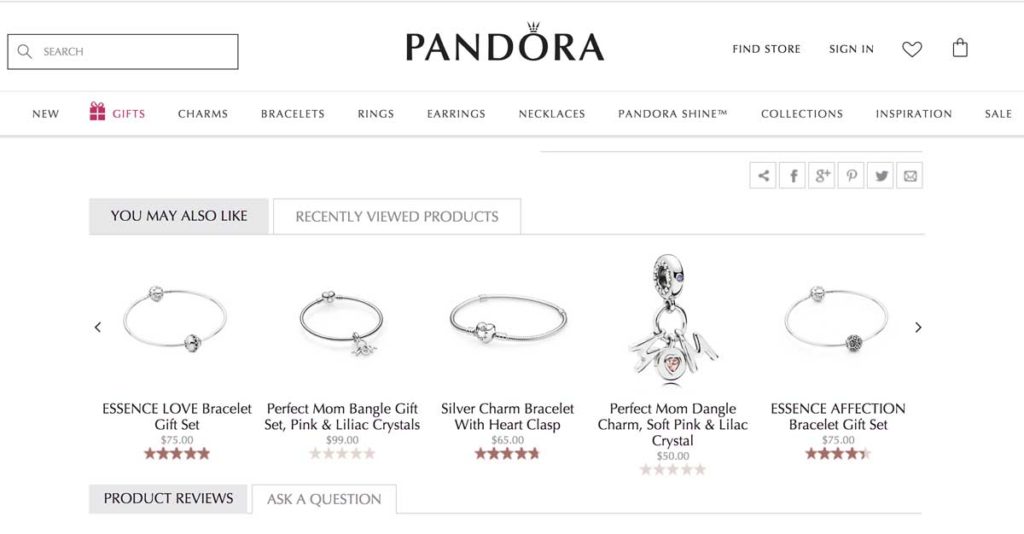 And that's just the tip of the iceberg. Technologies like these are rapidly advancing and evolving all the time.
Staying up-to-date on what's happening and continually experimenting can help your e-commerce brand deliver a much better customer experience and stay competitive.
So it's definitely something you want to embrace.
11. Search and Navigation is The Most Important Site Element for Online Shoppers (Statista)
Recent data found that making products easy to find through simple search and navigation was the most important attribute of the online shopping experience for 61 percent of shoppers.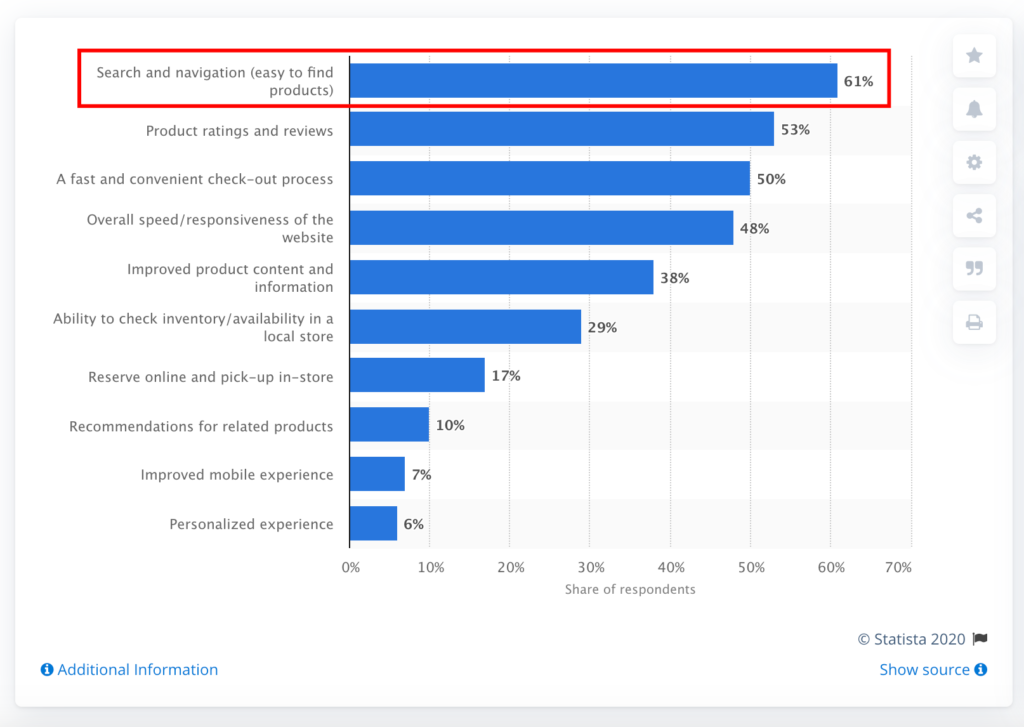 And this makes sense. After all, who wants to struggle to find what they're looking for?
That's why you should prioritize search and navigation and constantly strive to make continual improvements, even if they're only marginal.
A good example of a brand with ultra-easy navigation is footwear company Rollie Nation.
Immediately upon landing on their site, shoppers find a simple, straightforward navigational menu.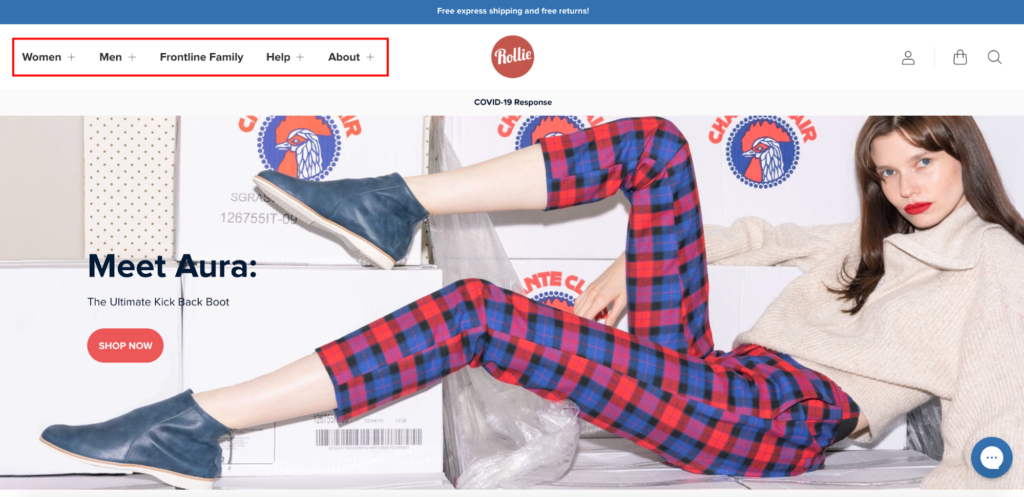 With a quick click on a category, they can seamlessly narrow down their search.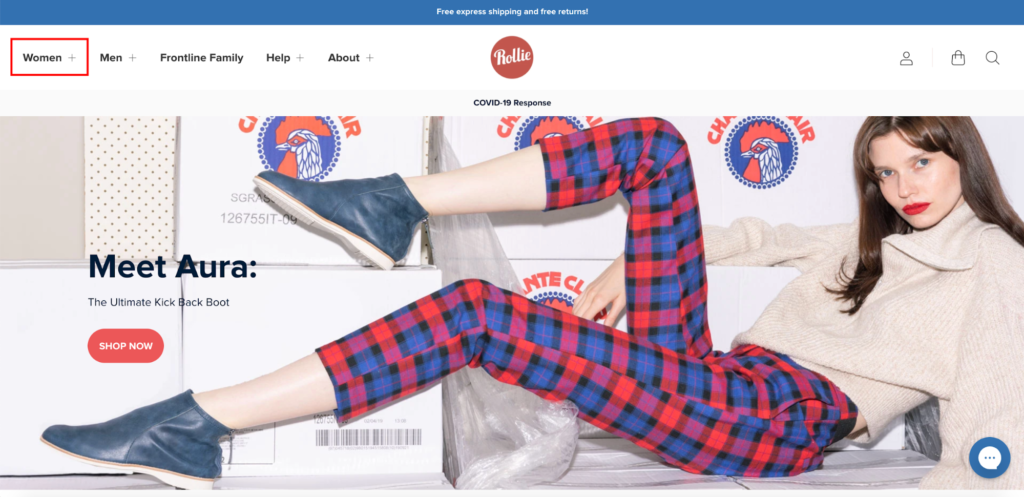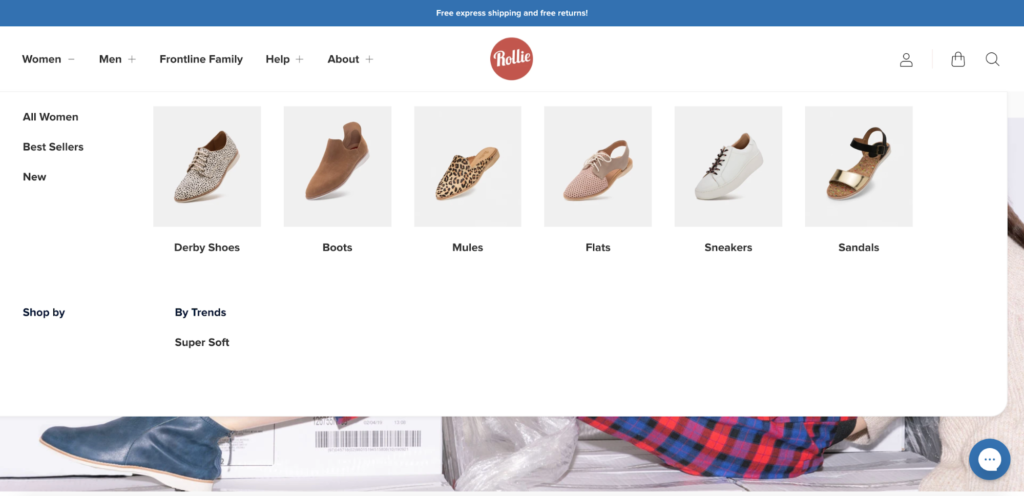 And there's also an intuitively placed search feature for added convenience.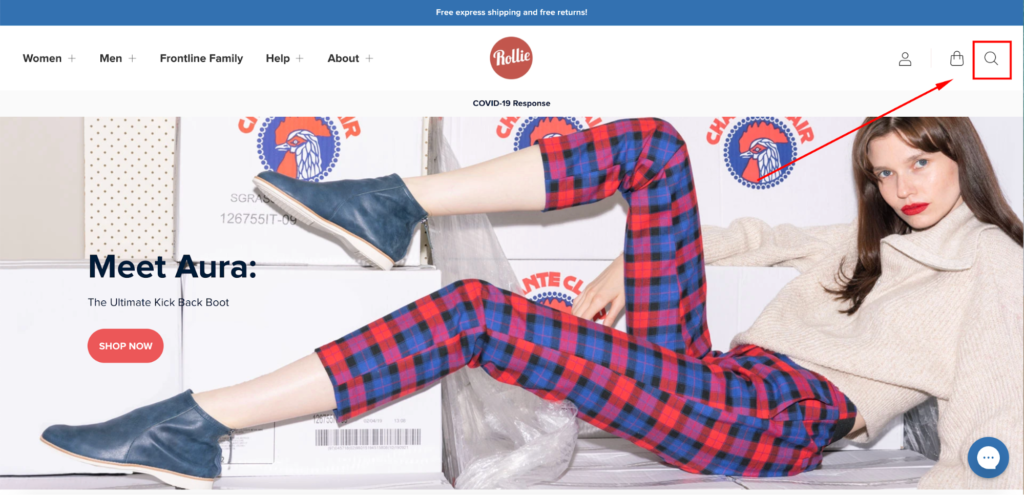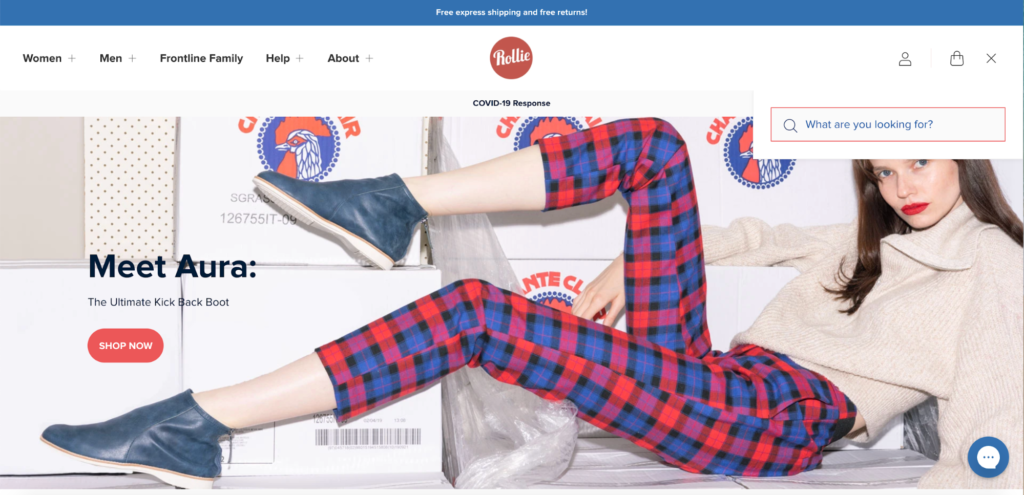 Less effort on the visitors' end means they can find the products they want without any drama and increases their chances of buying.
12. Having Product Ratings and Reviews is The Second Most Important Element (Statista)
Online shopping is fun and exciting, but it can also be overwhelming at times.
Shoppers often have to filter through a ton of different products to find what they're looking for, and all of the options can leave them feeling a little bit paralyzed.
One of the best ways to increase shopper confidence and gain the insights they need is by giving them access to product ratings and reviews.
In fact, that's the most important attribute of the online shopping experience for 53 percent of people.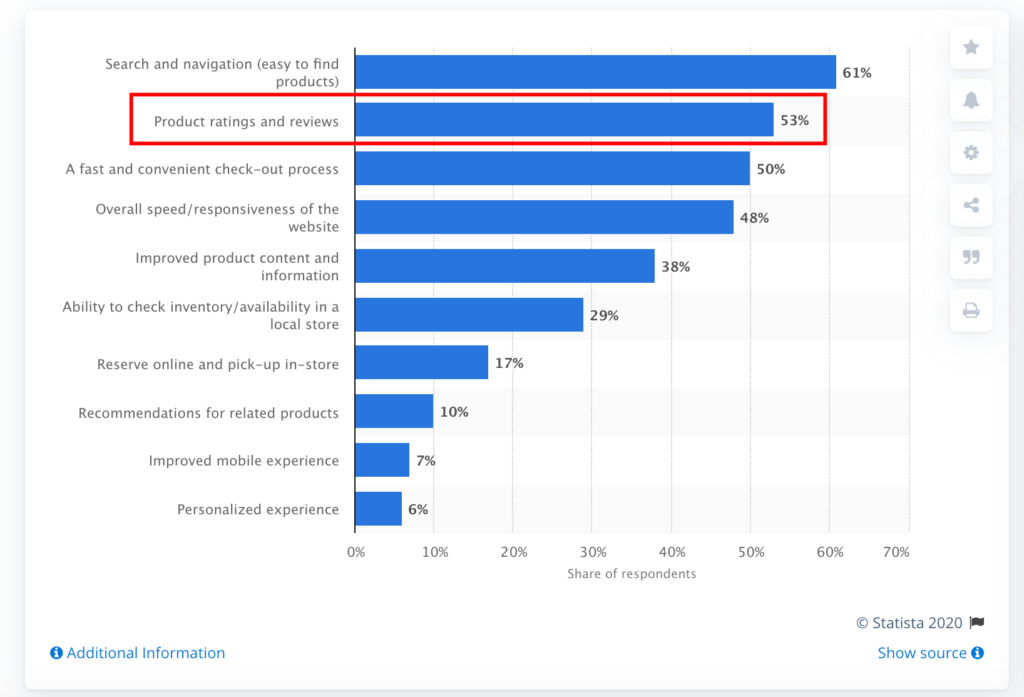 You could even make the point that having this information readily available has been a big part of Amazon's success.
After all, they make it super easy to find ratings for the products they sell, as well as in-depth reviews from customers.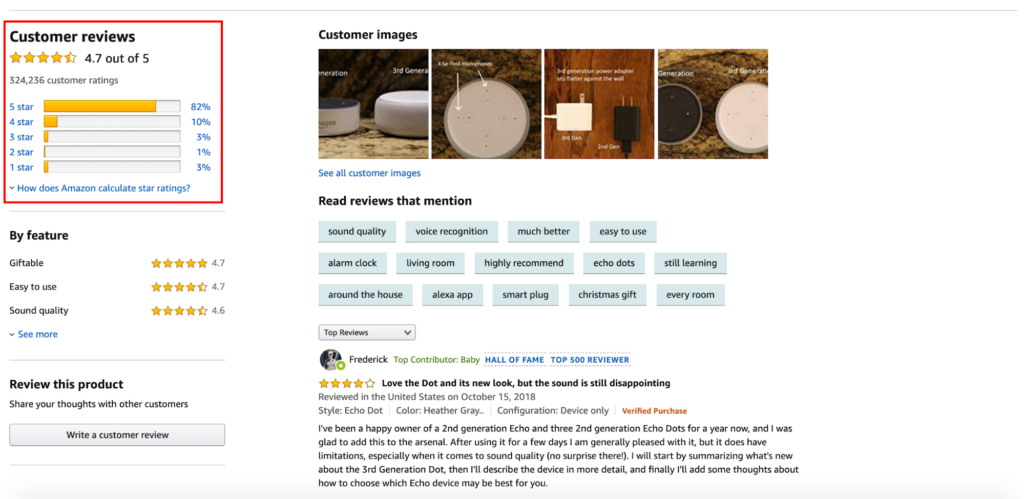 And it's a good idea for all e-commerce brands to offer this as well.
That's what skincare company Bliss does.
Check out what shoppers can find for their product the, "Bright Idea Moisturizer."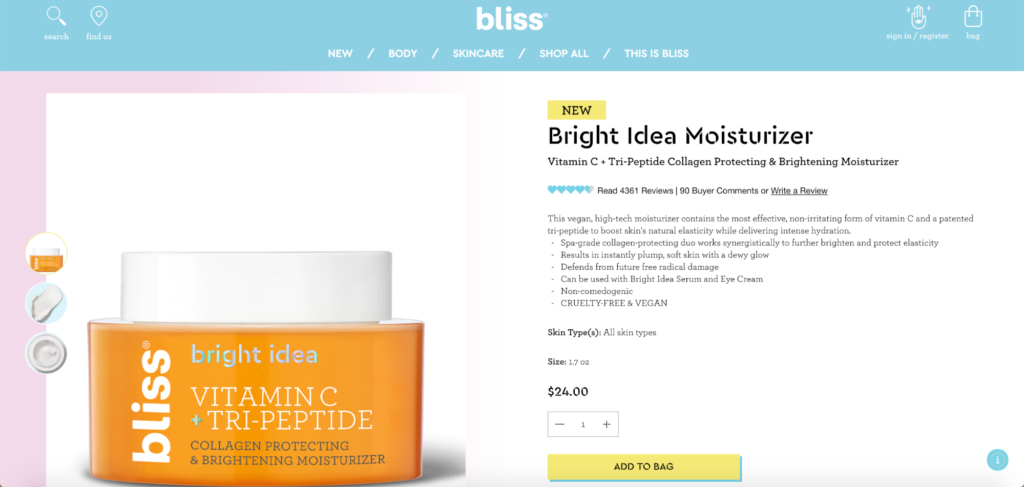 There are reviews.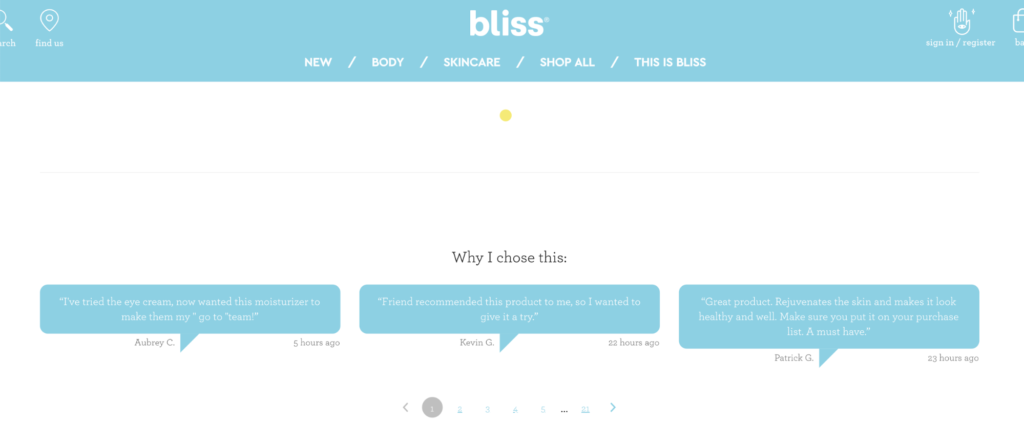 And there's also a rating so shoppers can make a well-informed choice and use the wisdom of the crowd to determine the quality level.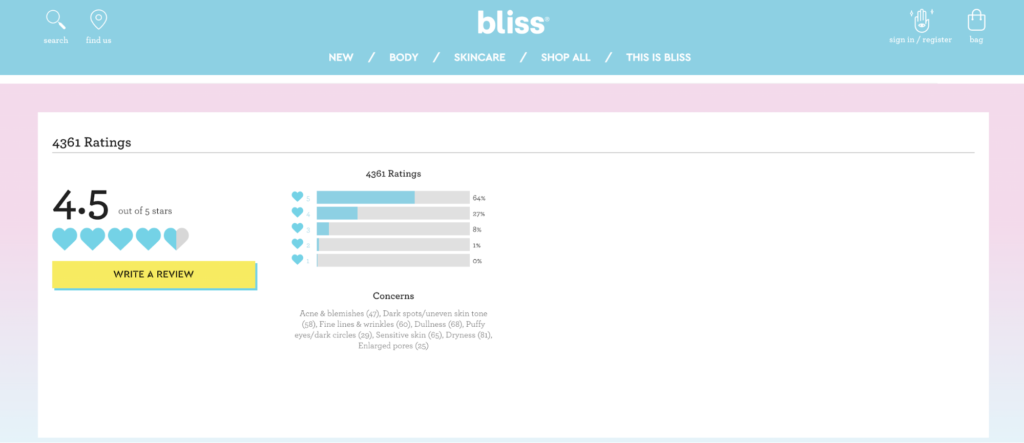 13. Having Extra Costs is The Number One Reason for Shopping Cart Abandonment (Baymard Institute)
A high shopping cart abandonment rate can be one of the biggest roadblocks to creating a successful e-commerce store.
So it's crucial that you know how to keep this in check and the specific reasons why shoppers fail to complete their purchases.
While there are several reasons for abandonment during checkout, extra costs like shipping, tax, and fees are by far the biggest.
In fact, half of all shoppers have left during the checkout process because of this. (Source.)
That's why it's important to be transparent about these costs, and offer free shipping whenever possible.
Modern wardrobe brand Cents of Style, for example, always offers free shipping and lets shoppers know about it as soon as they land on their site.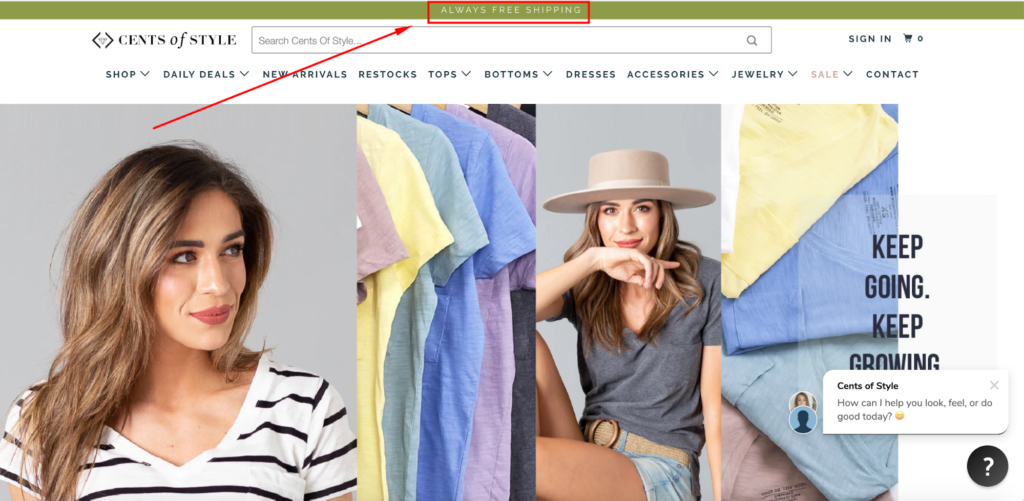 14. Forcing a Shopper to Create an Account is The Number Two Reason for Cart Abandonment (Baymard Institute)
Research found that 28 percent of shoppers have failed to complete a purchase because they were asked to create an account.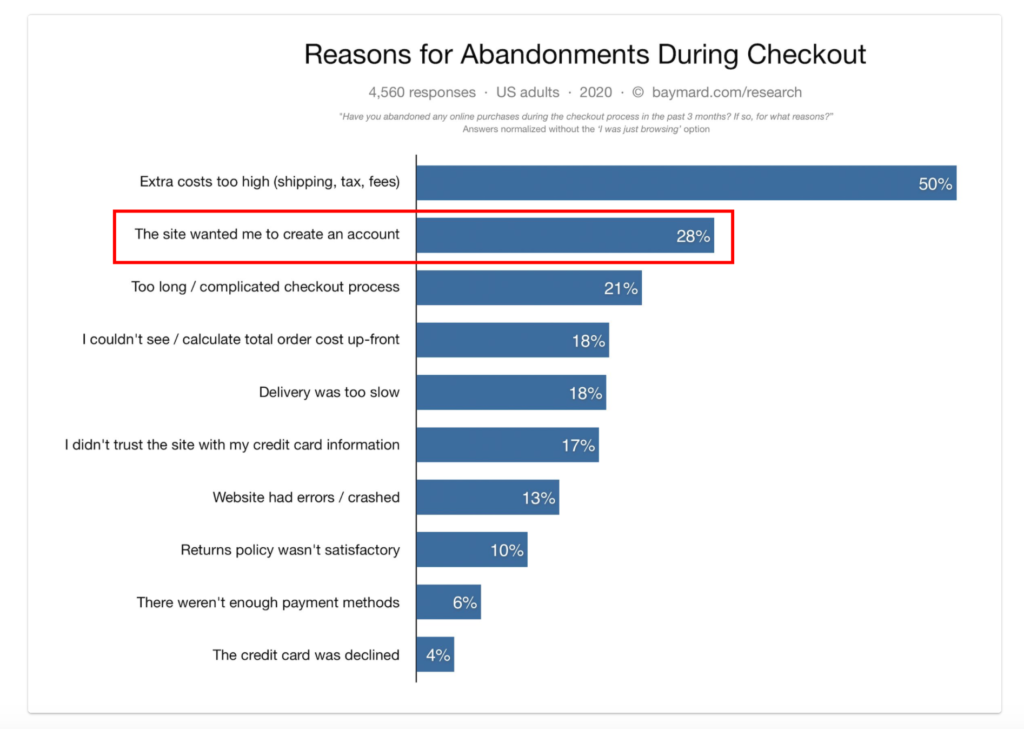 I know that I personally find it annoying when I've done my online shopping, added items to my cart, and am all set to check out. Then all of a sudden, I'm hit with the dreaded "create an account" screen.
While it's not all that big of a deal if I plan on buying from a company, again and again, it's a major pain if I just want to make a one time purchase. And apparently many other people feel the same. That's why I suggest giving shoppers the option to use guest checkout.
This reduces a lot of friction and allows shoppers to painlessly purchase their items without having to go to the trouble of creating an account.
That's what furniture and home decor brand Crate and Barrel does, and it works out great.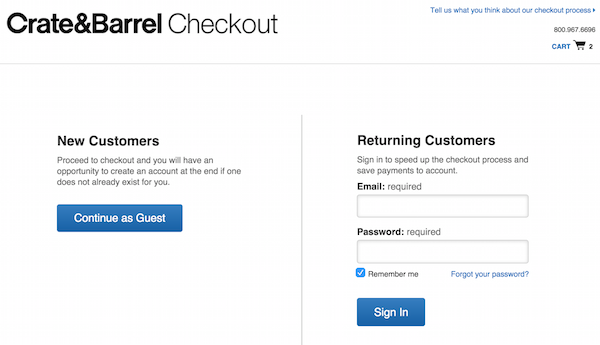 15. Retargeting Website Visitors Makes Them 43 Percent More Likely to Buy (PR Newswire)
Unfortunately, no matter how great your e-commerce store is, 92 percent of shoppers aren't going to buy right off the bat.
They may simply be doing initial research, virtual "window shopping," or just not quite in the buying mindset yet.
The bottom line is that most won't result in a sale the first time they land on your site.
But that doesn't have to mean they've slipped through fingers and are gone forever.
Retargeting visitors has proven to be highly effective at keeping e-commerce brands on consumers' radars and gently steering them back to products they've shown interest in.
For example, Hawthorne, a company that sells personal care items for men, uses this retargeted ad on Facebook to grab the attention of previous visitors and direct them back to their site.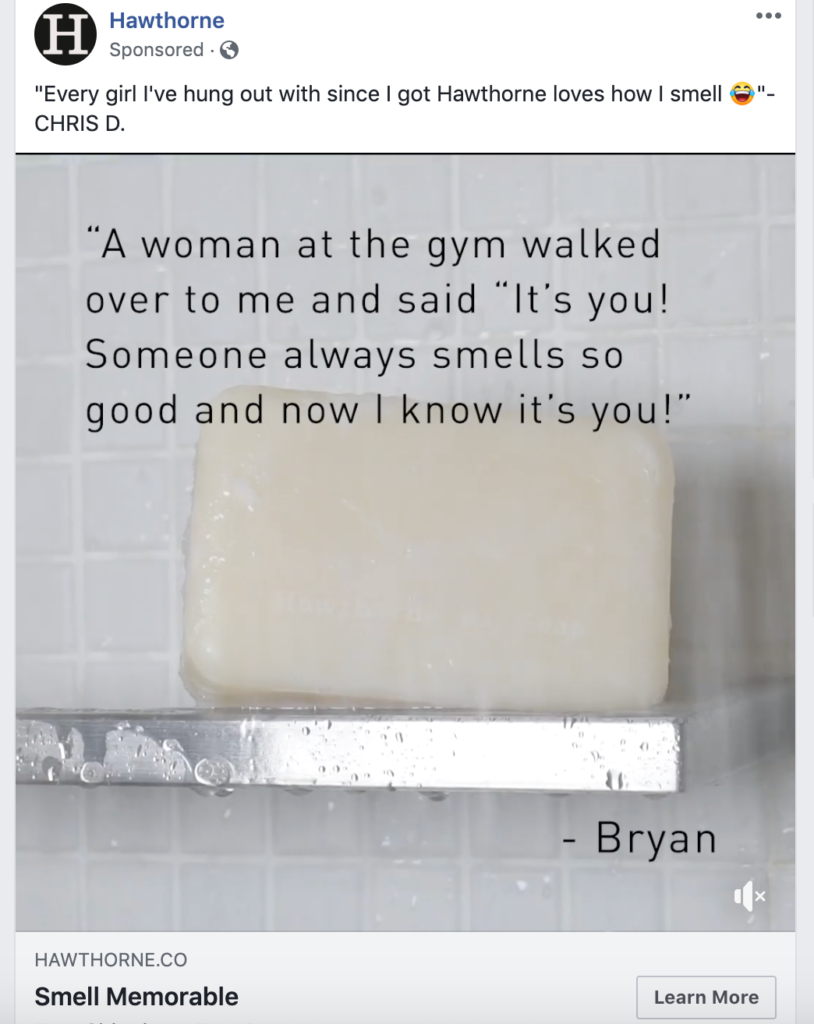 "Retargeting gives them a little push towards your brand," says content strategist Pierre de Braux.
"When a prospect sees a retargeting ad, there's a 70 percent chance that they'll purchase your product over your competitor's."
So, it's definitely a tactic to consider in 2022 and beyond.
Conclusion
It's an exciting time for e-commerce, and these online shopping statistics offer a snapshot of the current state of things.
Some of the key takeaways are that the overall revenue of e-commerce is growing quickly, nearly half of all online shopping is done through mobile, most consumers love innovative technology, and much of shopping cart abandonment is preventable.
Hopefully, you now have a better idea of how to approach e-commerce moving forward and can implement this information to level up your brand.