We're living in an age where e-commerce is evolving at an increasingly rapid rate.
It wasn't all that long ago, where buying online was more of a novelty concept.
Digital shoppers could certainly find what they needed, but most e-commerce sites, minus powerhouses like Amazon, lacked streamlined functionality, innovation, and user-friendliness.
Fast forward to 2020, and we've got one-click ordering, chatbots, social commerce that integrates social media with e-commerce, and so much more.
And everyone wins with this advancing technology. Customers get an amazing online shopping experience, and e-commerce brands can increase their conversion rates and revenue.
The only downside is that brands need an effective way to power this technology and make continual iterations without disrupting the customer experience.
That's where headless commerce comes in.
What Exactly is Headless Commerce?
Fully grasping this concept can be a little tricky if you're not the techy, developer type.
But in its simplest terms, headless commerce is where the front-end presentation layer is separated from the back end commerce layer in an e-commerce platform.
"By separating the 'presentation layer' (the front-end) from the layer (the back end), a retailer is able to gain more flexibility in serving rich content and brand experiences, as well as overall user experience," explains e-commerce consultant Paul Rogers.
Here's a simple example to illustrate how headless commerce might work.
Say a brand wants to add a new feature to their e-commerce store such as one-click ordering to allow shoppers to quickly buy what they need with less friction.
It would look something like this.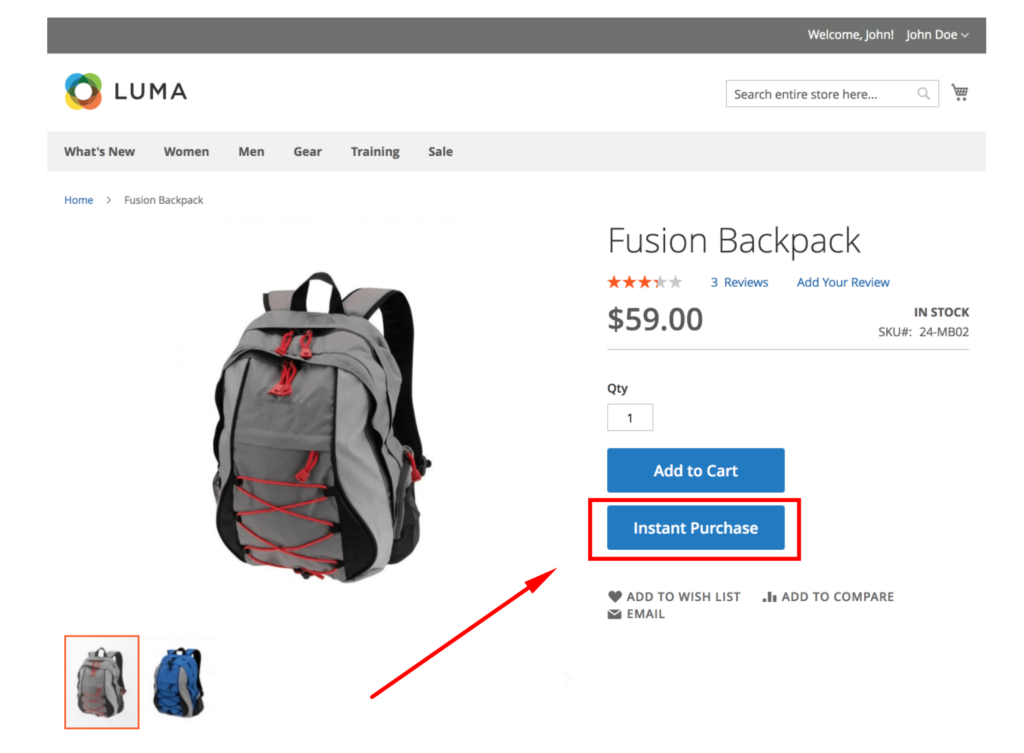 With headless commerce, the presentation layer would send an application programming interface (API) call to the commerce layer so the one-click ordering feature could be rapidly adopted.
APIs, also known as microservices, help facilitate fast and efficient communication between the presentation layer and the commerce layer.
Rather than using traditional e-commerce architecture where it may take minutes or even hours for the one-click ordering feature to become available to shoppers, headless commerce makes it nearly instantaneous.
In turn, this allows e-commerce brands to continuously customize their storefront and experiment with new features, while at the same time creating better functionality for shoppers and offering a more streamlined experience.
If you're still not 100 percent sure what headless commerce is, here's how it compares with traditional commerce.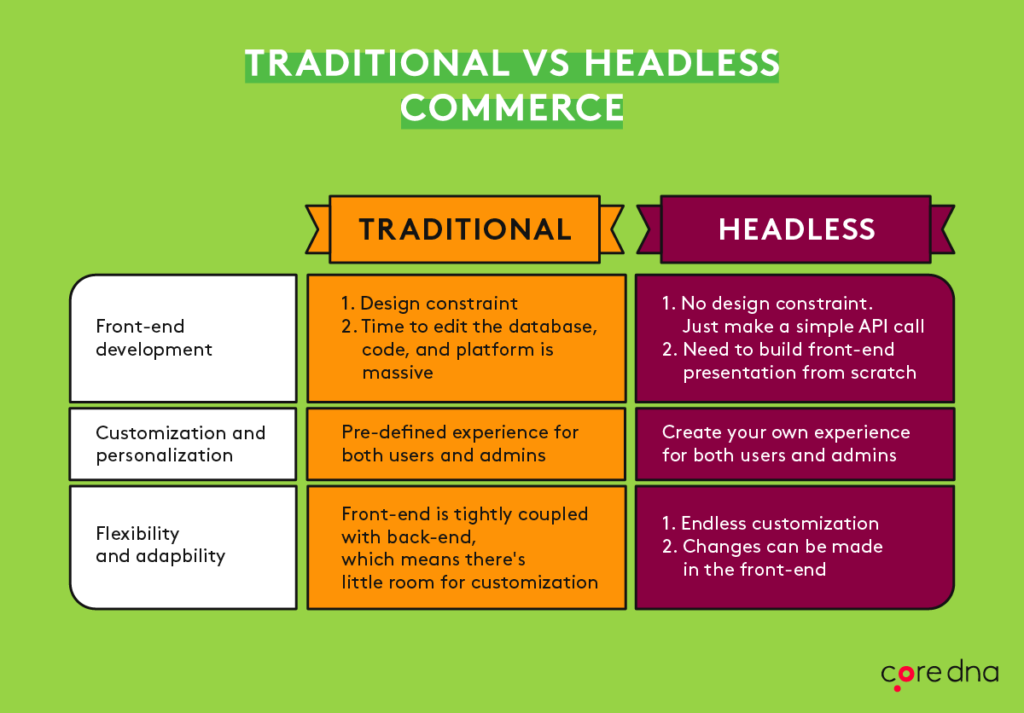 (Source: Core DNA.)
Now that we have a basic idea of what headless commerce is and how it works, let me explain some of the key benefits, both for your brand and for your customers.
You Can Continuously Customize Your E-Commerce Store With Ease
A common thread between some of today's top e-commerce companies is that their websites aren't static. Instead, they're highly dynamic, where changes are constantly being made to optimize their online stores.
They add new images, new features, new payment options, and so on, to improve the customer experience and stay ahead of the competition.
A good example is the British fashion company ASOS. Here's what their website looked like in 2018.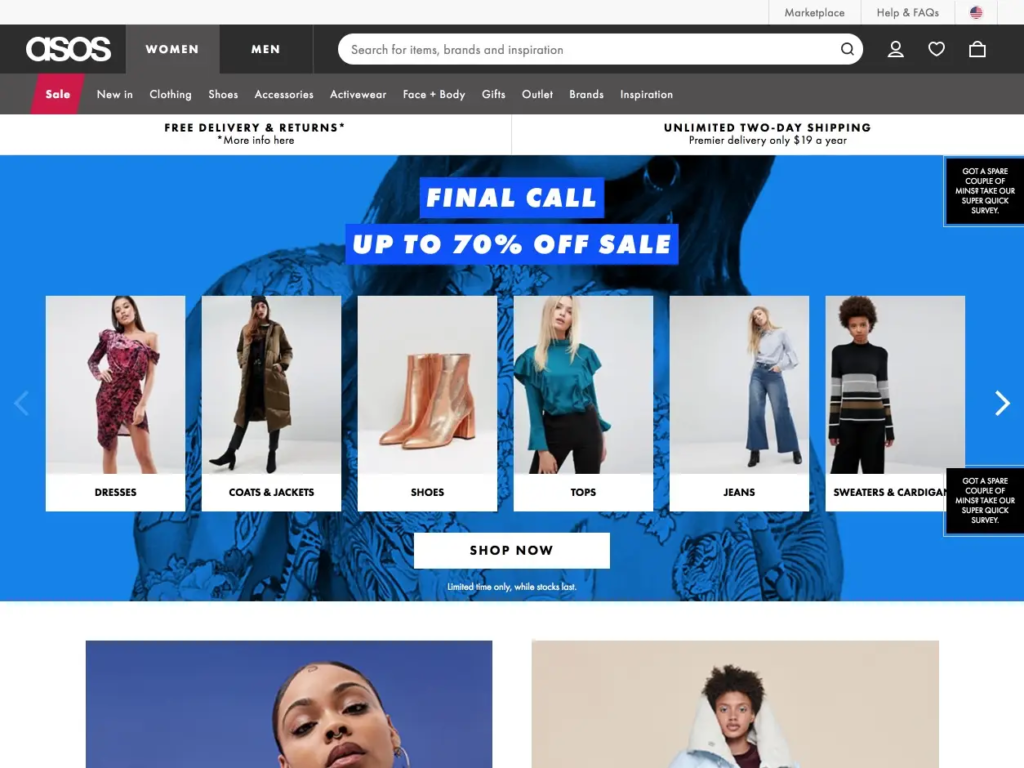 And here's what it looks like in 2020, with a newer feature called the "Style Feed" where shoppers can get outfit ideas, editor picks, styling inspiration, and more.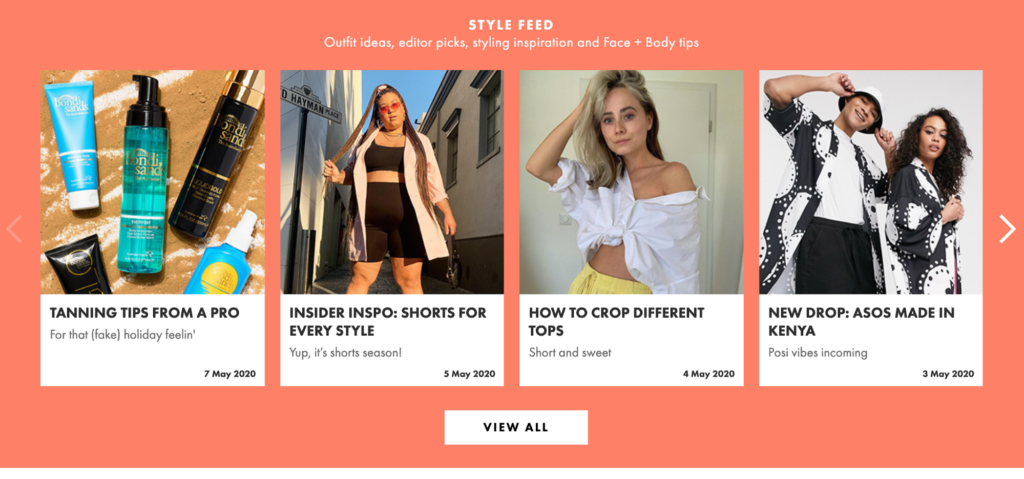 Making iterations like this is crucial for keeping things fresh and for staying at the top of your industry.
Headless commerce creates a framework where you can conveniently customize your e-commerce store where the changes basically show up instantly.
"Sites built with traditional commerce architecture, on the other hand, can sometimes take minutes, if not hours (read: too long), before all users can experience a brand's latest design," says Salesforce.
So if you're constantly tweaking your website, adding new content and features, using headless commerce is a no-brainer.
Developers Can Use Any Programming Language
With some traditional e-commerce platforms, developers have to use a particular programming language when building and modifying an online store. As a result, this can hinder progress if they have to go through a learning curve when adding new content or features.
The great thing about headless commerce is that it allows your developers to use any programming language they like, so they can choose whatever they're most comfortable with.
In turn, this can save you a ton of time and help you build your ideal e-commerce store with minimal setbacks.
It Can Improve Store Performance
"Due to the separation of front and backend architecture, headless commerce solutions tend to work faster, be more responsive, and easier to maintain or update," notes marketing expert Leanne Clegg.
This means you should see a significant improvement in overall store performance. Things tend to be less clunky and flow better, and many times the overall site speed becomes significantly faster.
It Paves the Way for Personalization
I'm sure you're aware of how big personalization is these days.
Forty-four percent of digital shoppers say they're more likely to become repeat customers when given a personalized experience. And on average, brands that offer personalized experiences see a 20 percent increase in sales.
Headless commerce is perfect for personalization because it allows developers to seamlessly add new features that cater to each individual shopper.
So, for example, you could offer relevant product suggestions based on what a shopper has already looked at, like jewelry brand Pandora does here.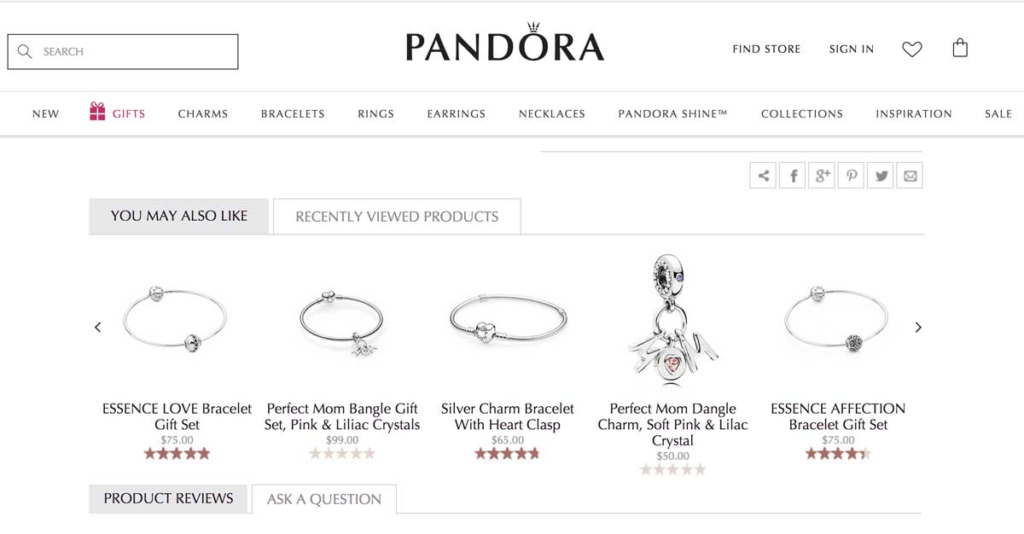 Or you could create an option where shoppers can find recently viewed items, like luxury fashion brand Farfetch does here.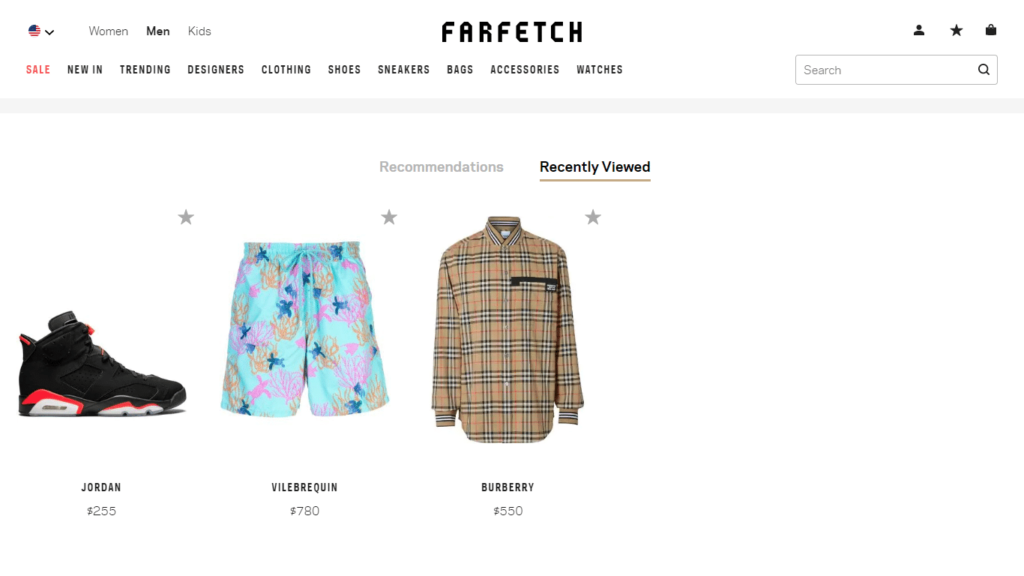 There are a ton of possibilities, and headless commerce gives you the freedom to get as creative as you'd like.
You Can Fully Capitalize on IoT
By the end of 2020, there are predicted to be 20 million IoT devices in use worldwide.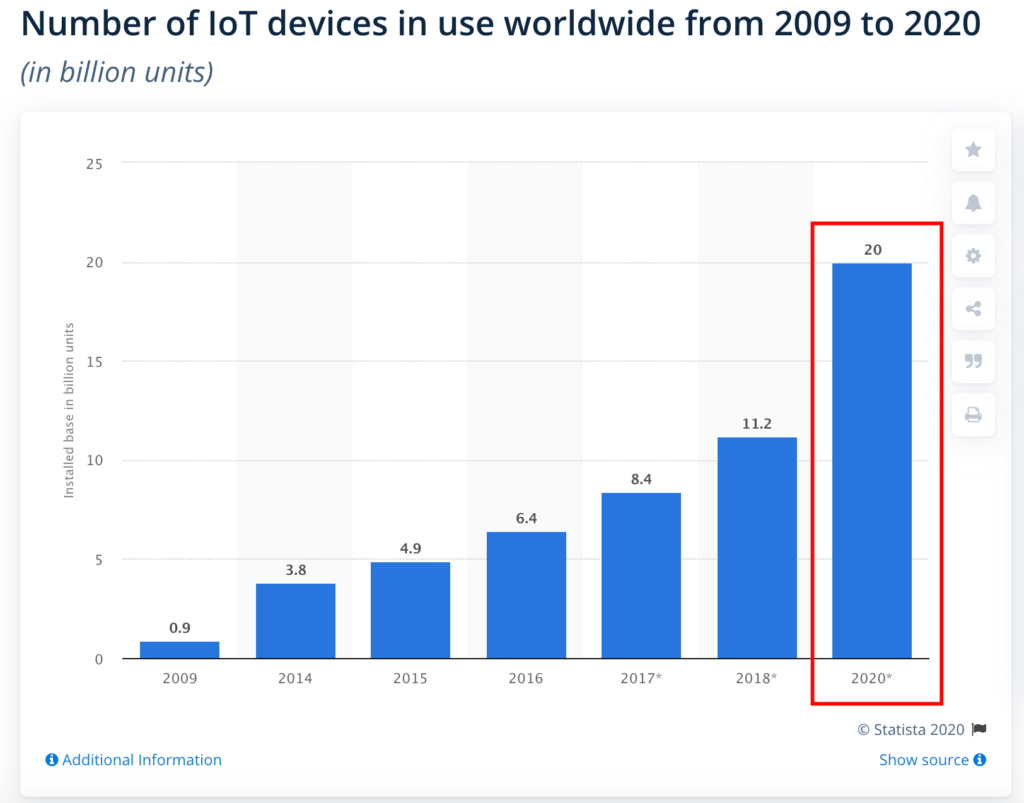 And the ubiquity of IoT is having a dramatic impact on the e-commerce journey.
Rather than researching and buying a product through a single device like a desktop computer, a modern shopper may follow a more convoluted path.
For instance, they might begin their research using a smart speaker like Amazon Echo to find a good brand, then browse through that brand's product selection on their smartphone and ultimately make a purchase on a laptop.
That's why it's more important than ever to go omni-channel and deliver your products and content on a myriad of devices.
Headless commerce can facilitate an omni-channel experience because you don't have to continually restructure your e-commerce platform to publish on different channels, and it doesn't require a massive overhaul of your system.
Instead, it's inherently flexible, allowing you to sell on mobile devices, Alexa skills, cutting-edge web apps, or whatever happens to be popular at the moment.
It Creates a Better Overall Customer Experience
Put all of this together, and the customer experience is nearly guaranteed to improve.
Not only do shoppers have access to new content and features as soon as they're unveiled, the added personalization and omni-channel experience mean they're able to shop in a way that's ideal for them.
So by using headless commerce, you can expect happier customers across the board.
It Can Help Maximize Conversions
Finally, brands that switch from traditional commerce to headless commerce often get more conversions.
In fact, those that adopt this approach see a median conversion rate increase of 15–30 percent.
That in and of itself shows the impact that headless commerce can have and why it's definitely something to consider.
Examples of Brands That Use Headless Commerce
Now let me highlight some notable e-commerce brands that have already adopted this approach and are getting great results.
Feelunique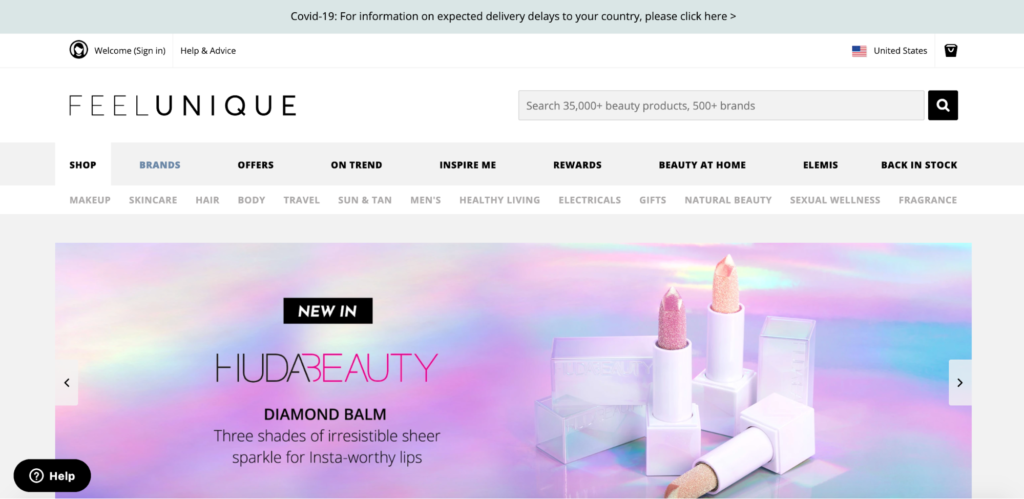 Feelunique sells high-quality beauty and cosmetics products and has gained a loyal customer base since its conception in 2005. Like most brands, they're continually on the lookout for new ways to improve the customer experience and boost revenue.
That's why they turned to headless commerce and built a React Progressive Web Application to do so.
One particular feature they've implemented is a robust product search bar that allows shoppers to find over 35,000 products from over 500 different brands.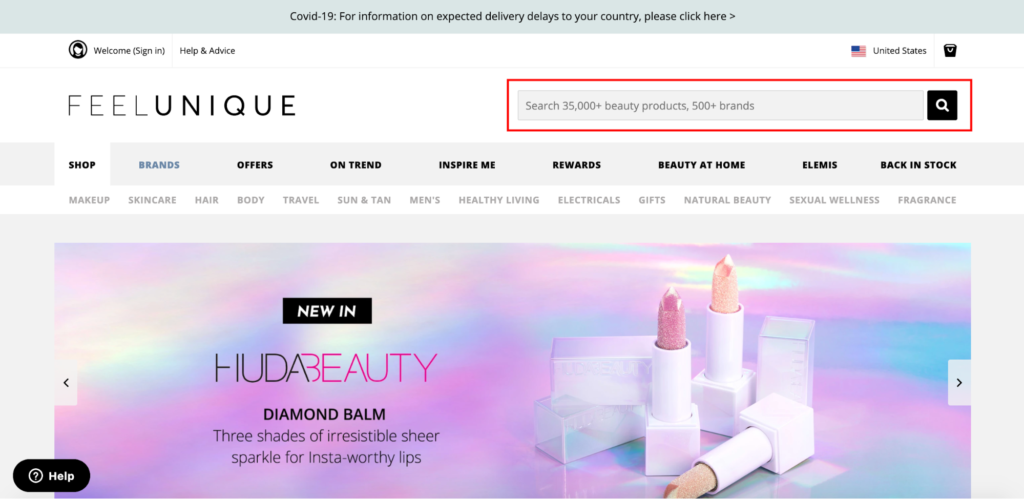 Shoppers can search for specific keywords, or they can choose from multiple suggested searches to get things rolling.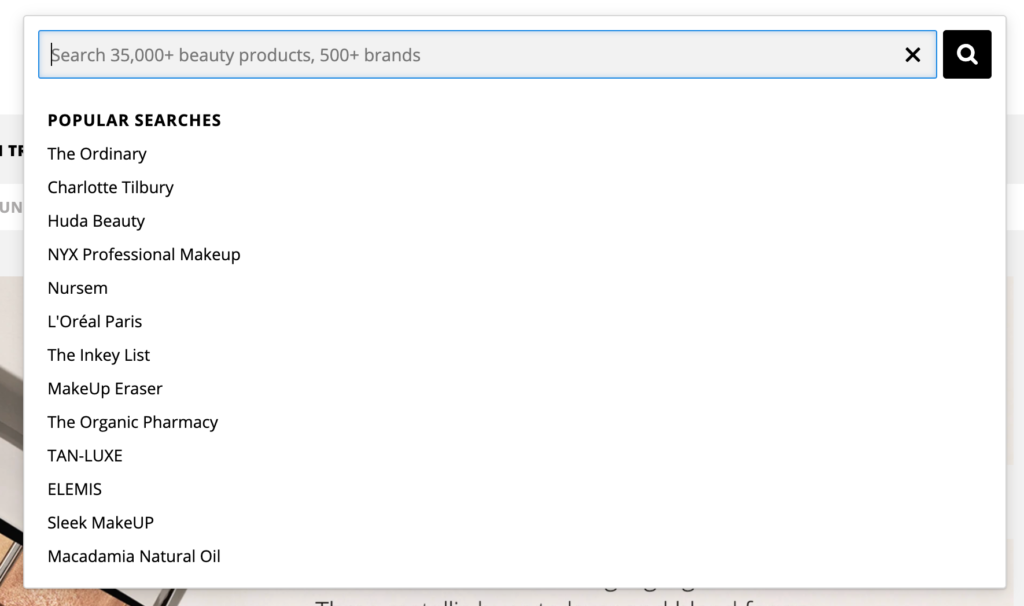 Feelunique offers recommended products based on a shopper's previous behavior. Or shoppers can find essential products, new products, and best sellers.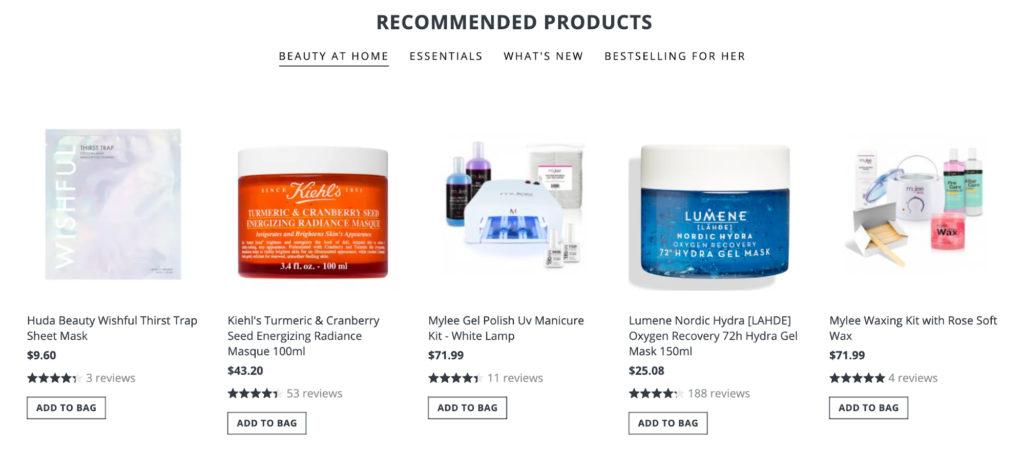 And one of their most innovative features is called "Here's Looking At You," which allows their customers to show off their latest purchase through Instagram or by uploading an image directly.

This is one of the more interesting things I've come across recently and shows just how far e-commerce brands can take things with headless commerce.
Pure Formulas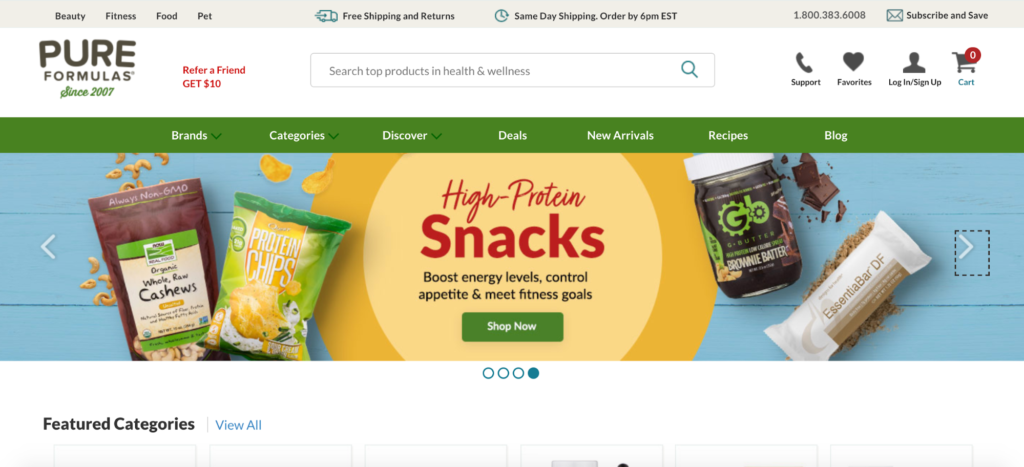 This is a health food brand that specializes in supplements, vitamins, and minerals and was the first company in their industry to adopt headless commerce.
And it's worked out quite well, helping them lower shopping cart abandonment and raise conversions.
Like Feelunique, Pure Formulas used headless commerce to add a user-friendly search bar.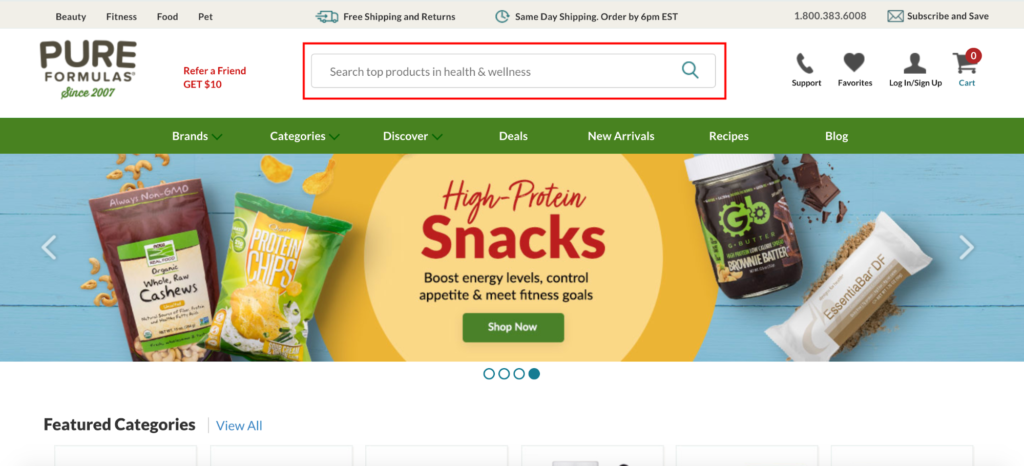 They've included "Featured Categories" and "Recommended For You" sections for more convenient shopping.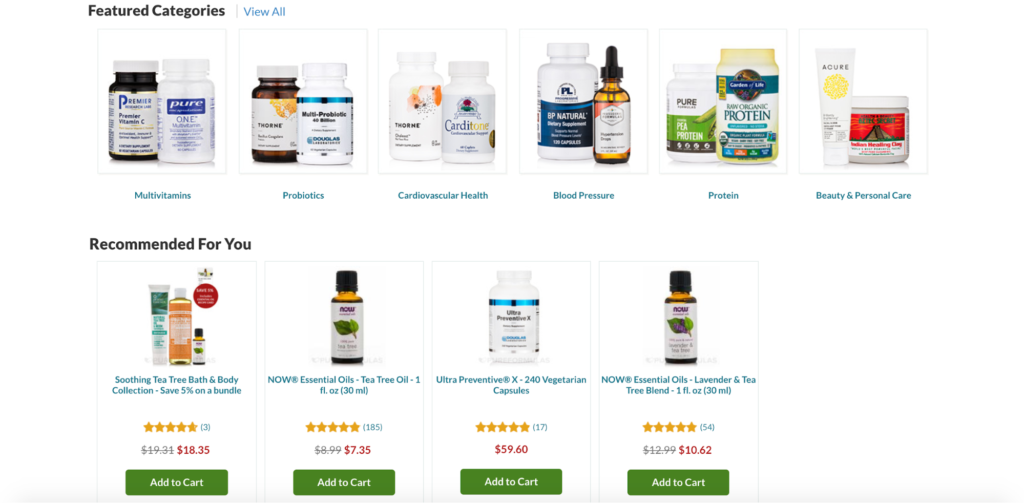 They've seamlessly worked in helpful content into their website, including healthy recipes, a superfood guide, and their top five picks for digestive health products.

Pure Formulas has also added a section that features satisfied customers showing off the products they've purchased on Instagram, along with a quick link to their Instagram page.

This makes it an enjoyable online store to shop on and makes their customers' lives a lot easier.
Kinsley Armelle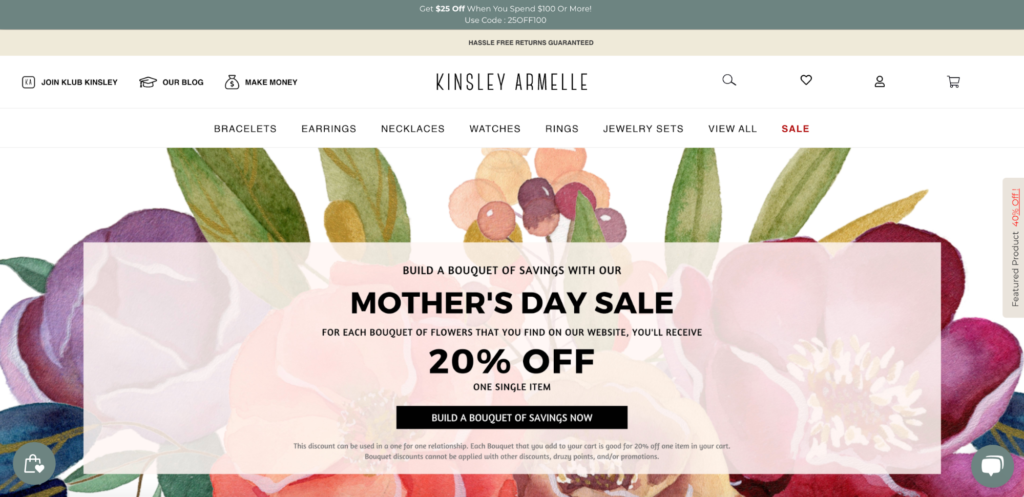 Here's a brand that offers "elegant jewelry designs with a sophisticated take on bohemian culture."
Like the other companies I've mentioned, they've been able to use headless commerce to add some fantastic content and features to their site.
First, there's "Bestsellers," which features a clean, minimalist look that really brings out the beauty of their products.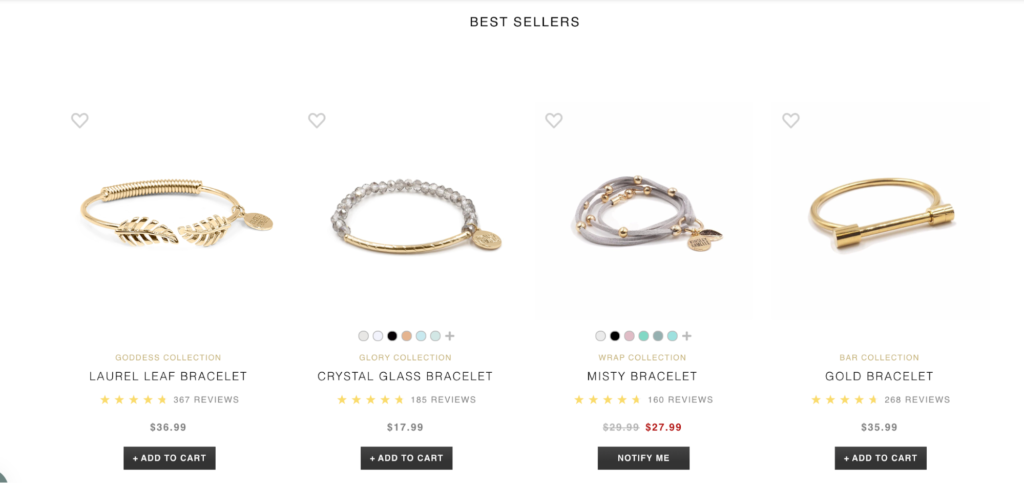 There's "New Arrivals," which allows shoppers to conveniently see what Kinsley Armelle has recently added to their collection.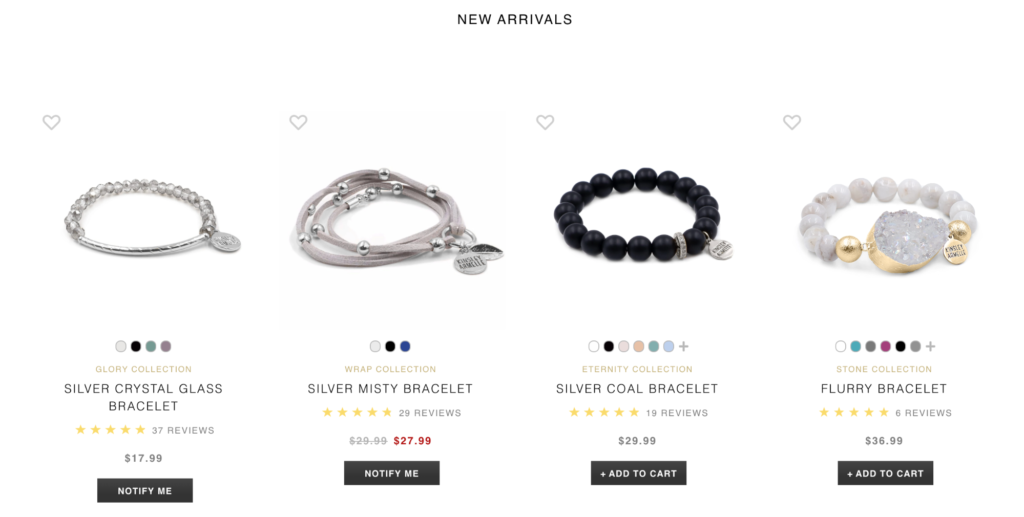 There's "Stack and Save 20 Percent," which bundles products together, giving shoppers the chance to find great deals and save time.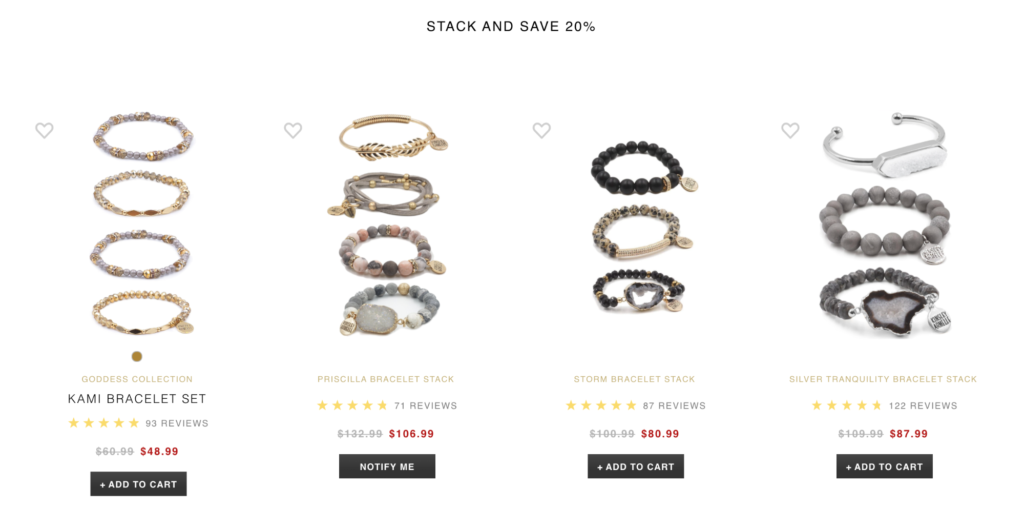 There's also a "Shop Instagram" section, which allows shoppers to buy products featured on their Instagram page.

By clicking on an image, they find an assortment of products that perfectly accentuate one another in one single location.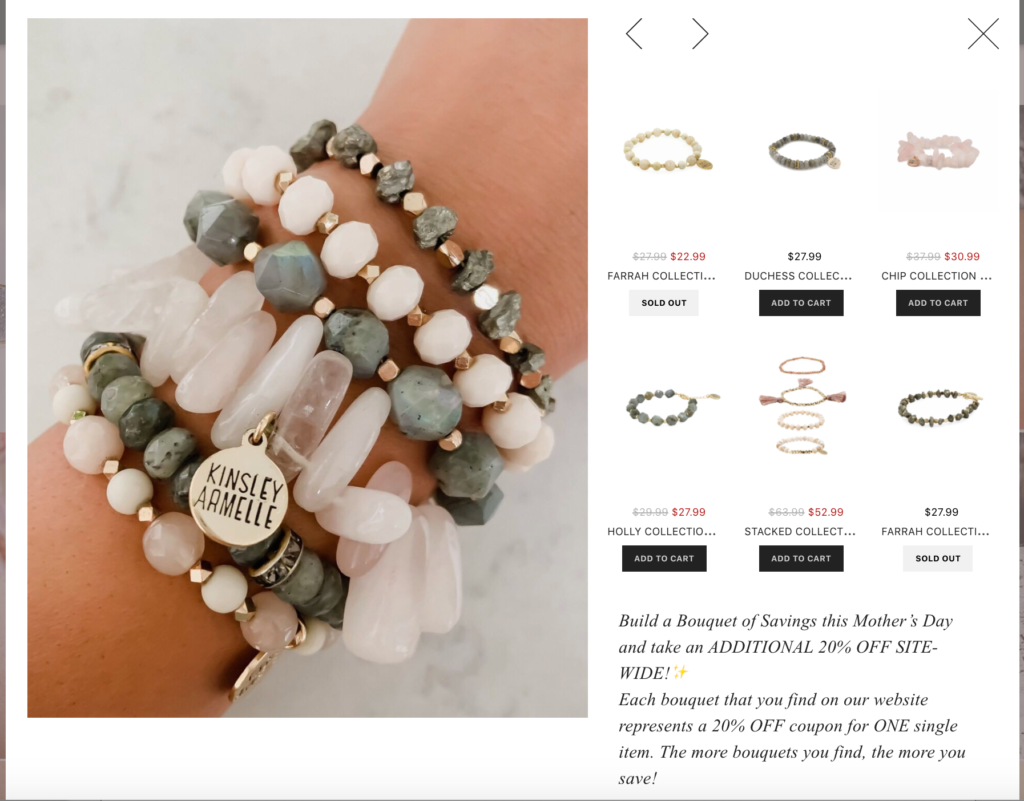 This no doubt makes their shoppers' lives easier and encourages them to buy multiple products at once, which should maximize the average order value.
Venus
Lastly, there's Venus, a popular women's clothing and swimwear brand.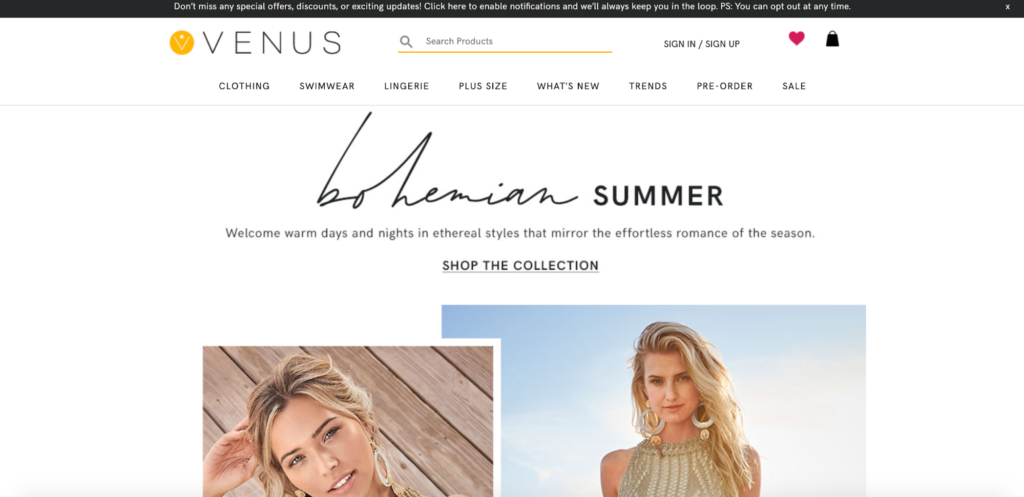 In the past, they were having issues with page load speed, where only 15.25 percent of their site pages loaded in under one second. But by implementing headless commerce, they were able to increase that number to 72.25 percent.
And of course, they used it to continually add new features that enhanced the overall e-commerce shopping experience.
For instance, there's a simple, intuitive search bar located at the top of the site that shoppers can use at any time to find what they need.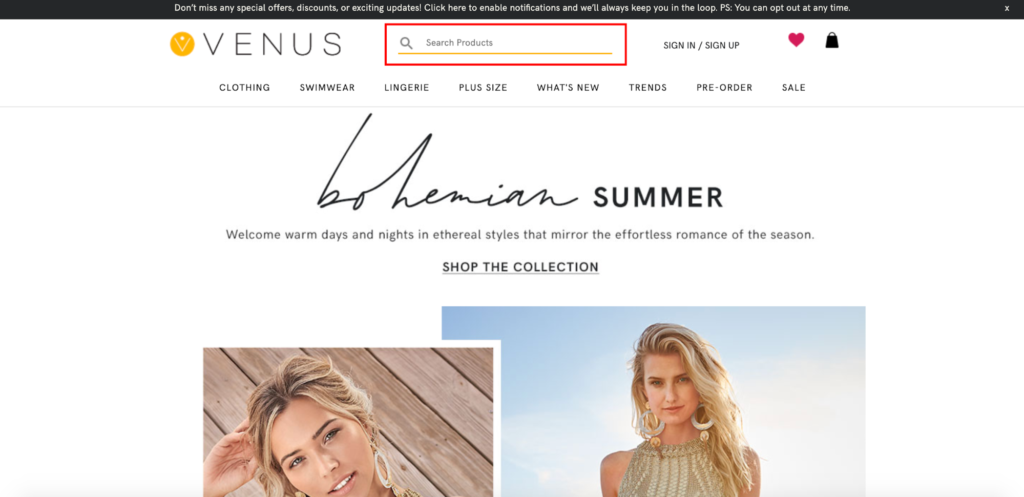 There's a "Trending Now" section where they can find the hottest new products Venus has to offer.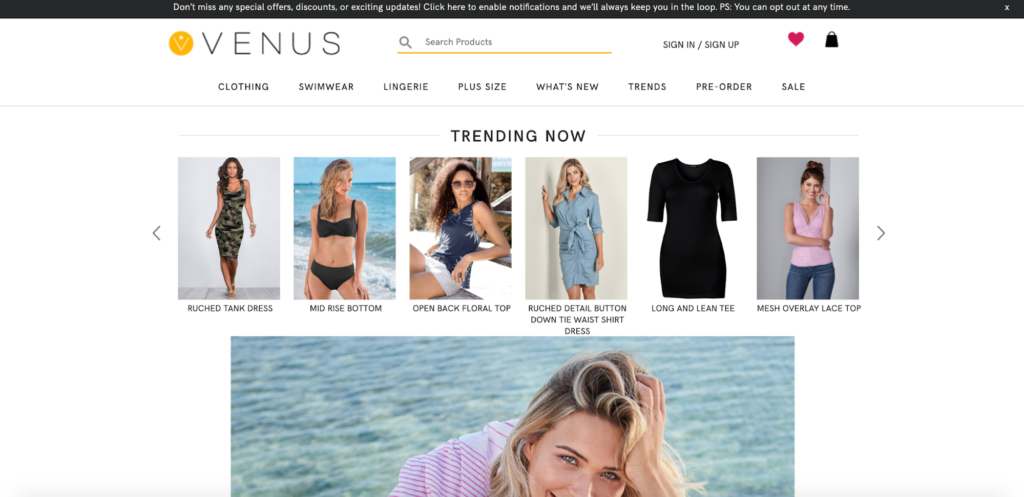 They also use headless commerce to pepper in seasonal collections. Right now, there's the "All Americana," which is patriotically themed with red, white, and blue bikinis for American shoppers.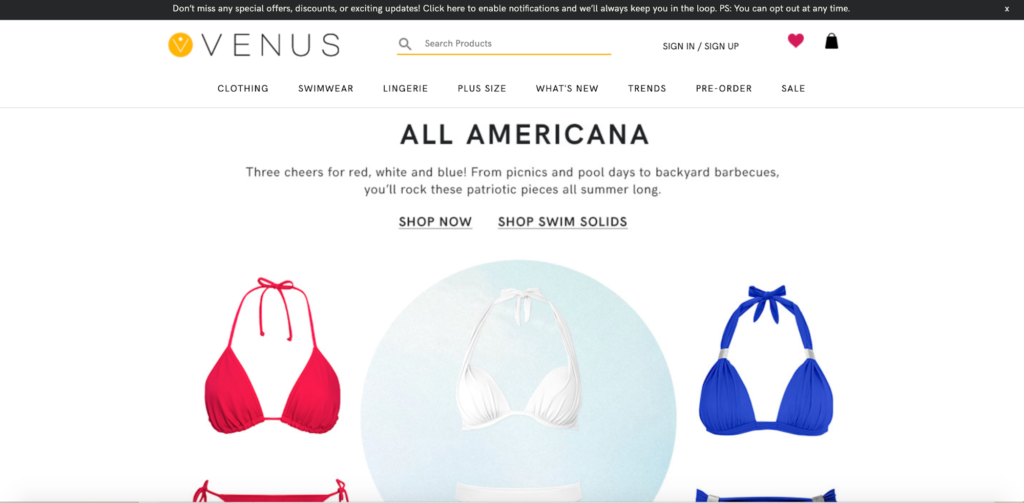 There's "Steals & Deals" where shoppers can land huge savings on products.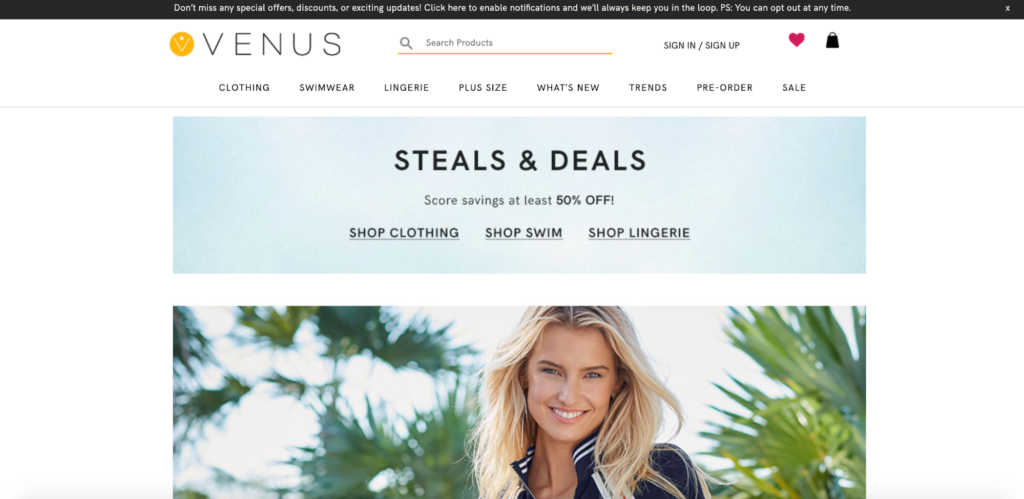 And finally, there's an Instagram section where shoppers can "Shop the Look" and find products that match perfectly with one another.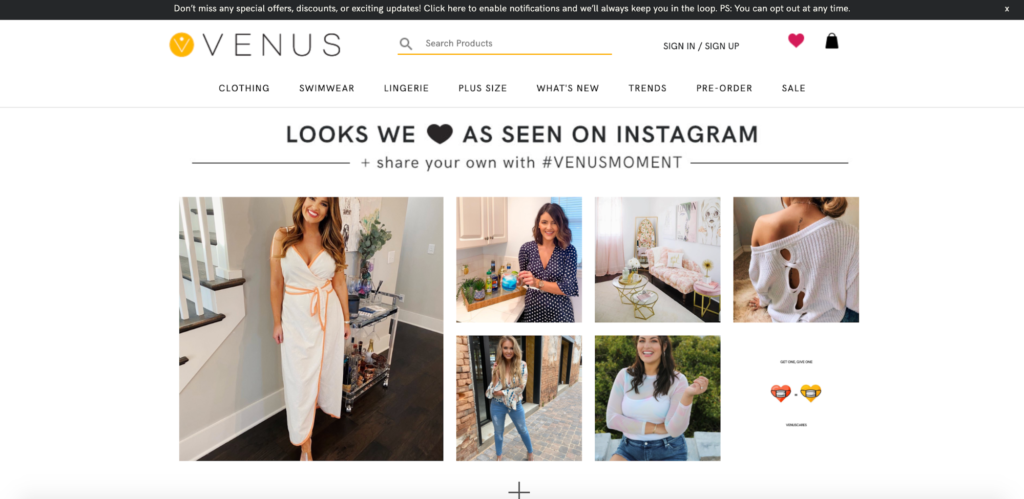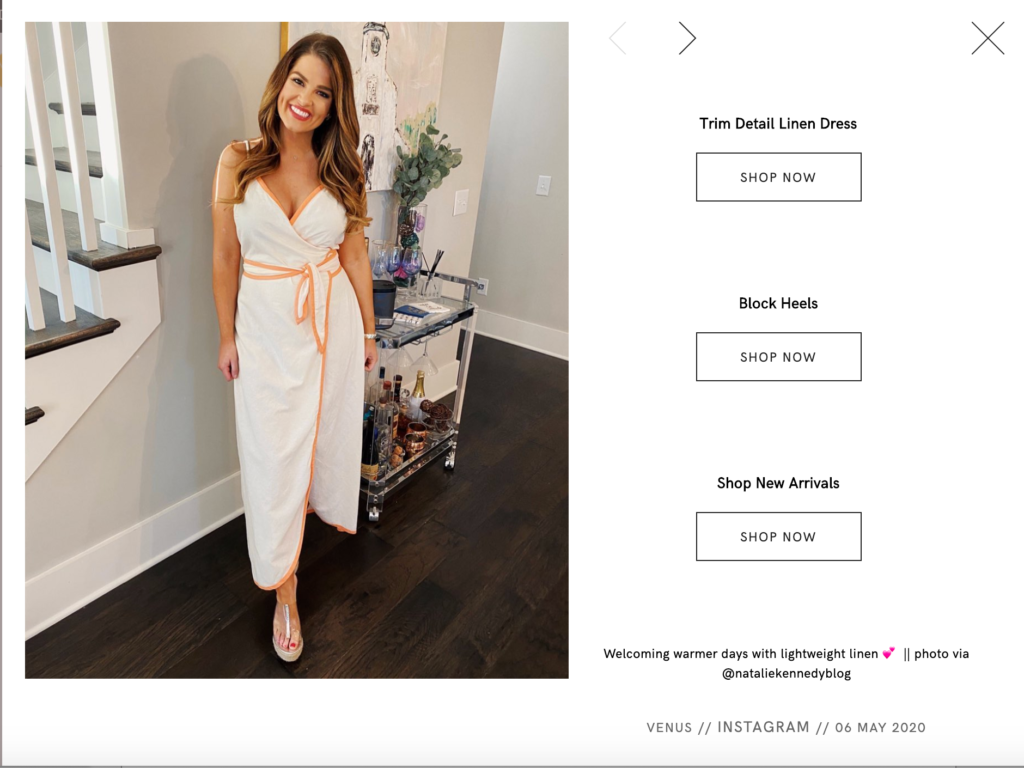 So you can see why Venus has been so successful. And because it's so easy for them to make iterative improvements, their site is continually evolving.
Conclusion
E-commerce is heading in an exciting direction. Not only is it possible for brands of all sizes to succeed, but it's also never been easier to build an amazing website that wows shoppers.
And headless commerce is leading the charge. It's a real game-changer for brands who are looking to continually improve their e-commerce stores, separating the front-end from the back end, so changes can be made without disrupting the customer experience.
By now, you should understand the fundamentals of the process and how it can be applied in a real-life context. If it's something you're seriously interested in, I recommend checking out this free guide from Shopify to learn more about getting started.