Writing compelling subject lines that get your emails opened is an everyday struggle for marketers, and seasonal emails are no exception.
If you've read my previous post on fall email examples or planned your emails for the rest of the season, you're likely on the hunt for inspiration on how to make your fall subject lines more click-worthy.
To help with that, I dug deep into my inbox and compiled 76 of the best fall email subject lines I've seen, so you can easily copy them for your brand this fall and onwards.
We have a lot to go through, so let's jump right into it.
1. "It's Halloween season, so we're treating you!"
Fall is full of exciting holidays and Halloween is doubtlessly one of the most fun ones. It's the perfect time to get creative and have fun with your emails.
While most e-commerce emails take a spooky spin during Halloween, some brands try to help their subscribers with costume ideas. For makeup brands or apparel companies, this type of Halloween email is a piece of cake, but what if your products don't fall into Halloween-friendly categories?
One way is to do as Birchbox does, and take a new approach to trick-and-treating.

Birchbox's value proposition is to help you discover new beauty products. Similar to other beauty subscription services, Birchbox operates in the self-care niche. That's why the company cleverly turns the concept of trick-and-treating around and makes it all about you.
When you read the subject line, you wonder how Birchbox is treating you, and immediately open the email. (After all, who doesn't like a nice gift to spoil themselves?)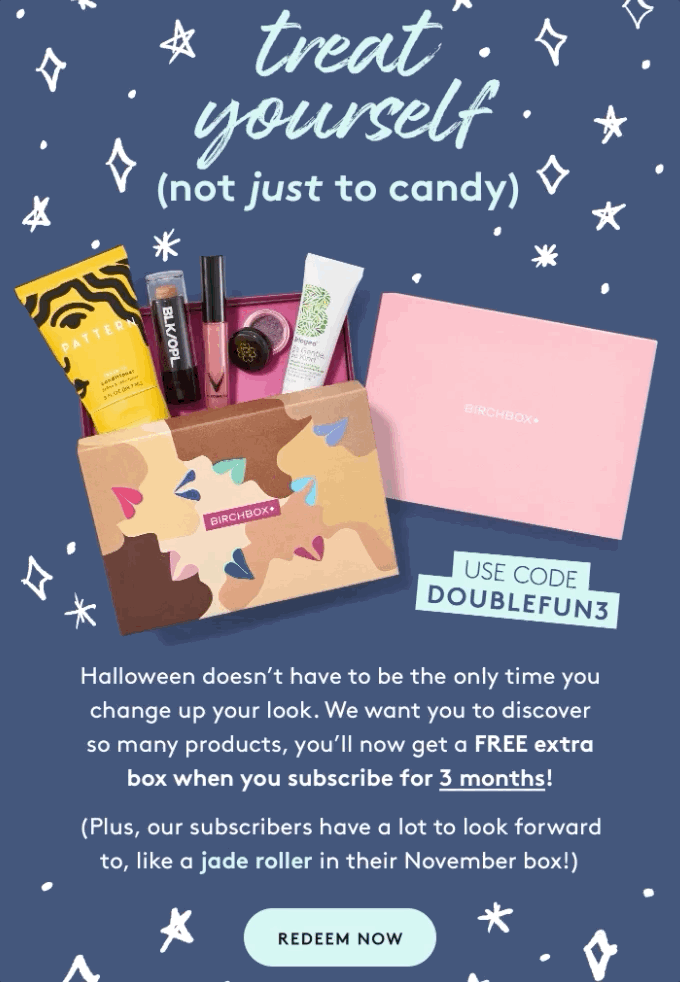 In case you're wondering, Birchbox's treat is an extra gift when you sign up for their boxes.
You can easily replicate Birchbox's angle this fall, be it with a discount code, free shipping, or exclusive content, and treat your prospects the way it fits your brand.
(If you want to go the spooky way instead, I have some subject lines for you below. 🎃)
More Halloween Subject Lines:
HEMA: something spooky's going on | mystery discount | at least 10% off
KiwiCo: Spooky Mystery Savings Have Arrived
Cravory Cookies: 🍪Get Ready for Halloween – 20%OFF ENTIRE ORDER🍪
PatPat: Trick or Treat? Collect Candies and get $500 Cash Reward now😈
MAC Cosmetics: What's better than Halloween candy? FREE Glitter!
Bobbi Brown: Halloween Inspiration: 70s Glam
Miss Selfridge: The Devil Wears Miss Selfridge 😈🎃👻
IGK Hair: No Tricks, Just Treats
MAC Cosmetics: 👻 Halloween faves look good on you, boo!
Greetabl: What do ghosts eat for breakfast? 👻
Torrid: Boo: 50% Off Halloween Styles
American Apparel: Your Scary-Good Halloween Treat…
Ban.do: not scary: 100+ things on sale
e.l.f. Cosmetics: Boo-tiful eye looks for Halloween.
2. "T-minus 2 hours"
While Halloween marks the beginning of fall festivities, the MVP of the season for e-commerce businesses is, without a doubt, Black Friday.
Hoping to grab attention by copying successful campaigns, most Black Friday emails, sadly, end up looking the same. And so do their subject lines.
Glossier, known for its minimalist approach to beauty, finds a new, creative way of saying "Black Friday sales start in two hours" in its subject line: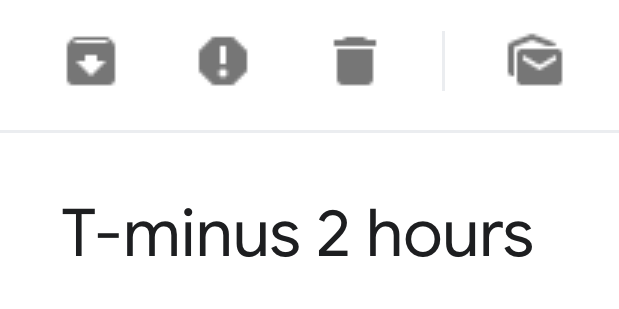 Thanks to the curiosity-triggering subject line, Glossier stands out in your busy Black Friday inbox and you open the email, wondering what will happen in t-minus 2 hours: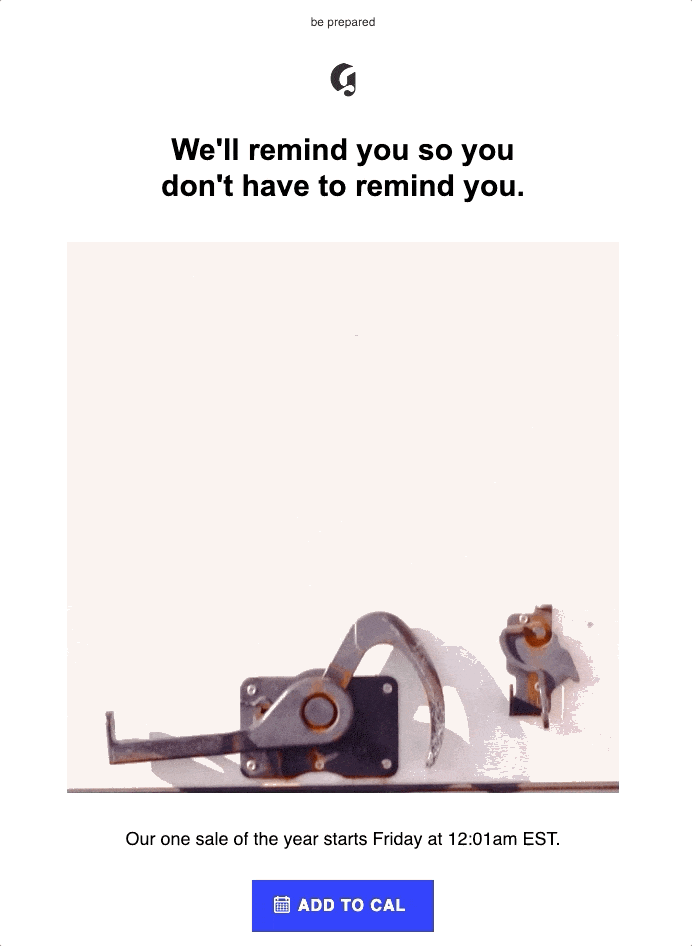 In the email, Glossier goes beyond reminding you of its Black Friday sale and actually helps you set a reminder for it. When you click the call to action (CTA) button "Add to Cal," you download an ICS file that you can add to your calendar.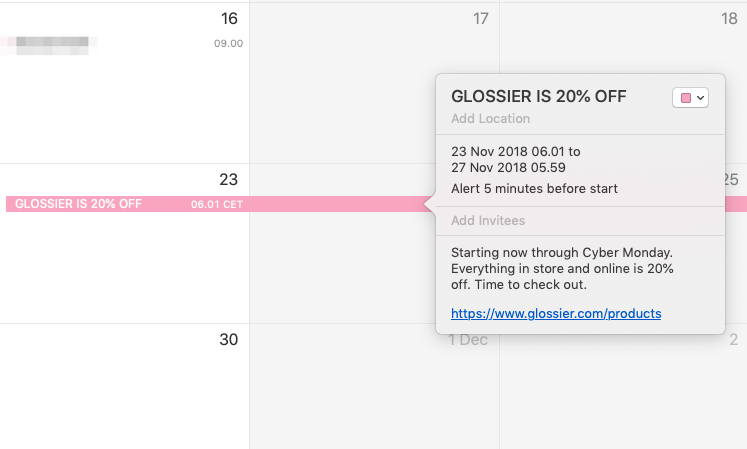 This way, Glossier makes sure you don't miss its Black Friday sale.
You can replicate Glossier's strategy for any event this season, whether you want to count down to Black Friday, Cyber Monday, or a winter clearance sale.
If you want to experiment with your Black Friday subject lines, try two versions—one where you openly write about the sale and a curiosity-evoking one, like Glossier's.
More Black Friday Subject Lines:
Doggyloot: Black Friday Is Back! | Save 25%
Kate Spade: cyber monday special: only $129 for this tote
Warby Parker: It's not just any Monday
Haworth: CYBER MONDAY…ALL WEEK LONG
Happy Socks: Yup! You cracked the code to a special discount of up to 40% off
ThinkGeek: Act now for magical deals before our Black Friday savings disappear!
BarkShop: Yes, it's Saturday, but we're still in Black Friday mode!
Crate & Barrel: You've waited all year for this sale.
3. "100 Days Until Christmas + Sale Continues!"
It's not only sales you can count down to in your subject lines. Counting down to something unexpected or surprising is another way to stand out in busy inboxes.
Wool and the Gang does this when they tell you that there are only 100 days left until Christmas:

When you see this subject line in your inbox in September, Wool and the Gang catches your attention and makes you open the email.
Wool and the Gang cleverly gives you a gentle nudge with this reminder: You should start thinking about gift shopping because you have 100 days until Christmas.
If that's not enough to convince you, the second part of the subject line reminds you that the company's sale continues. Perfect time to shop for Christmas gifts.
This is what the email looks like: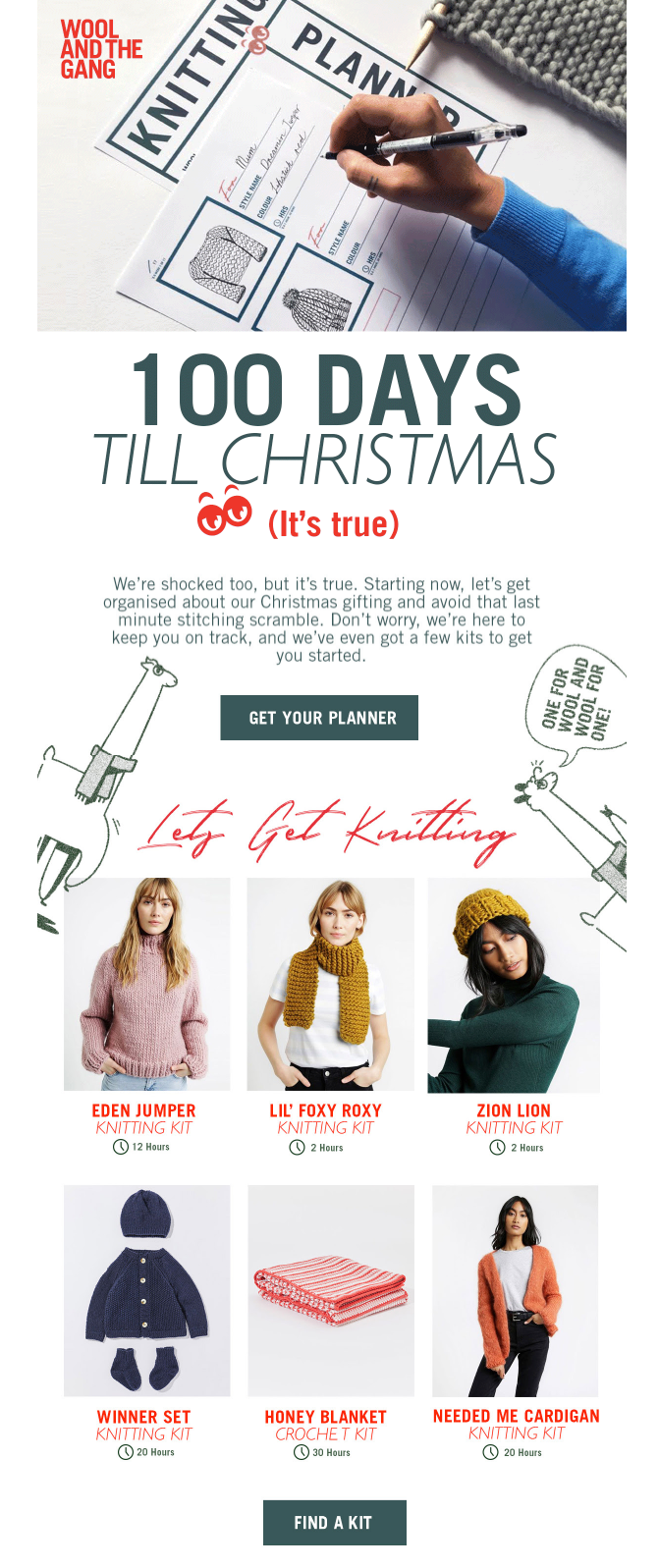 After driving urgency with its email copy, Wool and the Gang relieves you by saying "we're here to keep you on track" and smartly recommends gift options of different levels.
Targeting gift shoppers is a clever strategy you can leverage in your fall emails month after month. Once again, you can experiment with straightforward gift shopping subject lines and put them to the test against subtle yet creative versions to drive more email opens, as Wool and the Gang does.
More Gift Shopping Subject Lines:
L'Occitane: Holiday Gift Guide To Nature's Wildest Gifts
Bliss: Holiday Shopping Has Never Been So Easy.
The White Company: It's never too early! The Christmas prep to do now
Too Faced: You're Welcome for the Best Christmas Gift Ever
Benefit Cosmetics: Just Dropped: Our Haul-iday Collection
Bellroy: Tick tock, it's gift o'clock.
Everlane: Gifts The Won't Blow Your Budget
One Kings Lane: Gifts for everyone on your list
4. "The snuggle is real, Seray"
Fall equals coziness.
No matter what you're selling, there are a lot of ways you can play on the coziness angle, ranging from warm drinks to staying indoors with comfortable furniture.
Torrid, the plus-size fashion company, does this subtly with a pun in its fall subject line:

By combining cozy wordplay with personalization, Torrid speaks directly to me and makes it easy for me to open its fall email.
In the email, Torrid promotes its seasonally-relevant products that'll keep you warm and cozy: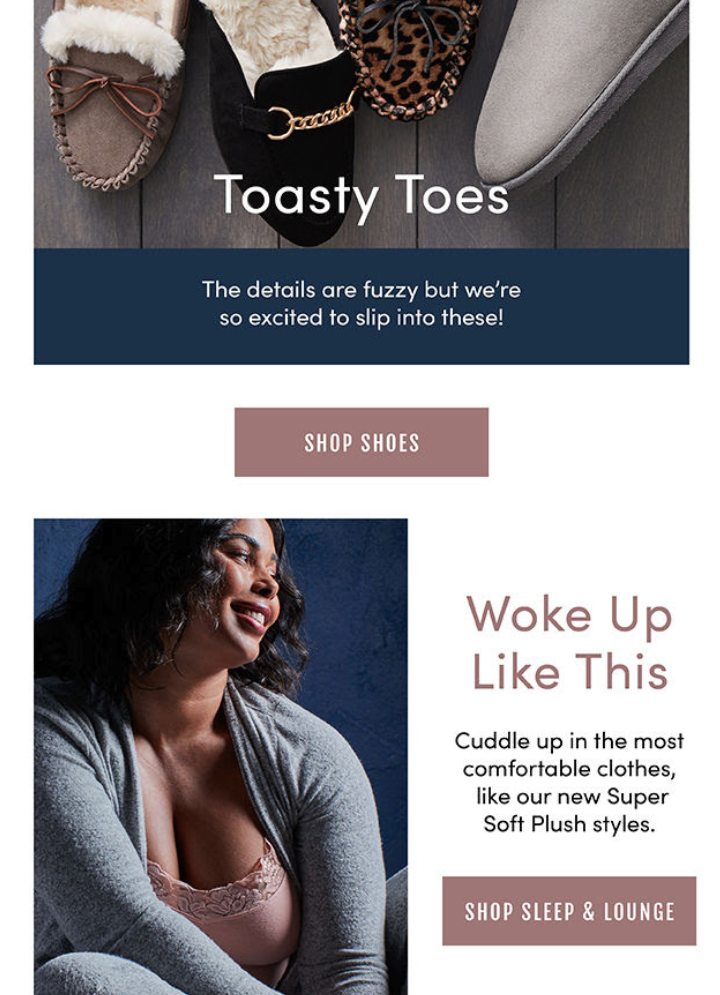 Notice how the company uses words you can associate with fall, such as snuggling, cuddling, and warming up.
You can easily recreate the fall vibes in your subject lines by playing around these concepts.
More Cozy Subject Lines:
Nordic Nest: Get your home ready for the coziest of seasons 🍂
Bobbi Brown: It's Pumpkin Spice Season
American Eagle: Inside: cozy tops for cozy fall days
Bombas: Very Cozy, Very Fall, Very Popular
Bonobos: Inside: Fall's Newest, Comfiest Arrivals
Rockets of Awesome: Snuggle up in our coziest styles
WEEKDAY: Layer Up, Snuggle Up
Bath & Body Works: coming to you from cozy central…
Forever 21: KEEP IT COZY
Pull&Bear: Cosy sweaters 🐻 Let the cold weather come when it wants!
The White Company: It's cold out there: cosy knits to keep warm
UNIQLO: Fluffy fleece to keep you cosy
Torrid: Feel like cuddling?
5. "FALL 🍂 CANDLE 🍂 DEAL 🍂"
Seasons change, you get new inventory, old products go on sale, and nature's cycle is complete.
If you're running seasonal sale campaigns, like most e-tailers, you're likely trying to engage as much of your email list as possible.
While writing fall sale emails, you can choose the easy way and write "30% off all products" or go the extra mile and add a little fall to your subject lines.
A few proven ways to create salience in crowded inboxes include writing unexpectedly short (or long) subject lines, using capital letters, and emojis. Bath & Body Works knows these principles well and combines some of them in its fall subject lines:

If your curiosity is triggered enough, you open their email to find out more about the deal: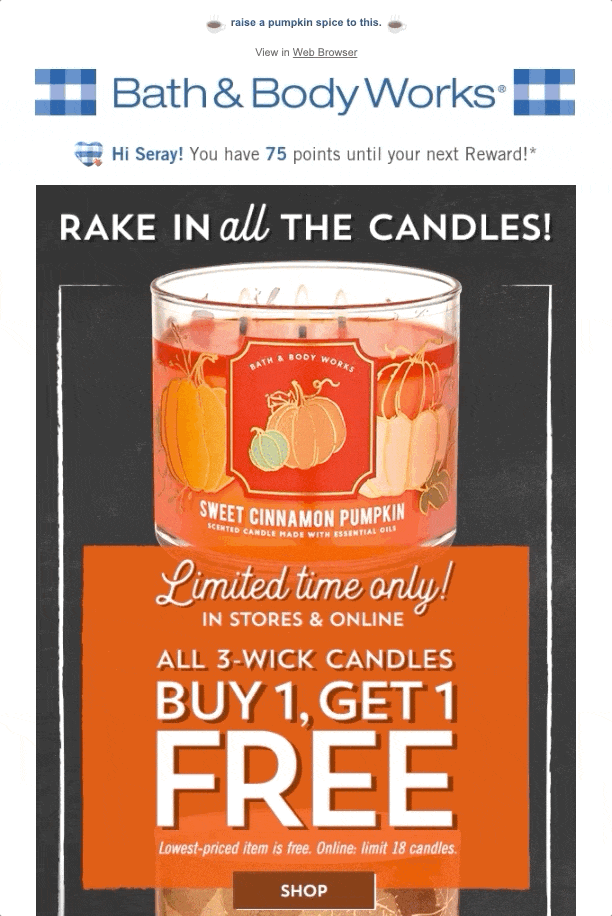 In it, the company promotes a limited-time offer for its seasonal products.
Bath & Body Works could easily write "But 1, Get 1 Free" in this email's subject field, but they cleverly chose to make it relevant for this season.
More Sale Subject Lines:
American Eagle: Don't miss it! The Big Fall Sale ends tonight!
Forever 21: Fall's Favorite Dresses
Michael Kors: Fall Outfit Inspo (It's 25% Off!)
Foot Locker: Meet Your Next Fall Favorites
VIOLET GREY: Vanity Upgrade: Everything You Need to Refresh Your Look For Fall
J.Crew: New fall outfits inside…
Bobbi Brown: Time for a fall refresh.
Torrid: Fall's favorite duo…
Pura Vida Bracelets: The wait for fall styles is OVER!
Forever 21: Temperatures are falling, but these styles are rising 🍂
6. "*pumpkin emoji*"
As in Bath & Body Works' example above, emojis are ideal for creating salience in subject lines. What's more, they often tease what's inside the email, and thus, evoke curiosity.
However, my favorite example from this season is one that doesn't directly contain any emojis. And it only makes the subject line more attention-grabbing.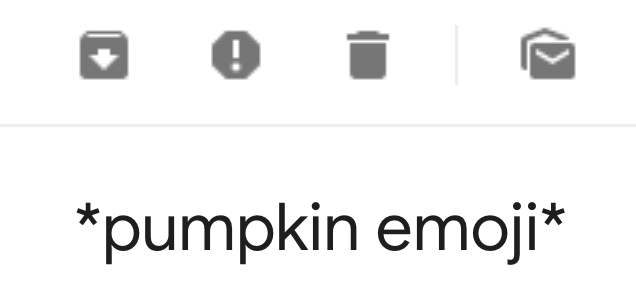 With this subject line, Warby Parker puts a different spin on the season's favorite emoji. 🎃
If you're getting a lot of emails from fun, creative brands, as I do, your inbox is probably full of gold leaves and jack-o'-lanterns, too. When that's the case, Warby Parker's email successfully stands out without much effort. Plus, the company avoids emoji rendering issues by different email clients.
When you open the email, you learn the real reason behind the *pumpkin emoji*.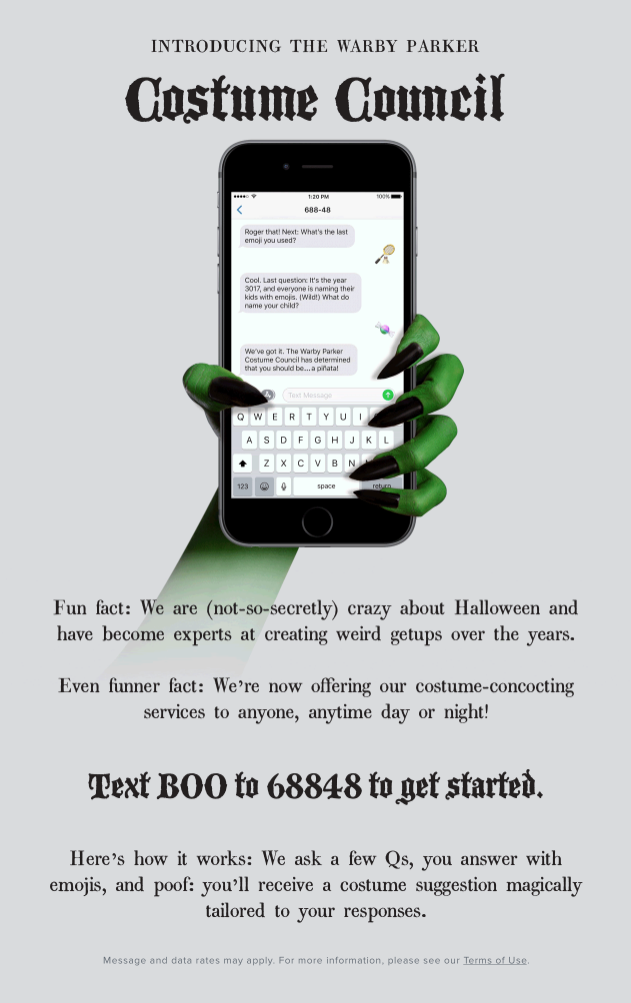 In it, Warby Parker introduces its new "service" where they suggest a tailored Halloween costume idea, based on the emojis you text them.
You don't need to build an SMS automation in a day, but you can easily test a similar approach this season, especially if you're hesitant to use emojis in your subject lines.
More Emoji Subject Lines:
Poo~Pourri: Who is pumped for pumpkin? 🎃 🎃 🎃
Man Crates: 🍁Our Fall Freshest: Shop Seasonal Favorites🍁
Birchbox: Trick or Treat: Pick a Free Mascara or Lip Stain 🎃
Poo~Pourri: RIP sale 👻 (no tricks, just treats)
Man Crates: 🍁 Fall Favorites Are Finally Here! 🎃
Frank And Oak: Fresh fall layering 🍂
Bath & Body Works: ❤️ FALL FRI-YAY! ❤️
Kina and Tam: OOTD: feels like fall 🍁
Urban Outfitters: 🎃👻🕯️🦇🔮
7. "🍂 🍁 Don't FALL behind 🍁 🍂"
Emojis aren't the only option to grab attention with your subject lines. When used with caution, humor can be one of the biggest brand differentiators, especially in today's e-commerce email scene with overly promotional subject lines.
Although I live for a good wordplay, I need to warn you: fall puns were slightly overused in the emails I've seen.
If you don't want to repeat the same jokes made by other brands, make sure your subject lines stand out. Combining puns with emojis, capital letters, and other salience factors can do the trick, as in
Poo~Pourri's example:

Poo~Pourri's wordplay isn't a random one. It's not just for the sake of being funny either. Once they get your attention with emojis, the capitalized "fall," and the accompanying pun, Poo~Pourri triggers your FOMO by asking you not to fall behind.
The email itself plays on the scarcity angle, too: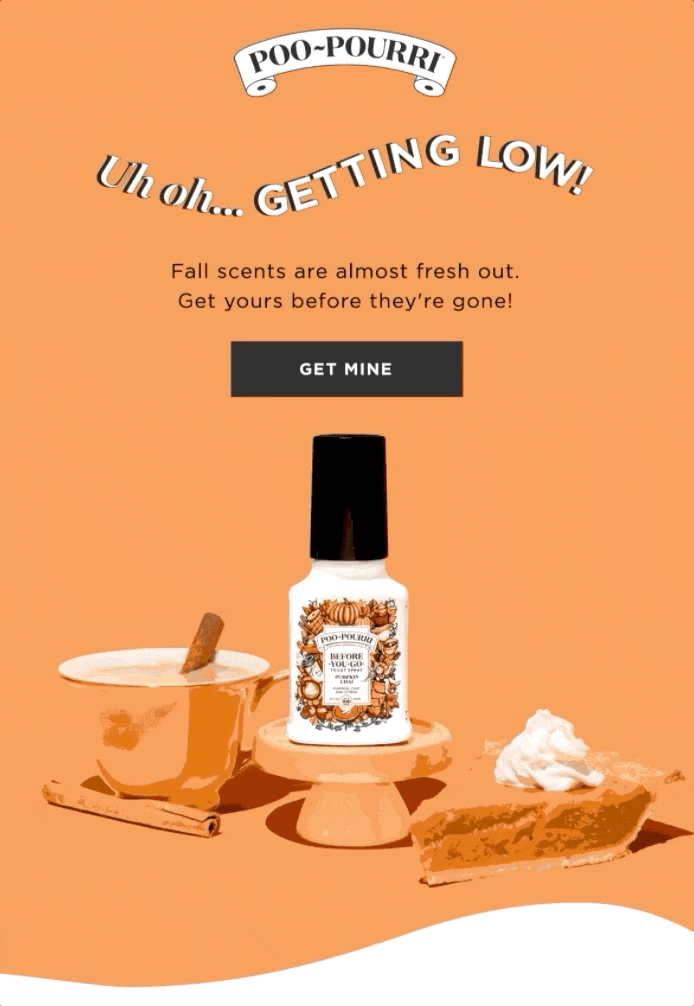 In it, Poo~Pourri informs you that its fall products are about to sell out, so you better hurry to get yours before it's too late. The CTA button "Get Mine" complements the subject line and email copy by using power words that speak to your greed.
Poo~Pourri shows a brilliant example of using wordplay to the extent that it's relevant. Take inspiration from the examples below and use them in moderation according to your goals.
More Wordplay Subject Lines:
Forever 21: Falling for New 🍁
Legacybox: You're going to FALL in love with this sale…
Bobbi Brown: Fall for a new foundation.
Kina and Tam: Fall in love
Sweaty Betty: We're 'falling' for these coats
ThirdLove: We fall for all shapes and sizes
Bobbi Brown: Essentials to fall for.
Conclusion
No marketer wants to spend hours crafting a fantastic fall email, only to have it opened by a few.
That's why I wanted to show you 76 brilliant fall subject line examples you can take inspiration from (or, you know, steal.)
Whether you want to improve your Black Friday subject lines, recreate the fall feeling in your emails, or learn what top e-commerce brands are doing this season, I hope you got the inspiration you were looking for.