Ecommerce marketing is constantly changing.
For instance, just a couple years ago, it felt like all you needed to do to grow your audience and sales was to post a few ads on Instagram.
Yet two-thirds of digital marketers and ecommerce execs saw their social metrics decline in 2022. As a result, 46 percent are planning to pull back on Instagram spending in 2023, while 66 percent are investing less in Facebook ads.
And that's just one example, with almost four-fifths of marketers agreeing that marketing has changed more in the past three years than in the previous 50.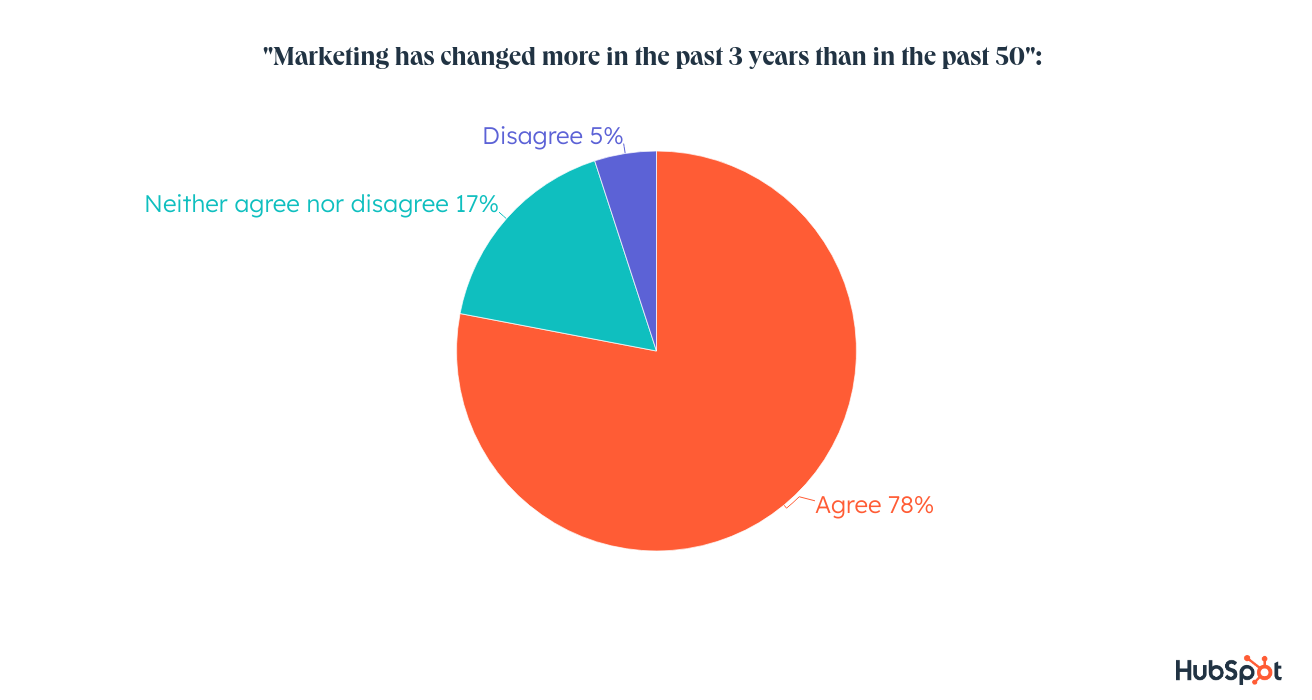 That means a lot of headaches, sleepless nights, and bleary eyes as we all try to figure out what's next.
But while the marketing gods taketh away, they also giveth.
Sure, things change. But on the flip side, we can rely on a bunch of high-quality tools to help us generate the highest possible ROI.
With that in mind, we've rounded up seven of the best ecommerce tools to help you capture more leads, engage your audience, and drive more revenue.
7 Best Tools for Ecommerce Brands:
1. Drip: Best for Email Marketing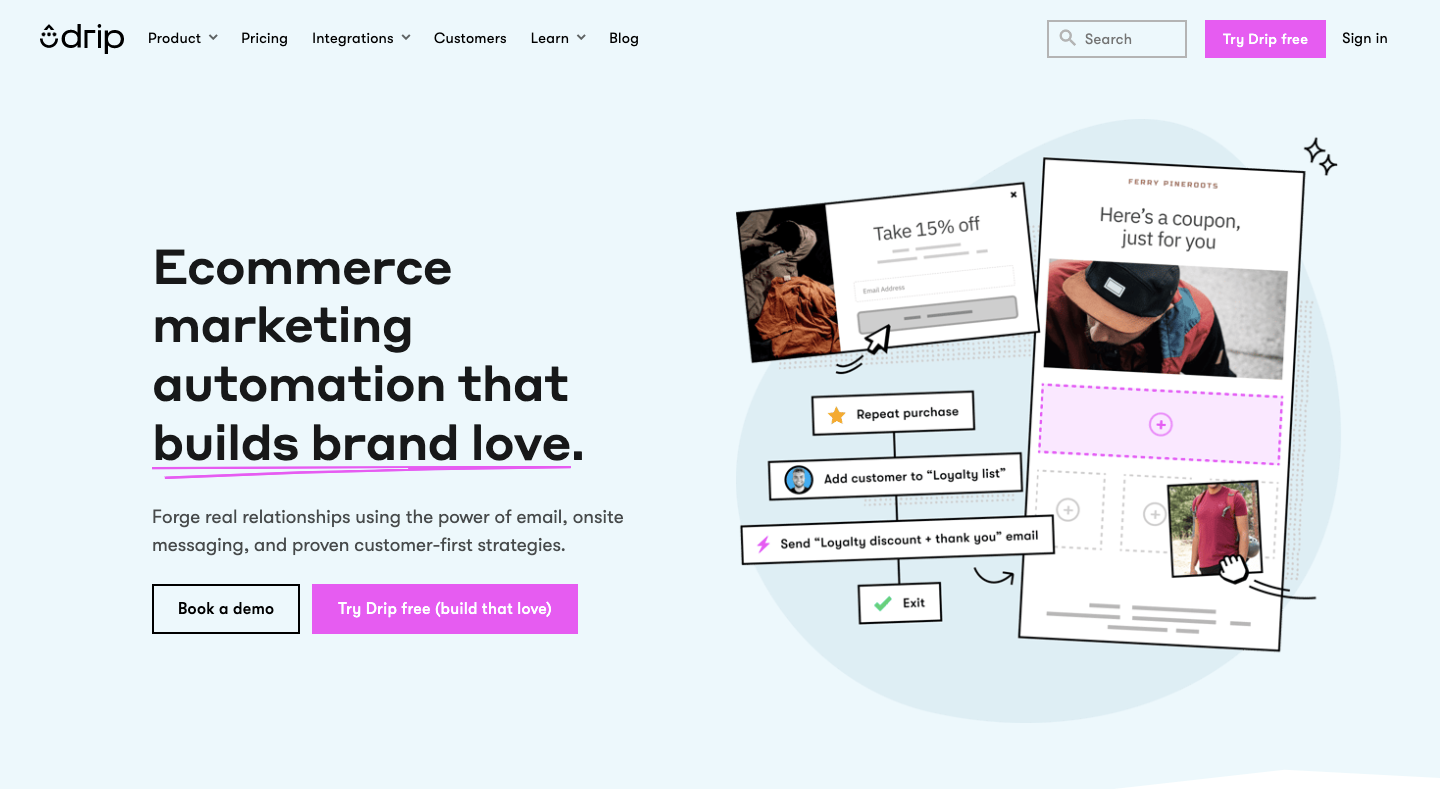 What Is It?
Drip is one of the best email marketing tools for ecommerce, giving marketers the power to design and send emails that convert. Built with ecommerce marketers in mind, our automation platform incorporates a bunch of other tools to help brands deliver personalized customer journeys at scale, including onsite tools and third-party integrations.
What Does It Do?
Design stunning emails, fast, with high-quality templates.

Drip offers 50+ professionally designed

ecommerce email templates, which are fully customizable to the needs of your brand.
Optimize email campaigns with A/B testing.

Test up to four content or subject line variations at a time, giving you the data to optimize campaigns with confidence.
Add dynamic content blocks catered to your audience.

We take your store data and transform it into laser-targeted marketing emails. Whether you're showcasing top-selling products to new subscribers or picking out curated recommendations for previous buyers, Drip makes it easy.
Boost conversions with abandoned cart emails.

Did you know the average ecommerce shopping cart abandonment rate stands at

almost 70 percent? Drip adds abandoned items to automated emails, encouraging customers to pick up where they left off.
Drive revenue with personalized marketing.

Segment your audience based on store, marketing, and integration data. Then use it to serve individual customers with highly personalized messaging at exactly the right time.
Turbocharge lead generation with onsite experiences.

Our

popups, slide-ins, and sidebars

present timely onsite messages to your audience, helping you turn new visitors into leads.
How Much Does It Cost?
From $39 per month for up to 2,500 contacts and unlimited email sends. We also offer a 14-day free trial so you can try us out before you buy.
2. Canva: Best for Ecommerce Design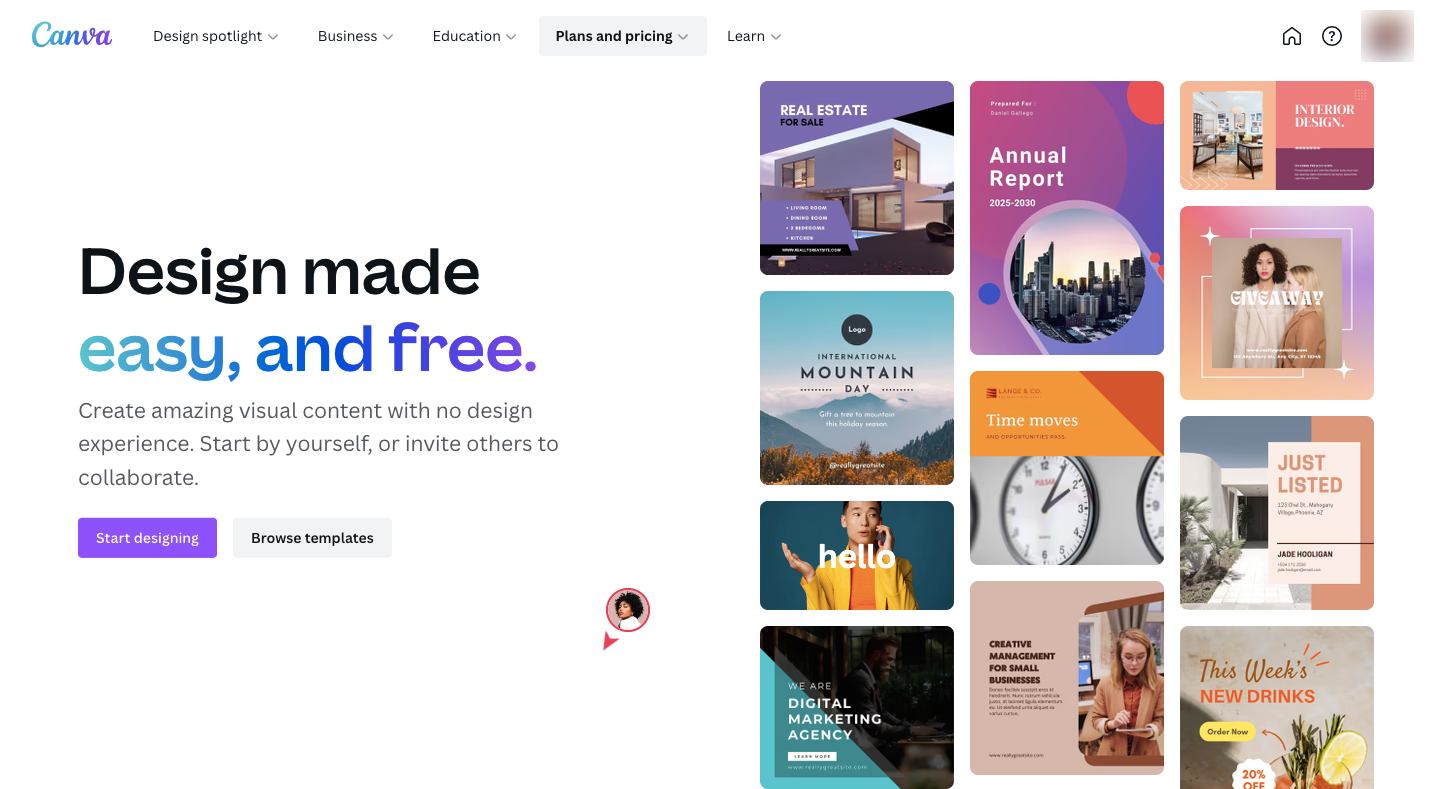 What Is It?
Canva is a graphic design platform that helps ecommerce marketers—even those with limited graphic design skills—create professional-quality visuals. At time of writing, it offers almost 5,500 ecommerce templates across dozens of categories, from logos and posters to newsletters and social media graphics. The platform has 100+ million monthly active users and is used by 85 percent of Fortune 500 companies.
What Does It Do?
Access millions of creative assets.

Paying Canva users can leverage 100+ million images, graphics, videos, and audio tracks, helping them create beautiful designs without having to source all the assets themselves.
Easily edit videos.

That's right, Canva isn't just

images. Use the platform to edit videos with the simple drag-and-drop timeline editor.
Create a consistent brand image.

Canva acts as a centralized hub for all your brand guidelines, templates, fonts, colors, logos, and more—making it easy for

anyone

to create on-brand assets, fast.
Build your own approval workflows.

Speed up your signoff process by using Canva as a centralized platform for approvals.
Collaborate in real-time.

Use Canva Whiteboards to plan your next marketing campaign together, or simultaneously work on assets as part of your review and feedback process.
How Much Does It Cost?
Canva offers a free-for-life plan incorporating over 250,000 templates and millions of assets. Canva for Teams starts at $14.99 per month for teams of up to five people.
3. Coda: Best for Productivity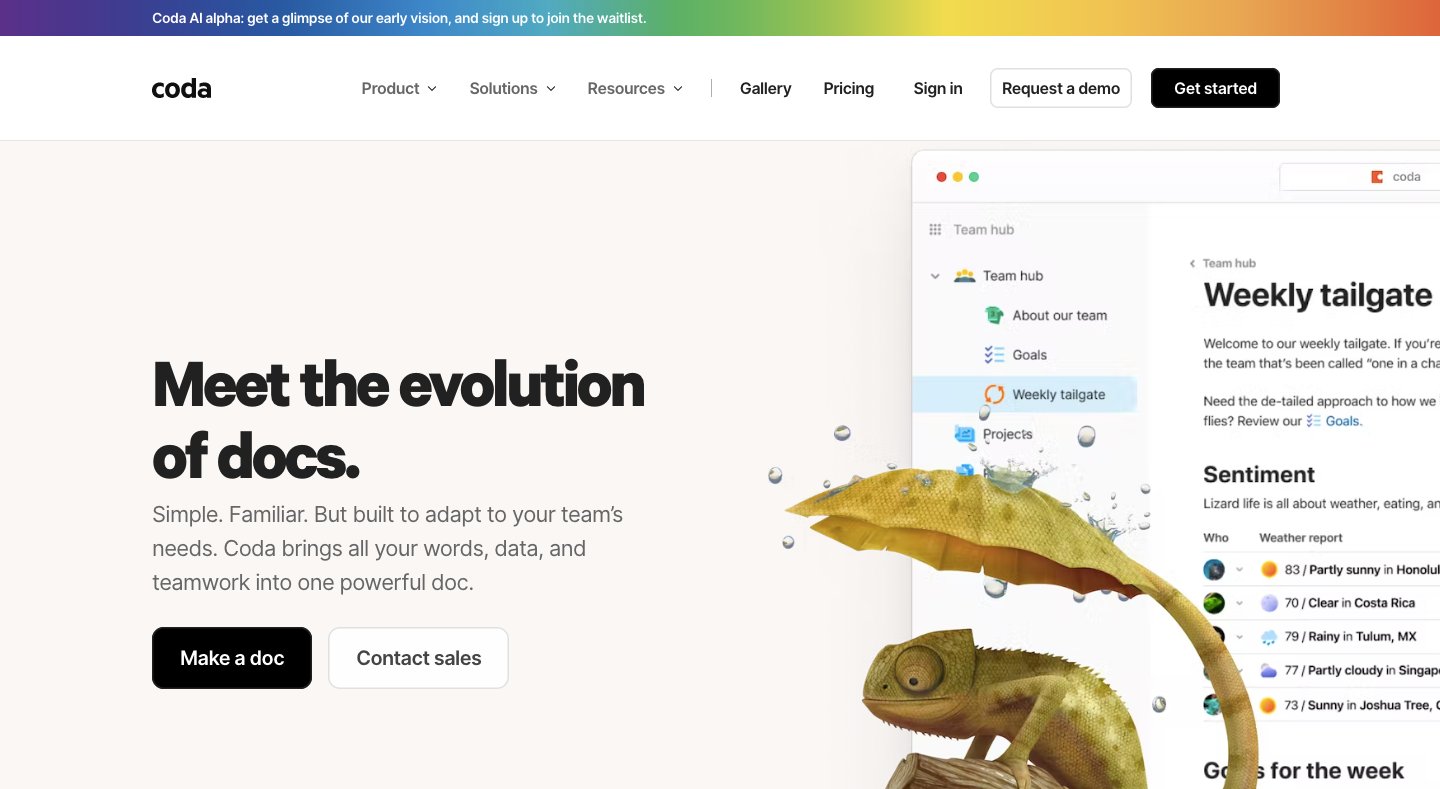 What Is It?
Think of Coda as Google Drive on steroids. The platform allows users to create highly customizable documents for organizing projects, tracking campaign progress, and keeping tabs on key ecommerce holidays. It's used by 25,000+ teams at high-profile businesses like Square, Uber, and the New York Times.
What Does It Do?
Leverage all-in-one project management.

The platform acts as a central space for note-taking, progress-tracking, task reminders, communication, and feedback. That means no more spreading projects across multiple tools.
View data your way.

Coda presents the same data in multiple ways. Project managers can update tasks in a Trello-style card view, while strategists can work off Gantt charts. And it all syncs up to form a single source of truth.
Combine scheduling and content creation.

With Coda, you can build marketing calendars that allow you to schedule and create content in the same workspace, incorporating planning, writing, editing, and proofreading.
Integrate with Shopify.

As a plus for ecommerce marketers, Coda offers a

Shopify Pack

that helps brands manage inventory, set prices, add products, and access data on top customers.
How Much Does It Cost?
Coda's free plan allows teams to create collaborative documents containing up to 1,000 rows and 50 objects. Paid plans start at $10 per doc-maker (document editors and viewers are always free) and provide enhanced functionality, such as unlimited document size, custom form branding, and a 30-day version history.
4. Ahrefs: Best for SEO & Link-Building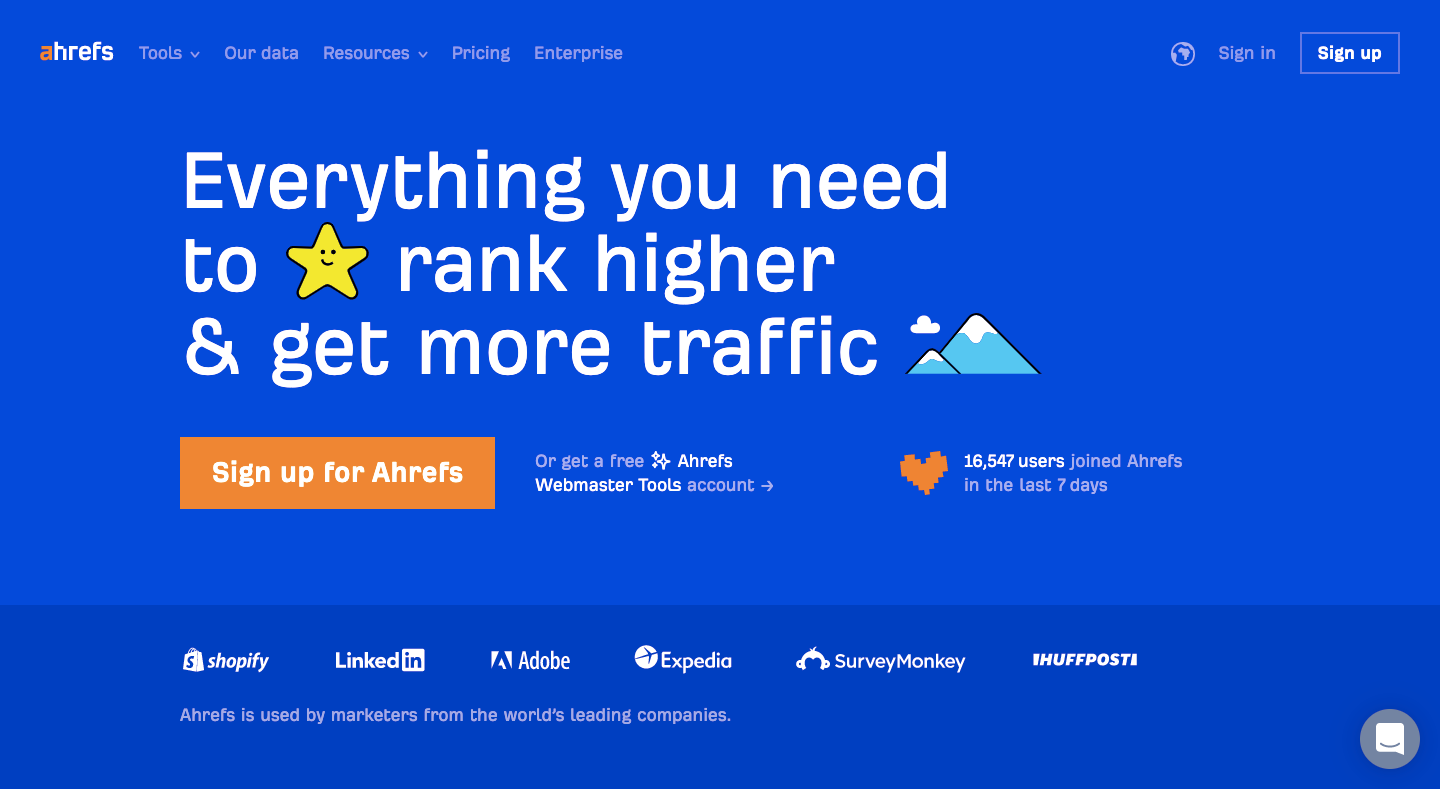 What Is It?
Think ecommerce marketers can afford to ignore search engine optimization? Think again. With 49 percent of shoppers relying on Google to help them find new products and 51 percent using the search engine to research planned online purchases, investing in SEO is a non-negotiable. Enter Ahrefs, one of the best ecommerce tools for marketers looking to improve their search performance through keyword research and link-building.
What Does It Do?
Find keywords your customers are searching for.

Ahrefs helps users identify new search terms from a database of 7+ billion keywords across 10 search engines and 171 countries.
Identify easy SEO wins.

You're probably not going to outrank Adidas or Amazon for a highly competitive term like "men's sneakers". But you can use Ahrefs' Keyword Difficulty score to find

less-competitive alternatives

like "men's slip-on sneakers".
Steal your competitors' keywords.

Use the Content Gap tool to track down the keywords your competitors are ranking for (but you

aren't).
Build more links.

Backlinks are one of the most important organic ranking factors. Ahrefs provides various tools to help you find new link-building opportunities, from tracking unlinked brand mentions to searching for relevant guest blogging spots.
How Much Does It Cost?
Ahrefs offers a bunch of free SEO tools, helping marketers track down broken links, analyze keywords on YouTube and Amazon, and generate topic-related keywords. Paid plans start at $99 per month and include a wealth of extra functionality for researching your competitors' keywords, identifying future content opportunities, tracking your rankings over time, and much, much more.
5. Buffer: Best for Social Media Management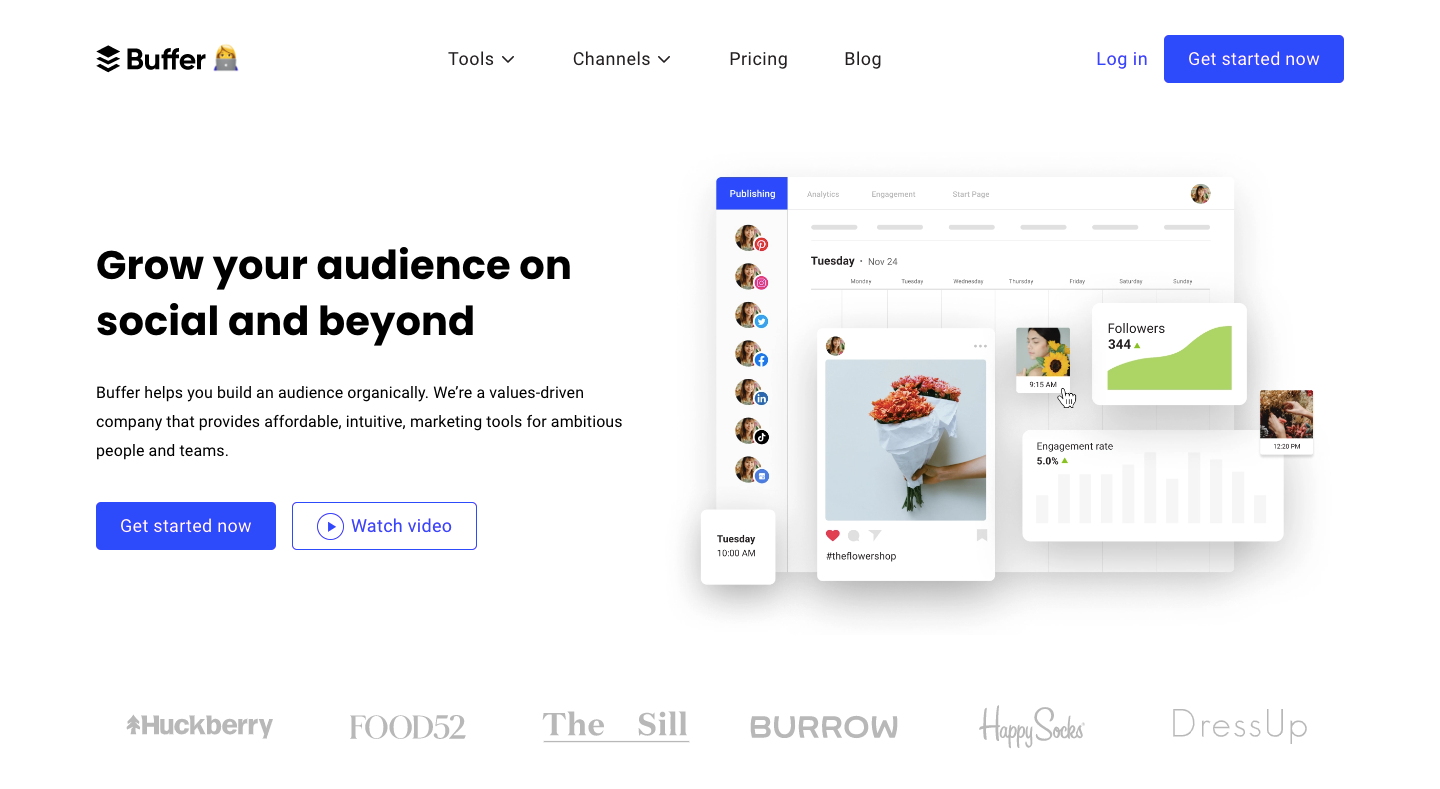 What Is It?
Buffer is (primarily) a social media management tool that gives subscribers the power to plan and schedule posts across seven different social media platforms, all from a single space. It has 140,000+ users worldwide.
What Does It Do?
Plan and publish from a single dashboard.

Rather than switching from platform to platform to create and post content, Buffer lets you do it all in one place, saving you time and ensuring your train of thought remains on-track.
Leverage AI-generated ideas.

Buffer's AI Assistant can come up with content ideas, repurpose existing posts, rewrite copy in whatever style you like, and even translate copy into different languages.
Build and view your posting schedule.

Plan and schedule upcoming posts across multiple channels, then view them all in a single calendar.
Reply to comments on desktop.

All your unanswered comments are gathered in one dashboard—and you can respond to them without leaving the Buffer app.
Make data-backed social strategy decisions.

Want to understand the best time and frequency to post, or the content types most likely to resonate with your audience? Buffer's

reporting and analytics tools

give you the data to answer all those questions (and more).
How Much Does It Cost?
Buffer offers a free plan that allows users to schedule posts, view content calendars, monitor mentions, and generate hashtag suggestions for up to three channels. Its paid plans start from $6 per month per channel and include a bunch of additional reporting and engagement tools.
6. Help Scout: Best for Customer Service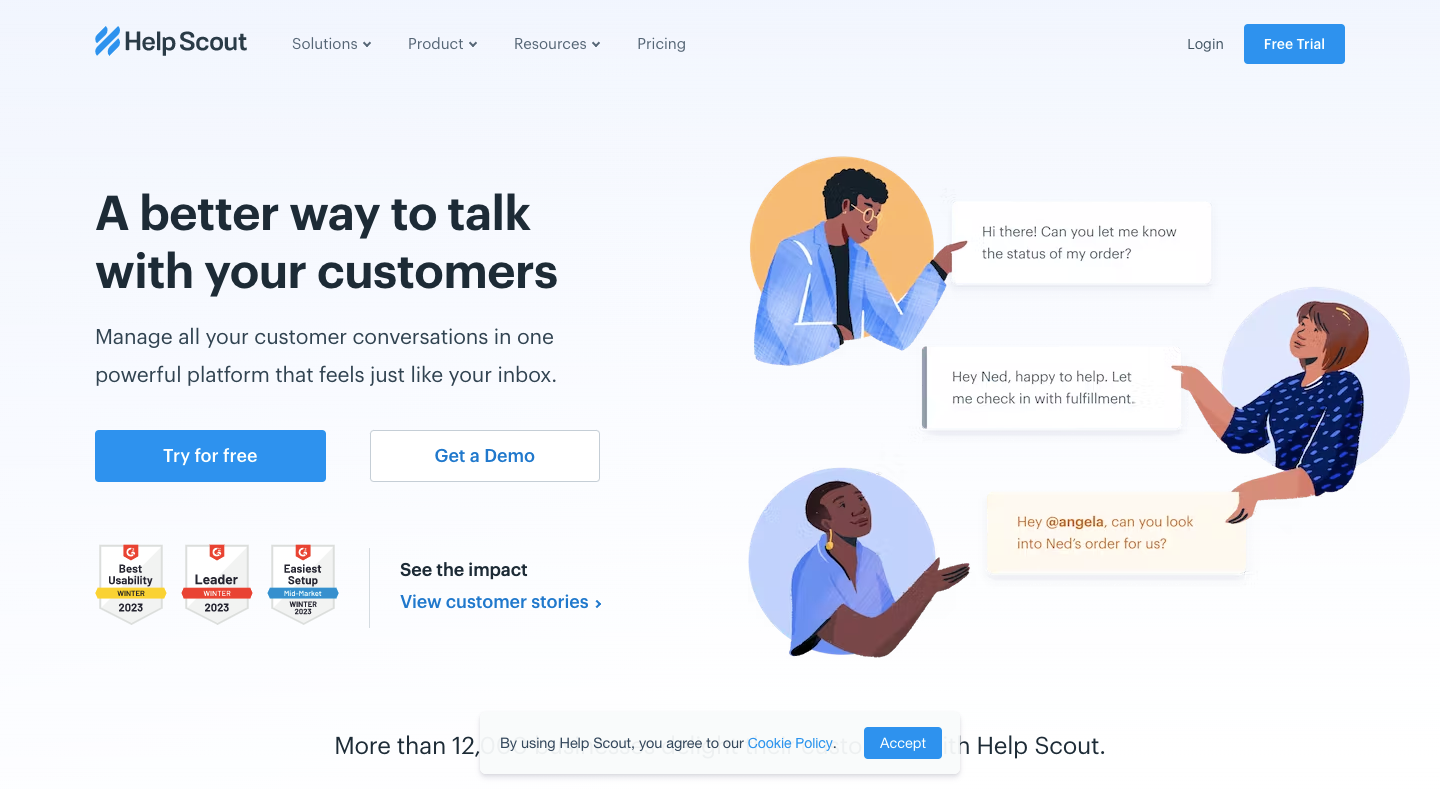 What Is It?
Help Scout is a dedicated customer support platform that groups all your customer service queries and conversations into a single, shared inbox. It claims users can increase productivity by 52 percent by improving teamwork and automating recurring tasks. Help Scout is used by 12,000+ companies, including ecommerce stores like Spindrift and Spikeball.
What Does It Do?
Centralize customer service conversations.

Help Scout acts as a central hub for all your customer interactions, allowing you to track, prioritize, and respond to queries from a single inbox.
Collaborate on customer support.

Faced with a tricky customer query? Share notes with colleagues within emails before hitting "send."
Cut out busywork with automations.

Help Scout makes it easy to automate repetitive, low-value tasks like automatic emails and response escalations.
Craft personalized responses.

The platform displays customer data and previous conversations alongside each support request, helping your support agents send relevant, personalized replies.
How Much Does It Cost?
Prices start at $20 per user per month, allowing customer support agents to provide service across email and live chat. The platform also offers a 15-day free trial.
7. Google Optimize: Best for Web Experimentation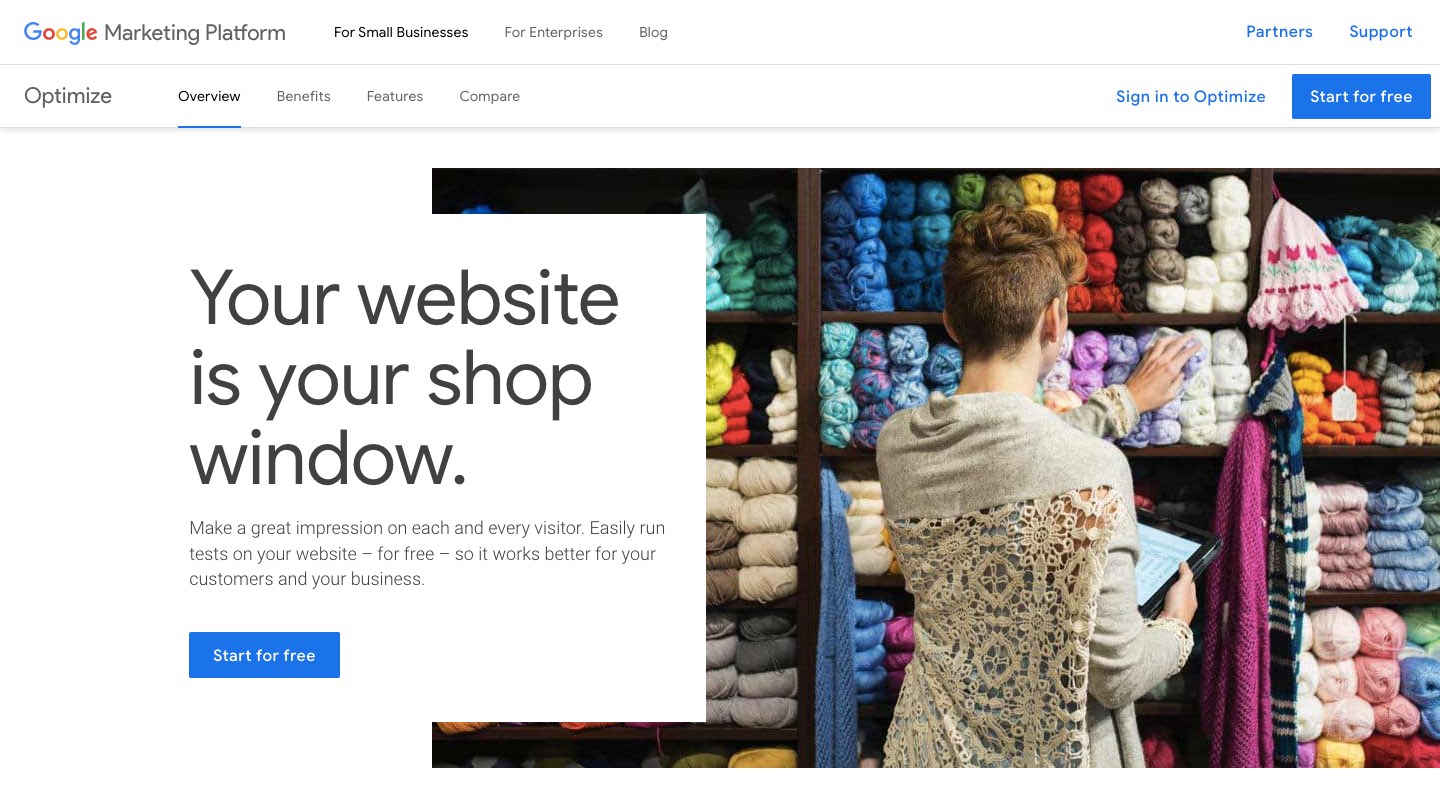 What Is It?
Google Optimize is a free platform that lets ecommerce marketers build website tests quickly and easily, helping them understand the content that inspires customers to take action. It supports various experiment types, including A/B, multivariate, and redirect tests. And did we mention it's totally free?
What Does It Do?
Test your website content.

Not sure which color, copy, landing page design, or

CTA button

to use? Run a test to find out which variant resonates best with your audience.
Create variants with no coding.

Google Optimize's visual editor makes it simple to build new page variants without recoding your website.
Deliver personalized online experiences.

Optimize gives you the power to customize your website based on the visitor's browser, device, location, behavior, and other factors.
Preview experiments before going live.

Before starting your experiment, preview how your new site elements look across different platforms and devices.
Integrate with Google Analytics.

Dig into your Analytics data to understand which parts of your site need improving, then see how your

A/B tests

affect customer behavior.
How Much Does It Cost?
There's no need for small to medium-sized ecommerce brands to spend a single cent on Google Optimize, which offers a wealth of free-for-life features. However, larger businesses—or those with particularly sophisticated experimentation needs—should upgrade to Optimize 360. Google doesn't publish pricing information, so you'll need to speak to their sales team.
Level Up Your Ecommerce Marketing With Drip
Like the sound of Drip?
Want to start generating more revenue from your email marketing campaigns and landing pages right now?
Of course you do. After all, we're already doing just that for thousands of brands like yours.
So do yourself a favor and sign up for your 14-day free trial to test-drive our full feature set.
We're pretty sure you won't regret it.