A lot of e-commerce marketers' time and energy goes into lead nurturing, and understandably so.
Research has found that as many as 98 percent of visitors aren't ready to buy on their first visit. Therefore, there's a large segment of shoppers who you don't want to be overly aggressive with. After all, you don't want to turn them off by being too pushy.
But what about the shoppers who have expressed interest in your brand, fit into your target demographic or have shown intent to buy from you?
This smaller but highly qualified segment often calls for a more aggressive approach, where pushing the right buttons will likely result in a conversion, and in some cases, repeat purchases. That's where e-commerce direct marketing comes in.
It's a method where you communicate directly with a smaller group of shoppers and promote your products. And when done correctly, you should see a massive ROI.
Allow me to now explain the details of how this technique works and provide you with several e-commerce direct marketing examples, so you'll walk away with some actionable ideas you can apply to your own campaign.
Table of Contents
What Exactly is E-Commerce Direct Marketing?
Shopify sums it up perfectly with this definition: "[Direct marketing] is a targeted form of marketing that presents information of potential interest to a consumer that has been determined to be a likely buyer."
And Oberlo adds, "Unlike many other types of marketing that target a large demographic with the plan of nurturing leads, direct marketing focuses on a smaller demographic who has already shown intent to buy or has been pre-qualified based on certain criteria."
For instance, Shopify gives an example of a company that sells acne medication presenting Facebook ads to subscribers of teen magazines—because based on their age, they would potentially have a need for the product.
Due to the fact that they subscribe to teen magazines, the company can surmise that they fall into a younger age demographic, and therefore, are likely to have an interest in acne medication.
One of the key elements of direct marketing is personalization, where the messages are tailored to the recipient.
And rather than simply striving to build awareness about a brand and nurture leads, this technique aims for getting the recipient to take action right away and buy.
Therefore, it's one of the more aggressive marketing techniques out there. It's all about getting the sale.
And because a direct marketing recipient is already pre-qualified, this should be easier to accomplish than if you were targeting cold leads who may or may not have much of an interest in your products.
Now that you have a basic idea of what this tactic is and how it works, here are some e-commerce direct marketing examples you can learn from.
1. Email Offers
Let's start from the top.
Email is one of the most widely used forms of direct marketing, largely because of the fact that most people use email every day and its insane ROI of 4400 percent.
Although there can be a huge disparity in terms of how successful individual email campaigns are, there's always the potential for awesome results.
Due to the fact that a subscriber has already expressed interest in your brand by opting in, they're much more likely to buy than someone who is simply browsing through your e-commerce store for the first time.
They should already have some level of brand awareness and be at least somewhat comfortable with the idea of buying from you.
If you've already built up an email list, this is the perfect medium for breaking into e-commerce direct marketing.
But to increase your odds of making a sale, I suggest offering some incentive rather than just featuring products.
Here's a good example from Bonobos, a brand that sells men's clothing and accessories.
They start off with an enticing subject line saying a subscriber can get 15 percent off their first purchase.

Creating a good subject line like this is important because it helps pique a subscriber's interest and maximize your open rate.
After opening it, Bonobos has a brief but effective message where they point out in multiple places that a subscriber can get 15 percent off by making a purchase right away.

From there they include a bit of copy, restating once again the 15 percent off discount.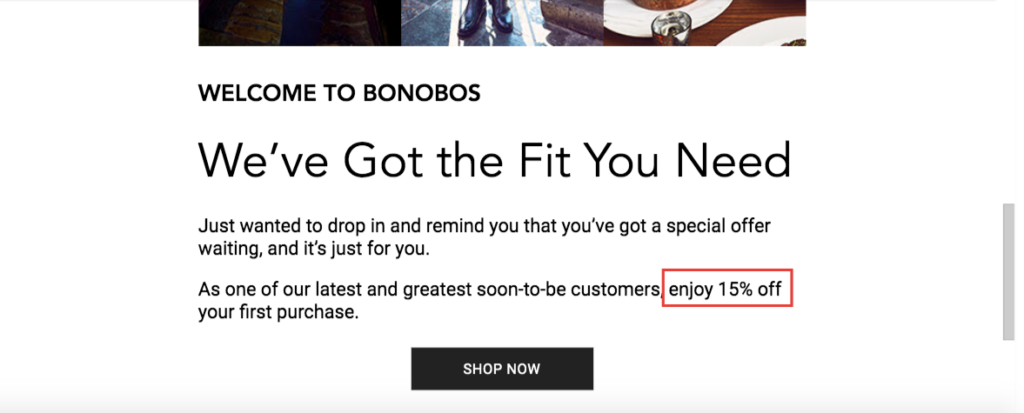 It's super concise and gets right to the point.
And of course, there's an unmistakably clear CTA that takes a subscriber right to the Bonobos website.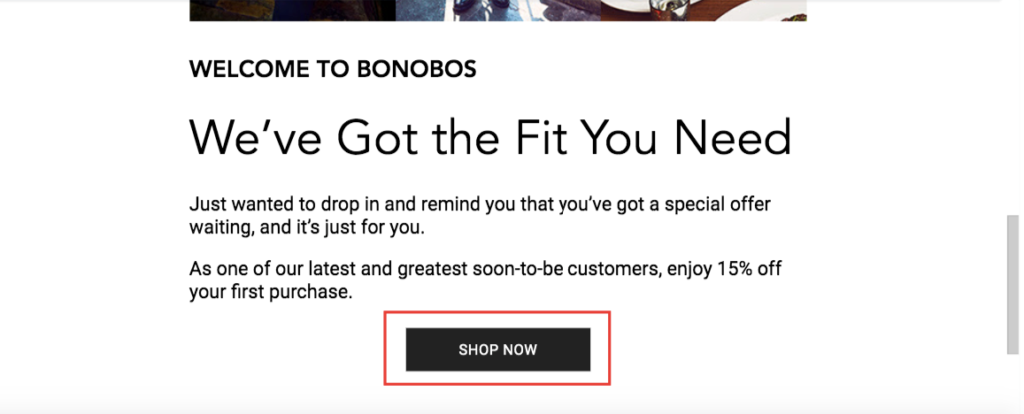 By clicking on it, they're taken to the homepage where they can choose a product they want and get 15 percent off.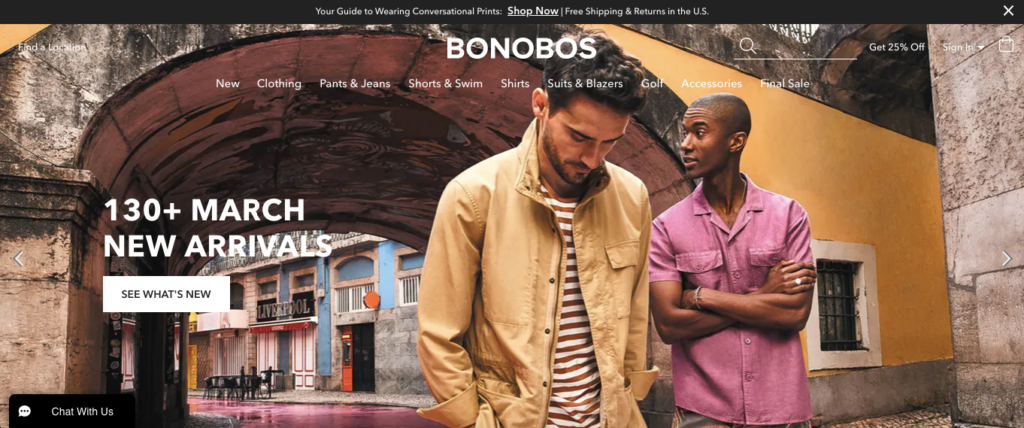 It's all very straightforward and streamlined. And just put yourself in the shoes of an average subscriber for a second.
They already have some level of interest in Bonobos because they opted into their newsletter, so making a purchase is certainly conceivable.
Offering 15 percent off is an excellent incentive to capture their attention and encourage them to go ahead and buy right then.
And that's the essence of direct marketing—going after people who have expressed intent or who meet predetermined criteria and giving them the motivation to take action.
This example from Bonobos is a simple one but shows the underlying psychology behind e-commerce direct marketing.
2. SMS Messages
SMS marketing is still fairly new and isn't something all that many brands currently use. In fact, only 35 percent of brands have a formal SMS messaging strategy in place.
But there's a solid body of data that shows the massive potential this medium has.
Here are some stats that I found especially interesting.
"Seventy-five percent of consumers are OK with receiving SMS messages from brands (after they've opted in)."
"SMS messages have a whopping 98 percent open rate."
"Ninety percent of SMS messages are read within three minutes."
By looking at these numbers, it's clear that most people are highly receptive to texting, and it's a great way to get targeted promotions in front of them.
So it only makes sense that this can be a powerful medium for e-commerce direct marketing.
One particular brand that's put it to good use is 310 Nutrition, a company that sells delicious meal replacement shakes for healthy weight loss.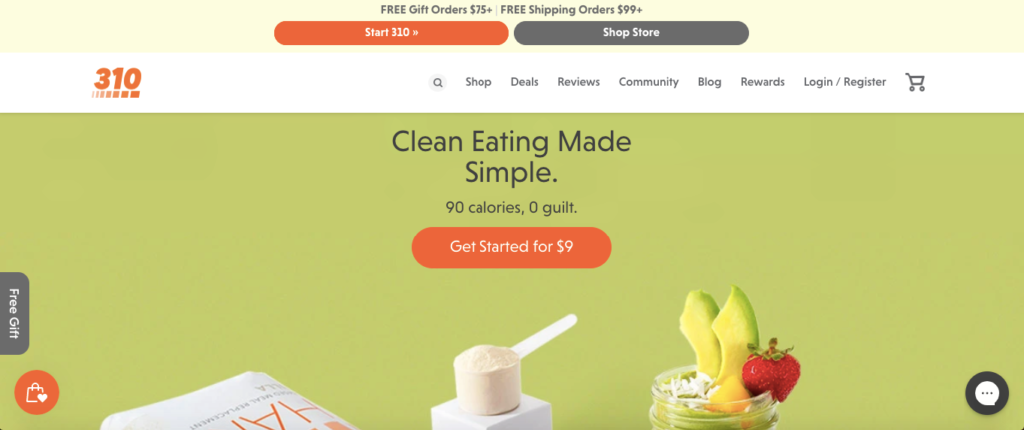 Their strategy involves texting customers who make an initial purchase to let them know about other flavors and add-ons before their order is processed.
Say someone just bought the vanilla 310 Shake.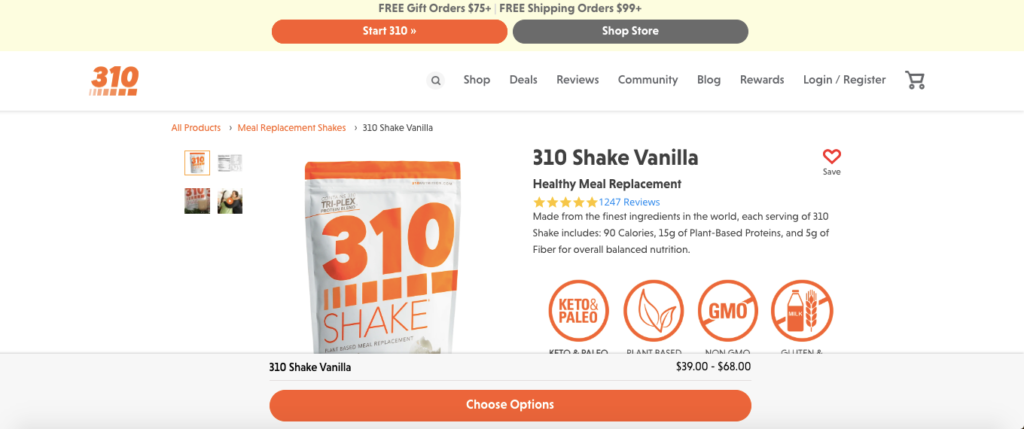 Shortly after completing the purchase, 310 Nutrition will send them a text like this one to let them know about a new variety shake box they're now offering with six flavors.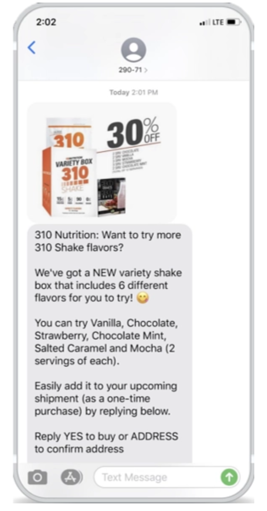 That way a customer can sample multiple flavors and upgrade their order without having to go back and change anything.
All they have to do is reply "YES" to buy. It's that easy.
And because someone just made a purchase, there's a good chance they'll be open to an upsell offer like this, especially if it doesn't require any additional effort on their end.
As a result, it's one of the best forms of upselling I've seen because of the inherent lack of friction.
According to a case study, 310 Nutrition was able to generate over $100,000 in extra revenue through SMS messaging.
This makes it one of the most potent e-commerce direct marketing examples and one you can learn a lot from.
3. Coupons
Did you know that "90 percent of consumers use coupons in some way during the buying process?" It's true.
Coupons are an excellent way to reach previous customers, as well as targeted leads and influence their buying decision.
It relies upon a similar premise as discounts and is one of the easiest types of direct marketing to measure because coupons can be tracked.
One brand that has crushed it with digital coupons is Wet Seal who sells women's clothing and accessories.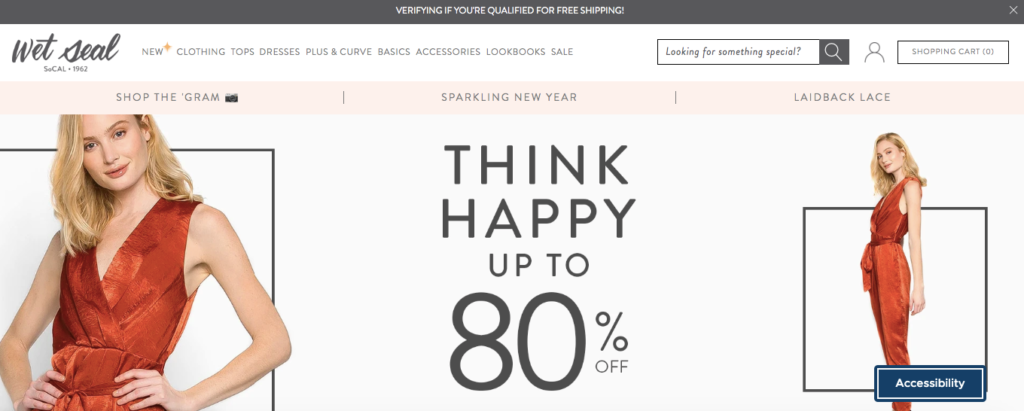 They have two main ways of delivering digital coupons, which revolve around the other e-commerce direct marketing examples I mentioned earlier—email and SMS messaging.
If someone opts into their email newsletter, Wet Seals send them a digital coupon code like this one to redeem.

And if someone opts in to receive text messages, Wet Seal sends them a digital coupon like this.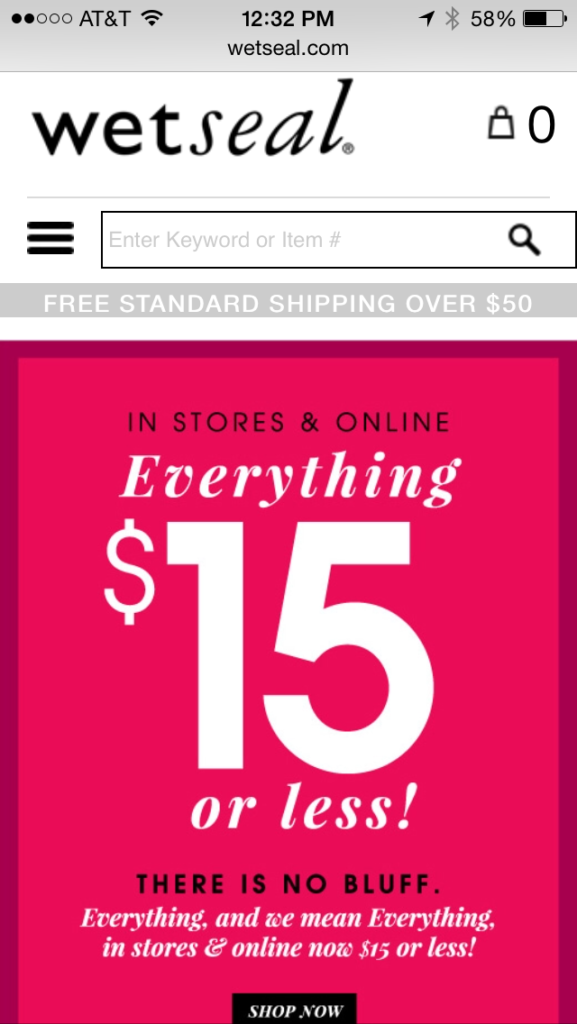 Considering that anyone who has taken the time to opt-in already has some level of interest in Wet Seal and the products they sell, it's not a stretch to think they'd be interested in redeeming a coupon.
In turn, this can provide the incentive needed to take action. It's all about presenting shoppers with the right promotion at the right time. And fortunately, creating coupons has never been easier and is something that even the smallest e-commerce brands can do.
4. Targeted Display Ads
"Targeted display advertising is a type of digital marketing that targets potential customers based on a wide set of variables, such as demographics, online habits and interests."
It uses strong visuals, like static images and videos, to quickly capture the attention of users and get them to notice your brand.
I personally love this form of e-commerce direct marketing because of the visual component and because it allows you to go after highly qualified leads that have a strong likelihood of buying.
One of the more popular techniques at the moment is site retargeting, which involves showing ads to people who have visited your site on another network.
For example, after visiting 310 Nutrition's website, a visitor sees this ad on their Facebook feed.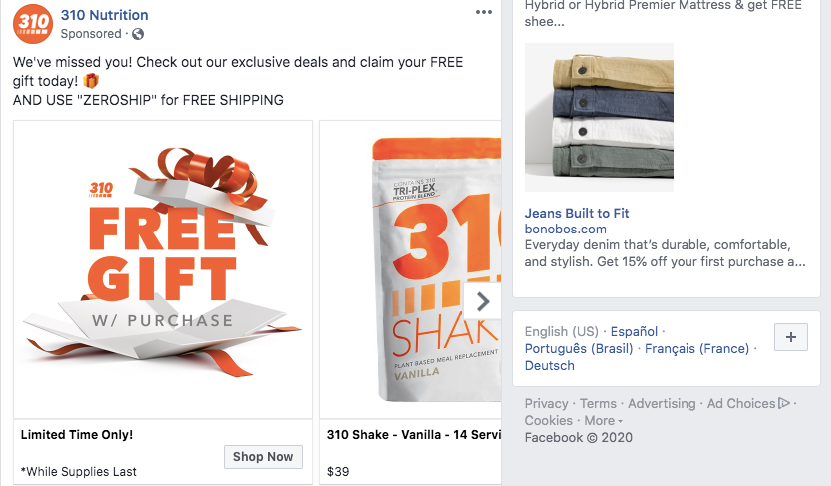 This particular ad is cool because it contains multiple offers in a carousel format so users can find exactly what they're interested in.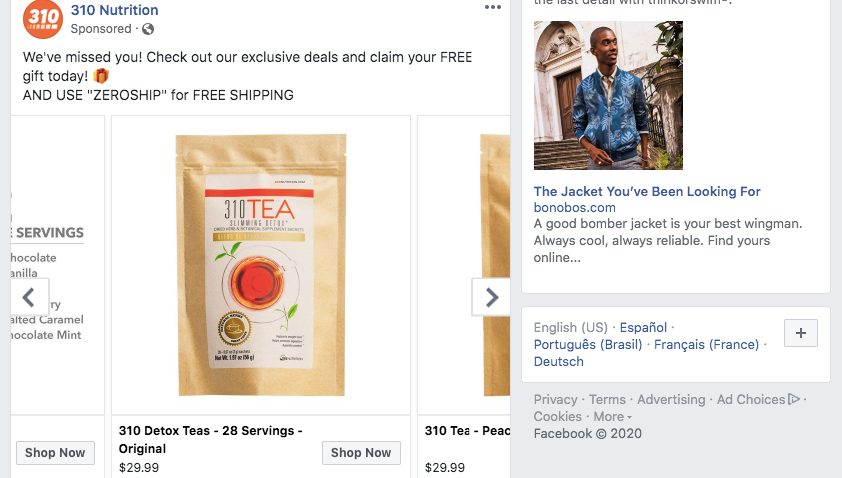 And given that the shopper has actually visited 310 Nutrition's website, they have much higher odds of converting than showing the ad to users at random.
Another example is search ads. I'll use 310 Nutrition one more time for this one.
If a Google user types in "meal replacement shakes," they see a variety of ads from companies in this niche, including this one from 310 Nutrition.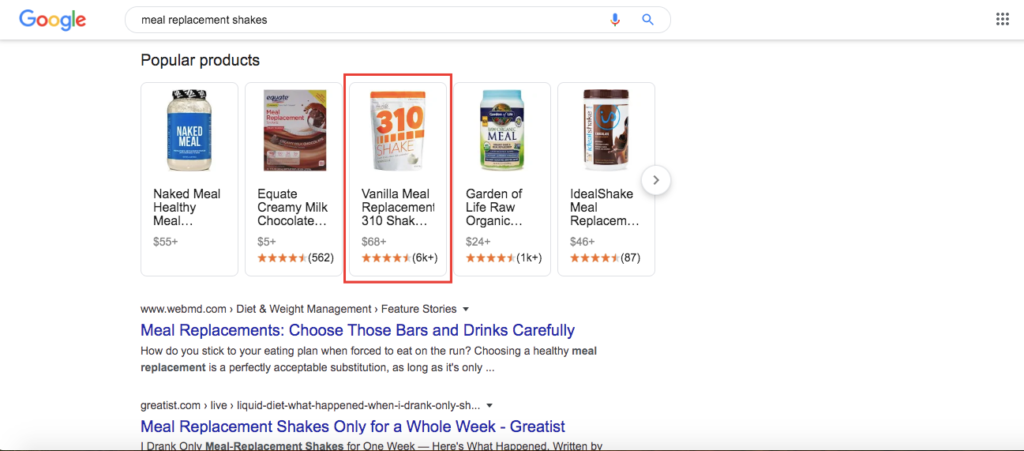 Anyone who's interested in meal replacement shakes would likely want to check out this brand's products, so targeting this keyword on Google Ads makes sense.
And that's just the tip of the iceberg.
Web design company 3D Digital, mentions some other tactics that can be used with targeted display ads, including:
Geo-fencing
Geo-optimization
Category contextual
Search retargeting
So there are a lot of possibilities you can experiment with.
Conclusion
Every shopper is at a different stage of the sales funnel.
Some, such as new visitors, is only at the top and often need nurturing before they're ready to buy.
Others, however, are further down the funnel and are highly qualified leads.
For this segment, it's usually okay to take a more aggressive approach and ask them to buy right away.
That's why e-commerce direct marketing is such an important technique to learn.
While it's not usually the right strategy for lead nurturing and going for leads at the top of the funnel, it's perfect when your goal is to go after leads at the middle or bottom of the funnel.
The e-commerce direct marketing examples listed here shed light on some specific ways you can implement this tactic using a variety of different mediums.
By doing so, you should be able to effectively reach your target audience through multiple platforms.
So when it's all said and done, you can grow your e-commerce brand, while maximizing your ROI.