We've been hearing for years about how mobile is the next big thing in digital marketing.
A lot of those articles talking up mobile as a channel invariably give a theoretical example that goes a bit like this:
A shopper walks down the high street. "Boy, am I hungry," they think to themselves.

Then: BANG!

They receive a text message at exactly the right moment, offering them 10 percent off a drink and pastry at their local coffee shop.

Barely 60 seconds later, they're waiting in line, salivating over the prospect of a flat white and a cinnamon swirl.
That's a fantasy scenario. Things rarely go quite as smoothly in the real world. But there are definitely signs that SMS marketing is becoming increasingly relevant.
For one thing, consumers are more likely to open and respond to text messages than emails. For another, the reach of SMS marketing stacks up favorably against email. In the US, 97 percent of adults own some type of cellphone, while only 93 percent use the Internet.
As marketers, we can theoretically reach more people with SMS marketing than we can via email. But, in reality, it's not a case of choosing SMS or email—there's no reason you can't do both.
If you think texting can become a key part of your marketing mix, here are seven SMS marketing ideas you can use to reach new audiences, engage prospects, and drive sales.
SMS Marketing (Step-by-Step)
Step #1: Use Popups to Capture Phone Numbers
If your SMS marketing strategy is going to work, first you need to capture some phone numbers.
That can be easier said than done.
I'll give my email address away at the drop of a hat. Whether it's to download an eBook, claim a discount, or register for a newsletter, it's all yours. But my phone number feels a lot more personal.
And I'm not the only one who feels that way.
According to The Baymard Institute, 14 percent of consumers wouldn't provide their phone number in order to finish an online transaction.
That might not sound like a huge number, but it was cited as the fourth biggest "deal-breaker" in completing the checkout process, only behind social security number, passport number, and date of birth: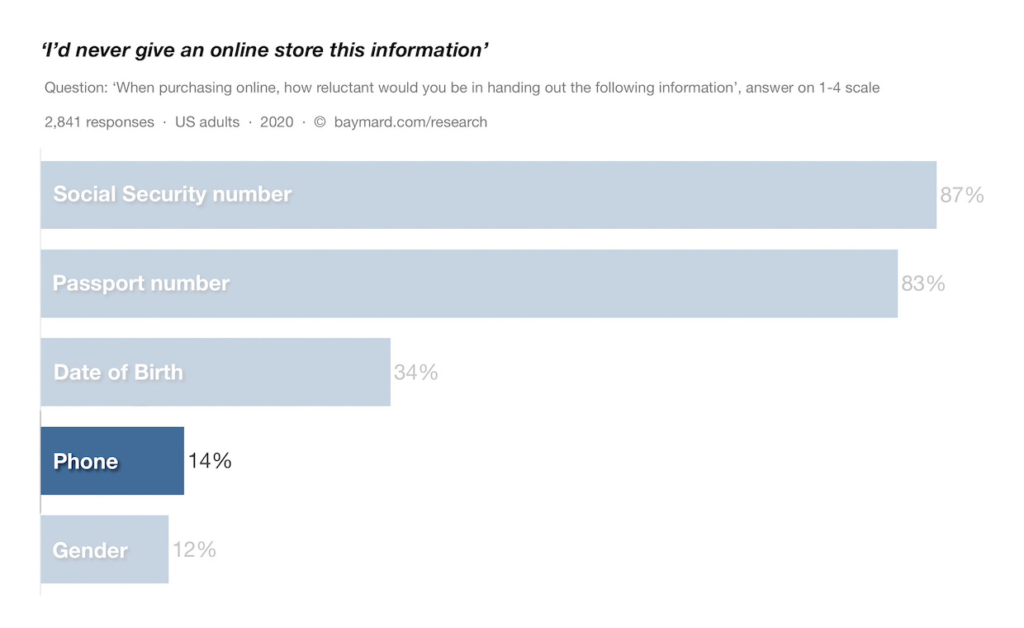 In other words, while a simple "10 percent off" discount code might be enough to win a prospect's email address, you'll have to work a little harder to get your hands on their digits.
As luck would have it, we've already written a whole guide to collect phone numbers, and you should definitely check it out. But to give you a quick overview, website popups are your best friend here.
Use popups to promote some kind of incentive—in our experience, a high-value giveaway with a relevant product works best. Then customize your popup to incorporate a phone number capture field.
After all, when you ask for a prospect's email address, you'll (generally) explain that you're going to send them your newsletter. Or you might use it to share some kind of downloadable asset, or provide details about their order.
You should do exactly the same when you're capturing phone numbers. Tell customers you're going to share offers via text, or send product updates, or share their delivery status.
They'll appreciate the transparency, and you'll get more signups.
Step #2: Say "Hi!" to New Customers
You've cleared one big hurdle: capturing the customer's phone number. Now, it's time to start making use of it.
The first part of this process is to reach out as soon as possible and start building a relationship.
It makes sense to strike while the iron's hot; when the consumer has just agreed to give you their number. Why would you wait for a day (or a week, or a month) to send your welcome message? By then, they might have forgotten all about you, making them less likely to engage with your marketing.
Welcoming a new customer gives you a valid reason to get in touch. It's your chance to say: "This is who we are, this is what we do, and this is why you should buy our products."
Here's a great example of that in action from green tea brand SkinTē: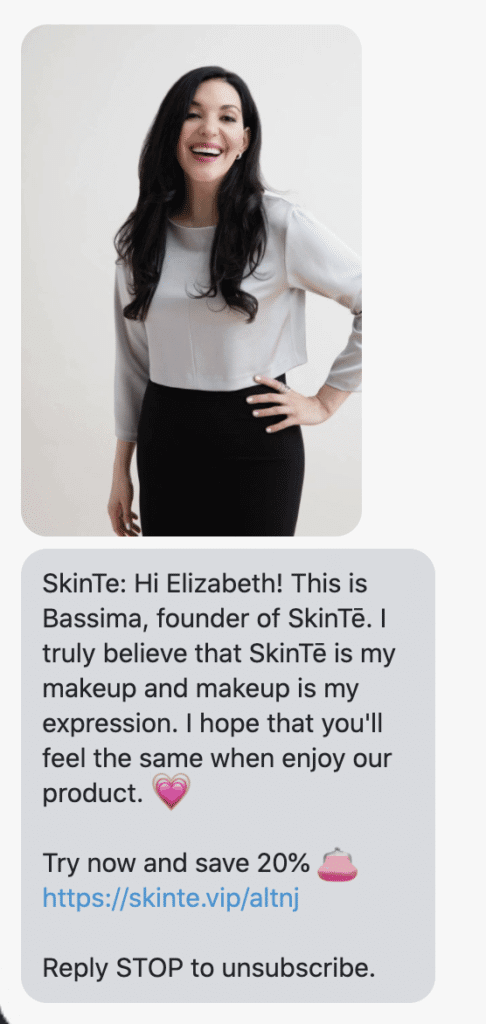 Source: Fantastic Texts
That single text message ticks so many boxes:
It's personalized to the recipient;
It introduces the brand, explains what it does, and gives some detail on its back story;
It includes a clear call to action with an incentive to buy now; and
It gives customers the chance to opt out.
All that in fewer than 50 words.
Step #3: Keep the Conversation Going
There's an oft-quoted statistic from the world of B2B sales that claims 80 percent of prospects say "no" four times before they say "yes".
Whether or not the same is true in the B2C realm, it's obvious that not every person who visits your site will buy there and then. Even those who hand over their phone numbers might have no intention of buying now; they need a little nurturing before they're ready to pull the metaphorical trigger.
So if your SMS marketing efforts involve sending one introductory offer then falling silent forever, you risk missing out on a lot of sales.
Even when you don't have a specific offer or product to promote, you should maintain some level of dialogue with prospects. After all, you don't know exactly when they'll decide to buy. It's your job to be front-of-mind when the time is right.
But if you've been to as many networking events as I have, you'll understand the difficulty of maintaining a conversation when the other participant is giving you nothing in return. So how do you keep things flowing when you're not even (directly) trying to sell anything?
Hydrant, which sells hydration products, shows us exactly how to do it: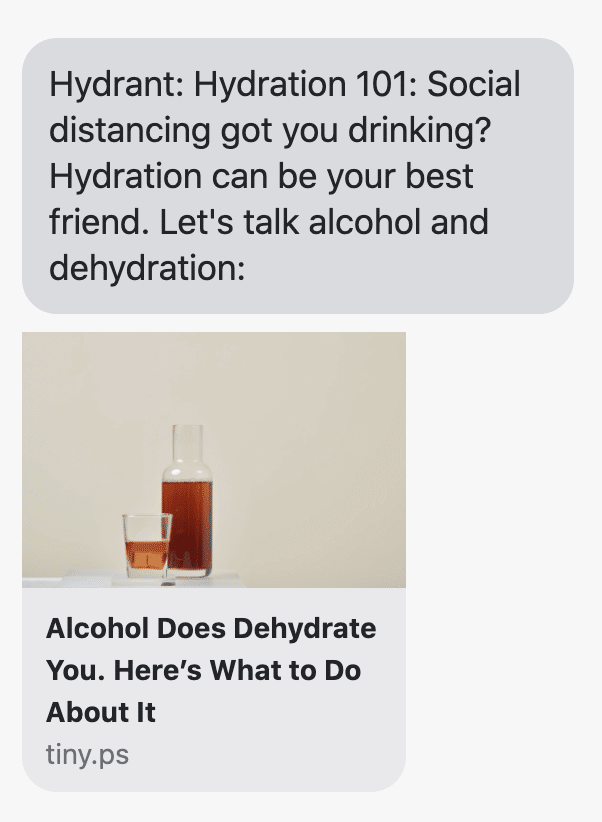 Source: Fantastic Texts
This is such a perfect example of SMS marketing in action. It's conversational, it taps into a broader narrative—the fact that people were binge-drinking more frequently during coronavirus-induced lockdowns—and it offers a "solution" in the form of a piece of content, rather than going straight for the sale.
Once the visitor is on the Hydrant site and engaging with the content, there's an obvious opportunity to target them with more product-focused CTAs: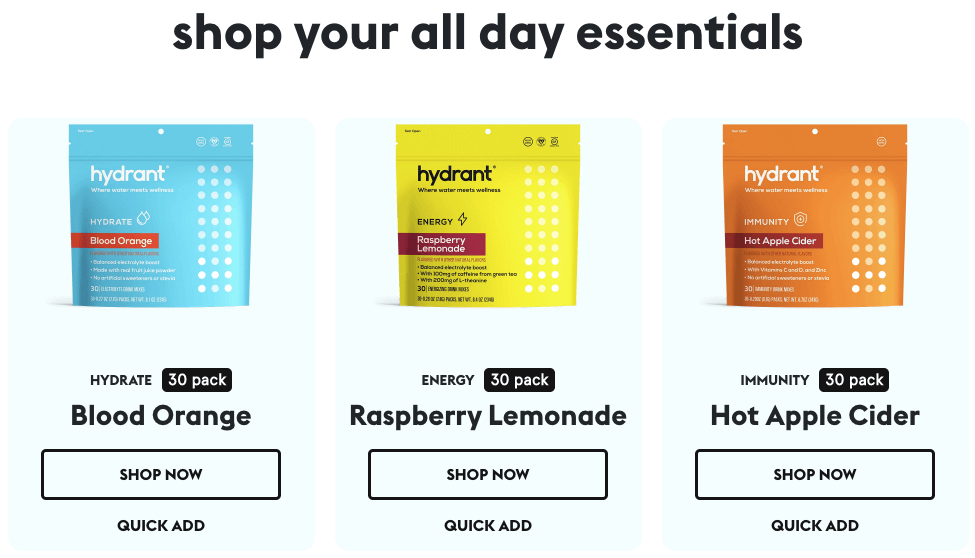 From top to bottom, this is an excellent example of a brand that understands the e-commerce sales funnel.
Step #4: Promote Product Launches
Soft-touch, conversational marketing is all well and good. But there are times when you want to be pushing for an immediate sale.
A product launch is one such time. Nailing the launch gives you valuable momentum, helping you leverage the benefits of word-of-mouth marketing. And it enables your new product to be self-sustaining; the more it sells, the more you can afford to spend on marketing it without eating into your bottom line.
Still, while the whole point of promoting a new product is to drive sales, there's still room for subtlety. Because most consumers aren't going to respond positively to a text that says: "Buy our new product… Go on, please!"
Essential oils brand Whimsy + Wellness strikes the right balance between pushing sales and keeping things bright and breezy: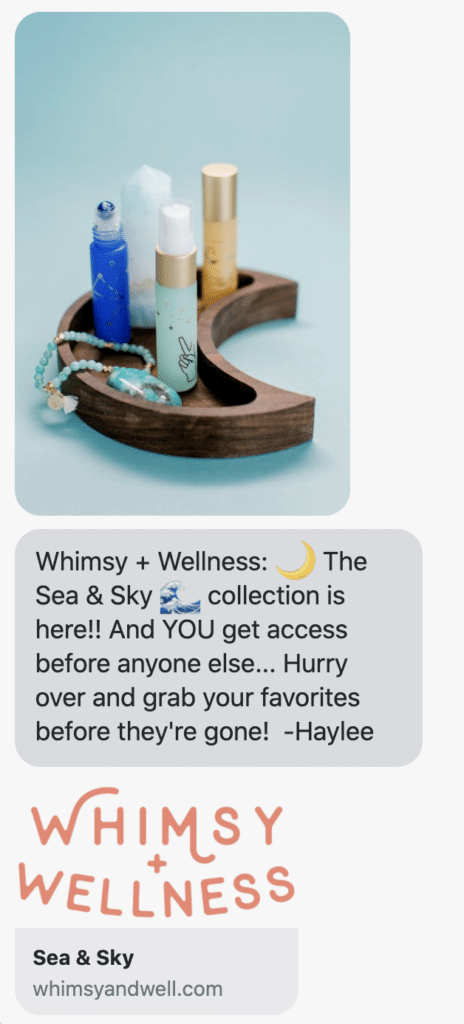 Source: Fantastic Texts
This message works for two main reasons:
The tone of voice and use of emojis is light and informal, which means it doesn't come across as too pushy; and
It gives the recipient a clear reason to buy now by instilling an air of FOMO.
On that second point, it's smart to offer a non-price-related incentive when pushing new products. If your only way to promote your latest launch is through a discount, that doesn't speak too highly to the product's value. Where possible, save that sort of marketing for end-of-line or out-of-season products.
Step #5: Amplify Discounts & Promotions
Whether you're running a big promotion or preparing for a key seasonal event like the Cyber Weekend, it's obviously in your best interests to spread the word.
Chances are you're already doing that via social ads and email, but SMS adds an extra string to your marketing bow.
This is another scenario in which you need to be salesy but smart. Triangle T Boutique shows us how to do it here: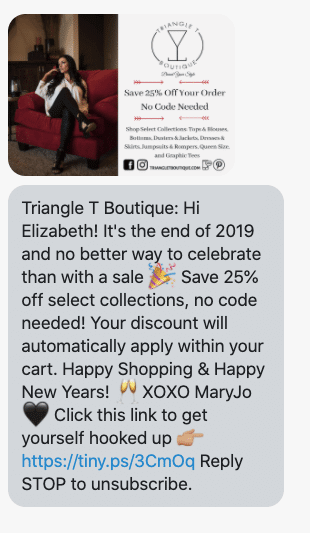 Source: Fantastic Texts
While it's a little "busy", this message works well because it clearly spells out the offer: make a qualifying purchase and your discount will be automatically applied. That means there's no room for confusion during the checkout process.
Step #6: Drive Cross-Sales
Whether by offering a discount, teasing a new product, or simply catching a customer at exactly the right moment, you've managed to close the deal.
Congrats!
But your work isn't finished; there's a valuable opportunity to drive more sales through cross-selling. By this point, you know what the customer likes, so you're in a strong position to recommend complementary products. This is precisely what NaturAll Club does here: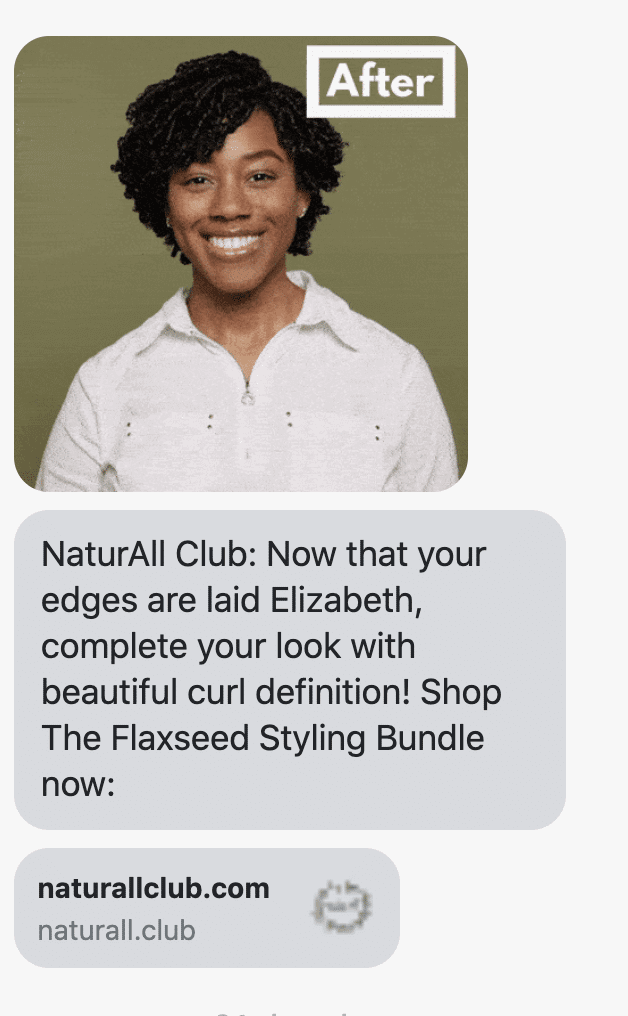 Source: Fantastic Texts
That's a textbook example of using SMS marketing to push a potential cross-sale. It's so effective because:
It states the benefit of the product the customer has already purchased…
…while also making it sound like their look won't be "complete" until they've made a secondary purchase.
To make this even more persuasive, you might add a small discount to your cross-selling texts—something along the lines of: "You've already bought Product X; Product Y will make it even better. And if you buy it now, we'll give you 5 percent off."
Step #7: Follow Up With Cart Abandoners
An astonishing 69.57 percent of all online shopping carts are abandoned.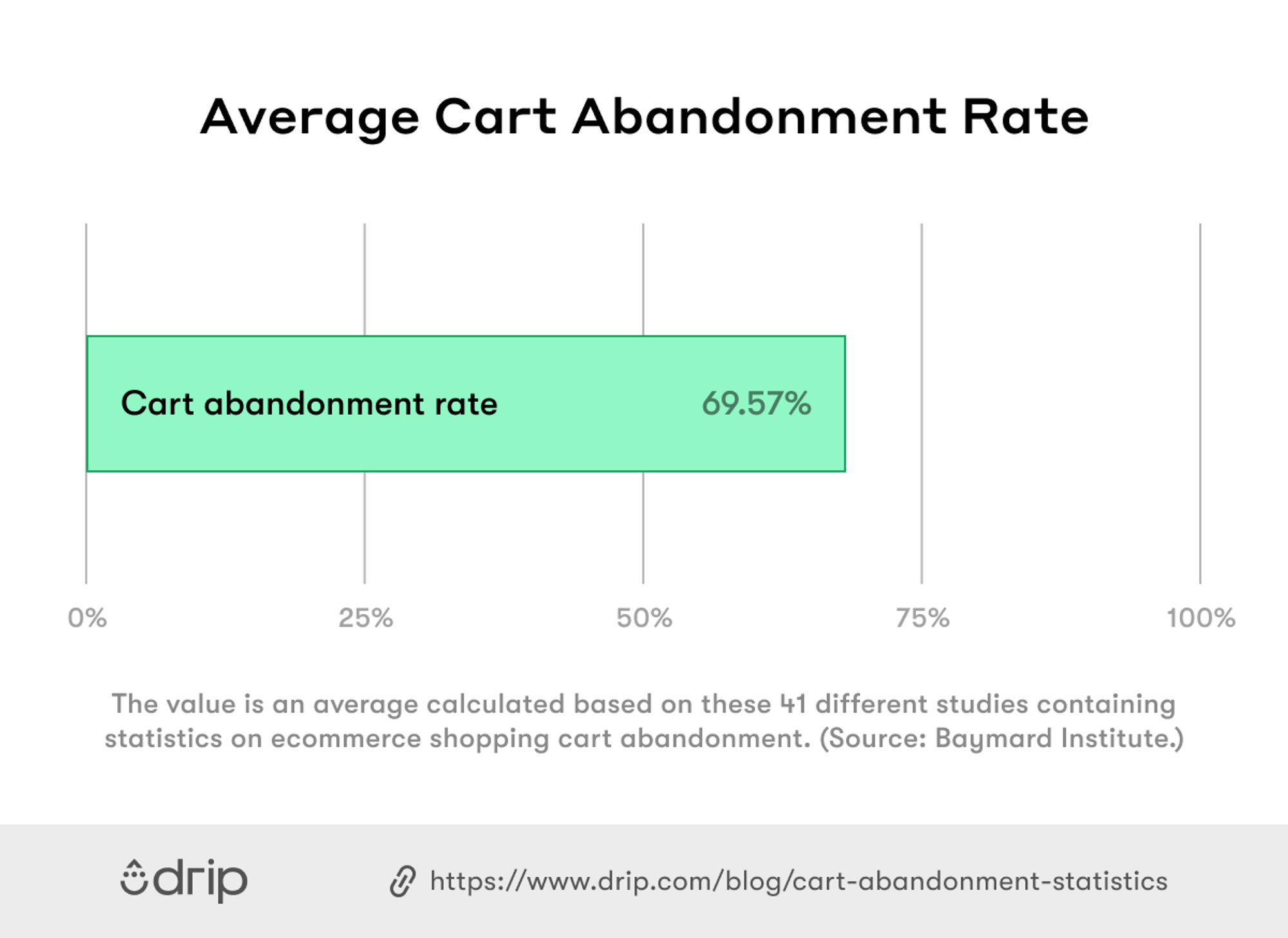 To put it another way, two in three people who start the checkout process will drop off before completion.
Imagine how easy it'd be to smash your targets if every one of those sales converted.
So cart abandonment is clearly a big problem.
Lots of brands attempt to deal with it by sending cart abandonment emails. But cart abandonment texts can be a viable option too—not least because the immediacy of SMS messaging means you can be on hand with a solution just moments after a shopper has ditched their cart.
Here's a fantastic example of this in action, courtesy of bedding brand Brooklinen: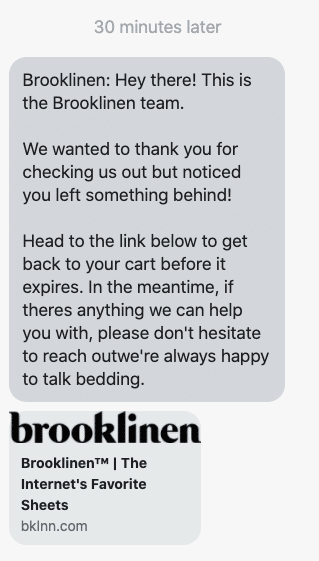 Source: Fantastic Texts
This works well because it's not too pushy. Sure, it's driving the recipient to complete their purchase, but it does this in the guise of a customer service message: Did something go wrong? If so, how can we help?
For me, that's a much better option than going straight in with a discount to compel shoppers to finish the transaction.
Conclusion
I'm not trying to aggressively advocate for SMS marketing.
At Drip, we're here to power your data capture, guide visitors through your site, and help you sell more—whether it's through email addresses or phone numbers.
If you've only got a limited budget or a small marketing team that can only handle one or two channels, email and social are probably safer bets.
But if you've got the time and resources, texting can absolutely be an effective tool in your wider marketing strategy. And, as you can see from the examples in this article, it has potential applications across the full length of the marketing funnel.