What the average consumer cares about has changed tremendously in recent years.
Sixty percent of consumers will go out of their way to buy from a brand over a third-party retailer.
Buying from big retailers just isn't cool anymore. People want to form a relationship with a brand they care about and that they feel cares about them. They want to support independent businesses and find a way to shop more ethically.
Direct-to-consumer brands epitomize these desires. That's why they've grown in number and eminence.
Consumers that are turned off by big retailers also find their marketing strategies shallow and unappealing. DTC brands take a much different approach. Here we're going to take a look at some of the clever DTC marketing strategies brands use to create fiercely loyal customer bases.
What's Different About DTC Marketing?
The first key component that differentiates DTC brands is that they take a consumer-first approach. There's no retailer in the middle to rely on for marketing.
So these brands have to focus on bringing customers directly to them and forming strong bonds over time. In other words, retention always beats out acquisition.
DTCs are in charge of the entire customer journey. Thus, they are able to create more personalized and consistent experiences than your average e-commerce company. This is what drives the kind of customer loyalty we're talking about.
It's also vital that DTCs stand out from the crowd. The idea is that they're doing something special, something that you won't find at every store. So marketing is driven by a robust branding strategy and superior customer experience.
7 DTC Marketing Strategies (with Examples)
1. Avoid Clichés
The trouble with DTC branding is it all gets a bit samey after a while.
Brands emerge claiming to be trailblazers. Then they use similar design concepts, tone of voice, and messaging to everybody else.
Think gorgeous minimalist imagery, a neutral color palette, language that speaks to hipsters or millennials, and so on. You know the drill.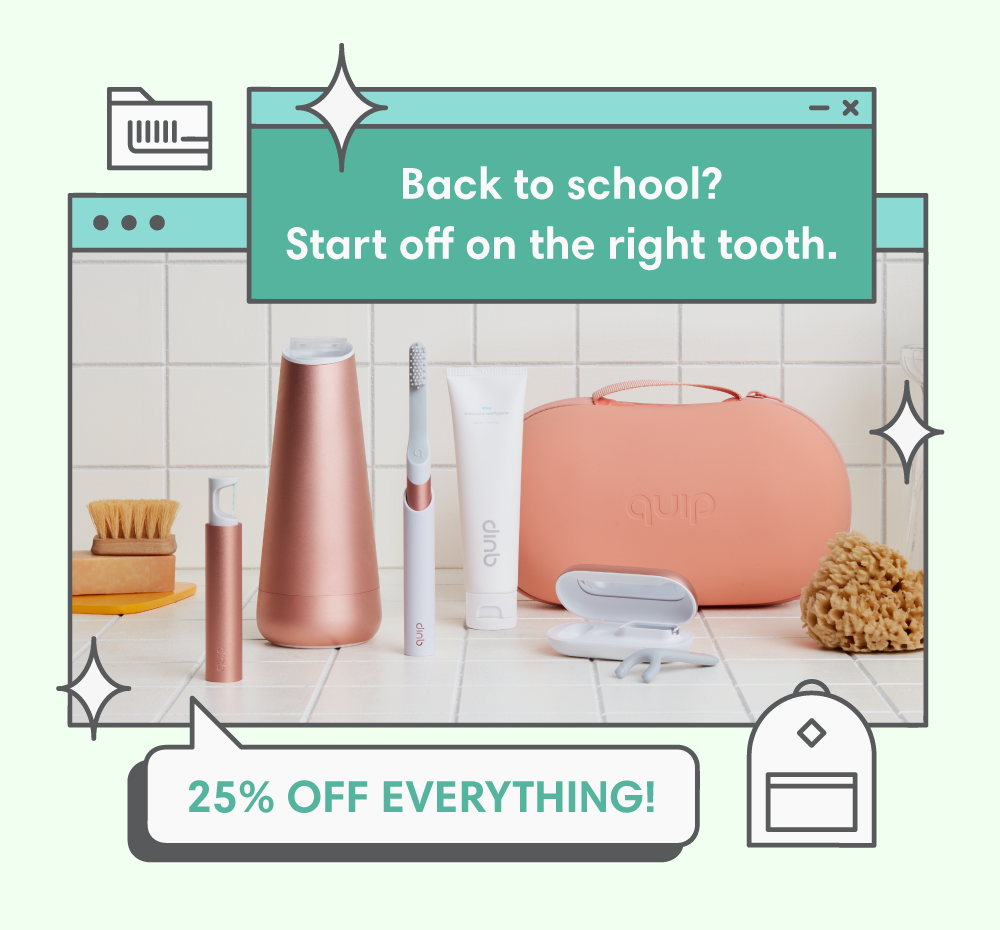 The solution here is to step out and really do you. Authenticity and honesty are a must in DTC marketing.
Here's one of the most authentic emails we've seen from DTC brand, Hylo: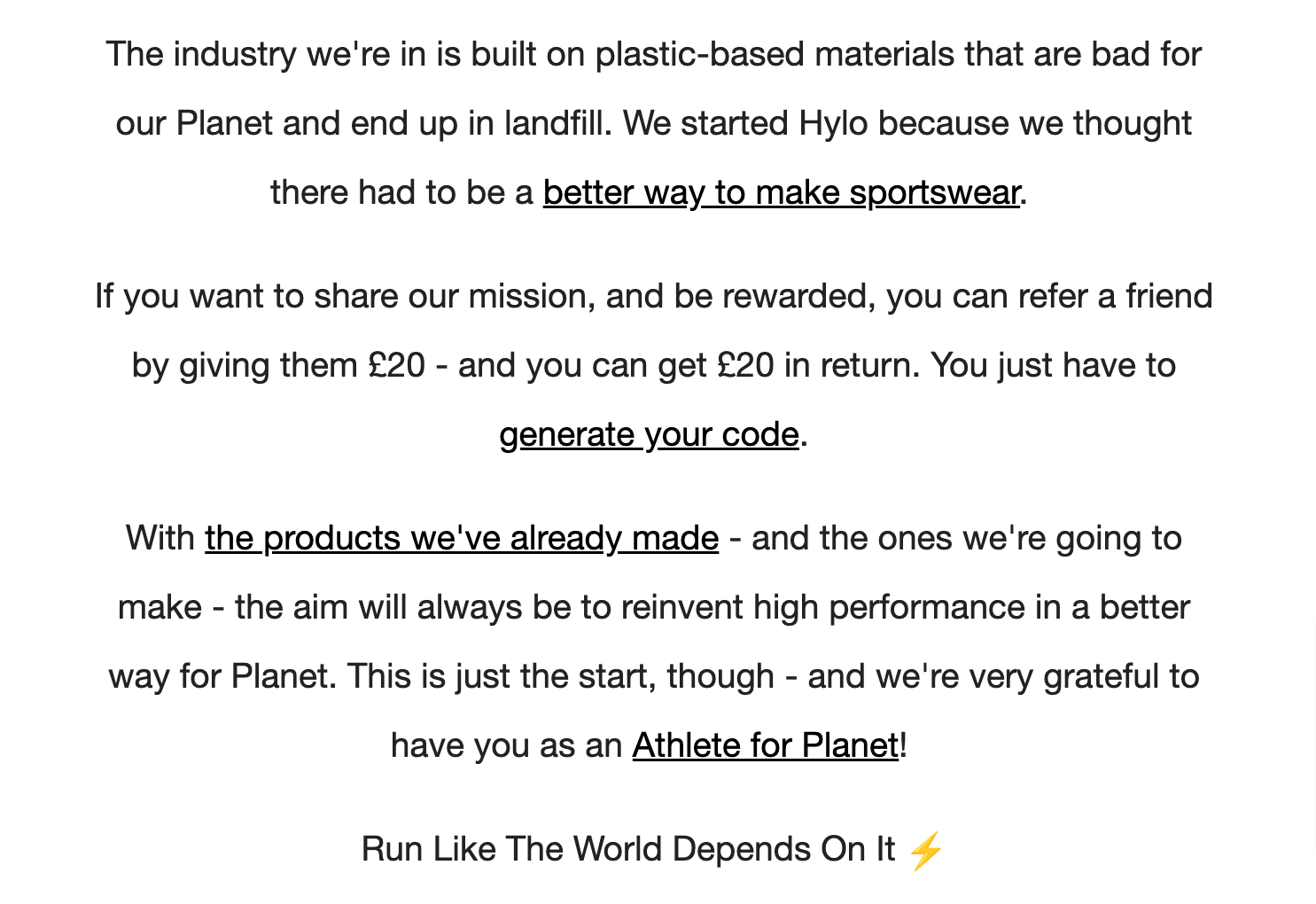 There's no cheese. There's no "We founded this sneaker company with you and the planet in mind blah blah."
It's genuine. The company is essentially saying - we want to make it in the shoe industry, so your subscription early on is a big deal, and we appreciate it. This kind of transparency is what consumers appreciate about DTC brands.
The point is, what was once original in DTC marketing is now becoming clichéd. You need to steer clear of the type of messaging that every brand is using.
Yes, DTCs are unique compared to traditional companies. Everybody gets that now. So the question you now need to answer is what makes you unique compared to other DTCs?
2. Use Brand Partnerships to Create Value
Brand partnerships are part of the DTC marketing playbook. Rightly so. The average partnership revenue growth rate is 17.5 percent. But just because that's the case doesn't mean you should partner with the first brand that comes knocking at your door.
You might think slapping a well-known brand's logo on your product will be good for business. But it's shallow. The best, most memorable partnerships that engage the most customers actually benefit customers. DTCs are all about putting customers first, after all.
In 2021, bakery and sweet treats company Crosstown collaborated with Form Nutrition, a powders and supplements brand, to create a vegan protein shake that combined their products.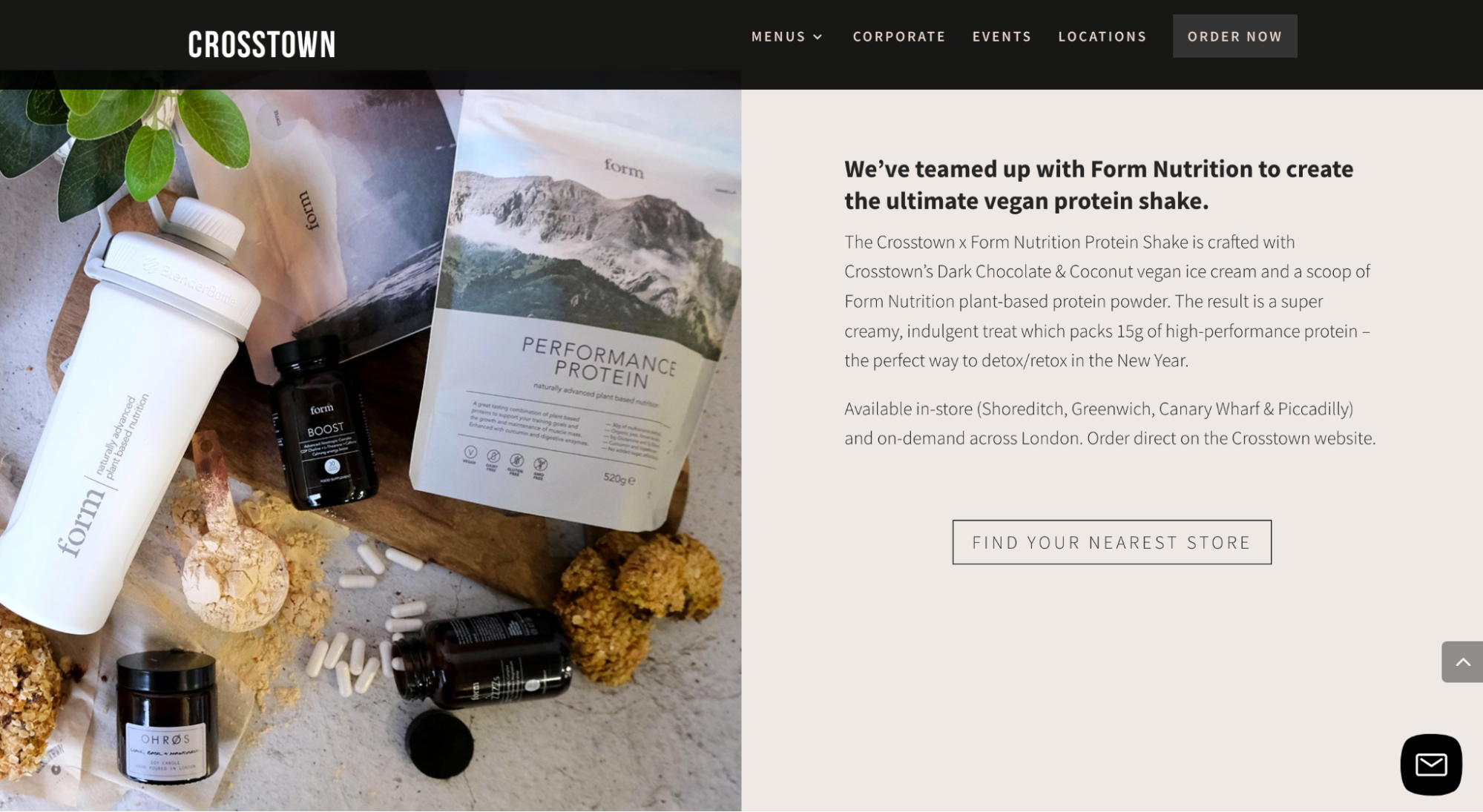 Customers can get this DIY shake kit as well as other combi boxes delivered.
The collab isn't meaningless and arbitrary like some in the space can be. They've come together to create an entirely new product for their vegan audiences.
To do a successful collaboration with another brand, you need to put your heads together and think about what makes sense for both audiences. And what will bring tangible value in the long term.
3. Create Realistic, Personal Shopping Experiences
One reason people still go to brick-and-mortar stores is that they want to see and feel the product in front of them. They want to make sure it's right before they buy.
This was a problem for online retailers, of course. But DTC brands are eliminating this issue through personalized shopping experiences.
Clothing and lifestyle brand Weird Fish, for instance, has a bunch of ways for customers to ensure garments are the right fit before they make a purchase.
First, there's a tool in which customers input their height and weight to get an accurate prediction of what size to choose: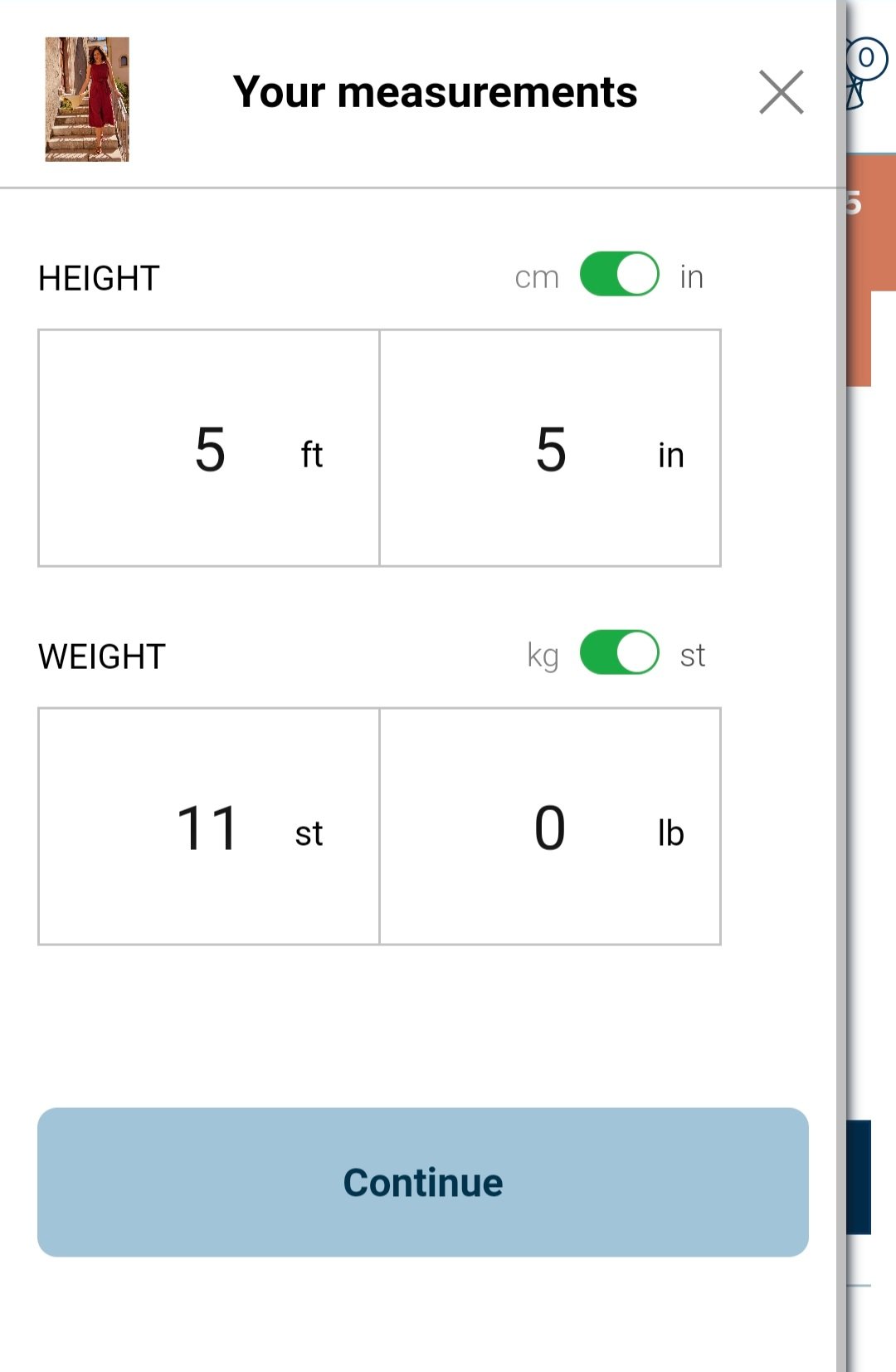 The company also has a virtual try-on. Customers upload their photos, and the garment is superimposed onto them: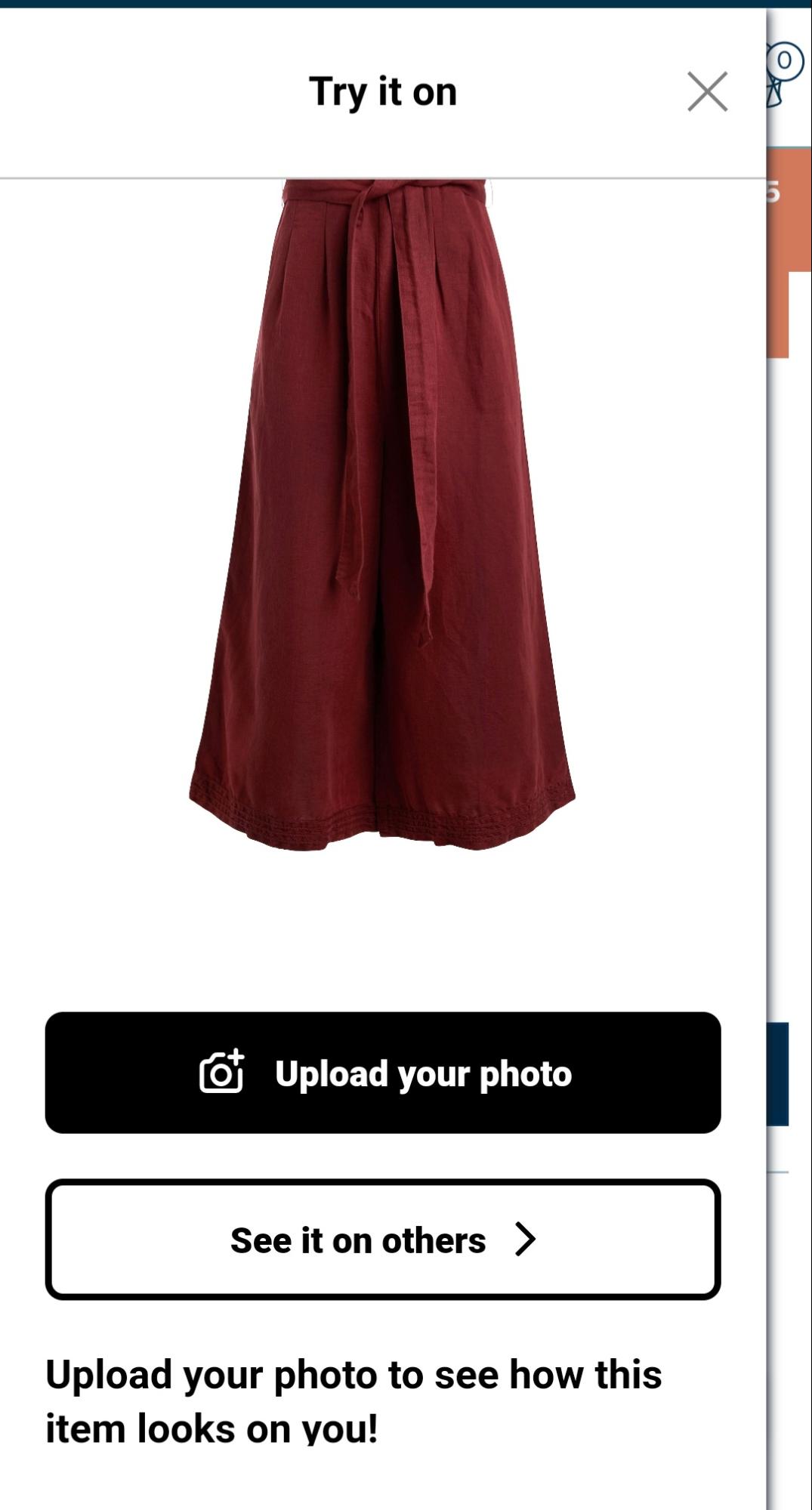 Some DTCs use real-time augmented reality try-ons to make this process even more advanced.
Finally, Weird Fish asks customers to rate the fit of a product when they leave a review and displays the result above the reviews section: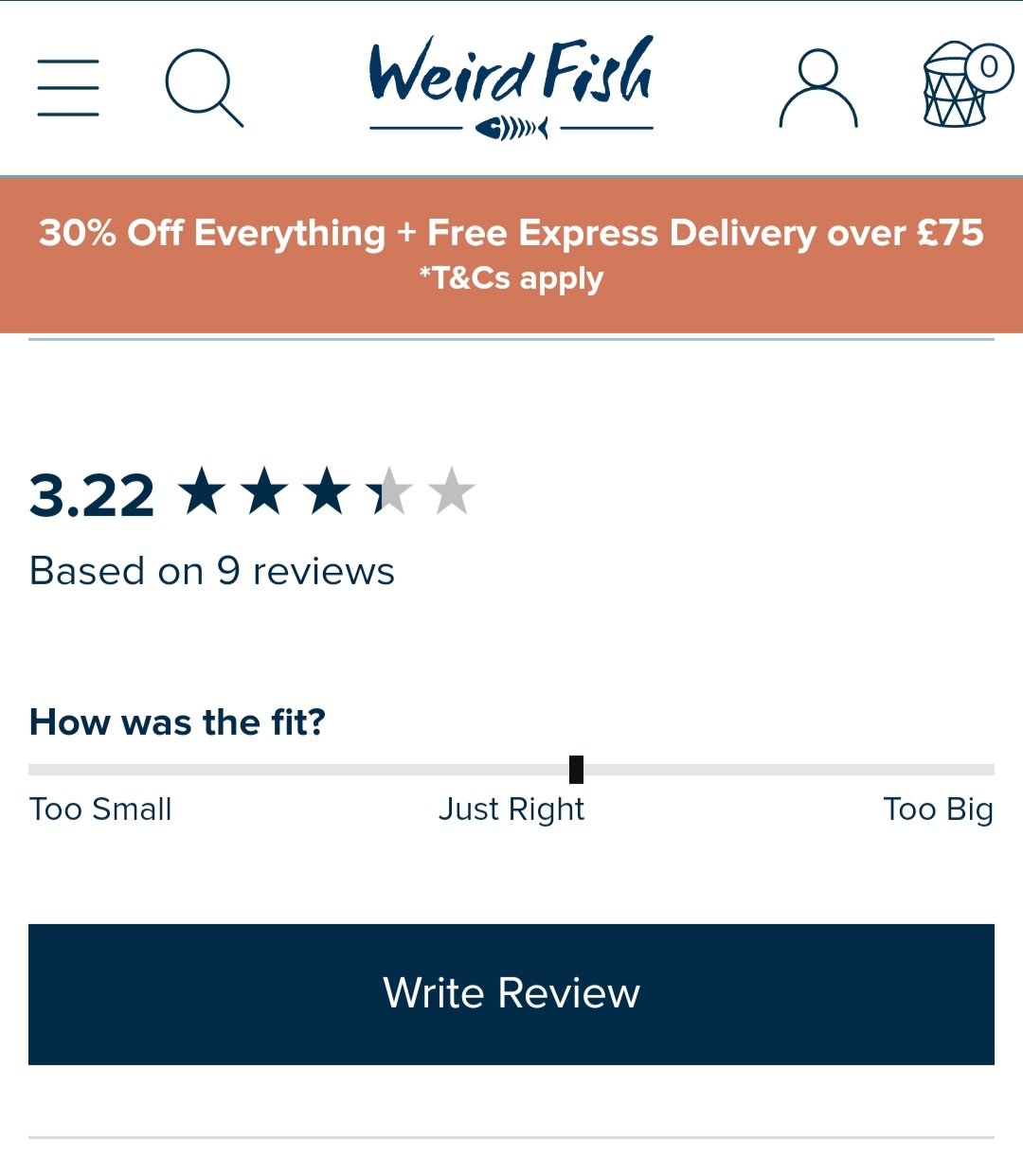 This shows potential customers whether an item skews large or small, for example.
All of this goes above and beyond to ensure the customer gets the right sized product, i.e., there are no hitches in the customer journey. It's representative of the heavy focus on the customer experience among DTC brands.
You can do something similar. Or you could collect customer returns data, in particular when customers return an item because it doesn't fit or it isn't the right shade for them, etc. Then make hyper-personalized recommendations in future to ensure customers get the perfect product for them. This works for a multitude of products, not just apparel.
4. Let Social Listening Guide You
To truly put customers first, you need to listen to them. Social listening means you can gather feedback and insights at scale and then incorporate it into product development, brand strategy, and messaging.
Glossier, for instance, employs social listening on a wide number of platforms, including its Facebook group, subreddit, Instagram comments, product reviews, and more. They do this to garner a deep understanding of customers that allows them to create intimate relationships at scale.
Through social listening, they can also stay on the pulse of what's going on in the beauty community. As Glossier CEO Emily Weiss says, "If you rinse and repeat, it stops feeling authentic."
Instead, they create content that reflects what's going on at any given time, whether it's product-related, reflects customer attitudes, or whatever else they find.
To give you an example, here's a seasonal email from Banana Republic: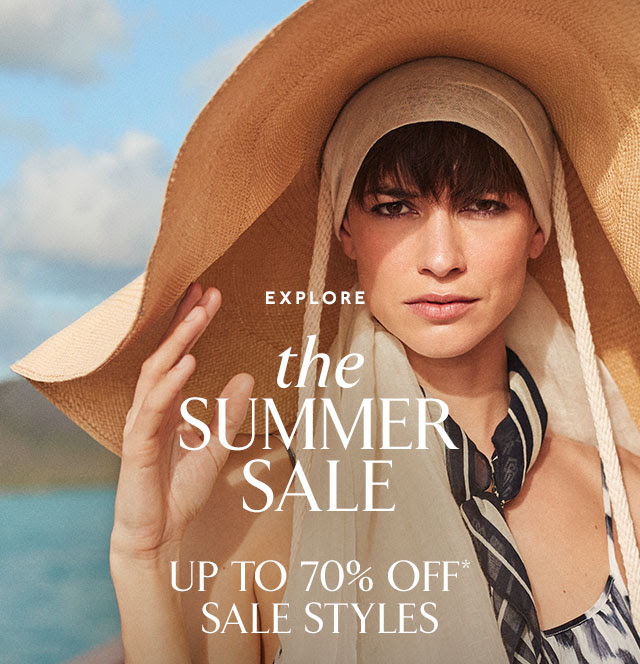 It reads, "We swap out our clothes for lighter layers, shouldn't our makeup look change with the seasons, too?" This no doubt represents the kind of question the brand's audience is asking online at that time of year and perhaps what the beauty community at large is talking about.
To do something similar to Glossier, you need to consider where your audience spends its time online, then use a social listening tool. For instance, are they tweeters or grammers? Do they use Reddit or a dedicated forum? And so on.
5. Work with Micro-Influencers
As we've already discussed, authenticity matters if you're a DTC brand. For this reason, you're likely to get much more out of working with a micro-influencer than a big name.
They promote brands in a way that's closer to a personal recommendation or word-of-mouth style marketing. This is because they have a smaller following and, therefore, a closer relationship with their audiences.
Micro-influencers have 1-100k followers on social media and are more likely to have a niche audience. This results in more meaningful engagements for brands as their audience aligns more closely with that of the micro-influencer even though they don't have a ton of followers.
It's often better to work with a targeted group of influencers than one large influencer. Kombucha company Health-Ade, for example, used 214 micro-influencers to generate 1.6 million impressions: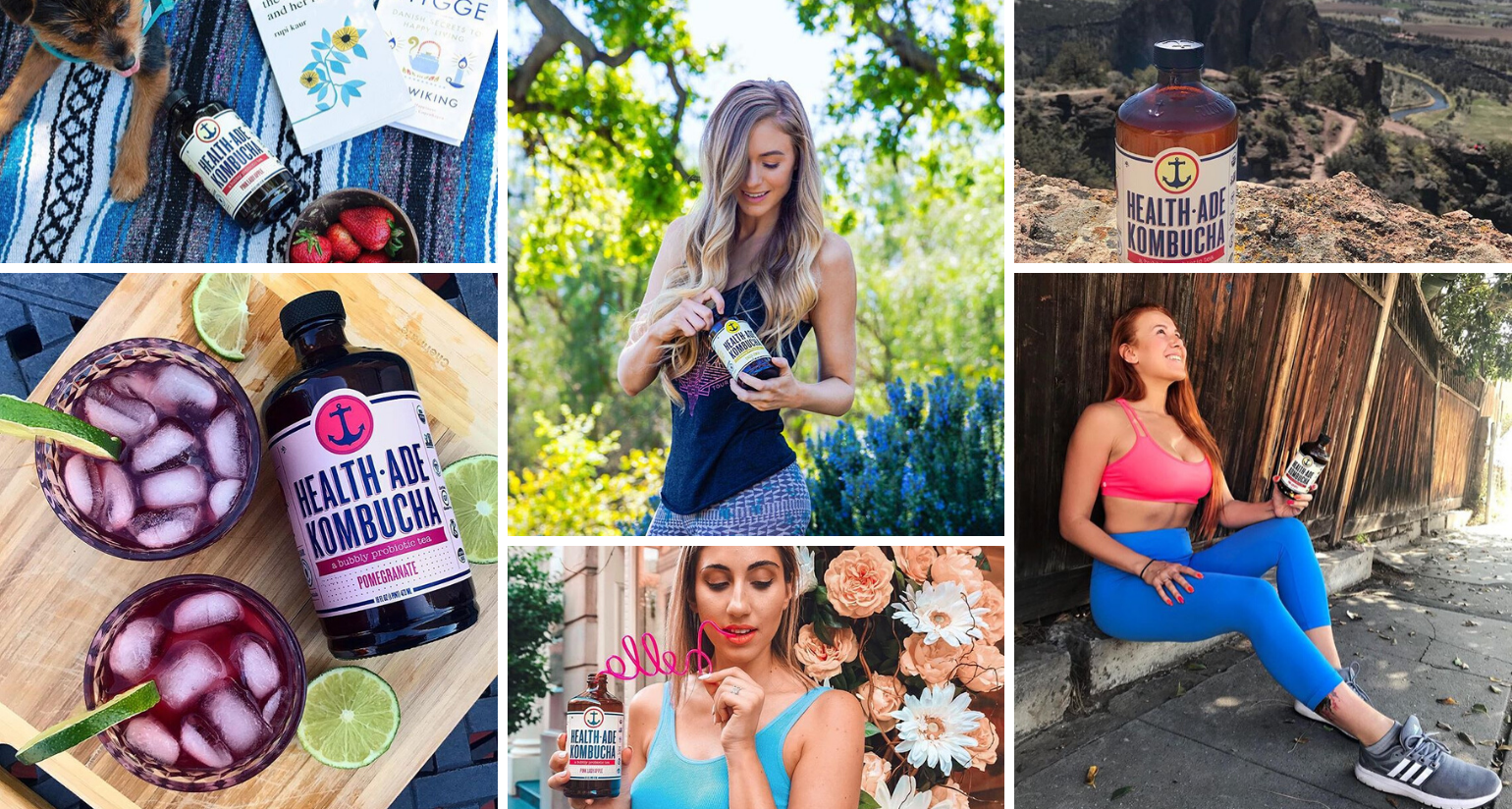 To do something similar, you can find the right micro-influencers for your brand through directories or agencies, by searching relevant hashtags on the social media platforms where your customers hang, or by locating advocates of your brand from your existing customer base.
From there, you can either opt for a paid campaign or gift products to influencers. It all depends on what kind of budget you're working with.
6. Build a Community through Referrals
Referrals make sense for DTCs because they're all about community vibes. Communities are essential for encouraging buzz around new products, gathering feedback, and fostering a sense of being part of something bigger than just a group of customers.
Referrals, again, represent the word-of-mouth marketing style that DTCs prefer. It feels more genuine when somebody you know recommends a brand to you.
All in all, it's easier and more cost-effective to build a community through referrals than by other means such as paid ads.
In fact, referrals are doubly beneficial in the sense that you get new customers that immediately have an emotional connection to the brand (through a personal recommendation), and at the same time, you turn those that recommend your brand into loyal advocates that'll stick around for years to come.
Stationery company Baronfig has a referral program in which referrers get $10 off their next purchase, and their friends get $10 off. What's good is that customers can build their store credit with every referral they make.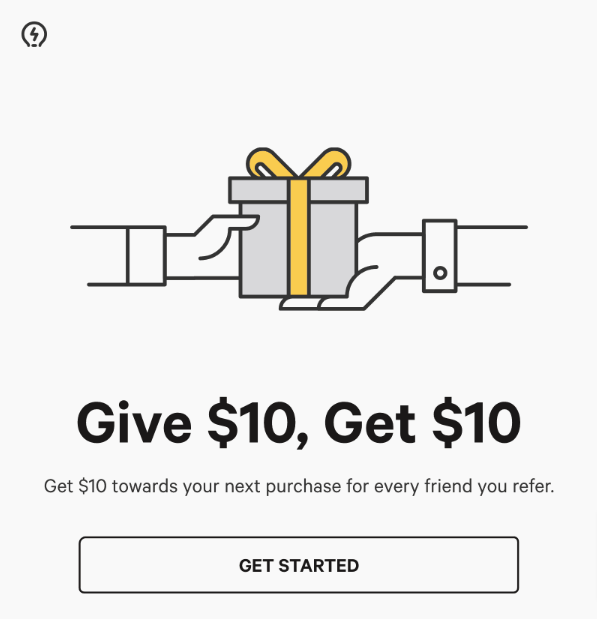 This encourages them to make multiple referrals. In other words, truly help the brand to build a community rather than making a referral as a one-off.
Referral programs can also be incorporated into loyalty programs. Users receive points in exchange for making referrals, for example. Another option is to create ambassador programs and get a ton of people that want to hype a brand on board.
7. Maintain Customer Loyalty with Email
Customer loyalty equals greater customer lifetime value for DTC brands. This is important if, say, you have a niche product where there's a cap on customer growth.
As mentioned above, DTCs also have an advantage when it comes to building customer loyalty. They're able to reach customers at every touch point in their journey.
Email is always going to be where you'll reach your most loyal customers, as your email list consists of people that have willingly given over their details. With that in mind, then, it's a good idea to invest time and resources into building and maintaining customer loyalty through email.
One strategy that works well for DTC brands is the "just 'cause" email. This is how these brands show their appreciation for customers on a large scale. And we all know by now that when you surprise and delight customers, they're more likely to develop all the feels for your brand.
Here's a sweet example from DAVIDsTEA:

As you can see, it's an email that simply thanks the recipient for being a customer. They're not trying to push any products.
The email is also personalized, which makes the customer feel even more special and appreciated. Plus, it's just fun with a good sense of humor. When customers receive this kind of email from a brand, they find it refreshing.
You can emulate DAVIDsTEA and send out an appreciation email. Sometimes brands also include special offers or freebies for their best customers.
Or you could send an email with useful content. This shows appreciation as it's for no other reason than to help customers.
Final Word
DTC marketing is the antithesis of traditional retail marketing. It's not about trying to bag new customers or sales constantly. It's more about building a community of unofficial brand ambassadors and maintaining their loyalty over time.
This is achieved through authentic branding, creating unique experiences, and truly understanding customers. Whether you have a DTC brand, DTC offering, or a regular old e-commerce business, you should be following suit. This is the future of marketing for consumer goods.
Now it's your turn to get to grips with the unique needs and desires of your customers. Then try out some of the strategies you've seen here.