Think about the best customer experience you've encountered.
It could have been at a hotel, a restaurant, a sports ground, a physical store… Maybe it was even on a website. Wherever it happened, I bet you enjoyed it so much because it made you feel special.
Fact is, consumers want to be treated like real people, not a bunch of behavioral and transactional data. They want you to remember their preferences and share content, offers, and products that resonate with them.
Retail brands are well aware of this, with 39 percent describing the need to improve customer experience as an "urgent priority."
Unfortunately, they're being let down by their tech stacks, as just 35 percent of brands say their marketing technology helps them level up the customer experience.
Sounds like they're using the wrong tools.
If you're in the same boat, don't panic, because we've rounded up the seven best ecommerce tools for customer-centric brands like yours…
The 7 Best Customer-Centric Ecommerce Tools You Should Consider Using:
1. Drip: Best for Marketing Automation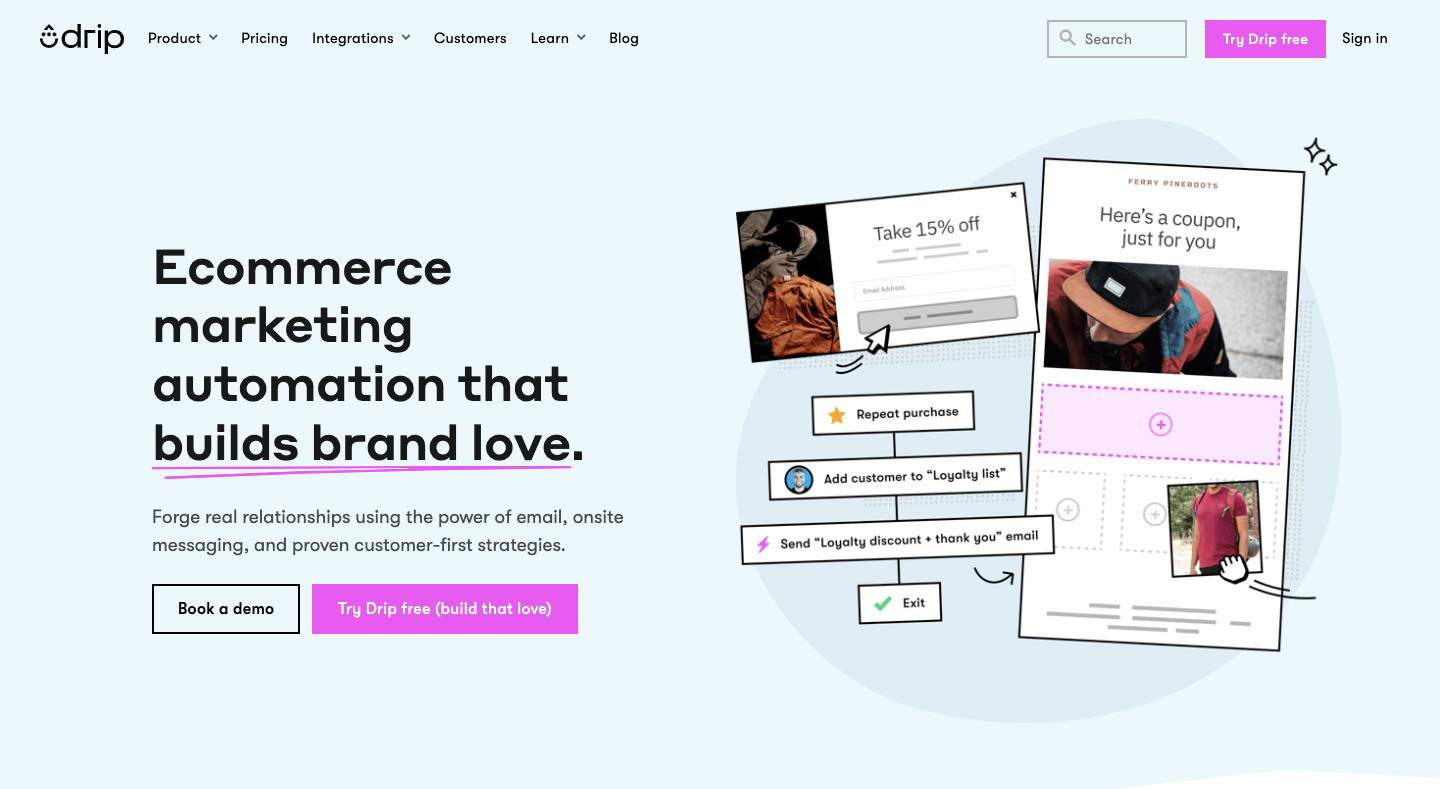 What Is It?
Drip is a marketing automation platform that helps ecommerce brands build stronger customer relationships through email and onsite marketing. Thousands of ecommerce stores — especially DTCs — use our personalization, segmentation, and automation tools to reach their audiences with exactly the right messages at the right time.
What Does It Do?
Craft ultra-personalized messaging.

We combine store, visitor, and marketing data so you can create behavior- and engagement-based segments that update in real time, helping you deliver personalized customer experiences.
Use our pro-quality templates to design beautiful emails, fast.

We have a library of 50+ professionally designed email templates for ecommerce brands. Use our point-and-click editor to incorporate your brand styles and add store products straight to emails.
Run A/B tests to optimize email campaigns.

Figure out what resonates best with your audience by testing up to four subject line or content variations simultaneously.
Delight customers with personalized onsite offers.

Our

onsite form-builder

offers 100 percent control over the design and placement of every popup, slide-in, or sidebar, helping you craft engaging onsite messages with ease.
Enhance segmentation with zero-party data.

Use our quizzes and multistep forms to gather valuable zero-party data that helps you better understand customer needs and preferences.
Integrate with the ecommerce tools you love.

We offer dozens of ecommerce-specific integrations, from ecommerce platforms such as Shopify, BigCommerce, and Magento to customer loyalty tools like GoBot and

LoyaltyLion.
How Much Does It Cost?
Drip is priced from $39 per month for unlimited email sends to up to 2,500 contacts. Try before you buy by signing up for our 14-day free trial.
2. LoyaltyLion: Best for Customer Loyalty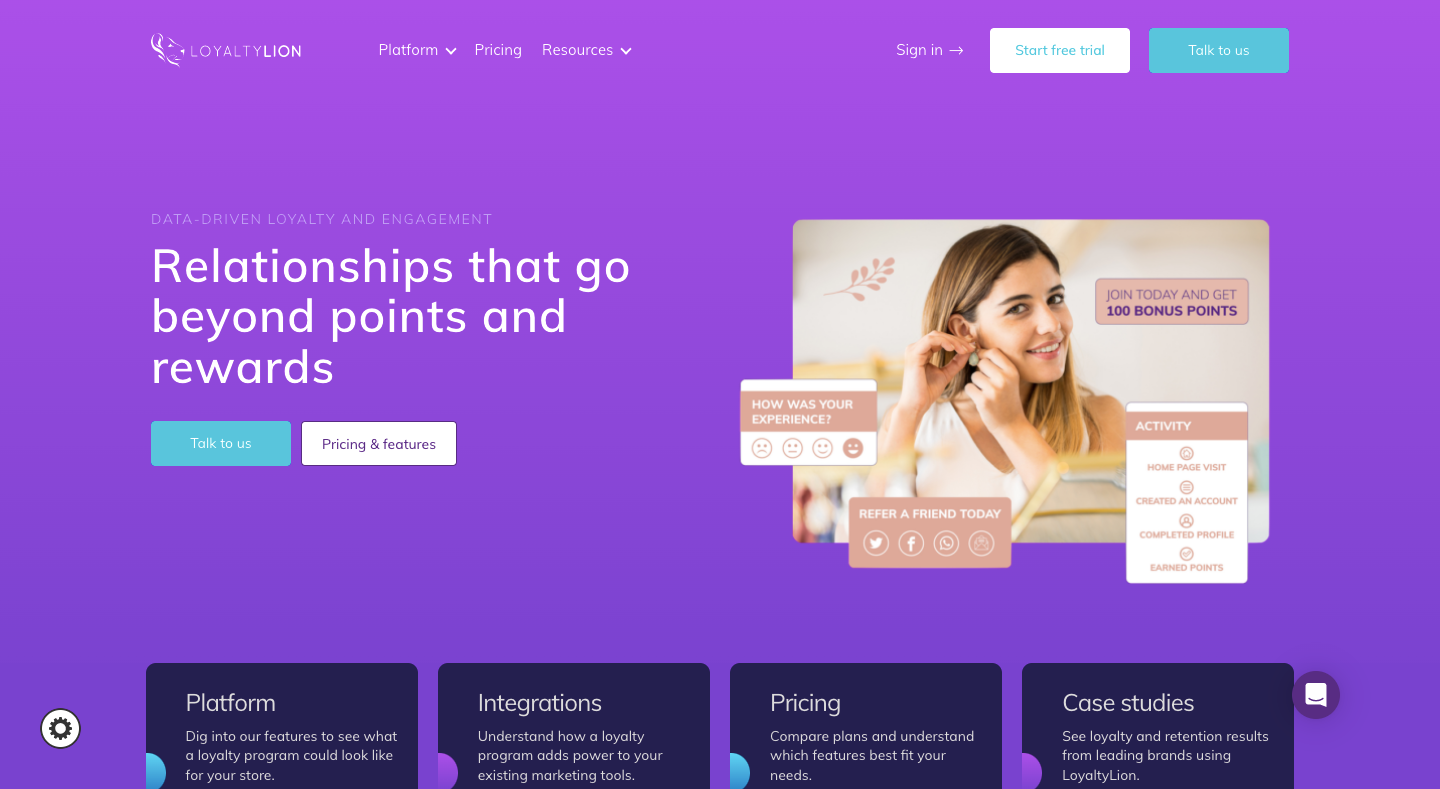 What Is It?
LoyaltyLion is a loyalty platform used by 10,000+ ecommerce brands to engage and retain existing customers. With McKinsey data revealing that top-performing loyalty programs can increase revenue from points-redeeming customers by 15 – 25 percent per year, LoyaltyLion could have a big impact on your bottom line.
What Does It Do?
Incentivize high-value onsite actions.

LoyaltyLion lets you reward customers who perform desirable actions like making purchases, writing reviews, and referring friends and family.
Reward

offsite

actions, too.

Customers can also earn rewards for sharing referrals via email, mobile, and social media thanks to LoyaltyLion's link generator and standalone referral widget.
Customize your loyalty program to your brand.

Use the platform's CSS theme editor to

build a loyalty program

that looks

exactly right

for your brand.
Keep customers engaged with your loyalty program.

Send loyalty emails and leverage onsite notifications to turn one-time referrers into loyal brand advocates who consistently share high-quality ecommerce leads. Boost engagement further by

integrating LoyaltyLion with Drip.
Personalize loyalty messages with unique data.

Add the customer's loyalty tier status, points balance, and available rewards to emails and SMS messages to effectively communicate the benefits of your loyalty program.
How Much Does It Cost?
LoyaltyLion's pricing is based on monthly order numbers—meaning you don't pay for customers who don't use your loyalty program. Prices start at $359 per month for 2,000 monthly orders. LoyaltyLion also offers a 14-day free trial.
3. InviteReferrals: Best for Referral Marketing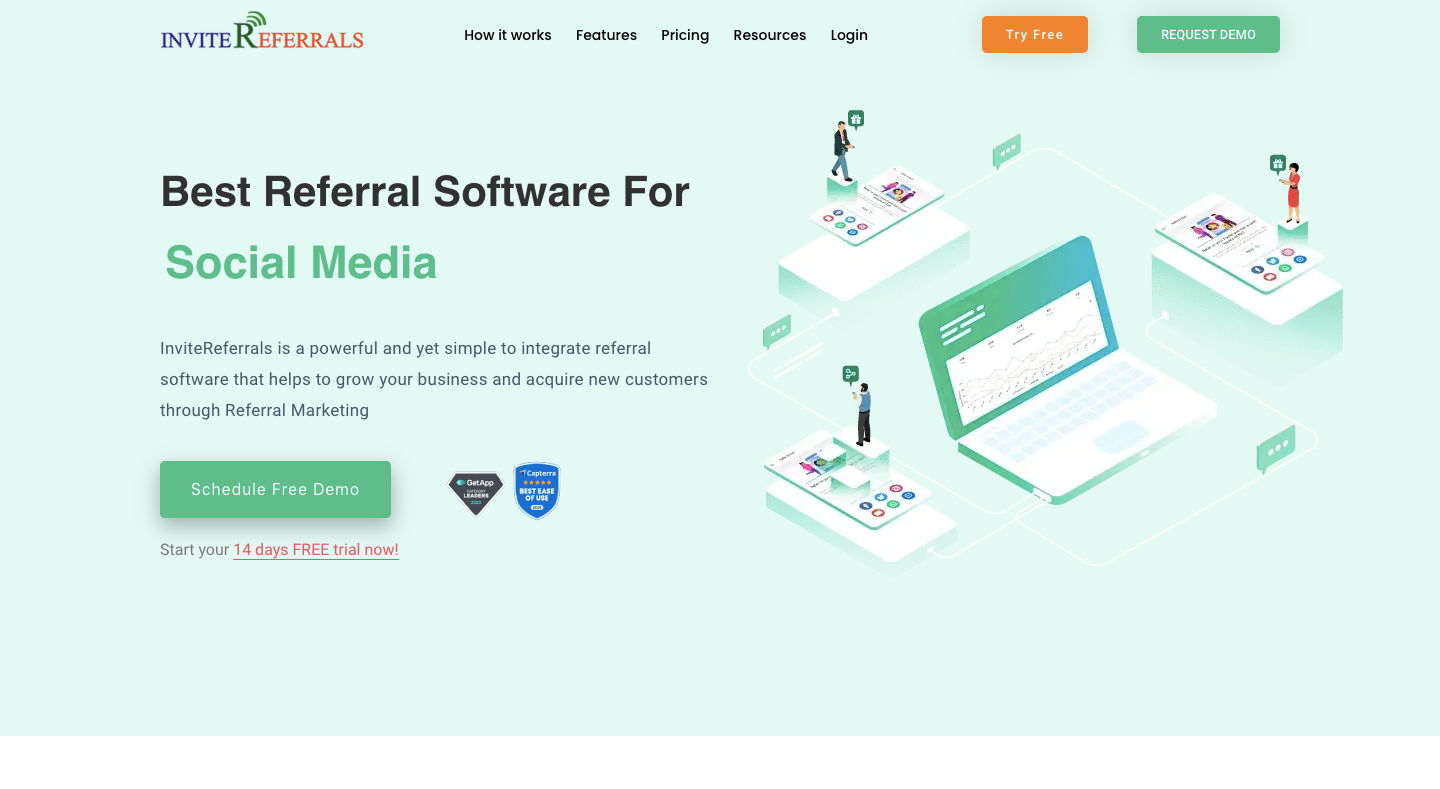 What Is It?
InviteReferrals is a referral marketing platform that helps transform your existing customers into your biggest source of new sales and revenue. When customers are referred by other customers, they generate higher profit margins, display greater loyalty, and show a higher lifetime value — giving you a valuable headstart on your customer-centric marketing plans.
What Does It Do?
Reward customers for sharing referrals.

InviteReferrals tracks each referral and automatically sends reward emails to the referrer following a conversion.
Incentivize the actions that matter to you.

It's not just about sales. With InviteReferrals, you can reward referrers for driving various actions, including form completions and app installations.
Generate referrals through multiple channels.

The platform allows customers to refer friends and family through social media, SMS, and email.
Build referral programs customized to your brand.

InviteReferrals has a built-in WYSIWYG editor that makes it easy to build every element of your referral campaign — from referral widgets to email messages — without any coding or design skills.
Automate your referral marketing.

New enrollers in your

referral program

receive automated notifications, while rewards and coupon codes can be generated and managed through a single platform.
How Much Does It Cost?
Prices start at $99 per month for 1,000 new referrers per month, including unlimited conversions and invites. InviteReferrals also offers a 14-day free trial with a limit of 100 new referrals.
4. PayPal: Best for Customer Trust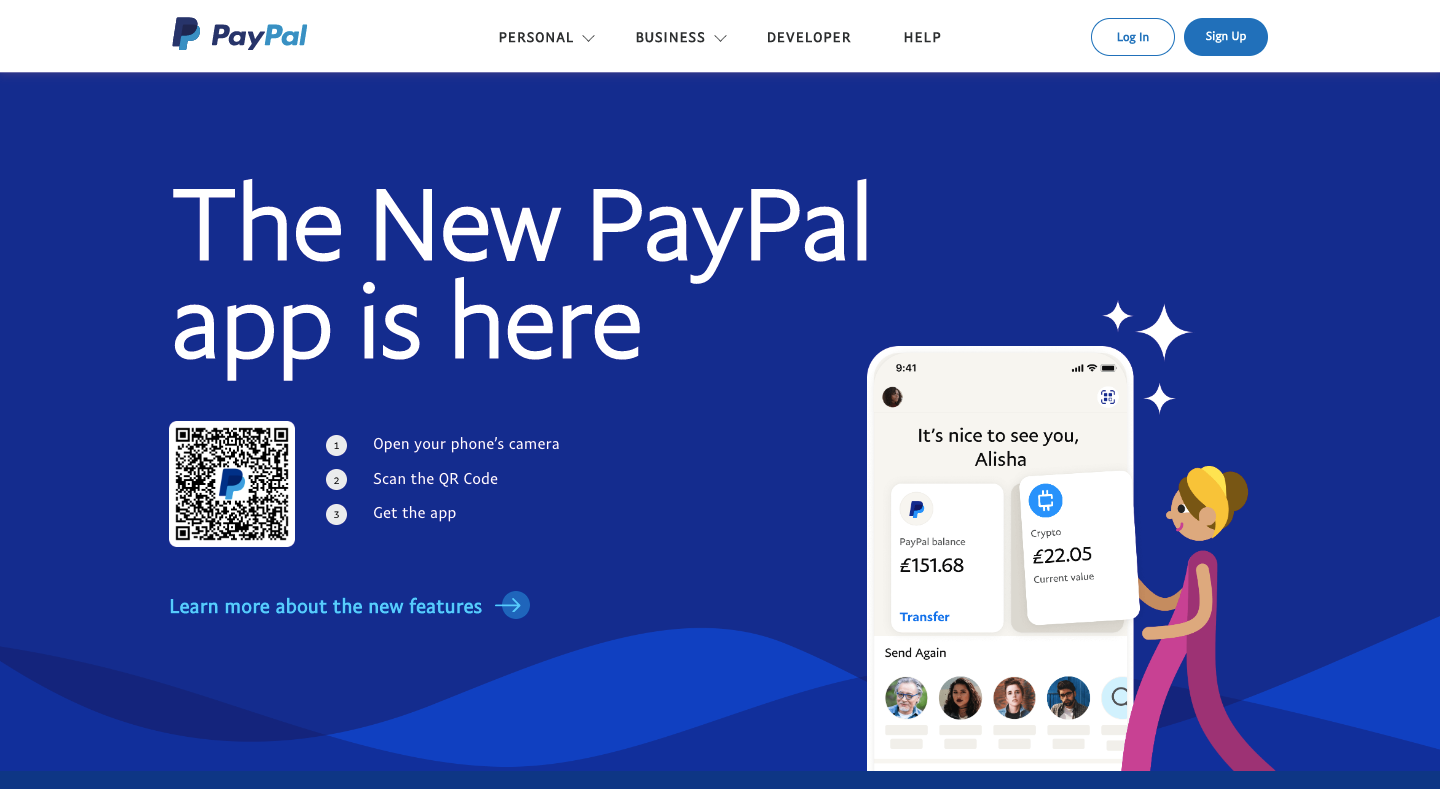 What Is It?
Okay, so you already know what PayPal is. But you might not understand the role it plays in building customer trust. PayPal's own research reveals that 71 percent of customers are more likely to trust businesses that offer their preferred payment method. Given that PayPal is the most used online payment provider in the US (and has 426+ million active accounts globally), that makes the platform a massive trust factor.
What Does It Do?
Let customers pay their way.

PayPal isn't

just

PayPal. It allows ecommerce stores to accept payments from debit and credit cards, PayPal, and several local payment methods in 100+ currencies across over 200 markets.
Add buy now, pay later to your store.

PayPal's Pay in 3 lets customers break down payments into smaller, interest-free amounts—a useful tool for

increasing conversion rates

and average order values. Indeed, PayPal says its buy now, pay later solutions deliver more than double the AOV of standard PayPal orders.
Fuel customer retention with Store Cash.

Ecommerce stores can retain high-value customers and build loyalty by sharing Store Cash offers with PayPal users who haven't made a recent purchase — effectively a form of winback campaign.
How Much Does It Cost?
PayPal doesn't exactly "cost" anything, but it does charge a fee on commercial transactions (including selling goods, receiving payments through QR codes, and receiving money through payment requests). These fees vary by region.
5. Help Scout: Best for Customer Support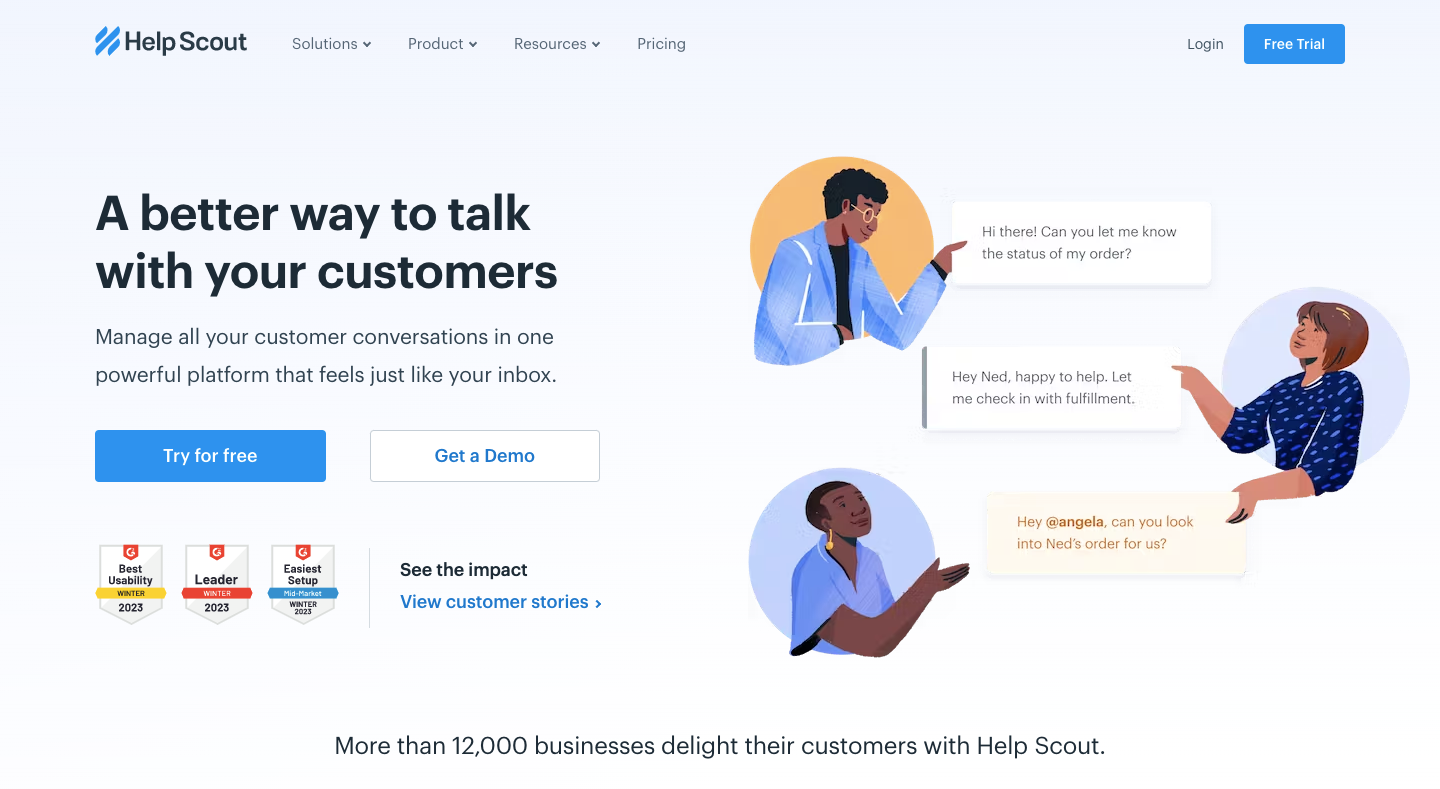 What Is It?
Help Scout is a customer success tool that allows brands to manage customer conversations via a single platform (which looks and feels just like an email inbox). Over 12,000 businesses use it to support and delight their customers, including ecommerce brands like Nurture Life, PromGirl, and Threadless.
What Does It Do?
Bring all your conversations under one roof.

Help Scout's main selling point is its ability to let teams track, prioritize, and respond to customers from one platform, while allowing colleagues to share notes within emails before responding to a query or request.
Deliver personalized customer responses.

Few things are more frustrating to customers than feeling like the retailer

doesn't know who they are. Help Scout addresses this by bringing together customer data and previous conversations alongside support requests.
Automate repetitive customer support tasks.

Not all customer communications require individual attention. With Help Scout, you can automate low-value tasks like automatic replies and request escalations, freeing up your support team to focus on more

pressing

issues.
Provide 1:1 live chat support.

Customers would rather

communicate with brands via live chat

than any other channel. Help Scout lets you help customers through live chat, whether on your website or in your app.
Build a knowledge base to provide instant answers.

The quickest support queries are those that the customer solves themselves. Help them by building a Docs site through Help Scout containing answers to frequently asked questions.
How Much Does It Cost?
HelpScout pricing starts at $20 per user per month, which includes two mailboxes, plus email and live chat functionality. The platform also offers a 15-day free trial.
6. Call Loop: Best for Voice & SMS Messaging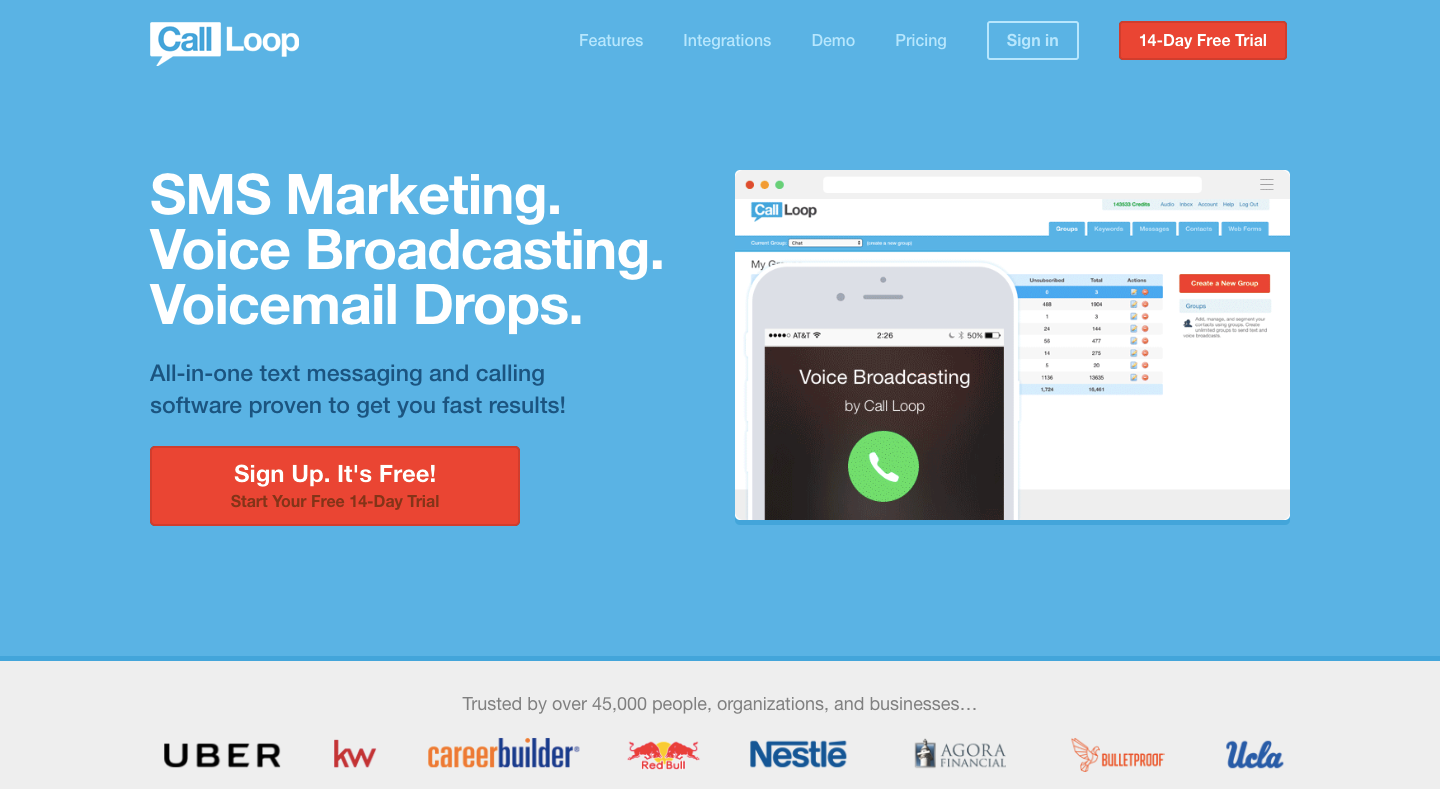 What Is It?
Call Loop is a voice and SMS messaging platform that gives marketers the tools to share automated, personalized communications with leads and customers, helping them drive engagement and build stronger relationships. The platform is used by over 45,000 people, businesses, and organizations, including household names like Nestle and Uber.
What Does It Do?
Share coupons and offers via SMS.

Want to engage customers while they're away from their desktop or laptop? Send them a personalized coupon or promotion through SMS.
Build SMS campaigns in advance.

Call Loop allows marketers to create sequences of SMS broadcasts incorporating links, coupons, and simple CTAs geared toward driving revenue.
Engage and nurture new leads.

Integrate Call Loop with Drip

to share dynamic SMS messages with customers who've just signed up for your marketing list.
Promote last-minute offers.

Share a promotion via SMS or voice message to give yourself the best chance of driving

immediate action

from shoppers.
Customize audio messages based on customer actions.

With Call Loop, you can play one message to customers who pick up the phone, and another for calls that go to voicemail.
How Much Does It Cost?
Call Loop offers a pay-and-go model that charges $0.05 per message and includes 25 free credits for $5 per month. Subscriptions start at $25 per month, including 3,000 message credits. Of course, the platform also offers a 14-day free trial.
7. CustomerLabs: Best for Collecting First-Party Data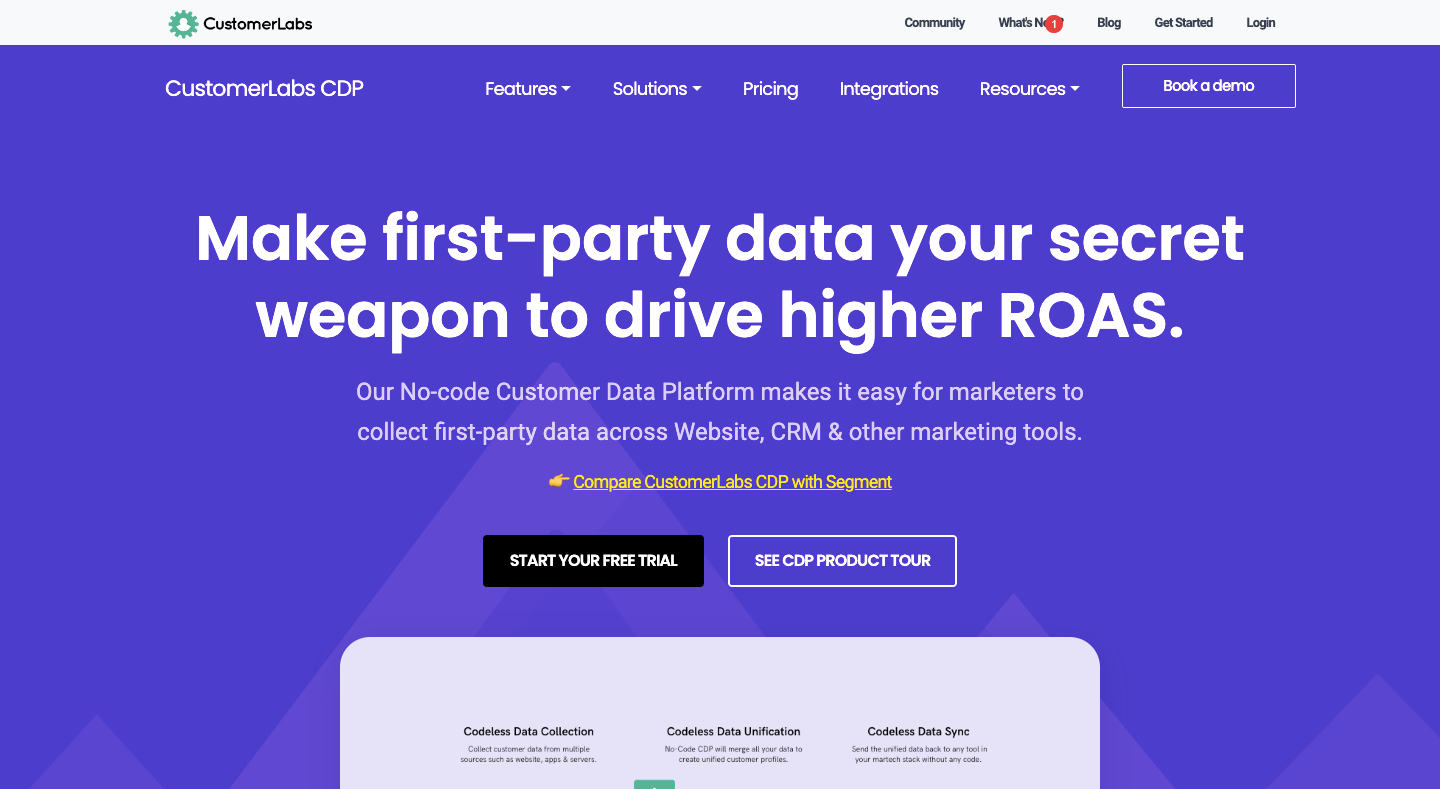 What Is It?
CustomerLabs is a customer data platform that allows brands to gather first-party data from various sources, including websites, CRM systems, and other marketing tools. This data type is becoming increasingly valuable for identifying and engaging people who visit your store, with Apple already taking steps to block third-party cookies, and Google planning to follow suit.
What Does It Do?
Collect first-party data (with no coding).

CustomerLabs enables marketers to

capture customer data

from multiple sources — from email marketing platforms to live chat tools — without having to enter a single line of code.
Gather anonymous visitor data.

CustomerLabs says

98 percent of website visitors

won't give you

any information, like a name or email address. Its tool helps brands capture first-party data from these anonymous users — then use it on ad platforms.
Build detailed customer profiles by merging anonymous and known session data.

Rather than creating separate profiles for anonymous and logged-in visitors, CustomerLabs maps anonymous sessions and attributes them to a user once they "reveal themselves" by signing up.
Group visitors into smart audience segments.

The platform makes it easy to cut and slice your data into segments based on activities, events, traits, and locations.
Sync data across your marketing stack.

First-party data collected through CustomerLabs can be dispersed across your other marketing platforms, including Facebook Ads and Google Analytics. The platform also

integrates with Drip, allowing you to create a new user (or update an existing one) when a subscriber completes a campaign.
How Much Does It Cost?
CustomerLabs offers a totally free tier that includes 50,000 events and three months of data retention. Its paid plan for small and medium businesses costs $99 per month, which comes with 500,000 events and six months of data retention. CustomerLabs also offers a 14-day free trial of its paid plans.
Put Your Customers First
If being customer-centric were easy, everyone would do it.
While it's far from easy, the tools in this list will help you get there faster.
By combining automation, email marketing, and onsite messaging, Drip helps ecommerce brands like yours build more meaningful customer relationships.
But don't just take my word for it.
Find out how Drip can help your ecommerce store by signing up for your 14-day free trial today.