Marketing in ecommerce is far from easy.
Sometimes it seems like you've completely tapped your own channels. You've exhausted your whole network — and nothing seems to be working.
So why not leverage someone else's network?
That's where channel marketing comes in. It's all about partnering up with like-minded brands and people to promote your products for mutual benefit.
And it's one of the easiest ways to get more eyes on your store.
In this article, I'll introduce you to channel marketing, the different marketing channels for ecommerce sellers, the challenges and advantages of channel marketing, and how you can use it to get even more customers to your site.
What Is Channel Marketing?
Channel marketing is a business practice where you work with channel partners who sell your products to customers.
Channel marketing is often confused with marketing channels, which are the different platforms you use to communicate with your customers (including email, social media, your website, and etc).
For example, if you're an ecommerce business that has launched a new line of products, you can work with a channel partner who can help your product reach a broader customer base that you can't reach on your own.
Channel marketing is super effective, no matter what your industry is or what products you sell.
Who are Channel Partners?
Channel partners can be:
Consultants

Agents

Affiliates

Resellers

Distributors
The biggest benefit of working with channel partners is reaching out to more customers who may buy your products.
Channel partners are often separate businesses that partner with you to sell your product. So, instead of one company (you) selling your products, you have multiple companies selling your products!
A great example is Glossier. Glossier sells its own specific beauty line on its site, but it also just recently launched their line at Sephora. Sephora is a much larger retailer that spans across the world – so it's advantageous for Glossier to sell their products there because of Sephora's large reach.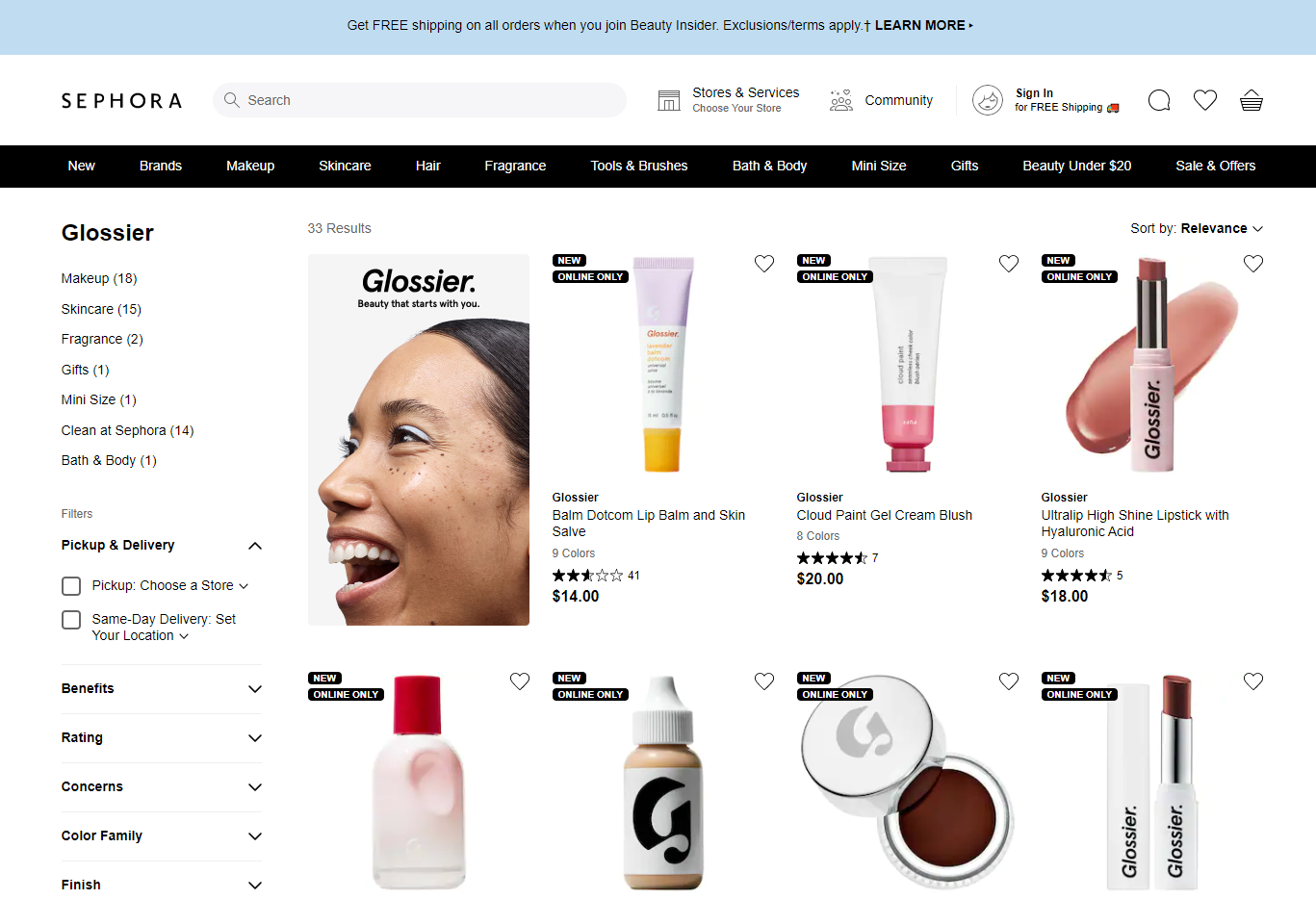 In turn, Sephora benefits by being able to offer Glossier products that their existing customers already love, offering the option to stay within Sephora's ecosystem for all of their beauty needs.
Five Benefits of Channel Marketing for Ecommerce
While the benefit to Glossier seems obvious, channel marketing is much more than a simple wholesale to distributor relationship, and can take on a variety of forms. There are actually several benefits that you can expect from channel marketing.
1. Drive Down CAC (Customer Acquisition Cost)
CAC, or customer acquisition cost refers to the cost of acquiring (or converting) a new customer. Channel marketing can help you reduce CAC in many ways.
After all, partnering with a channel partner to market and sell your products means you get more marketing channels and audiences to reach. While many of those channels are organic, you won't have to spend the time and money developing the communities for yourself.
Diversifying marketing channels: By leveraging channel partners, you can reach a wider audience and spread the cost of converting a new customer across different partners. This can help reduce the CAC per channel.
2. Foster Better Brand Recognition
Channel marketing does a great job at spreading your brand awareness to audiences you wouldn't normally have access to. You can start building brand recognition a lot quicker than through organic methods.
This makes it easier to choose your brand, as it's always easier to trust a brand we know — even superficially.
It's no secret that the biggest hurdle to getting a new customer over the finish line is trust. If they have options from two brands with similar products, they will likely go with the brand they trust more.
Collaborating with channel partners who have already gained the trust of their customers lends your brand the same trust. As a result, you're likely to make more sales.
This is also a great argument for working with larger channel partners. There's a certain level of legitimacy when smaller brands appear in larger shops and marketplaces. Those larger retailers have already earned their customers' trust, and that trust transfers to your products as well.
3. Bring in Variety
Channel partners often do their marketing, which means they always bring in a lot of variety that your marketing department likely hasn't tapped into. So working with a channel partner means a lot of marketing variety mix.
For even more variety, choose or draw in channel partners that are present on different platforms. For example, if you're working with a blogger, try to attract more channel partners that are present on social media accounts where your customers are.
For those who let resellers sell their products, it's relatively easy to capitalize on their unique channels on top of your own.
4. Reach Ideal Customers Who Have a Strong Intent to Buy
Channel marketing helps you get your product in front of your customers who are more likely to buy.
While channel marketing is a great way to bring in new customers, a channel partner that's a good fit might already be present on the radars of your existing customers too.
This means that while you might have set out to achieve brand awareness and attract new people to your store, you might actually be adding more touchpoints to existing customer journeys.
Which is far from a bad thing.
5. Get Insights About Your Customers
Sometimes, channel partners are closer to your customers than you are.They are well-informed about the customers' buying habits and the kind of products they are more likely to buy.
Channel partners can sometimes offer yet another useful data point to add to your customer-first strategy. For ecommerce brands that let channel partners in on their merchandising process, this can be ideal for getting more information from the front lines.
Three Challenges of Channel Marketing (and How to Overcome Them)
No strategy is without its flaws. Luckily for you, channel marketing encompasses a lot of smaller strategies that can be easily controlled.
That said, here are a few things you should look out for:
1. Lack of Analytics
Each channel partner uses their tools and platforms, which might not be as sophisticated or compatible with your own. And since most channel partners are not seasoned marketers, it can be hard to get insights into your campaign. This means you might lack critical data to see how your campaign is performing.
Solution: Provide your channel partners with tools that can help you to get access to the deeper analytics of the campaign. For affiliates, codes help them attribute their sales to your store. For resellers, wholesale ultimately solves this problem altogether.
2. Lack of Advanced Marketing Strategies Used by Partners
Your partner might not be a marketer. You'll need to account for their lack of understanding of the marketing world (Including acronyms. We love our acronyms).
This means you'll need to create a system that's foolproof for your channel marketing partners, or work together with your channel partners to figure out a system that works for both of you. It might mean giving your channel partners tips and tricks to promote your products successfully.
That said, even if your channel partner isn't a marketing expert — or an expert on your specific products — they're an expert when it comes to their own audience, and that's what matters. Everything else can be taught.
Solution: Choose channel partners who use advanced marketing strategies or can easily adapt to a strategy created for them. You might need to create educational material for your channel partner to learn about your products.
3. You Have Little Control Over Specific Channels
One of the biggest drawbacks of channel marketing is not having enough control over certain channels. For example, the partner may use the wrong messaging on social media, which can fall outside of your branding. This can have negative consequences for your brand.
Working with an external channel partner means that you're just not going to have complete control over the process. In theory, a channel partner is going to understand what their audience responds to.
Solution: It's important to select (or attract) channel partners that align with your brand so channel marketing makes sense for them and their audiences.
Four Ways to Use Channel Marketing for Ecommerce (with Examples)
While channel marketing is pretty flexible (ranging from wholesale to affiliate marketing), you need to know how to do it well.
Otherwise, it's not going to give you all those amazing benefits we talked about earlier.
Start by choosing exactly who you want to work with.
1. Maintain Control Over Who Becomes a Channel Partner
You don't want just anyone to be your channel partner. In a sense, this person or company is going to be another face of your brand.
So it's important to maintain some level of control over exactly who you enter into channel partnerships with.
A great example of this is alternative clothing ecommerce brand KILLSTAR. KILLSTAR not only sells on their own site, but they also wholesale to other alternative clothing retailers who sell their brand clothing as well.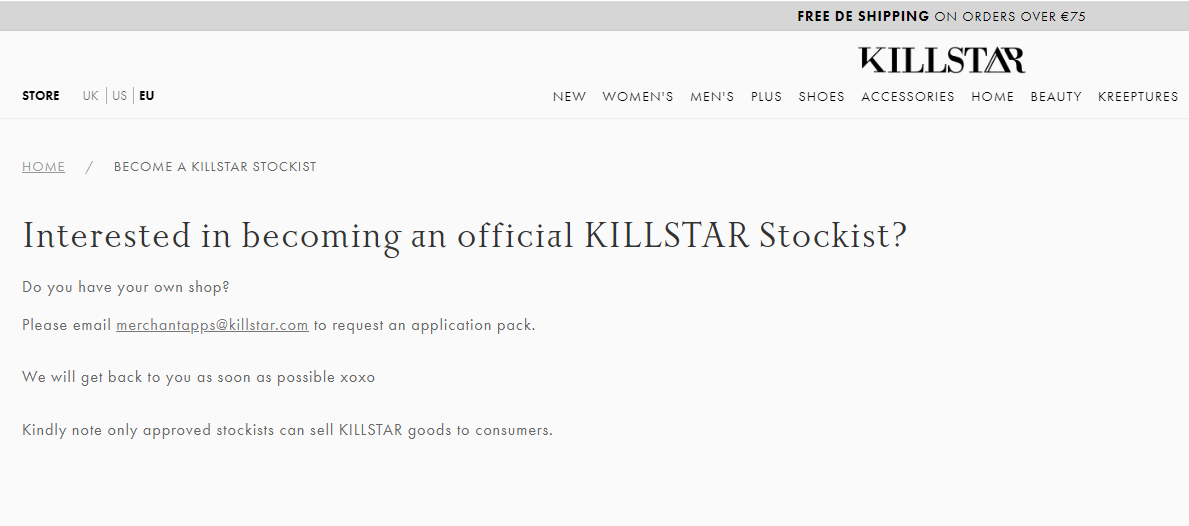 Note that KILLSTAR only works with approved partners. Understandably, they want a certain level of control over who can sell their products.
Naturally, brands who fit KILLSTAR's overall brand look-and-feel are perfect channel partners for them, like Tragic Beautiful, who sells several different alternative brands as a channel partner.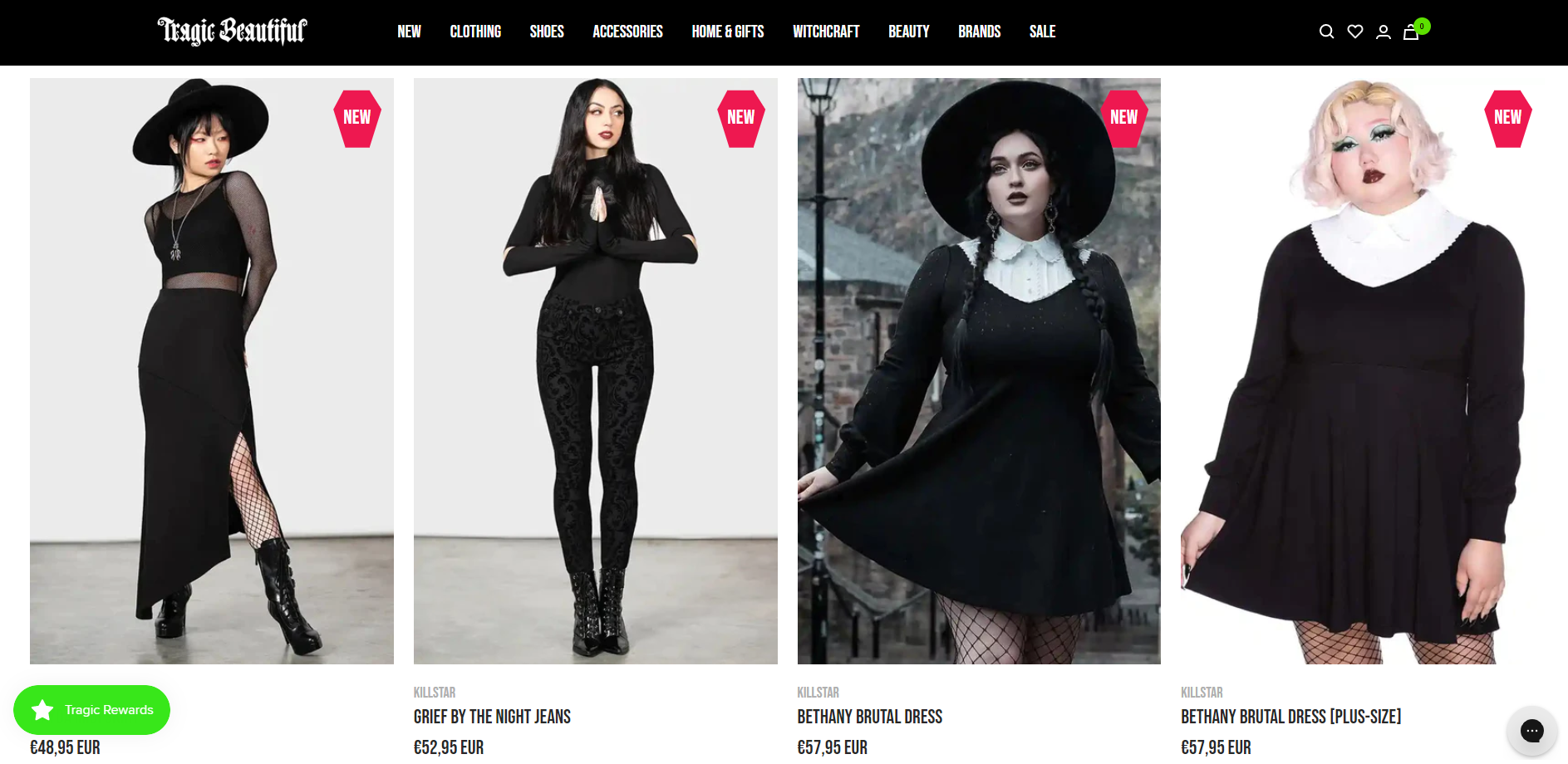 Unlike Amazon, which is big enough that it doesn't necessarily have to worry about brand reputation, Killstar is invested in making sure that their channel partners make sense for them.
2. Define How Your Channel Marketing Program Will Work
This is the moment that you define exactly what your channel marketing partnership program will look like.
What are your goals? How will you compensate your channel partners?
That's ultimately up to you. But it's important to compensate your channel partners appropriately.
After all, they're not marketing your products for free.
Instead, there are different ways you can compensate your channel partners:
Discounts or VIP status with your store
Input on product sourcing/manufacturing
Publishing or featuring their content on your site
Free gifts, products, or other monetary incentives
For example, Amazon has a well-known affiliate program with varying commissions based on the category of product.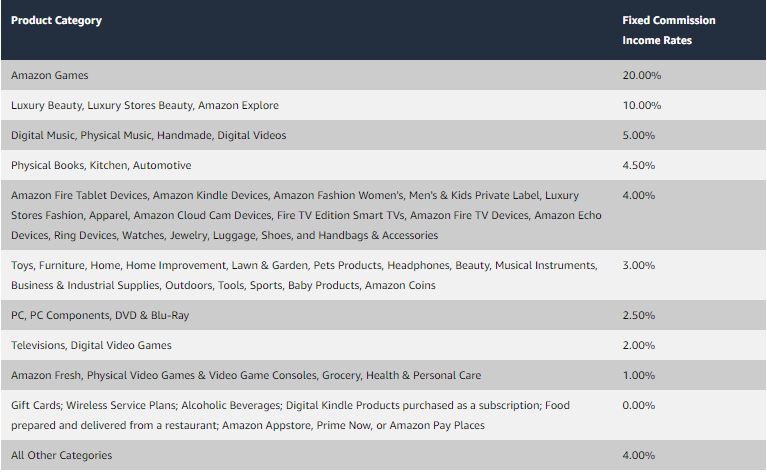 Another great example is ecommerce meal-subscription platform HelloFresh, who regularly partners with YouTubers and Streamers to help leverage their audiences.
In turn, HelloFresh offers several monetary rewards for their channel partners:

Cash incentives are obviously a winner — but incentives for channel partners don't always have to be only monetary.
For example, Glossier offers several rewards for affiliates and channel partners. They want channel partners that are just as passionate about their products as they are — and so they reward them with the things they want.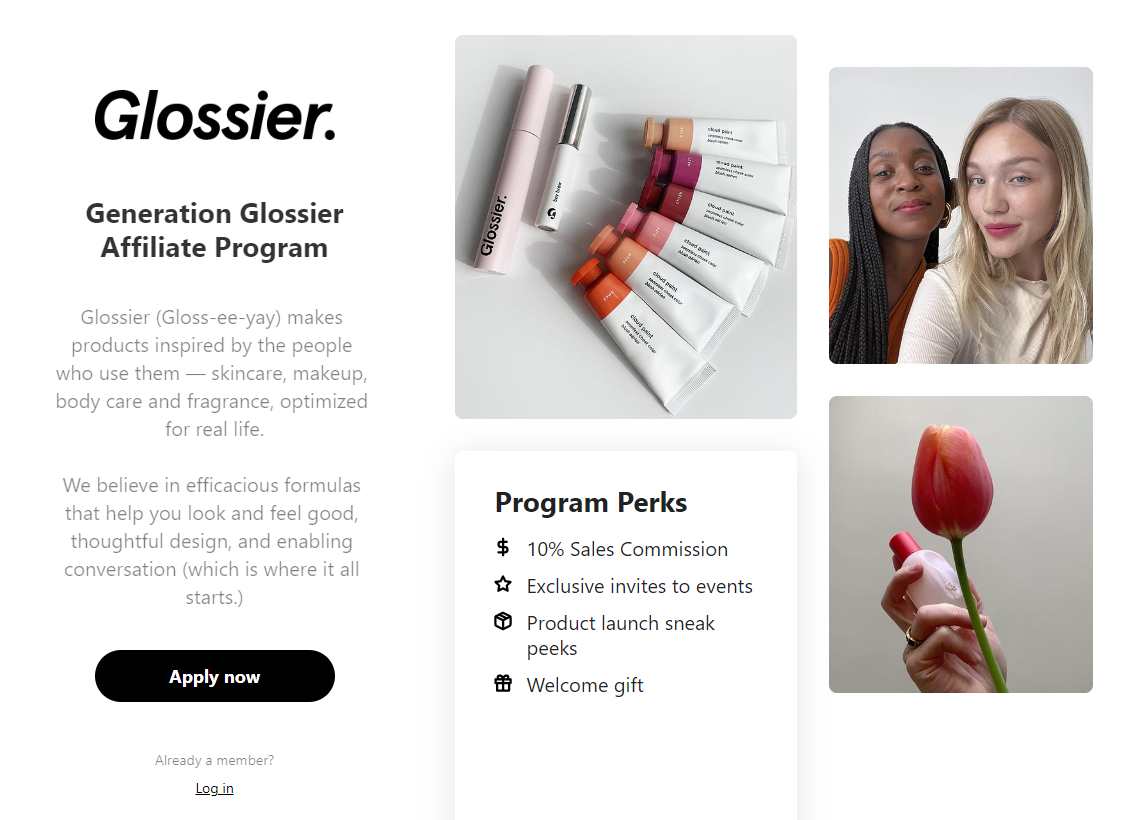 Sure, there's a 10 percent commission which doesn't hurt, but it's also great for their channel partners to get product launch sneak peeks and exclusive invites to their events too.
Defining exactly what your program does for both you and your channel partners will save you a lot of headache later.
3. Use Tracking Codes (or Software to Help Track Conversions)
Tracking your channel marketing efforts can be tricky. If you're going the wholesale route, you'll track your channel partners' purchases alongside your regular direct-to-consumer sales.
Otherwise, it's going to take a little more planning to make sure you're tracking the sales your channel partners bring in. For example, popular cooking YouTuber Babish has a few videos sponsored by HelloFresh.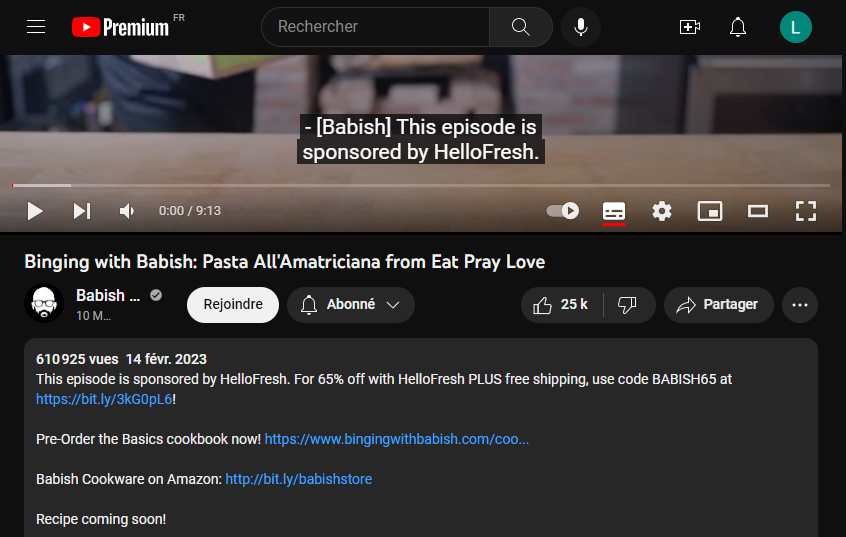 In his video, he explains what HelloFresh is and what service it provides. It's a natural channel partnership — if you're not into making one of the extensive recipes Babish offers, HelloFresh is a natural alternative.
He mentions his code and the perks that code offers as well as puts it in the description of his video, alongside his affiliate link.
HelloFresh can then use that affiliate link and code to track the purchases that come from Babish's community, and compensate him accordingly.
4. Announce Your Channel Marketing Partnership to Your Customers
Going back to channel marketing match-made-in-heaven Sephora and Glossier, I've got a concrete example of how you can announce channel marketing initiatives to your customers.
Sephora announced Glossier's arrival at their stores in their Valentine's email campaigns. How much did Glossier spend for this promo in one of Sephora's hottest campaigns of the year?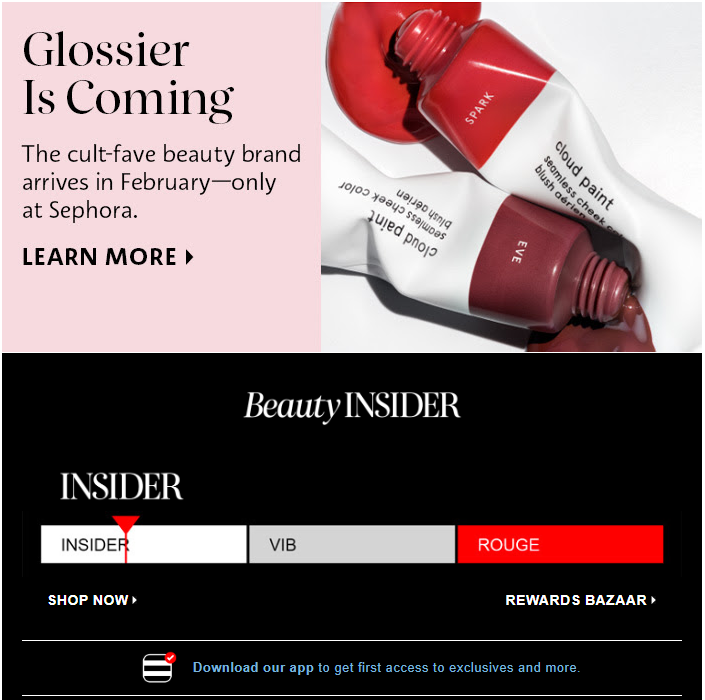 Nothing at all.
It was already in Sephora's interest to announce that Glossier would appear in their stores.
Of course, the teasing is great for Sephora, but it's even better for Glossier.
Should Glossier be worried about Sephora overtaking their sales? There's definitely a way to work with a larger channel partner to prevent that from happening.
Glossier doesn't make its full line available at Sephora. There's a good mix of products for a new customer to discover, but their full line is exclusive to their own site.
Glossier also offers bundles on their site that work out cheaper than buying each of the individual products from Sephora.
By reserving your best for your own site, you can prevent channel partners from cannibalizing your own sales if they are also sellers.
It's also in Glossier's interest to promote that their products can be found at Sephora. Customers that already shop at Sephora can easily add their Glossier favorites to their basket, knowing that Glossier's own site has even more of the products they know and love.
Final word
Channel marketing is impactful and can help you drive sales if you do it correctly. But as I have discussed above, it has its pros and cons.
In order to leverage a channel partner's network, you'll need to be okay with giving up some brand control. However, making sure your partner is well-informed about your brand and products and choosing channel partners that already respond well to your brand values can help counterbalance this.
Most of all, when opting for channel marketing, you'll want to be sure that your marketing strategy is solid everywhere else. Being able to create a cohesive customer experience from A to Z will help you know which channel partners you'll want to be a part of that experience.
Drip offers data insights and tools to help you send the right message to the right person at the right time. From onsite popups and email capture tools, the new eyes coming to your site from channel partners can be pulled into your customer journey flow in a matter of seconds.
But don't take my word for it, try Drip free for 14 days!