It's no question that customers are more ethically conscious than ever before.
They're more politically aware — and they care more about where their dollars go than they did even ten years ago.
For ecommerce sellers, this presents a unique opportunity to align with your customers on the things that matter most to them: their values.
This is where cause marketing comes into play.
Cause marketing is a partnership that you enter into with a nonprofit organization. The idea is that you offer financial support while they offer you more brand awareness.
It's the opportunity to stand behind your brand values and contribute to doing good for the world — no matter what that looks like for you.
And your customers will feel good about purchasing from you. According to a Zeno Strength of Purpose research study, people are 4x more likely to purchase from, and 6x more likely to protect, purpose-driven companies.
So how can you engage your customers in cause marketing and simultaneously contribute to the collective good?
In this guide, we share everything you need to know about ecommerce cause marketing. Let's get started.
What You Need to Know About Cause Marketing for Ecommerce
5 Benefits of Cause Marketing for Ecommerce Brands
While contributing to the good of the world sounds wonderful (and ideally, we'd all want to do more of it), you do need to understand what return you can expect for your brand.
Luckily, cause marketing is the best of both worlds. There are five powerful benefits that cause marketing can offer to ecommerce brands.
1. Increased Brand Loyalty
There's no denying it. Brand loyalty is important to every business.
But this is particularly true for ecommerce brands. It can be the difference between long-term success and short-term failure.
Brand loyalty is critical to the growth of an ecommerce brand.
Think about it this way. Loyal customers are more likely to:
Make repeat purchases
Refer friends and family to your brand
Share positive reviews
All of these actions, among others, drive new customers to your online store thus increasing growth and revenue.
In 2013, it only cost ecommerce brands $9 to convert a new customer.
Today, however, it costs an average of $29 to convert new customers. According to SimplicityDX, that's a 222% rise in customer acquisition cost.
Brands big and small, regardless of industry, know that it's the key to long-term sustainability and growth.
While cause marketing isn't the only way to increase brand loyalty, it should be at the top of your list.
2. Fulfilling the Demand for Corporate Social Responsibility
The demand for corporate social responsibility has never been greater. Don't believe it? When asked about companies leading with a purpose, respondents of a Porter Novelli study noted the following:
They're 76% more likely to trust the company
They're 72% more likely to be loyal to the company
They're 72% more likely to forgive the company
They're 70% more likely to defend the company
Corporate social responsibility (CSR) is a concept allowing companies to integrate social and environmental concerns into their business operations.
Some examples, all of which can fit within a cause marketing campaign, include charitable giving, community involvement, and environmental sustainability.
3. Enhanced Brand Image
You've worked hard to build your company's brand, but you're ready to move to new heights. A cause marketing campaign can help enhance your brand image, which allows you to better connect with your target audience.
You want your audience to see your company as a positive force in society. You don't want your brand to be associated with companies that put profit above all else.
Not only does this harm your image, but it can eventually erode your revenue.
An enhanced brand image can:
Expand customer reach
Increase customer loyalty
Improve employee morale and retention (while attracting top talent)
Make your business more attractive to investors
If that doesn't get you excited about cause marketing, nothing will.
4. Community Building
Your community is more than the people who have purchased from your brand.
It's customers.
It's prospects.
It's industry professionals.
You bond with them when you're both part of something bigger. When your community is on board with your mission, they're more likely to buy from you. And best yet, you don't have to sell to them. They know you're there, and will call on your brand as necessary.
They'll also act as your biggest brand advocates.
Cause marketing is the key to communicating that something bigger, and making your customers and community complicit in the good that you're doing.
5. Increased Customer Engagement
Engaged customers are the best type of customer. And with cause marketing, your firm stance on an important social issue helps to engage both past customers and prospects.
When customers' values align with your brand's, they're more likely to learn more, stay in contact, and make a purchase when the time comes.
It takes more work to lead disengaged customers to fill their shopping carts and checkout.
Use cause marketing efforts that:
Make an emotional connection with your audience
Increase awareness of your brand
Encourage advocacy
How to Build a Successful Cause Marketing Campaign
Now that you understand the benefits of cause marketing, let's talk about building a successful campaign. The steps you take will vary for your specific brand, but there's at least a basic approach you can take to get started.
1. Identify Your Cause
The first step in building a cause marketing campaign is always the same: identifying a cause that your brand believes in.
How you do this depends on various factors including personal beliefs, the size of your company, and the industry you work in.
You don't want to align with just any cause.
You want to align with a cause that you can really "sink your teeth into."
Authenticity should drive this decision. Consumers can spot an inauthentic campaign from a mile away.
Don't choose a random cause. Choose one that aligns with your ecommerce company's core values and mission statement.
2. Choose a Non-Profit Partner
Once you know your cause — such as helping the homeless or building shelters in developing countries — the next step is choosing a non-profit partner. There are many ways to do this.
First, start with personal knowledge. Do you currently volunteer with an organization that aligns with your company's values? If so, you have a natural jumping-off point.
If that doesn't work, here are some other ideas:
Ask your network if they have suggestions or can make a referral
Contact global organizations to see if they have a local chapter
See what other brands in your space are doing
Once you have a shortlist of potential non-profit partners, you can then vet each one before making a final choice.
3. Determine Your Contribution
At this point, you've identified a cause and selected a non-profit partner. Now, it's time to take action. This starts with determining your contribution.
Will you make a donation from every sale?
Will you allow employees to use work hours to volunteer for the organization?
Will you sponsor a local event?
Can you offer a skill-based service?
Can you provide some type of product?
These are just ideas. Collaborate with your chosen non-profit organization on the best path forward. When you combine ideas, you'll end up with a mutually beneficial plan.
4. Involve Your Entire Company
Your goal is to make as big of an impact as you can through your campaign.
Financial contributions help, but that's just the start. The real power comes from the people who dedicate their time to making a change.
Find ways to involve your entire company.
A common example is planning a volunteer day. Let your entire company take the day off and instead spend eight hours working closely with your non-profit partner.
Your workers want to help. Let them know how they can get involved, and give them everything they need to take the appropriate action.
5. Get Your Customers Onboard
Don't be shy about sharing your efforts with your customers. Be clear about what you're committing to.
Share guidance on how they can get involved. Answer questions.
The primary goal of a cause marketing campaign is to do good for the world. Involving your customers allows you to amplify your message, all while enhancing the sense of community.
With that, it's easier to take advantage of the benefits we outlined.
Ecommerce Cause Marketing Examples to Inspire You
You can learn a lot about ecommerce cause marketing by researching companies that have already established a successful campaign.
While there are hundreds upon hundreds of examples, we're going to go over five of the most successful.
1. Warby Parker: Donating Glasses to Countries in Need
Warby Parker is a fashion and lifestyle brand best known for its eyewear products, including prescription glasses and sunglasses. Its core business has been a huge success since its launch in 2010, with its "Buy a Pair, Give a Pair" program helping to drive sales.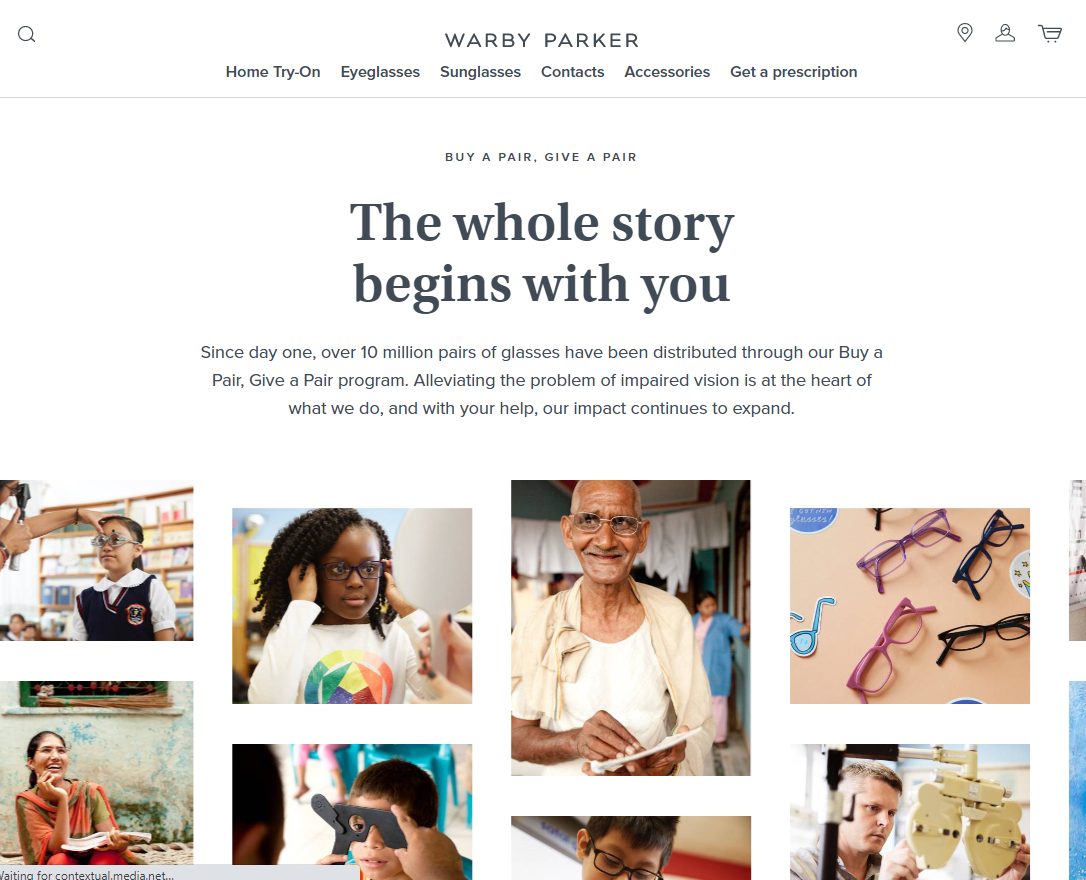 Through its global partners, the program has distributed more than 10 million pairs of glasses to people in need.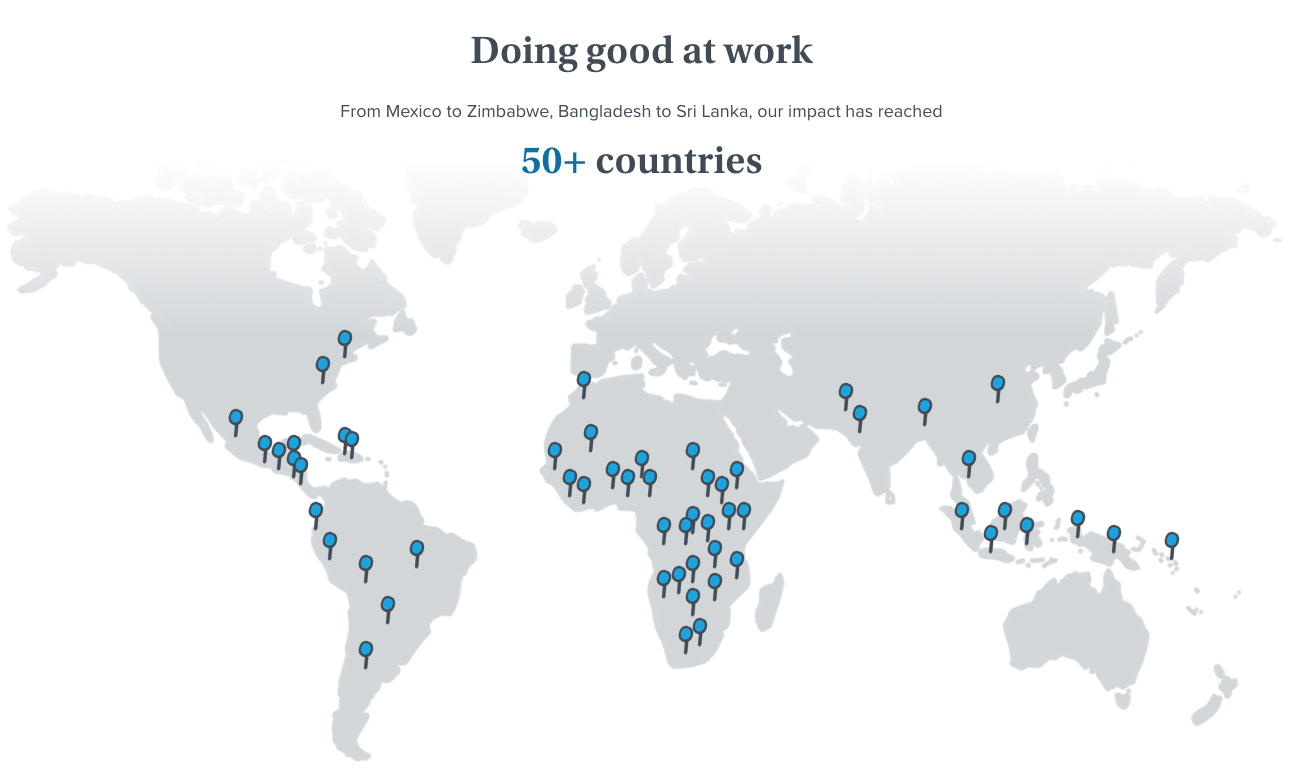 Here are the two primary reasons for its success:
The program aligns perfectly with the brand's objective. Warby Parker sells glasses, so it's natural to give back by providing the same to people in need.
The way it works is clear. When someone buys a pair of glasses, Warby Parker donates a pair. It's that simple.
2. Bombas: Offering Apparel to Those Struggling with Homelessness
Here's how Bombas explains its brand in one sentence:
Bombas is a comfort focused sock and apparel brand with a mission to help those in need.
Its mission to help people in need is every bit as impressive as its comfort-focused lineup of apparel.
For every item purchased, Bombas donates a clothing item to a homeless shelter or homelessness-related charity. Just the same as Warby Parker, this is a clear approach to accomplishing its social mission.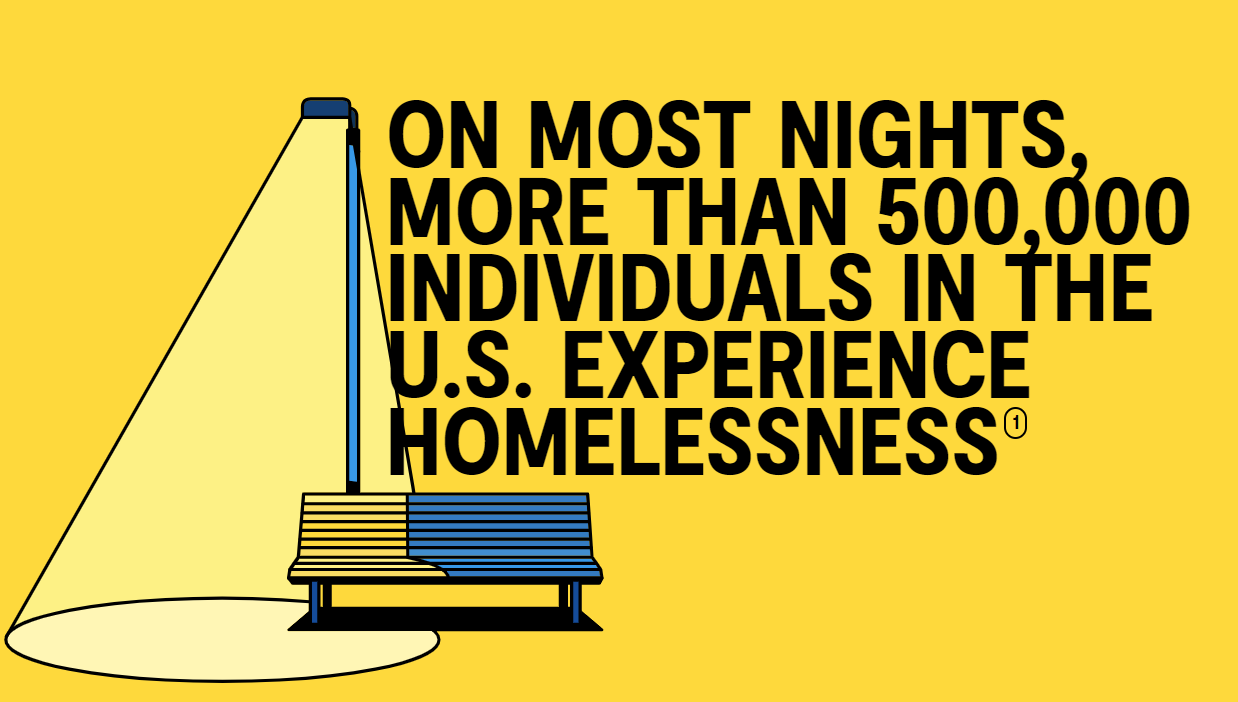 On Bombas' site, they highlight the cause immediately with a powerful statistic. This is their raison d'être — why they do what they do.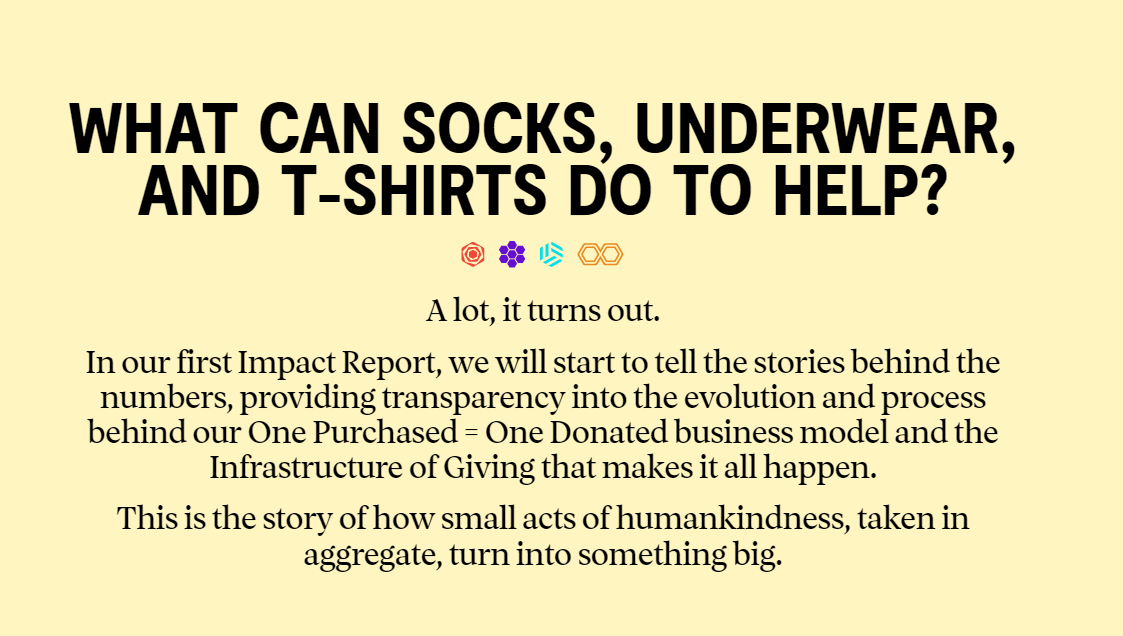 They then follow it up with how they're making an impact and what that impact looks like.
Bombas currently partners with more than 3,500 giving partners spread throughout all 50 states. With such a large network, the company is able to efficiently and effectively donate millions of items every year (more than 75 million to date).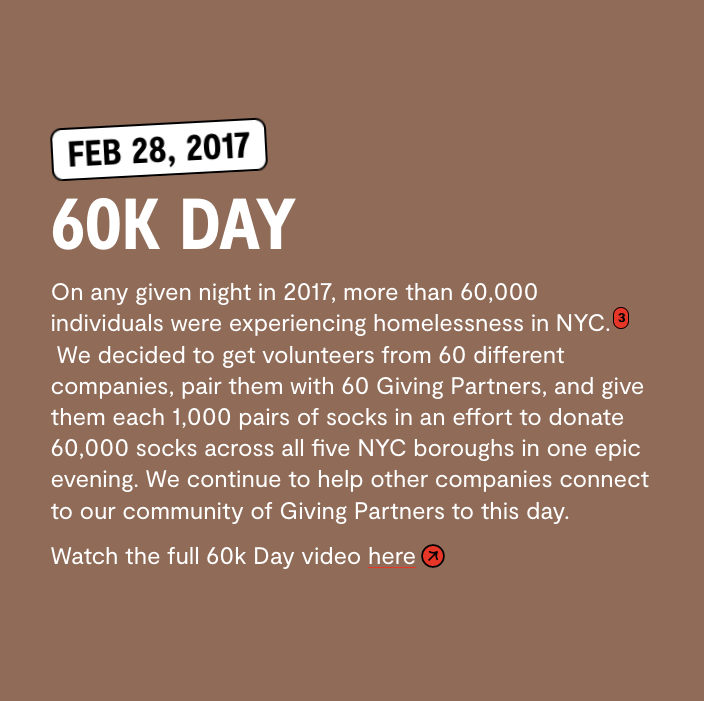 As an ecommerce brand, pay close attention to how Bombas has expanded its reach by growing its partner network. You don't have to partner with just one non-profit.
3. Target: Dedication to Social Responsibility
When it comes to social responsibility and sustainability, Target is a model company. From volunteering to grants to corporate giving, the retail giant is always looking for ways to give back.
Here are some examples that fall under its "Corporate Citizenship Grant Programs" umbrella:
Disaster and crisis relief:

When a disaster strikes the United States, you can guarantee that Target will be there to provide communities and relief partners with donations.
Great Giftogether:

An annual holiday partnership event between stores and local non-profits. It provides clothing, gifts, and essential items to families in need during the holiday season.
Target Circle:

Circle member guests earn votes to direct where funds go to support non-profits in their community.
Among others: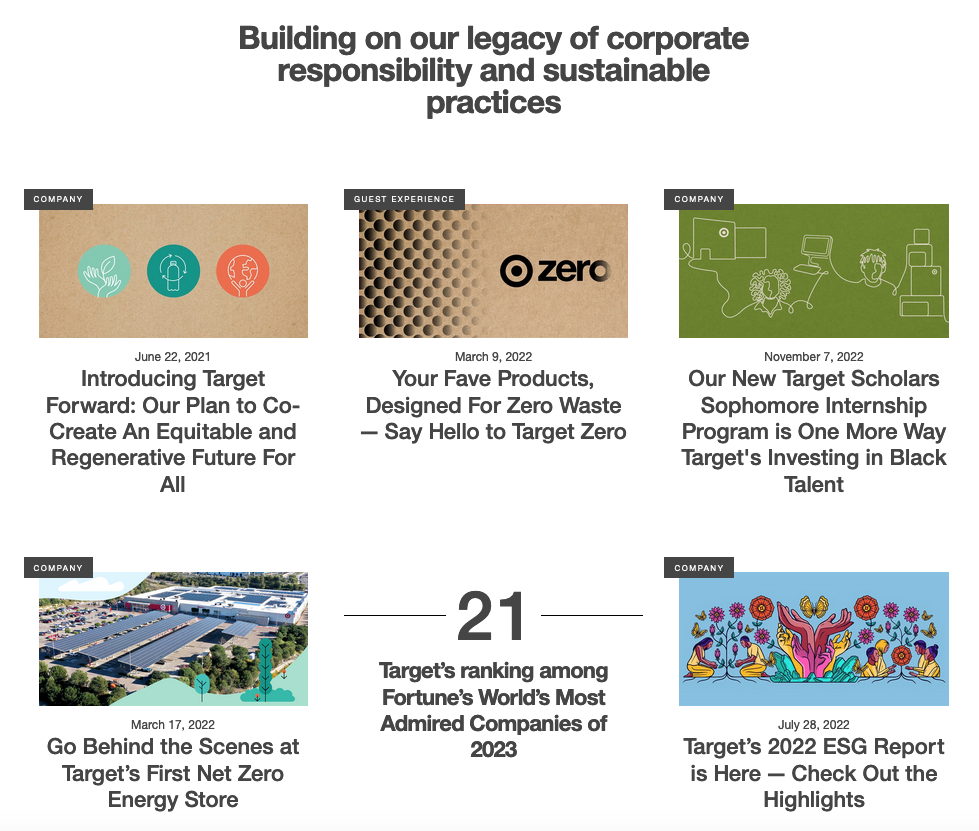 If you want to follow in Target's footsteps, understanding their vision statement is a good start:
Our vision is to co-create an equitable and regenerative future together with our guests, partners and communities. We call our sustainability strategy Target Forward, and it's how we're leveraging our size and scale to benefit people, the planet and our business.
4. TOMS
When you have a conversation about ecommerce cause marketing and social responsibility, TOMS is always a brand worth mentioning.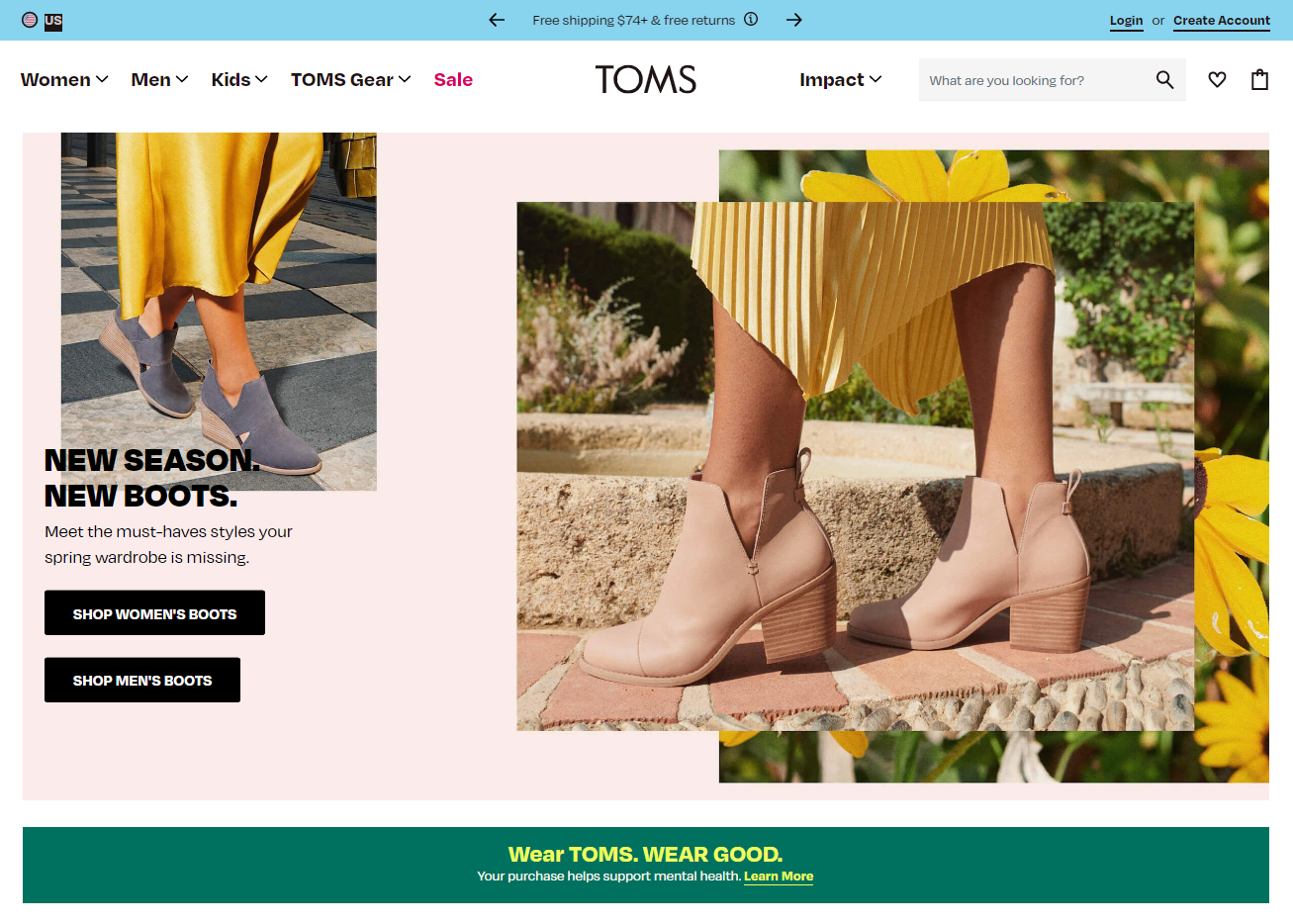 Their commitment to mental health is directly under their hero banner, front and center for the customer to see.
Here's what TOMS has to say about its approach to improving lives:
When you buy TOMS, you help fund access to mental health resources for the millions of people who need them. We do this by giving ⅓ of profits for grassroots good, which includes investing in our impact partners who are building equity at the local level.
Every year, the company releases an impact report that breaks down how funds are distributed, dollars given, the number of lives impacted, and more.

Take a page out of TOMS' playbook by bringing clarity to your cause marketing campaign. Tell your audience what you're doing, do it, and then show them what's been done.
5. The Honest Company
Every ecommerce cause marketing campaign should have a clearly defined purpose. There's no better example of this than The Honest Company's "Honest Purpose."
We've always believed small choices add up to a big difference. Call it The Butterfly Effect. By supporting Honest, you're showing support for organizations that share our values and amplify our impact, making happy, healthy lives possible for more people everywhere.
Don't make people guess about your focus, intentions, and progress. Have a purpose and stick to it.
The Honest Company is known for its donations to people in need. To date, it has donated more than 25 million personal care products and other essentials to individuals and families serviced by a large network of non-profit partners.

And remember, a big component of cause marketing is community building. It's another lesson you can learn from The Honest Company.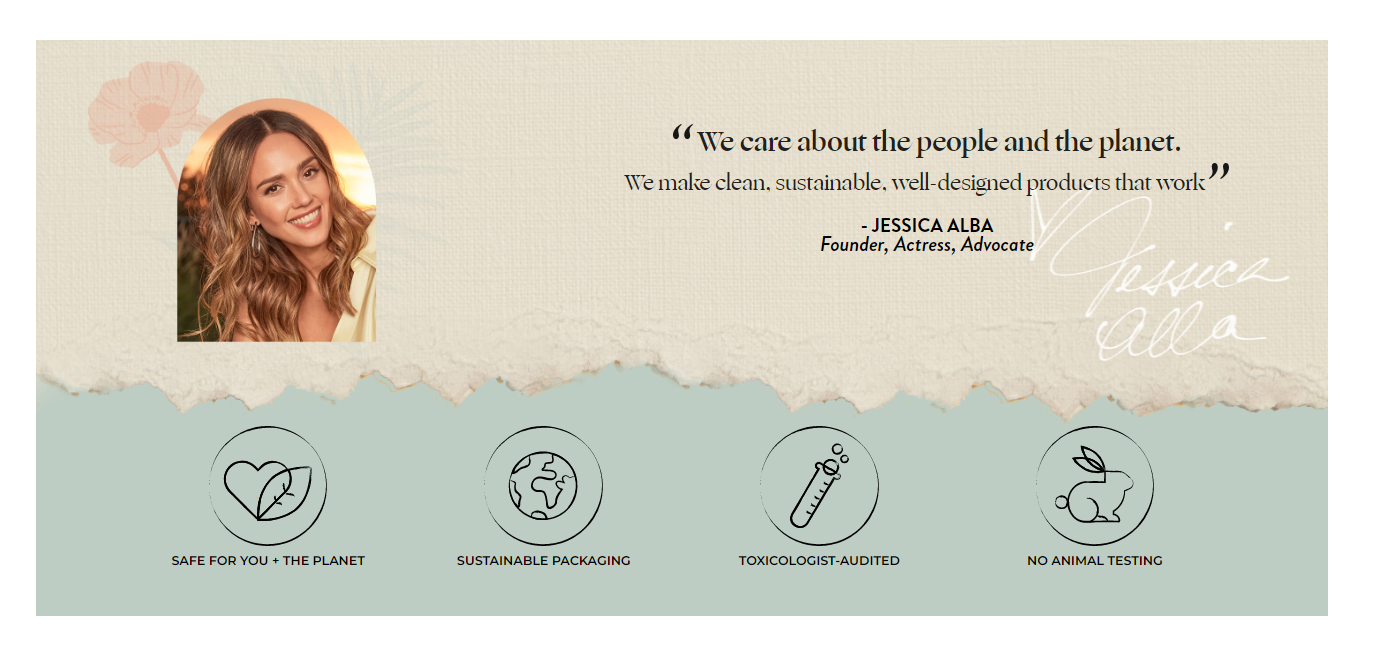 Not only do they commit to donating to those in need, they also practice what they preach from product conception to packaging.
Getting Started with Cause Marketing
A cause marketing campaign is one of the best ways to get serious about social responsibility, all while increasing brand loyalty, enhancing your brand's image, and engaging your audience.
Don't let the fear of the unknown stop you. Instead, follow the steps above while taking inspiration from Warby Parker, Bombas, Target, TOMS, and The Honest Company.
Soon enough, you'll have a plan that leads you toward launching an ecommerce cause marketing campaign that generates more benefits than you ever imagined possible.
If you're looking for new ways to spread the word about your campaign, product line, or company in general, you're in the right place.
With our ecommerce marketing automation tools, you can more efficiently use email, onsite messaging, and customer-first strategies to stay in touch with your ever-growing audience. Try Drip free for 14 days!