We, humans, are creatures of habit. When we find something we like, we tend to stick with it.
That's why companies with consistent messaging and branding enjoy 10-20 percent higher revenues than those without, according to Lucidpress.
But consistency can be hard to achieve.
It's tough enough maintaining the same branding and tone of voice across a single, multi-channel campaign—let alone for multiple campaigns, platforms, product types, and audiences today, tomorrow, and five years down the line.
More to the point, how do you even decide what branding to adopt in the first place?
Well, that's where brand archetypes come in.
The 12 Best Brand Archetype Examples
What Is a Brand Archetype?
Brand archetypes are personas that reflect all aspects of a brand, including its behaviors, values, tone of voice, and unique selling points.
But why take the time to assign human-style characteristics to a brand? Simply put: it makes them seem more relatable and memorable.
Brand archetypes were defined by legendary Swiss psychologist and psychiatrist Carl Jung, before being brought to the mass market through books like Margaret Hartwell and Joshua C Chen's Archetypes in Branding, and The Hero and the Outlaw by Margaret Mark and Carol S. Pearson.
Lots of people have visualized Jung's archetypes, with the results invariably looking something like this: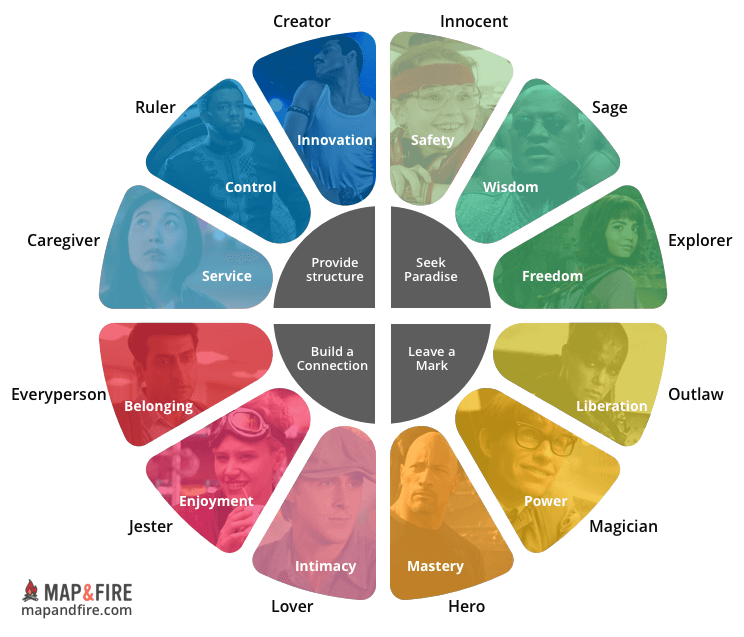 Source: Map & Fire
What Are the 12 Categories of Brand Archetype?
As you can see from that colorful diagram, Jung defined 12 specific types of brand archetype. From making us feel safe, to wowing us with creativity and innovation, each has distinct characteristics that appeal to different types of consumers. Those classic archetypes are:
The Innocent: Sees the world through the lens of a child. Exudes goodness, joy, and optimism.
The Sage: Believes that truth and knowledge make the world a better place. Acts as a trusted adviser or mentor.
The Explorer: Seeks inspiration through taking risks, traveling the world, and discovering new experiences. Seen as trailblazers in their field.
The Outlaw: Questions pre-existing norms and disrupts the status quo. Often seen as romantics and free thinkers.
The Magician: Aims to amaze and delight through transformation. Solves problems and makes dreams come true.
The Hero: Succeeds in adversity and fights the good fight. Demonstrates their positive impact on the world.
The Lover: Forms sensual, spiritual, and companionable relationships, and creates intimate moments for their audience.
The Jester: Uses fun, humor, and irreverence to spread joy (and mischief). Refuses to be bound by boring conventions.
The Everyperson: Highly relatable and unpretentious, the Everyperson exudes authenticity, hard work, and trustworthiness.
The Caregiver: Wants people to feel protected and nurtured. Compassionate and altruistic; the corporate equivalent of a big, warm hug.
The Ruler: Takes the bull by the horns and stamps out uncertainty. Highly responsible and respectable, with a commitment to doing things "by the book".
The Creator: Has a grand vision. Aims to build imaginative products that have enduring meaning and value.
That's a lot of theory. But what does it all mean in practice? Here, I'll take a look at a real-world brand that fits into each of those niches.
1. The Innocent: Coca-Cola
The classic example of the Innocent brand archetype, Coca-Cola's marketing is all about highlighting the beauty of simple, meaningful moments and actions—things like spending time with friends and family and celebrating seasonal events.
Importantly, it often presents these experiences through the eyes of a child; full of wonder and imagination.
Arguably the best example is the soft drink brand's legendary Christmas campaign, Holidays Are Coming:
Benefits
At its best, the Innocent makes us feel nostalgic, joyous, and positive. What's more, we're naturally inclined to trust brands that fall into this archetype.
Drawbacks
Ever eaten a dessert that's just a little too sweet? Cloying and overly sugary, it leaves you feeling sick.
The same can be true of the Innocent. That charming naivety can easily become a vomit-inducing turn-off if it's overused, unintelligent, or doesn't align with your real-world actions and products.
2. The Sage: TED Conferences
An acronym of "Technology, Entertainment, Design", TED's whole mission is to spread ideas from the world's leading thinkers and innovators. From tackling climate change to finding the perfect partner through online dating, its talks cover pretty much everything you can imagine.
Importantly, TED is a platform for those talks (as opposed to giving all the talks itself), which means it doesn't feel like it's pushing an agenda. That helps it come across as an honest, trustworthy hub of advice and information, which is exactly what the Sage should be.
Benefits
The Sage is intelligent and articulate, without being overly opinionated or set in its ways. That's a valuable trait for brands because public opinion naturally shifts over time.
What's seen as acceptable or cool today might be seen as offensive or tacky in a year. So by "following the science" and adapting to the times, the Sage is able to stay relevant and at the cutting edge of discourse.
Drawbacks
No one likes a know-it-all. There's definitely a fine line between offering intelligent, reasoned guidance and coming across as pedantic, cold, smug, and self-obsessed.
3. The Explorer: REI
Outdoor gear giant REI is a perfect fit for the Explorer archetype.
When you sell walking boots and camping equipment, you've obviously got a vested interest in demonstrating the wonder of nature and the beauty of exploration.
What's more, if you don't sound like a natural adventurer and risk-taker, you're going to look like you're only in it for the money. And while every business ultimately exists to turn a profit, as consumers, we prefer not to think about that too much. Instead, we like to think we're buying into something greater—something that aligns with our own values and beliefs.
Benefits
By always looking for the next opportunity or challenge, the Explorer is an innovator; never content to just keep plodding along doing the same old thing.
That's a pretty exciting and inspirational mission that can engender strong feelings of loyalty. It's the sort of company you want to follow because you're excited to see where it goes next.
Drawbacks
The downside of always chasing the next big thing is that you risk coming across as unreliable and flaky.
Sure, exploring is fun. But if you've ever spent any time hanging out in backpacker bars, you'll know that when it becomes someone's whole personality, it gets old pretty quick.
4. The Outlaw: Harley-Davidson
Harley-Davidson is so strongly associated with the Outlaw archetype that it's near-impossible to picture a "rebel" without imagining them rolling into town on a Harley.
It's why HD is arguably the world's most recognizable motorcycle brand, despite lagging well behind the likes of Honda and Yamaha in the global market share stakes: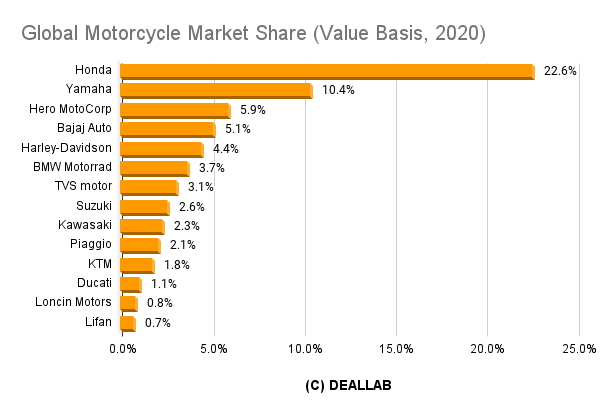 Source: Deallab
Harley-Davidson's clear and consistent brand presence makes its marketing extremely impactful. To give two recent examples:
United We Will Ride, a video campaign created in tandem with actor Jason Momoa, has racked up more than 500 million views.
The trailer for Long Way Up—the successor to 2007's Long Way Down, in which Ewan McGregor and Charley Boorman ride custom Harleys from the tip of South America to Los Angeles—clocked up over 56 million views.
Benefits
Free-spirited and committed to ripping up the rulebook, the Outlaw is arguably the most seductive of all the brand archetypes. From Dirty Harry to Tony Soprano, we're seemingly hard-coded to root for the outsider—even when that "outsider" is a multi-billion-dollar company.
Drawbacks
Of course, the downside of all this is that you wouldn't necessarily trust the Outlaw to look after your pet or give you reliable investment advice. Depending on your niche, it just might not be an appropriate archetype for your brand to adopt.
5. The Magician: Dyson
Dyson achieved the seemingly impossible by making vacuum cleaners seem cool, interesting, and worth spending hundreds of dollars on.
How? By positioning itself as the Magician.
It forged a reputation for solving problems through cutting-edge innovation, in turn making our lives better by allowing us to spend less time on boring tasks like cleaning.
Since then, it's taken that same approach and expanded it across other verticals and product types, from hair straighteners to air purifiers.
Benefits
The Magician excites audiences with its constant focus on pushing boundaries.
It gets people invested in products they otherwise wouldn't particularly care about. Maybe there are a few hardcore vacuum obsessives among Dyson's audience, but the overwhelming majority have been won over by the brand's charisma and energy.
Drawbacks
Let's be honest: Magicians can be kind of creepy. In the wrong hands, this archetype can come across as distant, manipulative, and just plain weird.
6. The Hero: Nike
Nike is the ultimate Hero brand, because its marketing is jam-packed with stories of people—from high-profile ambassadors to everyday consumers—working hard to achieve success against the odds.
It's like if John Cena made a living by selling trainers rather than slamming people through tables.
That attitude is exemplified through slogans like "Just Do It" and "There Is No Finish Line".
Benefits
By emphasizing the battle against adversity, the Hero archetype promotes a mission we can all buy into. It means we end up cheering for a company like Nike, even though it's already comfortably the world's biggest sports apparel brand.
Drawbacks
Get the messaging slightly wrong and the Hero can quickly become the villain, coming across as arrogant, aggressive, and domineering. It's the reason WWE fans love booing John Cena and lots of sneakerheads favor Nike's smaller rivals, like Adidas and Puma.
7. The Lover: Hallmark
In its own words, greeting card brand Hallmark is "dedicated to creating a more emotionally connected world and making a difference in the lives of others".
That focus on meaningful, intimate relationships—whether between partners, family members, or friends—is central to the Lover archetype.
Benefits
Obvious as it sounds, we care massively about the people who are closest to us. So we're naturally drawn to messaging that speaks to the value of those relationships and helps us delight our loved ones. At the end of the day, we all want to be loved.
Drawbacks
On the flip side, the Lover archetype can sometimes come across as a little overdramatic.
Just like a lot of other archetypes, it just isn't appropriate for certain niches. Do you really want your bank to be passionate and emotional? Probably not.
8. The Jester: Old Spice
Fragrance adverts are ripe for a little mockery.
They're just so damn pretentious, as demonstrated by Twitter account PerfumeAdsForSale:
Blue screen

Whispered:

"Have you ever loved so hard you split your soul in two"

A dam bursts in slow motion

A couple kiss in the rain

A clock spins in reverse

A ham explodes

A page is torn out of a dictionary

David Beckham leans into a microphone in a courtroom:

"Guilty"

— PerfumeAdsForSale (@PerfumeAds) February 22, 2018
Which makes Old Spice's decision to go in a more irreverent, humorous direction feel all the more fresh and inspired. Particularly when you consider that until relatively recently, it was exclusively seen as a brand for unfashionable old guys.
Benefits
The Jester is an incredible brand archetype if you get it right, helping you produce highly shareable content that people genuinely want to engage with.
Case in point: Old Spice's video The Man Your Man Could Smell Like, which kickstarted its comedic approach, has been viewed more than 60 million times on YouTube.
Drawbacks
Well, there are a few.
Firstly, it's not that easy to be funny—if it was, everyone would do it.
And secondly, it might make it harder for people to take your brand seriously.
9. The Everyperson: ASOS
Any number of brands attempt to come across as relatable "everypeople", but ASOS does it better than most.
Its social feeds are littered with memes designed to demonstrate that the fashion e-commerce giant is just the same as its audience. That's no easy task when you're a multinational corporation.
Benefits
As anyone who's watched The Devil Wears Prada will tell you, fashion isn't always the "friendliest" industry.
By adopting a highly relatable persona, ASOS makes itself appear amiable and welcoming. That approach encourages customers to engage with the brand's posts and share their outfits-of-the-day free of judgment.
Drawbacks
It's hard to come across as innovative or boundary-pushing if you're also trying to seem ultra-relatable. Maybe that's not an issue in some niches. But in others—anything techy, for instance—it'd be a disaster.
10. The Caregiver: Volvo
The caregiver is all about looking after its audience. From building safer cars to using sustainable materials, that's exactly how Volvo positions itself.
Significantly, it's something Volvo has been doing for years—way before caring about the planet became "cool".
Benefits
As consumers, we naturally have a lot of goodwill toward the Caregiver. They're doing the "right thing" and striving to make the world a better place, which makes us feel better when we buy from them.
Drawbacks
Unfortunately, the Caregiver isn't seen as the "trendiest" archetype. In the worst cases, these brands can also sound weak and even manipulative—especially if they fall short of their messaging and values.
11. The Ruler: Mercedes-Benz
One of the world's biggest carmakers, Mercedes-Benz has become a byword for German efficiency and engineering brilliance.
All of which positions it firmly within the Ruler archetype. This is underlined by the brand's long-standing slogan: "The Best or Nothing."
Benefits
The Ruler archetype is trustworthy and reliable. It might not be the cheapest option, but it feels like a safe bet, and quality is guaranteed.
Drawbacks
However, it can be hard for the Ruler to invoke feelings of genuine warmth from customers. It's dispassionate and a little cold. That means if the product isn't up to scratch, there's very little incentive for customers to stick around.
12. The Creator: Adobe
We know the Creator is all about building imaginative, enduring products. Adobe has definitely achieved that, with a toolkit that includes InDesign, PhotoShop, and Premier.
Significantly, Adobe's marketing also speaks to its audience of creatives. It's a good example of aligning your brand voice with that of your customers.
Benefits
Creators are exciting, imaginative, and innovative. That means we don't just want to buy their products; we also want to know what they'll do next.
Drawbacks
Think about your average YouTube creator. Sure, they might be cool and innovative, but they can also come across as self-centered or even narcissistic. Brands that adopt the Creator archetype risk falling into the same trap.
Conclusion
No one archetype is automatically "better" than the rest.
Rather, it's a case of adopting the archetype that most closely aligns with your company culture, values, and mission.
Try to adopt one archetype while behaving in a totally different way and your audience will see it as nothing more than a shameless marketing ploy.