The market size value of point of sale (POS) systems was $9.3 billion in 2020. By 2027, that number is predicted to nearly double to $18.1 billion.
With a myriad of advantages like lightning-fast payments, full inventory control, heightened security, and improved customer satisfaction, point of sale systems are smoking hot right now.
A growing number of businesses are using them to streamline their checkout process, and no doubt more will continue to follow suit in upcoming years.
Here's a breakdown of the best point-of-sale systems, including their specific features, benefits, payments accepted, pricing information, and plenty of screenshots.
Table of Contents
1. Square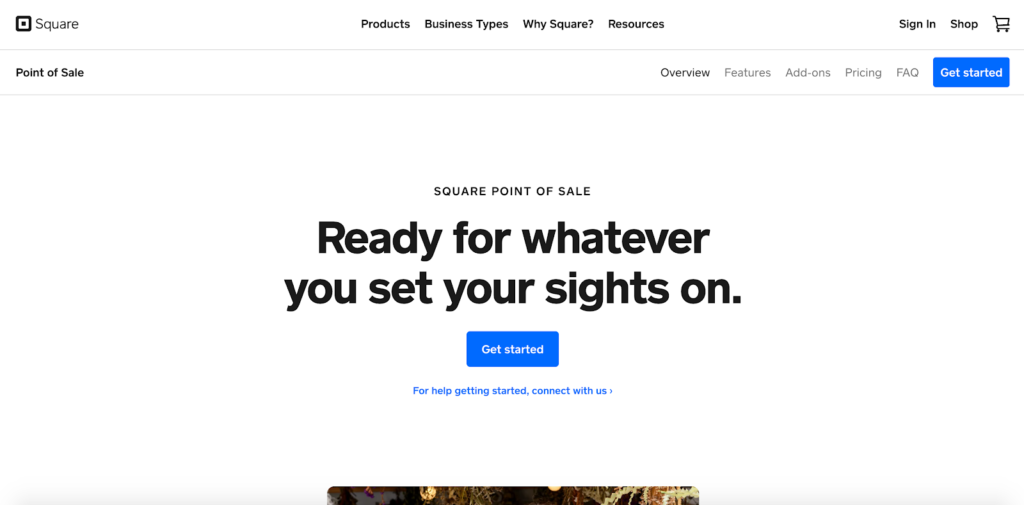 The first word that comes to mind when I think of Square is flexibility.
This is an incredibly versatile platform that can accommodate the needs of businesses across a wide range of industries.
Square works for brands with brick-and-mortar locations and those who make deliveries…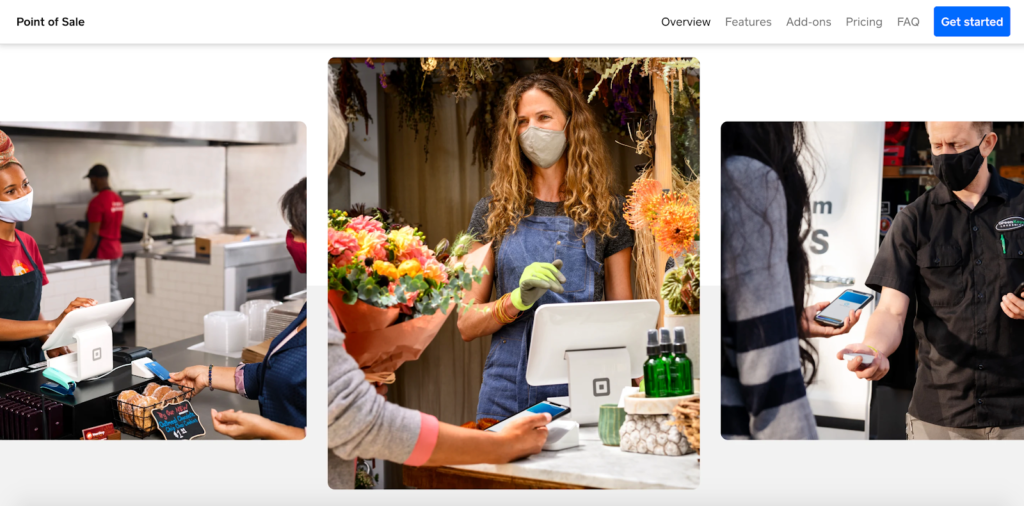 …as well as for those who strictly sell online.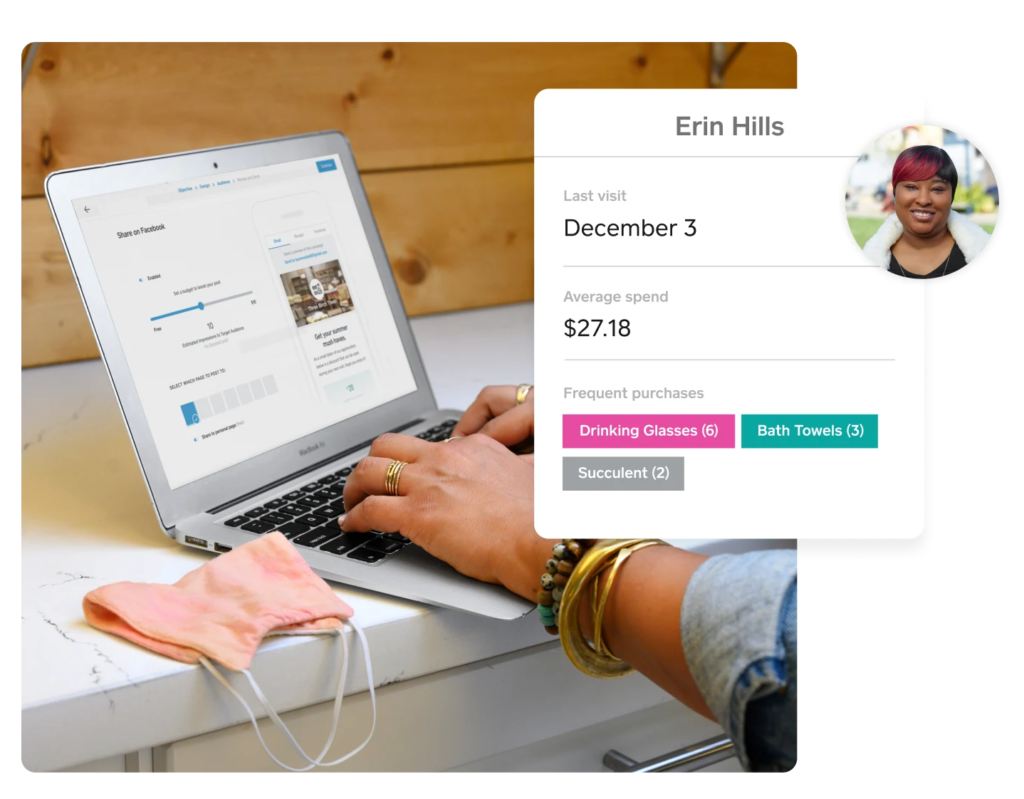 It's also extremely user-friendly.
"Square makes it easy to sell in person, online, over the phone, or out in the field. It's free to use, and there's no training required," explains the company.
So, whether your business is entirely e-commerce-based or you have physical locations, you can use Square to create an ideal point of sale system for seamless transactions.
Here are some of its most notable features:
Create a synced online store with zero codings;
Allow customers to buy via Instagram and Facebook with just a tap;
Accept remote payments through simple invoicing;
Accept payments over the phone from your computer;
Sell online, as well as at a counter or while on the go;
Keep cards of file securely for faster future purchases;
Create a loyalty program for brick-and-mortar and online customers; and
Simple team management.
Another feature I love about Square is that it features built-in analytics so you can learn your customers' preferences when they make purchases.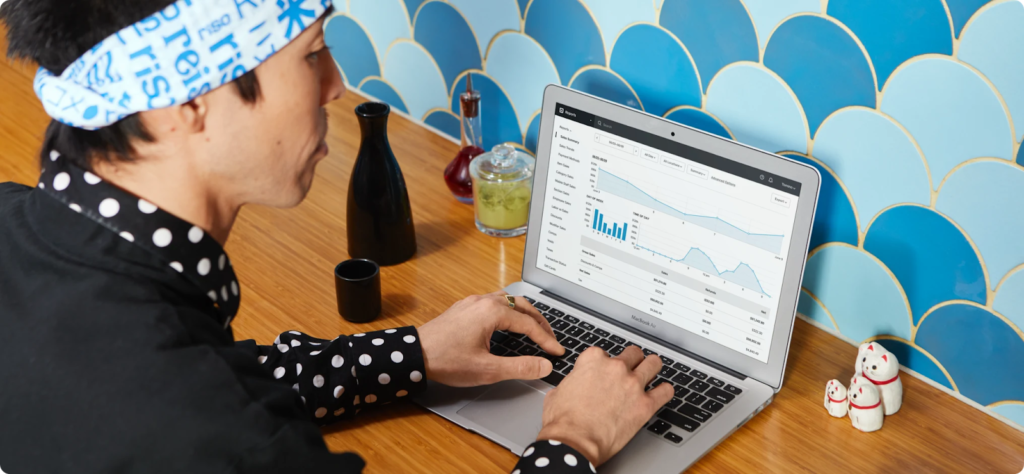 That way you can send them ultra-personalized marketing content through email or text and run a loyalty program to encourage repeat purchases.
Here the types of payments Square accepts:
Visa
Mastercard
Discover
American Express
Rewards cards
Apple Pay
Google Pay
Gift cards
This is also a highly secure platform and meets Level 1 PCI Data Security Standards and features account protection tools like two-step verification.
In terms of pricing, I love how straightforward and transparent Square is. It's free to use and doesn't have any setup or monthly fees.
All you pay is a processing fee, which is 2.6 percent per tap, dip, or swipe + 10 cents.

Finally, I love that you don't have to get locked into any long-term commitments with Square. If, for some reason, you want to discontinue, you can easily do so without any termination fees or drama.
Between Square's simplicity, flexibility, and scalability, I consider it to be one of the best point of sale systems pound-for-pound.
2. Shopify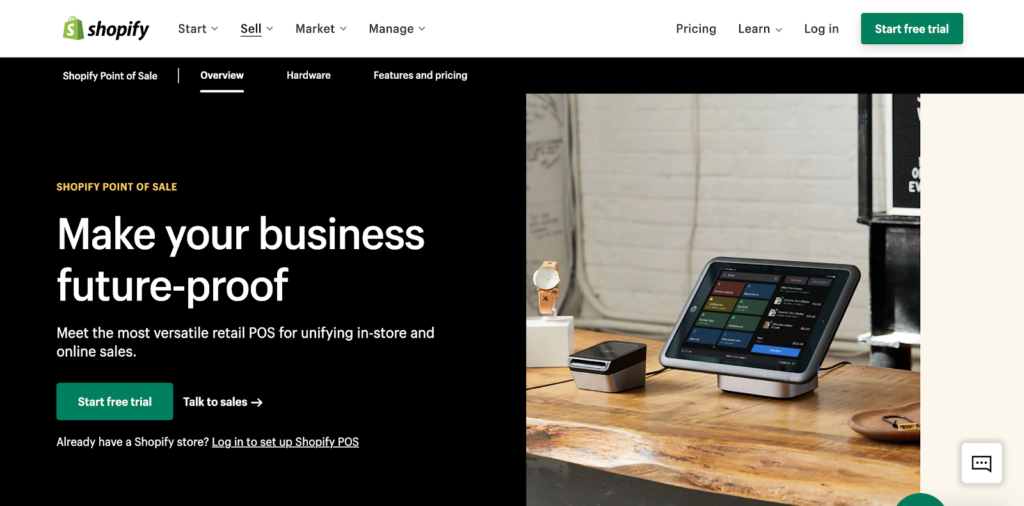 I love Shopify's tagline for their POS system, "Not just e-commerce. All commerce." That about sums it up.
And given Shopify's reputation for innovation, it should come as no surprise that their point of sale software is insanely robust and versatile.
Like Square, this platform is all about unifying in-store and online sales, and Shopify truly covers all of the bases.
One particular stat that caught my eye was that businesses that use this point of sale system see an average of 30 percent revenue growth year-over-year.
Not too shabby.
Here are some of the main features you get with it:
Fully customizable checkout where you keep your most-used apps, discounts, and products to create a faster customer checkout experience;
In-store availability that instantly shows what products are available;
Advanced inventory where you can generate purchase orders and create inventory forecasts based on product performance;
Discount codes;
Customer profiles where you can save contact information and shopping preferences for a more customized experience;
Email carts to remind customers what they left in their shopping carts so you can notify them to minimize cart abandonment;
Unified analytics that combines in-store and online sales; and
Customized staff permissions for robust security that accommodates business growth.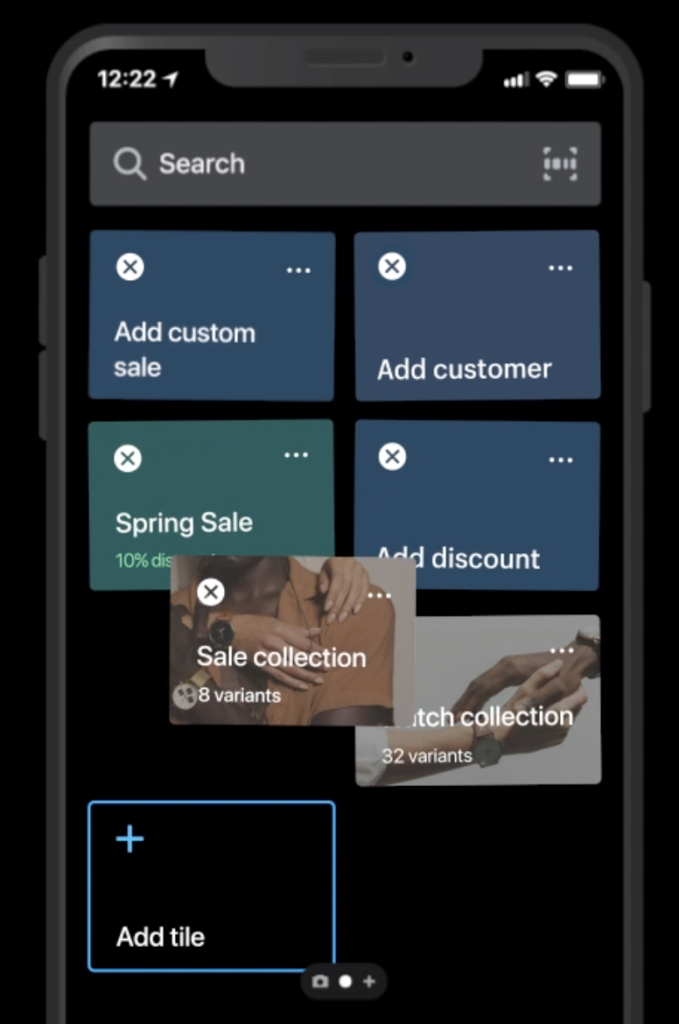 And that's just the tip of the iceberg. You can find a full list of features here.
Here the types of payments Shopify accepts:
Visa
Mastercard
American Express
Discover
Apple Pay
Google Pay
Shopify offers two plans to choose from. There's the more basic Shopify POS Lite, which starts at 2.4 percent + 0 cents. And then, there's Shopify POS Pro, which is your Shopify plan + $89 per month per location.
Here's how that breaks down: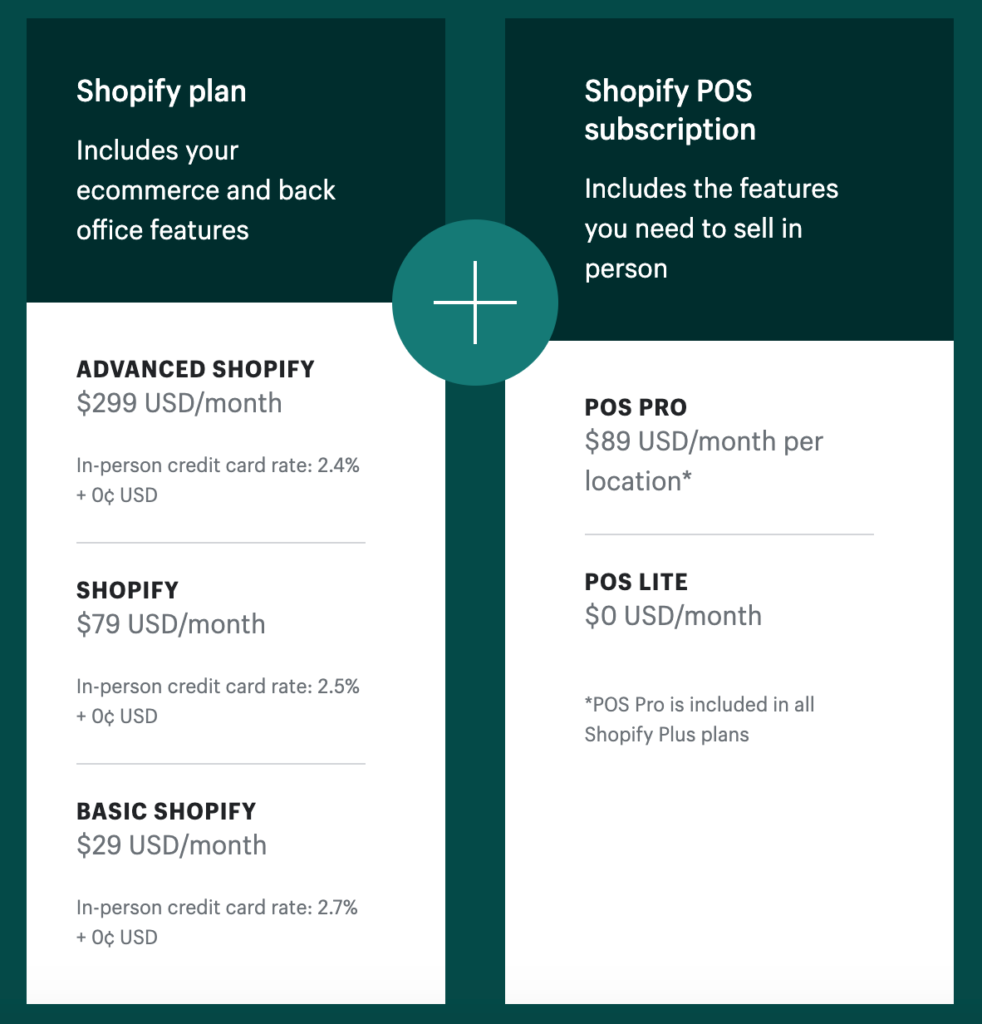 And here are some of the core differences between Shopify POS Lite and Shopify POS Pro:

This page explains the different features you get with each plan in detail. While Shopify pricing is a bit more complex than Square, it's still pretty easy to figure out.
Note that if you only need basic features, Shopify POS Lite is sufficient in most cases, and you can always scale up in the future if needed.
3. Lightspeed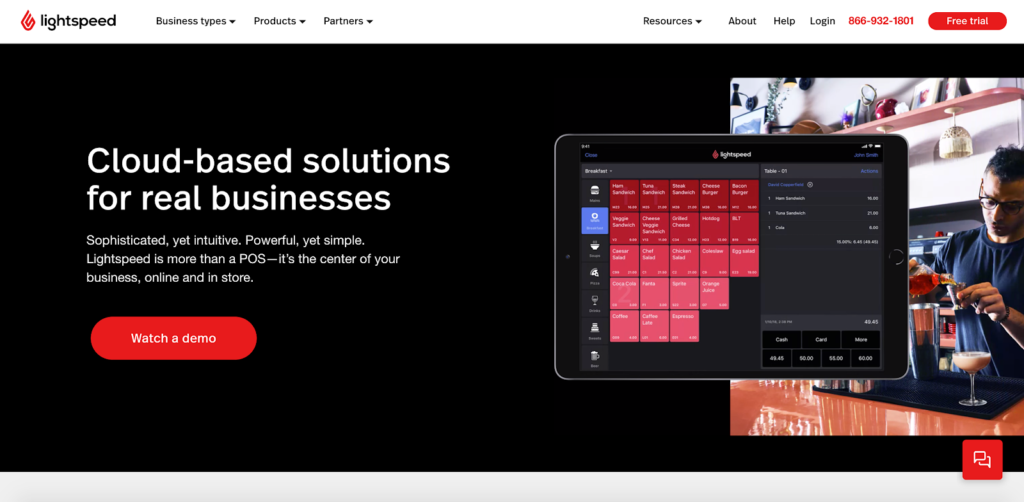 Lightspeed is an all-in-one point-of-sale system with the goal of making checkout simple regardless of how complex your business is.
To ensure you find the right solution, Lightspeed lets you choose your industry and the product you sell. Then, they pair you with the optimal POS system.
Say, for instance, you're in retail…

…and sell apparel and shoes.

Lightspeed offers a "fashion retail POS that helps you sell online and off."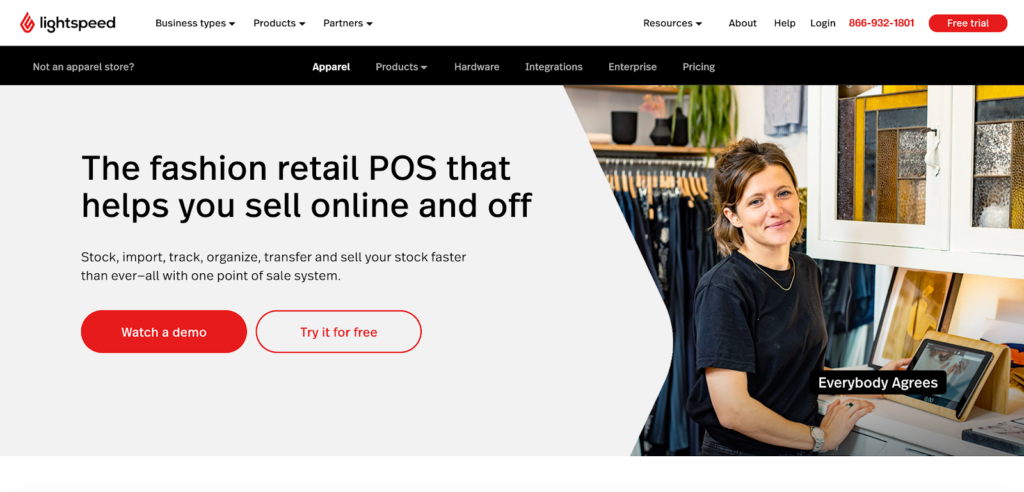 There are a ton of amazing features, including:
Access to a wide range of mobile-responsive themes and fully customizable templates;
A single inventory database that allows you to conveniently manage your online store, as well as all brick-and-mortar locations;
Automatic display of inventory numbers online;
Custom tag and category assignment to products so customers can quickly search by brand, color, size, and more;
Built-in SEO tools to help drive a higher volume of search traffic to your online store; and
Automatic reorder points to ensure you never run out of your top-selling items.
I also love that Lightspeed allows you to create your own reward points program to encourage repeat purchases and send out targeted promotions.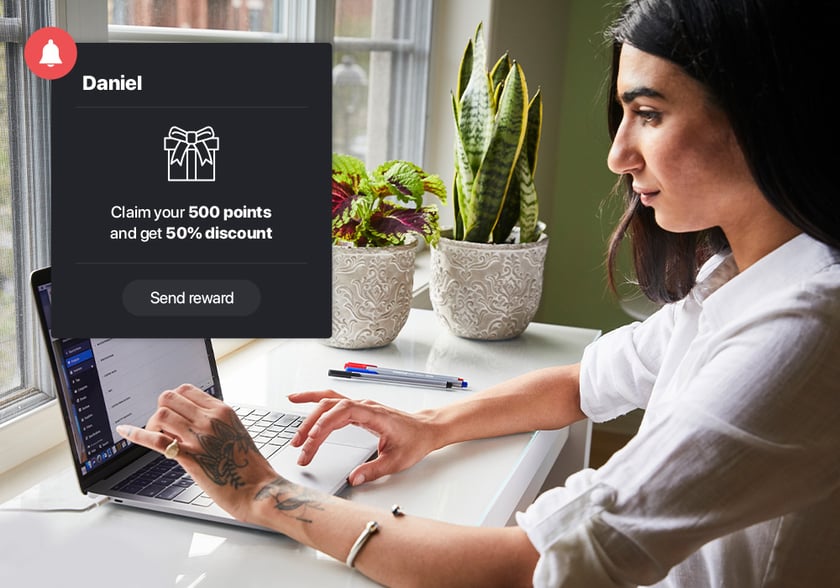 Like any quality point of sale system, Lightspeed supplies you with a wealth of data so you can make better decisions.
You can "run inventory reports to track returns, negative quantities, and unit costs," as well as "track end-of-day totals and seasonal trends with programmable sales reports."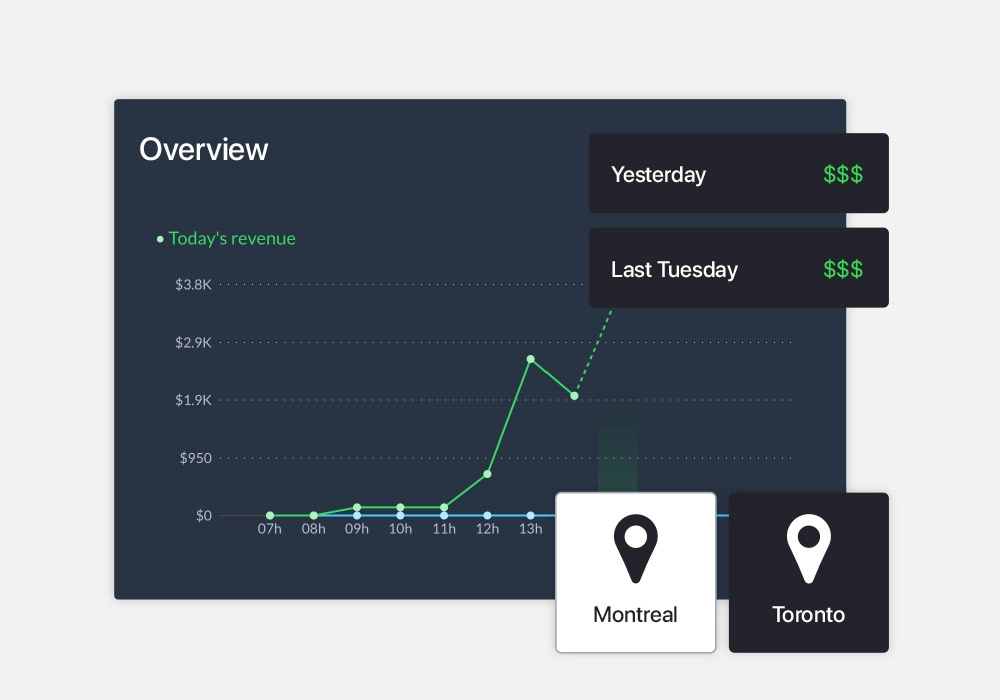 Visit this page to learn about their full spectrum of features.
Lightspeed accepts payments from all major debit and credit cards, along with Apple Pay, Android Pay, and Samsung Pay.
As for pricing, they have five different options to choose from:

All of which accommodate retail POS, but note that Basic doesn't accommodate e-commerce. This page provides a full overview of pricing so you can learn about the subtle nuances.
4. Clover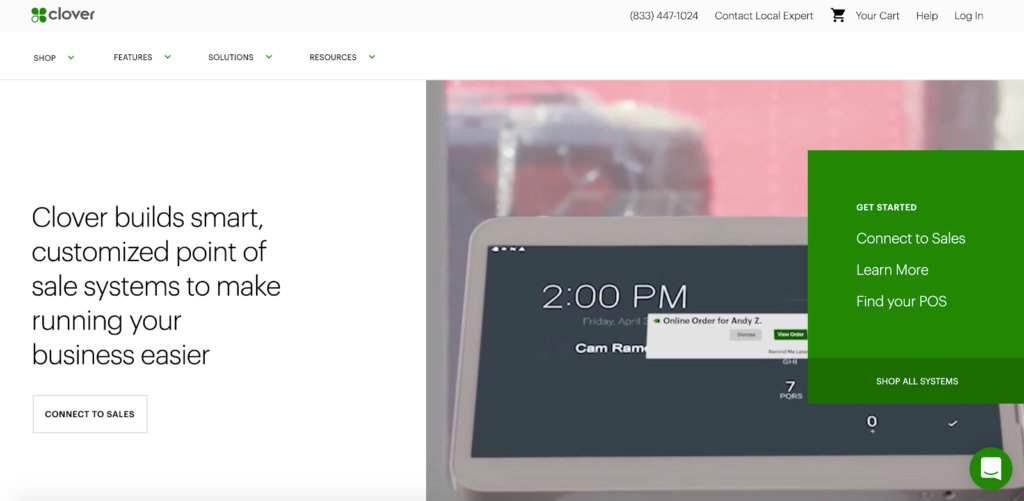 Although not as well known as the other platforms I've mentioned so far, Clover gets my vote as one of the best point of sale systems because of its versatility and ability to fit the needs of a variety of businesses.
Clover works for restaurants, service businesses, retail companies, and, of course, e-commerce brands.
You can use Clover to accept online payments, mobile payments, in-store payments, and even curbside payments. They also make it super simple to accept gift cards—physical or digital—which you can fully personalize to match your brand identity.
Clover is a highly customizable POS system that lets you choose the right mix of hardware, software, and apps to make your payment processing insanely efficient.
As they put it, "Your POS system should be tailored to your needs today and scale with your business. Build the system you need now, and expand as you grow with devices, apps, and accessories."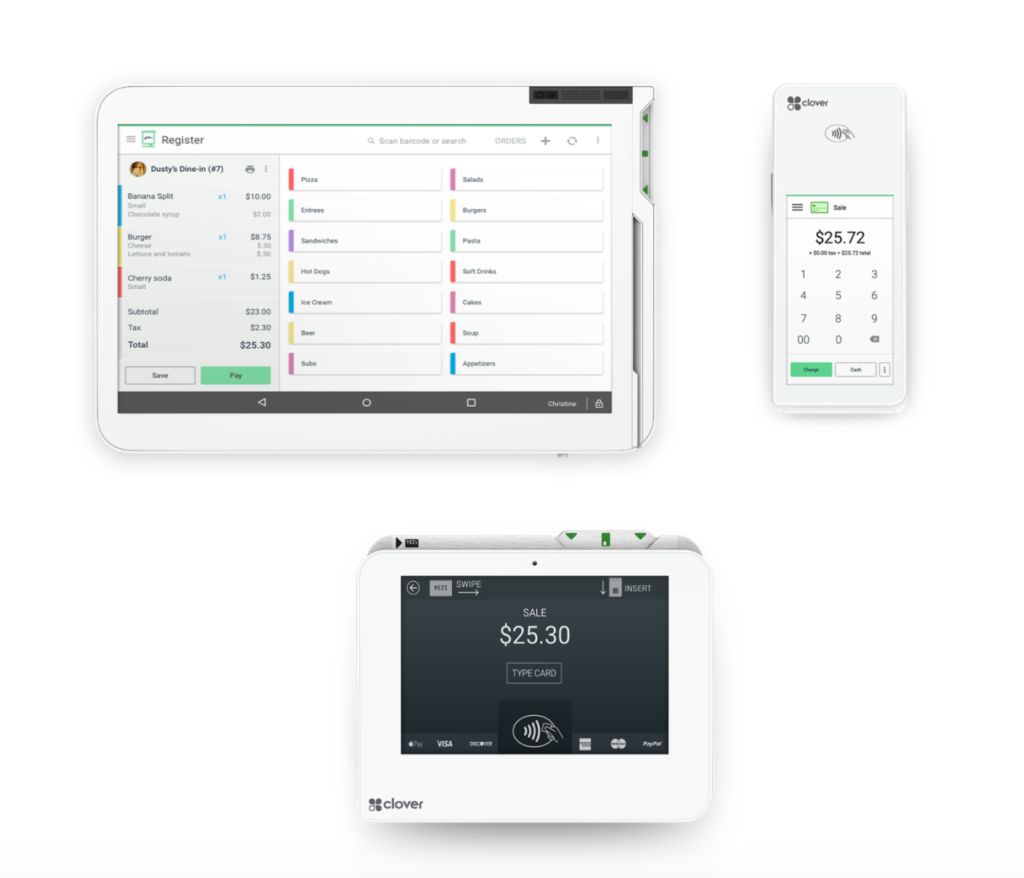 Here are the core features to know about:
A virtual terminal that allows you to accept payment from anywhere at any time on your device;
Sync orders, inventory, and customer information from one central location;
Reconcile sales, inventory, and customer data to reduce manual entry errors;
Secure payments using advanced technology;
POS integrations with a wide range of platforms like QuickBooks and and Yelp;
Track channel performance from your dashboard and mobile device;
Built-in marketing to help you reach more customers through platforms like Facebook, Instagram, and Amazon; and
Top-of-the-line live help.
When it comes to payments accepted, Clover takes:
Debit and credit cards from all major banks
EMV chip cards with PINs codes for added security
Contactless NFC payments with Apple Pay, Google, Pay, and Samsung Pay
Checks (these can conveniently be scanned)
You can even accept cash by adding a cash drawer.
Clover has two plans to choose from. There's Register Lite, which is "best for businesses with credit card sales of less than $50,000 per year." It costs $9.95 per month and:
2.7 percent + 10 cents for in-person transactions
3.5 percent + 10 cents for keyed-in transactions
There's also Register, which is "best for businesses with credit card sales of more than $50,000 per year. It costs $39.95 per month and:
2.3 percent + 10 cents for in-person transactions
3.5 percent + 10 cents for keyed-in transactions
You can find an in-depth comparison of these two plans here.
5. Vend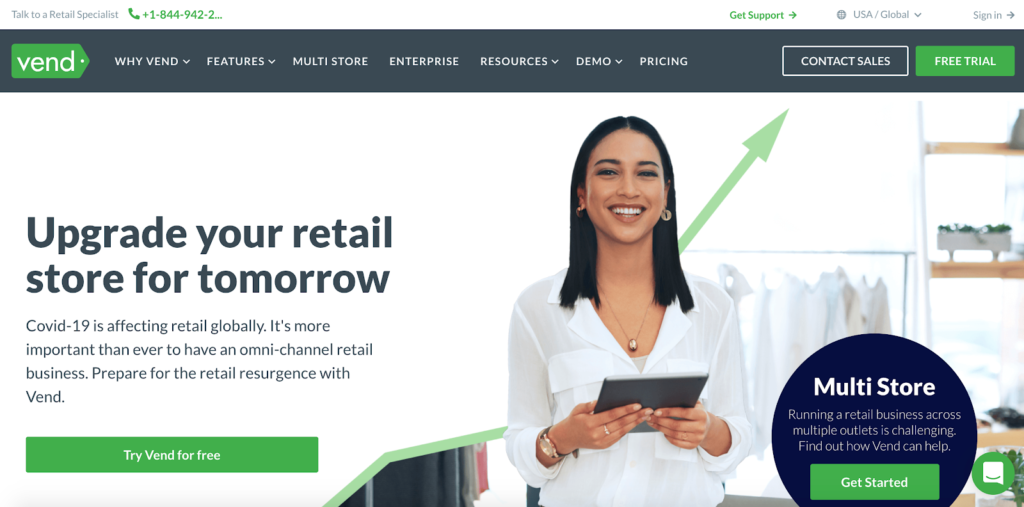 Finally, there's Vend, a platform that's ideal for e-commerce businesses and one that integrates with Shopify, WooCommerce, and BigCommerce.
Here's what they have to say about it.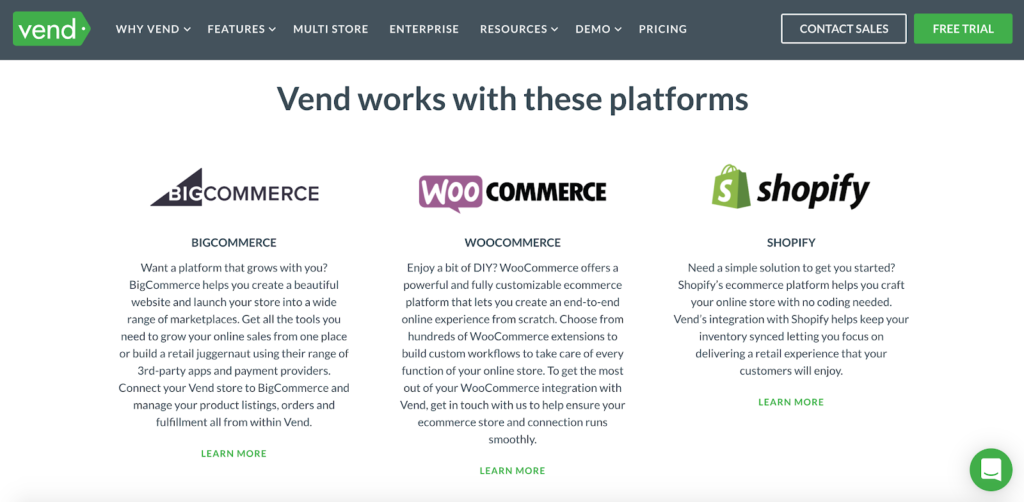 With Vend, you can list your e-commerce products in seconds and painlessly manage your orders and inventory from one convenient place.
It's designed to make even the most complex operations easy to manage, giving you full visibility of your stock and helping automate many manual tasks.
Let's go over the key features of Vend:
Inventory syncing where you can look at product quantities, prices, and shipping statuses to sync your online product catalog with your in-store catalog;
Easily view online orders next to in-store purchases;
Fulfill orders directly from Vend without having to jump to another platform;
Edit products in bulk;
Automatically reorder stock before a product runs out;
Capture customer data to send targeted marketing offers; and
Built-in email automation to send personalized content based on previous orders and customer preferences.
Vend also makes it a breeze to track your online sales performance so you always have a bird's eye view on what's selling and what's not.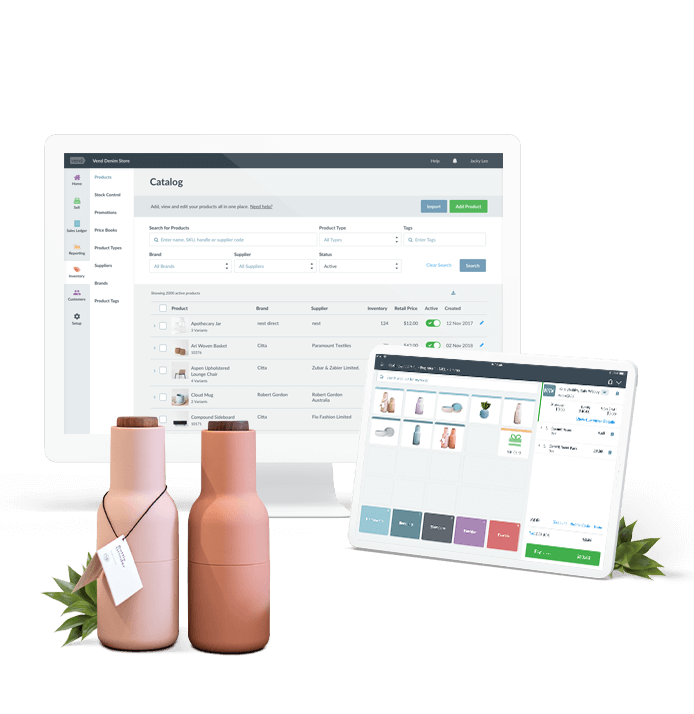 You can, for example, check sales and inventory levels by channel and see how much you sell in one period versus the one the year before.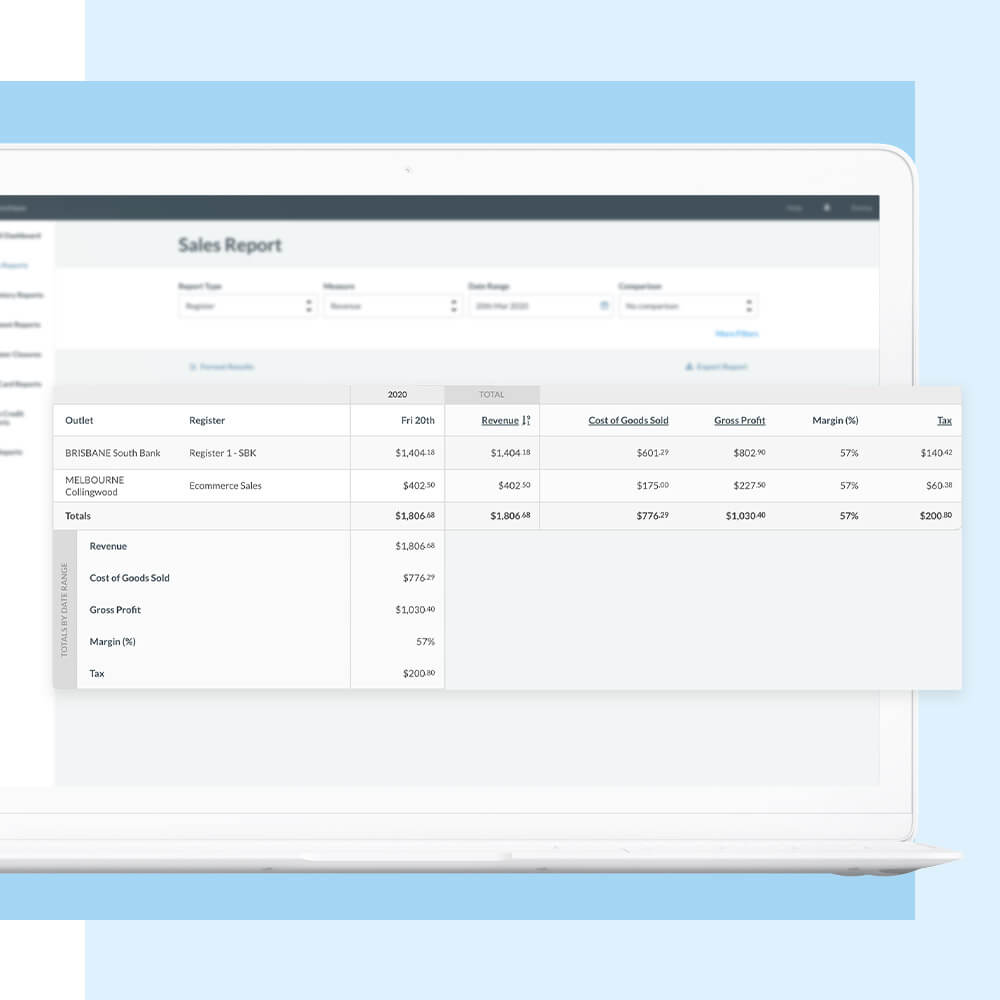 When it comes to a user-friendly interface, Vend is definitely one of the best and comes with a very minimal learning curve. It's also extremely secure, using cutting-edge security and encryption, and is compliant with PCI standards and GDPR regulations.
In terms of payments, Vend accepts:
Visa
Mastercard
American Express
Apple Pay
Gift cards
Cash
Store credits
Loyalty dollars
They even have "buy now, pay later" options in certain areas.
As for pricing, there are three plans to choose from:
Lite – $99 per month (billed annually)
Pro – $129 per month (billed annually)
Enterprise – Contact Vend for a quote
Check out this page for a side-by-side comparison of each plan.
Note that, unlike most other point-of-sale systems, Vend doesn't charge any transaction fees, which is a huge selling point for businesses that sell a high volume of products.
Conclusion
Having the right point of sale system in place can be a legit game-changer.
Whether you offer a mix of online and in-store products or sell exclusively online, it can help you keep tighter control of inventory, streamline payments, and create a better overall customer experience.
It's also integral for keeping a tight grip on security to ensure your customers' payment information stays safe.
While there are countless platforms on the market, these are the best of the best point of sale systems you'll find.
All are user-friendly and offer the scalability needed to handle the growth of your business regardless of what stage you're at.