Although Shopify and WooCommerce tend to receive the most attention, Magento is a top e-commerce platform that's used by 12 percent of digital store owners.
More specifically, over 250,000 e-commerce sites used Magento in 2019, and it powers roughly one percent of the entire Internet.
And that's pretty impressive considering the Internet has more than 1.5 billion websites total.
Magento is popular for many reasons including its versatile content management capabilities, mobile and SEO-friendliness, and custom integrations.
And it's the last point that I want to discuss here.
Magento plugins, also known as extensions, span many different categories including content customization, payments and security, marketing and customer support.
Using the right plugins can help you fully personalize and optimize your e-commerce store and maximize sales revenue.
Besides that, you can create a killer customer experience that will make shoppers want to return time and time again.
So on that note, here are the 13 best Magento plugins that I recommend using.
Table of Contents
1. SEO Suite Ultimate
It's hard to stress enough the importance of SEO in the e-commerce world.
"Ninety-three percent of online experiences begin with a search engine, and 57 percent of B2B marketers stated that SEO generates more leads than any other marketing initiative."
Climb to the top of the rankings for targeted searches, and you're bound to bring in a high volume of qualified leads.
Although there are several SEO plugins available on Magento, I think that SEO Suite Ultimate is one of the best overall.
It aids in a wide variety of SEO activities like identifying duplicate content, optimizing URLs, improving site indexation and enhancing meta settings.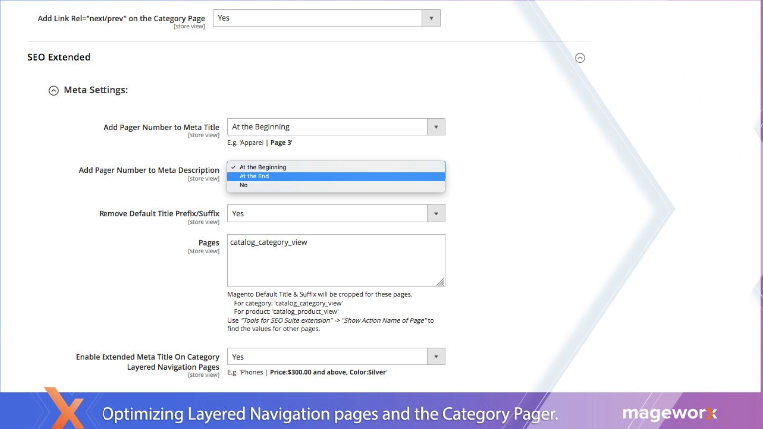 SEO Suite Ultimate also helps you build a user-friendly HTML and XML sitemap to help search engines index your content more efficiently.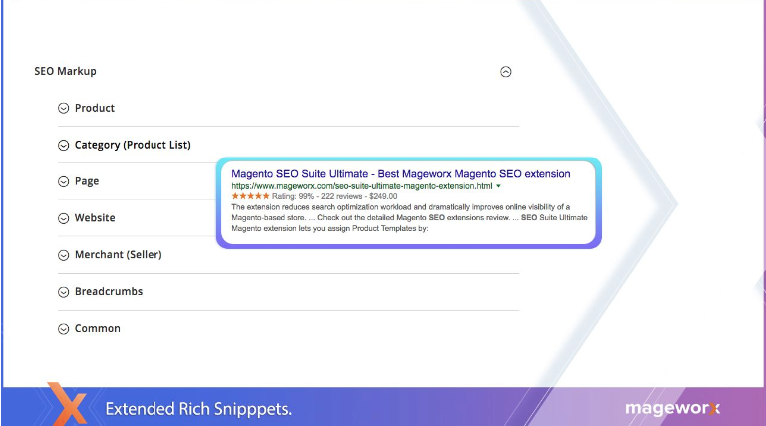 So if you're not an SEO expert but want to outrank key competitors, this is a plugin you'll want to check out.
2. Product Review Reminder
Online reviews have become critical for making prospects feel comfortable about an e-commerce store and motivating them to complete an initial purchase.
"Ninety-three percent of consumers say online reviews impact their purchasing decisions, and 91 percent of 18-34-year-olds trust online reviews as much as personal recommendations."
Product Review Reminder is a plugin that's designed to help you obtain more product reviews while automating much of the process.
Here's how it works.
Customers are sent a product review reminder a certain number of days after making a purchase (you decide) and receive an award such as a coupon for giving their input.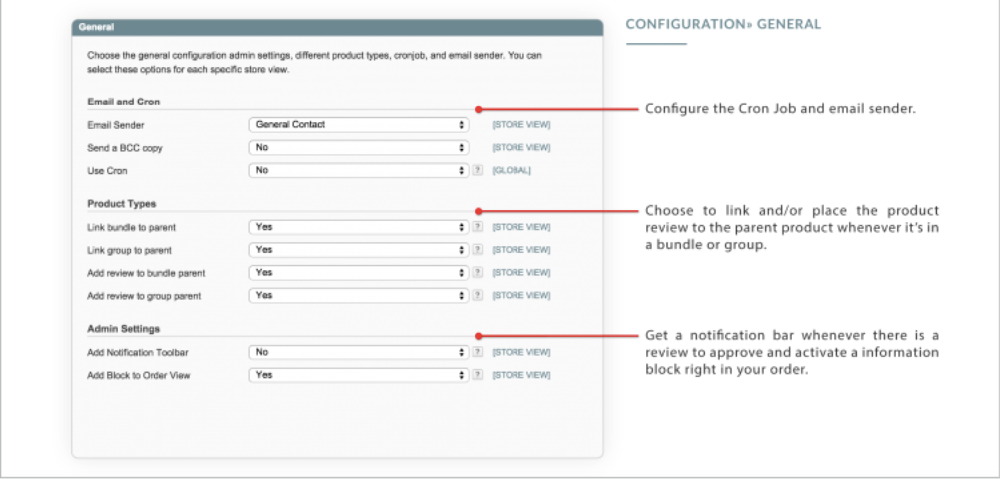 From there, you can post reviews to your store and use them to attract new customers.
This makes it a great way to leverage positive customer reviews to generate more sales.
3. Customers Also Viewed
Cross-selling has been and continues to be one of the most effective ways to increase average order value.
In fact, up to 35 percent of Amazon's total sales come from cross-selling.
It's a relatively simple way to let your customers know about other products they may be interested in based on their browsing behavior and prior purchases.
One of the best Magento plugins for unlocking cross-selling opportunities is Customers Also Viewed.
It allows you to "utilize the potential of the smart suggestions system that will pick related products automatically and intelligently provide buyers with the attractive product recommendations."
Here's an example of what that looks like.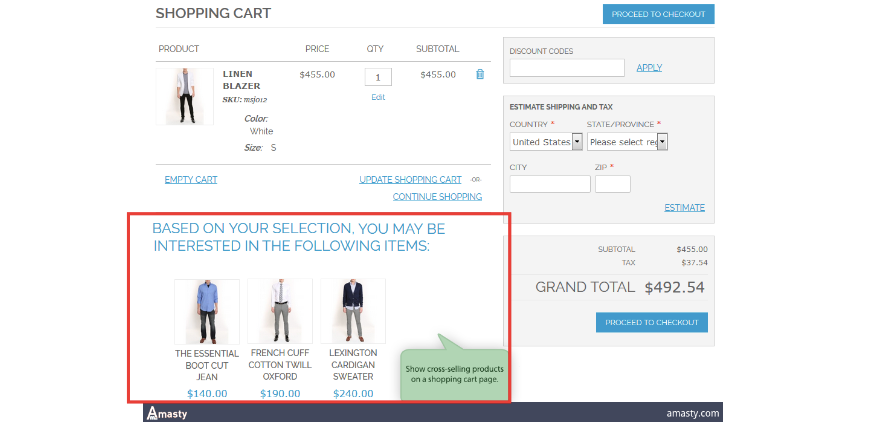 With this plugin, you can create highly personalized offers that capture the attention of shoppers, while at the same time hiding products that are out of stock or from the same category.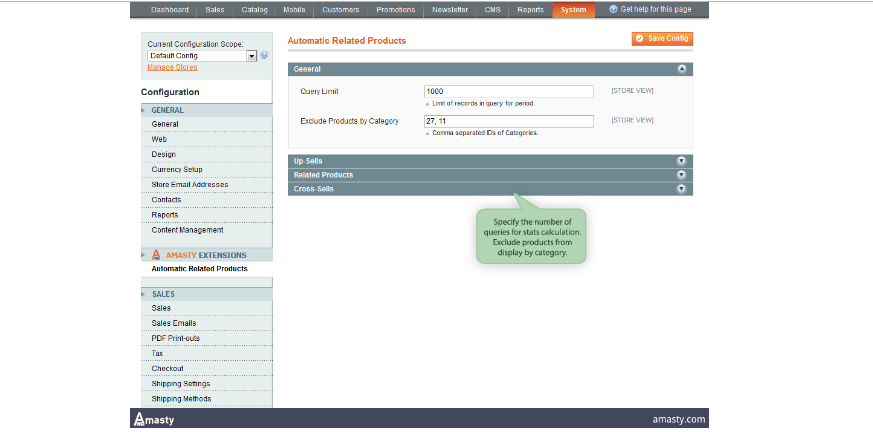 In turn, you can use the same strategy Amazon does to reel in more customers and increase your average order value.
4. AddThis Share Buttons
One of the most effective ways to increase brand exposure is to have your shoppers share your products on their social media accounts.
Get the right person to share with their audience, and you can bring in a ton of qualified leads overnight.
And the AddThis Share Buttons plugin is perfect for encouraging social sharing.
It's incredibly easy to use.
All you do is add the sidebar share buttons to your Magento store and choose from over 200 social networks to personalize it for your shoppers.
This is what it looks like in action.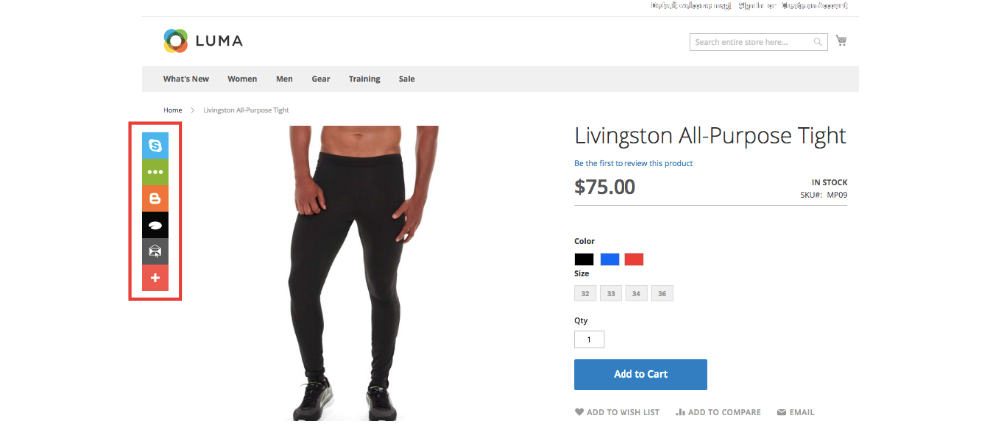 It's a great way to streamline the social sharing process and bring more traffic to your store without a lot of effort on your end.
5. A/B Testing
As an e-commerce store owner, you're crazy not to be doing some type of A/B testing.
With a nearly infinite number of variables on a digital store, running consistent A/B tests is your ticket to boosting conversions and maximizing sales.
A/B Testing from Amasty is a favorite plugin of mine for efficiently testing all aspects of your site.
"Select any product attribute to create an experiment. You can test either one attribute change in one experiment or launch a multivariate experiment and test a few attributes' changes at once."
You can test out different product name variations.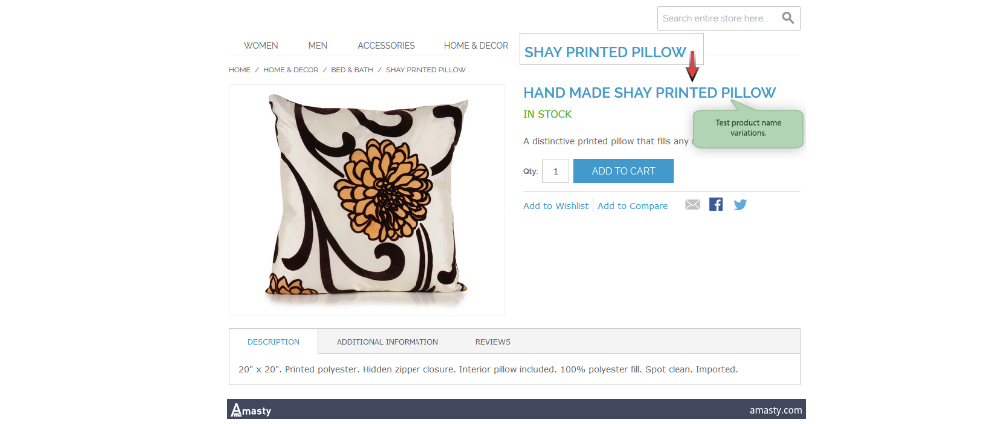 You can experiment with different wording on product descriptions.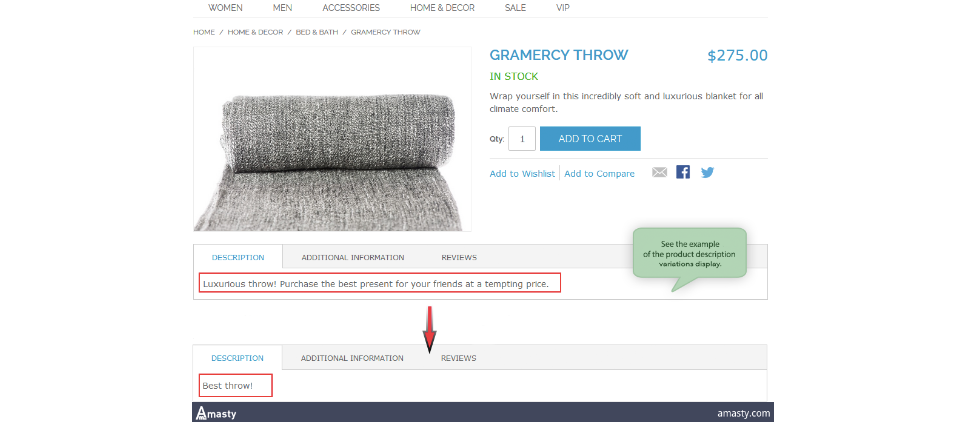 You can also randomly display different copy variations to see which has the bigger impact.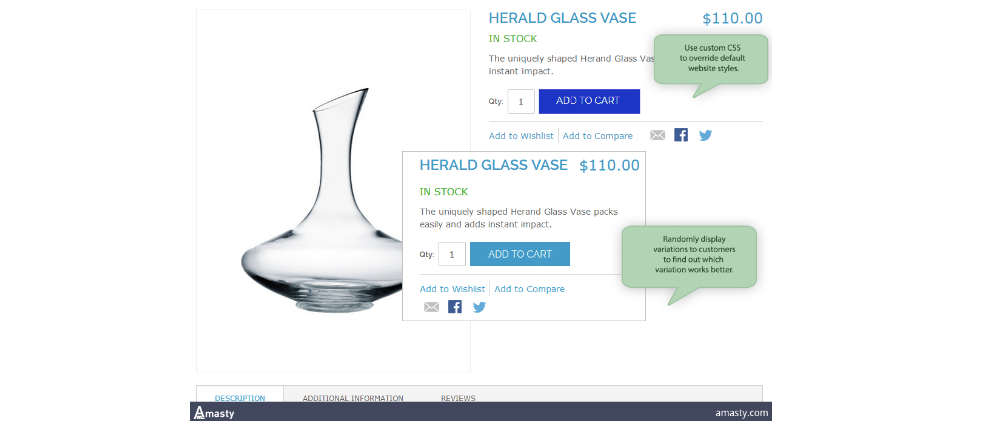 It's all very simple.
And sometimes just making a few key changes is all it takes to send your sales soaring.
6. Multiple Coupons
Shoppers have always loved coupons.
But they're now bigger than ever, especially in the digital format.
In fact, 31 billion people are predicted to redeem e-coupons by the end of 2019, while only 16 billion did so in 2014.
So you can see how big this trend has become.
Another plugin that I like from Amasty is Multiple Coupons, which is perfect for providing e-commerce shoppers with coupons and allowing them to conveniently redeem coupons on your site.
It allows you to generate personalized coupons based on different rules.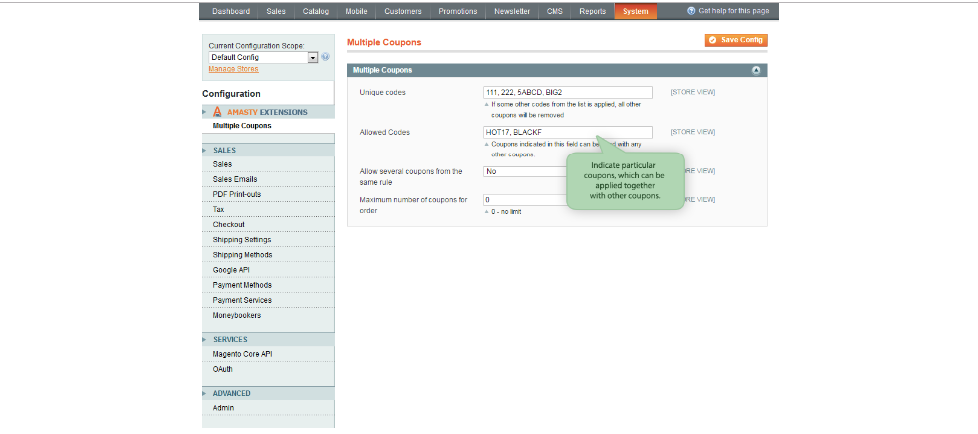 And your customers can see which coupons that can be applied on the order view pages.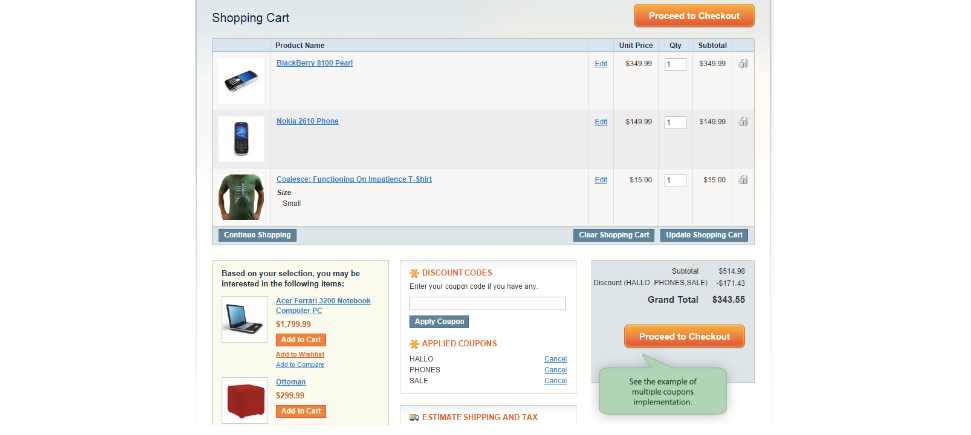 So if coupons are a big part of your promotional strategy, this is definitely a plugin worth considering.
Or, if you prefer, you can customize an onsite campaign like the one below: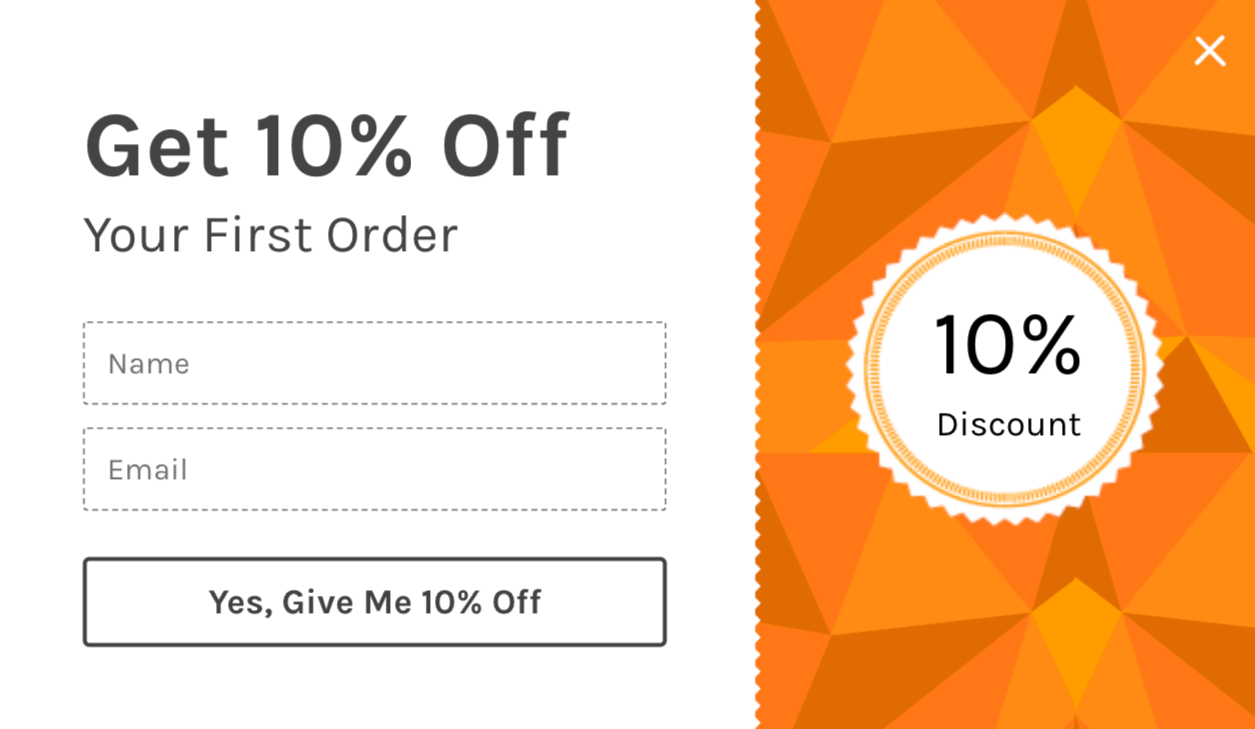 The third biggest reason for shopping cart abandonment is having a checkout process that's too long or complicated.
That's actually why 26 percent of shoppers fail to go through with an order.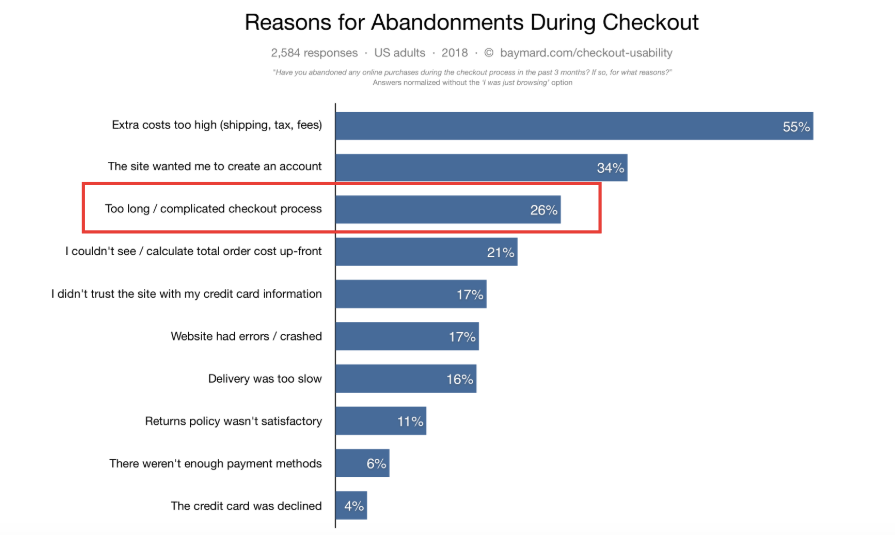 But you can reduce cart abandonment considerably by streamlining your checkout with the Enhanced Quick Cart plugin.
It works by displaying the cart summary review on your product page, so shoppers never have to leave it.
"The checkout steps are reduced to a minimum, and conversion rates are improved as the user goes directly to checkout without the need to visit the cart page."
Here's an example.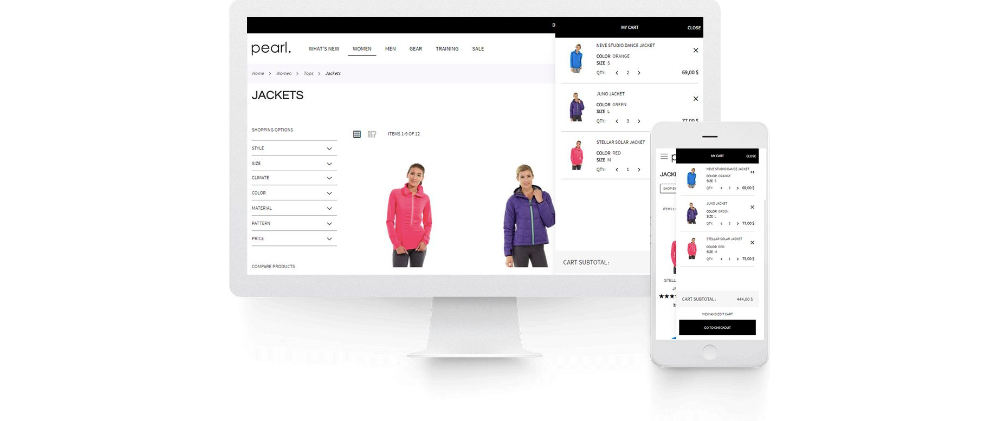 It's really easy to set up, and you don't even need any coding skills to put it to use.
The result is a smooth, convenient checkout for your shoppers and a significantly lower cart abandonment rate.
8. FAQ
Nothing can be more frustrating for e-commerce shoppers than when they have a burning question but can't find an answer for it.
In many cases, this is a deal-breaker where they'll simply turn to a competitor to find what they need.
So you must have an efficient way to provide answers to frequently asked questions.
And that's exactly what this Magento plugin does.
It allows you to create a dedicated FAQ page that answers commonly asked questions in one location.
And with its collapse/expand feature, the information can be neatly organized for easy scanning.

Besides keeping your customers happier, this plugin also makes your life easier because you don't have to answer the same redundant inquiries over and over again.
9. Searchanise Smart Search & Autocomplete
The search box is a critical feature of an e-commerce store with six out of 10 shoppers saying it's "extremely important" and an additional 27 percent saying it's "important."
However, many shoppers are less than satisfied with site search and have experienced major frustrations like irrelevant product results and not being able to find the product they're looking for being the two biggest.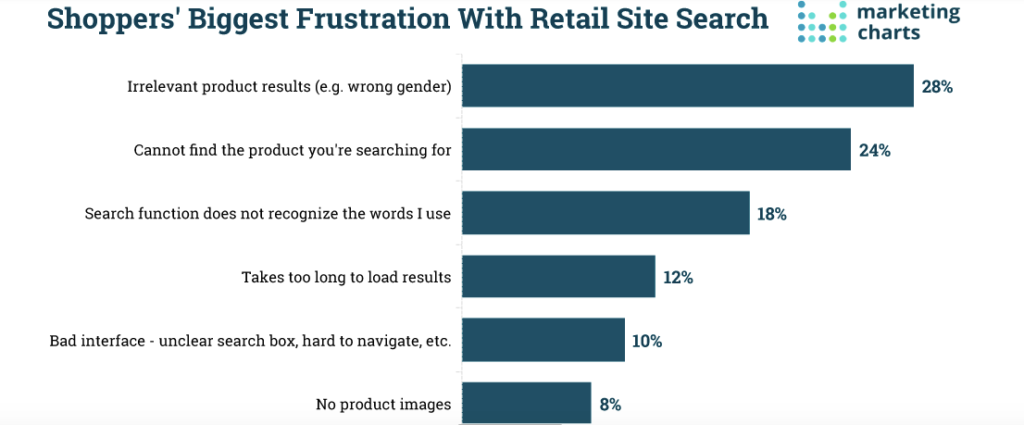 Fortunately, Searchanise Smart Search & Autocomplete addresses this problem and can greatly enhance the shopper experience when using the search box.
Rather than simply displaying products based on keywords, this plugin uses powerful AI to offer "advanced relevant autocomplete search by products, categories, and content pages, with instant search suggestions as-you-type, typo-correction, and personalization."
In turn, customers can painlessly find exactly what they're looking for, while you improve your conversion rate.
Here's an example of an e-commerce store that utilizes this plugin.

And here's what it looks like on mobile.

10. Language Translator
Today's e-commerce stores operate in a global marketplace, and you can't expect all of your shoppers to speak the same language.
Failing to cater to international shoppers or even those within your country who speak a different language means you may squander valuable sales opportunities.
But the Language Translator plugin offers an effective solution to this problem.
It automatically translates the content on your store into multiple languages to accommodate users from a variety of geographies and regions.

That way there's no struggling on their end to decipher the meaning of your content, and they can fluidly browse your site to find what they're looking for.
And needless to say, this can have a major impact on customer satisfaction and help you expand into other markets.
11. Product Videos
There's no denying the power that videos can have on e-commerce performance.
"71 percent of consumers think video explains the product better, and 73 percent more visitors who watch product videos will buy."
And this is one of the best Magento plugins for working professional videos into your e-commerce store.
With Product Videos, all you have to do is enter the URL code at the end of your YouTube or Vimeo video, and it will appear in your product pages for shoppers.
The title and video descriptions are automatically populated.

This is an excellent way to quickly and succinctly explain the ins and outs of your products by using arguably the most powerful medium in existence — video.
12. Delivery Date
Delivery issues can also create friction for shoppers, with 16 percent saying slow delivery was a reason for cart abandonment during checkout.
Or if you're unable to deliver a product during a date and time when a customer is home, it can create security concerns with "porch pirates" stealing packages.
In fact, nearly a third (30 percent) of Americans have experienced this issue at some point.
Delivery Date is a nifty little plugin that does a few key things.
First, it lets your customers choose a desirable delivery date and time with their orders so that it's convenient for them.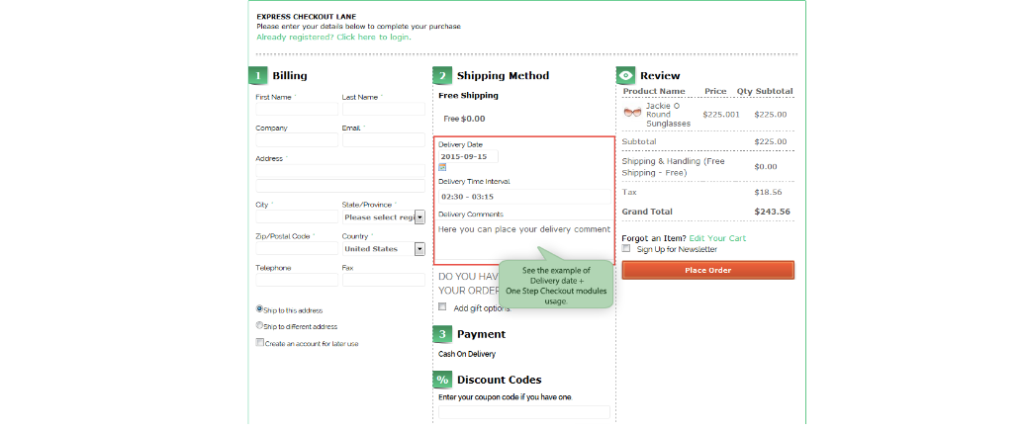 Second, it informs shoppers about available dates and time for delivery.
And finally, it gives buyers the option of leaving comments if they have any specific delivery requests.
That way you can ensure your customers receive their products at appropriate times, and you greatly reduce the likelihood that packages are intercepted by criminals.
What's the number one incentive for people to shop online more?
Free shipping.
It's a huge perk that can get first-time shoppers to complete an order and encourage them to come back for repeat purchases.
But to be profitable, most e-commerce stores require customers to reach a certain threshold before they become eligible for free shipping.
And that's exactly what the Free Shipping Bar helps with.
It offers a small display at the top of the screen that tells shoppers how far away they are from free shipping.

This plugin takes care of all of the calculations and gives you full control over the settings so you can customize its look and functionality.

Taking Your Magento Store to the Next Level
Magento has grown as an e-commerce platform in recent years and offers a lot of great customization through its massive list of plugins.
The ones I listed here run the gamut and can help you personalize your store so that it's more user-friendly, increases shopper engagement, boosts conversions and builds brand loyalty.
So when it's all said and done, you can get the absolute most from your e-commerce store and maximize revenue.