Eighty-one percent of B2B brands used newsletters for marketing in 2020, meaning it's still one of the most popular strategies out there.
And with an average click-through rate of 3.2 percent (B2C emails, by comparison, only have a CTR of 2.1 percent), it's an effective channel for pulling in highly targeted leads and building deeper loyalty with existing customers.
But let's be honest. Consistently coming up with fresh B2B newsletter ideas that don't feel stale and rehashed is often easier said than done. In fact, it's quite common for B2B email marketers to go through a creative drought from time to time. It happens to the best of us.
If you're having trouble coming up with new angles for your emails, you're in luck.
Here are seven killer B2B newsletter ideas based on real-life email campaigns you can borrow from.
Table of Contents
1. Highlight Your Most Popular Products
Let's start with a simple yet potent idea that's perfect for letting prospects know exactly what you have to offer and why they should care.
It's really straightforward. Just feature your most popular products and include links that directly leads to your site so they can seamlessly make a purchase without having to do any heavy lifting.
This example from custom online business printing and design company, Moo, does everything right.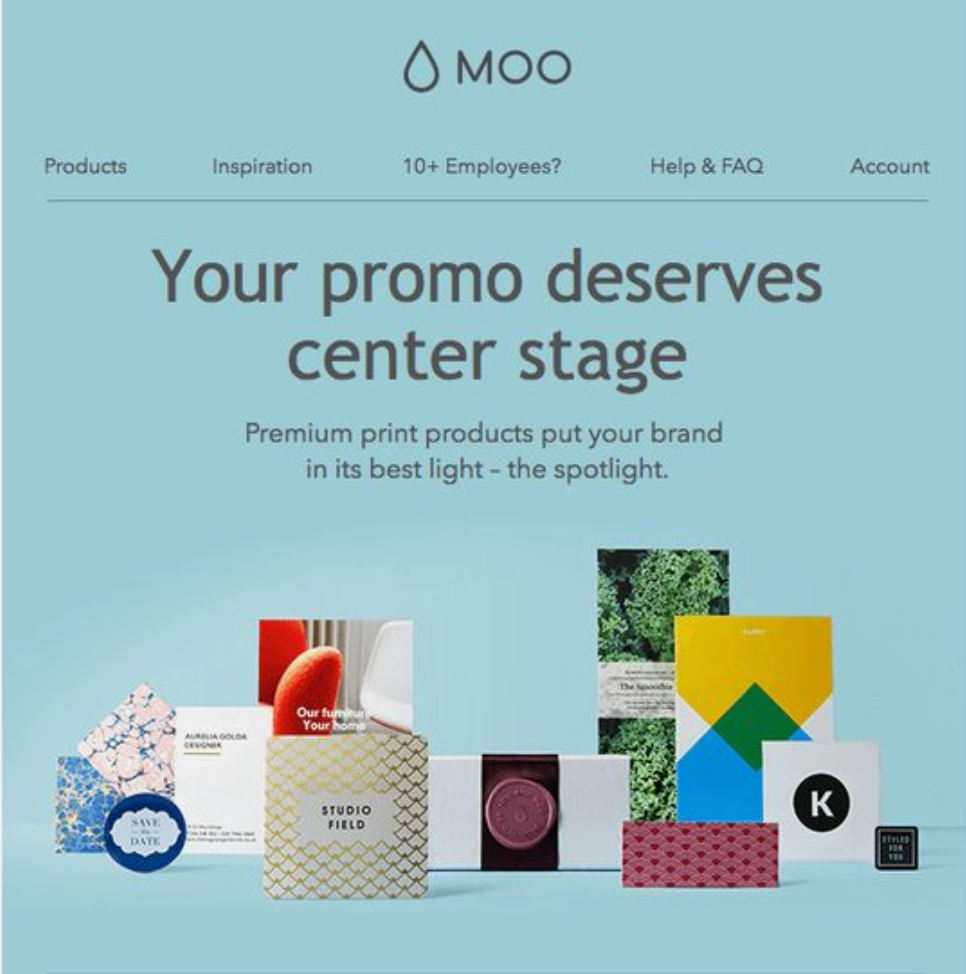 There's an awesome header that says, "Your promo deserves center stage" and a catchy sub-header that says, "Premium print products put your brand in its best light—the spotlight."
It's then followed by four of Moo's most popular product categories, including:
Postcards
Flyers
Stickers
Business cards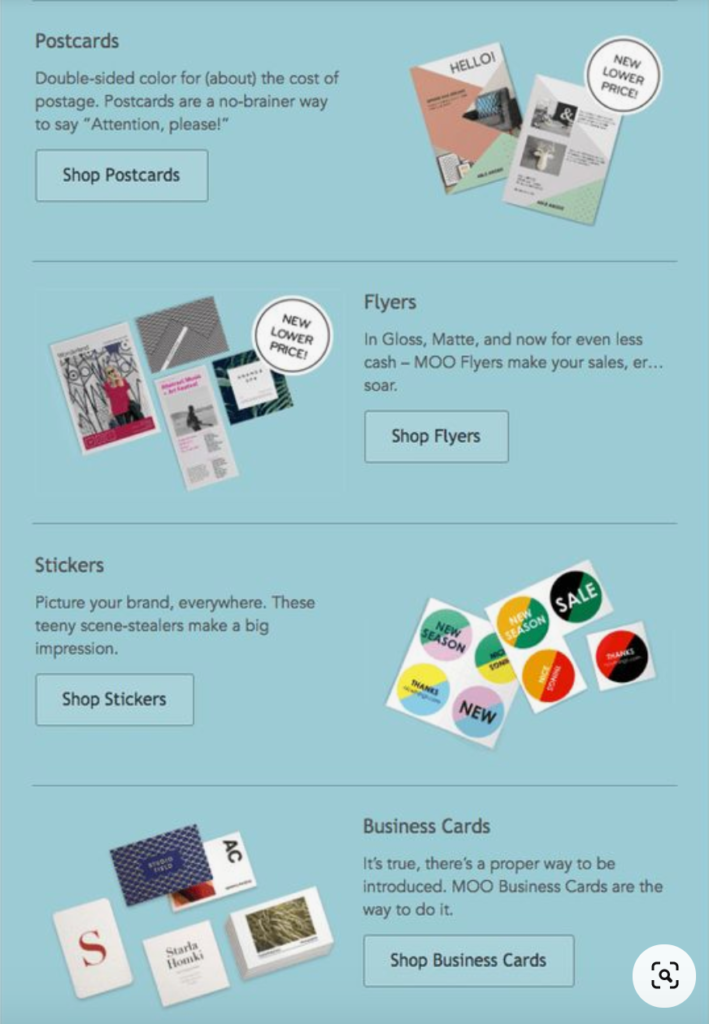 Also, note the strong visuals, sharp, snappy copywriting, and ultra-clear CTAs that let leads know what they need to do next.
Nailing these three elements is essential for getting leads interested. The goal is to capture their initial attention enough to motivate them to scroll down.
Then, with just a glance, your images, copywriting, and CTAs should be compelling to the point that leads just can't resist but click-through.
So, when it comes to quickly building rapport with new leads who are still figuring your brand out, this is one of the better B2B newsletter ideas to borrow from.
2. Use an Infographic to Explain Your Product's Benefits
Say that a lead has opted into your newsletter and has an interest in your product. They've explored your site, have a basic understanding of your product's features, looked at pricing, and so on.
However, up until that point, they're still on the fence and aren't quite ready to take the plunge. Sending this type of lead an infographic highlighting the key benefits of your product is an excellent way to build instant trust and get them fully on board.
This email from dynamic work and collaboration software, Smartsheet, is an awesome example.
Here they offer a summary of benefits from a study performed by Forrester Research that quantified the financial impact Smartsheet had on the companies that used it.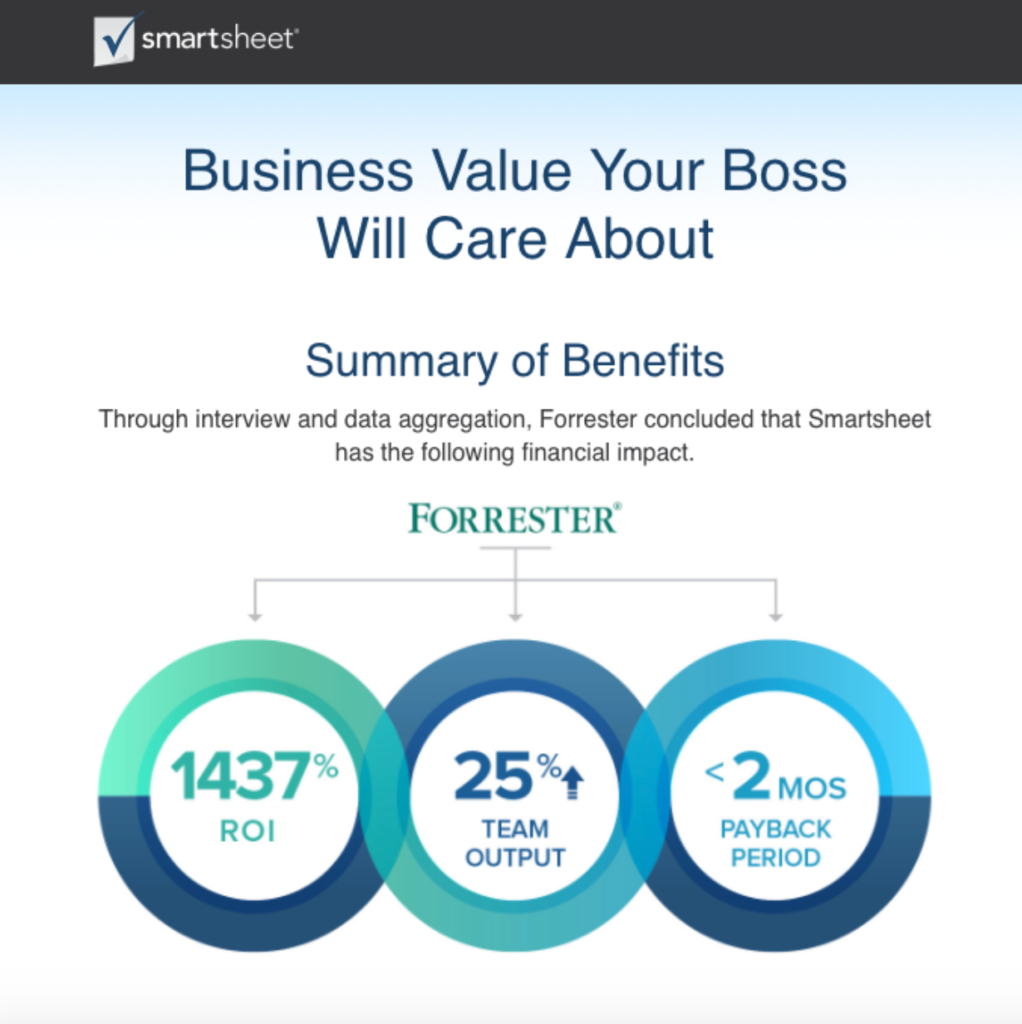 They mention the sharp increase in ROI, how team output went through the roof, and how there was less than a two month payback period. This is definitely an attention grabber and should pique the interest of many potential customers.
And just below that, Smartsheet offers a three-year analysis, which dives into even more detail.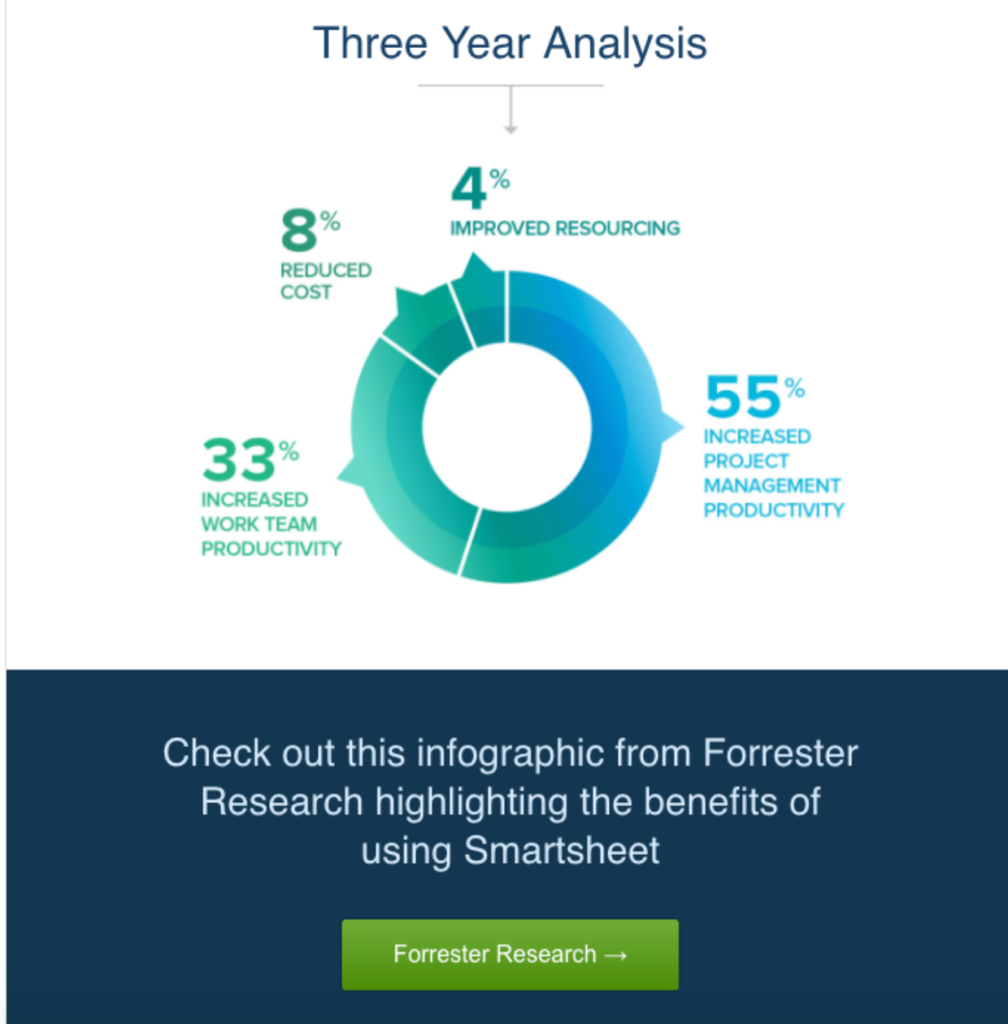 If a reader wants to see the full enchilada, the CTA at the bottom will take them there so they can learn about all of the details.
I can't think of a much better way to convey the benefits of using your product while making it insanely easy for readers to digest.
Also, having your name associated with a widely recognized brand like Forrester Research adds instant legitimacy to your company.
That's why this is a B2B newsletter idea I highly suggest adding to your arsenal.
When it comes to designing professional graphics without any drama, Canva is an amazing tool, with many features being completely free to use.
3. Let Readers Customize Their Preferences
News flash—modern B2B buyers love personalization.
According to recent data, over three-quarters (77 percent) of buyers "have chosen, recommended, or paid more for a brand that provides a personalized service or experience." Further, "81 percent want brands to get to know them and understand when to approach them and when not to."
So why not let your readers customize their email preferences to ensure they receive the content that's most relevant to them and that they're truly interested in?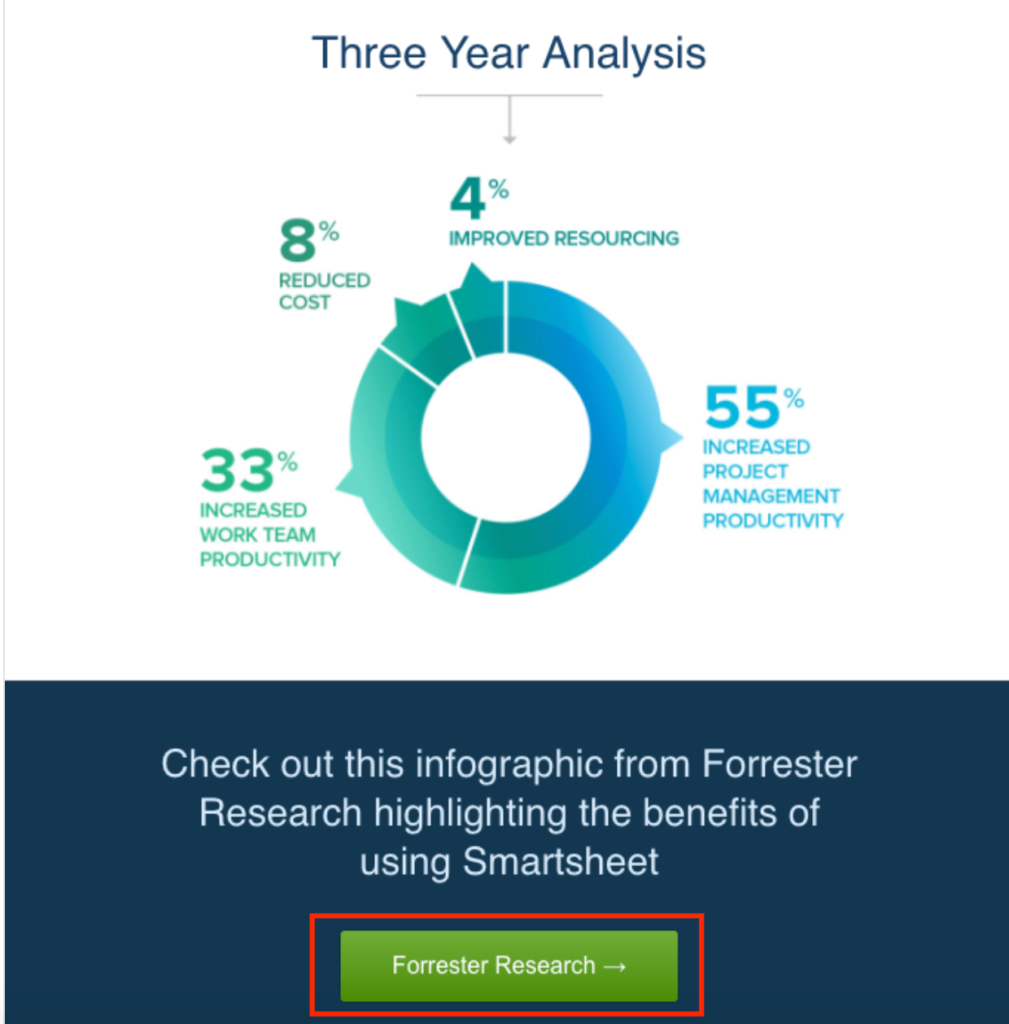 That's what Booz Allen Hamilton, a consulting firm that focuses on analytics, digital, and cyber does in this email. It starts off with, "Let's get to know each other," which comes across as super personable and is a great way to get started off on the right foot with new readers.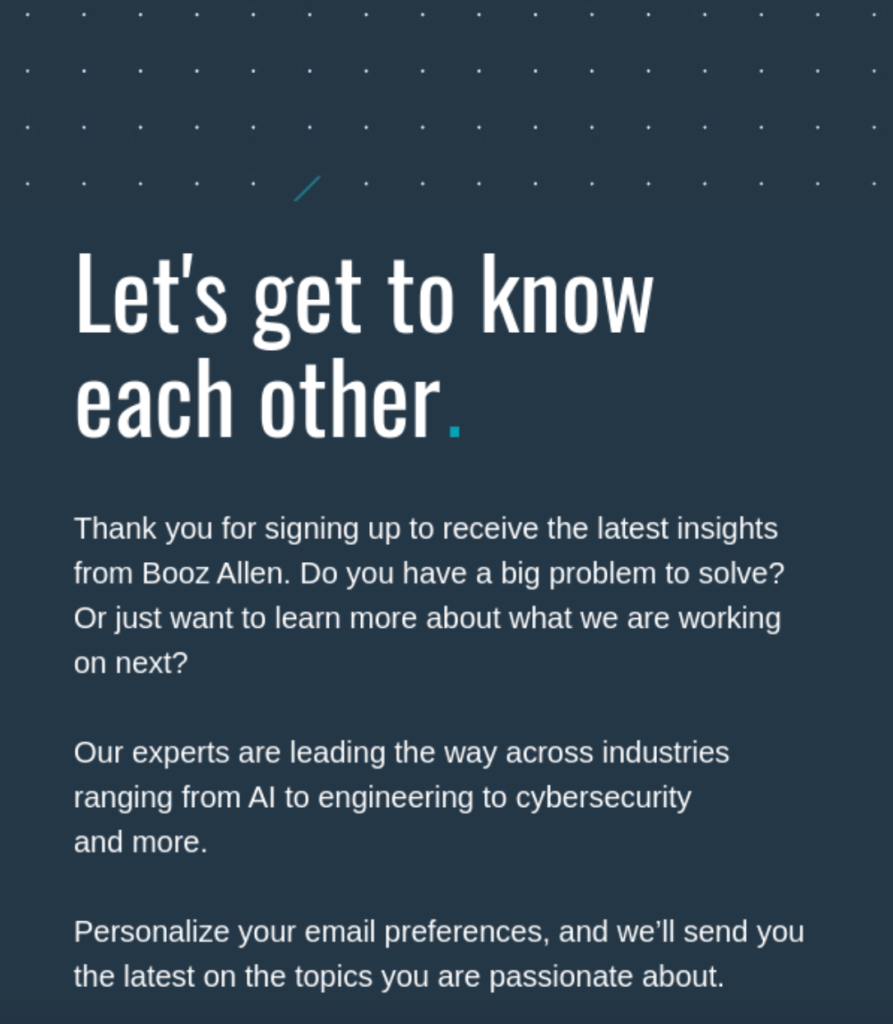 Booz Allen Hamilton then thank the reader for signing up and,
Establishes authority by letting them know that Booz Allen Hamilton consists of a team of experts across multiple industries; and
They're committed to creating a personalized experience where they send the reader personalized content that's specifically tailored to them.
From there, readers can click on the "Customize Your Preferences" CTA and set it up to their liking.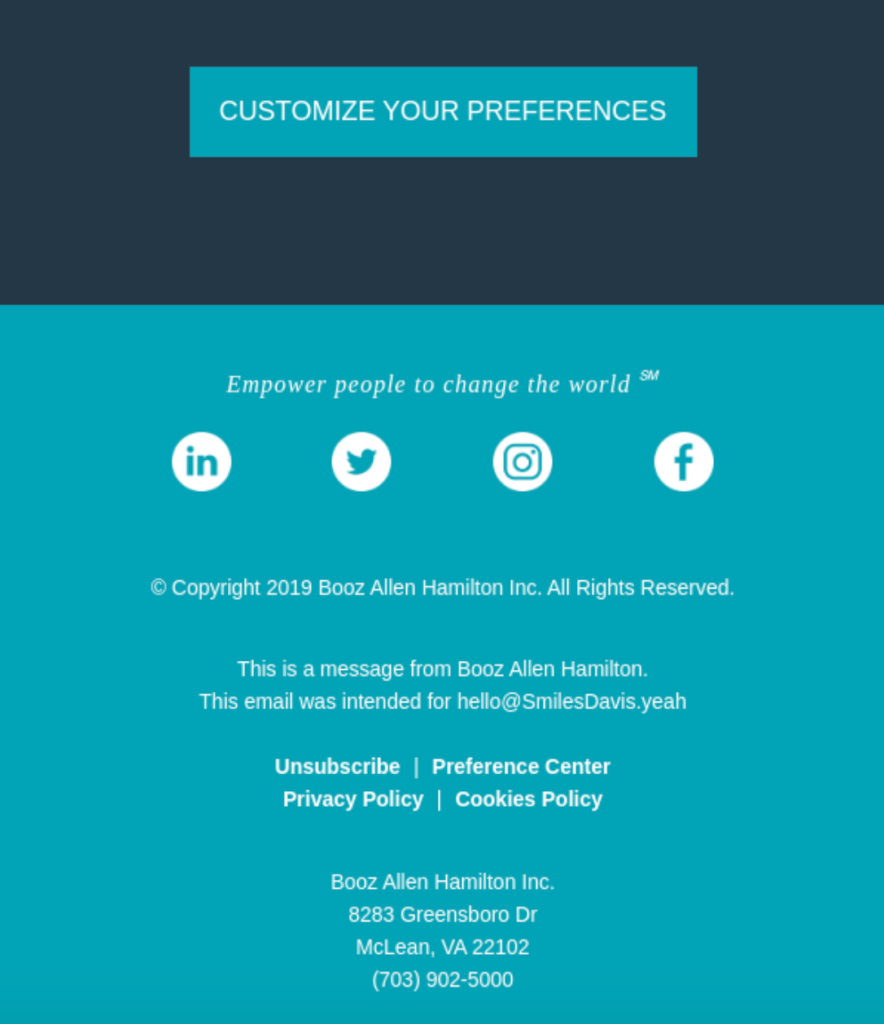 I know that I personally like it when I have a say over what specific content I receive in a newsletter. It's a win-win because the emails Booz Allen Hamilton sends out are likely to receive more engagement, which not only increases click-through and conversion rates but also raises their email sender score and deliverability rate.
So, when it comes to getting in the groove with brand new subscribers, this is a fantastic B2B newsletter idea to try out.
4. Let Readers Know What Your Values Are
Social/environmental responsibility is a big topic these days. And in many cases, it's a driving factor when B2B consumers are deciding which company they want to do business with.
In fact, a recent study found, "70 percent of consumers want to know what the brands they support are doing to address social and environmental issues."
A great way to win more people over and build your brand equity is to show your values in your newsletter.
That's exactly what full-service digital marketing agency eROI (now known as Thesis) did in this email.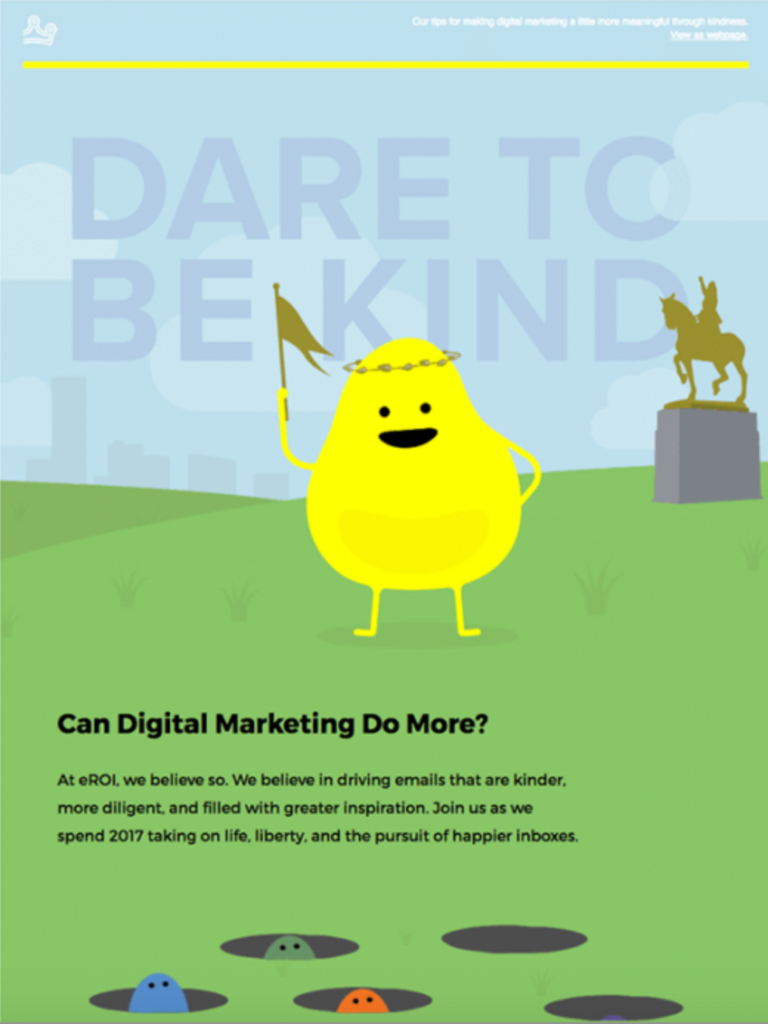 It's called "Dare to Be Kind," and it focuses specifically on letting readers know where eROI stands on social issues and what they're doing to make their community and the world, in general, a better place.
This email includes a video featuring their Emerging Leaders Internship Program…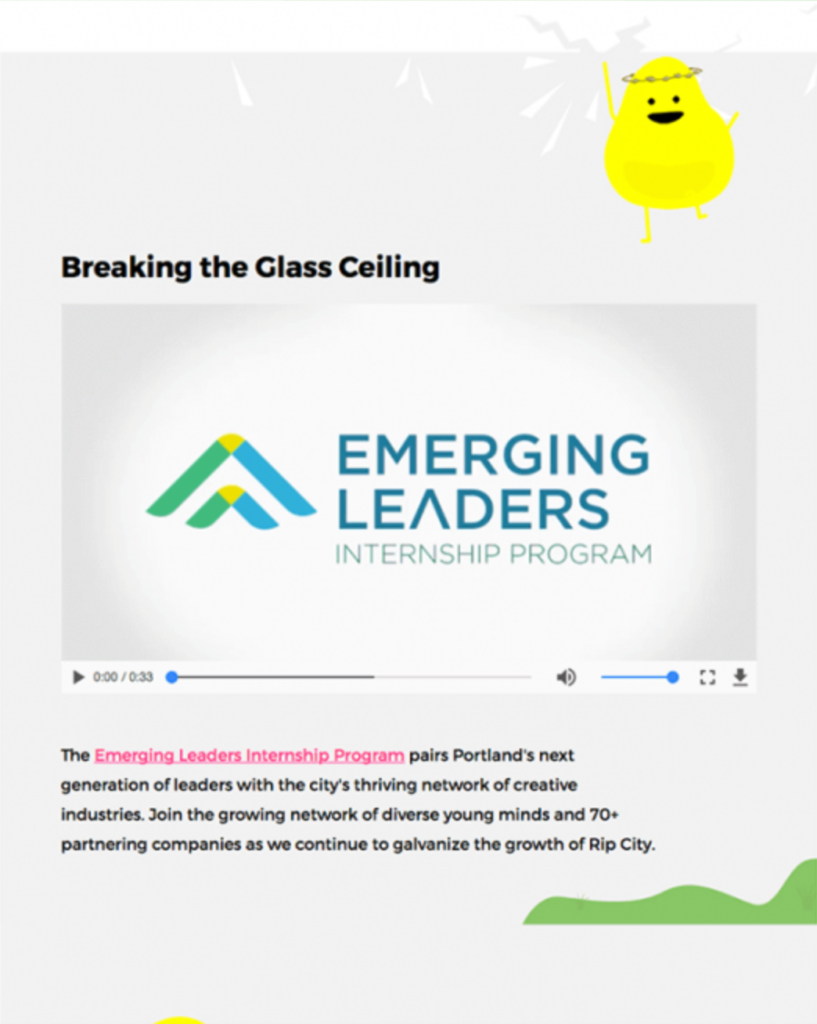 …as well as information on how a local nonprofit organization in their area called Embrace Oregon used eROI to increase its pool of foster families for local children by 300 percent.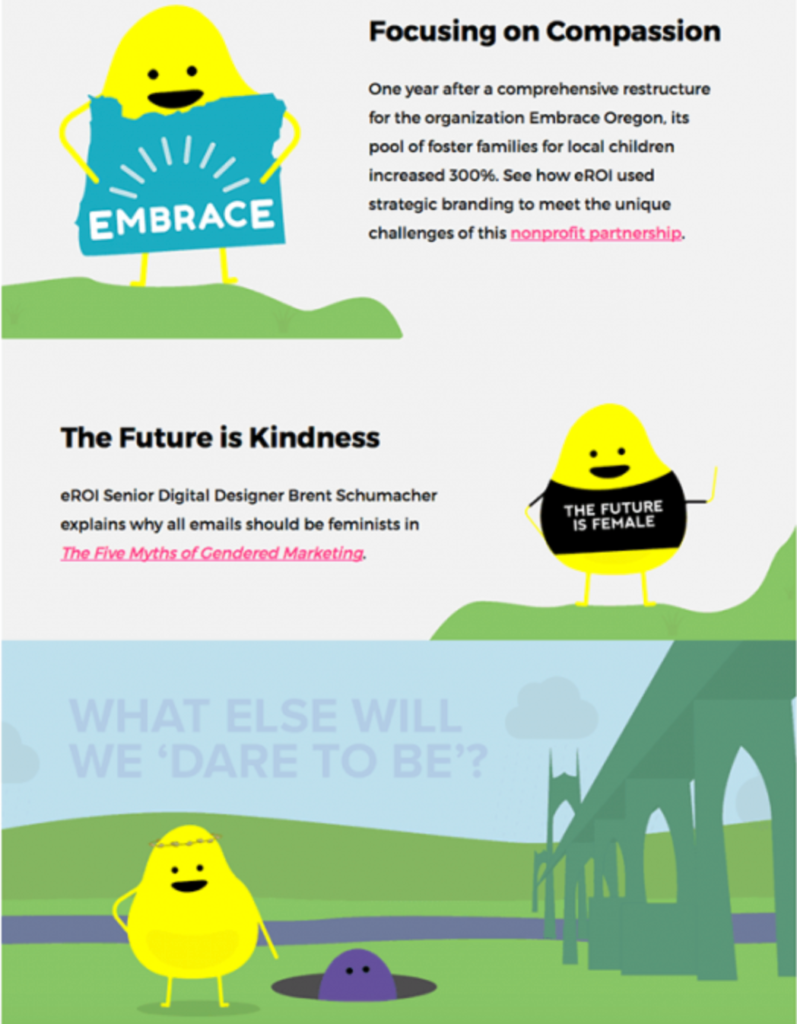 This isn't necessarily the type of email that readers would expect from a digital marketing agency, but it was well-received and a formula that can work for many other brands as well.
Even if social/environmental consciousness isn't at the center of your brand identity, an email like this that showcases your values or philosophy can be instrumental in your business growth.
5. Show How to Get More Out of Your Product
Let's say you've got a fairly new customer who's still learning the ins and outs of your product. Or maybe they've been with you for a while but they're not aware of the full range of features your product has to offer.
A great way to improve their experience and educate them on all your product features is to send them a newsletter that shows them how to get more out of it.
Take this email from Slack for example.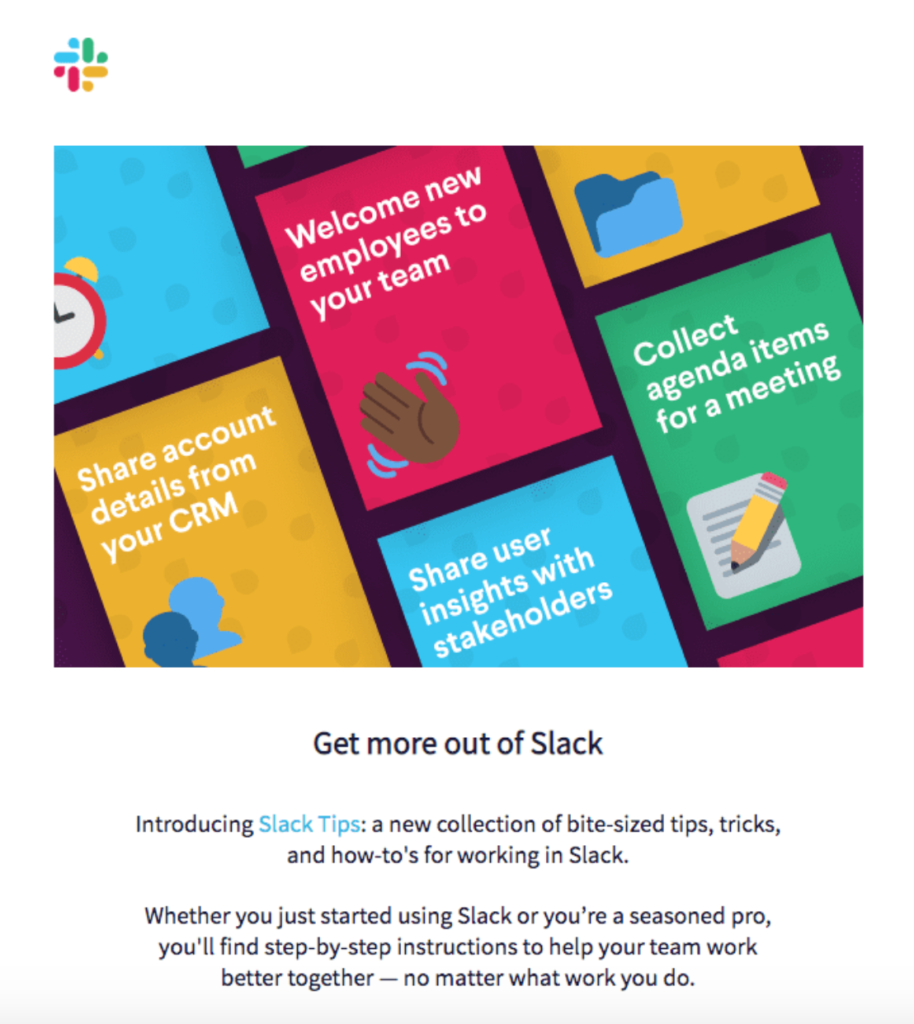 The subject line is "Say hello to Slack Tips," which features tips, tricks, and how-to's in an easy to digest format so users can learn about things they may not have known about and how they can use Slack to make their business run like a well-oiled machine.
It's a simple yet well-crafted email with two CTA buttons that direct readers to the Slack Tips page of their website.
So, if they click here or here…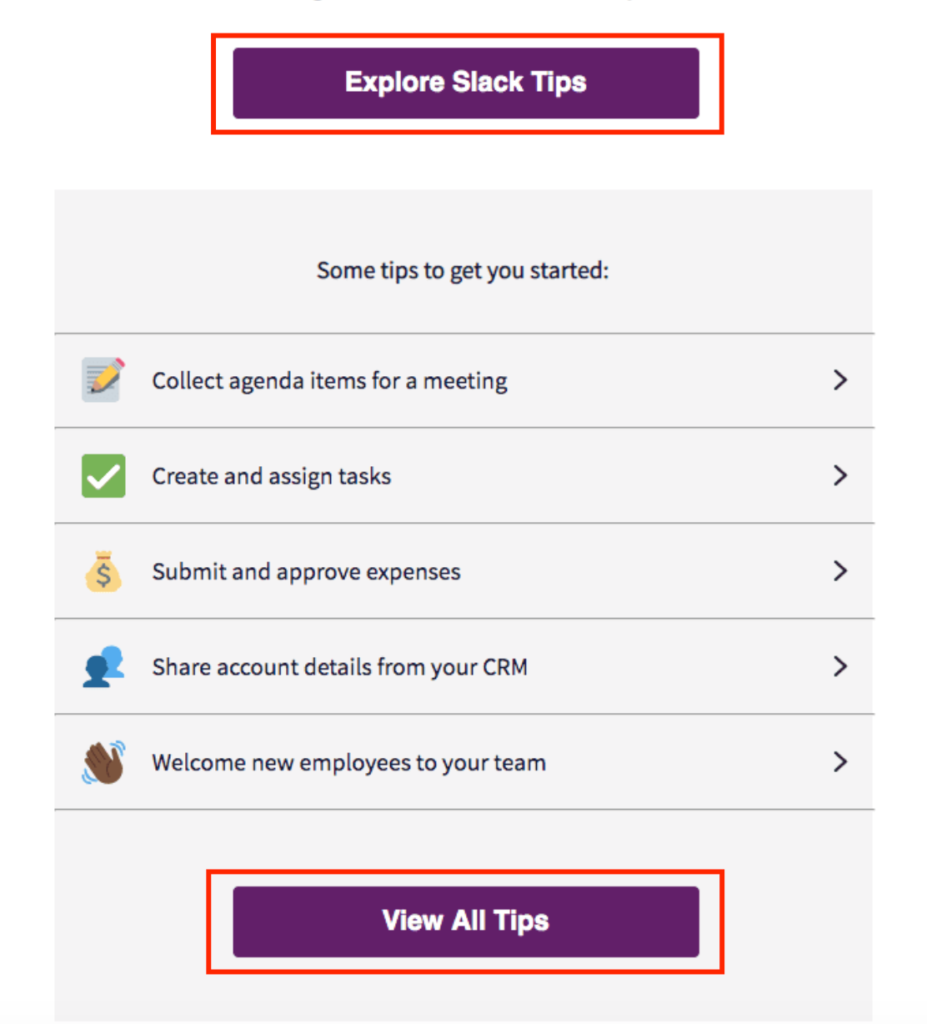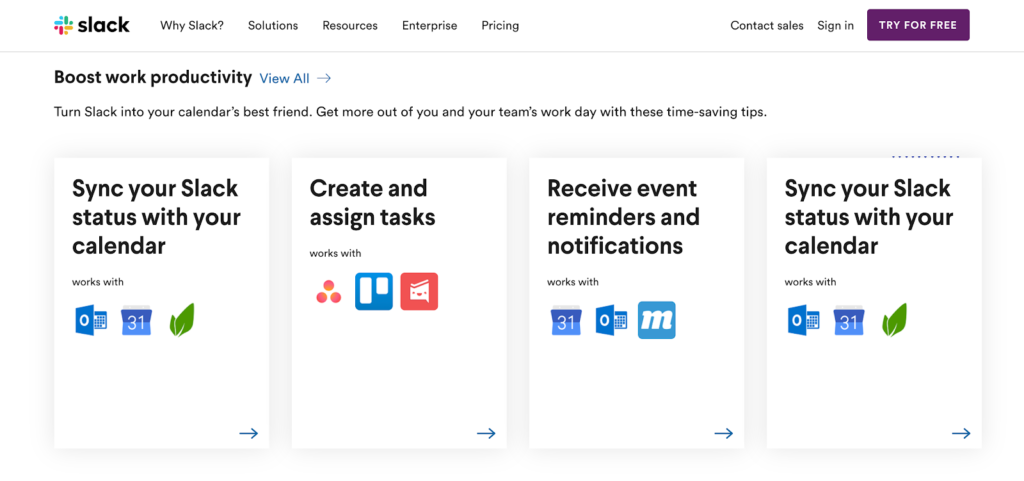 Slack also includes some basic tips to help users get started, which gives them instant access to commonly searched for features.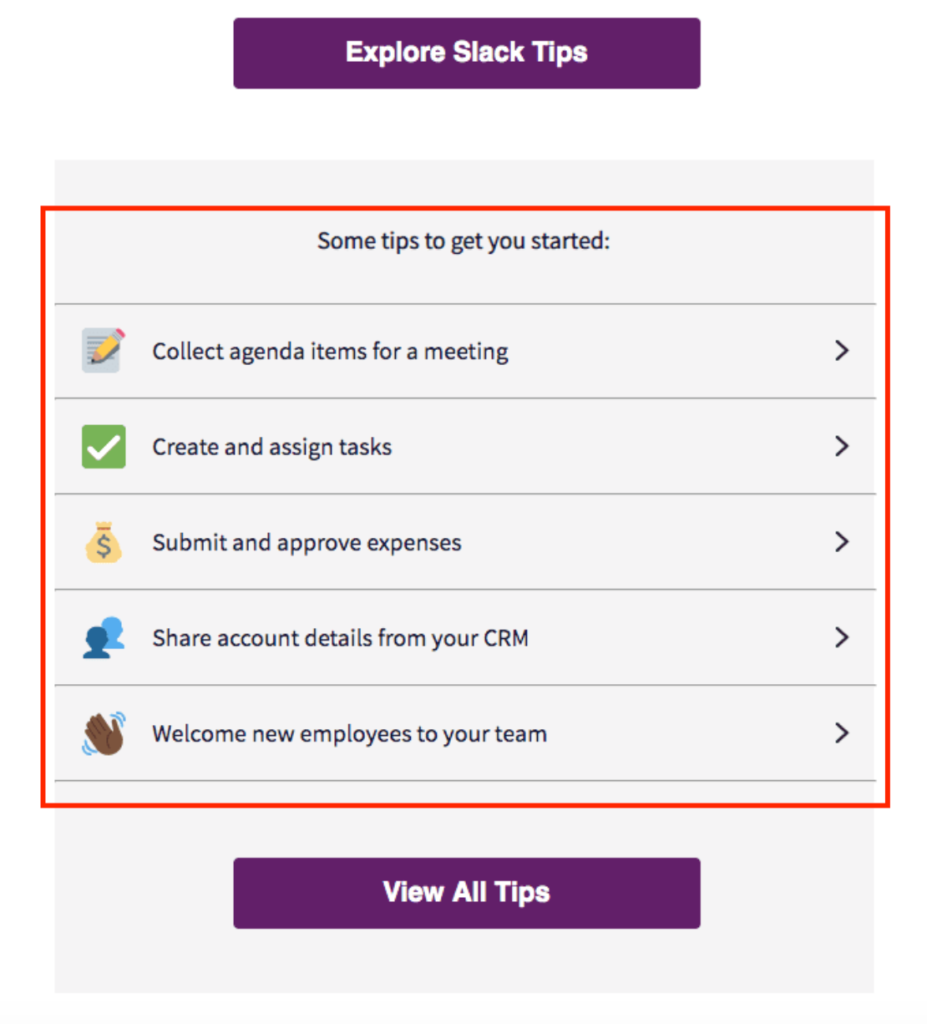 I love this B2B newsletter idea because it does an amazing job of getting customers up-to-speed and lets them know that Slack is invested in providing them with the optimal experience.
Not only should this improve customer loyalty and retention, but it also creates an opportunity for upselling because it's a natural segue for more robust product packages.
So, it's definitely an idea worth considering.
6. Curate a List of Tools and Trends
At the end of the day, building an electrifying B2B newsletter that readers genuinely want to engage with hinges upon one thing—value.
One of the best ways to deliver value is to provide your readers with practical tools to help them reduce friction in their day-to-day tasks and insights on current trends to guide their efforts to stay ahead of the curb.
This email from online customer service software, LiveChat, is one of the best examples I've come across recently. It starts off with a witty, playful intro that sets everything up.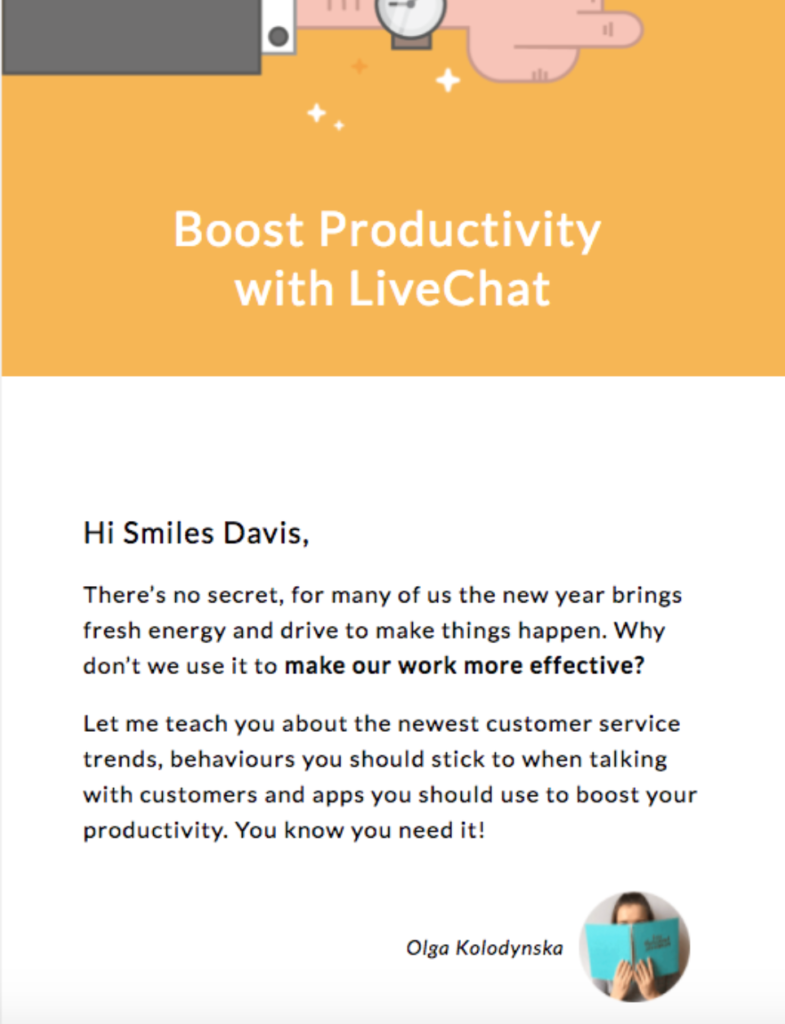 Then, it features this section on work apps to boost productivity,…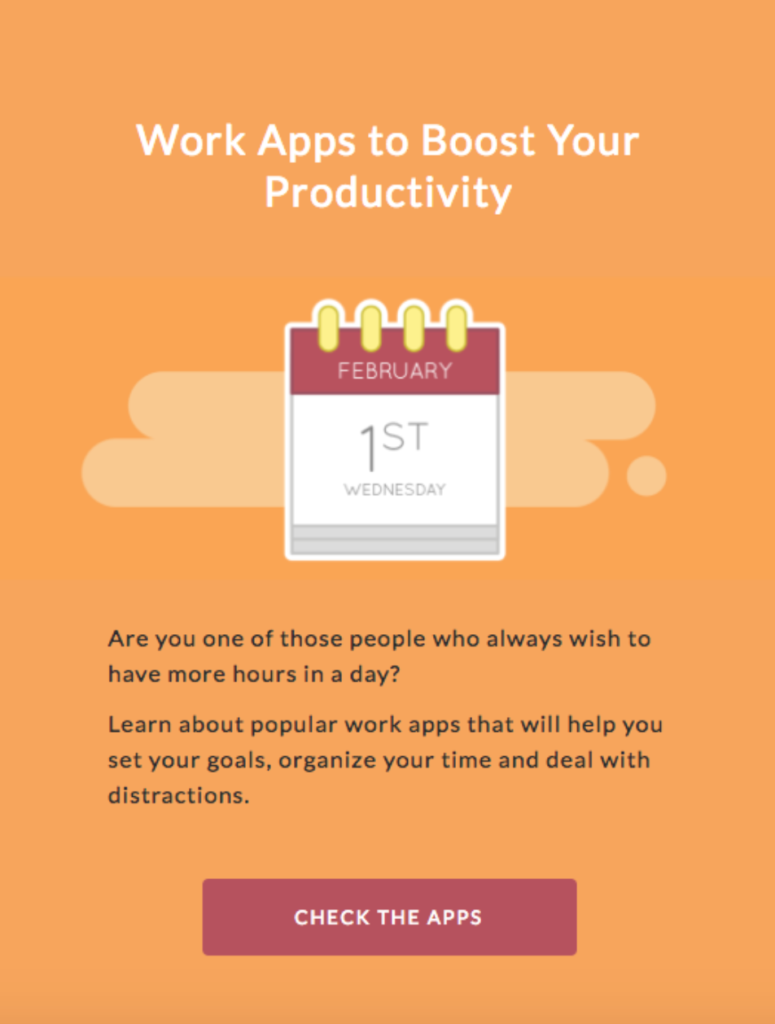 …this section featuring a URL shortening tool,…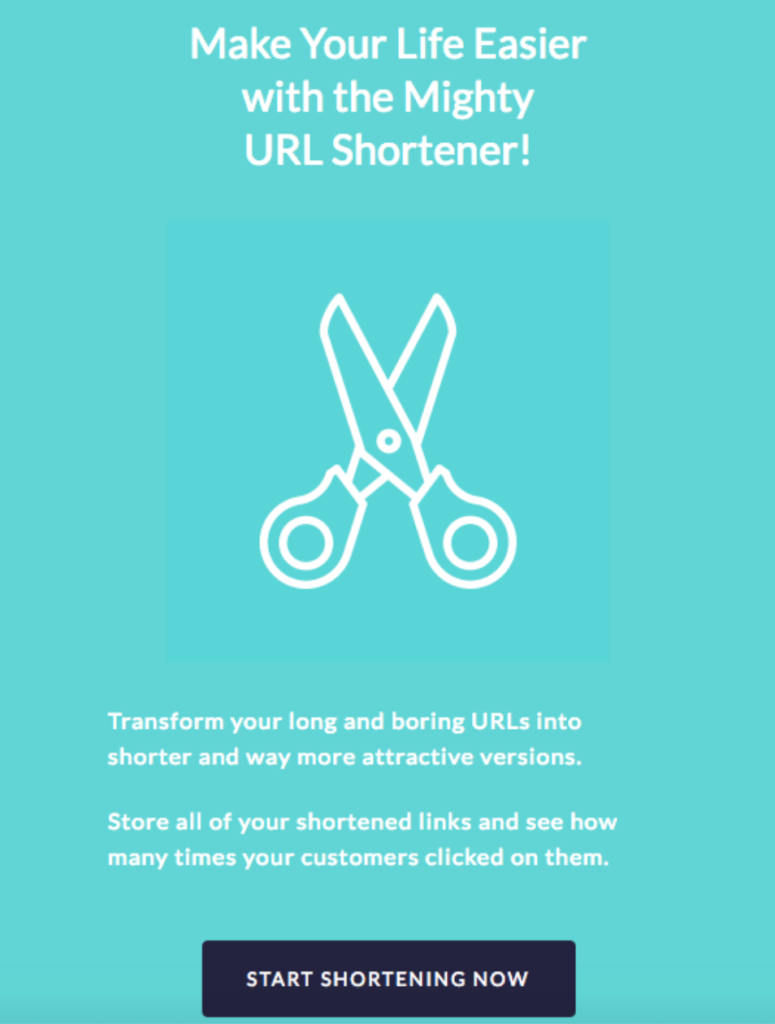 …and this section with a link to a LiveChat webinar that covers key findings on a customer service report.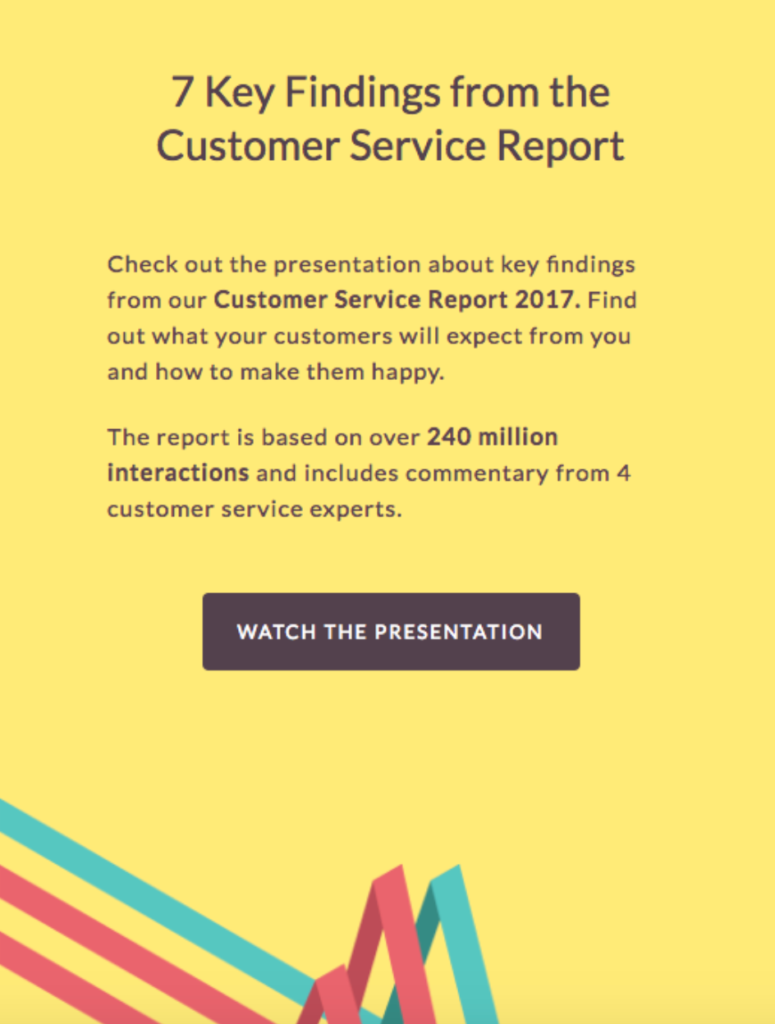 I love this email for three main reasons:
It's simple
It's visual
It's practical
With a minimal amount of scrolling and cognitive exertion, a reader can get access to legitimately helpful tools and trends that can make their lives easier and give them an edge in business.
And I'm sure they no doubt appreciate the effort LiveChat put into curating this content.
I also love this email because it's a win-win where you not only earn brownie points with readers and expand your relationships, it also gives you the perfect outlet to increase the exposure of the content you publish.
If you recently created a webinar or whitepaper, for example, you could link out to them.
7. Holiday Themed Newsletters
The National Retail Federation defines the holiday season as November and December, meaning that it accounts for over 16 percent of the year.
And with email being responsible for 20 percent of online holiday site visits, you'd be crazy to not incorporate the holidays into your B2B newsletter.
One of my favorite examples is this one from Trello. It contains 12 "gift wrapped ways to Trello," with each "gift" featuring a particular tool or resource that readers can use to rev up their business and be more productive during the holiday season.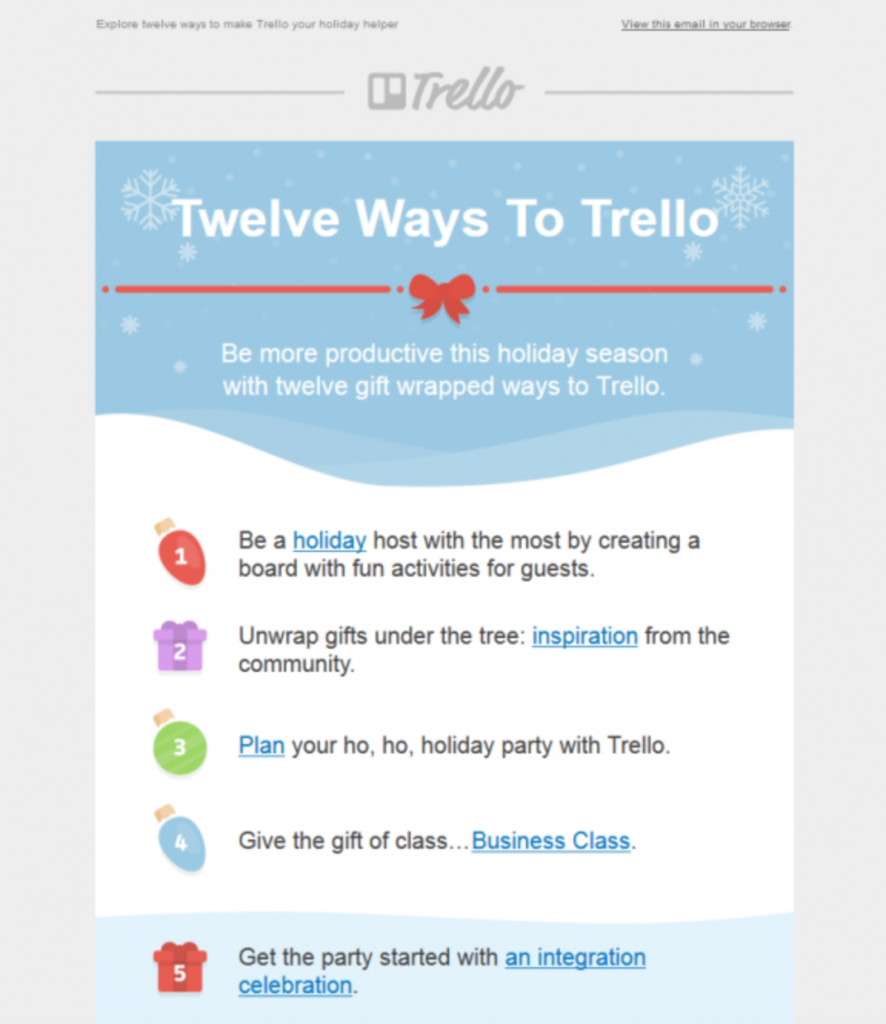 And at the bottom, there's a CTA to "Trello Business Class," which is a well-placed upsell that includes powerful features and integrations.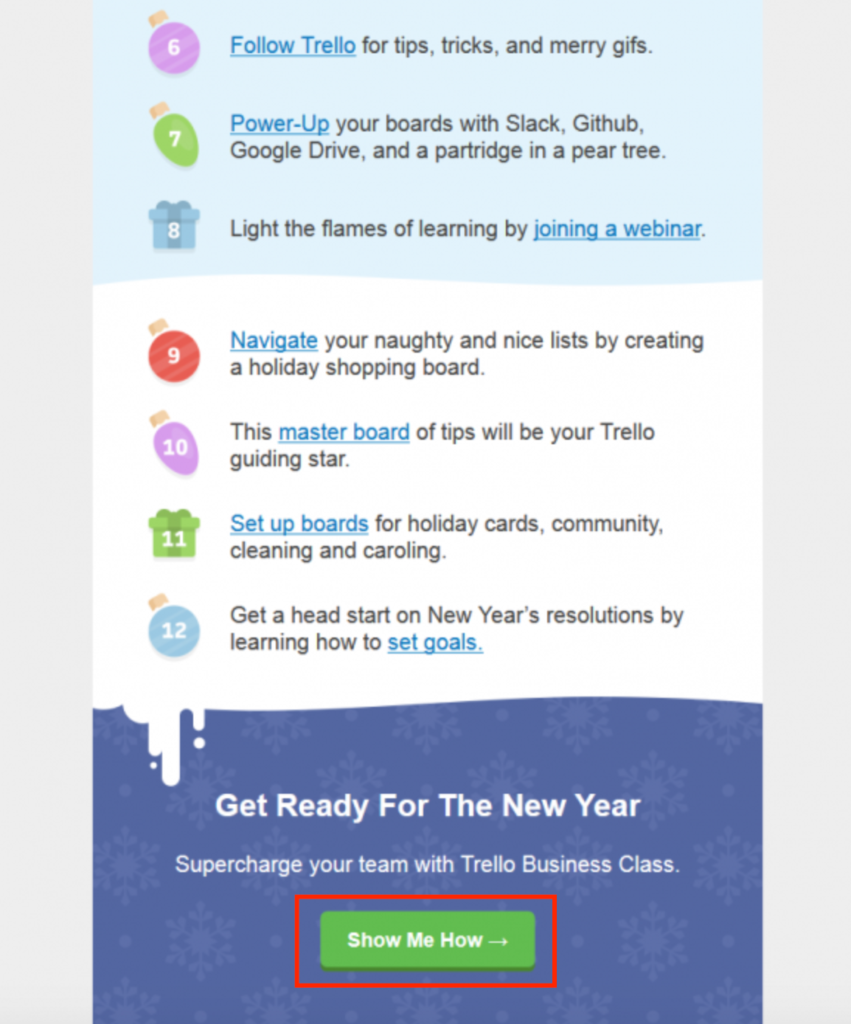 Here's why it's one of the best B2B newsletter ideas I've seen recently. First, it's hyper-relevant to what's happening at the moment (it's the holidays and most people are trying to get into the holiday spirit).
Rather than sending out some cold, sterile email with no pizazz, Trello capitalizes on the holidays and their content exudes warmth and playfulness.
Second, it's practical. Trello does an amazing job of showcasing legitimately useful tools and resources that can truly benefit business owners while keeping the tone fun and personable.
Third, it looks great visually. The design is uncluttered and features eye-appealing Christmas themed images and icons which really pop and grab the reader's attention.
Put this all together, and it's a winning formula and one you can draw inspiration from.
Conclusion
Coming up with fresh B2B newsletter ideas is often easier said than done, and sometimes the creative juices simply run dry.
But hopefully the ideas I've listed here and the specific examples I've used have gotten your creativity flowing.
As you can see, there are plenty of possibilities, and seeing the approaches that other successful B2Bs have used can provide you with the inspiration needed to get your email campaign firing on all cylinders.