Nearly half of people (47 percent) open an email based solely on the subject line.
So needless to say, this is an integral element of email marketing and one you want to master. After all, you can't expect click-throughs and sales if you can't first persuade recipients to open your emails.
There's a ton of great content out there that explains the ins and outs of crafting killer subject lines. So I'm not going to go into the gory details on the strategies behind it.
Instead, what I want to do is provide you with some of my favorite examples of amazing email subject lines (as Seray did with her favorite winter email examples). More specifically, I want to focus on winter email subject lines because this is one of the most difficult times of the year for many brands to sell.
These span a variety of industries within the e-commerce world and will show you how to warm up prospects and make them want to check out your content.
Let's get right into it.
1. "A Sale to Keep You Cozy"
Research has found that the open rate for subject lines with 0-5 words is 16 percent and 6-10 words is 21 percent. After that, open rates start to drop considerably.
So I find that keeping subject lines short and sweet is usually your best bet. And that's what women's clothing brand Madewell did with this example.
"A sale to keep you cozy" gets straight to the point and conjures up images of feeling warm and snug to stave off the winter chill.
Once a subscriber clicks, they arrive here where they find out about "The Get Cozy Event" from Madewell, which offers an extra 30 percent off all sales styles.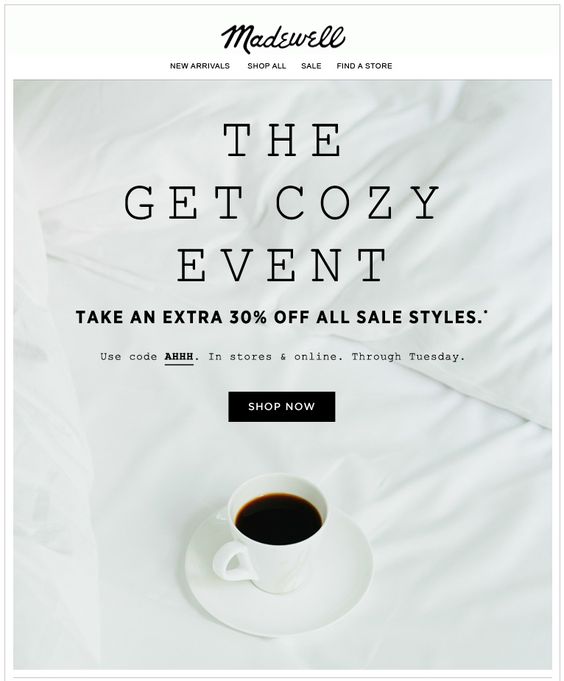 Source: Pinterest
There's a beautiful minimalist aesthetic with a white background and black fonts, and the CTA is well-positioned to maximize click-throughs.
So there's a lot to be learned from this email.
2. "This is Snowww Joke"
Here's a winter email subject line from J. Crew, one of America's top style and fashion brands.
Clocking in at just four words, it's about as simple as it gets, and I think they do an awesome job of grabbing a subscriber's attention.
"This is Snowww Joke" is creative, playful and uses a clever play on words that I'm sure many people can appreciate.
Whenever a subscriber clicks, they see this email with a stunning image of a gnome in a snow globe.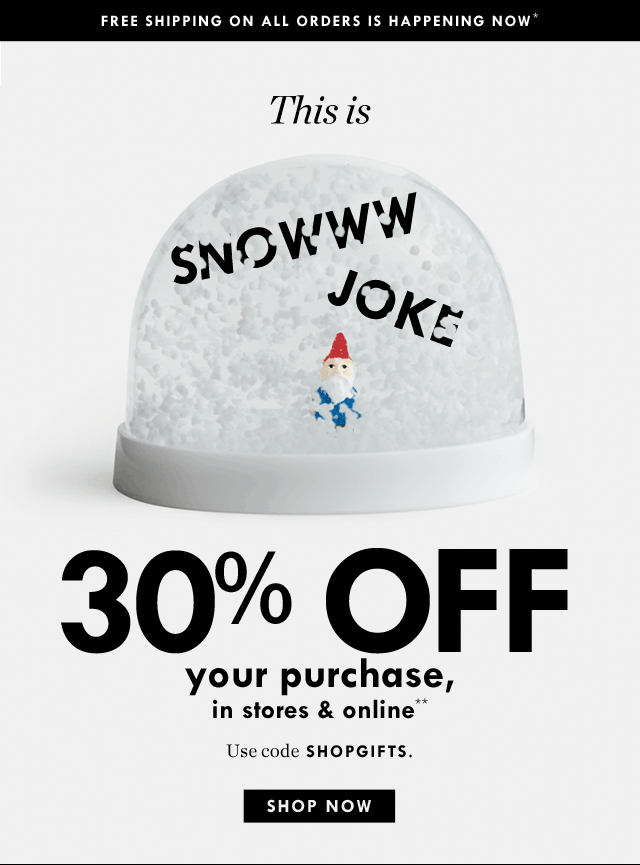 It's super sharp and crisp.
And like the email from Madewell, it's clean with a white background that wonderfully captures the feel of winter.
3. "Snowed In? Take 15 Percent Off"
Steven Alan is a talented fashion designer who offers "a curated collection of subversive classics."
This subject line caters to people who are snowed in with a one day sale where everything in the new Steven Alan collection is 15 percent off.
It's nothing fancy, but it does a great job at 1) targeting subscribers when they're likely to have the time to sit down and shop and 2) offering an enticing discount.
Offering promos like this is important because "as the online marketplace grows in competition, business owners and marketers need to aggressively push their promotions to target demographics," explains Peter Roesler, president of Web Marketing Pros.
"This will capture the attention of potential consumers, encourage them to shop with specific retailers or buy certain products, and keep checkout costs low to prevent abandoned carts."
Here's what the email looks like once it's opened.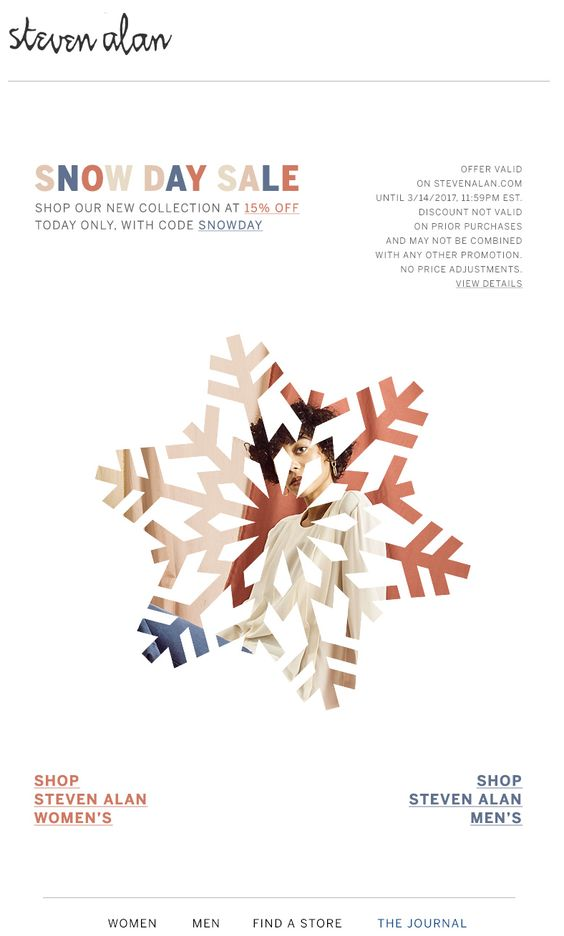 Source: Pinterest
Again, it uses a nice winter-based theme with a white background and a snowflake design to get people in the shopping mood.
4. "Let is Sale, Let it Sale, Let it Sale"
I think pretty much everyone is familiar with the old holiday song, "Let it Snow!"
It's a classic.
This winter email subject line from eBags.com, an online retailer of handbags, backpacks, and luggage, is a fun spin-off of it.
It takes a commonly known saying and tweaks it in a way that's playful, while at the same time letting subscribers know that a sale is going on. This is a nice way to show some creativity and pique a subscriber's interest.
After clicking, they quickly find that it's a holiday clearance sale offering up to 70 percent off.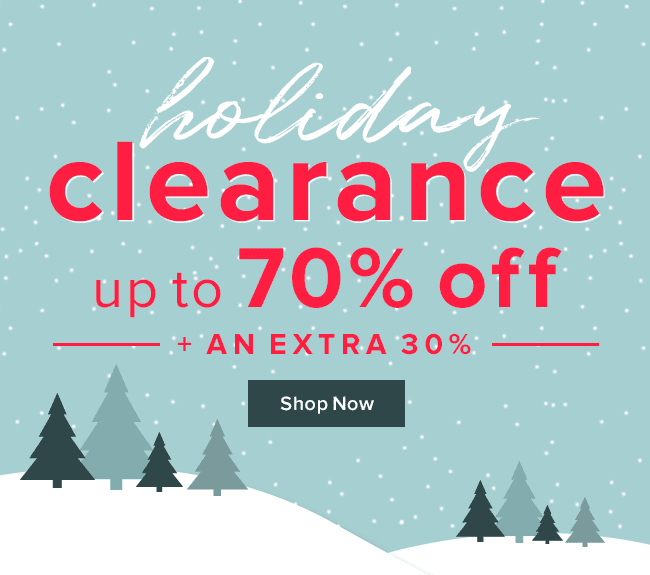 Source: Milled
eBags.com uses a nice animated visual with snow falling, which really brings this email to life and encourages engagement.
And the CTA is positioned front and center to maximize the click-through rate.
5. "Winter Sale Hot Deals"
Design Within Reach is a brand that "offers the world's largest selection of authentic modern furniture, lighting, and accessories from designers past and present."
This email is pretty straightforward and features a winter sale—something that's pretty common this time of year.
But the way they word it with "Winter Sales Hot Deals" creates a catchy juxtaposition that should capture the attention of many subscribers.
Upon clicking, they get the full details and learn that they can save 15-40 percent off on select items.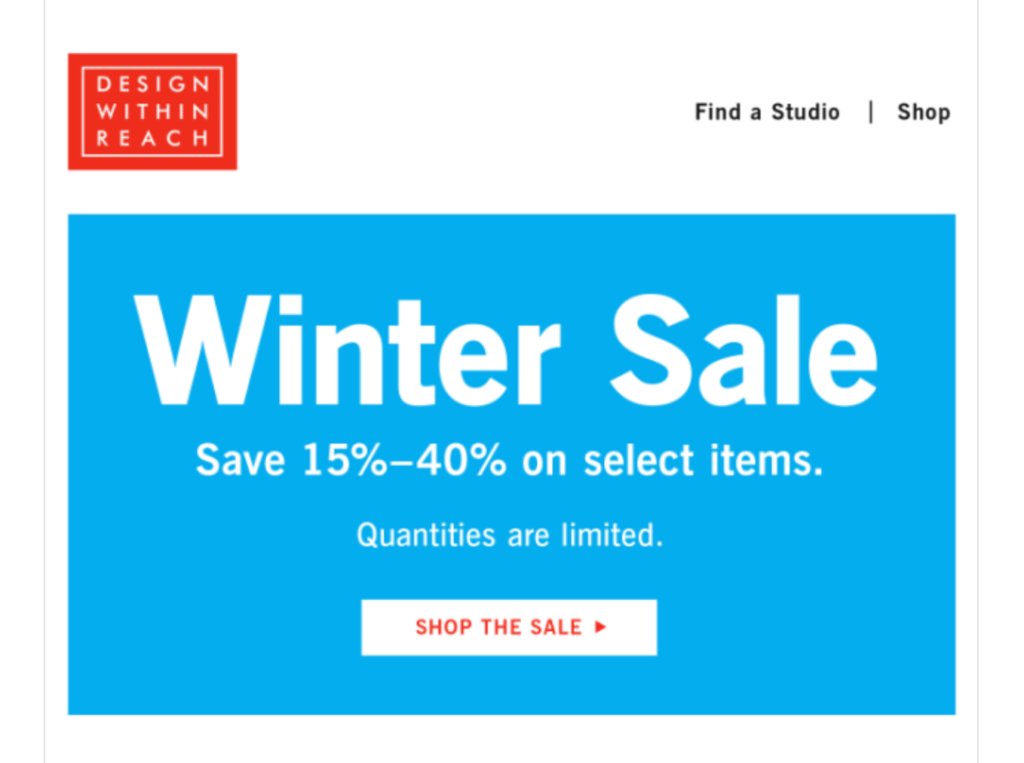 Source: Really Good Emails
And like most of these other examples, the CTA is well placed and has plenty of contrast with the background.
6. "What Winter Slump?"
Here's another one from J. Crew. Winter is a time of year of great joy with the holidays. But let's be real. It can also be a little depressing when it's all over, and you're being pounded with freezing weather in January and February.
Many people experience "the winter blues" at some point, and it can feel like they're in a slump.
This email addresses that head-on and boldly asks, "What winter slump?"
When a subscriber clicks, they quickly learn they can get 40-60 percent off everything—something that should definitely raise their level of enthusiasm.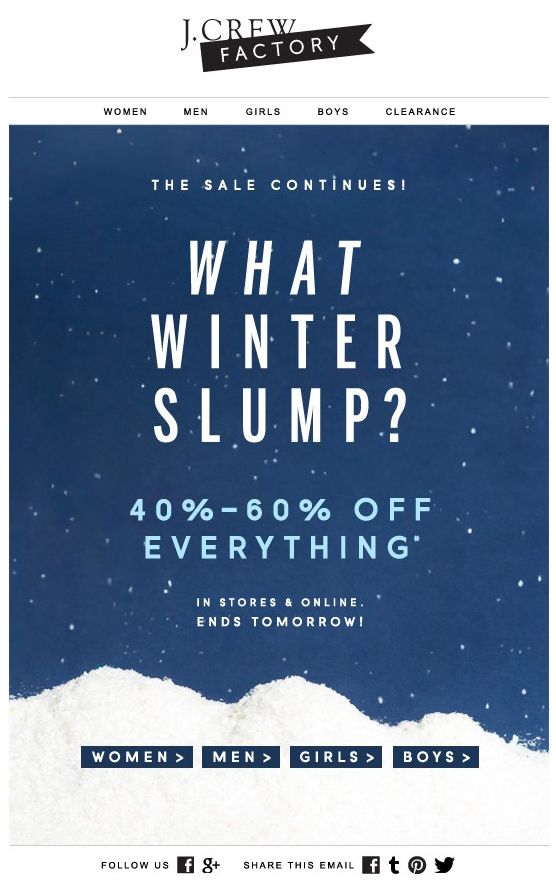 Source: Really Good Emails
And by incorporating categories at the bottom with women, men, girls, and boys, subscribers can conveniently find what they need with minimal effort.
7. "3 Days of Brr-illiant Deals"
KIDLY is an e-commerce brand that sells kids' toys, clothing, and accessories.
They've got a rock-solid digital marketing campaign with a lot of great emails that go after their target audience of parents with young children.
I think this particular email is really smart and does an amazing job of infusing a youthful, playful energy.
Like some of the other examples I've mentioned, this one uses creative wordplay with "brr-illiant deals," which is a nice touch when the temperatures are ice cold.
When a subscriber clicks, they find this beautiful looking email complete with animated penguins and falling snow.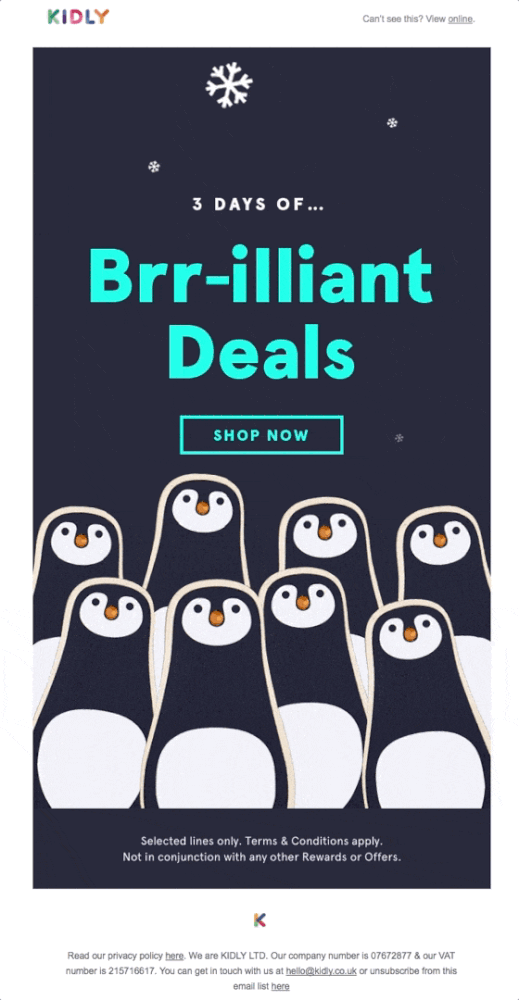 Source: Really Good Emails
It's super simple where subscribers click on the "Shop Now" button to peruse KIDLY's product selection.
So once again, this example shows that being creative and experimenting with wordplay is often a recipe for success.
8. "Don't Get Left Out in the Cold!"
I'm sure everyone is familiar with footwear company Skechers.
They've been around since 1992 and have always found a way to keep their brand fresh and competitive. And like most successful companies, they take full advantage of email as a key marketing channel.
This winter email subject line isn't anything revolutionary, but it's certainly clever and features a common expression that will resonate with many people.
Once a subscriber clicks, they're met with another clever email title, saying "No Snow. Just Deals!"
They then see that Skechers is offering 30 percent off select winter apparel, which should definitely pique the interest of many people.
And at the bottom, Skechers notes that the offer ends tonight, which creates a sense of urgency.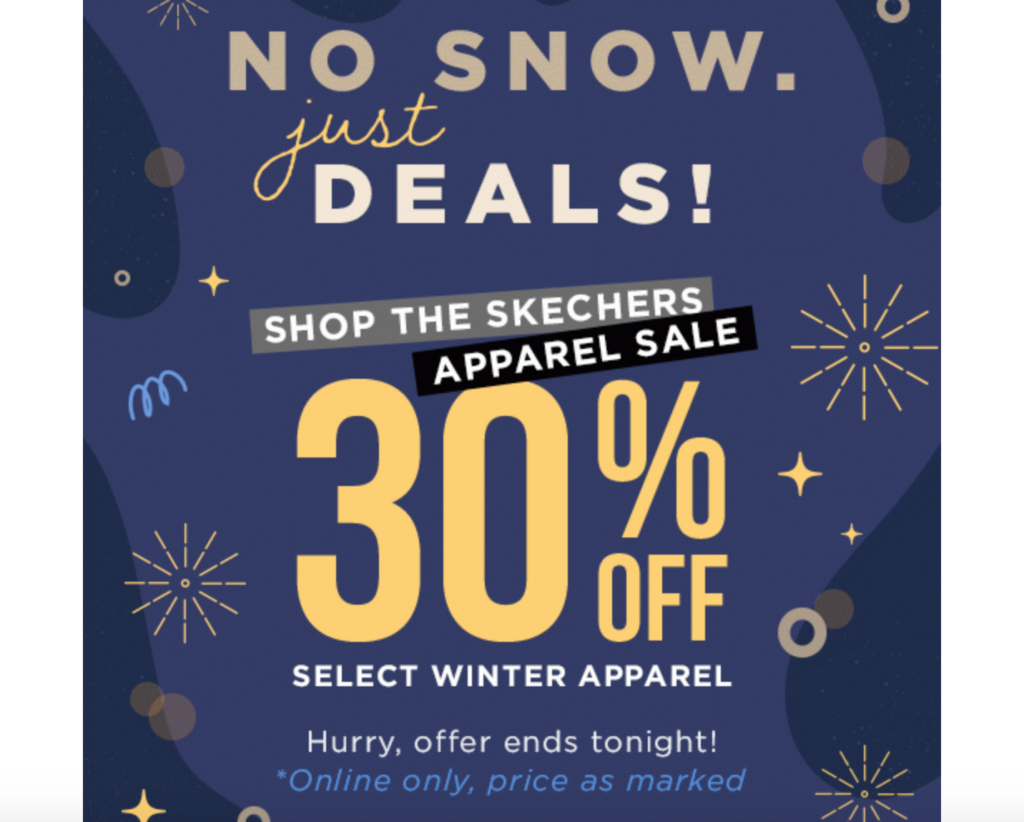 Source: Email Tuna
This can be powerful because "when subscribers feel a sense of urgency in email, they're more likely to make decisions quickly," says Campaign Monitor.
"It's not just a marketing tactic; it's actually supported by human psychology."
So Skechers is really firing on all cylinders with this email.
9. "Winter Savings You Can Snowbank On | Up to 35 Percent Off"
I like this winter email subject line from Euro Car Parts for two main reasons.
First, it incorporates some clever wordplay with "Winter Savings You Can Snowbank On." It's a playful alternative for "bank on," and I'm sure many people will enjoy the humor.
Second, it specifically states that subscribers can get up to 35 percent off directly in the subject line. Mentioning a sale is always good, but it's even better to let subscribers know exactly how much they can save whenever possible. After all, "Subject lines with hard numbers have a higher open rate (53.2 percent)."
Once opened, a subscriber will find a code they can use to redeem the offer and a straightforward CTA button to shop the Euro Car Parts selection.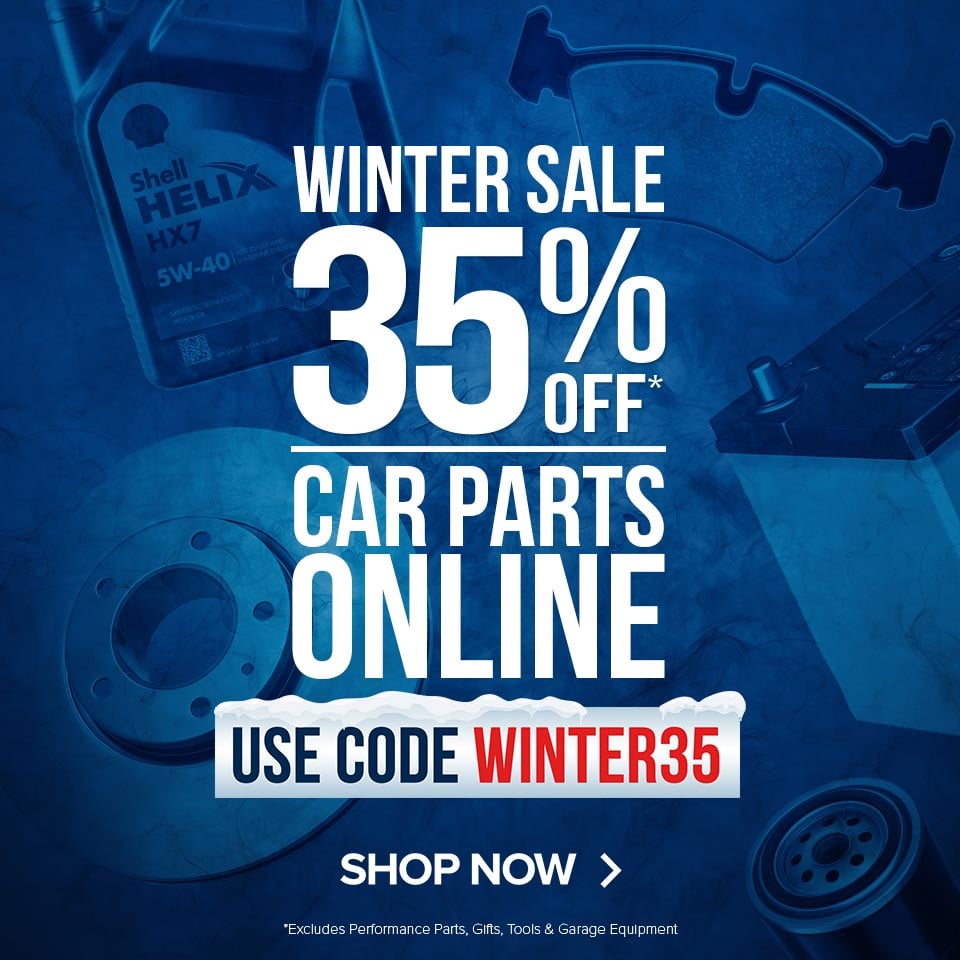 Source: Milled
And considering more than 57.5 percent of online shoppers in the US redeem a digital code at least once a year, it's a smart promo to offer.
10. "Yule Really Want to Shop This Sale"
I honestly had no plan on including so many examples from J. Crew, but they were one of the top brands for epic winter email subject lines.
So I felt compelled to include one more.
While I'll admit that this subject line borders on being a little cheesy, I can definitely appreciate the cleverness. And I'm sure many of J. Crew's subscribers feel the same.
Using the word "Yule," which is synonymous with winter and the holidays, is perfect for capturing that cozy feeling that so many people seek during this time of year.
Once a subscriber clicks, they're met with this great looking visual of a warm fire and a 40 percent off sale on over 150 new items.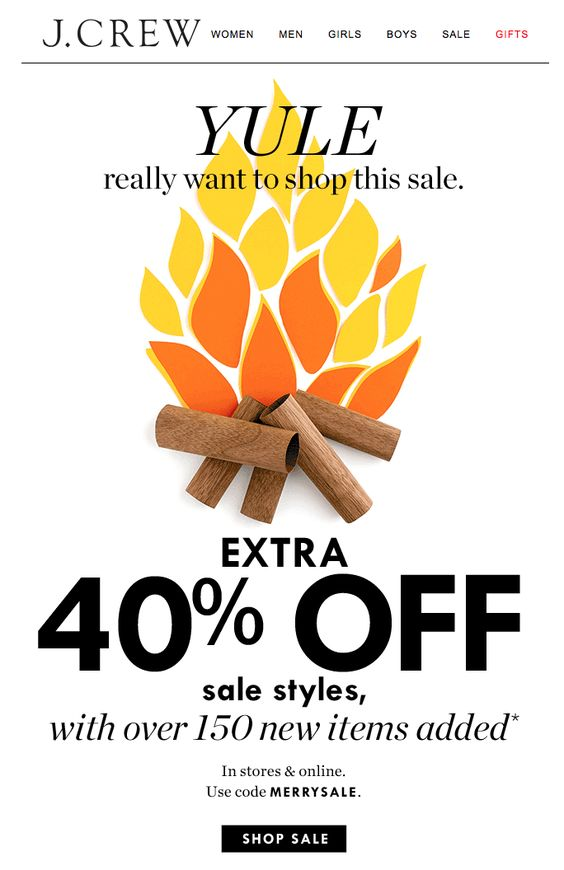 Source: Pinterest
11. "Kick Winter to the Curb With 30 Percent Off + Free Shipping"
This email from Dog.com, an online supplier of dog supplies and accessories, was sent out in early March toward the tail end of winter. It's at a time when most people are sick and tired of the cold weather and eagerly awaiting spring.
The whole basis is saying goodbye to the frigid temps and "swinging into spring." And I think they make that pretty clear by saying, "Kick Winter to the Curb."
Also, specifically stating that subscribers can get 30 percent off in the subject line is a great way to maximize the open rate and motivate them to take action.
Once they do so, they're greeted by this cute little puppy and the encouraging title that says, "Warmer Days Are Ahead!"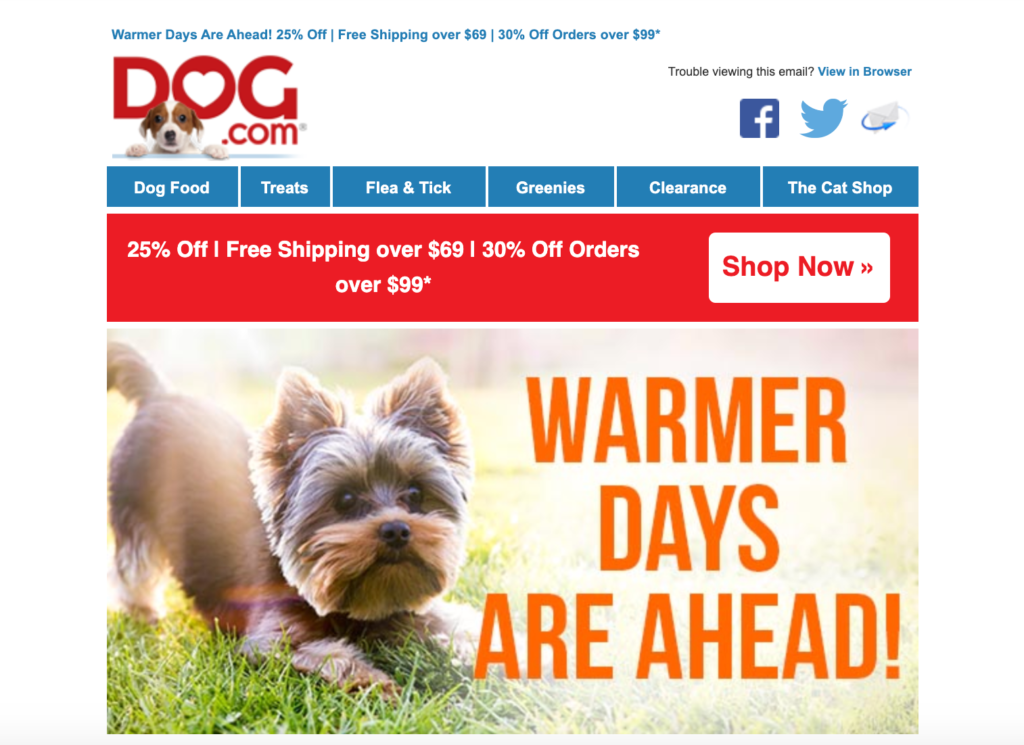 Source: Email Tuna
12. "Extra 30 Percent Off Flash | Special Winter Meltdown"
Just like Dog.com, online fashion brand The Last Hunt is offering 30 percent off in this final example. It was also sent in March, at a time where many people are feeling pretty burned out with the cold.
Using the words "Special Winter Meltdown" lets subscribers know there's a light at the end of the tunnel and that warmer spring temps are just around the corner.
After opening the email, subscribers learn the details that The Last Hunt is offering a flash sale on more than 1900 winter styles that lasts from 10 am to 2 pm EST.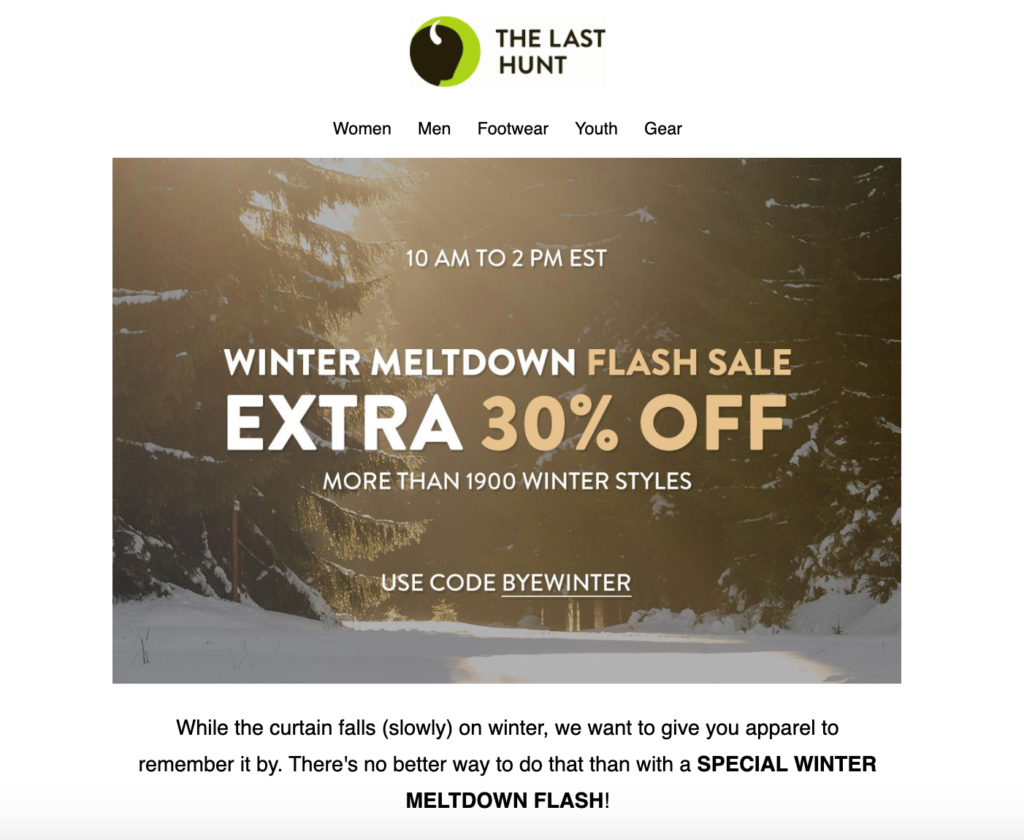 Source: Email Tuna
That's something many people will be interested in, and a flash sale naturally creates a sense of urgency that should motivate many to take action.
Conclusion
There's a lot that goes into creating a great email.
But nailing the subject line is by far one of the most important elements because it's what compels subscribers to open it and check out your offer.
If you can't get them to make that vital first step, they can't engage with your brand, learn the details, click-through, and ultimately buy. So it's a necessary precursor to everything else.
Creating captivating subject lines is easier for some people than others, and not everyone is a master copywriter. But I find that looking at A+ examples from e-commerce brands that have been successful is one of the best ways to learn.
So when it comes to crafting awesome winter email subject lines to capture the attention of subscribers during this frigid time of year, these are some of the best examples we've seen.
Hopefully, they've given you some ideas and inspiration that you can take away and apply to your own email campaign.