Ecommerce courses can benefit both seasoned ecommerce marketing professionals and complete beginners.
By taking courses around important e-commerce topics, you can stay up-to-date with the current ecommerce trends, fill knowledge gaps, and learn how you can reach your online store's full potential.
A quick Google search can bring you hundreds of ecommerce courses—all taught by some of the most experienced marketing professionals in the world.
Having said that, it can be daunting to choose the one that's right for your skill level and budget.
For this article, I've selected 10 of the best ecommerce courses you can take this year, ranging from beginner to expert level. Some have an enrollment fee, while many others are free, giving you plenty of budget-friendly options.
The 10 Best Ecommerce Courses for Those Who Want to Learn About Ecommerce
1. HubSpot: Ecommerce Marketing Course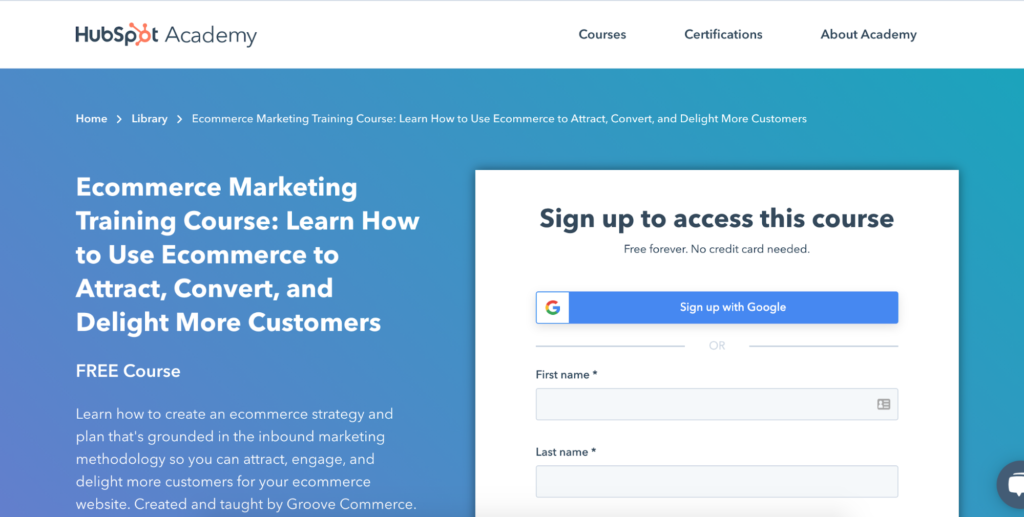 HubSpot's Ecommerce Marketing Course focuses primarily on helping you develop a robust inbound marketing strategy. The instructor, Ethan Giffin, shares tips, tricks, and case studies to help you grow your business.
In this course, you can learn how to translate and adapt the inbound marketing strategies that address unique ecommerce challenges to your business.
The course takes around 34 minutes to complete and includes four lessons, three quizzes, and 10 videos. It's perfect for those who prefer more hands-on learning.
Ideal for: HubSpot's Ecommerce Marketing Course is perfect for both new and experienced ecommerce business owners who want to sharpen their inbound marketing strategy.
Cost: This course is free but requires an email optin.
2. Udemy: Selling on Amazon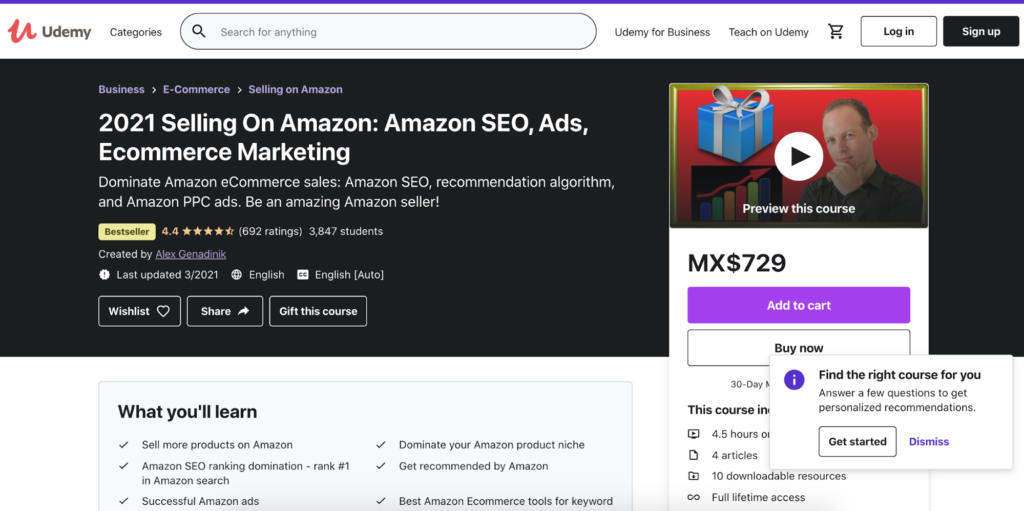 Udemy's ecommerce course gears its content towards Amazon sellers. This course will teach you the four most effective strategies for successful Amazon selling, including Amazon SEO, recommendations and algorithms, ads, and listings.
With this course, you'll also receive freebies and extras, such as downloadable worksheets, exercises, 15 minutes of a coaching call, access to the instructor's Facebook community, and more.
Udemy's course has 13 sections and can take up to four hours to complete. Besides Amazon, Udemy also has a huge selection of courses that can teach you how to improve your ecommerce website, as well as using platforms such as AliExpress.

Ideal for: Udemy's ecommerce course is perfect for people who want to start selling on Amazon.
Cost: This course costs $50 but Udemy often runs promotions where you can buy it for as low as $10.
3. Skillshare: Ecommerce Essentials
Skillshare's Ecommerce Essentials is a one-hour class, made for people taking their first steps into the ecommerce world. The instructor, Tracey Wallace, is BigCommerce's editor-in-chief and offers many actionable tips.
In this course, you'll learn how to choose the right product for your niche, evaluate your market, understand the competition, find the right platform, and scale your business.
Plus, you'll have the option of joining the community and sharing your work with other members who took the class. To date, Skillshare's Ecommerce Essentials course has helped over 36,000 students start their ecommerce business.

Ideal for: Skillshare's Ecommerce Essentials class is perfect for people who want to start an ecommerce business as a side hustle or a new career.
Cost: You can join this class free of charge.
4. Google: How to Get a Business Online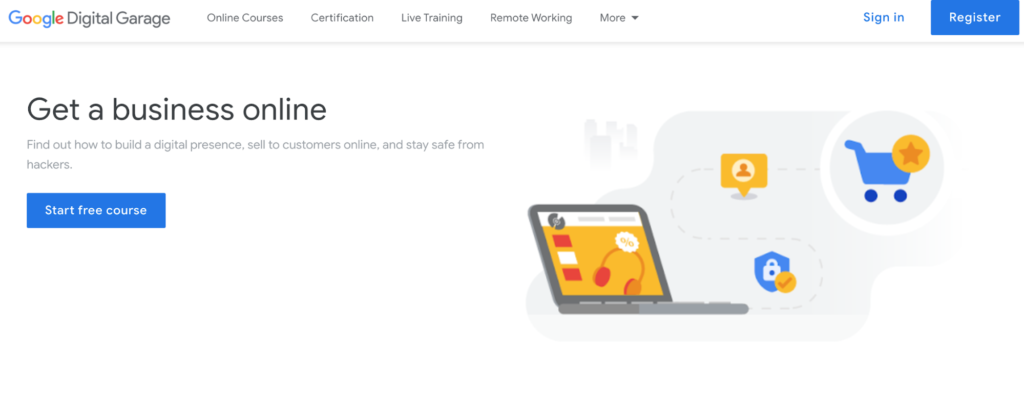 Unlike many other ecommerce courses, Google's How to Get a Business Online teaches you techniques to help keep hackers out.
Besides ecommerce website security, you can also learn basic SEO, Google Analytics, and online advertising. The course offers seven modules, lasts three hours, and includes video tutorials, plenty of tips, end-of-topic assessments, and actionable steps to planning your online business strategy.
By the end of the course, you'll receive an ecommerce certification after completing the seven modules and quizzes.
Ideal for: People who are starting a career in ecommerce, want to try something new, or are in the makes of growing their online business can take this course.
Cost: Google's "How to Get a Business Online" course is free with registration.
5. Shopify: Ecommerce Email Marketing 101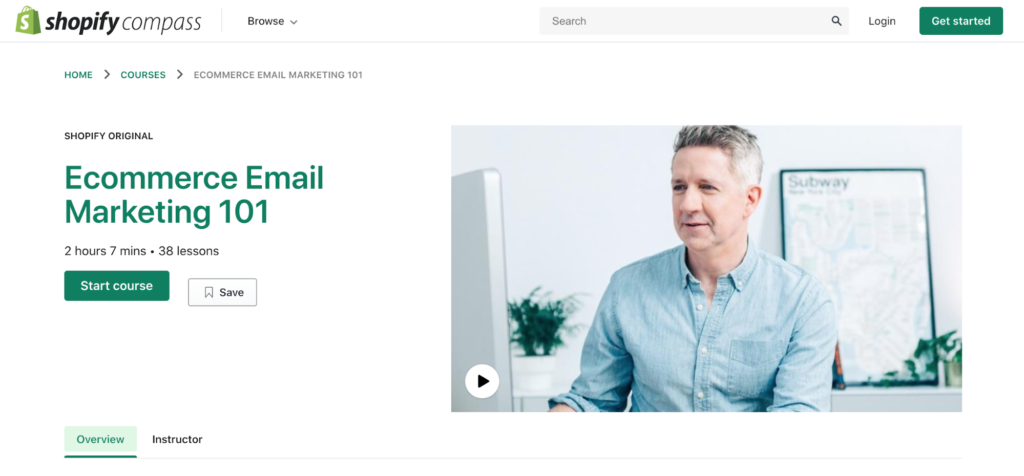 Shopify's eCommerce Email Marketing 101 breaks down the realities of email marketing and how to create a successful email marketing strategy.
More specifically, this course teaches you the types of email, how to choose an email service provider, how to write effective emails, examples of email mistakes, and more.
The duration of this course is two hours and seven minutes, with six modules, consisting of 38 lessons.
Ideal for: Anyone new to email marketing can benefit from Shopify's Ecommerce Email Marketing 101.
Cost: This course is free.
6. LinkedIn: Ecommerce Fundamentals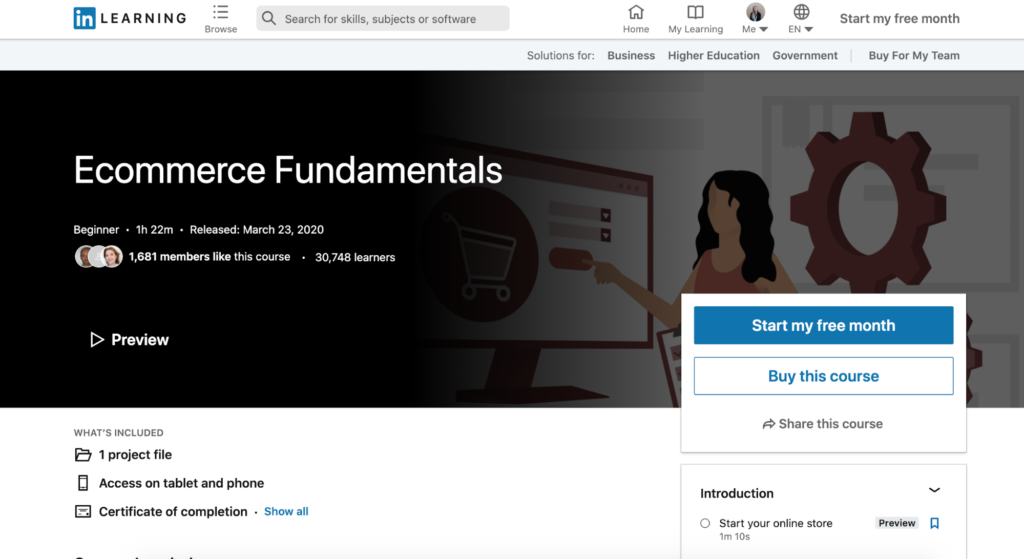 If you've got an ecommerce idea that you've been sitting on for a while, LinkedIn's eCommerce Fundamentals will help you develop that idea into a profitable online store.
You can follow many ecommerce models to achieve your goals, but not all models will work best for your business. This course helps you decide which model your business should follow.
Other key learnings include selecting a target industry or niche, defining your target audience and buyer persona, and selecting and validating your ecommerce idea.
After you have the basics of your business ready, the instructor, Patrick Rauland, helps you register for permits, develop your brand, and sell your products.
Upon completion, you'll get a certification that you can display on your LinkedIn profile. The course duration is one hour and 22 minutes.
Ideal for: This course is perfect for ecommerce beginners who struggle with putting their ideas into action.
Cost: LinkedIn's "Ecommerce Fundamentals" course costs $35.99.
7. Digital Marketer: Ecommerce Marketing Specialist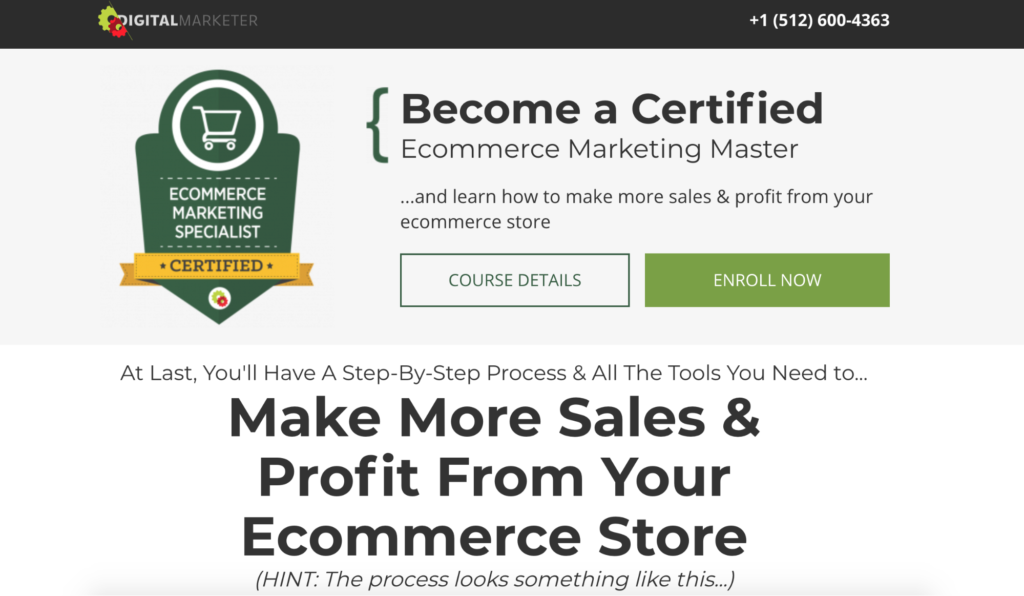 Compared to the other courses on this list, the Ecommerce Marketing Specialist is an intense ecommerce course for intermediate or advanced marketers. As an ecommerce professional, you'll learn the thorough details that will help take your sales to the next level.
This course goes into depth on new ecommerce trends and how to utilize different technologies to help your business grow fast.
You should expect to set aside anywhere between three to seven days to complete this course. It has a duration of four hours and includes five modules with 40 lessons.

Upon completion, you'll receive a badge designating you as a "Certified Ecommerce Marketing Specialist" which you can add to your website, email signature, or LinkedIn profile.
Ideal for: If you already have an ecommerce store and want to optimize it, this course is for you. You'll learn to build a sustainable strategy that will help your business succeed in the long run.
Cost: The Ecommerce Marketing Specialist costs $495.
8. Alison: Diploma in E-Business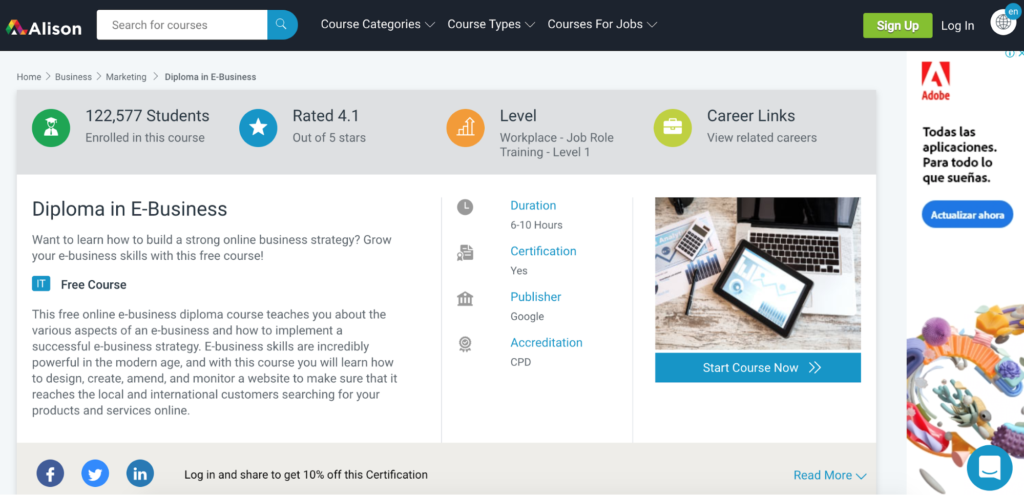 Alison's Diploma in E-Business is an extensive course for business owners wanting to grow their store rapidly. You'll learn, for example, how to improve your search rankings and set up Google Ads.
When it comes to measuring ROI from ads, it's crucial to know how to analyze for gaps that could cause your ads to lose potential. This course will thoroughly teach you the metrics to analyze and troubleshoot issues you may have.
The course runs for ten hours, and upon completion, you'll receive a diploma in e-business.
Ideal for: Alison's "Diploma in E-Business" is great for people who want to know more about Google's tools and how to implement them in their ecommerce business.
Cost: This course is free.
9. BigCommerce: eCommerce Masterclass for B2B Sales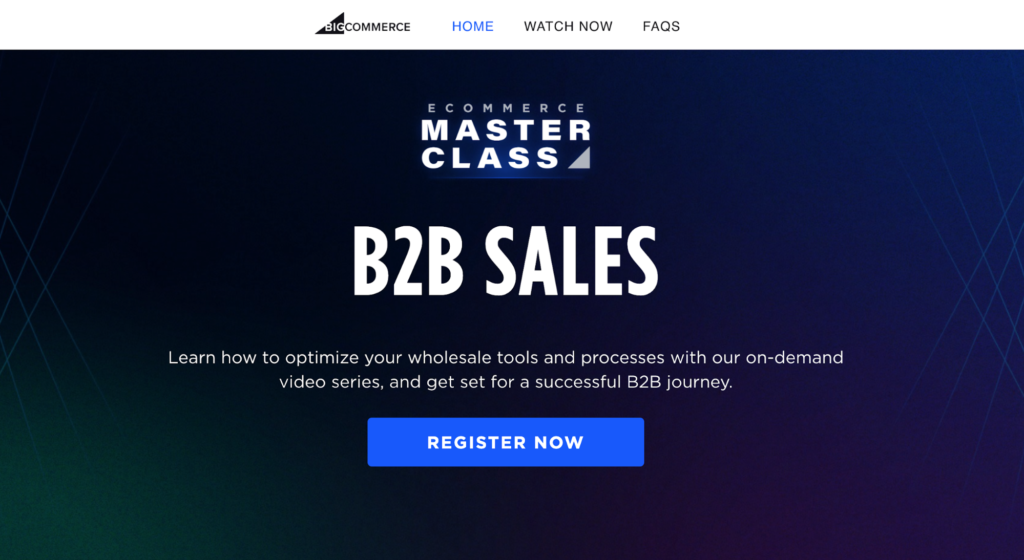 If you're expanding your hybrid ecommerce business or testing the waters for the first time with B2B, the Ecommerce Masterclass for B2B Sales will help you understand the nuances that separate B2B from B2C.
In this class, you'll learn how to set up a B2B portal, back office, and product information management. You'll also evaluate how to choose the right suppliers, multi-level purchase approvals, B2B shipping, and more.
The course consists of nine videos that break down B2B ecommerce into digestible bits. The best part is, you can move at your own pace throughout the course.
Ideal for: BigCommerce's masterclass is for anyone looking to try B2B selling. You don't need to have a deep knowledge of ecommerce but some basic knowledge is necessary.
Cost: Free with registration.
10. Coursera: Digital Marketing Specialization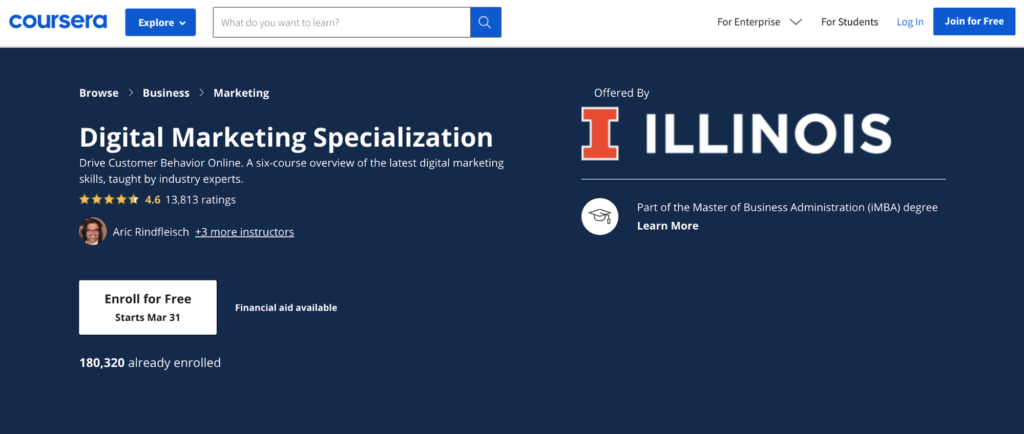 If you want an in-depth understanding of the motivations behind data and analysis methods used by marketing professionals, Coursera's Digital Marketing Specialization course is right for you.
Besides data, you'll learn about web analytics tools and techniques, 3D printing, social commerce, SEO, and more. This specialization involves seven courses that'll give you a full runaround of different core areas in ecommerce.
The Digital Marketing Specialization course is part of the iMBA degree offered by the University of Illinois. The courses require about five hours per week and take up to eight months to complete.
Ideal for: This course is best for beginners who want in-depth information from industry experts and have eight months to spare.
Cost: Free with enrollment.
Final Thoughts
After reading through the courses, you probably have a better idea of which ecommerce course is ideal for you.

If you're a complete beginner, choose a course that offers an introduction to ecommerce. You can learn the basics before jumping into more complex content.
If you have some knowledge in ecommerce, choose a course that focuses on a specific area you'd like to learn more about, such as incorporating Google tools into your business.
Industry experts looking to keep up with trends or learn new techniques should instead join a master course and skip the introductory content.
No matter which course you choose, keep learning with the tools and resources you can use to grow your online business.