I've recently covered the best website builders for new ecommerce businesses and the best ecommerce platforms in my previous blog posts.
Both of them explain the features and benefits of some of today's top website builders exhaustively.
But for this post, I'd like to focus specifically on the best small business website builder platforms—ones that are perfectly suited for brands operating on the small scale that need the basics.
These five small business website builder platforms are easy, intuitive, and user-friendly, and have all the critical features you need without being bogged down in unnecessary extras.
If you want a simple solution to get your small business in front of your digital audience, you'll definitely want to check out these tools.
Table of Contents
1. GetResponse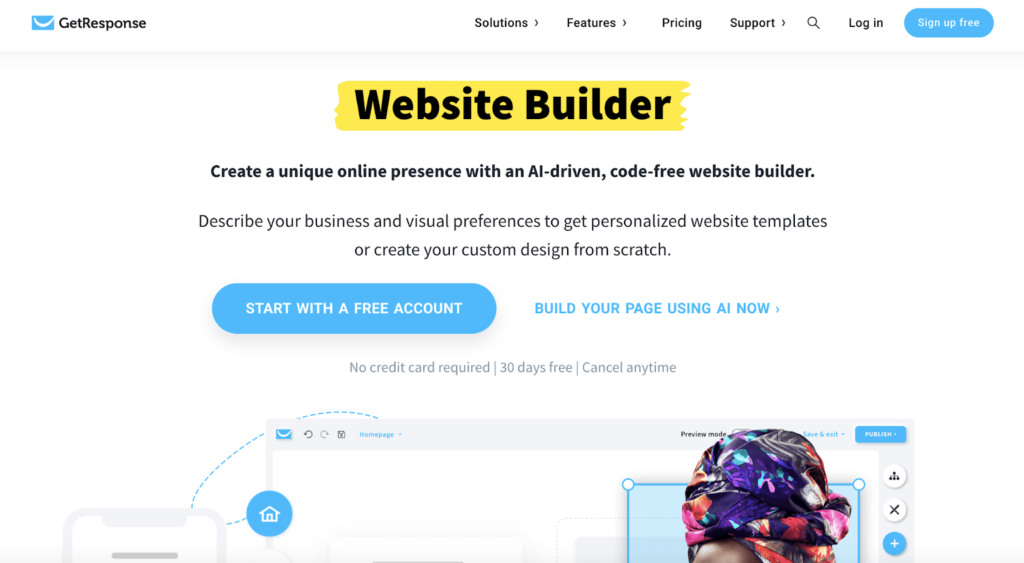 GetResponse is a fairly well-known email marketing, marketing automation, and conversion funnel management platform that can serve a lot of different purposes for online businesses.
One of GetResponse's newest products is its website builder, which uses "AI-driven, code-free" technology. But the best part is how insanely easy it is to use.
To get started, GetResponse simply asks you to "describe your business and visual preferences to get personalized website templates or create your own custom design from scratch."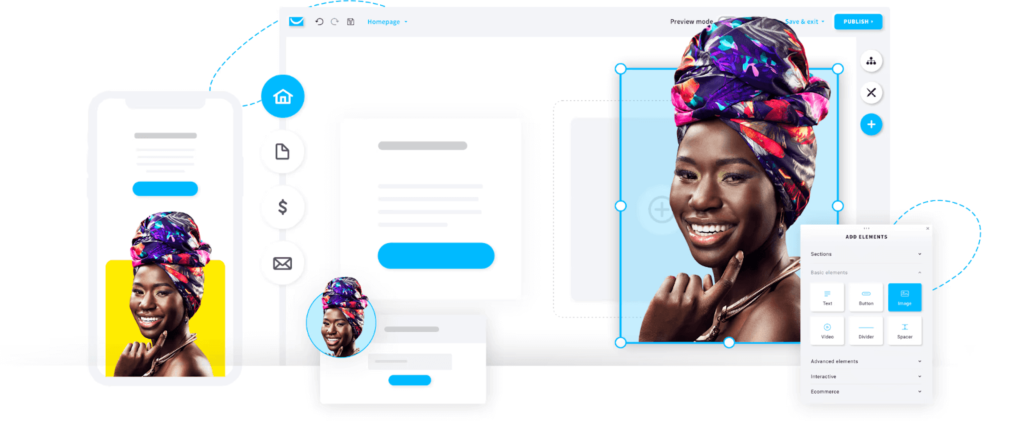 For this, GetResponse uses an "AI wizard", where you answer a few basic questions about your business and the kind of website you want to create.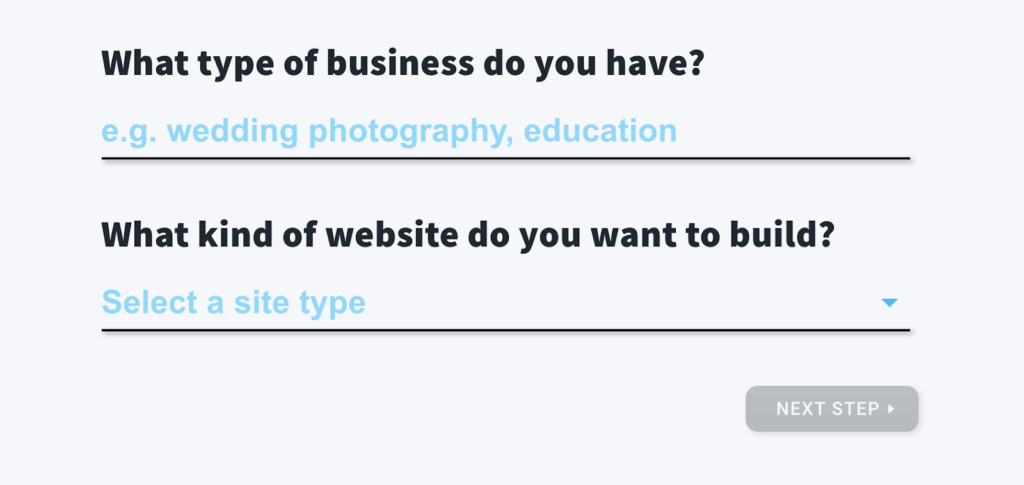 Once you fill this form out, GetResponse provides you with relevant recommendations: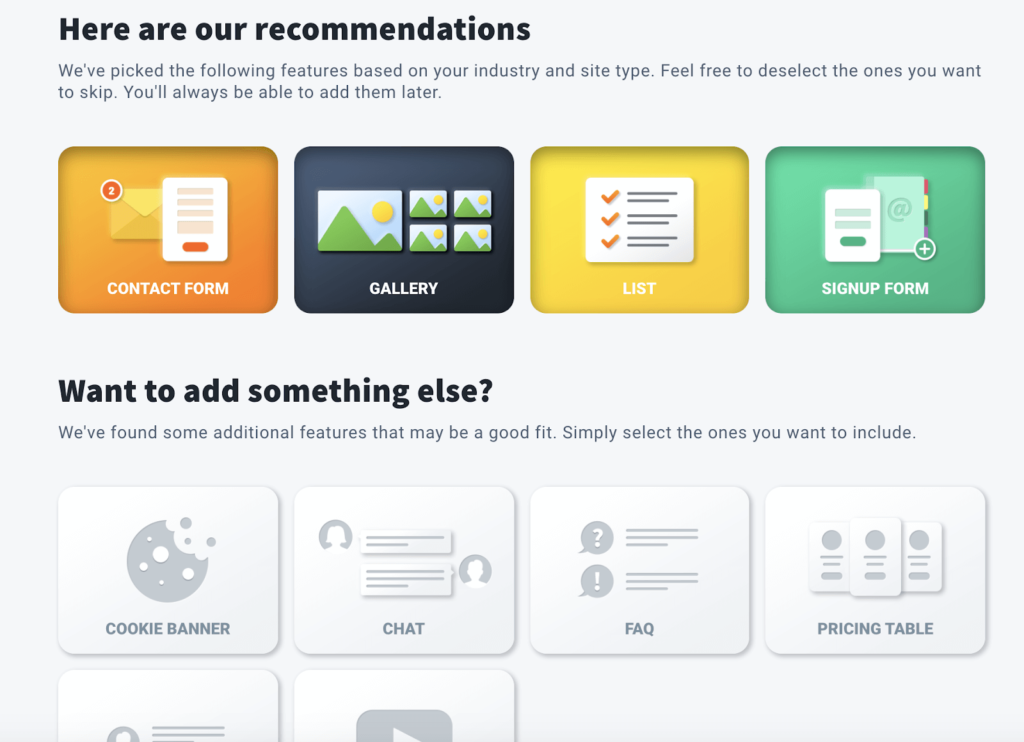 Talk about hassle-free.
One of GetResponse's key features is, without a doubt, its drag-and-drop editor for silky smooth web design. Thanks to its ready-made sections, you can get your small business website up and running in minutes.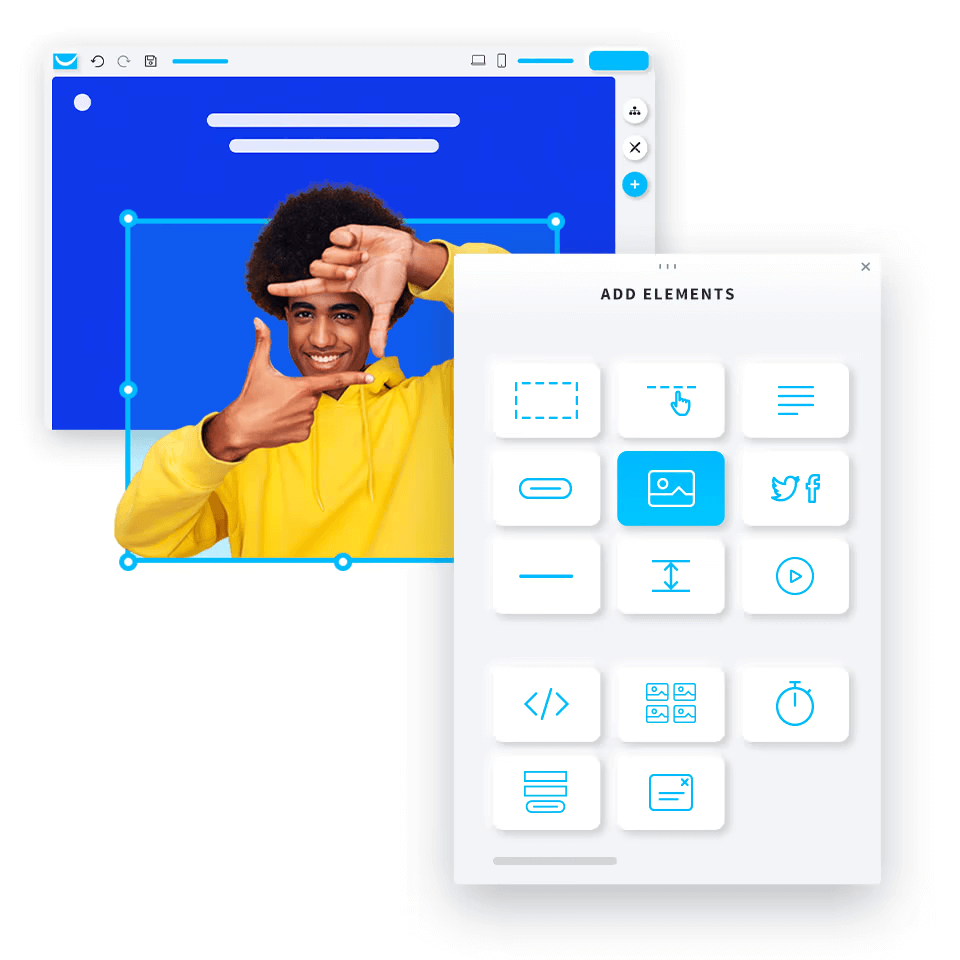 GetResponse also gives you SEO optimization tools to help increase your presence on Google.
Finally, the platform comes with built-in analytics so you can monitor your traffic to see where visitors are coming from, what their on-site behavior is like, which offers work best, and much more.
One last thing to point out is that you can leverage GetResponse's full marketing suite, which allows you to conveniently promote your small business website through a variety of channels without ever having to leave GetResponse—it's all native.
So, if you're looking for one of the best small business website builders that's a true one-stop-shop, GetResponse should definitely be on your radar.
Pricing: Free trial for 30 days, then plans start at $15 per month.
2. Gator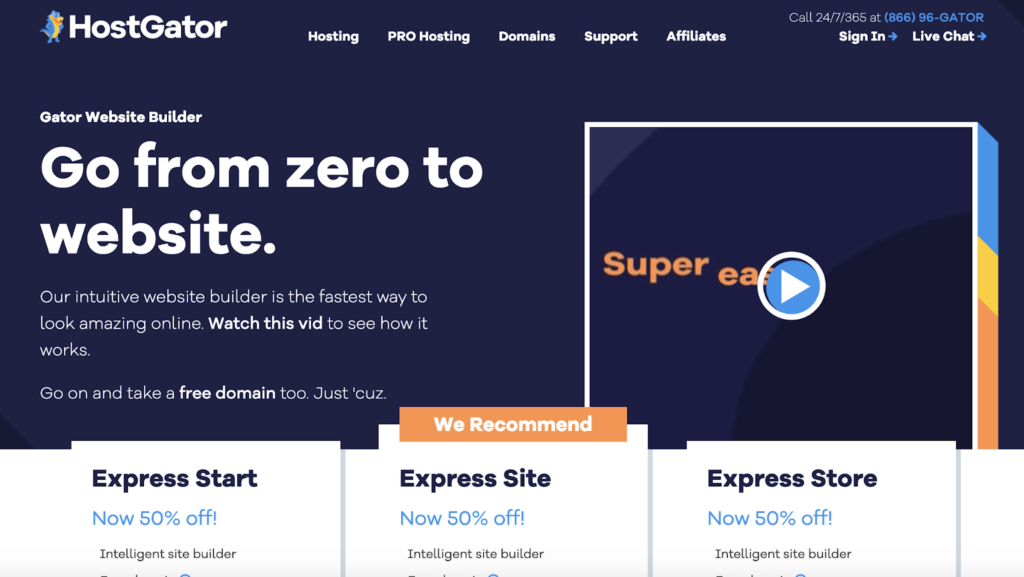 HostGator is the world's fifth-largest hosting company, with a 4.48 percent market share.
As of mid-2021, there were more than 560,000 domains on HostGator, and it's built a reputation for being a simple, straightforward hosting solution.
Besides merely being a domain site, HostGator also has the Gator Website Builder, which is "the fastest way to look amazing online."
Getting your small business website up and running with Gator couldn't be any easier. You simply:
Answer a few basic questions;
Add your logo (or use its LogoMaker if you don't have one);
Add images using its robust library;
Customize your site; and
Launch it.

While you don't get all of the bells and whistles that you would with higher-end platforms like Shopify and Magento, the Gator Website Builder should be more than enough if you're a small business that needs to make a simple yet quality website.
Here are some of Gator's notable features:

Note that Gator offers a free SSL certificate, which helps keep your site safe and lets shoppers know you take their digital security seriously. This is especially important for small business owners who are learning the ropes with web building and need a reliable, fuss-free platform.
I also like HostGator's commitment to customer service, where you can get a hold of someone at any time through phone, chat, or Twitter.
Plus, they have an excellent knowledge base to help you learn the subtle nuances of the platform and continuously step your small business web design game up.

Pricing: Gator offers three different plans: (1) "Start" for $3.84 per month, (2) "Site" for $5.99 per month, and (3) "Store" for $9.22 per month.
3. Zyro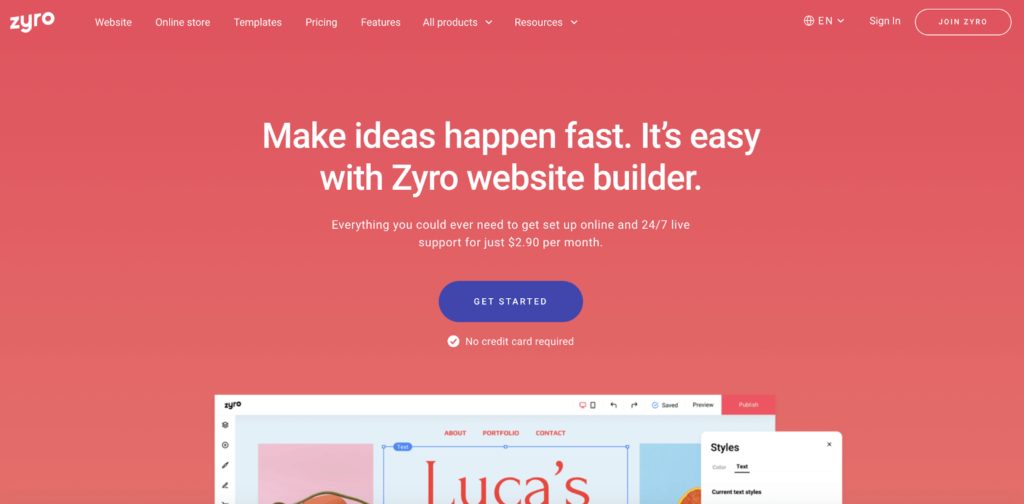 Zyro is an up-and-coming small business website builder that I personally love.
As of mid-2021, over 150,000 sites have been built on it so far, and it seems to be catching on in a hurry.
The company's value proposition is that Zyro is "the easiest way to build a website," with "no coding or design skills needed."
Like the other platforms I've mentioned, you can get a small business website running on Zyro in minutes, and they offer dozens of stunning, designer-made templates.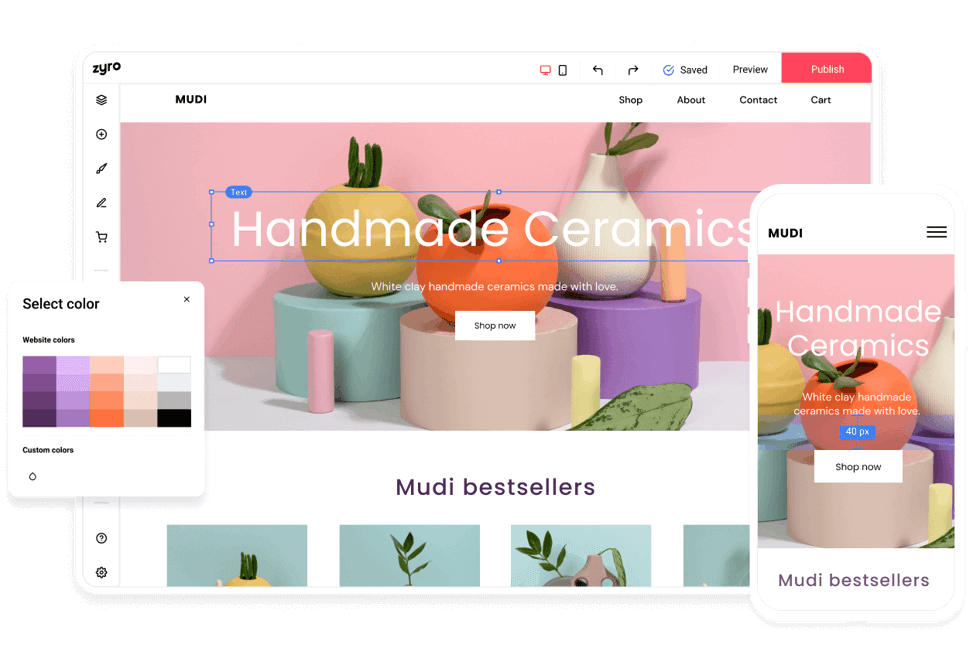 They look amazing and are completely customizable, even if you don't have a lick of coding knowledge.

There are at least a few things that make Zyro stand out. First, they place an emphasis on site speed and have tools in place to ensure your site loads lightning fast.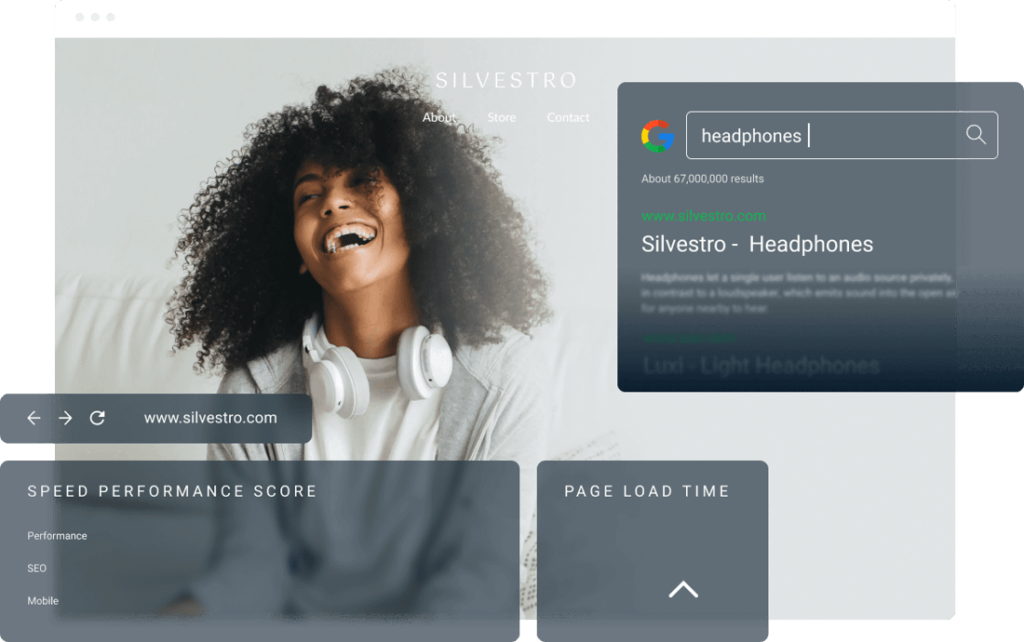 That's crucial, considering many shoppers bounce quickly after landing on websites.
Next, Zyro has integrations with top platforms like Amazon, Instagram, and Facebook, making it dead simple to sell your products through these channels and reach a wider audience.
Zyro also has a ton of different payment gateways, like PayPal, Stripe, and BitPay just to name a few. This allows you to accept payments from customers all over the world using the gateway of their choice.
The platform also understands the importance of SEO and offers built-in tools to fully customize your page data to ensure your products get found through search.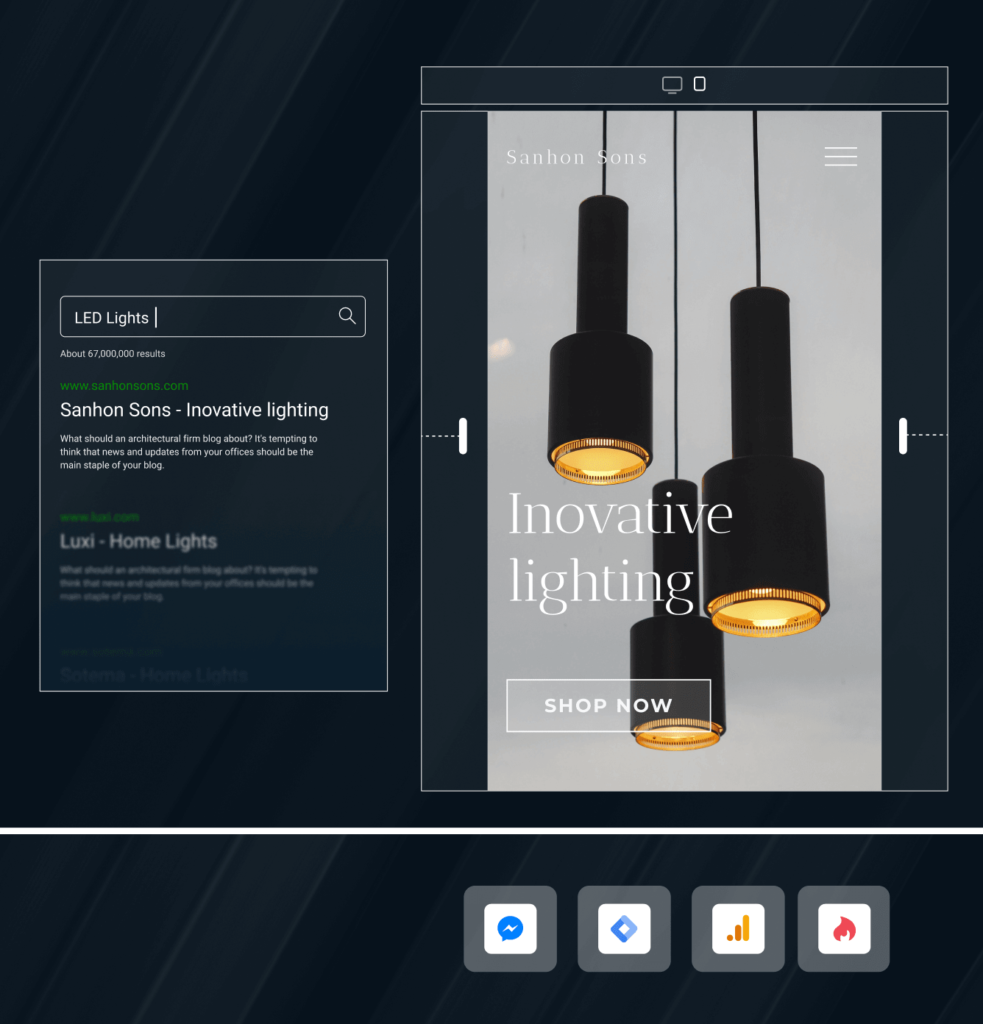 Let's not forget mobile-friendliness. Zyro has a mobile editor that "will make sure that your business is mobile-friendly as you build your website."
Lastly, they have a full suite of AI tools, such as an AI logo maker that allows you to create a unique logo in a minute.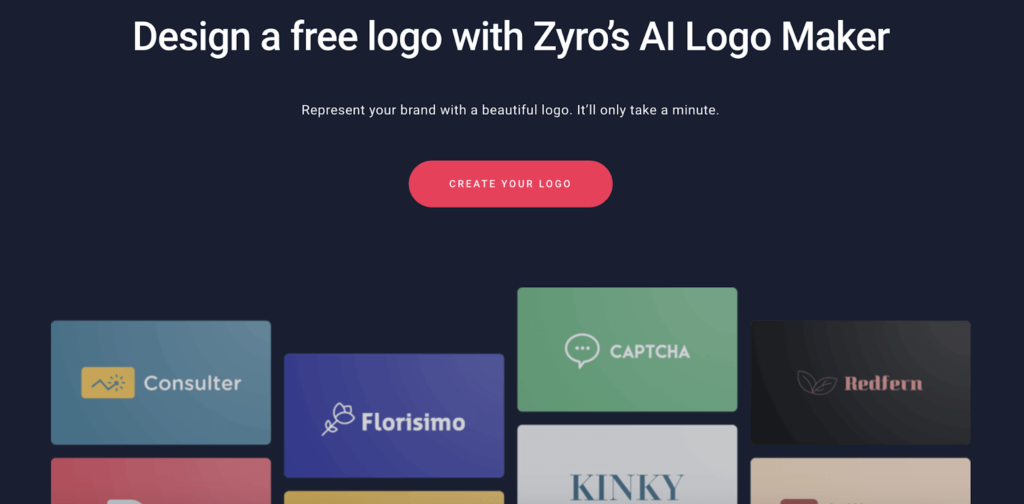 I also love how the company has an around-the-clock support team of real people for fast answers to your questions.
So, if you're looking for simplicity, professionalism, and user-friendliness while harnessing the power of AI, Zyro should definitely be on your radar.
Pricing: Zyro has three plans to choose from: (1) "Unleashed" at $3.90 per month, (2) "eCommerce" at $9.90 per month, and (3) "eCommerce Plus" at $14.90 per month.
4. Constant Contact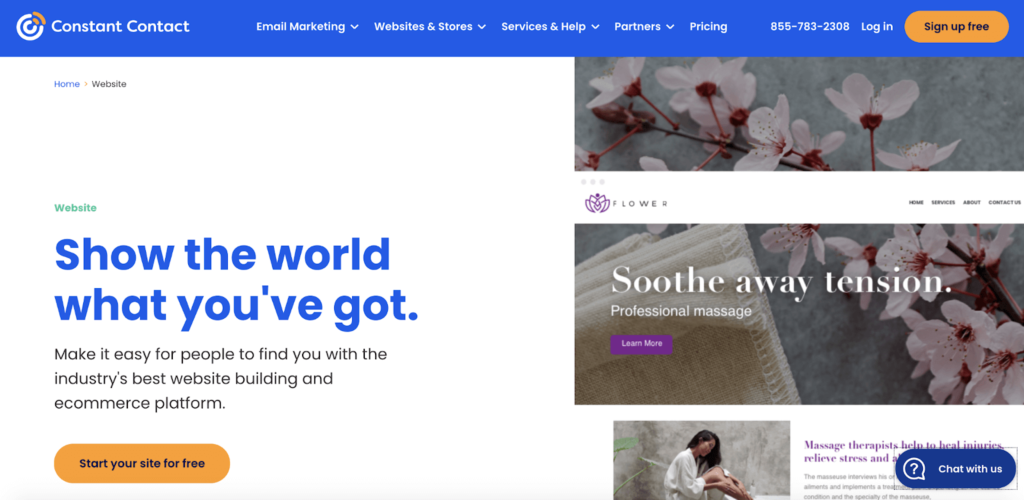 The first thing most people think of when they hear Constant Contact is email marketing for good reason. It's one of the world's leading email marketing platforms.
But Constant Contact has evolved a lot over the years, and now offers one of the best small business website builder platforms.
Even if you don't have any tech skills, the platform allows you to create a professional and mobile-friendly website in minutes.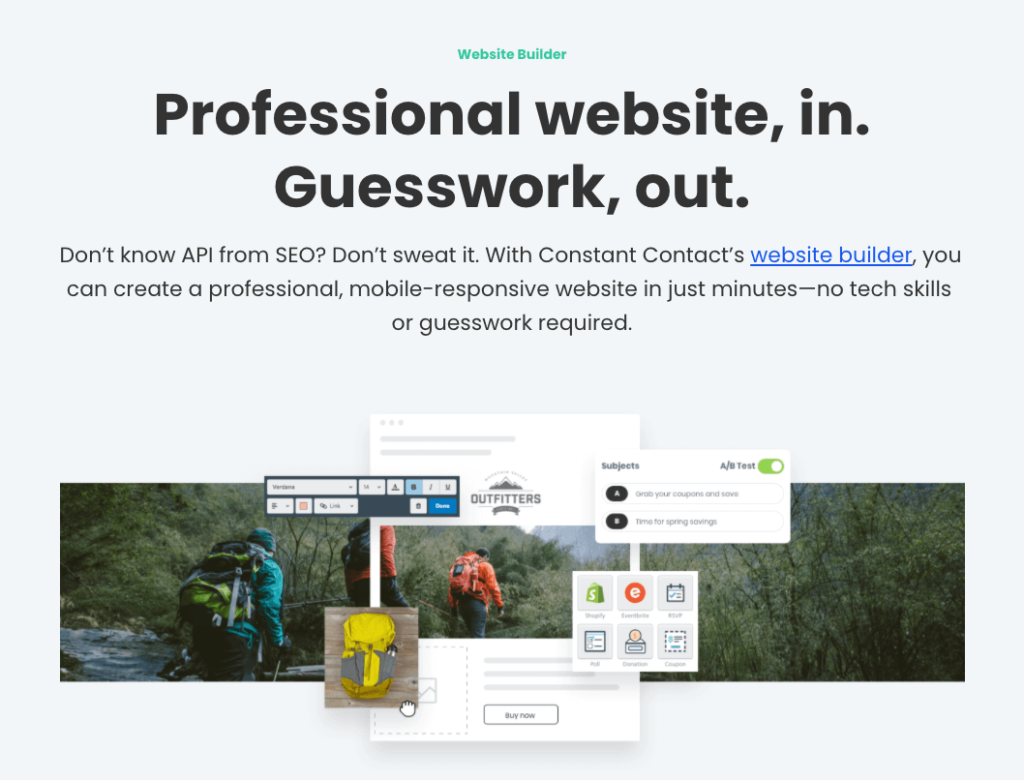 You can set up your small business website for free, allowing you to get a feel for the platform without having to spend a dime. Then, when you're ready to start selling digitally, you simply pick the plan that's right for you, and you can start taking orders.
What's more, Constant Contact offers an intelligent website builder that's totally personalized based on your unique industry and products.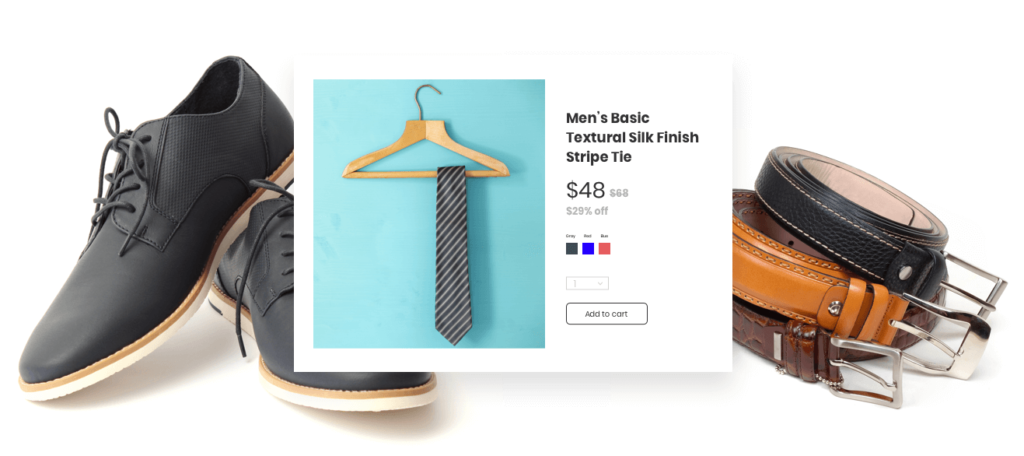 They also integrate with Unsplash, which means you have access to a massive free image library of over 550,000 images to ensure your site pops visually.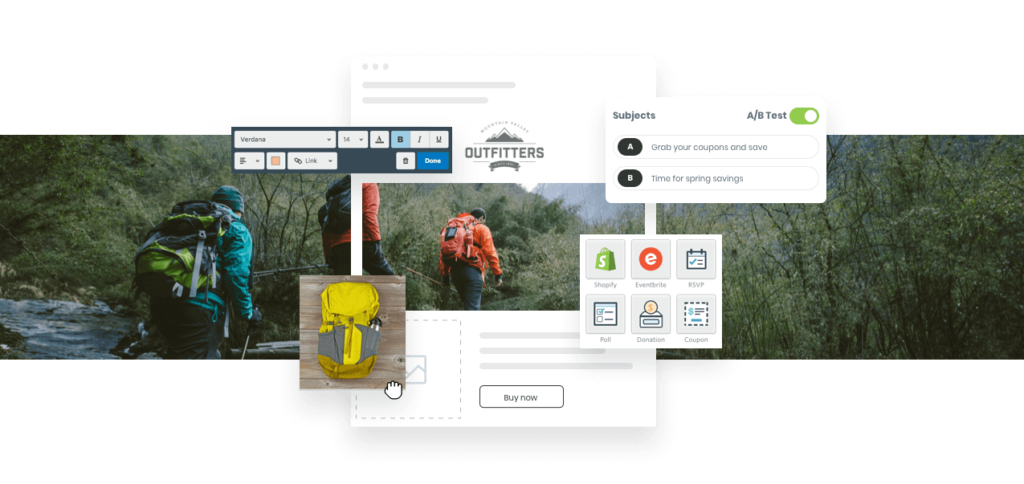 On top of that, they make it a breeze to take orders securely using a variety of payment platforms, like PayPal, Stripe, and Mollie.
When it comes to managing orders, Constant Contact has several other features, such as order confirmations and auto-generated out-of-stock emails that keep things flowing (and your customers happy.)
And like Zyro, they have a brilliant AI-powered logo maker, with hundreds of customizable options.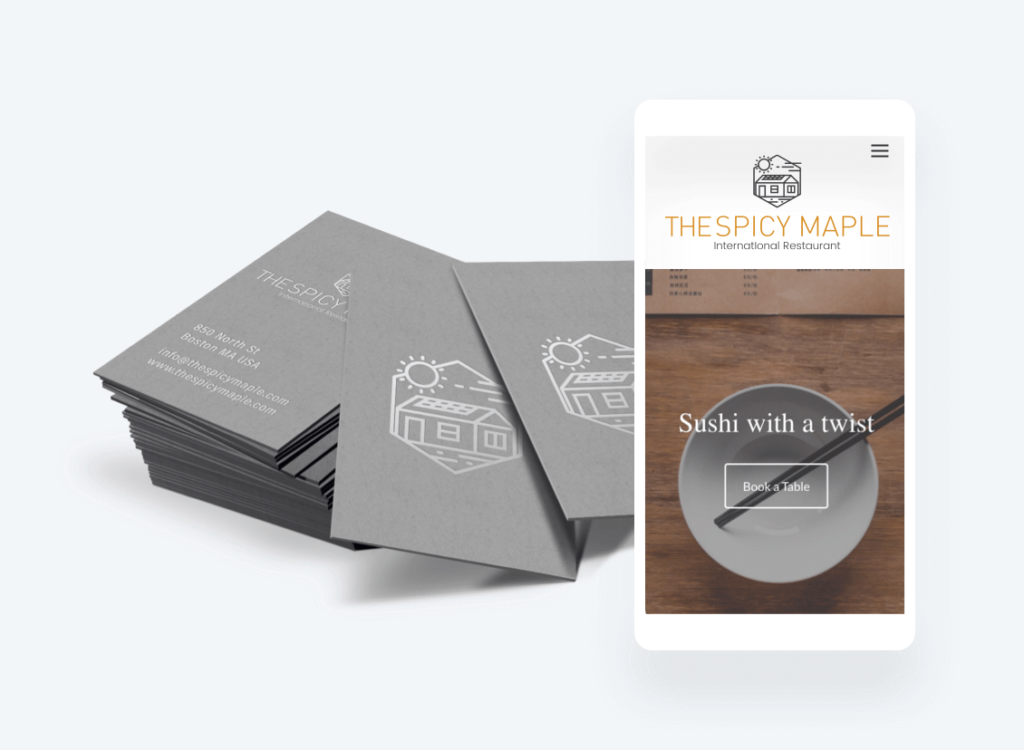 Again, this isn't a platform with a ridiculous number of bells and whistles, but it meets the needs of most small businesses.
Pricing: Free to start. $10 per month after the trial.
5. Web.com
The last platform I'm going to talk about is about as bare-bones as it gets.
If you're looking for something that's extremely simple and affordable (with plans starting as low as $1.95 per month), Web.com may be the right solution for you.
The platform makes everything as easy as selecting a domain, choosing a package, and drag-and-dropping your design.
Web.com lets you pick templates from a wide variety of industries so you can create a website that looks professional without any heavy lifting.

And it gets better.
If you're not quite comfortable handling the full web design process yourself, Web.com also has a team of in-house experts who can design your website for you.
So, if you're looking for an extremely hands-off platform so you can spend your time on other parts of your small business, Web.com should be at the top of your list.
While not as feature-rich as the other website builder platforms I've mentioned, Web.com still gets the job done and has a few notable features. One of them is "Grade My Website," which analyzes your:
Page loading speed;
Device performance;
Search optimization; and
Website security.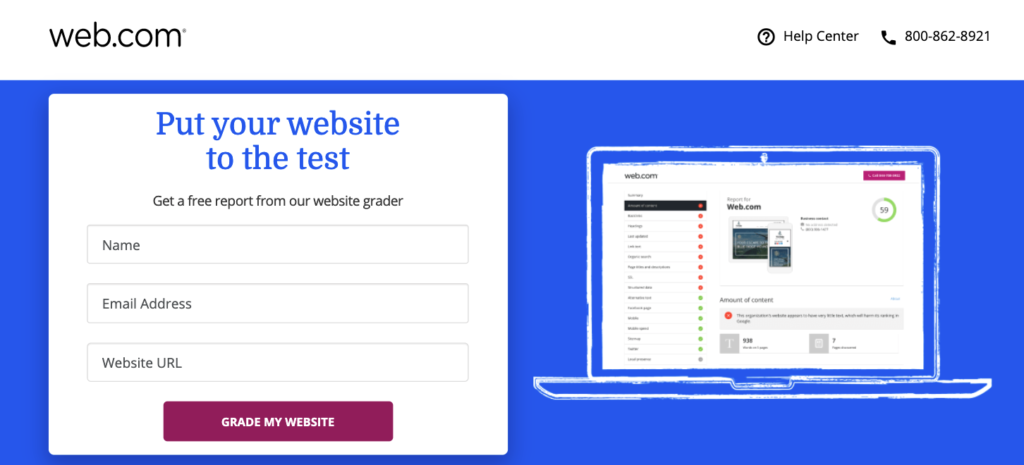 It then gives you a rating on the overall performance of your small business website and quickly resolves any problem areas. That's huge because it ensures your customer experience is always top of the line and you're not shooting yourself in the foot.
Similar to other platforms, Web.com also offers SEO tools, real-time sale notifications, streamlined inventory management, and reputation management tools.
If you're dealing with a tight budget and are fine with a no-frills solution, Web.com may be a smart option for you.
Pricing: Three pricing plans to choose from: (1) "Basic Website Builder" for $1.95 per month, (2) "WordPress Website Builder" for $7.99 per month, and (3) "Web Design Services" with a custom quote.
Conclusion
For large-scale enterprises, only the most robust, comprehensive web design platforms will do. But for many small businesses with minimal needs, going this route is overkill.
If you fall into the latter category, there's no reason to spend big money on extra features you won't ever use.
By opting for a simpler, more affordable solution, you can create a high-performing store that shoppers will love.
The five platforms I've outlined above are some of the best small business website builders available and all have the firepower to effectively reach your customers and provide them with a great experience.