When it comes to social media, authenticity trumps virality.
You need to consistently post interesting content your target audience enjoys to connect and engage with customers, build relationships, and drive sales.

Easier said than done, though.

With multiple social media platforms and the ever-growing competition, coming up with creative social small business social media ideas that catch and hold attention is tough.

Your target customer wants up-to-date, fresh content on their feed whenever they open their socials. And recycling your old posts, no matter how well they performed, won't do you any favors in the long run.

But fret not; I've got your back.

At Drip, we always keep multiple social media ideas in hand to ensure our social profiles don't get stale. Here are the eight small business social media ideas that always work for us, as confirmed by our awesome marketing team.
Table of Contents
1. Use Bite-Sized Video Clips
If social media is the hottest way to market your brand, video is the hottest way to market on social media.

There's so much you can do to market your small business using the power of video. But our marketing team advises sticking to short-form videos that are under 60 seconds for maximum engagement.

Why?

Short-form videos rank #1 for lead generation and engagement, according to HubSpot's 2021 social media trends report. Short-form video clips usually fare better on TikTok and Instagram, but they work equally well on Twitter and Facebook.

Take a cue from MADE. The brand does an excellent job at making short, trendy videos that integrate naturally on these social platforms—like this post:
With more people working from home, there has been an ongoing joke about the need to look smart for video meetings while staying comfortable. MADE does a parody of a news item addressing this need while positioning its chair as the best solution to the problem.

This makes the post both engaging and effective.

Relatable and funny videos are great for engagement, but you can always experiment with other short-form video content like:
Q&As
Product videos and demo
How-to's and explainers
Infographic animations
Behind-the-scenes (BTS)
FAQs
The same HubSpot study found that while younger audiences prefer funny/trendy videos reflecting a brand's values, baby boomers like watching interactive/educational content. So, make sure your videos cater to your target audience's preferences.
2. Post Company-Related Content
What's the latest going on at your company? Did you launch a new product update or feature? Publish something on the company blog? Hired a new employee?

If yes, post it on social media.

Show your followers what goes on the inside, and keep them updated on its progress. This humanizes your brand, helping the audience connect with your brand values and convert and stay with your company.

A great example is Scribe's recent product update on its LinkedIn page.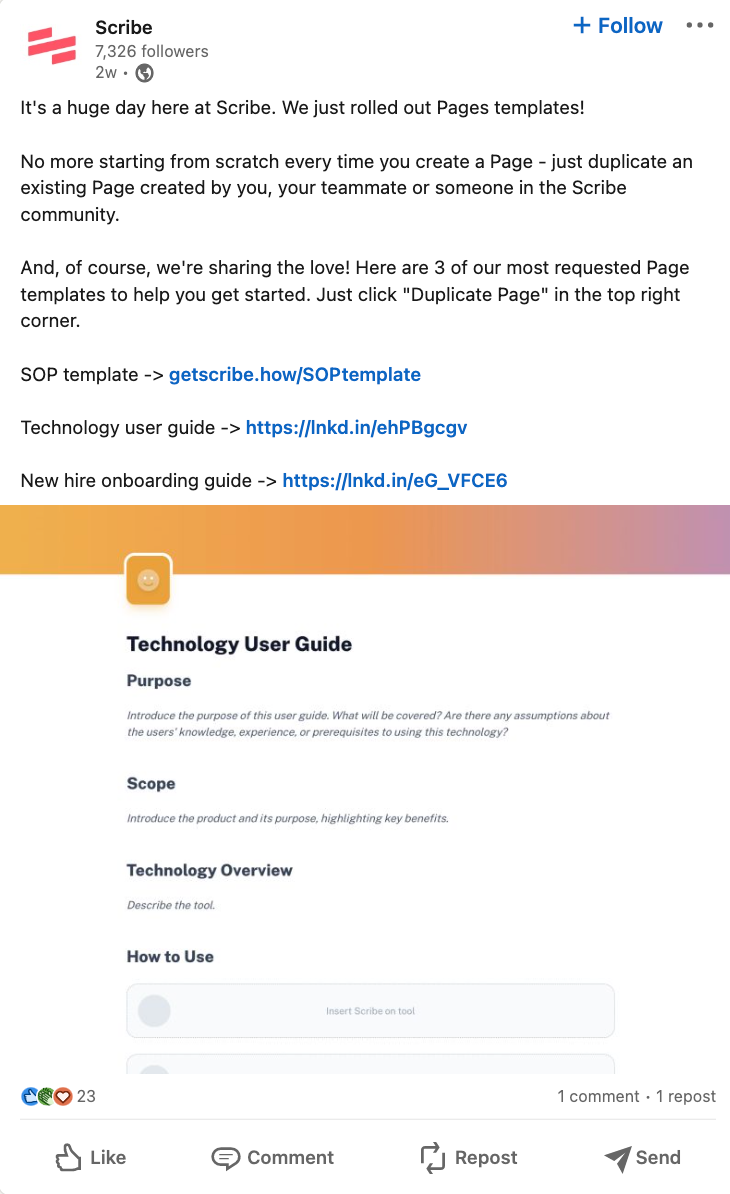 The post mentions what the feature is about, and how users can use it. Going a step further, Scribe also shares three of its most requested templates with its users for free to help them get started.

Another way to use social media for driving your small business's website traffic is by sharing links to your blog.

We do this a lot at Drip, albeit a bit differently.

Twitter threads are all the rage now and work wonders to increase engagement.

Keeping this in mind, we frequently create digestible threads covering the main talking points of the recently posted blog posts on our website and then add a link to the full blog toward the end of the thread.

Take this Drip tweet, for example.
✨ A 🧵 about stats (that offer solutions). ✨

1️⃣ The average cart abandonment rate across all industries is ~70% (roughly 86% for mobile). 😳

— Drip (@getdrip) October 31, 2022
To promote our recent piece on cart abandonment statistics, we did a thread highlighting the most interesting statistics. Notice how we've connected each statistic so it flows well and finally ended with a CTA to check out the blog.

This gets two things ticked off: content for our Twitter profile and more traffic for our blog.
3. Curate Content from Like-Minded Accounts
Your customers don't want to listen about your brand all day. Even your biggest fans.

But they won't mind seeing blog posts, podcast clips, videos, and other valuable resources that help them learn about a topic or issue. The idea is to present on-brand, most relevant information by others in a structured and focused way to your audience.

That's why content curation is a proven way to engage and build a community. But just because you don't need to create fresh content from scratch, doesn't mean there's no hard work involved.

Spoiler alert: A lot needs to be done.
You have to meticulously select, organize, and present information and resources to provide a specific perspective on a topic or issue.

Here are a few tips from our marketing experts:
Post trending topics in your target industry
Always give credit where due
Drip's Twitter post links to an article discussing the record-breaking Cyber Monday sales and the significant role email marketing played in hitting those numbers. This is relevant to our target audience comprising ecommerce sellers and email marketers.
Notice how we've mentioned TechCrunch, the original publisher, in the Tweet to give them credit. And we even repurposed our Tweet for Instagram.

Why work harder when you can work smarter, right? 😉
4. Launch Giveaways and Contests
Everybody loves free stuff. It's why contests and giveaways work well to fill up your content calendar and bring instant engagement. But where most social media giveaways and contests use 'Follow to win' and 'RT to win,' make yours stand out by using the following ideas:
Caption this
Fastest correct answer
Photo contest
Creative answer
Entry with the most likes/retweets/comments wins
Tag someone
Use hashtags
Kiehl's is one company that does giveaways frequently — and does it well. Look at its recent giveaway post:
This post meets all the necessary criteria of a good giveaway or contest by including:
An

exciting gift

(a hamper of its best-selling products)

A

way to enter the giveaway

(following the account, liking the post, tagging a friend, and using a hashtag)

The

terms and conditions

(US only, 18+ years)

A

point of contact

for users to clarify doubts (the bit.ly link)
All this helps encourage viewers to take action and participate.
Unique or branded hashtags are the easiest way to track who entered your giveaway for free. Notice how even Kiehl's asks users to submit using a hashtag.
You can also consider teaming up with an influencer to promote your giveaway or contest, and then share their post on your own channel to enhance reach. Make sure to partner with someone relevant to your industry. Otherwise, you'll end up reaching the wrong audience.
(Psst—you can also combine this with a few great giveaway emails to get even more participation.)
5. Make Use of User-Generated Content (UGC)
Fact: Customers trust online reviews more than brands. It doesn't even matter whether those reviews are from known ones or even strangers!
It's why user-generated content (UGC) deserves a spot on your list of influential social media content ideas.
UGC is the more visual version of a customer review or testimonial. It's cold, hard evidence of a satisfied customer using your product in real life that builds your small business's social proof — and also provides free content for your marketing channels.
Before sharing, however, you need to ask your customers or clients to share UGC.
Tell your followers you would love to hear from them and see their experiences. Encourage them to share the photos on their pages and tag your username or use a specific hashtag.
You can also entice your customers with a gift card or free product like Son de Flor to share UGC.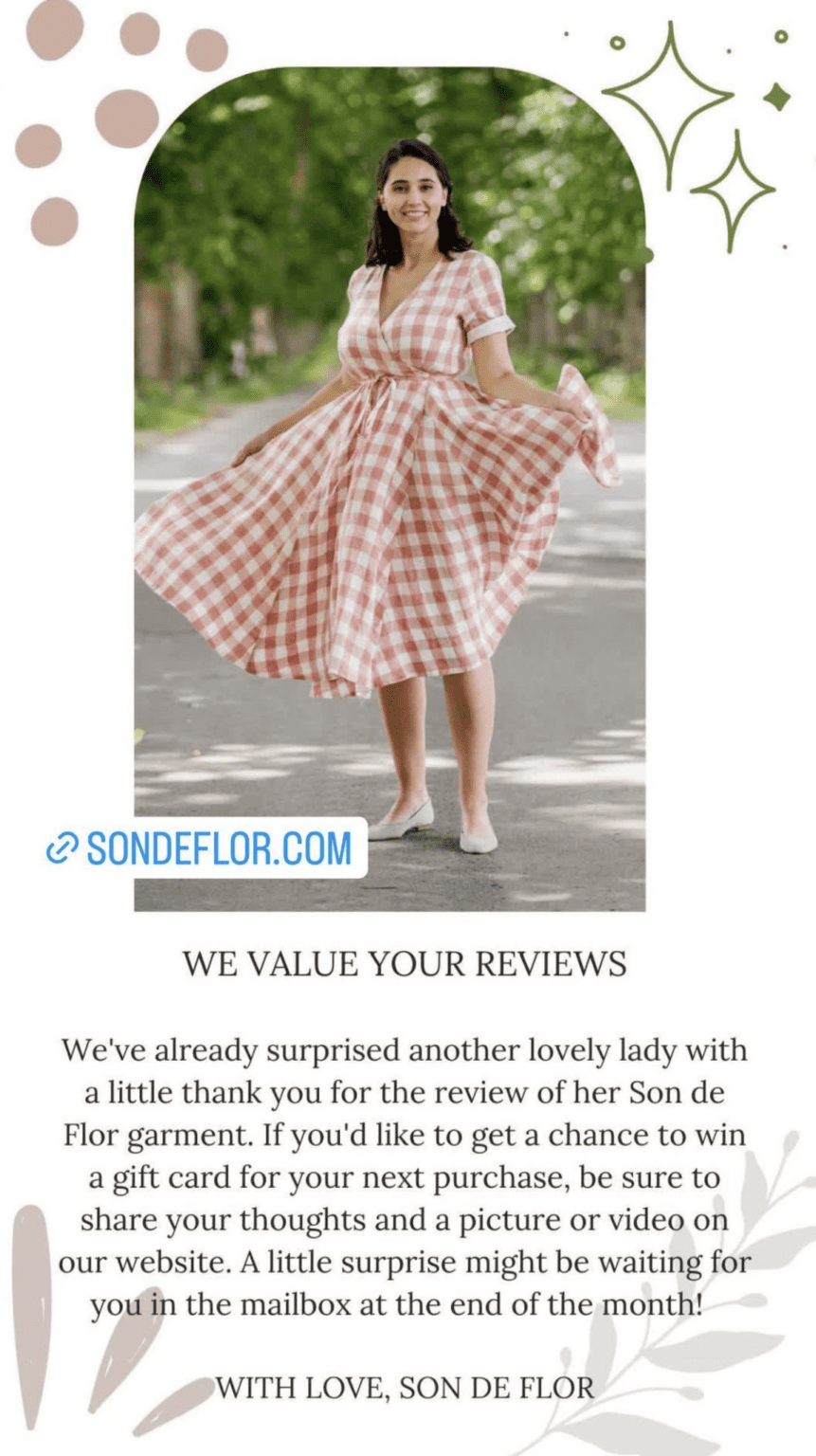 Image Source: Trust Mary
Once your customers start posting photos and tagging you, simply reshare them on your brand's social profile. Or, go a step further like Starbucks, who created a full-fledged UGC video.
Thankful to celebrate each season with you. 💚 Here's to 25 years of holiday cup cheer!

With amandakammarada, heleneinbetween, trishaglass, lisa.boettcher, mariah_of_mainstreet, chalkfulloflove, jenpixi (all on IG) and so many more. pic.twitter.com/hsgvjif6aV

— Starbucks Coffee (@Starbucks) November 10, 2022
This video is a classic example of simple but effective. It compiles pictures of Starbucks' customers flaunting their festive red cups over the years, starting from 1997. Not only does it show off the brand's loyal following, but also creates hype for the upcoming ones, which also means more sales.
If you have customers saying nice things about your brand, don't keep it to yourself. Social media has given people the right to voice their opinions. Use this user-generated content (UGC) to grow your follower list and boost sales.
You've earned it, so no harm in bragging about it.
Skincare brand Rhode shows off a series of customer testimonials showering praises for two of its best-selling products in a single post. On swiping right, the user can see the reviews of the other product.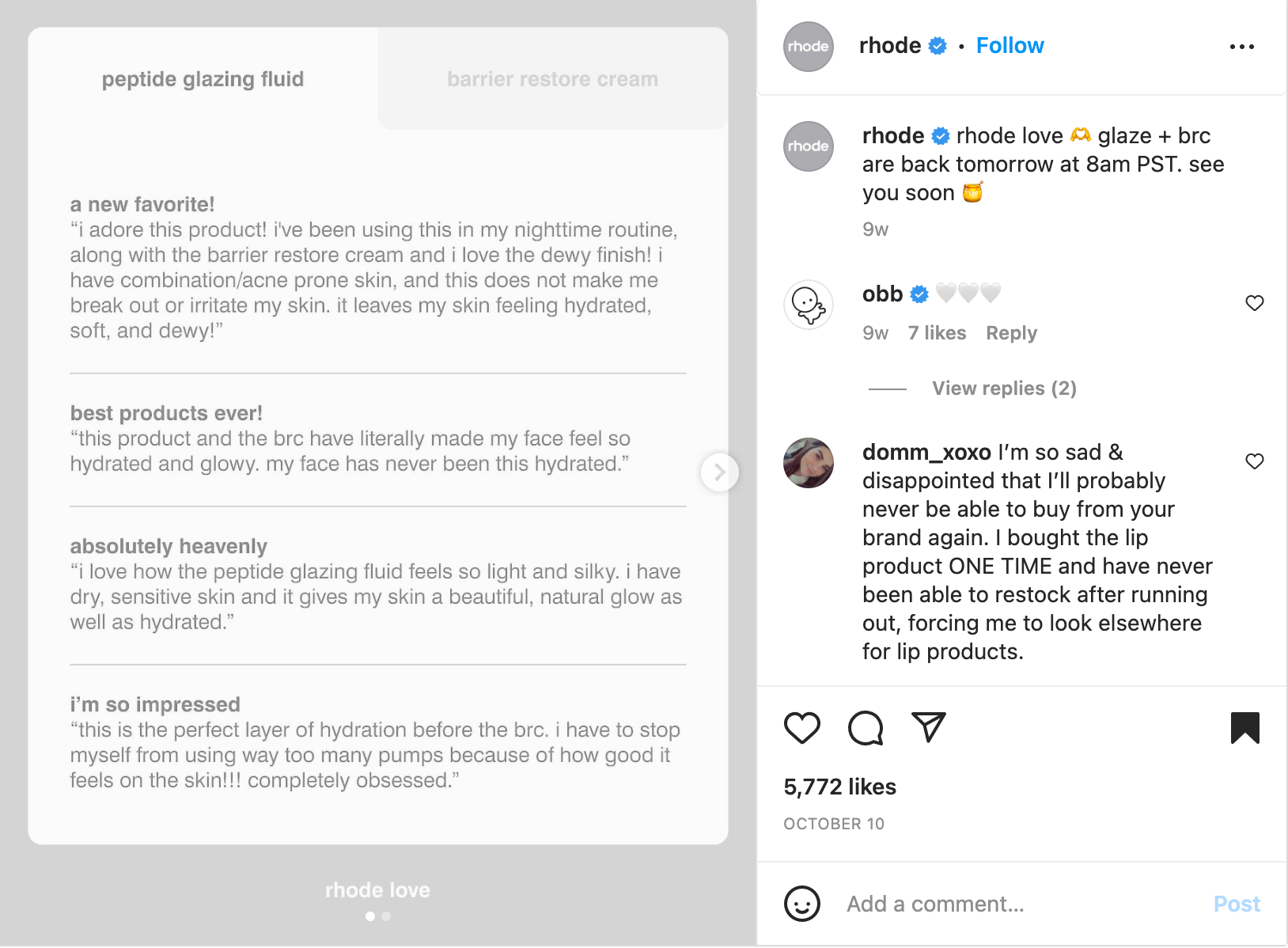 Image Source: Rhode Instagram
Brownie points to them for sharing positive reviews and testimonials to announce the restocking of the products. It gives users all the more reason to hit 'Buy now.'
Aside from creating a straightforward post or a collage, you can experiment with other formats. Here are a few ideas:
Interviews

Video testimonials

Stories and reels

GIFs
At Drip, we often retweet tweets from customers praising our product.
Top it off with a fun GIF like this one, and we have fresh content for our users. Plus, it builds social proof for our brand, proving our business has an existing client base of satisfied customers.
6. Start an Ask Me Anything (AMA) Series
Ask me anything (AMA) sessions are essentially Q&A sessions that give you the perfect opportunity to tap into your audience's curiosity, as well as educate and engage with your followers.
Your focus here is to share your knowledge, experiences, and insights to build trust and establish your small business as an authoritative figure among your target customers.
Here's how to go about hosting your own AMA:
If you're using Twitter, Facebook, or LinkedIn

, share a post asking users if they have any questions about your business — or a topic relevant to your industry. Users can then leave a comment on Facebook or reply on Twitter.

If you're using Instagram

, share an Instagram story asking followers to ask questions and add the Questions sticker. Users can then drop in the questions using the sticker.
As your followers ask questions, you can answer them in real time by either responding to their comments directly or sharing the answers on your Instagram stories.
A good tip is to focus the AMA on a specific topic(s). Think: questions about your latest product or questions about starting a small business.
Here's a good example: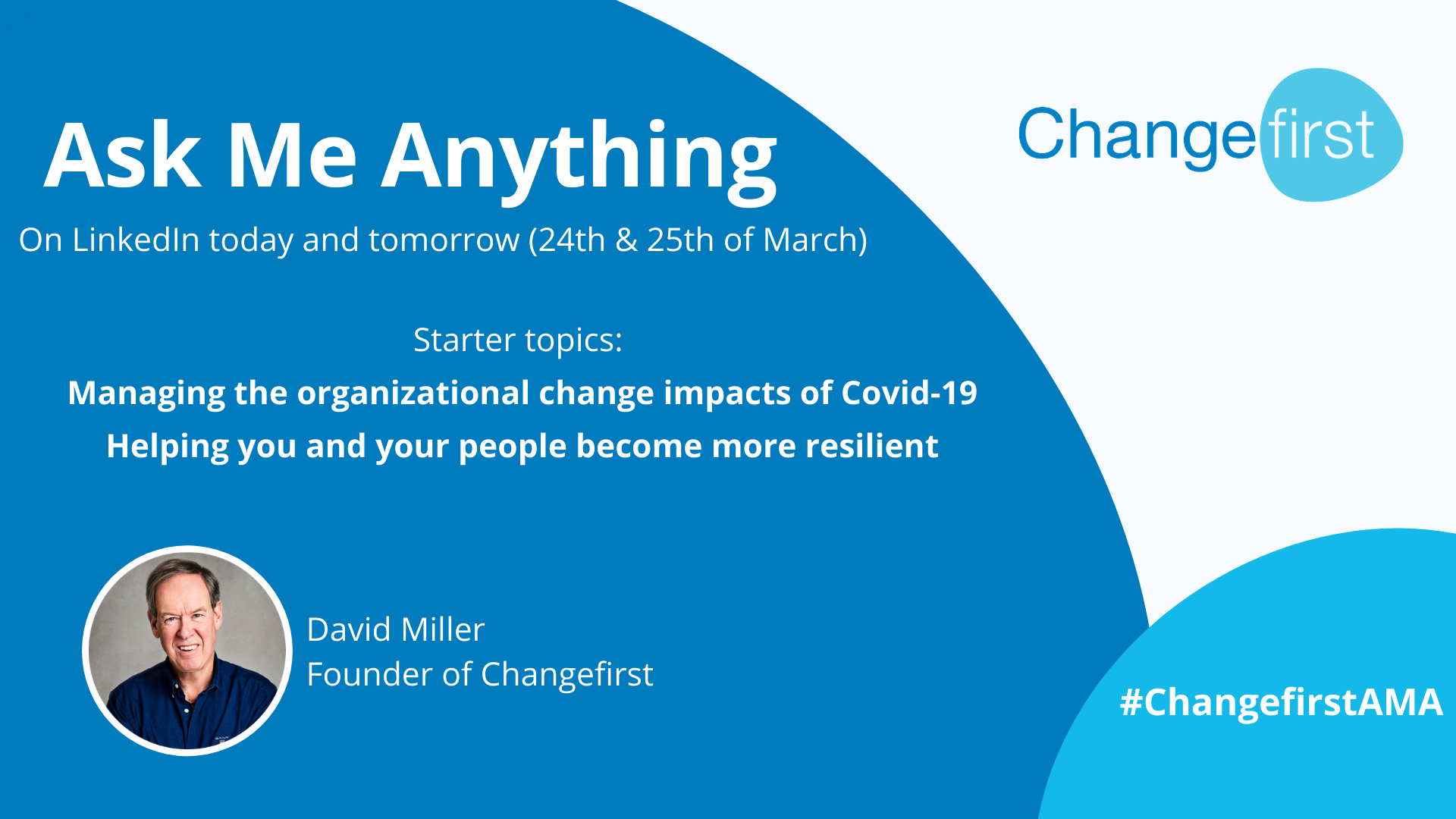 Image Source: Changefirst
Changefirst founder David Miller mentions the two topics he will cover during his LinkedIn AMA session. This serves two advantages:
Sets expectations for the attendees

Gives them enough time to think of relevant questions they want Miller's perspective on
Note that the post was shared on the Changefirst blog, where all the details regarding the session (for example, session dates, joining link, and a profile of Changefirst and Miller) were also shared.
7. Grab Your Social-Minded Colleagues for an Account Takeover
Social media takeover involves giving someone else the reins of your accounts, usually for a whole day or eight hours.
Why takeovers? Carefully executed takeovers help you:
Create genuine excitement and bring a fresh perspective to your social channels

Boost brand awareness and introduces your brand to a new audience
You can choose to collaborate with a business or even an employee (some businesses get their employees to show a day in their life on the job). But your best bet are influencers who align with your small business's brand values and, more importantly, can bring a lot of exposure.
Wilton Cakes offers cake decorating supplies, recipes, and other resources. For one of its takeovers, the company got baker Rachael Fujihara to do a five-part series of tutorial videos baking a three-layer, Halloween-themed cake.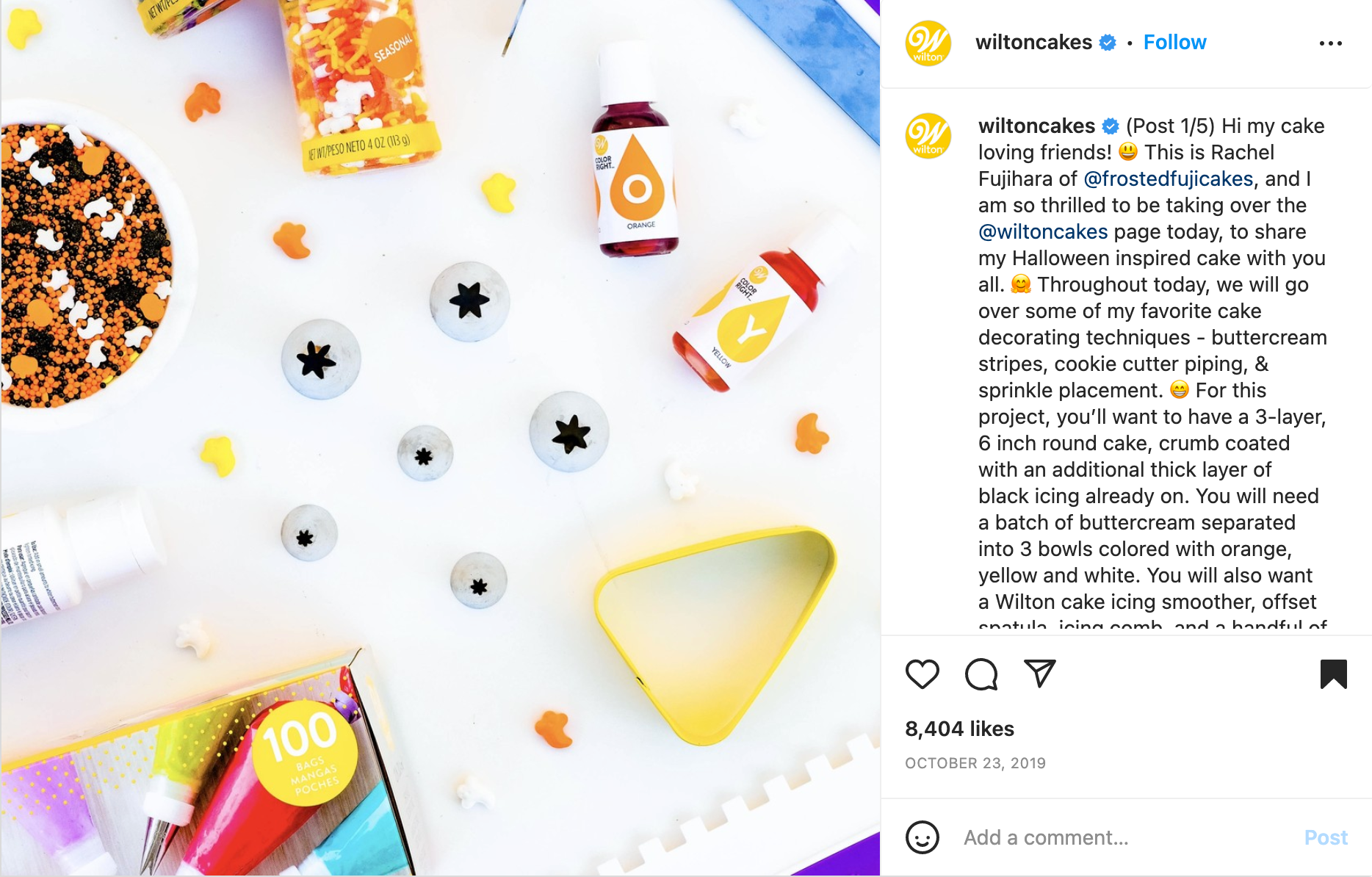 Image Source: Wilton Cakes' Instagram
Fujihara is a self-taught cake maker with a substantial following of her own (over 150k followers), which makes her the perfect influencer choice. Partnering with Fujihara for the takeover benefitted Wilton Cakes in the following ways:
Gave access to Fujihara's audience of cake enthusiasts, who are likely to be interested in Wilton Cakes' products

Provided relevant and valuable content for Wilton Cakes Instagram profile, helping its followers learn how to make a professional Halloween-style cake from scratch
You can also have the business or influencer taking over your account "go live" as part of the experience.
Live videos feel more authentic and allow your brand to create personal connections with your audience. Plus, you can later repurpose the videos across other social media channels.
Implement our small business social media content ideas today
I hope you now have lots of social media post ideas to use in your own marketing strategy.
Engaging your audience cannot be an afterthought if you want your small business to survive in the long haul and build a loyal audience. Adapt our social media ideas based on your industry and target audience to keep your brand at the top of your customer's minds.
The only mandate? Make sure your content is valuable and creative. Do it right, and you'll be scoring those entertainment brownie points in no time.