Back in 2019, we released our hot new feature, SiteData, which enables you to show or hide onsite campaigns based on real-time visitor data.
With it, you can hyper-personalize your popups based on any data you're collecting on your site, such as what's in a visitor's cart, how much they're about to spend, what pages they visit—and all else possible.
While possibilities with SiteData are endless, in this post, I want to take a step back and give you seven ideas for how to use SiteData, ranging from upselling to reducing cart abandonment, popup personalization, and dynamic text replacement.
Table of Contents
1. Personalize Your Popup Copy
Imagine for a moment that you click through in an email, log in to the loyalty club of your favorite store, and see this generic message: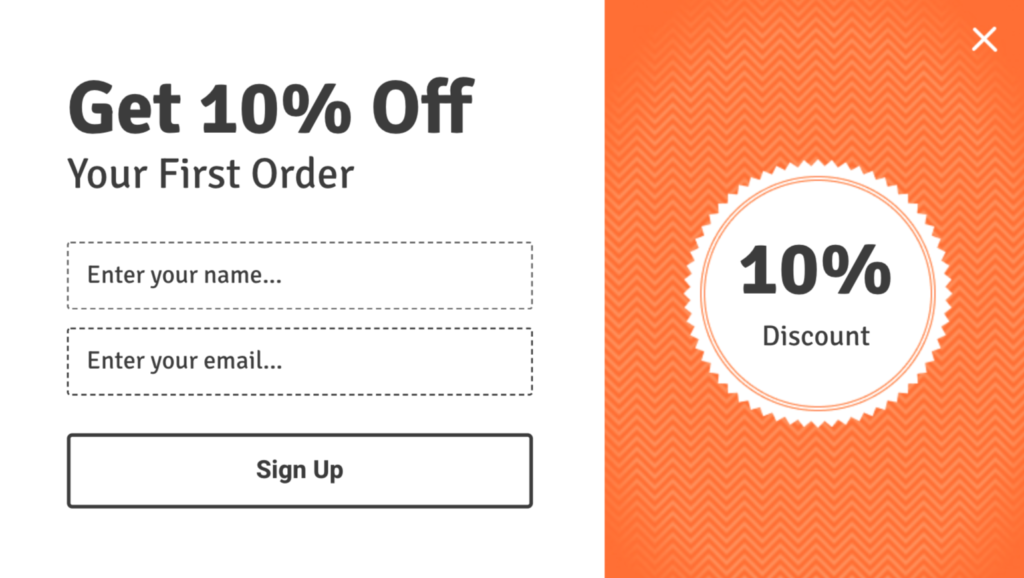 This popup won't resonate with you because it ignores (1) who you are and (2) where you are in your buyer's journey.
You're already on the company's email list and today, you're browsing a few products from your favorite brand.
Imagine, then, that you see a unique popup like this, instead: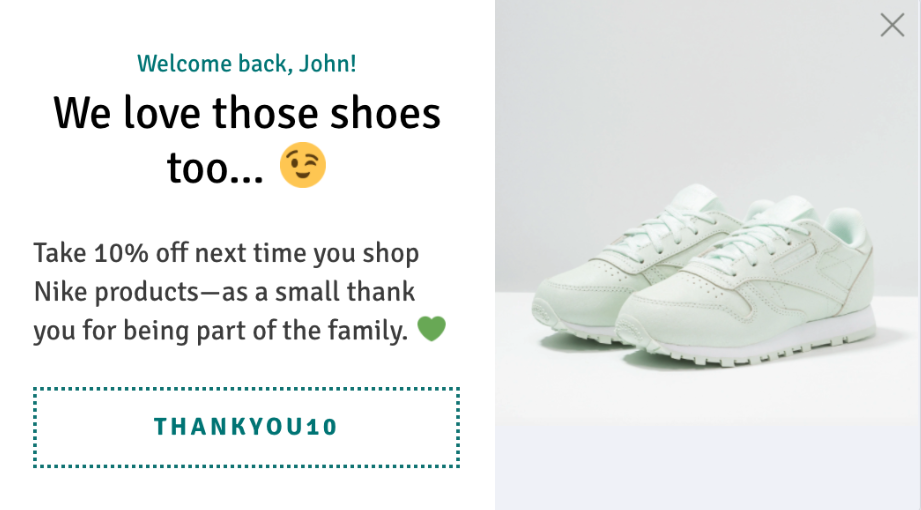 This one aligns with your interests, feels personal, and meets your needs at the right stage of the buying process. That's exactly what you can achieve with SiteData: show a personalized popup to each visitor, based on the information that matters to them.
With SiteData, you can use any visitor data you're collecting as merge tags in your popups and customize your popup copy dynamically for each visitor.
For example, you can greet a returning visitor by their first name when they log in to your site, and only use the information that's relevant to them, such as location: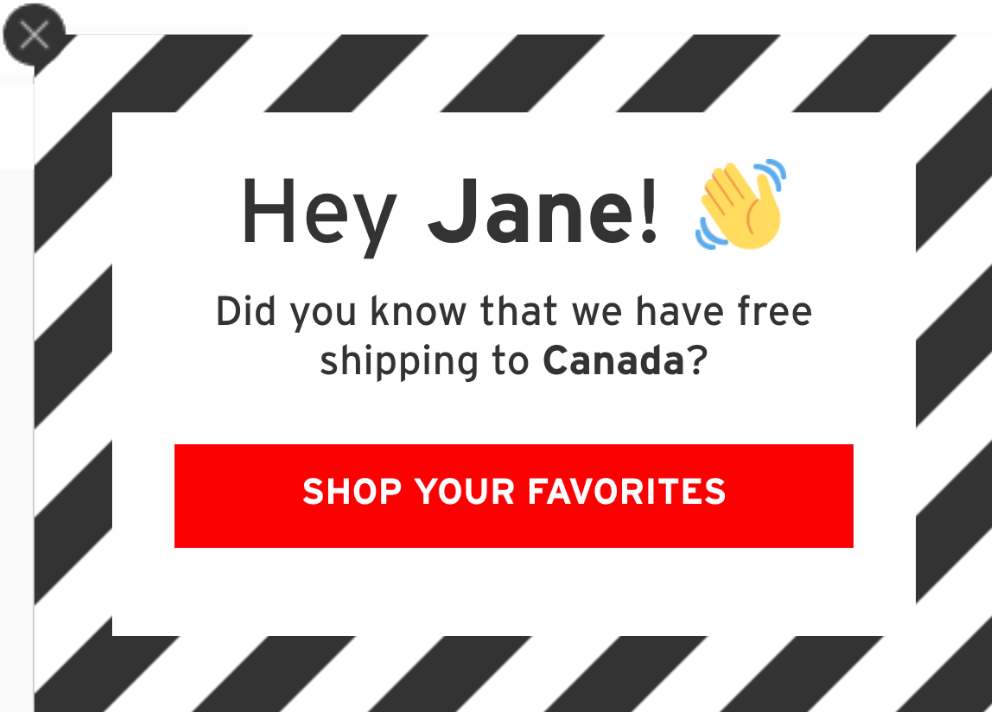 If you're a SaaS marketer, you're likely trying to turn free trials into paying customers and small plans into long-term subscriptions. With SiteData, you can invite users to upgrade to a higher plan—but only after they log in to your website, and by referring to their company name and the plan they're on.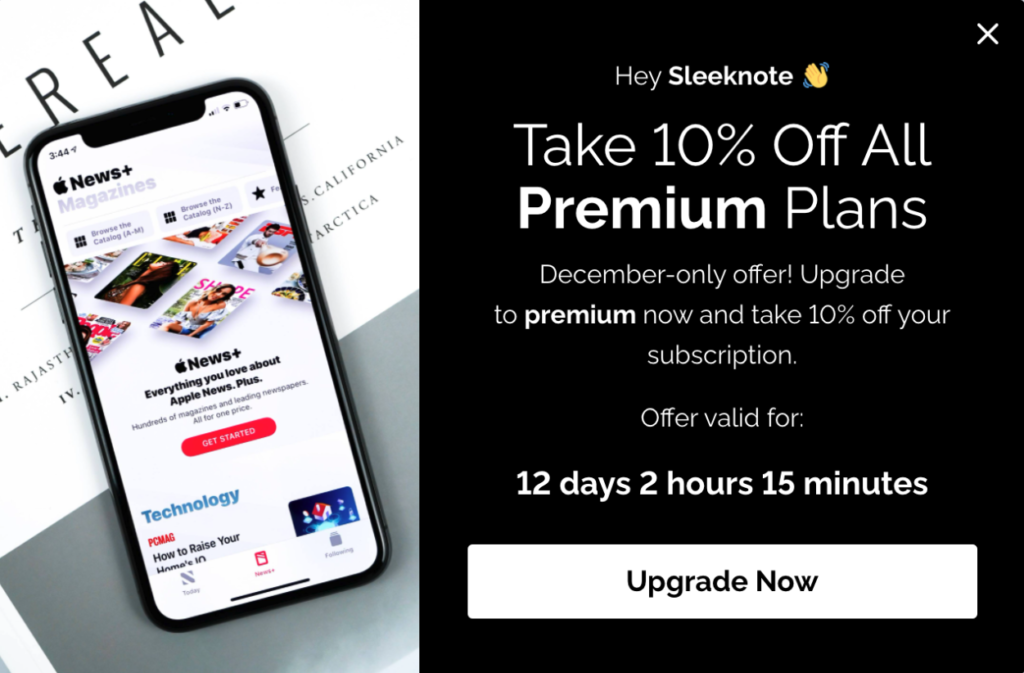 In both cases, your popups become more relevant to the visitor, making it easier for them to take action.
2. Build a Popup Sequence
It often takes more than one touchpoint to turn a visitor into a customer.
In a typical buyer's journey, you first capture a visitor's email address with a popup to convince them to continue shopping. A better way to do this is to build a popup sequence, so you can engage your new subscribers without waiting.
You can send the information your visitors submit in one popup to SiteData, and use it to show, hide, or personalize another popup.
Once you get the data about your new signups, such as name or gender, you can use them to show targeted popups that grab their attention.
In your email popup, you can ask for the visitor's name and email address: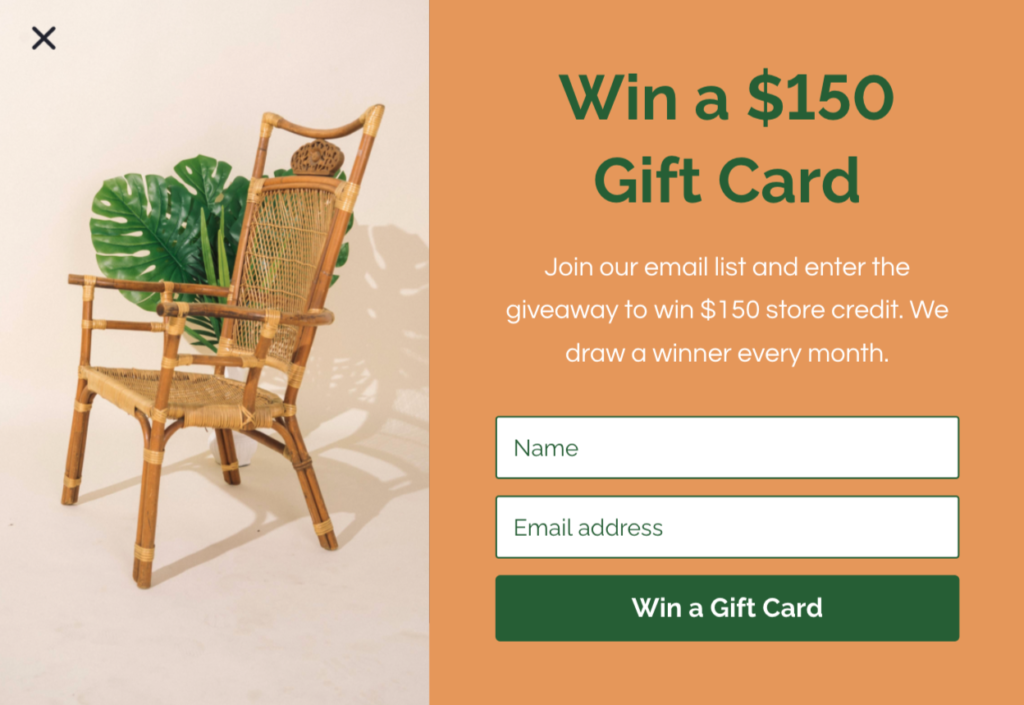 Then, in the second step, you can learn more about your new subscriber's gender, country, interests, and so on: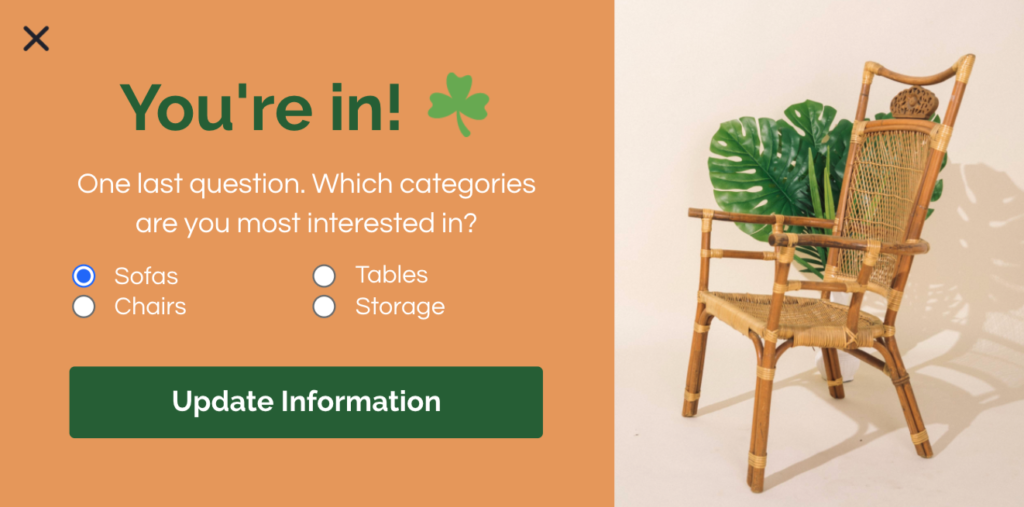 After visitors submit their information, they will see a second popup on the next page, which builds upon the first message and matches their interests: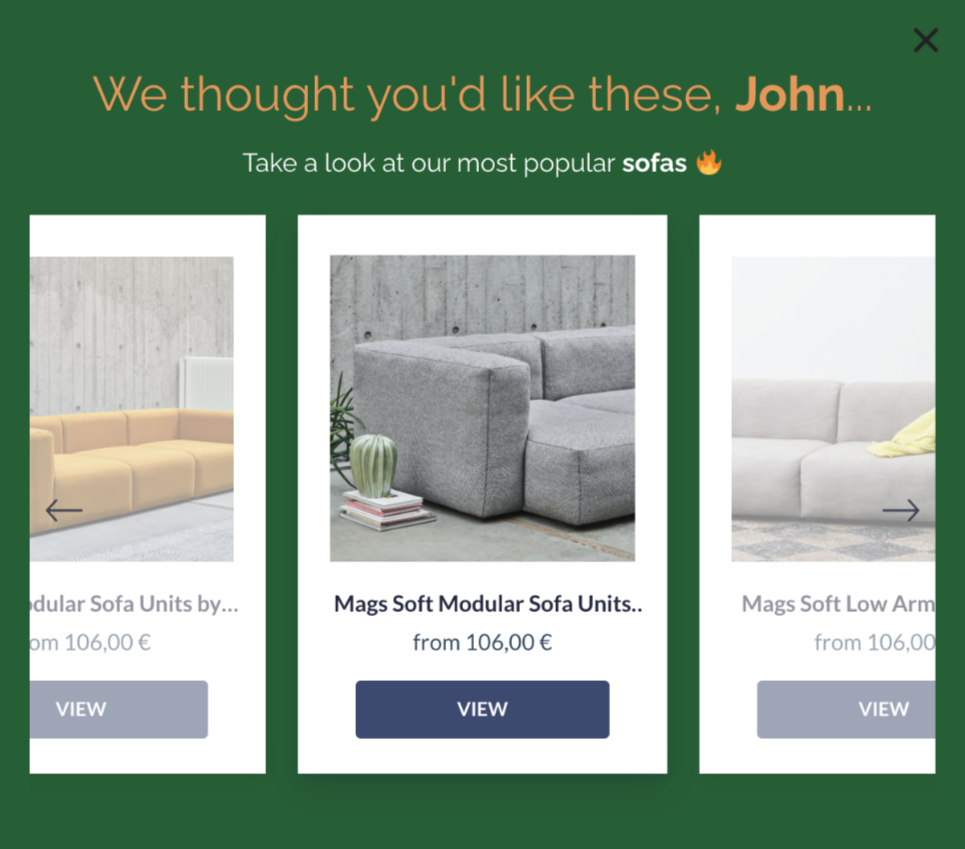 You can add a third or fourth popup based on your goals and take full control of the buyer's journey with your popups that show to the right people at the ideal time.
Pro Tip: If you promise a discount code upon signup in your first popup, this product recommendation popup makes a brilliant followup to use their code right away.
3. Collect Emails Based on Interests
It's one thing to ask visitors to sign up for your newsletter, and another to give them a valid reason to do so.
By determining your visitors' interests and personalizing your popups for each, you can grow your email list with highly segmented leads.
One way of doing this is to base your popups on the visitor's page views. If you're in e-commerce, this could be the products, categories, or brands a visitor is viewing in that session.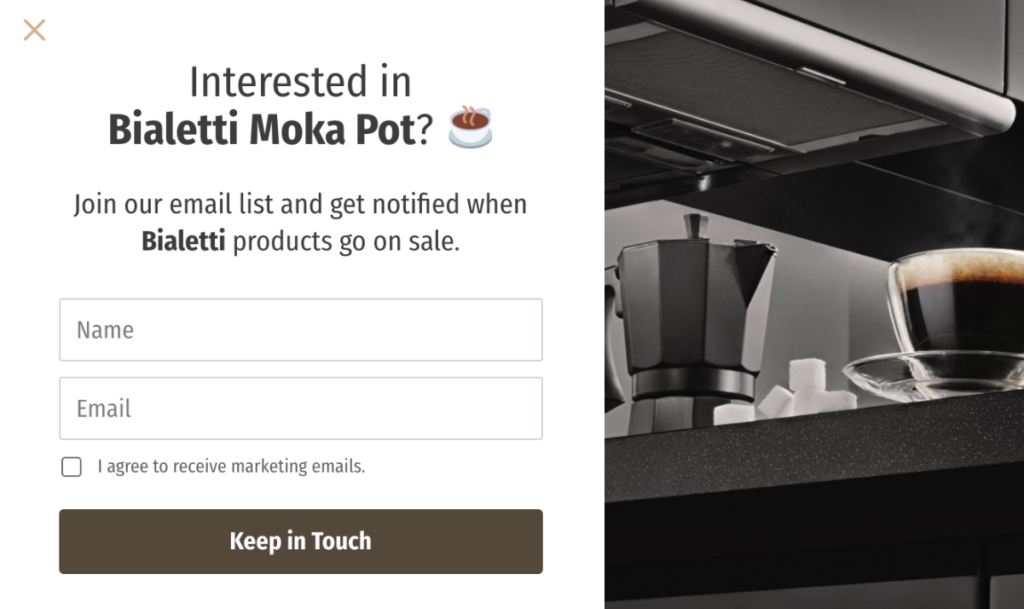 It's a smart way to collect targeted leads who'll likely be interested in your offers the next time your products go on sale. What's more, you can now show popups about Bialetti products to the visitors who signed up through this popup. (Remember Use Case #2.)
If you have multiple categories on your site, such as different types of insurance or travel packages, articles, or videos, you can use a similar approach to attract targeted newsletter subscribers.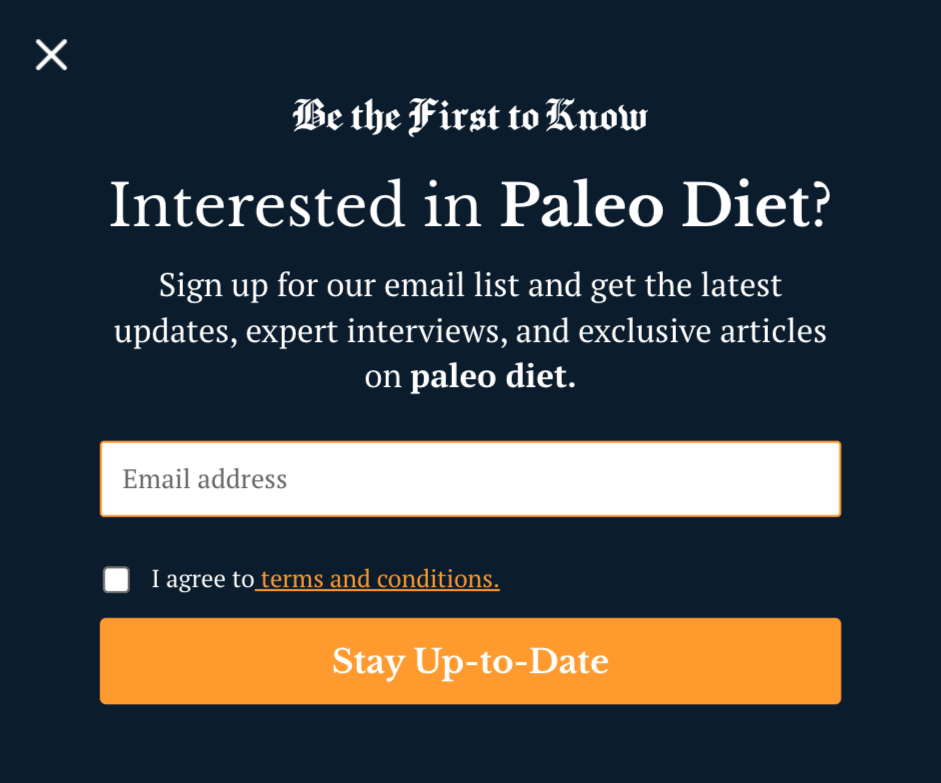 Use SiteData to replace the interesting category with dynamic content and you'll see the difference in your conversions.
4. Reduce Cart Abandonment (the Right Way)
Cart abandonment is an everyday struggle for e-commerce marketers.
You know that you need to send the right emails and leverage exit-intent popups to prevent cart abandonment. You also know that offering discounts can stop visitors from leaving your site.
Although incentives like discounts, free shipping, or gifts work like a charm, they also hurt your profit margins.
A smarter way to incentivize abandoning visitors is to change your reward based on how much they're about to spend. In other words, use big incentives as carrots, but only when deserved.
If you offer free shipping for orders over $100 and the visitor only has $10 in their cart, your popup will likely have little influence on convincing them to stay.
My suggestion is to show two different popups based on the visitor's basket value.
If they have more than $100 in their cart, you can show a popup promising a free gift: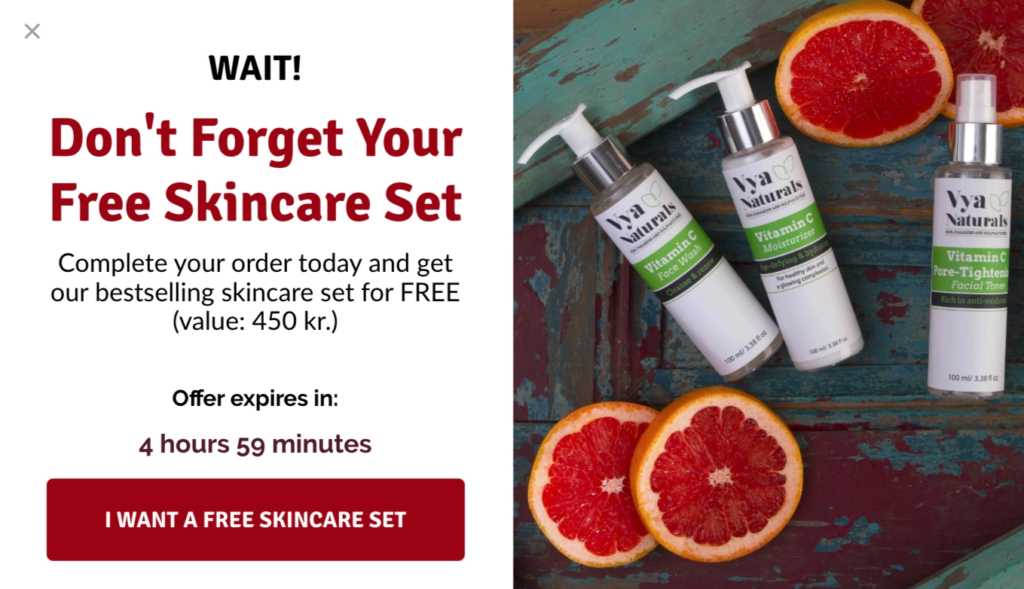 If their cart value is below $100, you can offer a chance to win that product if they complete their purchase: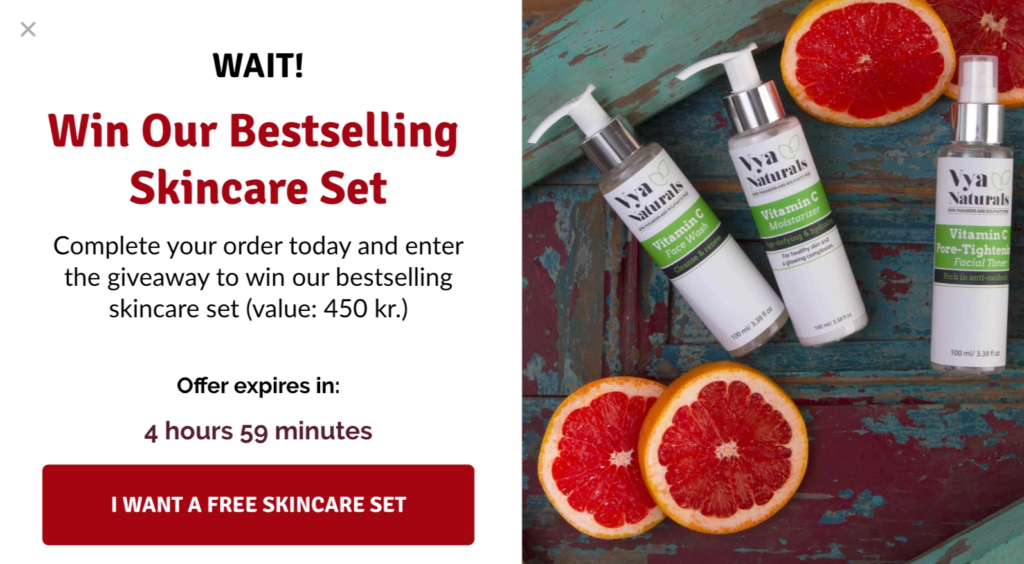 This way, you always show the right kind of incentive to the right people and prevent cart abandonment without breaking the bank.
5. Upsell With an Incentive
Although cart abandonment popups help you reclaim otherwise lost sales, you don't need to wait until visitors decide to leave, to increase your revenue.
Upselling, the strategy of inviting customers to spend more, can be highly effective when coupled with a compelling incentive—and used at the right time and place.
When a visitor has an empty cart, your call to action to "spend $100 more" to qualify for an incentive will likely have little success. Or worse, you may come off as too salesy and risk the visitor leaving your store.
Try asking the same question, only after the visitor adds a product to their cart instead, and your request will be more relevant. What's better, you can send visitors' basket value to SiteData and show how much more they need to spend to qualify for free shipping in your popups: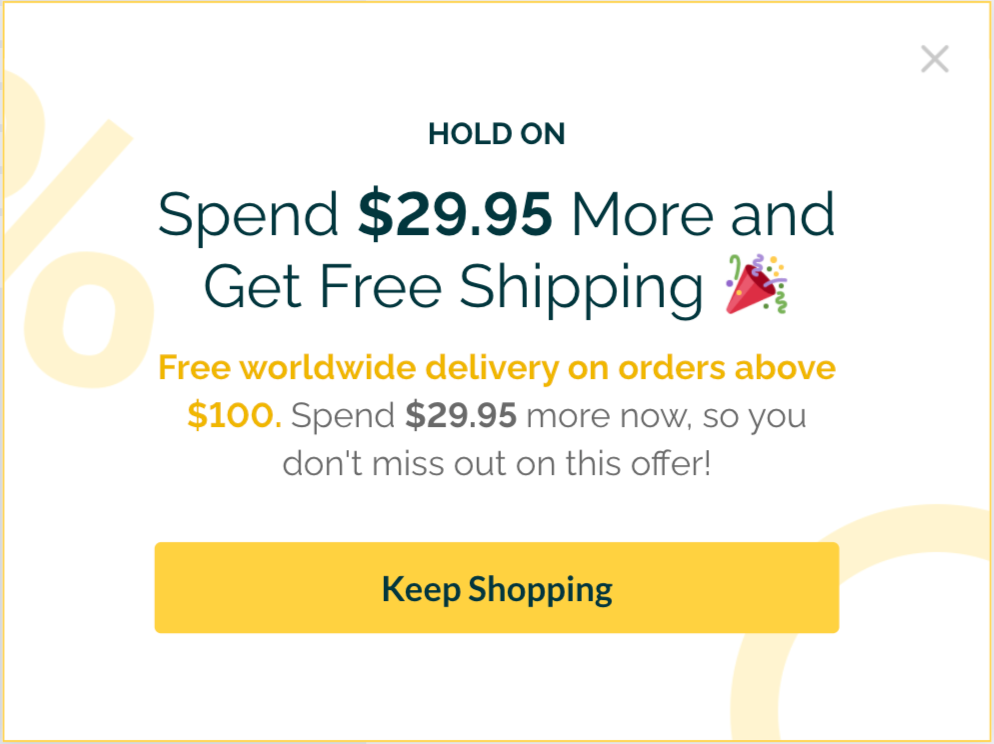 If you want to make the decision easier for your customers, you can add personalized recommendations to your upsell popup, based on the products in their cart: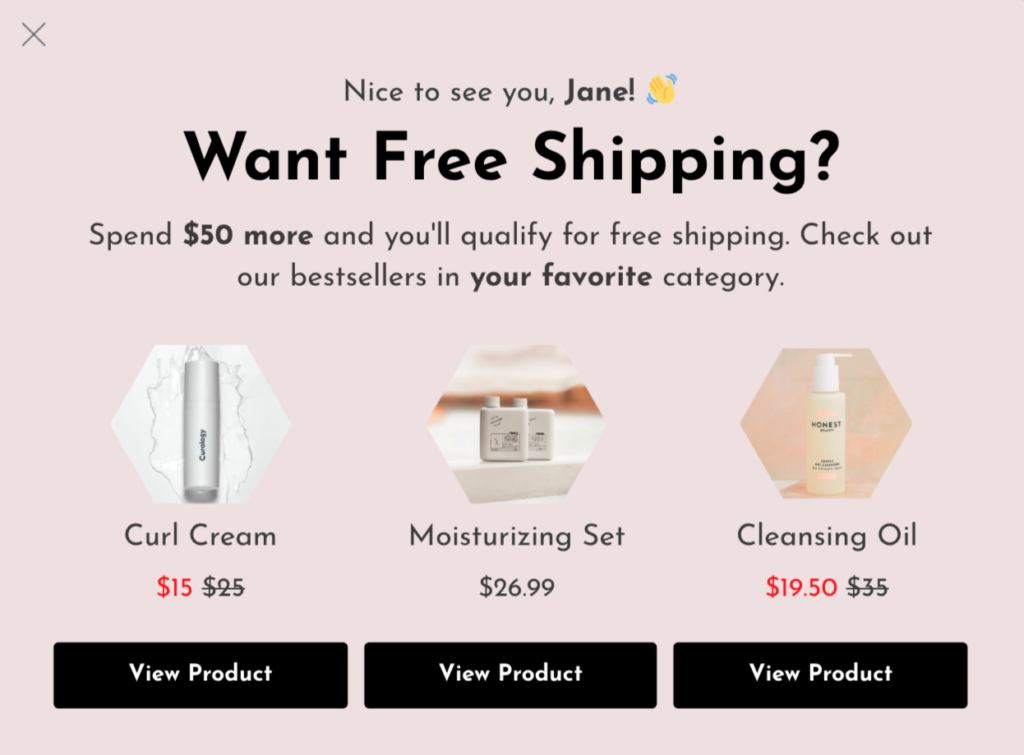 Upselling with an incentive is a clever way of taking customers to a higher price point and it's even more effective with SiteData.
6. Cross-Sell With Relevant Recommendations
Using incentives like the above is only one way to increase customers' average order value.
Another, completely free and useful, method to do so is to recommend relevant products based on the items that are already in the visitor's basket.
If you're tracking the brands or product categories in a visitor's cart, you can send this information to SiteData and use it to show the right popup. In it, you can make recommendations that complement their soon-to-be-placed order.
For example, if a visitor is about to buy a bed, you can recommend bedding: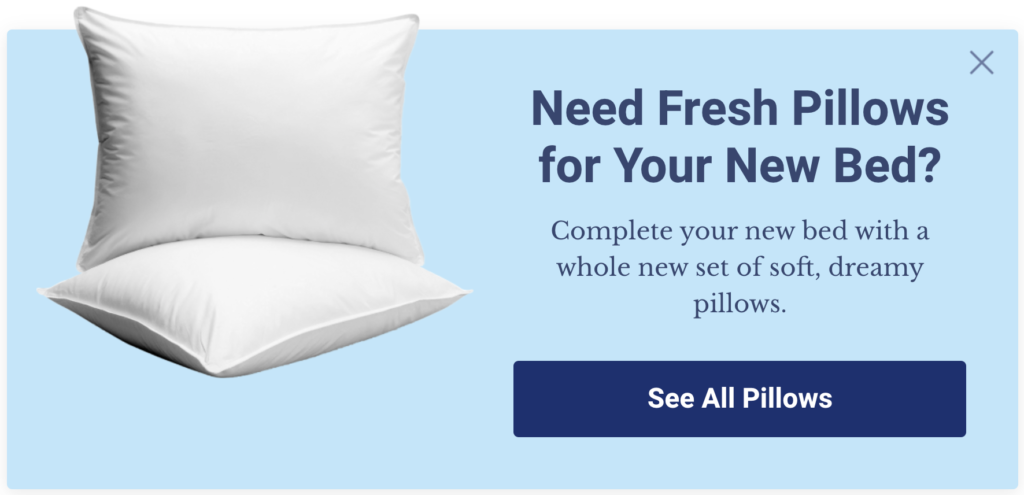 Since pillows are much cheaper than a bed, it's an easier commitment for customers to make. Plus, it's highly relevant.
If you want to go one step further, you could, for example, recommend products that go well with the items that are in a visitor's basket. Depending on the tags you're using on your store, you can base your recommendations on color, size, quantity, price, and so on.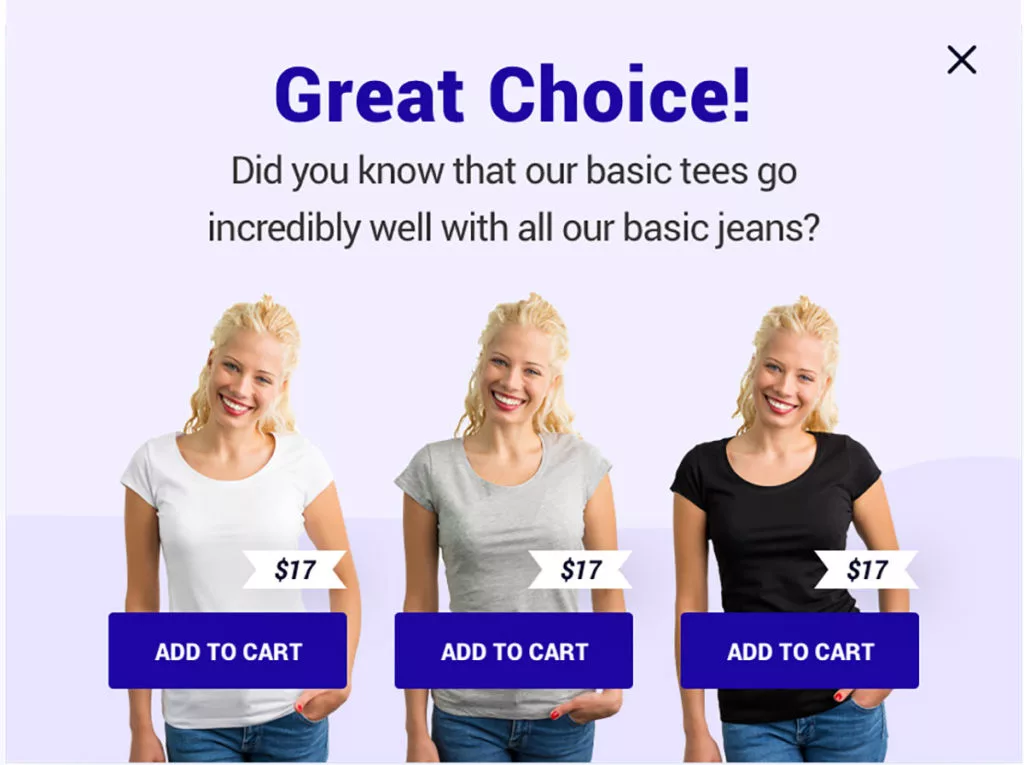 With a cross-sell popup that works with SiteData, you can increase average value and guide visitors to better buying decisions at the same time.
7. Drive More App Installs
As mobile e-commerce keeps growing, many e-tailers now offer mobile apps for a smooth shopping experience. And it's for a good reason: On average, apps have a 14 percent higher conversion rate than mobile browsers.
Popups are the most effective way to channel your mobile visitors into your apps and leverage your mobile traffic the best way possible.
However, you need to make sure that you're guiding the right people to the right app store to avoid interrupting mobile visitors with irrelevant information.
With SiteData, you can easily detect the visitor's operating system and send them to the right app store to drive installs.
If the visitor is using an Apple device, they can see this popup: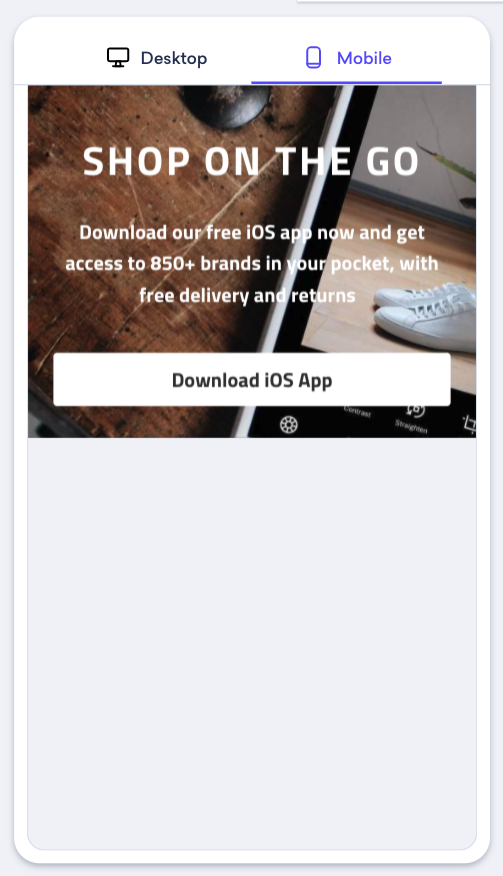 And if they're an Android user, a second popup shows to them: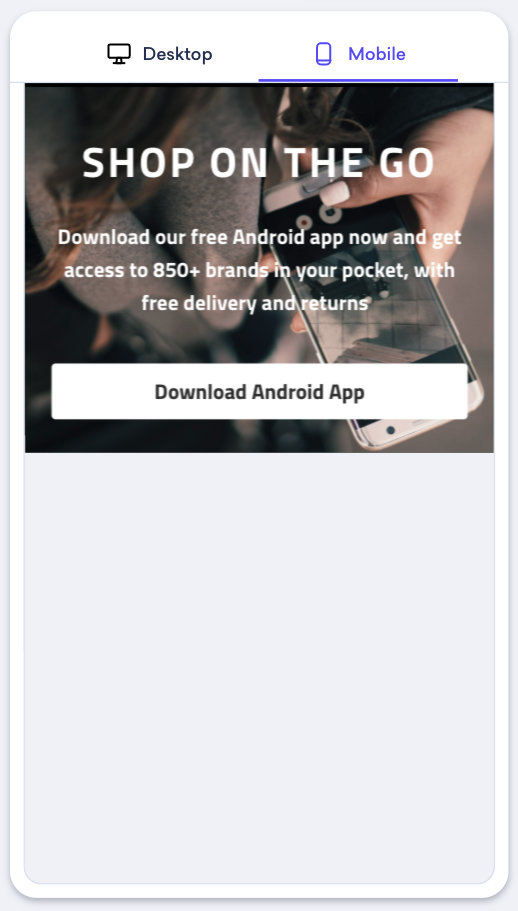 It only takes two popups (and no developers. 🤓)
If you only want to reach your existing customers, you can show your popup when they log in to your customer area and hide it from other visitors. This way, you can focus your efforts on turning prospects into customers, with promotional popups.
Conclusion
Whatever session data you're collecting about your visitors, you can send it to SiteData and use it to determine when to show or hide your popups, as well as to personalize your popup copy with dynamic content.
There are no limits to how you can use SiteData, other than your imagination, but I wanted to introduce our seven top use cases to inspire you.
If you're interested in learning how SiteData works as merge tags or how you can send data to us through Google Tag Manager, feel free to visit our Help Center.