Selling products online has never been easier.
In years past, it took a lot of technical know-how and time to create an online store. Now, thanks to the explosion of easy-to-use website builders, you can create your own ecommerce store in a few hours.
Shopify and WooCommerce are two of the largest ecommerce store builders on the market. Both have a huge number of features, which can make it difficult to know which one is ultimately best for you.
In this detailed guide, I'll walk you through the pros and cons of both Shopify and WooCommerce and help you make an informed decision.
1. Overview of Shopify
Shopify is a comprehensive, all-in-one ecommerce platform. It has all the standard features you would expect, including creating an online store, adding products and pages, managing inventory, and accepting payments.
Additionally, Shopify requires little technical expertise, so users don't need to worry about aspects of online shopping such as security, web hosting, and caching.
2. Overview of WooCommerce
WooCommerce is an open-source WordPress plugin, meaning it can turn any WordPress site into an online store. It's free to install and is highly customizable, integrating with the already expansive WordPress system.
However, WordPress has a somewhat steep learning curve, so users of WooCommerce need a bit more technical expertise.
3. Things to Consider Before Making Your Choice
While both platforms have their strengths and weaknesses, your choice depends on which platform better meets your needs. Here are seven factors you need to consider before making your decision.
i. Cost
WooCommerce and Shopify run you different price tags. Consider your budget and how much you can afford to spend on an ecommerce platform. WooCommerce is open-source, meaning it's free for anyone to use, although there are costs associated with building a WordPress website. Shopify, on the other hand, has paid tiers.
ii. Ease Of Use
Considering the different technical requirements between the two platforms, it's critical to consider your own technical capabilities. There's more of a learning curve with WooCommerce, where Shopify is relatively simple. Your ROI depends on the amount of time you need to put in to get the platform running.
iii. Support
Problems are inevitable, and you need to know where to go when they come up. Shopify and WooCommerce provide different levels of customer support, so consider how important that is to you.
iv. Integrations
Third-party plugins and services, such as Stripe, MailChimp, Google Ads, and Facebook may be vital for your business. How critical is it that you can integrate these plugins?
v. Scalability
As your business grows and traffic increases, your ecommerce platform needs to expand with it. Considering which platform can better expand as you do is a considerable determining factor.
vi. Sales and Marketing Features
You might have the best product and ecommerce store out there, but if nobody hears about it, you won't be successful. Which ecommerce platform provides you with the best sales and marketing tools needed for you to generate business?
vii. Payment Options
Whether it's Stripe, Square, PayPal, or another provider, ecommerce requires accepting digital payments. Which service you choose depends on structure, costs and fees, scalability, and more. How do these integrate with either Shopify or WooCommerce?
4. Side-by-Side Comparison of Shopify and WooCommerce
With the above considerations in mind, let's compare specific aspects of Shopify and WooCommerce against each other.
i. Cost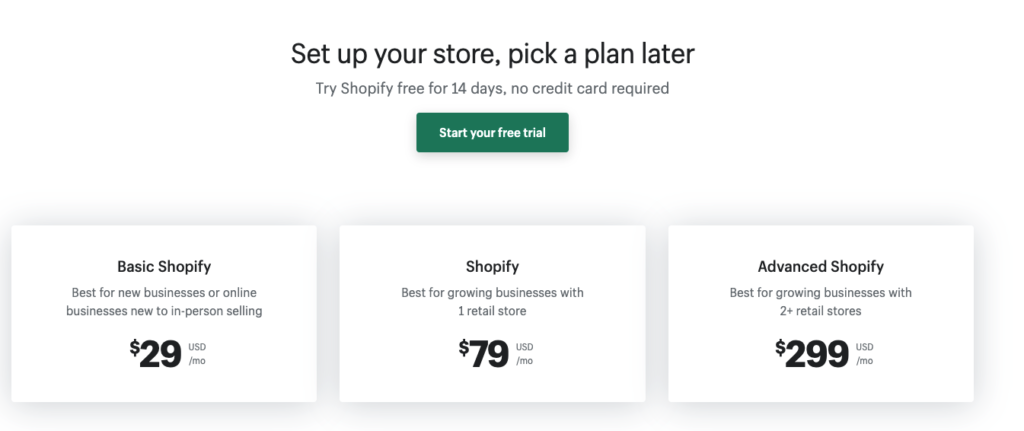 Shopify is an all-in-one platform, meaning they handle all aspects of an online site, such as security, hosting, and more. Their prices are fixed on a tiered basis:
Basic Shopify: $29 per month

Doesn't include international pricing or per-variant pricing
Higher fees (2 percent) on all payment providers other than Shopify payments
Higher in-person credit card rates (2.7 percent) than Shopify or Advanced Shopify
No professional reports, third-party calculated shipping rates, or advanced report builder
Up to four locations
Only two staff accounts
Shopify: $79 per month

Includes international pricing but not per-variant pricing
Moderate fees (1 percent) on all payment providers other than Shopify payments
Higher in-person credit card rates (2.5 percent) than Advanced Shopify
No advanced report builder or third-party calculated shipping rates
Up to five staff accounts
Up to five locations
Advanced Shopify: $299 per month

Lowest fees (0.5 percent) on all payment providers other than Shopify Payments
Up to 76 percent shipping discount (compared to 74 percent on the other plans)
Up to eight locations
Up to 15 staff accounts
All-inclusive features
If you go with Shopify, you'll want to pick a plan that fits your budget and meets your ecommerce needs.
WooCommerce is open-source and thus free to install as a WordPress plugin. However, operating a website comes with costs, including things like:
Domain name;
Hosting;
Website design;
Premium plugins;
And so on.
While Shopify wraps all these things into a single plan, there are other companies that power WooCommerce on a discount. One example is Bluehost.
Through Bluehost, you can purchase 36 months of WooCommerce hosting for either $12.95 per month for Standard or $24.95 per month for Premium.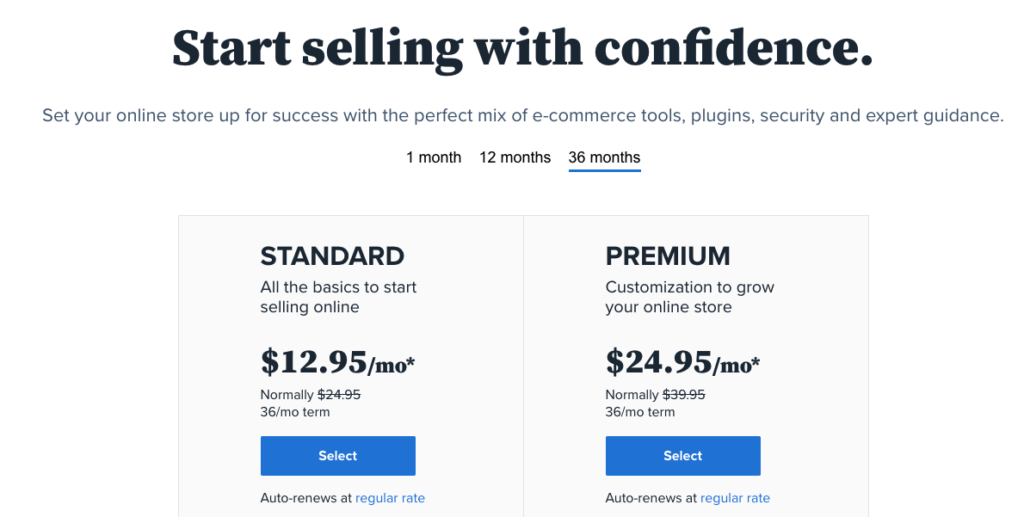 Bluehost promises a 30-day money-back guarantee if you aren't completely satisfied, whereas Shopify offers a 14-day free trial.
Takeaway: All in all, WooCommerce is a cheaper option, as it's more cost-effective when hosted through a company like Bluehost. Shopify can become fairly expensive from an ROI standpoint, although Shopify's prices are easier to calculate if you're on a tight budget.
ii. Ease Of Use
Shopify is well-known for being easier to use than WooCommerce. Since Shopify is a hosted ecommerce site, it handles all the technical aspects of operating an online store for you. This includes the aspects above, such as hosting, SSL certificates, purchasing a website domain, and more.
Further, Shopify doesn't require that you update, manage, or install software, and there's no concerning yourself with security or backups.
Shopify provides you with a drag-and-drop interface, and although this makes setting up your site significantly easier, it does come with limits. You can only use development tools given to you by Shopify and add-ons in their marketplace, so there's a cap on your creativity. However, for many, these options are sufficient.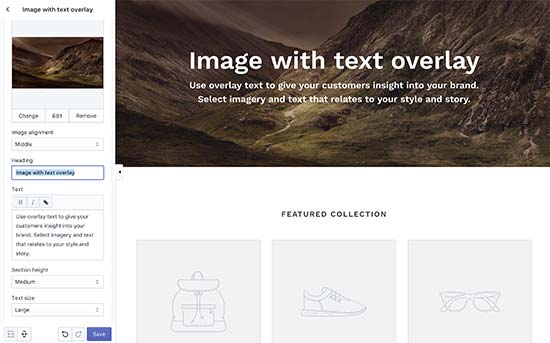 WooCommerce is a WordPress plugin, and hosting a WordPress site requires keeping backups, securing your site, managing updates, and handling all those technical aspects. However, there are plugins you can install to handle all this for you.
Because WooCommerce is part of the massive WordPress ecosystem, it allows you to customize your site almost limitlessly. WordPress offers over 55,000 plugins for functionality.
There isn't a drag-and-drop interface with WordPress, contributing to a steeper learning curve. What's more, you'll have to be more involved with the technical parts of your site to ensure it's running smoothly and securely.
Takeaway: Overall, Shopify is widely accepted as the more intuitive platform, but with that comes a cap on your design creativity. However, if you're skilled with website building and hosting and you want more freedom, WooCommerce may be the platform for you.
iii. Support
Shopify provides a robust Help Center that allows you to search for answers to your problem. This includes help with getting started, selling on the platform, managing your site, and marketing your business.
Shopify also provides users with how-to guides, video tutorials, extensive documentation, knowledge base, and more.

If there aren't any articles that answer your questions, Shopify offers 24/7 support. This includes live chat, email, phone call, or messaging via Twitter.
Furthermore, Shopify gives users the option of hiring "Shopify Experts" for when they need assistance. Note that Shopify's support doesn't extend to third-party apps or themes.
WooCommerce also offers extensive guides, tutorials, and other documentation, as well as support forums.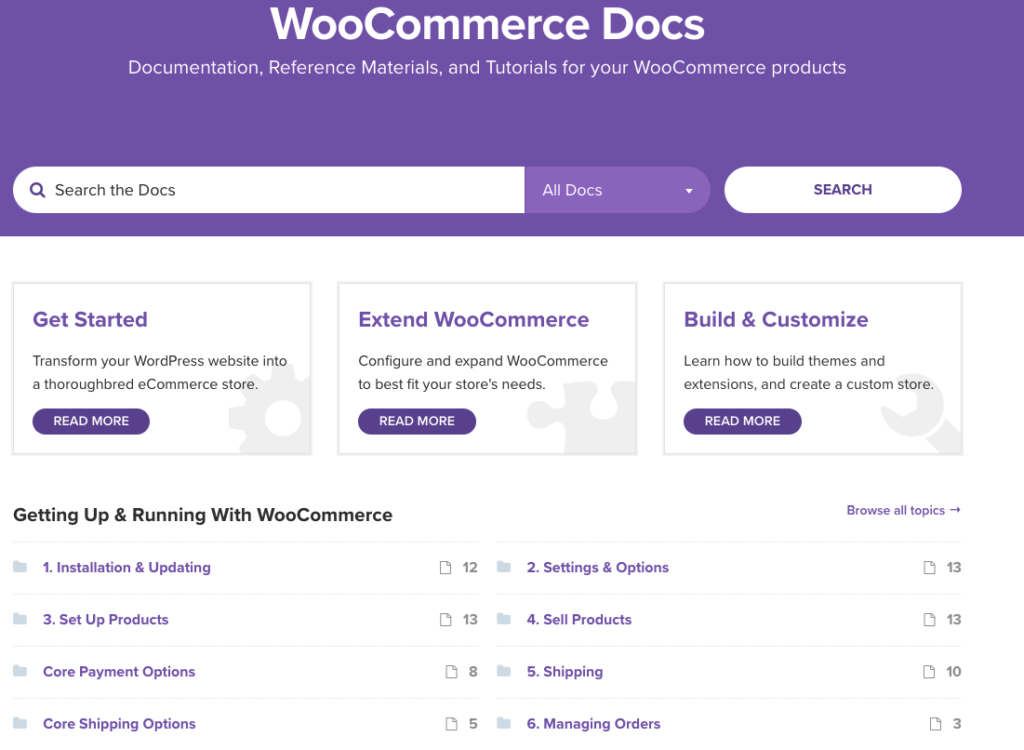 If needed, you can contact WooCommerce by submitting a general support ticket. For help with WordPress themes, extensions, and hosting, you'll need to contact the appropriate parties, not WooCommerce.
Given the popularity of WooCommerce, you can also hire expert freelancers to help with the WooCommerce problems you may be facing.
Takeaway: Both WooCommerce and Shopify come with different support benefits. Shopify provides users with 24/7 support, but WooCommerce has more extensive documentation to help you troubleshoot issues on your own.
iv. Integrations
Shopify comes with an App Store with third-party apps you can install. It features over 1,200 free and paid apps, all of which are reliable, though you can read reviews to make your exact determinations.
As part of WordPress, WooCommerce has over 55,000 plugins to choose from, meaning you can do almost anything you want on your website.
Takeaway: This ties back into the ease-of-use aspect of these two platforms. While Shopify is easier to use at the outset, it comes with limitations, including the far lower number of third-party apps. WooCommerce is more complex, but that complexity allows you to customize to your heart's content with over 55,000 plugins.
v. Scalability
Since Shopify handles the technical aspects of running an ecommerce store, you don't need to worry about scalability. There are three tiers available for Shopify users, so if your business outgrows one, you can upgrade to a higher tier.
This means that you don't need to hire a technical team to manage the backend of your website, but it also means you'll need to begin budgeting for a more expensive monthly plan through Shopify.
WooCommerce is equally as scalable, but it requires more hands-on attention. You'll want to upgrade your hosting plan so that it can handle more traffic and sales, among other aspects. You need to make those upgrades, as WooCommerce won't for you.
Takeaway: Ultimately, which option you prefer depends on how hands-on you want to be. Should you want control over your site and what's going on behind the scenes, WooCommerce is for you. However, if you want a hassle-free ecommerce platform that scales without any input from you, Shopify has you covered.
vi. Sales and Marketing Features
Shopify and WooCommerce differ regarding their sales and marketing features. These are critically important for encouraging users to visit your site and prompting them to purchase.
Here are some sales features you should be aware of:
Abandoned cart recovery. This feature allows customers to process an abandoned cart without entering their details again. The fewer barriers to completion, the better. Additionally, this includes email reminders encouraging them to purchase. Shopify includes abandoned cart recovery as standard, whereas WooCommerce doesn't.
Multichannel selling. WooCommerce and Shopify both allow you to integrate with eBay, Facebook, Amazon, and Instagram and sell your items on those platforms. This is included in Shopify but costs $79 on WooCommerce.
Shipping. Both platforms enable free shipping and international selling, but Shopify also includes partnerships with DHL Express, USPS, UPS, and Canada Post so that you don't need to source a courier. While these are available on WooCommerce, they require an extension that may cost extra.
In terms of marketing tools, Shopify is limited based on its plans. WooCommerce, however, provides nearly endless extensions to meet all your marketing needs, whether it's affiliate marketing, CRM, Facebook ad extensions, or something else entirely.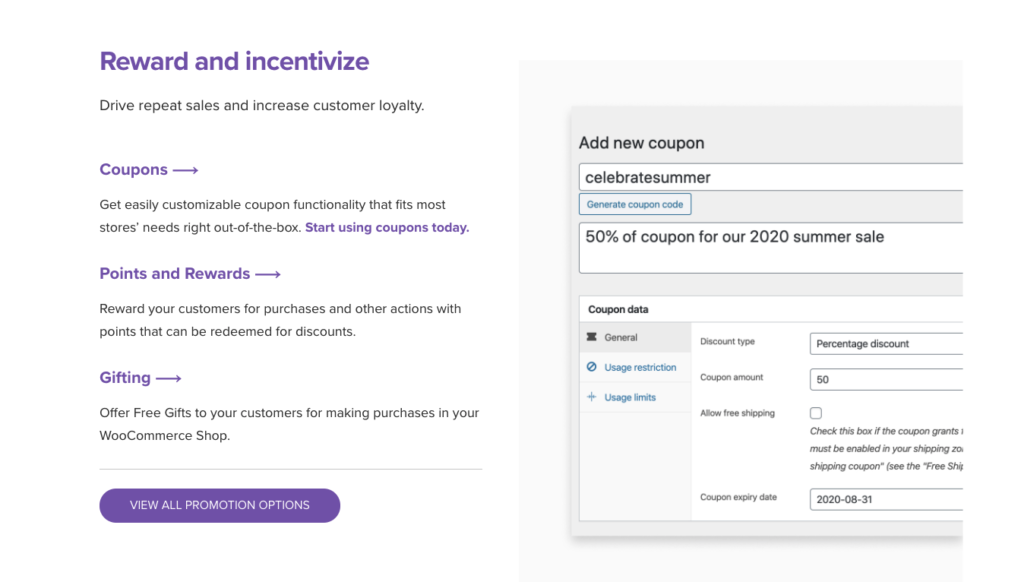 Regarding native sales and marketing features, here's the breakdown:
Shopify:
Discount codes
Unlimited products
Over 100 payment options
Website and blog
Abandoned cart recovery (Shopify and Advanced Shopify plans)
WooCommerce:
One-click refund for customers
Unrestricted customization
Built-in blogging
Embed products and checkout onto more store pages
Takeaway: Once again, the decision rests upon how much agency you want over your site. If Shopify's native features aren't sufficient, then WooCommerce is your best bet.
vii. Payment Options
Both platforms offer your choice of over 100 payment providers, including:
Credit and debit cards
Square
PayPal
Stripe
Apple Pay
Shopify charges, at minimum, a 2 percent fee per transaction if you use a third-party gateway. This fee decreases as you go up the tiers, bottoming out at 0.5 percent for the Advanced Shopify plan. If you use Shopify Payments, you'll be spared the fee.
WooCommerce does not charge transaction fees if you use a third-party payment provider. However, bank charges do apply, as well as charges from the provider itself.
Takeaway: If you want your choice of payment providers, WooCommerce is the one for you. If you're content with Shopify Payments, Shopify should do fine.
5. Which Is the Best Choice for You?
So how do you ultimately decide whether to go with Shopify or WooCommerce?
Go With Shopify If…
You don't want to deal with the technical aspects of running a website (SSL, cache, domain names, etc.).
You're fine with limited customization and are happy with the features on a given tier.
You like 24/7 support on-hand.
You prefer fixed pricing.
You want easily customized templates with drag-and-drop.
You need to quickly set up an ecommerce store.
Go with WooCommerce If…
You're familiar with WordPress and have the technical knowledge for building and maintaining a website.
You prefer near-unlimited customization with WordPress extensions.
You want to build a large online retailer selling internationally.
You prefer having your choice of the payment provider.
You're okay with variable pricing in exchange for the customization aspect.
Start Selling
Both Shopify and WooCommerce are ecommerce leaders for a reason. They both offer robust ecommerce platforms that you can use to build a powerful online store.
Shopify is easier to use and can help you get an ecommerce store running right away, whereas WooCommerce requires far more technical knowledge but provides near-endless customization opportunities.
Which one you choose ultimately depends on your needs and preferences, so consider those carefully before starting.