The ecommerce sector is predicted to grow to around $600 million in 2024 in the US alone.
This means that it's only about to get more competitive out there.
Surely, you use ecommerce marketing strategies, like discounts and limited-time offers, throughout the year to turn visitors into customers.
But it can be difficult to persuade shoppers to spend their money on your website, instead of another, especially during the holiday shopping season.
Remember: your competitors also go above and beyond to capture the same shoppers' attention during the ecommerce holidays.
If you want to improve your conversion rate during peak seasons, you need to keep an eye on these seasonal ecommerce trends, as these seven brands do.
How to Leverage Seasonal Ecommerce Trends
1. Create Holiday-Specific Shopping Experiences
Shopping online can become a tedious task during a seasonal event, such as Black Friday or Cyber Monday, with every brand bombarding you with information.
So, how can your ecommerce store stand out?
Customize the holiday shopping experience by making it easier for customers to find the products relevant to their anticipated seasonal needs or wants, as Walmart does.
This approach will reduce a customer's shopping fatigue and ensure that they get to the products they need for the season more quickly.
To prevent customers from abandoning their store online during the winter season, Walmart divides its homepage into categories specific to the relevant audience segments.

Walmart's homepage begins with advertising Black Friday deals and promises exclusive early access to those who want to grab these deals before everyone else.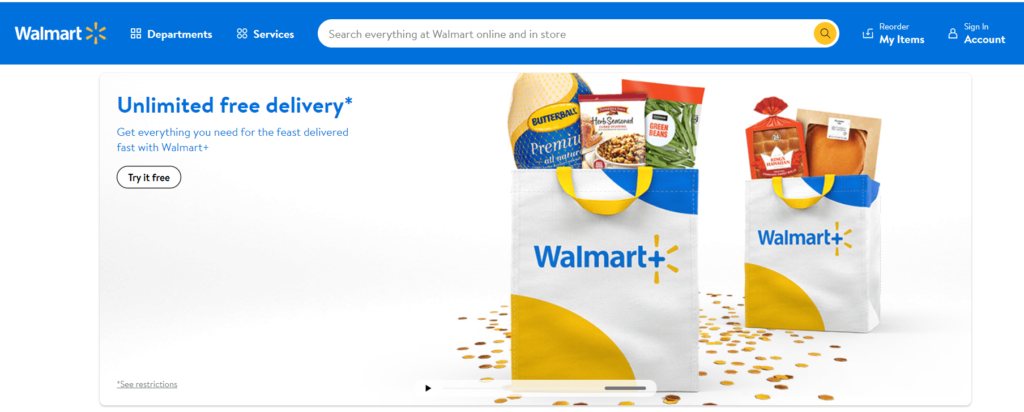 Next, it uses dynamic content to show that customers can take advantage of unlimited free delivery and pickup for their purchases.

Its categories also make it easier to shop for Christmas-related gifts such as trees and food, as well as gifts depending on the individual.

Furthermore, Walmart also has sections on how some of your purchases can help those in need during the holidays. For example, its Angel Tree program encourages customers to shop online for children and families in need through Walmart's Registry For Good.
This way, Walmart taps into a customer's need to gift something meaningful to those who need it. This is in line with research from IBM, which demonstrated that purpose-driven customers select brands depending on how well the company aligns with their values.
2. Use Urgency To Drive Holiday Sales
While the holiday season encourages customers to get the right purchase for their special someone, this makes it more of an expensive experience, as a better gift typically comes with a higher cost.
You can reduce this stress by offering a discount for a limited time only. That's exactly what Boohoo does with its Black Friday sale.
Urgent, time-sensitive situations like this can encourage customers to make impulse purchases especially when items are on sale.

Even if you miss Boohoo's Black Friday deals, there are other deals that you can take advantage of, such as 40% off their beauty advent calendar or 20% off everything through their app.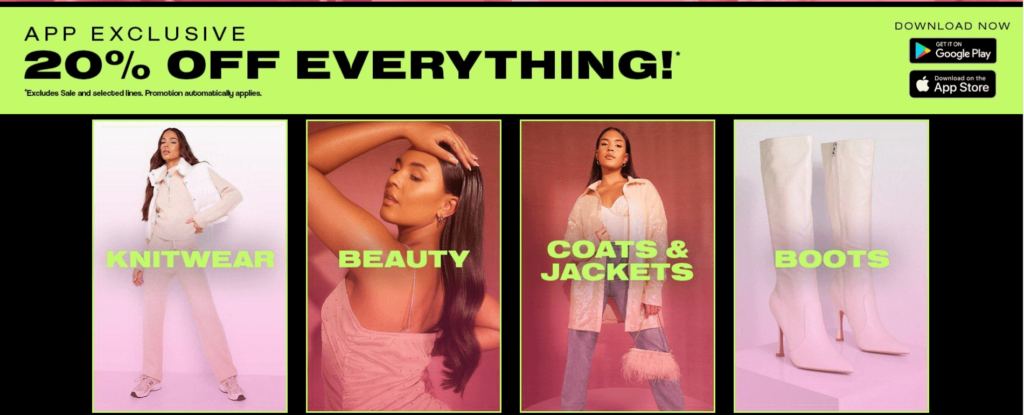 Lastly, the cost for unlimited next-day delivery is also reduced, meaning that customers have less to worry about during the holiday season.

3. Offer a Longer Return Period
If your online store encourages visitors to trust your brand, they will be willing to spend more money on your products.
Remember that shoppers are likely looking to buy gifts for their loved ones during the holiday season and want to know that a purchase can be conveniently returned or exchanged without penalty.
Moon Magic is a company that focuses on this on its website during the holiday season.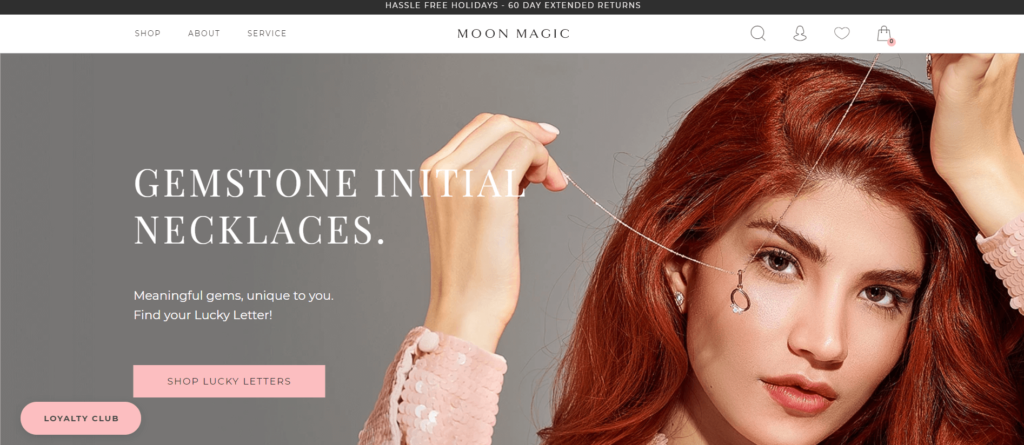 As long as a jewelry item is returned in its original condition, Moon Magic is happy to refund your money for a product within an extended 60 days to give you less hassle during the holidays.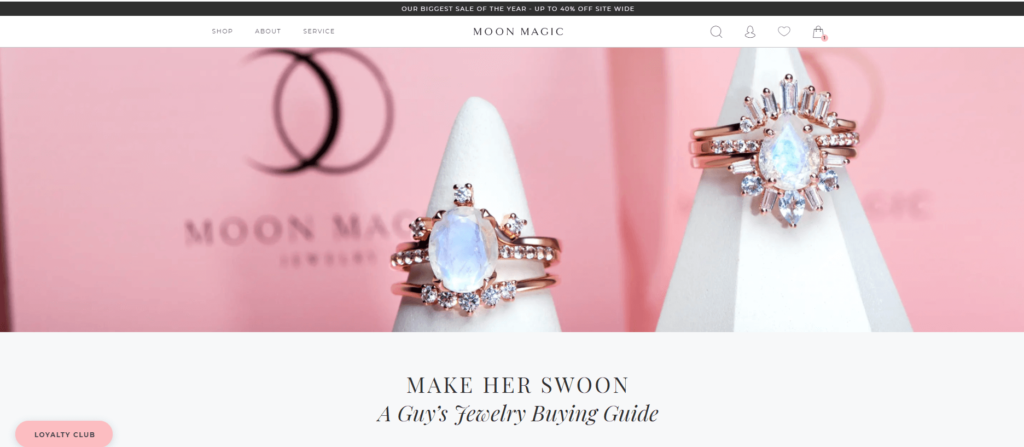 When it comes to buying meaningful jewelry, Moon Magic knows that it is not easy to find the right gift for an individual at any season. With this in mind, the company offers a simple jewelry gift guide in its navigation menu.

With sub-headings like "Play It Safe" and "Festive & Fail-Safe," Moon Magic provides a variety of gift ideas for those gifting women jewelry.
In other words, while the extended returns period does exist, Moon Magic also gives you a myriad of support to make sure that you do not have to go through this process during a seasonal sale day.
4. Drive FOMO at Checkout
The average cart abandonment rate across all industries is 69.57 percent, which means that the experiences during checkout and shopping are two very different things that all brands need to consider.
As every step in a customer's buying process could cause friction, you need to make this path to purchase as simple as possible. An easier checkout during a holiday season will be welcomed by customers who are desperately trying to get their gifts delivered on time.
Frank Body, Australia's cheeky, cruelty-free beauty brand, encourages customers to buy more products at the checkout to take advantage of free delivery.
While doing that, the company leverages fear of missing out (FOMO) so that shoppers can't resist this amazing deal.

For example, when your cart items have a value of £12.95, Frank Body tells you that you need to spend £7.05 more to qualify for free delivery. It's a good deal that you wouldn't want to miss out on.
At the bottom of the checkout form, Frank Body also shows you that it can accept various payment options like PayPal and Klarna, convenient for a customer.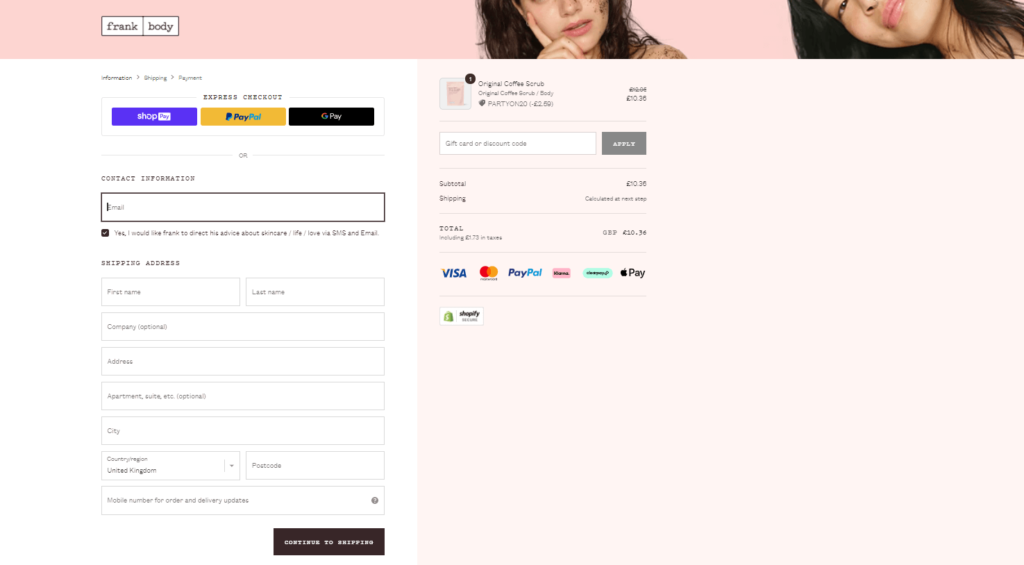 Finally, Frank Body presents you with an attractive express checkout option as it saves the customer the hassle of filling out a long-form.
5. Help Shoppers With Useful Content
Research shows that 85 percent of customers conduct online research before buying a product online. To help customers feel confident about buying a product, you need to provide them with detailed, accurate information that consists of images, product descriptions, and specifications.
Food 52 is aware of this. Rather than simply telling customers to buy discounted kitchenware before a seasonal event like Thanksgiving or Christmas, the company chooses to do things differently.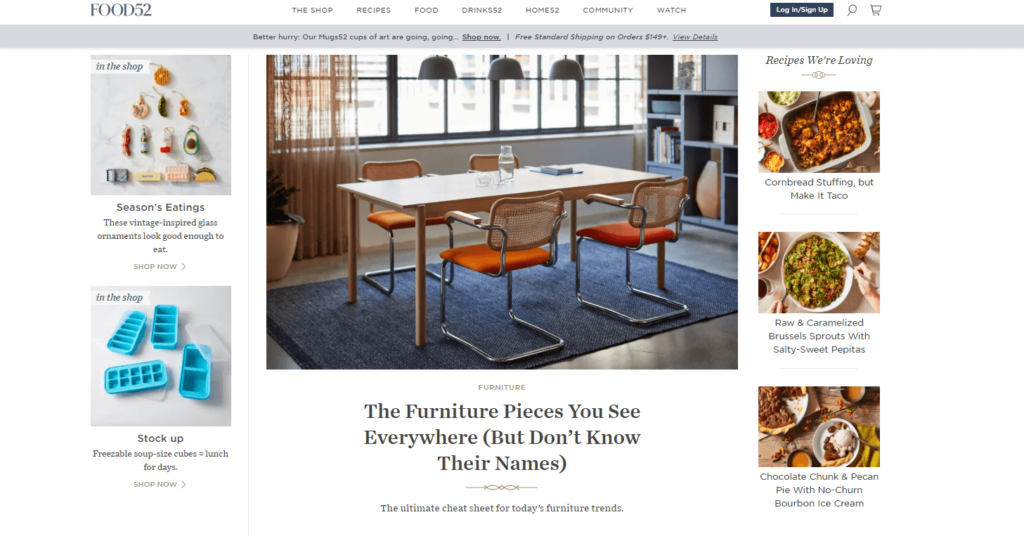 Food 52 wants to become shoppers' ultimate online food source with their variety of recipe guides and articles, which features products that shoppers can purchase to make these dishes.
For example, in its article titled "20 Easy Cookie Recipes For Simple (Yet Show-Stopping) Bakes," customers are given recommendations for easy cookie recipes that they can bake in a flash alongside other Christmas dishes.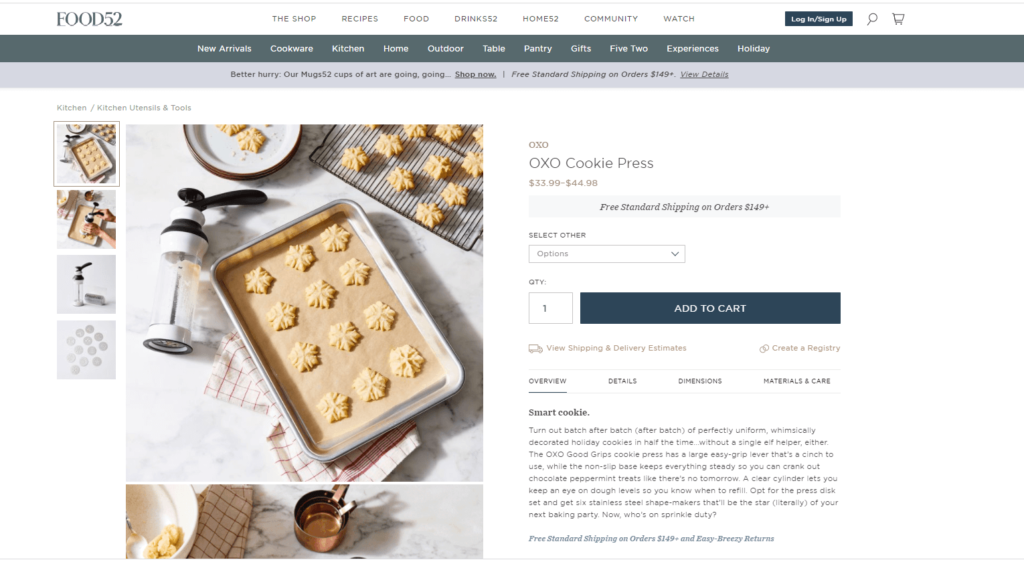 At the end of the article, Food 52 links in some kitchenware you might need when baking these cookies. One of such items is the above cookie press with comes with detailed imagery, an overview of the product, a meet the maker section, and a hyperlink that allows you to calculate shipping and delivery estimates.

Lastly, this product page also contains a "Tips & Stories" section, which includes other related recipes that a customer might find useful once they purchase a cookie press.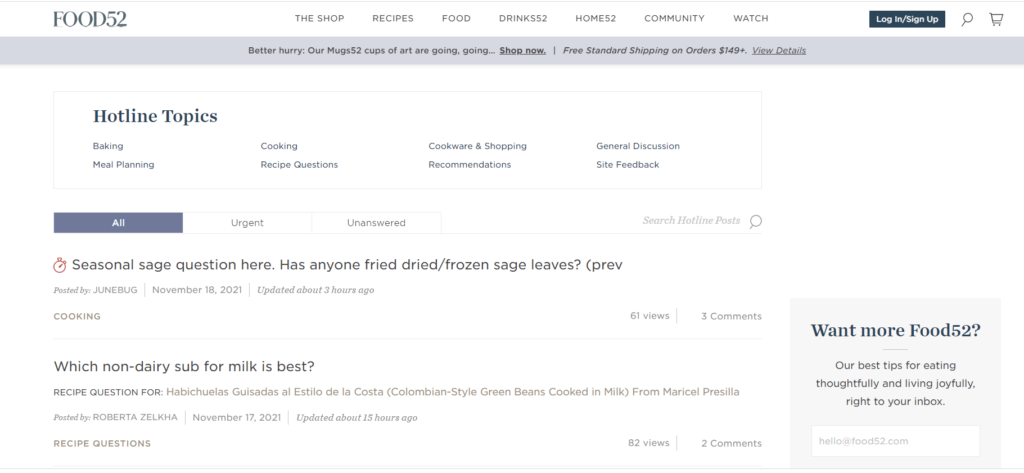 Food 52 also offers a "Hotline" community forum that gives customers help with any kitchen-related questions without judgment.
6. Offer Holiday Bundles
When people shop for any product, they will always want more value with their purchase.
Whether this value is in the form of discounts, bundles, or samples, you can provide customers with the extra value that could result in them becoming loyal shoppers.
Curlsmith is a company that focuses on this. If you are unsure where to start with your curly hair journey, Curlsmith understands that it can be difficult to persuade yourself to spend money on a new, full-size product.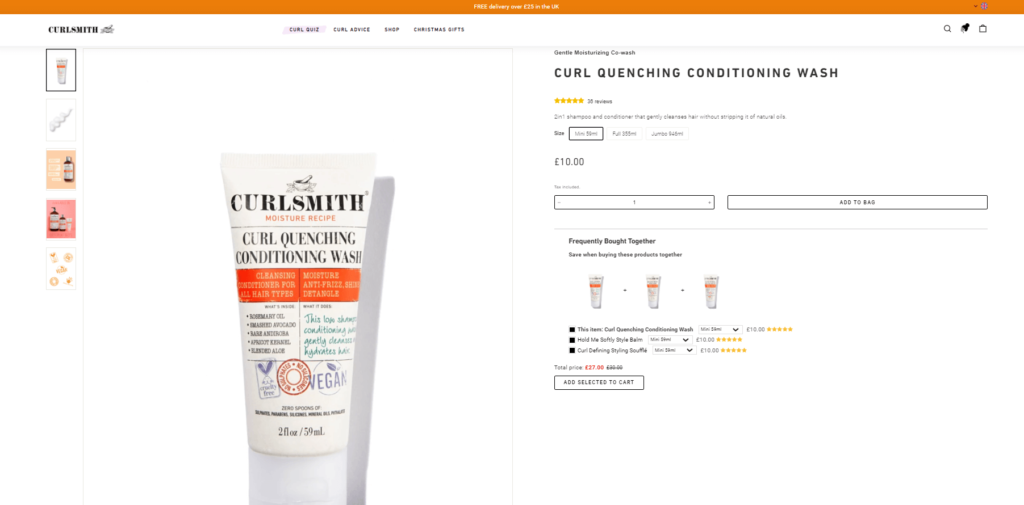 So, the brand makes it easier to find a product that is right for you during this holiday season, with its "trial" and "travel" sizes of its bestselling products.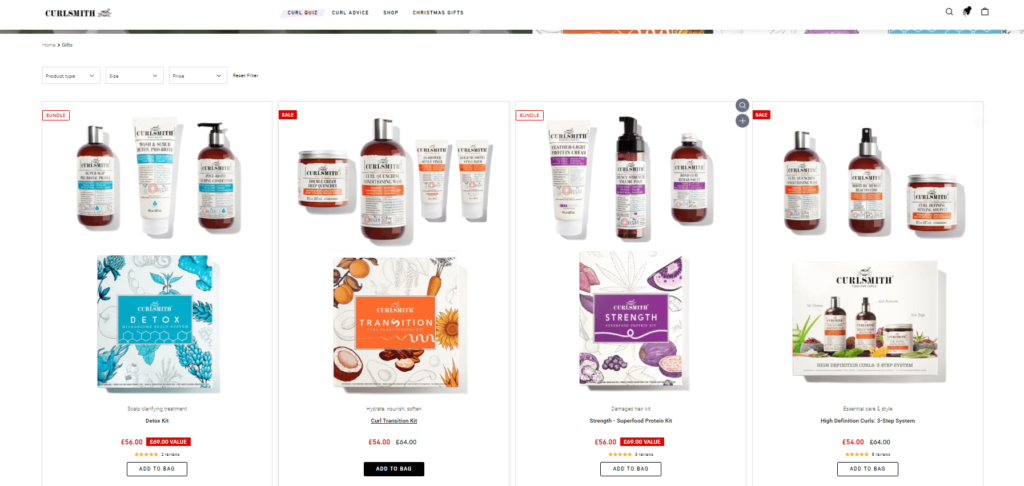 Those looking for a more significant gift could also opt for any of their four bundle deals. Each kit is meant for a specific set of hair products. For instance, if you need to cleanse your scalp deeply, Curlsmith can offer a bundle deal on these types of products within its detox kit.
You can also see how much you can save with a bundle deal as Curlsmith displays the discounted price and the actual price in red.
7. Give Customers Special Holiday Rewards
No matter what the season is, incentivizing customers to return to your store should always be a priority. Rewards systems or customer loyalty programs can help you achieve just that.
A loyalty program makes it exciting for customers to buy more as they can spread the word to friends and family about the different rewards they get access to.
Take inspiration from NEOM, which makes its rewards even more special during Christmas time.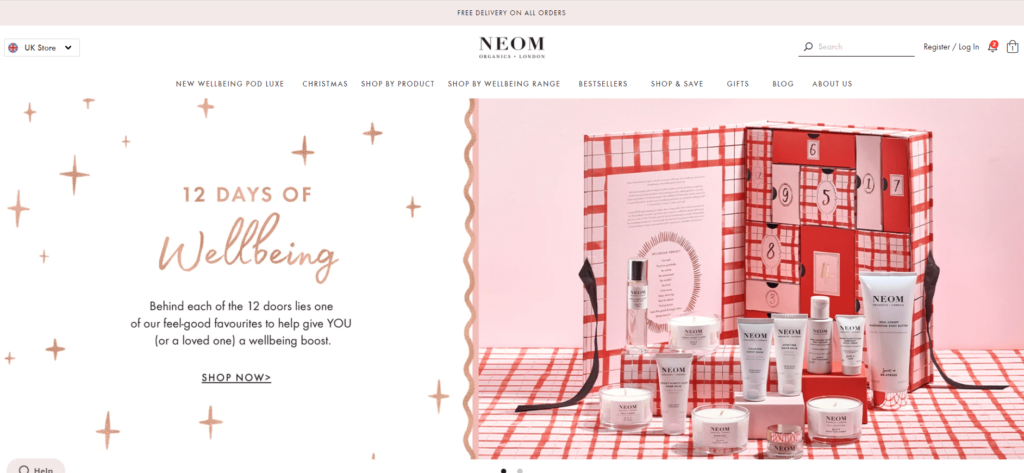 Christmas can be a stressful time. Neom Organics wants you to focus on your mental health during this time and allows you to gift a moment of wellbeing this Christmas to yourself or another.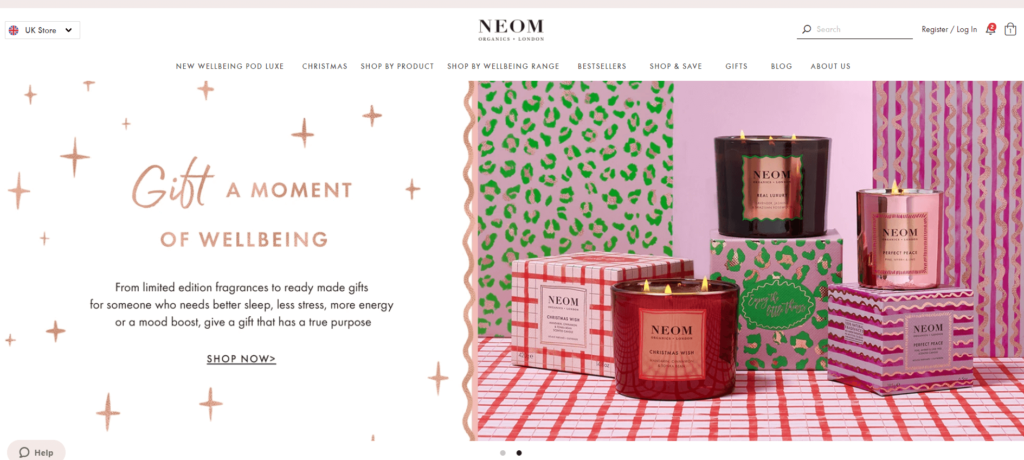 By partnering with the Mental Health Foundation, Neom has created a wellbeing toolkit that comes with every one of its Christmas candles.
Research from the Mental Health Foundation shows that a wellbeing toolkit could be a relevant gift at this time as around 54 percent of UK adults are worried about the mental health of those they care about this Christmas.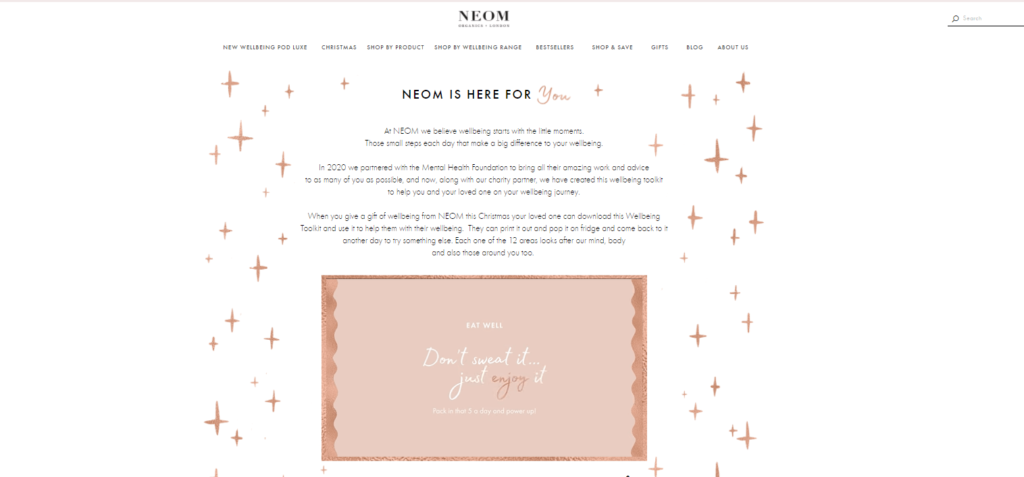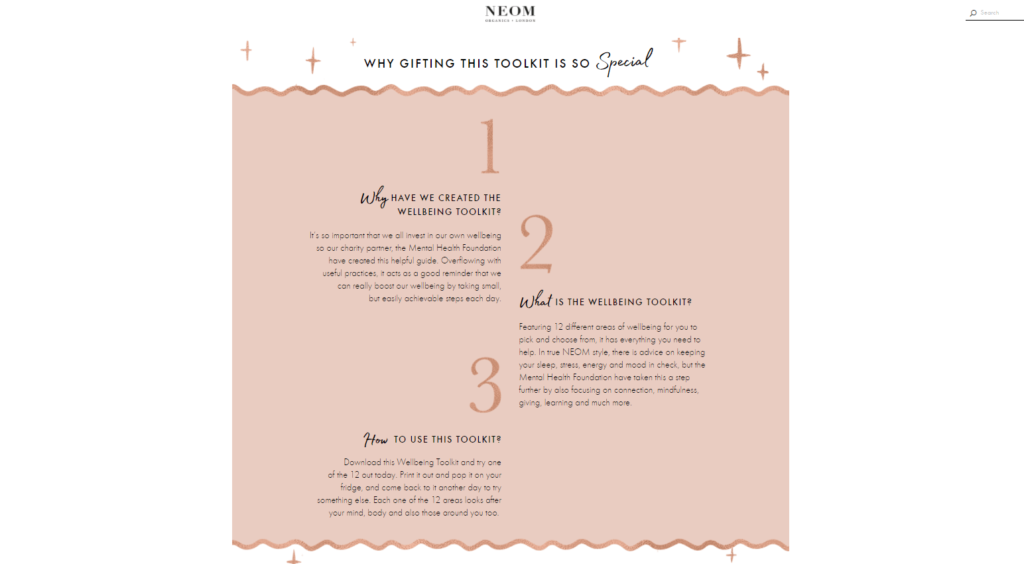 In addition to this toolkit, Neom Organics also makes you aware of the number of rewards points you could get with every purchase. This reinforces the need to sign up for their rewards program, which means you save more on future purchases.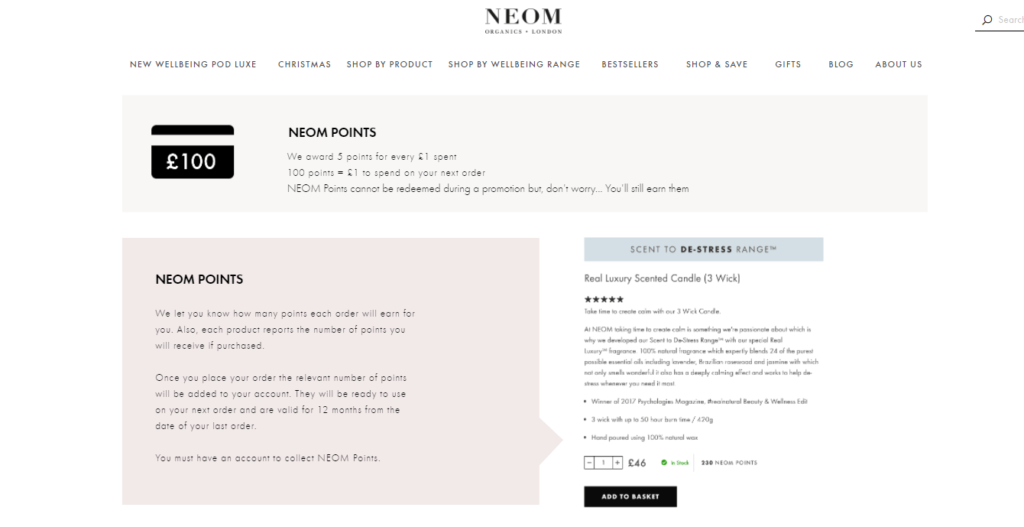 Conclusion
No one seasonal trend is automatically going to garner conversions for your brand.
Instead, you should use a combination of the above examples to formulate a list of changes you need to implement to enhance conversions during seasonal events.
Then, deploy and test these changes in line with your business to see which ones impact your bottom line more.
In conjunction with staying on top of new seasonal trends, this type of testing will ensure that your ecommerce store continues to gain more loyal customers, regardless of the season.