It's common for online customers to make returns these days. In fact, nearly half (48 percent) of them made a return at some point in 2017.
But what's interesting is that customers who make returns often end up being some of the most loyal.
Eighty-two percent of shoppers who made a return were repeat customers, and 95 percent of those who were pleased with the returns process planned on making a future purchase.
And considering that 49 percent of e-commerce shoppers check a brand's refund policy before buying, you must nail this aspect of your website.
Creating a refund policy your shoppers find agreeable and addressing key concerns is crucial for motivating them to make an initial purchase and eventually buy from you again.
In this guide, I'll cover the fundamentals of writing refund policies, focusing on the elements customers want to see and some specific strategies you can use to optimize the customer experience.
Let's jump right in.
Table of Contents
1. Return Policy Length
Usually, the first thing you'll want to mention is how long customers have to make a return.
UK men's fashion store Standout puts this information at the top of their returns page just below extended Christmas returns.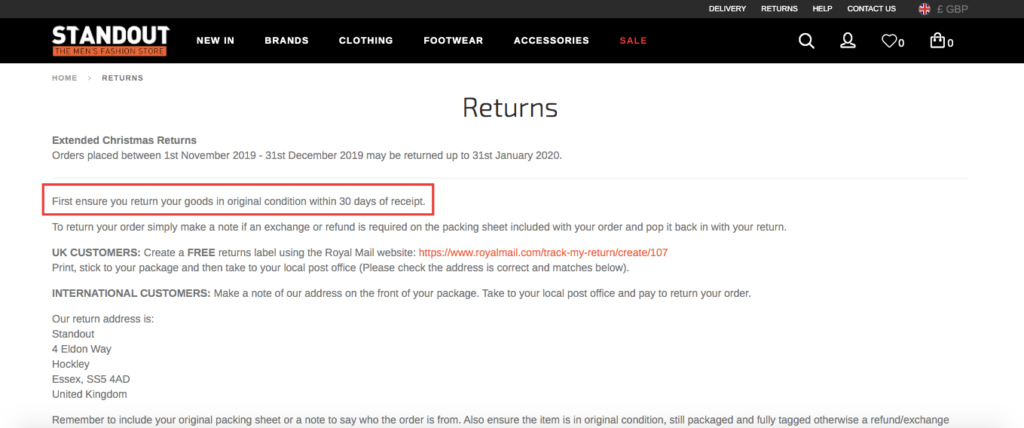 This is smart because shoppers don't have to do a lot of digging to find the refund policy length. It's front and center. And while I'm on the topic, you may be wondering how much time you should give customers to make a return.
According to extensive research, 30 days tends to be a good number, with 53 percent of customers saying this was a fair length of time.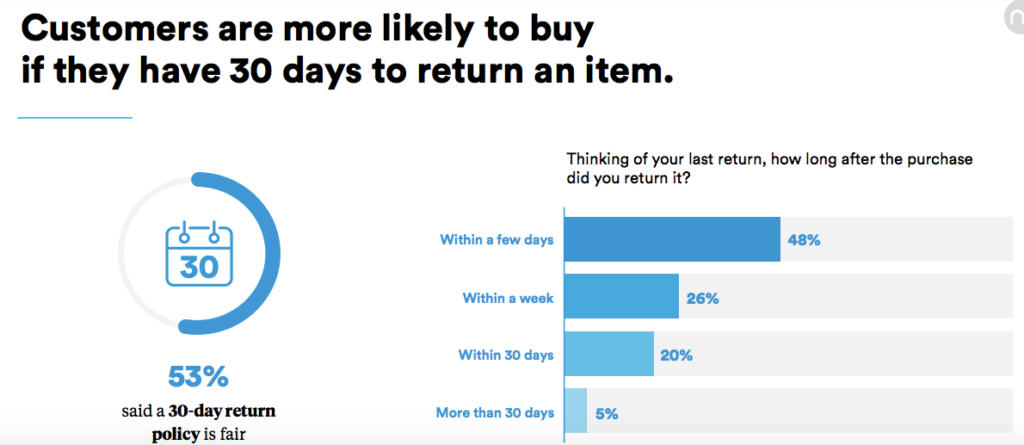 As you can see from the graph on the right, only 5 percent of customers waited more than 30 days to make their last return, so this should be sufficient for most brands.
2. The Cost of Making a Return
The next thing customers will want to know is how much they'll have to pay (if anything) to make a return.
So I suggest placing this information just below the return policy length.
That's what environmentally friendly shoe company Allbirds does on their page.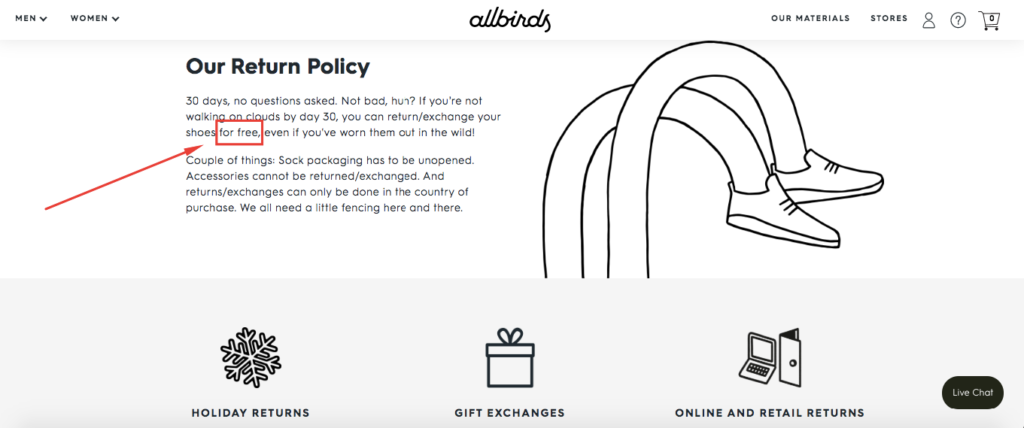 You'll also notice that they allow customers to make a return free of charge—something that's extremely important considering 79 percent don't want to pay for return shipping.
"In a world where nobody wants to pay for shipping at online stores, to begin with, you can bet that customers won't be that happy about spending good money to send an item back," explains e-commerce CRM platform ReadyCloud.
While it will take a chunk of your profit margins, the increase in long-term customer loyalty and repeat sales usually justifies it.
That's why I recommend crunching the numbers to see if this is a financially feasible move for your company.
3. Receipt Policy
Some brands have strict policies where a customer is required to have a receipt to make a return with no exceptions.
Considering how easy it usually is to retrieve a digital receipt through email, this shouldn't be a problem for your customers.
Others are laxer and don't require a receipt as long as a customer can provide other information to locate the purchase.
Either way is fine, but it's important to let shoppers know what your receipt policy is.
Nordstrom does a good job of addressing this on their returns page, where they explain that having a receipt makes it faster for them to locate a purchase but isn't required as long as they can find a record of sale or a customer is willing to provide them with personal information.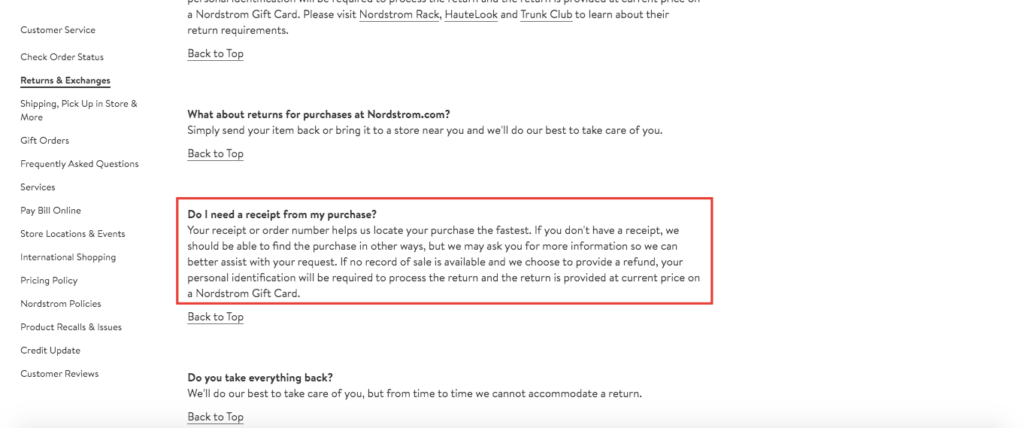 Letting shoppers know what your receipt policy is can save them as well as your company time because you can reduce any back-and-forth.
4. Damaged Items Policy
Did you know the top reason 20 percent of e-commerce customers return an item is because it's damaged? That's one out of every five.
I find that number shockingly high and shows how important it is to address your policy on damaged items.
Milani Cosmetics is straightforward about this and says they'll give customers a refund or exchange for any items that are damaged.
They need to email them pictures first.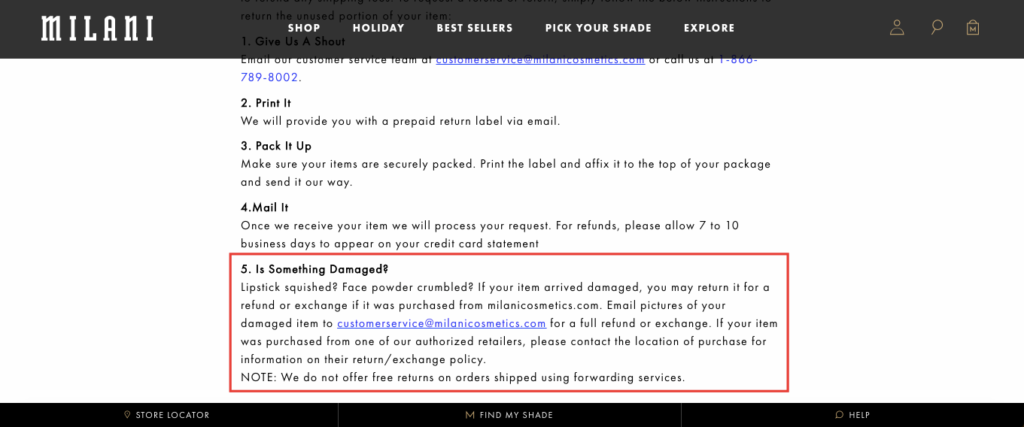 Including this information ensures you're on the same page right from the start, and customers will know what to do if they receive a damaged product.
5. Product Condition Requirements
Companies can vary in terms of what type of condition a product has to be returned.
For instance, on-demand t-shirt company Zazzle allows its customers to return a product regardless of the condition without any special stipulations.

Allbirds has a policy where sock packaging has to be unopened to be eligible for a return.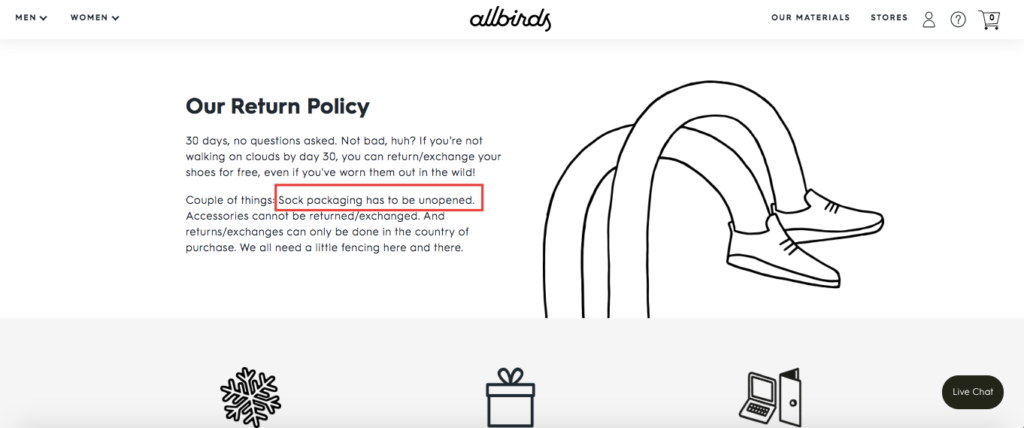 They also point out that accessories can't be returned or exchanged.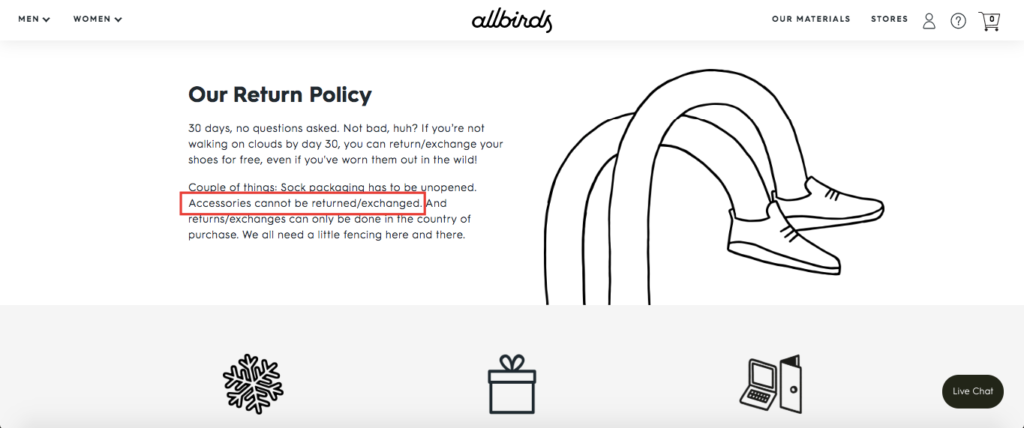 And men and women's clothing store Oak Hall explains that items must be unworn, unwashed, and undamaged.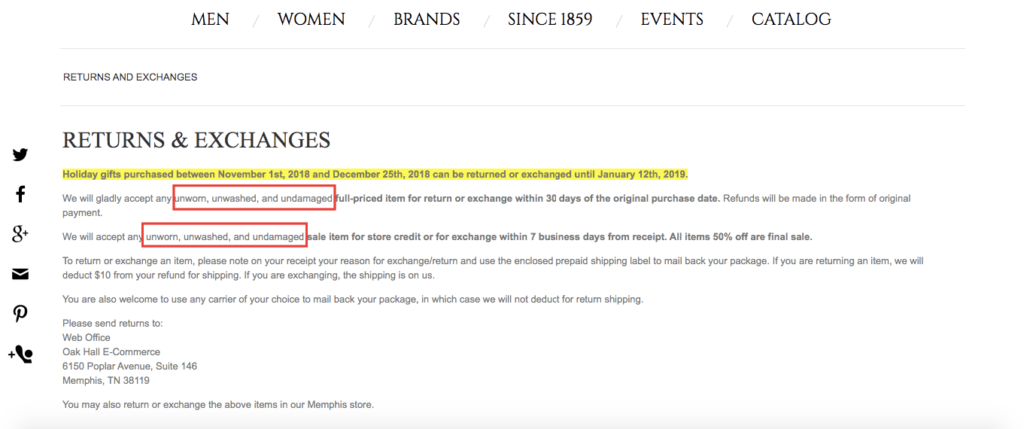 So this is another vital element you should include when writing refund policies.
Being upfront about product condition requirements, as well as specific products that can't be exchanged, creates instant transparency, and tells shoppers what they need to know.
This can go a long way in building trust and rapport.
6. Where Funds Will Be Deposited
Another common question customers have is how they'll be credited after receiving their refund. Will the money be deposited back into the debit or credit account they used to pay for an order? Will they receive a gift card? Can they receive cash?
To ensure a positive customer experience, you'll want to make it crystal clear which options are available.
For instance, Nordstrom states, "All refunds will be credited to your original form of payment or a Nordstrom Gift Card."

This brings me to my next point.
7. Replacements or Exchanges
In some cases, customers want their money back, and that's it.
However, many will be interested in exchanging an item for another one or getting store credit, as Nordstrom offers with their gift cards.
In fact, 28 percent of shoppers like returning a product when they can shop for other items, and 35 percent like returning an item when they get immediate credit.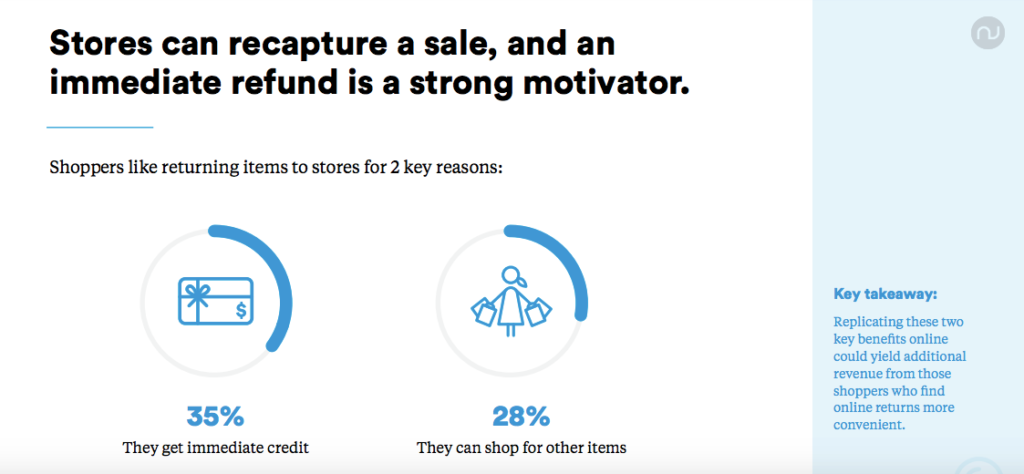 So you'll want to mention your policies regarding replacements or exchanges and whether or not this is something you offer.
This is something women's clothing company GitiOnline touches on right off the bat.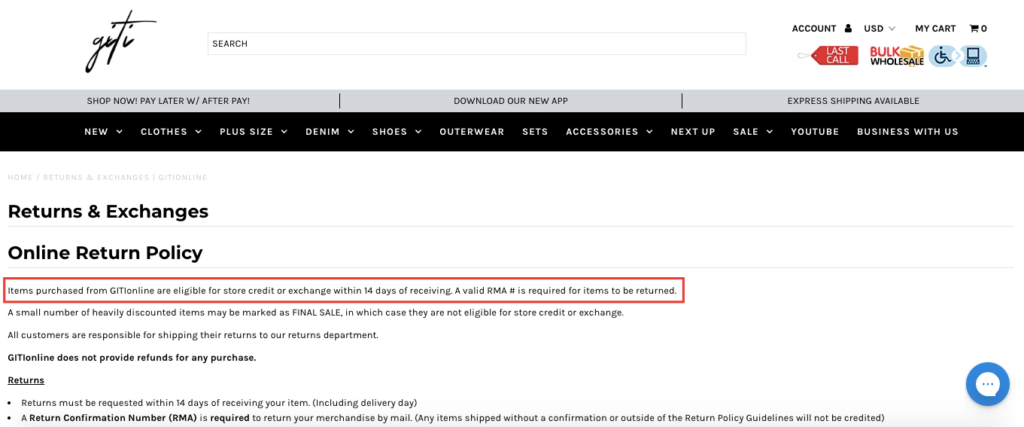 They also make it clear that a small number of heavily discounted items can't be replaced or exchanged.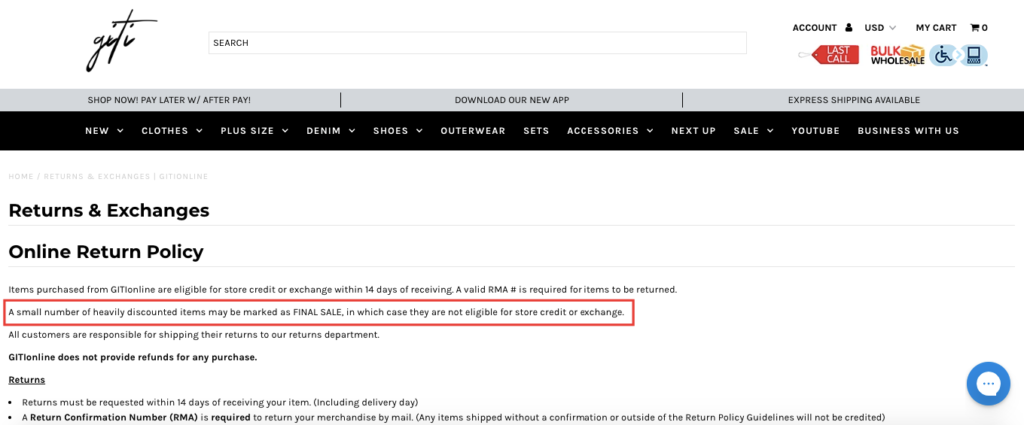 Failing to mention any exceptions like this could create friction with customers, so keep this in mind when incorporating this information into your refund policies.
8. Processing Time
You'll also want to address how long it will take for a refund to be processed. This is important because the processing time heavily impacts the overall customer experience.
More specifically, slow processing makes customers far less likely to refer your brand to others or buy from you again.
Research has found:
Seventy-seven percent of customers are less likely to recommend a brand that takes too long to issue a credit;
Forty percent will stop shopping online with that brand; and
Forty percent will limit their shopping with that brand.
I know that I get annoyed whenever it takes forever to get my money back.
So not only do you want to specifically mention how long it will take—like Milani Cosmetics does below—you should do your best to expedite the process.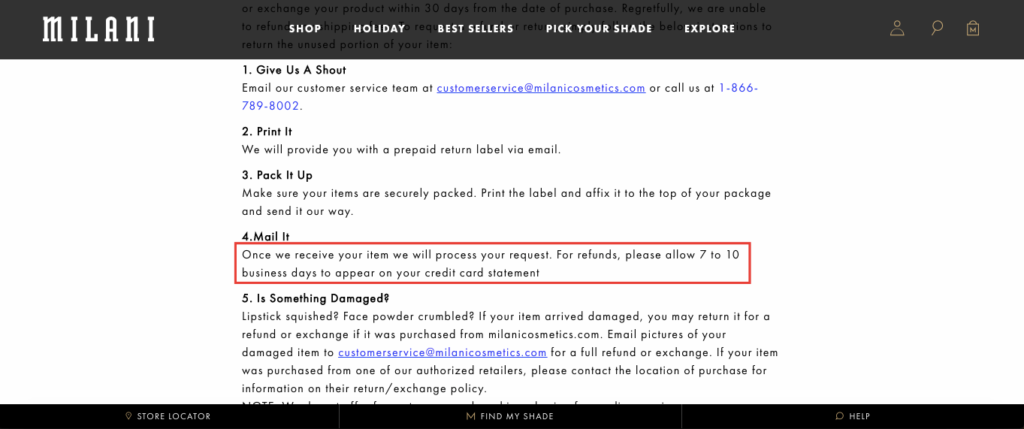 If you're wondering how long shoppers are willing to wait on average, here's some data I found.
Seventy-two percent are willing to wait five days;
Twenty-four percent are willing to wait ten days;
Three percent are willing to wait 20 days; and
One percent are willing to wait more than 20 days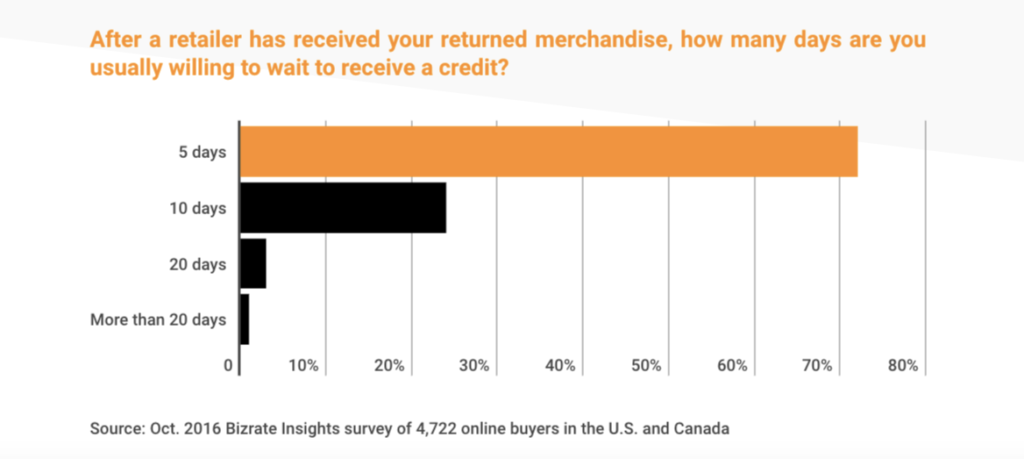 So keeping it under five days is ideal. However, you should still be in relatively good shape if your processing time is no longer than ten days. Also note, that you're pretty much guaranteed to run into problems if it exceeds 20 days.
9. How to Get a Return Label
Finally, you'll want to let customers know where they can find a return label. The last thing you want is to have them struggle to print this out and send their item back. So do everything within your power to streamline things.
I like how Standout offers a super easy to find link on their returns page.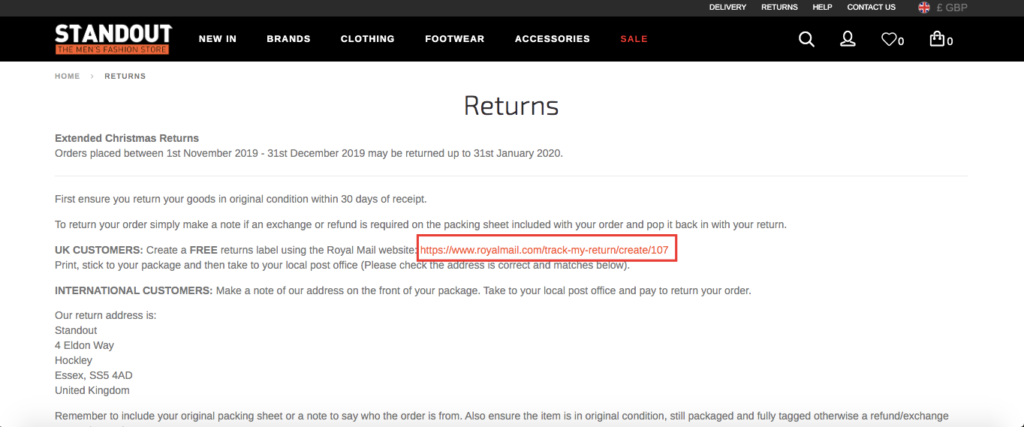 All you have to do is click on it, and they guide you through a simple three-step process where you can print out your label from home.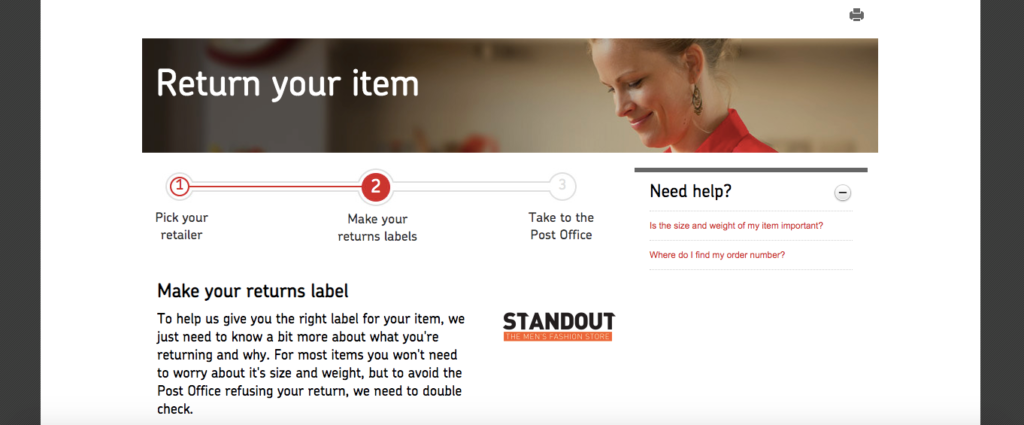 So I think this is a great template to follow.
3 Strategies to Improve the Customer Experience
At this point, I've gone over exactly what to include in your refund policy.
Now I'll quickly highlight some critical strategies that will make the process as painless as possible for your customers.
And this important considering that "58 percent want a hassle-free 'no questions asked' return policy."
Here are some specific things to strive for.
1. Use Plain Language
One of the quickest ways to create friction is to use a lot of complex legal jargon.
It shouldn't take a lawyer to decipher your refund policies and make your customers think too much is a recipe for disaster. So always use plain language that anyone can understand.
I think footwear brand Crocs does an excellent job of this, and their copy is straightforward.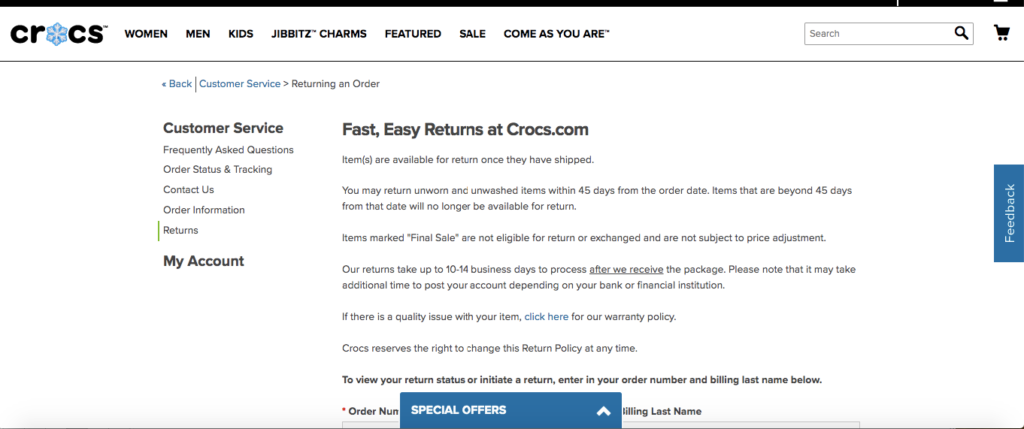 2. Aim for Simplicity
A customer is looking to find vital information regarding your refund policies, make their refund, and move on.
They don't want to get caught up in a complicated process that takes a huge chunk of time out of their day and causes them headaches.
So the simpler it is to make a refund, the better off you'll be.
"As a best practice, ask yourself if you'd be comfortable or willing to go through your own refund procedure if you had a serious issue with a product or legitimate reason why you needed an exchange," says Ross Simmonds, founder of Foundation Marketing.
"If the answer is no, it's time to reconsider your approach and create a better customer experience."
This is a great way to assess it and figure out if it needs any work.
The returns page of Oak Hall is about as simple as it gets.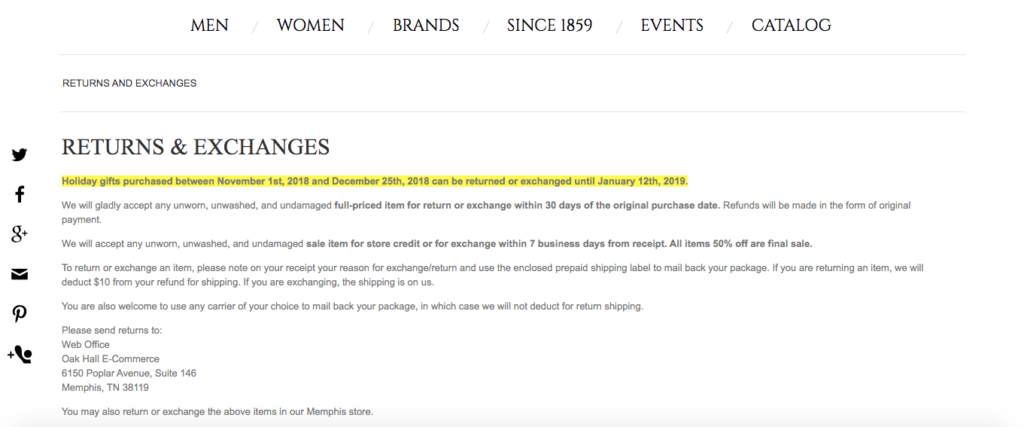 They jump right into the process and provide customers with the essential information they need to make a return.
3. Make it Easy to Find the Refund Policies Page
Finally, shoppers should have zero difficulty finding this page.
A quick search should point them right where they need to go, and it should be accessible from wherever they happen to be on your e-commerce site. For most brands, this means placing a link to the refund policies page in the footer.
That's what sportswear and golf apparel brand Cutter & Buck do, and it seems to work well.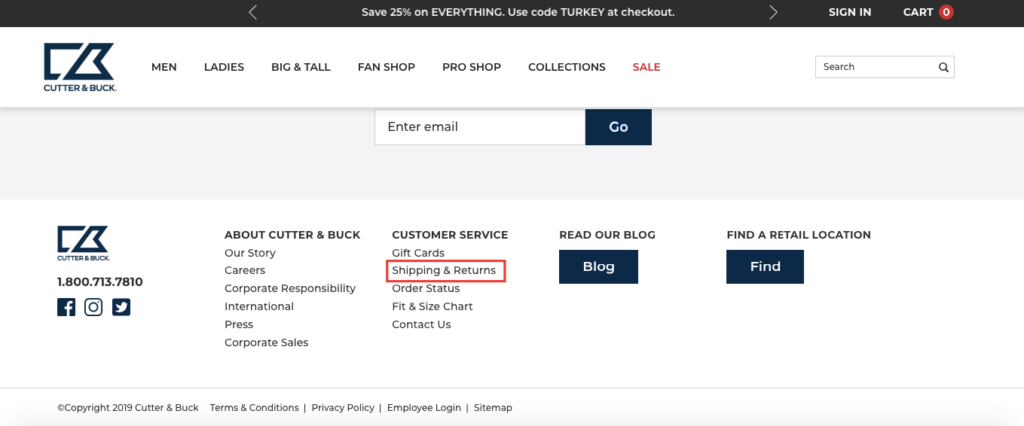 Conclusion
It may not be your favorite thing, but dealing with returns is part of running any product-based business. And it's especially common for e-commerce businesses.
After all, nearly a third (30 percent) of all products ordered online are returned, whereas it's just under 9 percent for brick-and-mortars. That's why creating refund policies is something that deserves plenty of consideration and isn't something that should just be thrown together.
After reading this guide, you should have a good understanding of what to include and how to make the overall experience more pleasant for your customers.
So even though a decent portion of them will want refunds, you should be able to instill a sense of loyalty and increase your repeat business. Besides that, this can help give you an edge over the main competitors in your industry.