The first of Robert Cialdini's 6 Principles of Persuasion is reciprocity. It states the following:
"People are obliged to give back to others the form of a behavior, gift, or service that they have first received." Reciprocity applies to all aspects of life, including business.
By offering shoppers something of value, many will feel compelled to return the favor by making a purchase. It's all about "giving to get." And it works.
One of Cialdini's classic studies involved a waiter giving mints to diners when presenting them with the bill. When the waiter gave one free mint to diners, their tip increased by 3 percent. When the waiter gave two free mints, their tip increased by 14 percent.
Countless ecommerce brands use this technique to win over shoppers and increase conversions. And in many cases, this paves the way for building solid relationships, which lead to repeat sales.
Here are some of my favorite real-life ecommerce reciprocity marketing examples you can learn a lot from.
What is Reciprocity Marketing?
Reciprocity marketing is the idea that creating value for your customers prompts them to give you something in return. For example, if a website offers you a free resource (like a lead magnet), you'll likely be willing to give up your email address for it.
This might sound like a no-brainer, but it goes even further than just a quid-pro-quo exchange. In fact, if you've done something for someone else, you're much more likely to think of them in a positive light.
5 Reciprocity Marketing Examples to Try Today
4. Missouri Star Quilt Company
Table of Contents:
1. goop
2. Blue Bottle Coffee
3. True&Co
4. Missouri Star Quilt Company
5. BonLook
1. goop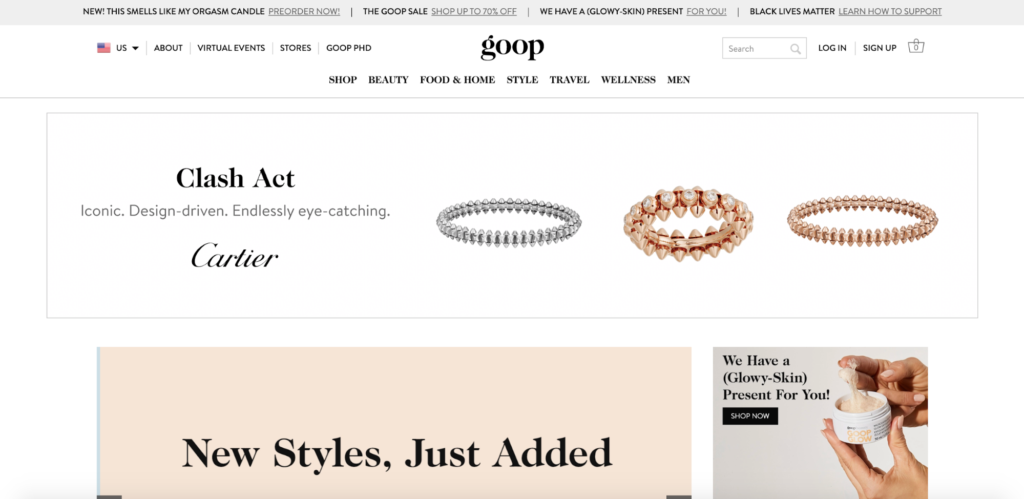 goop is a "modern lifestyle brand" by Gwyneth Paltrow that specializes in beauty and fashion.
The brand takes a simple and straightforward approach to reciprocity marketing, where they offer a free complimentary product whenever someone makes a beauty purchase.
It's called the GOOPGLOW Microderm Exfoliator.
The offer is located above-the-fold and is one of the first things shoppers see when landing on the goop website.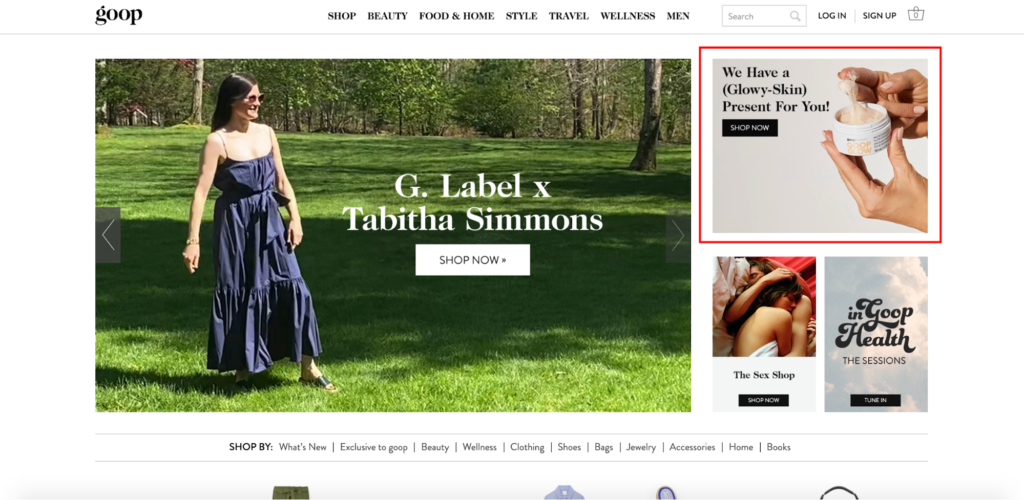 By clicking on it, a shopper can quickly learn about the offer, check out the terms that apply, and find out about the product details.
That's all there is to it.
Considering that this product costs $125 for a one time purchase and $112 when it's part of a subscription, there's some real value here and something many shoppers will appreciate.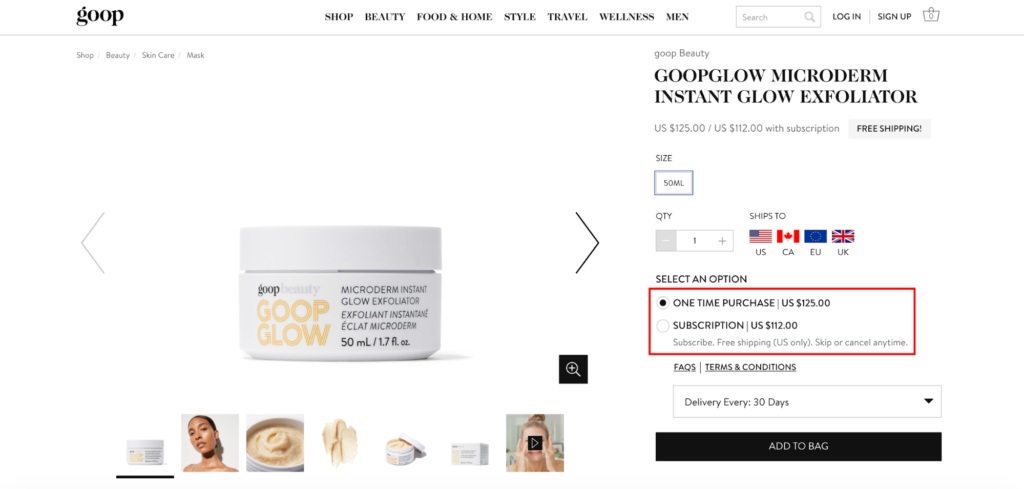 Using reciprocity in this manner, goop can increase the chances of a shopper buying, while laying the foundation for customer loyalty. And this is a strategy you can implement as well.
Simply select a product to give away with select purchases, and give shoppers a code when checking out. Just be sure to crunch the numbers and make sure it won't eat away at your profit margins.
2. Blue Bottle Coffee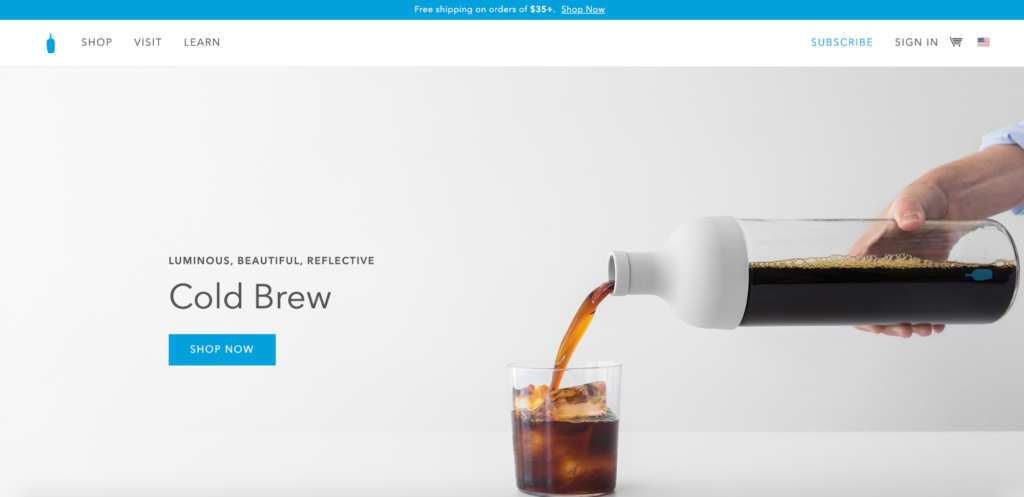 Blue Bottle Coffee is a specialty coffee roaster that sells coffee subscriptions, brewing equipment, mugs, and more.
They've got an interesting story and a genuine passion for providing their customers with top quality coffee. And when it comes to reciprocity marketing, I'm a huge fan of the approach they take.
At the top of their homepage menu, they have a link to a section called "Learn."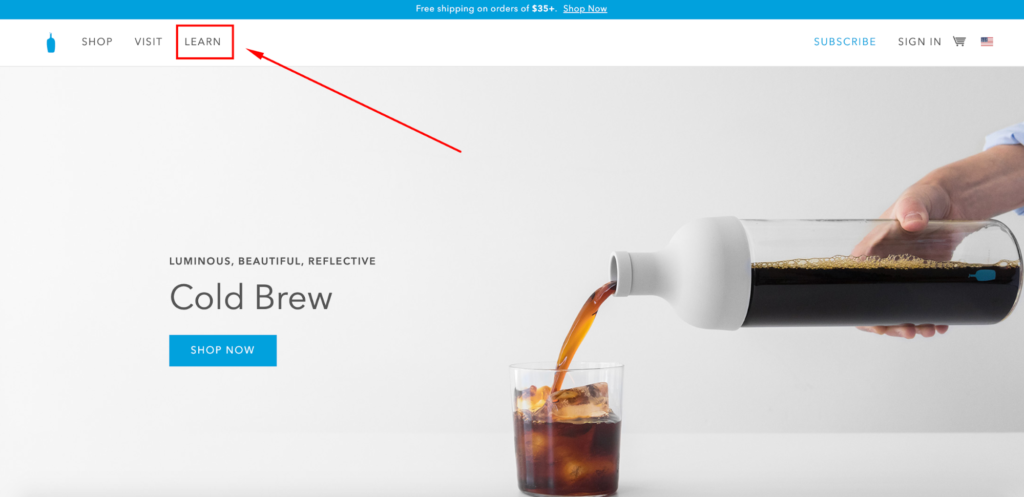 Click on it, and shoppers see multiple options, with one being Blue Bottle Company's "Brew Guides."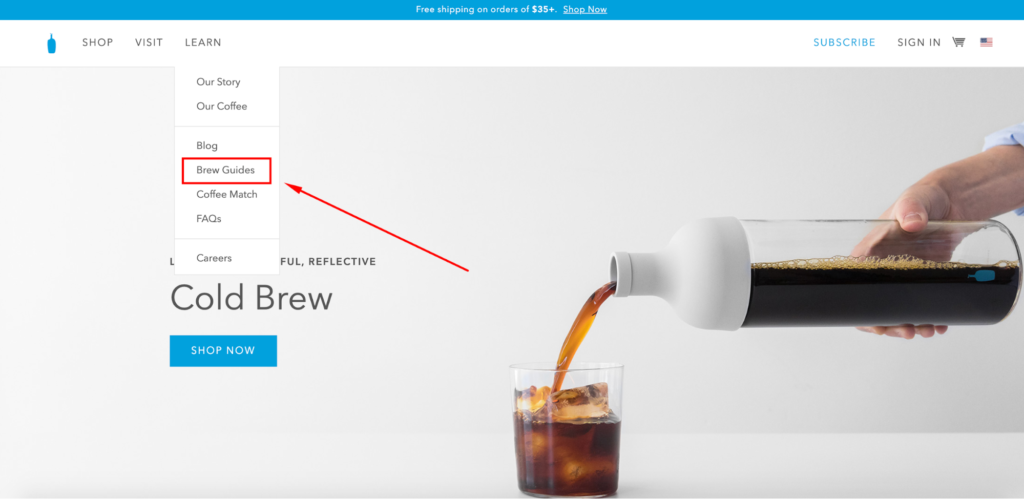 Here shoppers get free access to several different brew guides, such as AeroPress, Bialetti Moka Pot, Chemex, etc.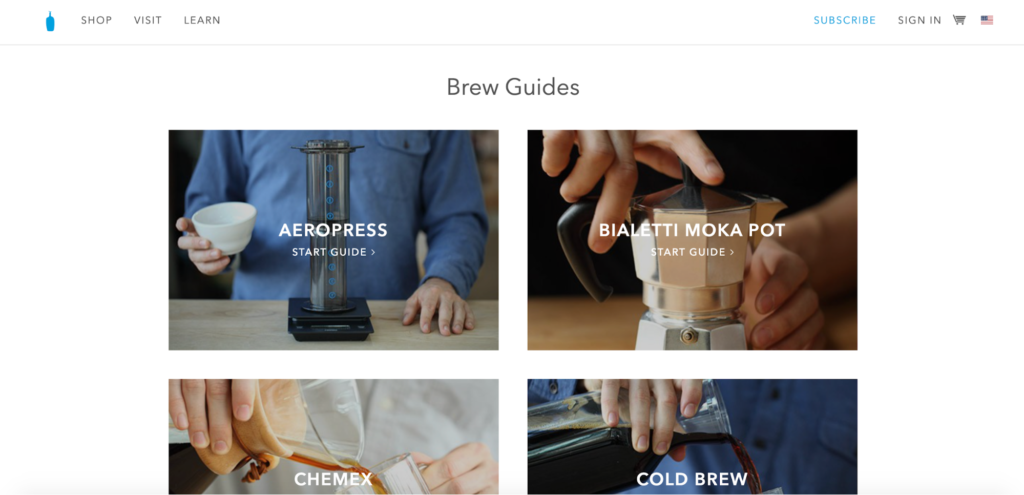 Each guide provides awesome educational content that's super helpful for people who want to learn the ins and outs of brewing their own coffee.
Here's what a shopper gets if they click on the AeroPress guide.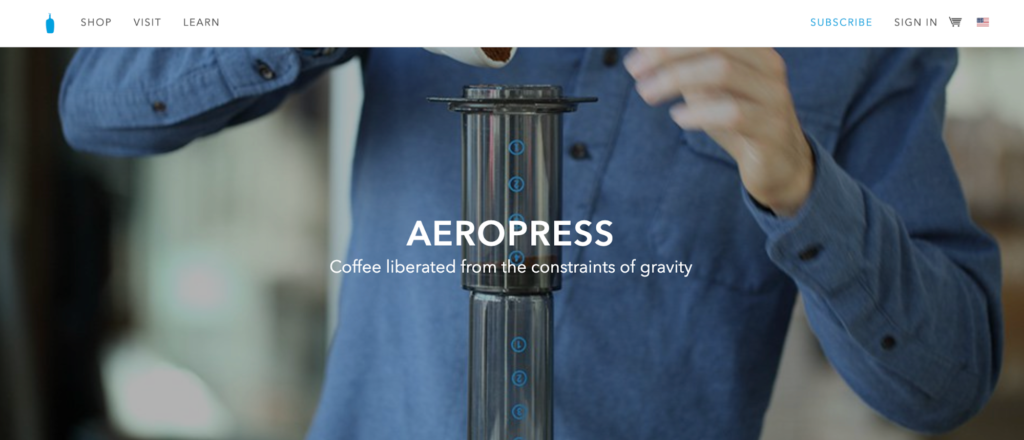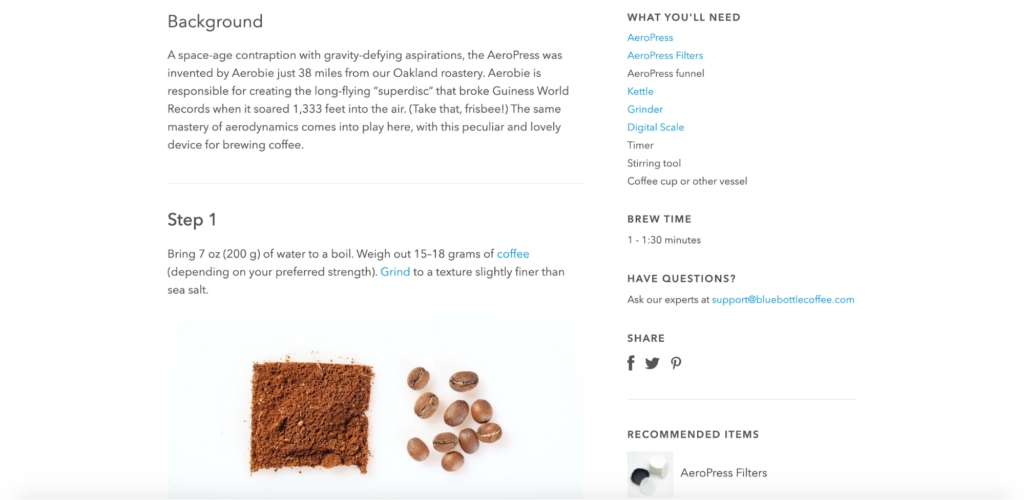 They get a bit of background on the AeroPress and step-by-step instructions on how to use it, along with images.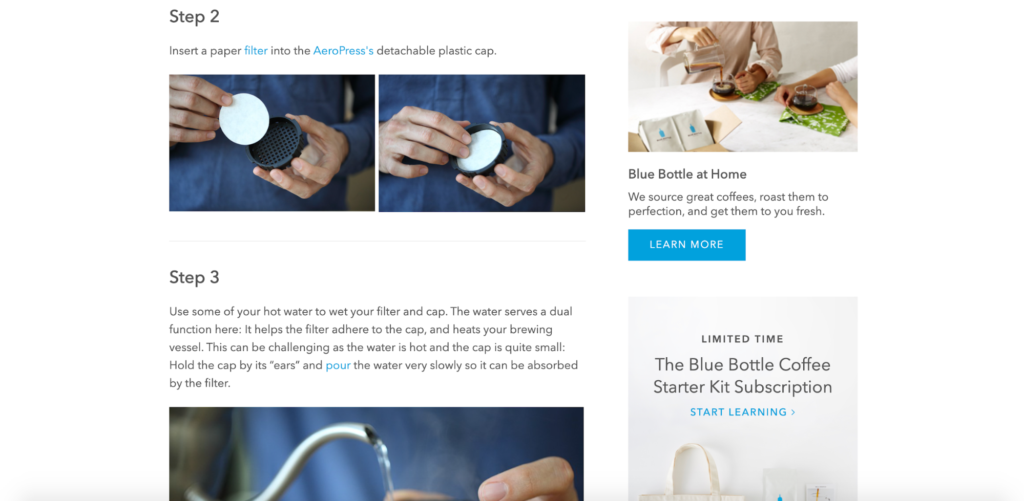 It's detailed, yet presents the information in a way that's easy to understand. And this is something many shoppers will appreciate, especially if they're fairly new to coffee brewing and still learning the ropes.
Offering something of value like these free guides allows Blue Bottle Coffee to leverage reciprocity marketing in a way that's extremely practical for their shoppers. It helps create rapport, which increases their odds of buying, while simultaneously initiating the loyalty-building process.
Using this technique offers three other key benefits for Blue Bottle Coffee. First, it allows the brand to position themselves as experts, making shoppers feel more comfortable buying from them. In other words, they show that they know their stuff.
Second, they're able to seamlessly promote their products by including the items needed toward the top of each brew guide.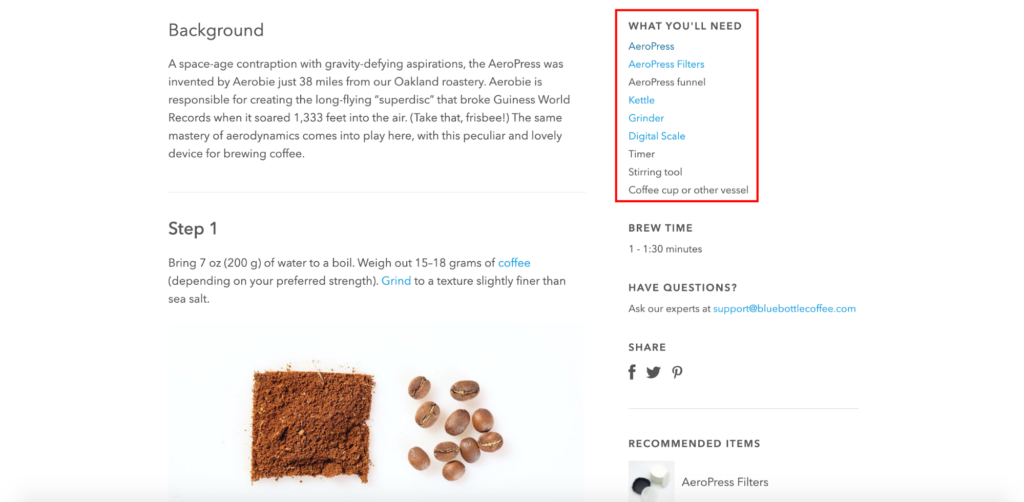 This way, a shopper can quickly locate what they're looking for without any hassle.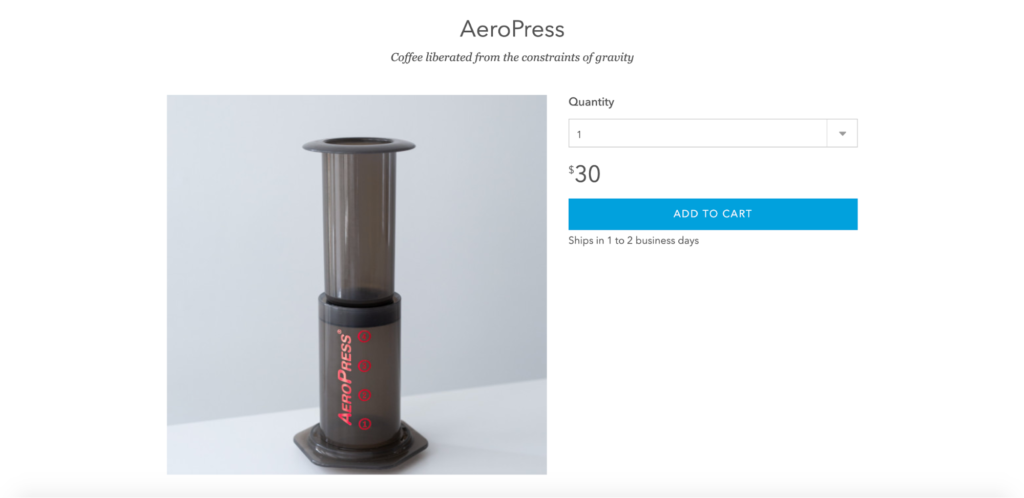 Third, it increases their search engines' visibility, which helps them drive more targeted leads to their website. Put that all together, and it's a recipe for success.
My point here is that offering free educational content, like guides, can be a highly effective form of reciprocity marketing and kill multiple birds with one stone.
Some other ideas include:
How-to videos (something I'll discuss later)
eBooks
Checklist downloads
Just choose a topic that's relevant, interesting, and you're knowledgeable in, and build a small library of educational content around it.
3. True&Co.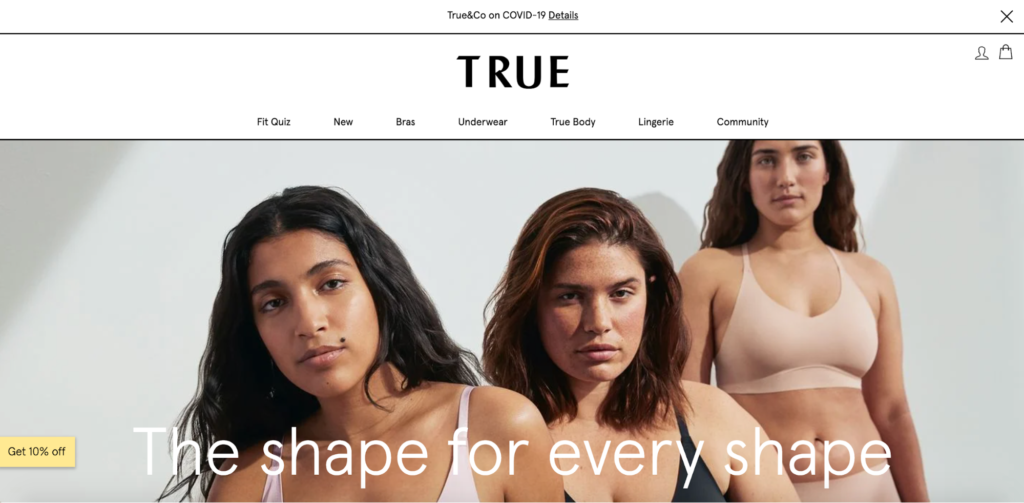 True&Co. is a women's lingerie, bra, and underwear company. The company's value proposition focuses on helping women embrace their natural shape, and they've built a strong digital community around it.
When it comes to ecommerce reciprocity marketing examples, I think True&Co.'s is one of the more innovative.
They have a "try before you buy" service that allows a shopper to pick one bra and try it out at home risk-free for 14 days. If they like it, they simply keep the product, and they'll be charged after the 14 days have passed. If not, they can return it for free (including returns) with no-hassle.

Here's why this form of reciprocity marketing works.
True&Co. offers something with legitimate value that many of their shoppers are naturally interested in. Bras are one of their staple products, and a large portion of women exploring their site are looking to buy them.
Offering a free in-home try-on is the perfect way to grab the attention of shoppers. Giving them a 14 day trial with no strings attached helps build instant rapport, and many shoppers will return the favor by ultimately buying the product they receive. And from a larger perspective, this sets the stage for some serious loyalty and repeat purchases.
If a shopper likes their try-on bra and chooses to buy it, they (1) know that True&Co. Sells quality products and (2) likely appreciate that the brand hooked them up with such an amazing deal.
That alone is often enough to make them want to buy again.
But when you add the context of social obligation because they subconsciously feel indebted, the chance of them buying skyrockets.
So there's a lot to be learned from this reciprocity example.
If you can offer some free trial without any annoying catches, you can potentially sell more products and build lasting relationships with your customers.
4. Missouri Star Quilt Company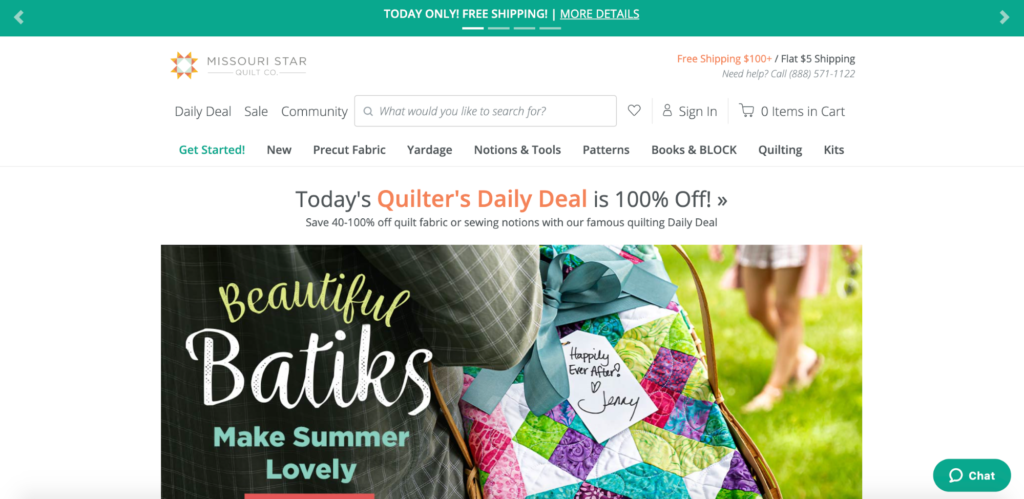 Here's an ecommerce brand that sells a "wide selection of gorgeous quilt fabric, precuts, kits, patterns, notions, mail-in machine quilting, and more." It's a one-stop-shop for everything quilting related.
Admittedly, this is an industry that I know nothing about, but I know that it's a craft that requires a lot of learning to get the hang of. And I'm sure it can be quite a struggle for beginners.
Missouri Star Quilt Company recognizes that and makes weekly video tutorials, which is the main area of focus with their reciprocity marketing.
Here's the tutorial for this week about turning fabrics into stunning quilts.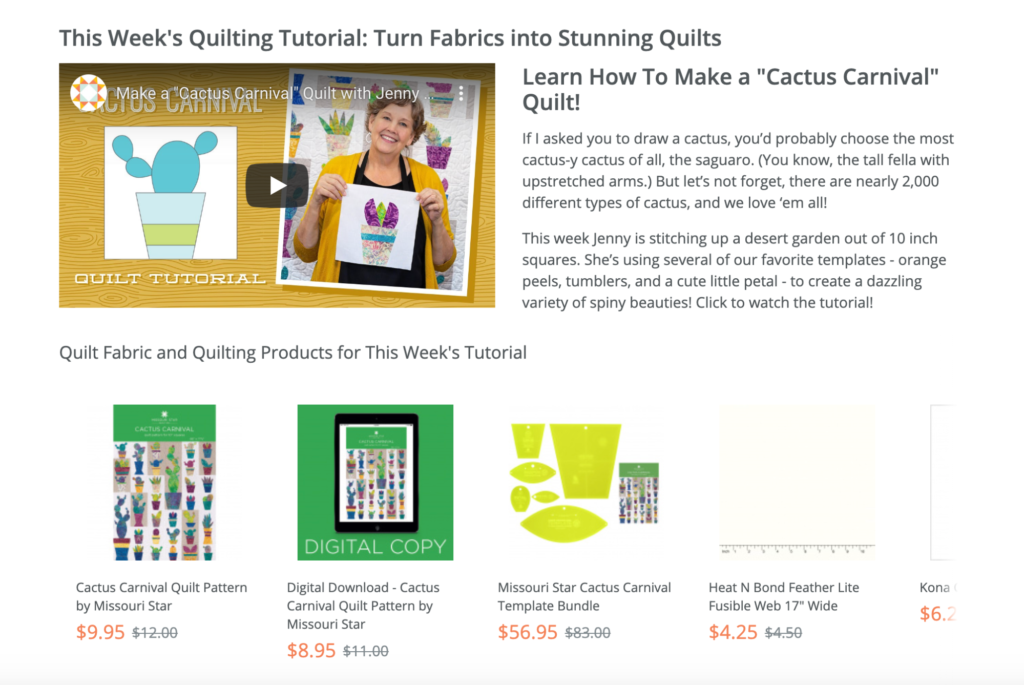 Shoppers can watch a video that teaches them how to make a "cactus carnival quilt," where one of the company owners, Jenny Doan, offers in-depth instruction.
Here's the full video.
It's a fun way for shoppers to learn more about quilting and provides them with extremely hands-on content for learning.
Given that the video tutorials are completely free, the Missouri Star Quilt Company is planting the seed of reciprocity, which should motivate many people to ultimately make a purchase. Here's what I love about this example.
First, the brand also seamlessly weaves specific products they're selling into the tutorial.
For example, they have links to the products included in the cactus carnival quilt video, such as the "Missouri Star Cactus Carnival Template Bundle."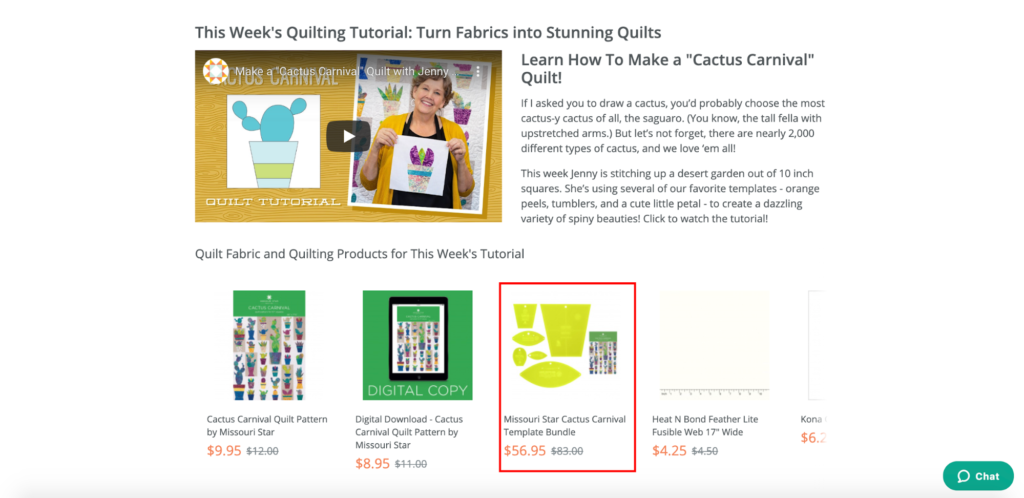 Here it is featured in the video.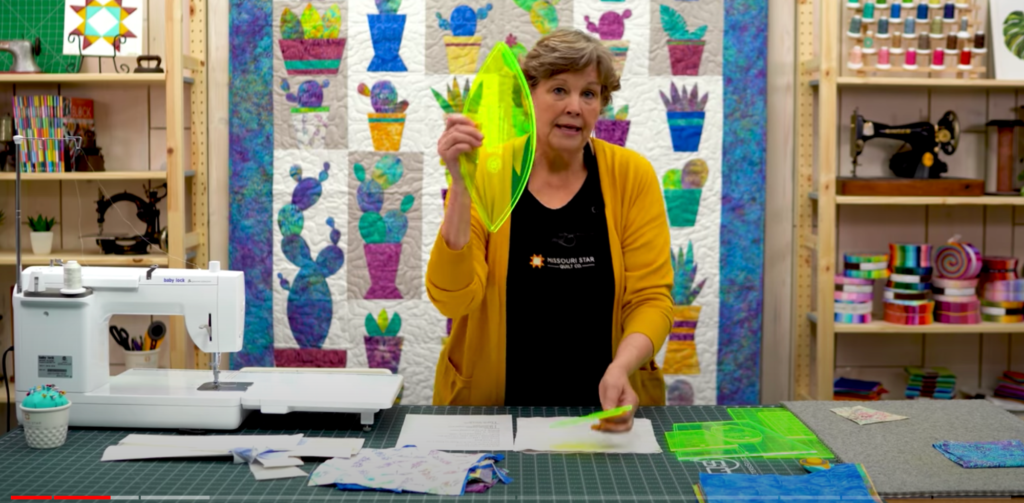 That way, shoppers can see it in action, conveniently check out the product, and add it to their cart.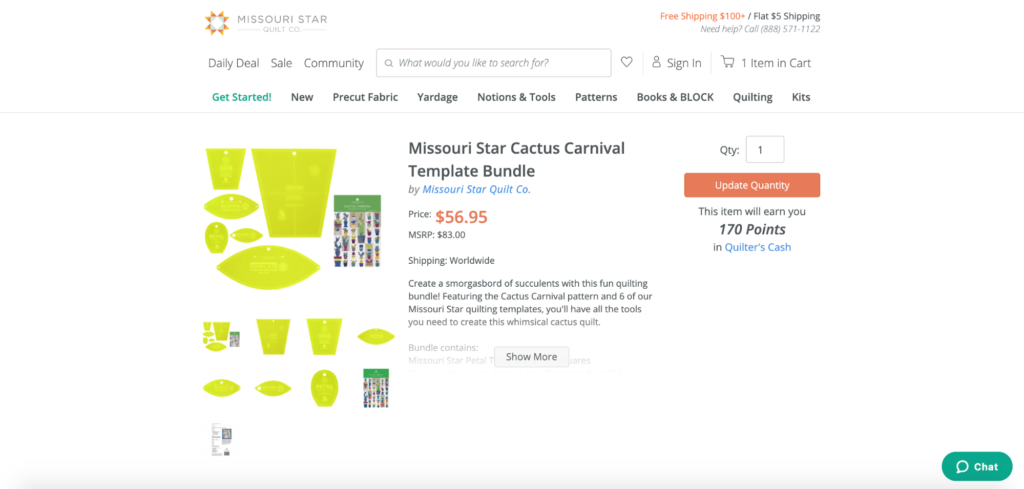 Second, it's seamless and lets the brand promote their products without being pushy about it.
On top of that, using video tutorials allows Missouri Star Quilt Company to form a deeper connection with their shoppers because they have the chance to get to know one of the owners, while at the same time showing her expertise.
In turn, shoppers can put a face and personality to the brand. This makes it one of the more potent reciprocity marketing examples and one you can use for inspiration.
5. BonLook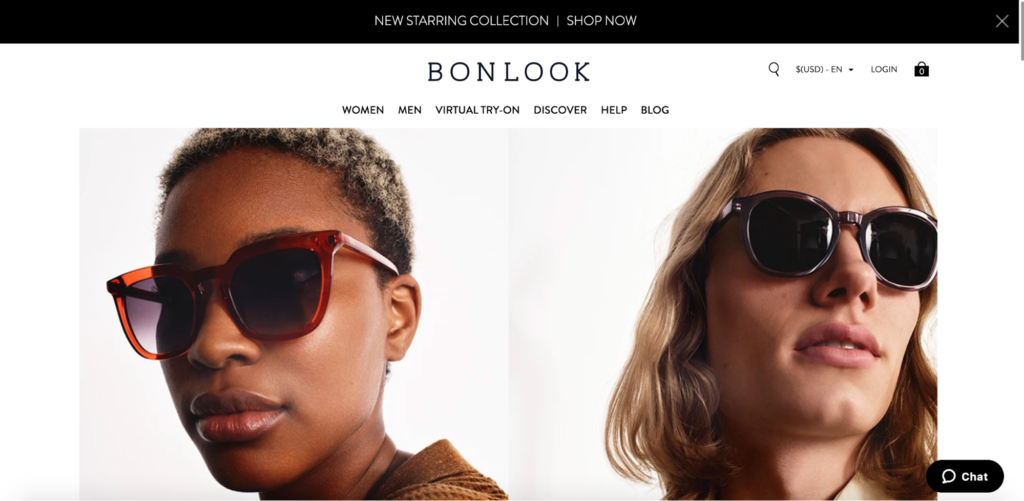 The last of my reciprocity marketing examples is from BonLook, a company that sells prescription eyeglasses and sunglasses online. The brand has a great selection of products, with plenty of options to choose from.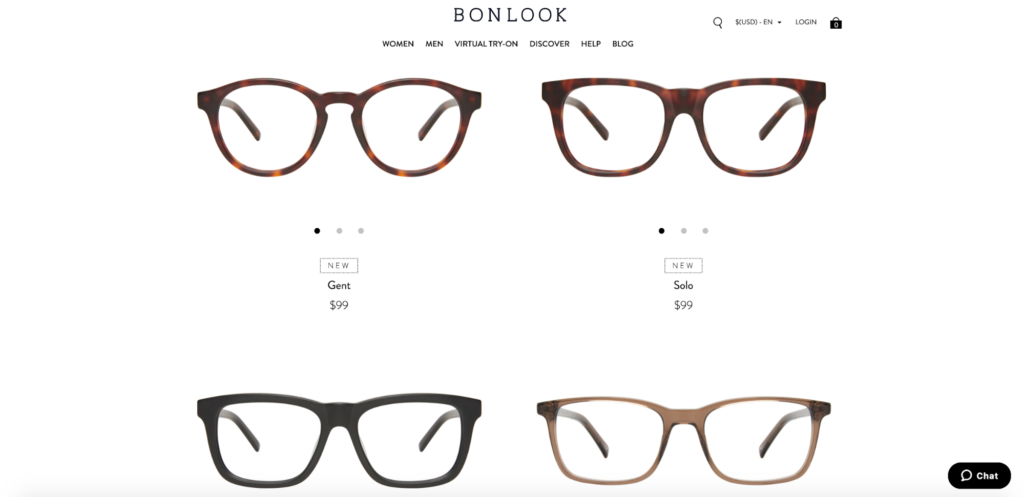 However, this can make it a little tricky to find the best pair of glasses or sunglasses. That's why BonLook offers a free virtual try-on that allows shoppers to see what they would look like from their own comfort.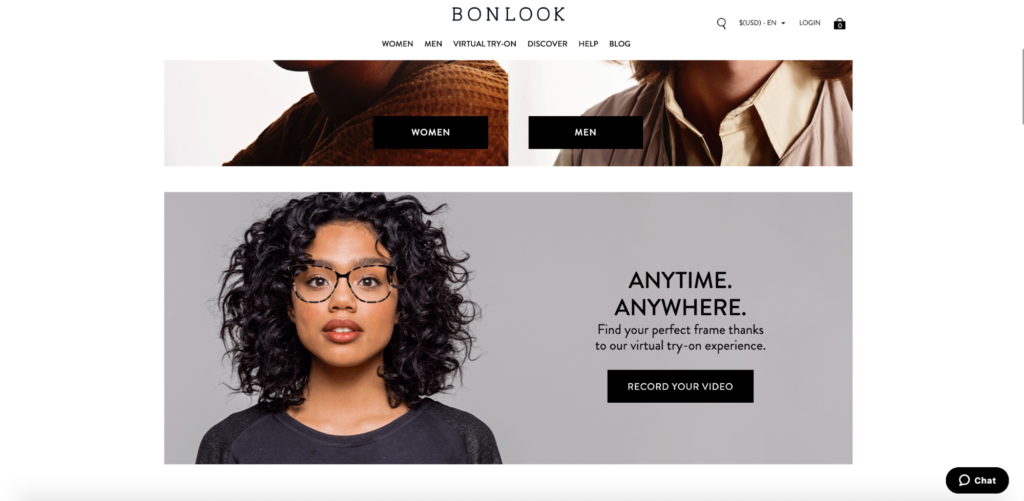 Here's how it works. First, the shopper accesses the camera of their device, which can be their computer's webcam or the camera on their smartphone or tablet.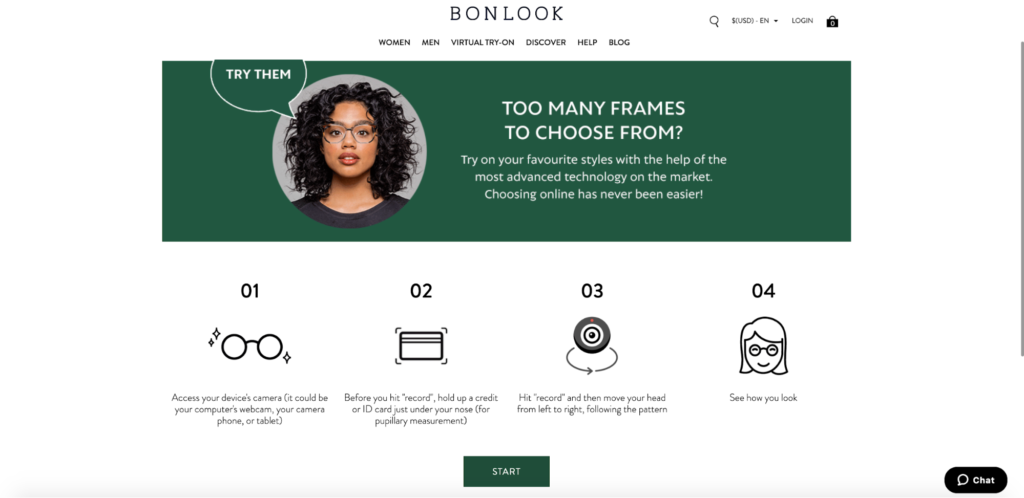 They press record and hold up a credit card or ID card under their nose to measure their pupils' size. Then, they move their head from left to right, following a pattern.
After doing this, they can see how they would look with a particular pair of glasses like this.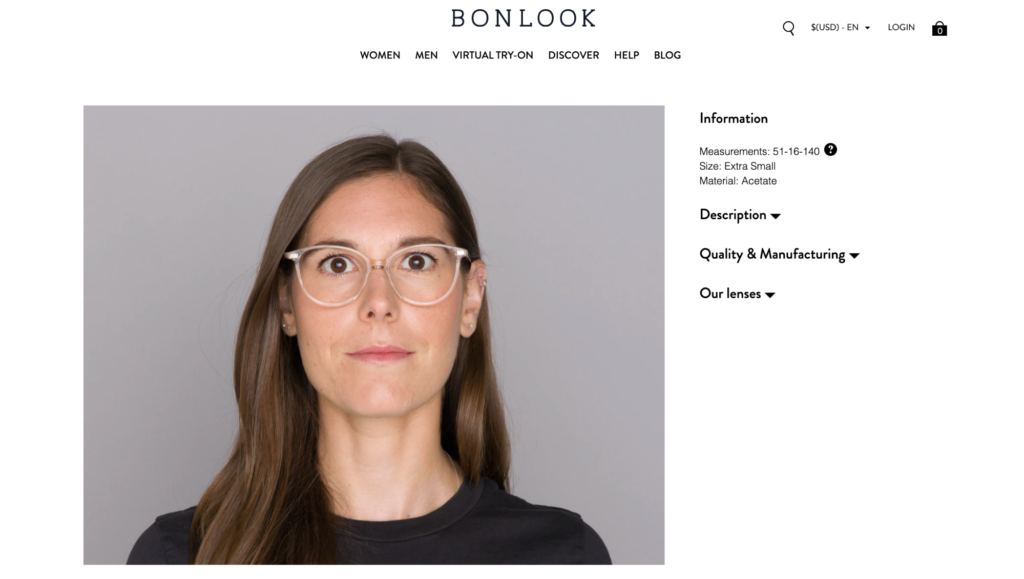 If someone needs help, they can promptly get a hold of BonLook either by phone or through email and have an expert answer their questions.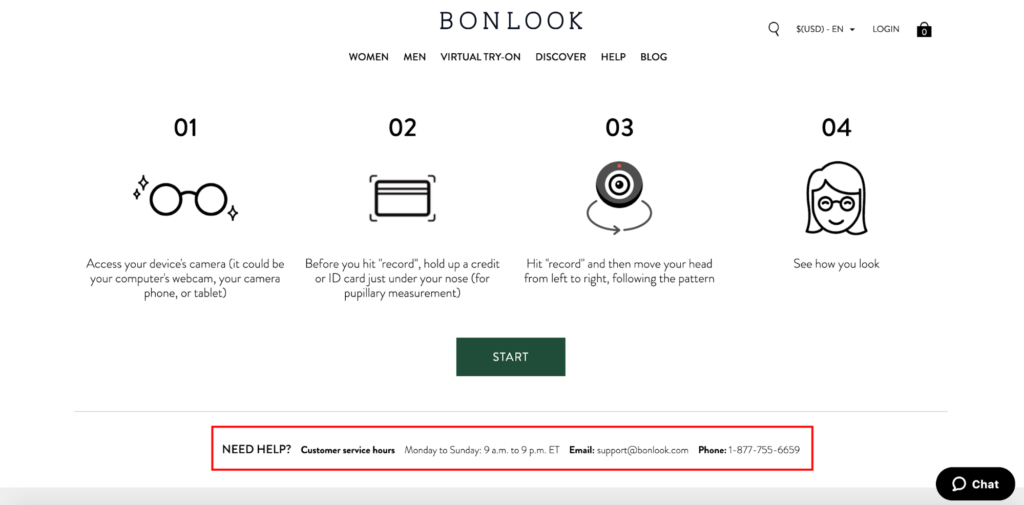 Here's why I love this form of reciprocity marketing. For starters, virtual try-on is an incredibly innovative tool that has a "cool factor" that many people will appreciate.
I know that I was impressed when I first heard about it, and I'm sure many of BonLook's shoppers feel the same.
Next, it's ultra-convenient. People have busy lives, and not everyone can make an appointment and check out frames one-by-one in a store.
The virtual try-on tool solves this problem and makes it a breeze to check out several frames with ease to see which ones look the best. Shoppers don't even have to install an app, which is nice.
It's also free. BonLook charges absolutely nothing for this service, which is huge for winning over shoppers. This creates instant appreciation, which leaves shoppers more inclined to make a purchase.
And after trying on a pair of eyeglasses or sunglasses virtually, a shopper can easily buy with no fuss.
They can go from here…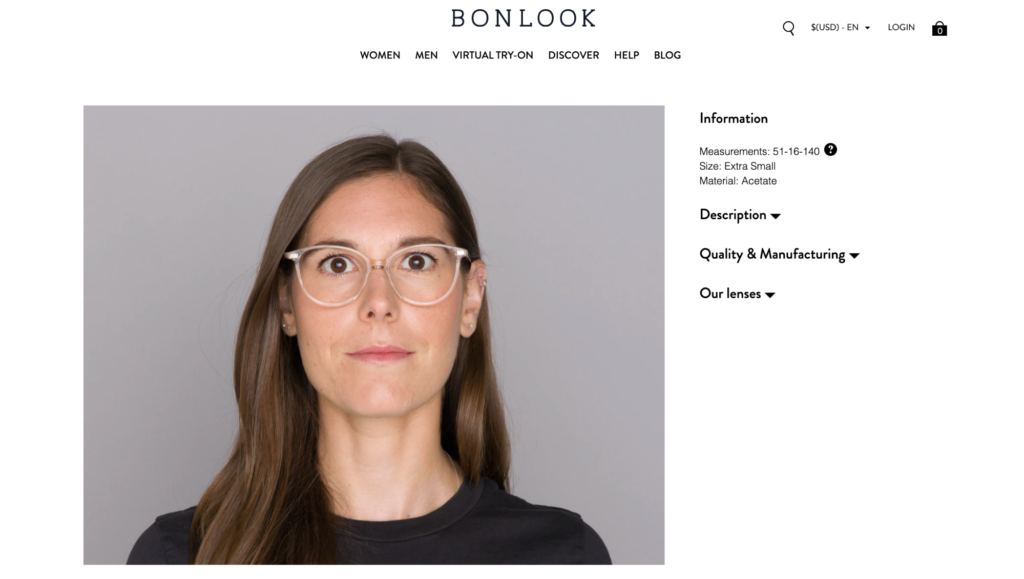 …to here.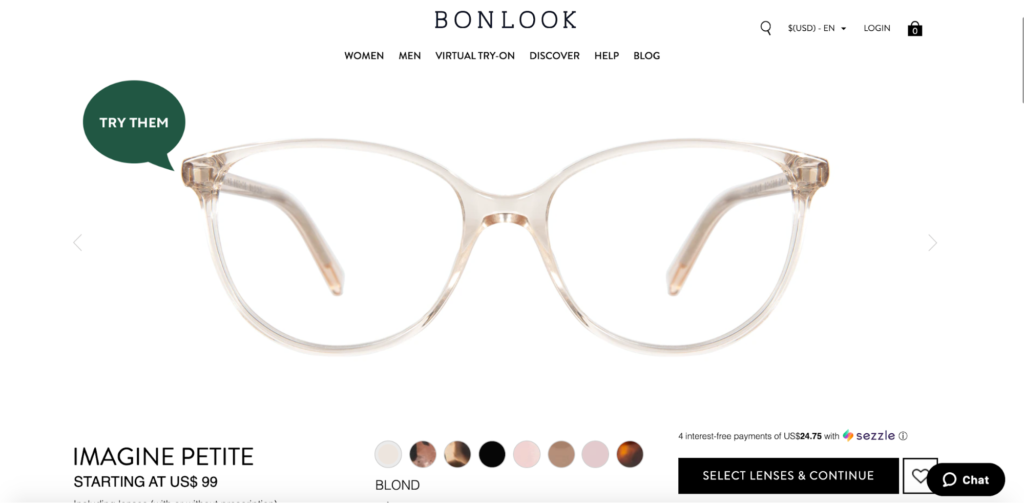 This truly makes it a win-win both for BonLook and for their shoppers.
Creating a sophisticated tool like this may not be in the cards for all ecommerce brands, especially those with a limited budget. But this example shows the impact of providing assistance to shoppers and making their lives easier.
It's all about coming up with an interesting angle that shoppers will be receptive to.
Conclusion
Reciprocity is a powerful principle that taps deep into human psychology.
"We are hard-wired to respond positively to a gift, even if we didn't ask for it, or even want it," explains Jeff Bradford of Forbes. "We automatically feel indebted to the giver, regardless."
This makes it a highly potent marketing strategy, and one you can use to convert more shoppers into customers. And if you nail it, this can result in long-term loyalty where customers buy from you again and again.
The ecommerce reciprocity marketing examples I've mentioned here demonstrate some of the different approaches you can take. So be sure to take these lessons and apply them to your own marketing.