Textiful makes it easy to grow your email list by text message. Using Textiful's brand new Drip integration, subscribers can opt in to your Drip list by sending an SMS.
Picture this: You're at a trade show, chatting with prospects left and right, and while you're talking they want to join your epic Drip campaign.
"Aha!" you say. "You can get the first email right now, and it will show you how to be epically awesome. Let's get you the first email right away."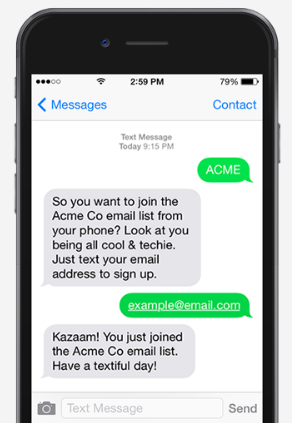 Your new friend sends a couple of texts, and within a few moments receives the first email in the campaign, while still talking with you.
Textiful SMS opt in lets you deliver value to your new leads via email while you are still talking to them… before they have a chance to forget how amazing you are.
New subscribers can opt in to your Drip campaigns by sending a text message. No online forms required, no landing page sign-up process needed, no business cards exchanged.
Instead of adding new opt-ins to your account after the event or having them use an online form, you can get your prospects opted in in a matter of seconds with a simple keyword.
If this sounds like something you could put to use right away, this article will show you how to get set up.
And if you're not yet using Drip to nurture your prospects, you can get started right now. We'll even give you your first 100 subscribers for free. Start here.