March feels like a blessed relief after those long, cold winter months.
Not just because the weather's finally heating up, but because consumers are finally spending money again.
In March 2022, US retail sales reached almost $588 billion. That's $6 billion more than consumers spent in February, and nearly $10 billion more than January's figure.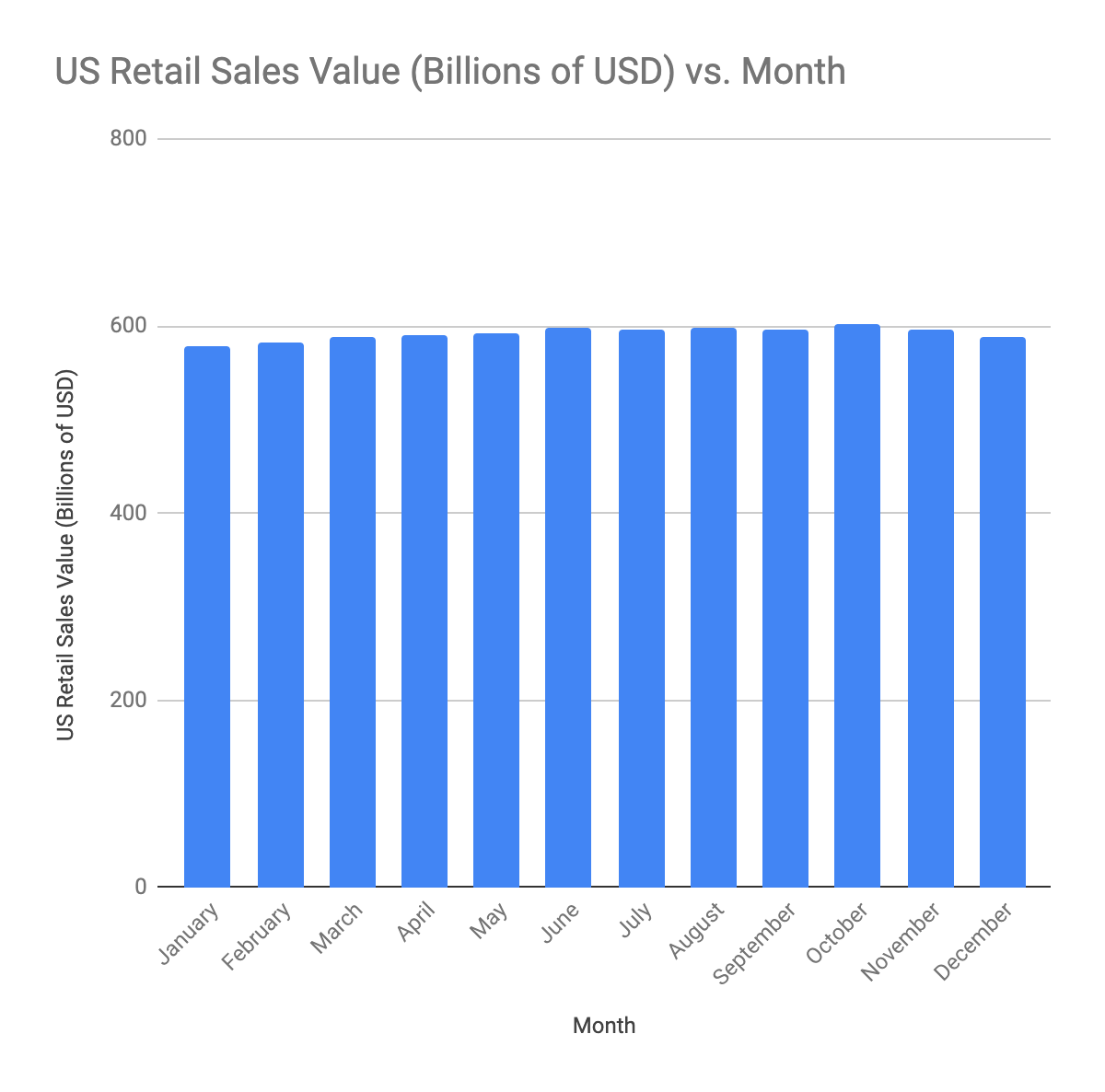 As customers start to loosen the purse strings, brands have a fantastic opportunity to end Q1 with a bang.
But it won't happen by chance. If you're going to smash your sales and revenue targets, you need to give your audience a compelling reason to buy—and that means getting your messaging spot-on.
To help you out, I scoured Drip's cavernous ecommerce marketing swipe file to round up seven of my favorite March newsletter ideas.
Here's what I found…
7 March Newsletter Ideas
1. ban.do: Launch a Spring Sale
March is a funny time.
Spring only starts midway through the month (in the northern hemisphere, at least).
Yet, with summer on the horizon, the window for promoting spring-themed products is pretty narrow.
In fact, search activity for the term "spring fashion" is already trending down by the end of March…

…and it pretty much drops off a cliff in mid-April.
No ecommerce brand wants to be left with a warehouse-full of unsold spring merch. So it makes sense to launch a flash sale in March, like apparel and accessories brand ban.do does here: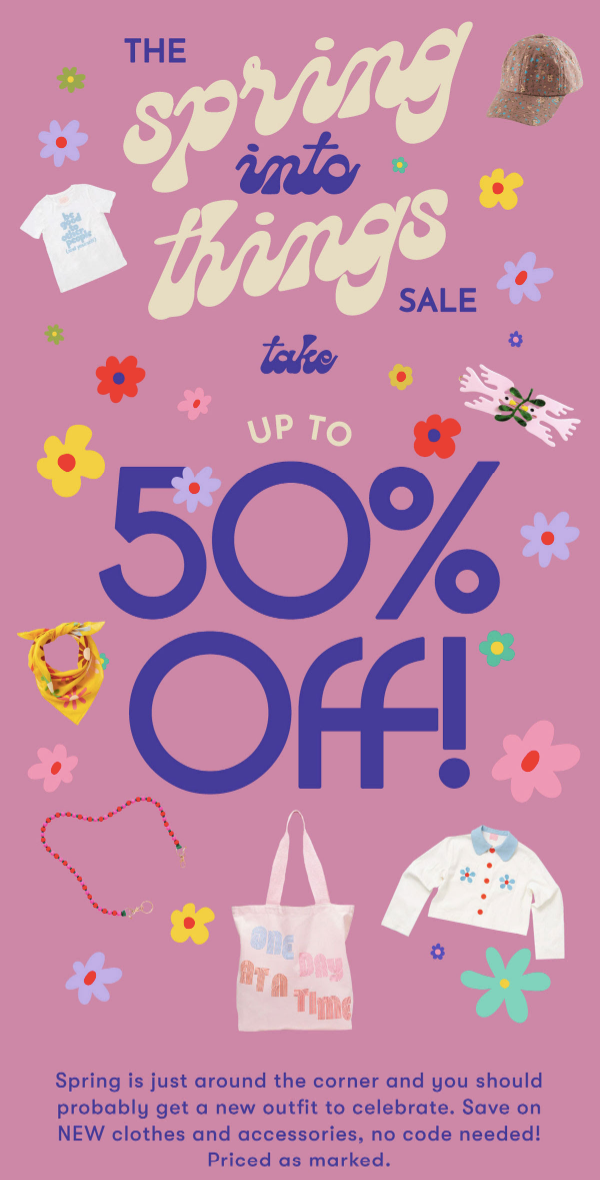 Read the email copy and you'll notice ban.do was offering up to a 50 percent reduction on new clothes and accessories.
That's a fantastic way to boost sales of your spring product line before it's time to switch focus to summer.
Speaking of which…
2. Monki: Start Promoting Summer Fashion
Ecommerce marketers are always looking (at least) one season ahead.
So even though spring's only just beginning, it's already time to start promoting your summer lineup.
Google Trends data shows that search activity for the term "summer fashion" climbs steadily throughout March:

Interestingly, it then tails off somewhat in April, before peaking in May and June.
To me, this suggests that the most fashion-forward consumers are getting a headstart on their summer purchases in March, while the rest of us leave it until the last minute to spruce up our warm-weather wardrobes.
So March is definitely the right time to add some summer-themed messaging (and products) to your email marketing campaigns.
Which brings me neatly to my next March newsletter example, from women's fashion brand Monki. As is often the case, it all starts with an engaging subject line:

I particularly like the use of emoji here. They're not always appropriate, but used intelligently — and at the right time — they grab attention in a crowded inbox.
Having won the click, Monki follows up with some typically bright-and-breezy email copywriting, a prominent call to action, and a brief selection of relevant products: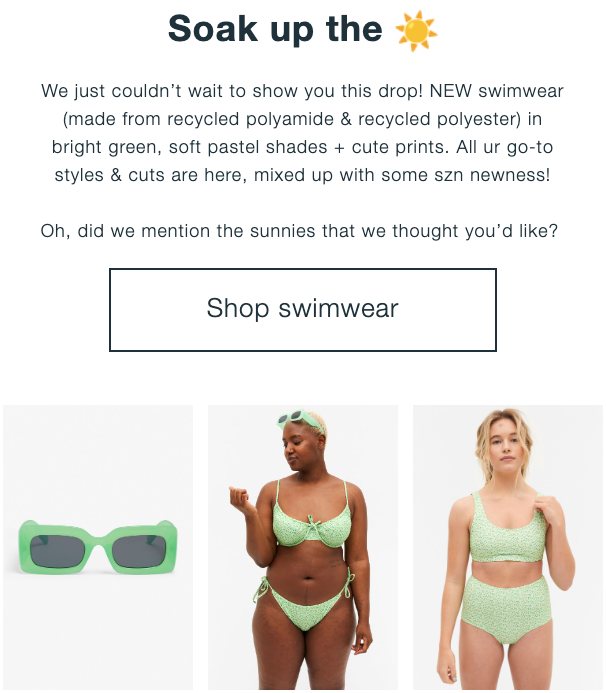 In short, there's plenty here to persuade Monki's audience to click through and browse those summer fashion staples.
3. Warby Parker: Reference Daylight Savings Time
March is the month when we spring forward by adjusting our clocks.
On the face of things, that might not sound like an obvious opportunity for ecommerce marketers.
But there are a couple compelling reasons to reference Daylight Savings Time in your March newsletters, just like eyewear retailer Warby Parker does in my next example: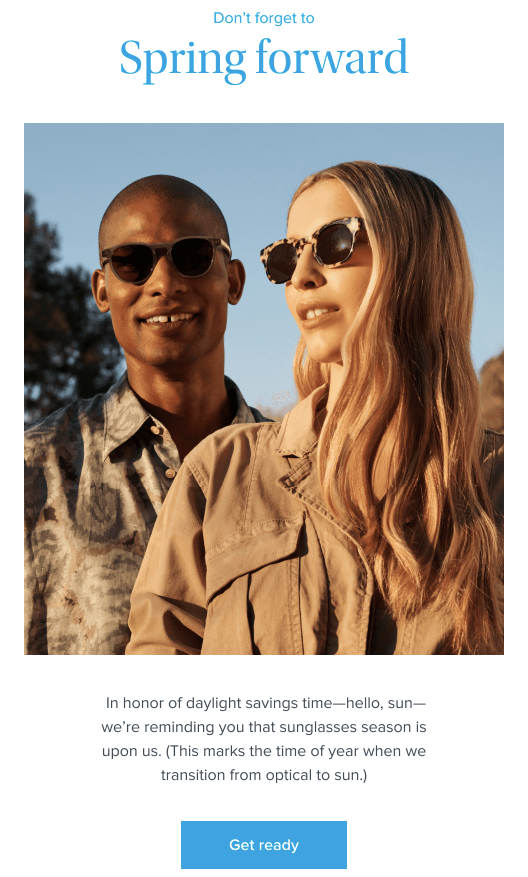 Firstly, and most obviously, changing the clocks can be confusing. So your audience will likely appreciate a well-timed reminder ahead of the day.
Secondly, Daylight Savings Time is the first sign that summer's on the way, so it's a natural fit for any summer-themed messaging.
4. Rockets of Awesome: Drive Sales With St Patrick's Day Messaging
You don't have to be Irish to love St Patrick's Day, which—as if you didn't already know — takes place annually on March 17.
More Americans are celebrating the holiday than ever before, according to the National Retail Federation (NRF), with 61 percent planning to get involved in 2023—up from 54 percent in 2022 and just 48 percent in 2007.
And "celebrating" inevitably means "spending money."
To that end, those taking part in Patty's Day 2023 plan to spend an average of $43.84 per household, with most planning to celebrate by wearing green.

So, if you're in fashion ecommerce, St Patrick's Day is an obvious occasion to push your greenest apparel.
That's precisely what children's clothing brand Rockets of Awesome did in my next March newsletter example: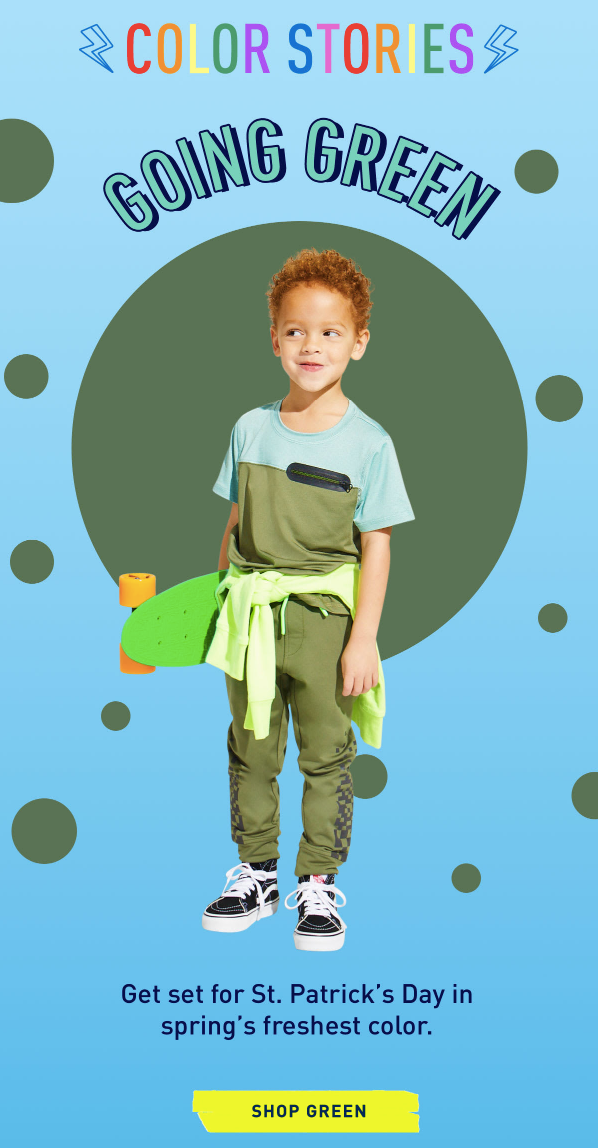 This is some intelligent email marketing.
When most people think of St Patrick's, they imagine busy pubs and Guinness hats. In other words, not very child-friendly.
But Rockets of Awesome shows that with a little imagination and some smart messaging, it's absolutely possible to use the ecommerce holiday for promoting kids' clothing.
5. Oribe Hair Care: Celebrate Women's History Month
Consumers expect more from brands than just selling a decent product at an attractive price.
Today, you have to stand for something as well.
Google Cloud research revealed that four-fifths of shoppers prefer a brand's values to align with their own. What's more, three-quarters say they've "split up" with a brand over a difference in values.
And with Women's History Month — a celebration of the vital role women have played in American history — happening annually in March, this is the perfect opportunity to applaud the contribution of women to the success of your business.
That's precisely what Oribe Hair Care does here: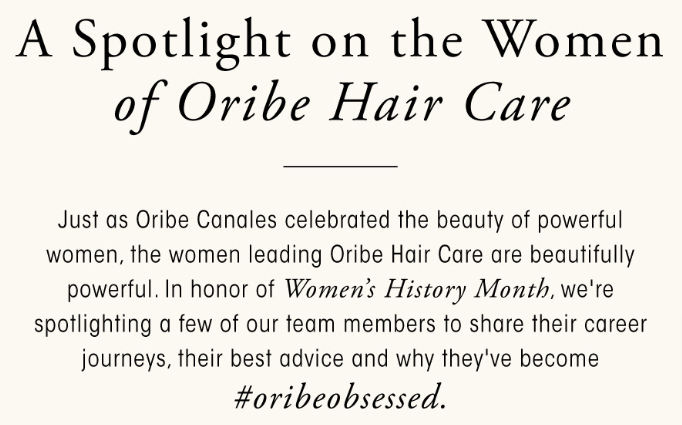 One word of warning:
If you're going to join the conversation around Women's History Month (or any other awareness event), don't make it all about selling products. Otherwise you risk looking inauthentic, cynical, and greedy—which is a massive turnoff for consumers.
For that reason, Oribe Hair Care barely mentions itself in this March newsletter example, other than a brief reference to Channel Marketing Manager Lori Polk's favorite Oribe product: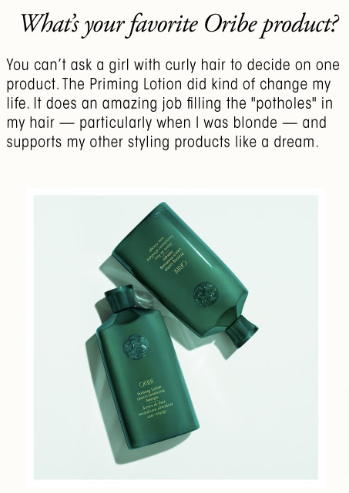 Not only that, but the brand eschews the classic "shop now" or "browse our collection" CTAs in favor of a link to its Instagram account, which contains further details about its Women's History Month campaign:

6. Design Within Reach: Use Tax Refund Season to Push Big-Ticket Purchases
Tax return season isn't the "sexiest" shopping-related event.
It doesn't have the passion of Valentine's Day or the excitement of Christmas.
But it's still a potentially huge opportunity for ecommerce marketers.
While the deadline for tax returns falls in mid-April, research from the National Retail Federation reveals that four in five Americans file their returns in February or March.
Want to know the good news for brands? Three-fifths of people are expecting a tax refund in 2023.
And while the majority of recipients plan to stick their refunds straight into savings or use them to pay down debts, others are planning to spend, spend, spend.
One in nine intend to invest in home improvement in 2023, one-tenth have their eyes on a "major purchase," and a further one in ten are planning to splurge:

That tells me one thing: tax return season is a smart time to promote big-ticket items.
And with the IRS issuing most refunds in 21 calendar days or fewer, March is the prime time to start pushing those high-end purchases.
Design Within Reach definitely got the memo. In March 2022, it shared this newsletter showcasing high-end furniture brand Herman Miller: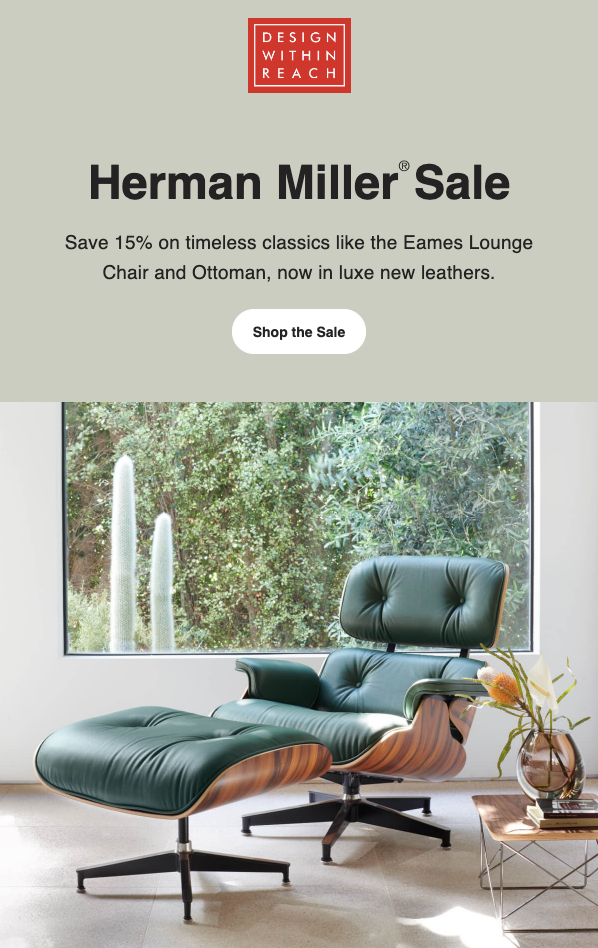 Those chairs cost thousands of dollars, which definitely qualifies as a "big-ticket purchase."
But this isn't just about showing off your most expensive products.
Design Within Reach added some urgency by introducing a flash sale, giving would-be splurgers an incentive to buy now.
7. Greetabl: Provide Graduation Give Inspiration
By the time we reach late March, graduation is just around the corner, with most institutions holding graduation ceremonies in May and June.
Graduation is yet another big gift-buying holiday, with one-third of Americans planning to purchase congratulatory presents for high school and college graduates, according to data from the NRF.
Average spending on gifts amounts to almost $115, while total spending reached $5.8 billion in 2022. That's pretty generous.

Frankly, the NRF's list of top graduation gifts is kind of uninspiring, with cash, greetings cards, and gift cards rated as the most popular options.
None of those things needs much forward planning.
However, 16 percent of respondents said they intended to gift apparel to the graduate in their life, while 11 percent opted for electronics products. Those are items that definitely require a little more thought.
So there's clearly potential for a wide range of marketers to capitalize on all that pre-graduation spending. And late March is a sensible time to start pushing your graduation-related messaging.
Unsurprisingly, gifting brand Greetabl was eager to get in on the act, sharing this email with its audience in March 2022: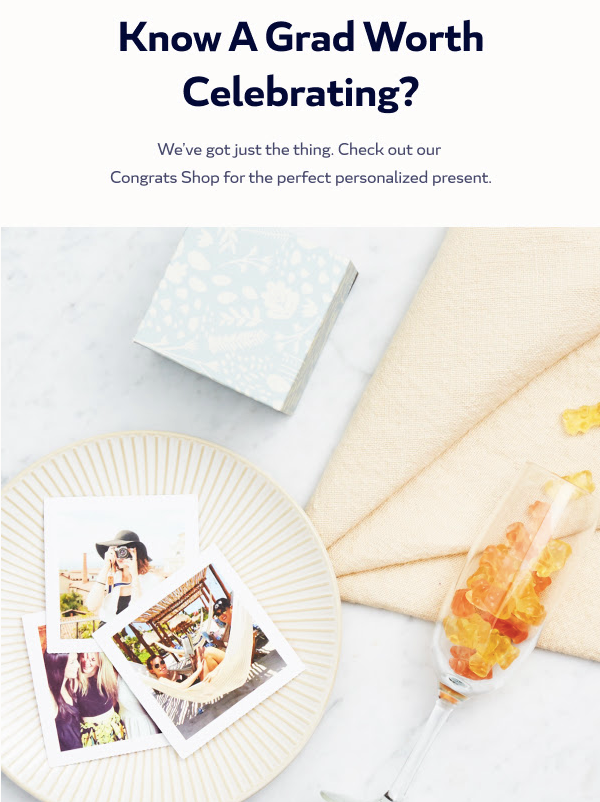 I like the messaging here. "Know a grad worth celebrating?" puts the onus on the buyer; it almost guilt-trips them into taking action.
But it's not my favorite thing about this email; that honor goes to this simple-but-effective piece of messaging: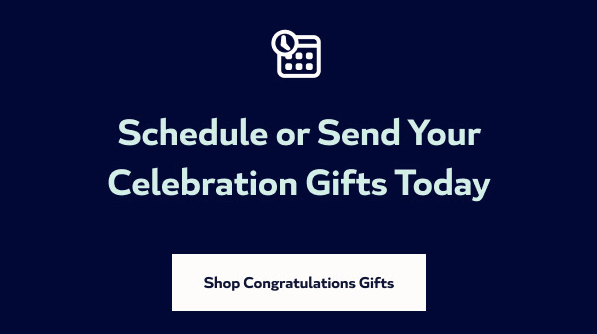 The majority ofshoppers won't need their graduation gifts to arrive in early April. That's way too early for most schools and colleges. So Greetabl gives customers the option of scheduling their order to arrive at a time of their suiting.
This is a smart move, with research from Sendcloud revealing that 67 percent of consumers say flexible delivery is important to them when shopping online.
So what does that flexibility look like?
According to Sendcloud, 65 percent of shoppers want the ability to choose the exact date their order arrives, while 71 percent would like to choose a time frame for their delivery. What's more, almost half want to be able to alter their shipping slot even when an item is already on the road.
Even if you can't fulfill all of those demands, it's in your interests to give customers as much choice as possible where shipping is concerned—especially when it comes to gift purchases.
Turbocharge Your Email Marketing Revenue With Drip
Wish you could generate a stronger return from your email activity?
Relax; Drip is here to help.
Our tools give you the power to spend less time just doing emails, freeing up more bandwidth for the stuff that makes the biggest difference: nurturing your audience, building stronger relationships, and growing revenue.
Use our library of pre-built email templates to turn opens into clicks (and sales), or do it yourself with our HTML builder.
Then set up revenue-generating automations in the blink of an eye with our pre-built playbooks and our simple-to-use visual workflow builder.
Sounds good, right?
But it's even better when you try it yourself, so sign up today for your 14-day free trial.