Remember back in the early 2010s when it felt like every brand in the world was desperate to have its own app?
Fast-forward to the current day and live chat services have replaced apps as the must-have tool in every company's locker. From e-commerce to SaaS, and from B2B to B2C, live chat is everywhere.
It's easy to see why—after all, customers like using it.
Indeed, satisfaction rates climbed to 85.6 percent in 2020, according to Statista.
Table of Contents
What is Live Chat?
Before we go any further, let's sort out some definitions.
Live chat strategies involve the use of messaging software to connect customers with sales or support agents.
Sometimes, the customer has to take action to fire up the live chat service—typically by clicking a popup box at the bottom right of the screen: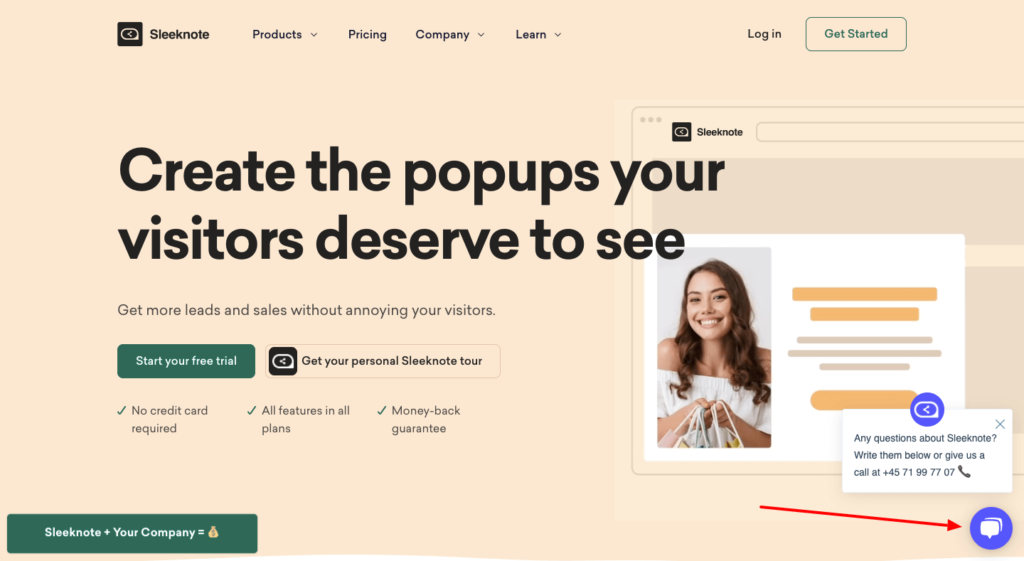 Alternatively, it might pop up proactively as a means of engaging with the customer.
Traditionally, live chat services would automatically connect you with an agent—provided one was available. If there weren't any available agents, you'd be kept in a queue or told to leave your email address.
Not a great experience.
Today, it's more likely that when you first open a chat window, you'll be speaking to a chatbot. That bot will attempt to answer your questions and point you in the direction of useful content.
If it can't do what you need it to, you'll instead be connected with a real person.
What's So Great About Live Chat?
So what's all the fuss about? Is live chat the real deal or just another fad?
Research on chatbot usage suggests the former. Sure, the two things aren't totally synonymous, but the vast majority of live chat services are at least partially driven by bots.
According to Userlike, consumers enjoy plenty of elements of the whole chatbot experience. In particular, they love the speed with which chatbots are able to respond to their queries. What's more, they appreciate how bots can provide assistance outside of regular working hours, and can also pass users over to a human agent if necessary.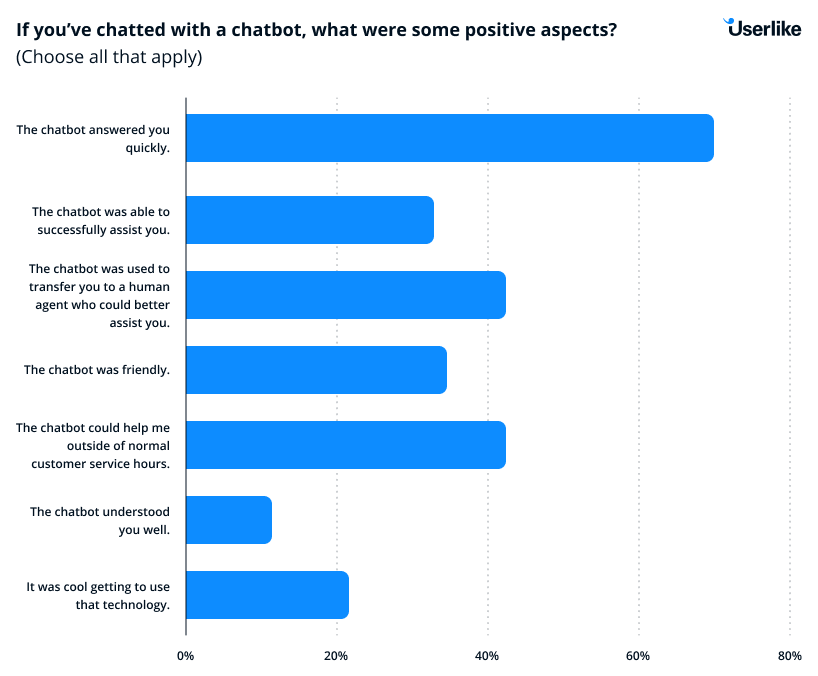 But there are some unexpected gems in the data, too. For instance, about one-third of respondents to Userlike's survey appreciated the friendliness of the chatbot they spoke to. And roughly one in four simply enjoyed using the technology that powers chatbots.
7 Examples to Inspire Your Own Live Chat Experience
Clearly, there's a lot to like about live chat. But not every brand is using it effectively.
Some live chat portals are overly intrusive and add no real value. They distract the user and add unnecessary steps to the path to purchase.
Others simply attempt to paper over the cracks of a poorly designed website. Trust me—if it's near-impossible for users to find the information they're searching for on your website, live chat isn't the answer.
However, at its best, live chat can streamline your customer experience, guiding people toward the answers they crave and increasing your conversion rate. So now we're going to look at seven examples of brands getting it right.
1. Currys PC World
Chatbots should never be a roadblock that prevents your customers from speaking to an actual human.
Instead, think of your live chat portal as an online concierge.
When you stay in a fancy hotel, the concierge is on hand to make your life easier—they'll make restaurant reservations, book theater tickets, and order taxis on your behalf. In short, they connect you to the service you're looking for in the quickest possible time, and with no hassle on your part.
It's no different with live chat. The chatbot exists to smooth the customer's journey, not slow them down.
Tech retailer Currys PC World gets it exactly right. As soon as you click to expand the live chat popup, you're presented with two simple options—get advice before you make a purchase, or ask about the status of your existing order: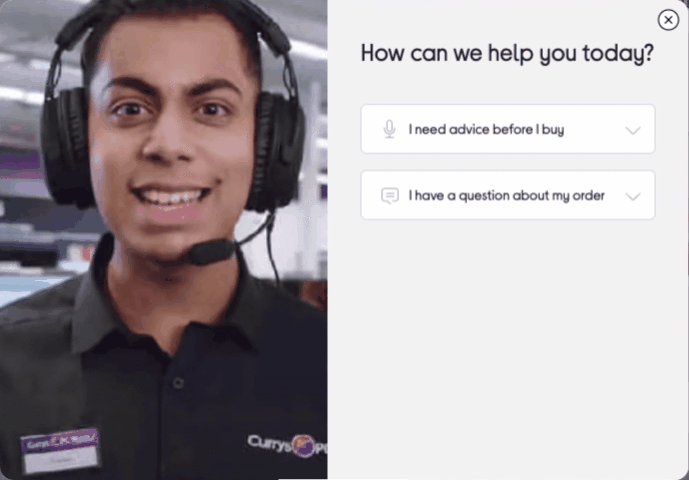 Hit that first option and you're immediately able to start a live video call with one of the retailer's experts.
Clearly, Currys PC World understands that in the world of tech, customers might have any number of queries about a product. It's not possible to anticipate every single one and answer them all through explainer blogs or FAQ sections.
Even the most advanced chatbot isn't going to be able to provide all the answers, so the best solution—at least until AI becomes a lot smarter—is undoubtedly to connect the customer with a human agent.
2. H&M
Transparency is a big issue when it comes to live chat and chatbot usage. The thing is, consumers are happy speaking to chatbots—in fact, sometimes they even prefer it over talking to an actual person.
However, they definitely don't want to feel like they're being misled about what is and isn't a bot, as demonstrated by research performed by Goldsmiths University and Mindshare.
Based on several experiments using the machine learning platform IBM Watson, the study discovered that 63 percent of people would consider using a chatbot to connect with a business or brand. But 48 percent insisted it feels "creepy" if the chatbot in question pretends to be human.
Evidently, H&M is well aware of this, because its live chat portal makes it crystal clear that you're dealing with a bot: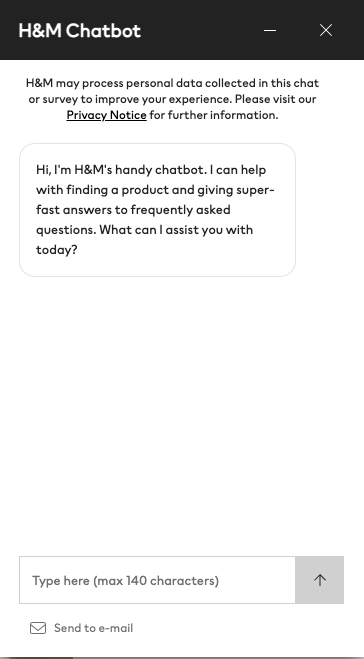 What I like about this example is that H&M isn't apologetic about using bots. And why should it be? People like chatbots.
Instead, the retailer highlights the benefits of using its bot-powered chat portal—finding products and getting rapid answers to frequently asked questions.
3. Walmart
Live chat is all about convenience.
If it's harder for customers to find the information they're looking for via live chat than if they were just to click around your site themselves (or leave completely and Google it), your chat service isn't adding anything to the user journey.
Quite the opposite—it's an actual barrier to conversions. So it's in your best interest to make your live chat service as user-friendly as possible.
Admittedly, that's not exactly a revelation. I doubt anyone starts out with the intention of implementing a live chat facility that's actively unhelpful or difficult to use. But getting it right isn't always easy.
One potential stumbling block to running an effective bot-based live chat service is that users need to phrase their questions in a way that the bot can understand. That means customers are often left second-guessing themselves.
Walmart takes much of the hard work out of this process by presenting users with a bunch of predefined options based on frequently asked questions:
Say you want to find out when the PS4 will be back in stock—just click the relevant button and you'll be presented with Walmart's most up-to-date information.
It saves customers the hassle of typing their questions manually, which can be a bit of a pain, especially on mobile.
4. Wayfair
At the start of this article, I made a comparison between live chat and apps. Back in 2010, it seemed everyone wanted an app, simply because their rivals had apps too.
It meant we got a bunch of useless vanity applications that benefited no one other than the marketing and web dev teams that created them. Like the US steakhouse chain that launched an app that allowed users to flip a virtual steak—and nothing else.
Want to book a table or browse the menu? Nope, just flip that steak.
Anyway, my point here is that apps weren't the catch-all solution that every brand seemed to hope they'd be.
And it's no different for live chat services. Sure, sometimes live chat is exactly the right option. But at other times, it's simply easier and more effective for customers to reach out via phone, email, or social media.
That's why Wayfair doesn't instantly point all its customer queries straight toward the live chatbox.
Quite the opposite—in fact, you have to answer some qualifying questions based on the nature of your query or problem before you're presented with the most appropriate ways to get in touch: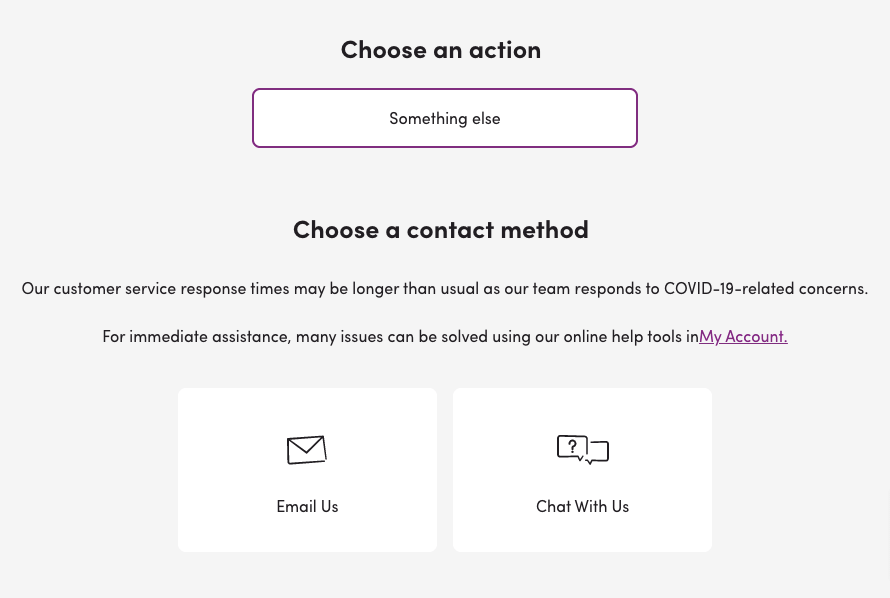 That's a smart approach because it means the live chat facility is only going to be used when it's the best solution. Which ultimately means more customers are going to go away happy with their experience.
5. Home Depot
I've said it before, but it bears repeating: live chat is there to make your customer's lives easier, not to tie them up like a pretzel looking for answers to their questions.
The trouble is, people don't always know exactly what they're trying to ask.
After all, the retailer is ultimately the expert. If the customer knew more than you, they wouldn't be asking you a question in the first place, right?
So it helps to spell out all the steps in the process and highlight all the potential "lines of questioning" for them, just like Home Depot does: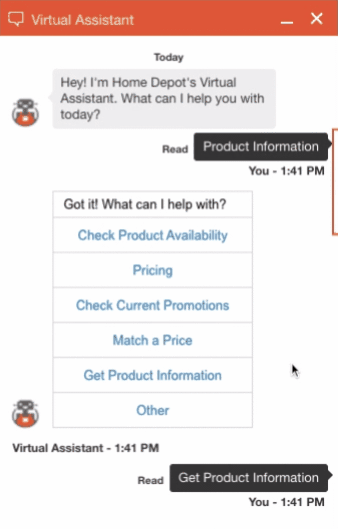 This is so easy to use. If I'm looking for product information, great—I just click "Get Product Information". Then I'm instantly presented with all the different types of product information that might be useful to me.
And if I can't find exactly what I'm looking for, I can enter my query manually. I barely have to think at all to find what I'm looking for.
6. eBay
We all know consumers love personalization.
And, by this point, I think we're clear that they're pretty keen on live chat too (provided it's implemented and used effectively).
So it should be apparent that combining live chat and personalization can be a real customer service win.
In fact, research from Kayako shows that 19 out of 20 consumers would rather experience slower-paced, personalized expert support over lower-quality but faster service.
Unsurprisingly, e-commerce giant eBay understands this, utilizing the power of personalization in its own live chat service. Straight away, when you open a live chat window, you're greeted by name: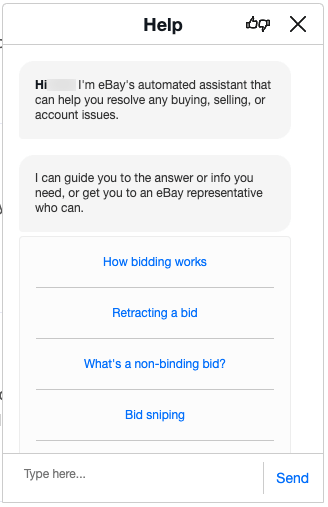 There's nothing particularly complex about this approach, but it goes a long way to making you feel like eBay knows who you are and is eager to help.
7. AT&T
When it comes to making live chat services as useful for the customer as possible, there's another key element that we're yet to discuss: placement.
What do I mean by this?
Well, not every page on your site needs a live chat link. If I've just landed on your homepage, I'd like to think I can at least navigate my way toward the relevant product category without needing a chatbot to take me there.
If I can't, I'd suggest there's something dramatically wrong with your website. And, to restate the point: live chat should never be used as a crutch for a poor user experience.
US telecoms giant AT&T gets it right. It doesn't bother displaying the live chat popup when you arrive on the homepage. But it shows up when you click through to a part of the site where you might need live support, like the "Pick your phones" category page: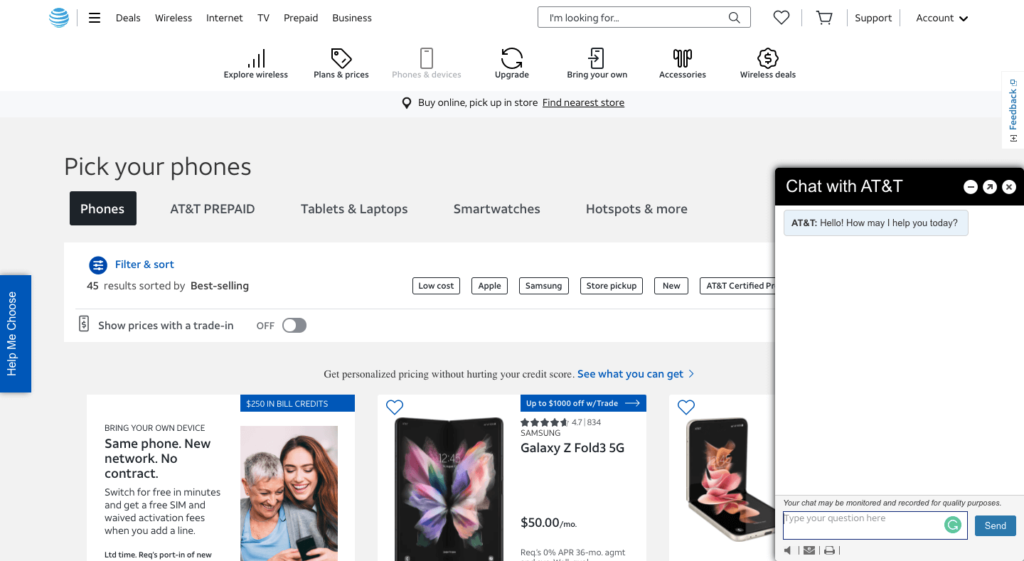 In this way, AT&T strikes the right balance between being there when you need it and cutting down on unnecessary noise.
Conclusion
Running an effective live chat service is all about finding the right balance between:
Being visible but unintrusive;
Offering the user options but not being prescriptive or formulaic; and
Providing instant answers via chatbot but not stopping customers from speaking to an actual human.
Get it right and you'll be better placed to engage customers and help them find the information they need to make buying decisions. And ultimately, that means you'll also see stronger conversion rates.
Everybody wins.