Ever wonder how some e-commerce stores seem to become successful overnight?
They have thousands of social media followers and online reviews, and are selling a lot of products.
How do they do it?
Google AdWords.
AdWords and e-commerce go together like peanut butter and jelly for a good reason: it works.
One study found that e-commerce retailers have the highest click-through rate out of all industries at 5.23%, with an average conversion rate of 3.58%.
Creating a profitable AdWords campaign that drives sales can seem overwhelming at first. But, all you need to succeed is a little planning and strategy.
Here's how to rock your Google AdWords campaign, even if it's your first time making one.
Table of Contents
Step 1: Prepare Your Google Adwords Campaign
Before creating a campaign, you need to know what you're trying to achieve.
This includes outlining your goals and preparing what you'll need to carry out your campaign, like a landing page, an AdWords budget and more.
Let's look at this in more detail.
i. Decide an Appropriate Call-to-Action (CTA)
The first goal you need to define for your new campaign is what success looks like.
Ask yourself, "What do I want users to do after they click my ad?"
It could be anything from placing an order to entering their email address to join your email list.
If you have more than one goal, write them all down. Each ad group should focus on only one goal. When you have many goals, you need many ad groups in your campaign.
ii. Set Your Budget
You wouldn't launch any other marketing initiative without a budget in mind, right?
Having a concrete number in mind is crucial before you even log in to AdWords. Without one, you'll bankrupt your budget in no time.
AdWords works on a daily budget basis. To determine the daily budget to use for your campaign, figure out your total monthly ad spend budget, then divide that by 30.
Make sure this is a realistic budget to achieve your goals. Having a $100 monthly budget with a goal of making 50 sales of a $10,000 product isn't going to cut it, right?
iii. Create Your Landing Page
If your goal is to drive traffic to a contest or promotion, you should make a dedicated page for it. Doing this will prevent users from feeling confused, or having to search for what the ad promised.
Landing pages are also useful for highlighting a specific sale or coupon deal. Or, anything else you want visitors to focus on without getting distracted with the rest of your site.
Take a look at this ad from Atmosphere.

It promotes hiking boots. But when I click on it, it takes me to its category page rather than a dedicated page for the product itself. If visitors need to navigate anywhere other than your checkout page—something's wrong.
Conversely, this ad from Mountain Dew and Doritos directs users to a special contest landing page.

The contest page is super simple and focuses on this one contest. They also display the prize at the top of the page with a contest entry box underneath ("Get started and enter code").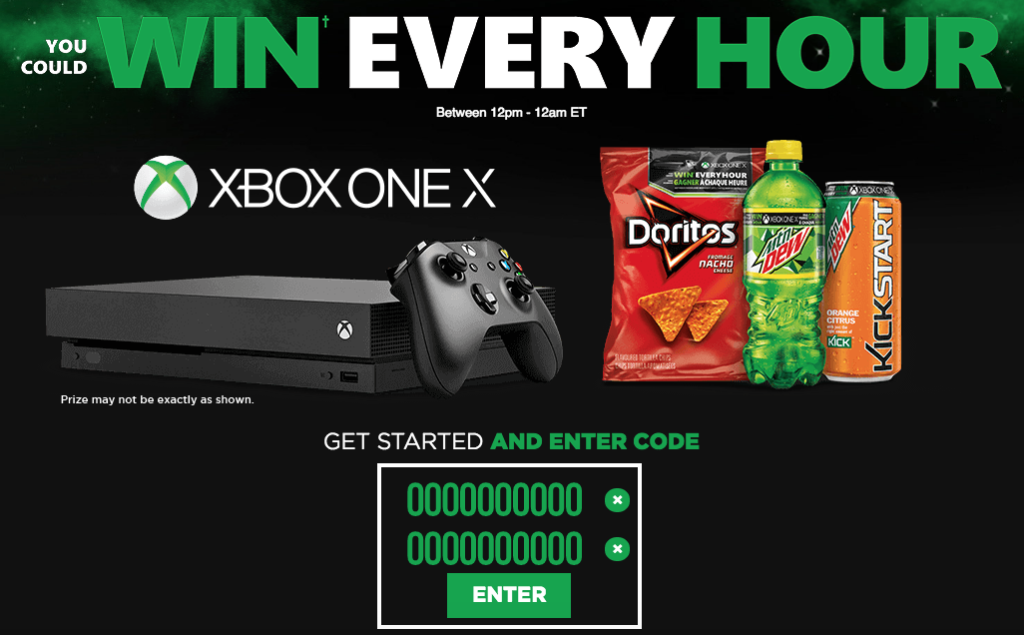 Bottom line?
Make sure your landing page has a strong call-to-action to invite users to complete your goal.
Step 2: Research Your Customers
Once you know your goal(s) and which pages you'll drive traffic to, you need to know who you're targeting and how to impact them with a strong message.
Here's how to do that.
i. Keyword Research
You're no doubt familiar with doing keyword research for content marketing. Well, the process is like an AdWords campaign, only with a few additions.
Your AdWords keywords need to:
Address each stage of the buyer journey.
Be specific to your product (or what your landing page is about).
Be grouped in relevant lists of 10-20 keywords for a specific topic.
For example, let's say you're trying to drive sales to your mobile accessories store.
Your goal is to increase sales, but you can do this in many ways if you have several products.
Each unique product that fits into your campaign should have its own list of keywords and ads.
Here's what that could look like:
Overall Campaign Goal: Increase Sales
Ad Group 1: Chargers
Landing Page: www.mystore.com/chargers
Keywords: phone chargers, iPhone chargers, iPhone 7 chargers, Android chargers, Apple chargers, lightning chargers, wireless chargers, USB phone charger, etc
Ad Group 2: iPhone Cases
Landing Page: www.mystore.com/iphone-cases
Keywords: iPhone case, shockproof iPhone case, flower iPhone case, iPhone 6 case, iPhone 6s case, iPhone 7 case, iPhone 8 case, iPhone 6 plus case, etc
Each product has specific keywords people will be searching for. So, make each keyword group its own ad group for the best result in your campaign.
ii. Develop a Strong Message
Don't wait until you're staring at a blank AdWords screen before you begin thinking about your ad copy.
You don't have to have them all pre-written, but it's useful to write down some key messages you need to get across to attract customers before starting.
What can you say about your phone chargers to get people to click on your ad instead of the competition? Do you have a unique value proposition?
This ad from Amazon highlights a key feature right in the headline: it charges four times faster.

Additionally, plan out different calls-to-action to try out in your ads.
In a study of over 600 of the highest-performing e-commerce ads, the word "get" in a call to action resulted in the best performance.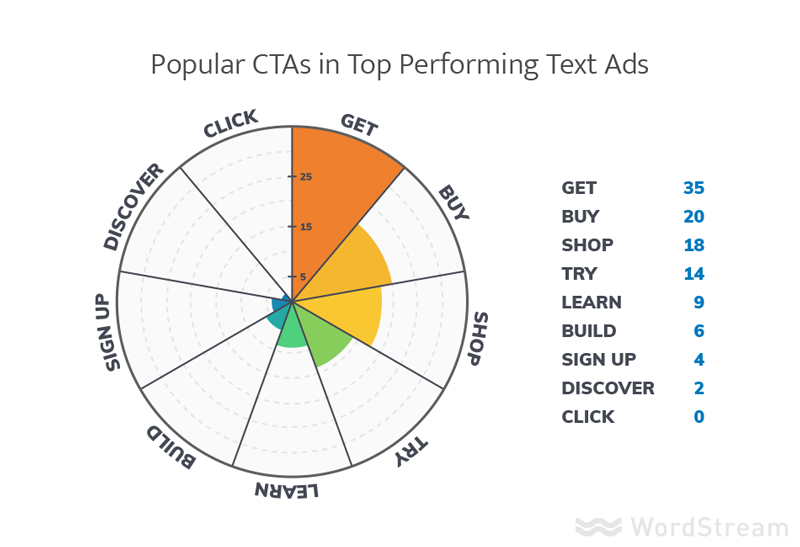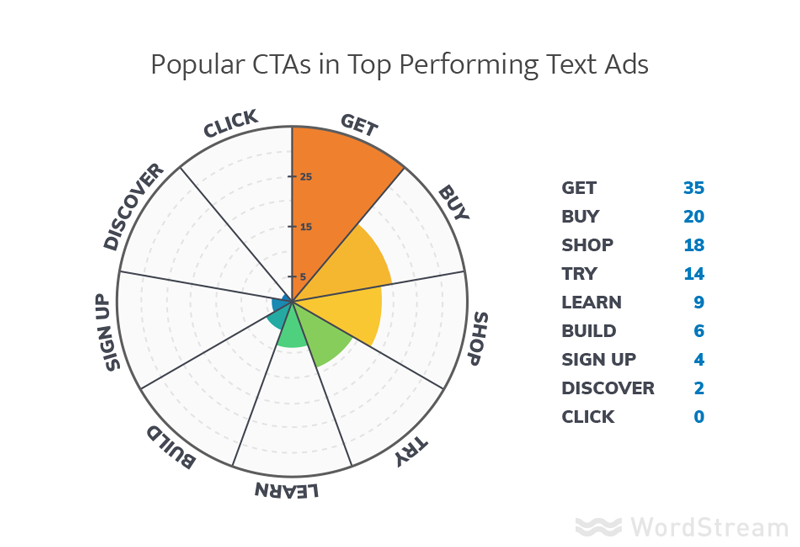 Source: Wordstream
Write down variations of your CTA using different words to discover what works best for you.
Step 3: Setup Your Google AdWords Campaign
Now it's time to actually create your campaign.
Let's dive in.
Step i. Choose Your Goal
After setting up your Google AdWords account, create a new campaign.
From the Campaigns tab, click the plus sign button to create a new one.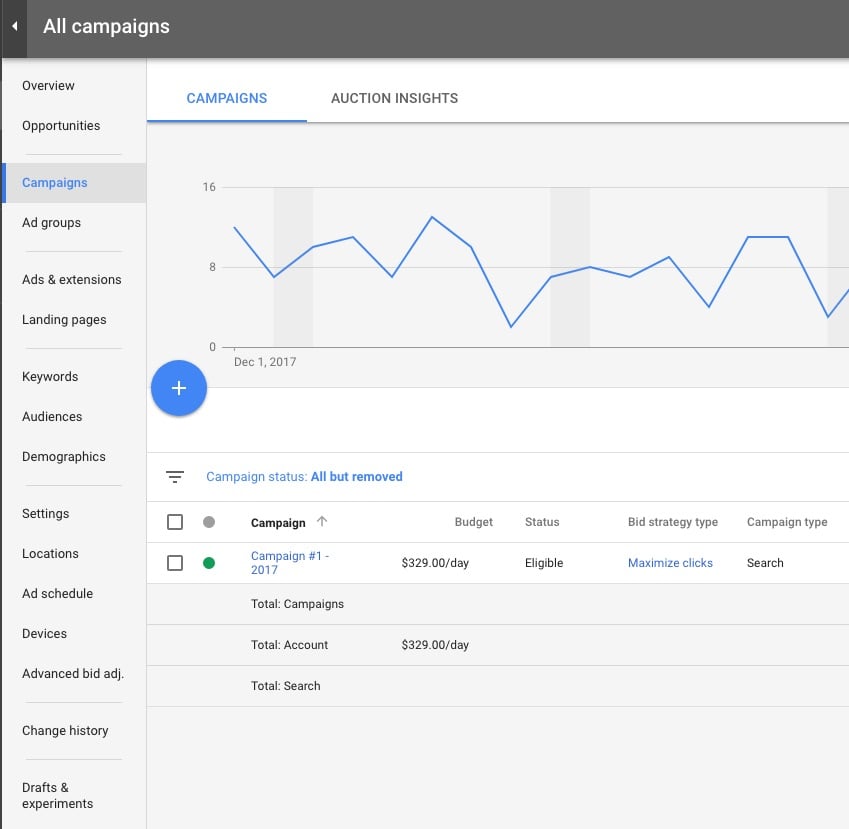 Choose the Search Network as the campaign type.

Then choose your goal: sales, leads or website traffic.
Whichever goal you choose, you're in control of how your campaign runs. Keep in mind, though, AdWords will show you recommendations to increase conversions depending on the type of goal you choose.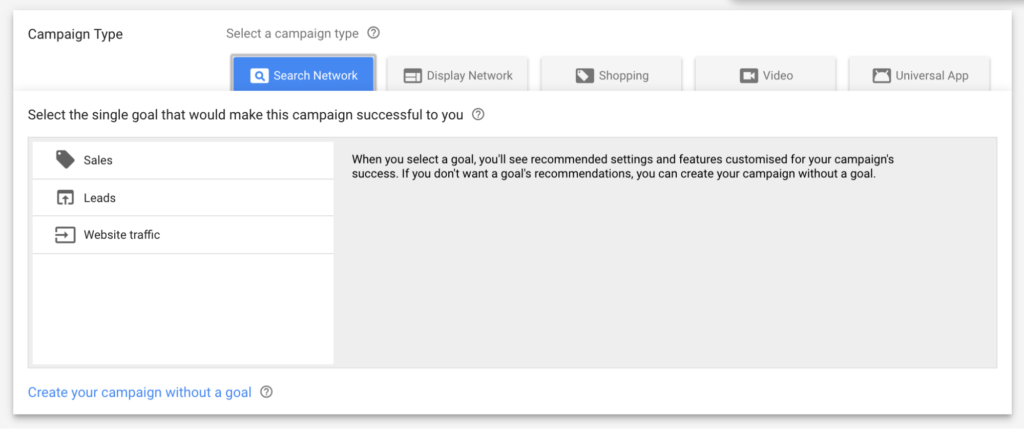 Step ii: Target Locations
Next up, choose your locations. You can include or exclude people based on country, province/state or city/region.
For example, if you want to target people in the United States and Canada, add them.

To exclude people living in a country or region, start typing into the box and be sure to click on "Exclude."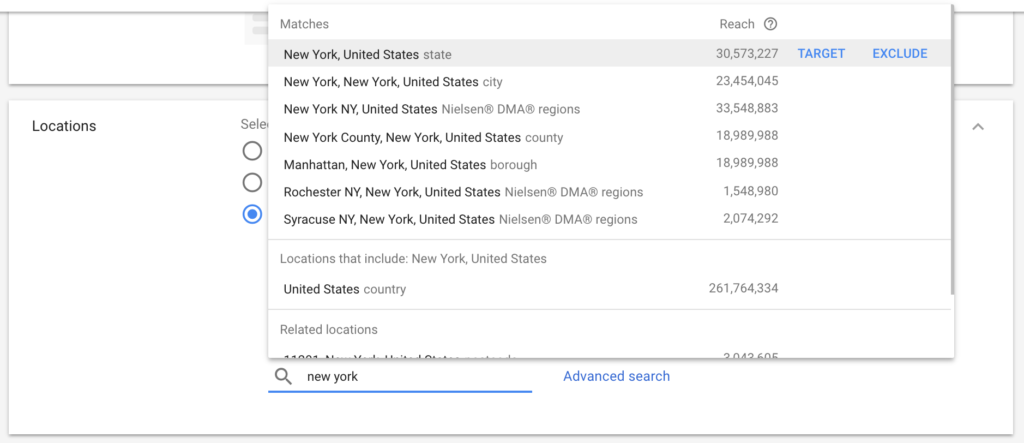 Targeting your ads to certain areas means users located in those regions will see your ads.
If you want to ensure users in certain regions don't see your ads at all, use the exclusion feature to block those areas.
Step iii: Choose a Bid Strategy
The bidding strategy you choose depends on your original campaign goal.
If your goal is to make more sales for your e-commerce store, "Maximize Conversions" is the way to go. AdWords will show your ads to people more likely to buy, based on historical data.
If your goal is to drive traffic to your site, you want to maximize for clicks instead. This will optimize your campaign for the highest number of clicks, rather than focus on whether users convert or not.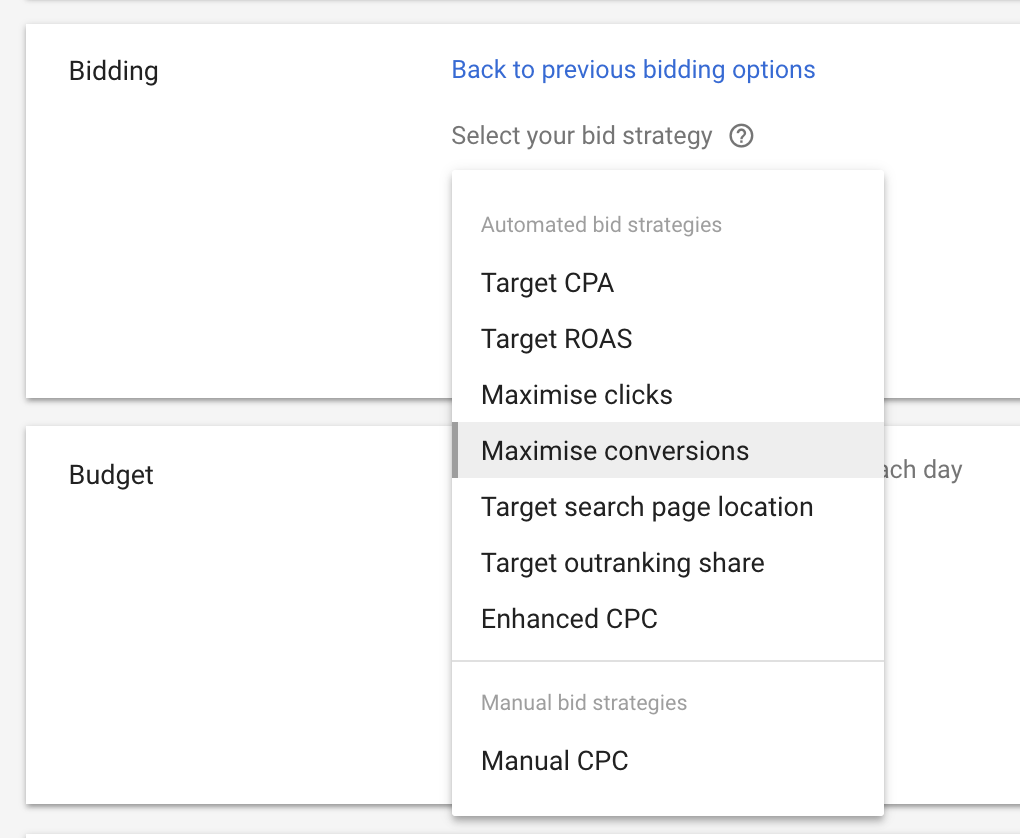 If you want more control of your campaign, opt for "Manual CPC." This lets you set a specific dollar amount bid for each keyword.
Manual CPC is great if you always want to be on the first page of search results.
You can set an automated rule to run daily to raise your bids to what it takes to get you on the front page, without having to change it yourself.
In most cases, especially for e-commerce, you want to maximize for conversions. Remember, it's the quality of the lead that matters more than the quantity.
Step iv: Write Your Ad Extensions
Before you actually create your ads, you need to write the ad extensions for your campaign.
There are different kinds, like sitelinks, callouts, and even product reviews.
They add more depth to your ads than the standard headline and two lines of text.
Here's an example from DecalGirl.

The blue headline at the top and black ad text are standard, but this ad also features:
The Review Extension: Where it says they have a "4.8-star rating."
Callout Extensions: Extra features about their service, where it says, "Ships next business day," and, "Made in the USA."
Sitelink Extensions: The four blue links at the bottom linking the user to different areas of their site.
You attach these to your ads when you write them so create them first, if possible.
For all campaigns, you should always use sitelink and callout extensions3. They give you more real estate to talk about what makes you unique and provide more links.
Promotion extensions work well for a special event campaign, like promoting a Black Friday sale.
They also do a good job of drawing attention to your special offer, like this mockup example for a 20% sale on women's shoes: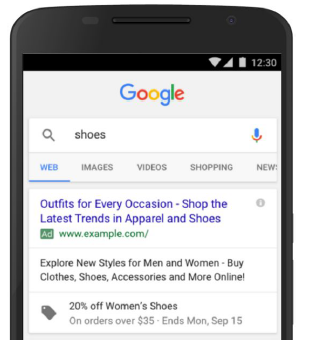 Source: Wordstream
A recent study found ads with a promotion extension had a high average click-through rate of 10%.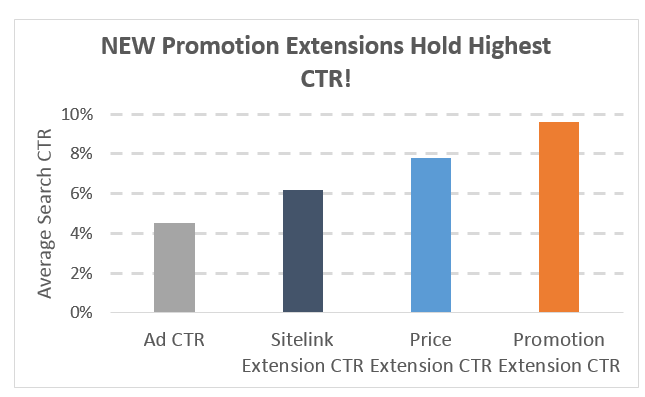 Source: Wordstream
You can add many extensions now and pick and choose which ones you want to feature in ads in the next step.
Step 4: Write Your Ads
When writing your ads, clarity trumps cleverness.
There are three essential elements:
A compelling headline: this is up to 25 characters.
Two lines of body copy: this is up to 35 characters for each line.
A URL to direct people to: such as your product page.
Aim to create 3-5 ads for each of your keyword groups and test out different ads to find out which ones perform the best. After a few weeks, remove the ones that aren't performing and try some new ones.
Experimenting with ad copy is paramount to the success of your campaign. You can't write your ads once at the beginning and then never touch them.
Always write new ads, tweak existing ones and test everything to get the best performance.
Step 5. Measure Your Success
AdWords is not a "set it and forget it" kind of advertising.
You need to be reviewing your results and taking action on what the data is telling you. For a new campaign, plan to review and tweak your ads every day.
Once your campaign is performing well, check in weekly instead as maintenance.
Here's what you should be evaluating during those check-ins:
i. Metrics to Track
In your campaign dashboard, you can see some key metrics right away.
Clicks, impressions, CPC (cost per click), conversions, cost per conversion and your average cost per conversion are all important numbers to track.

Check in on your individual keyword bids, too. AdWords will tell you when your bid is too low to appear on the first page of results.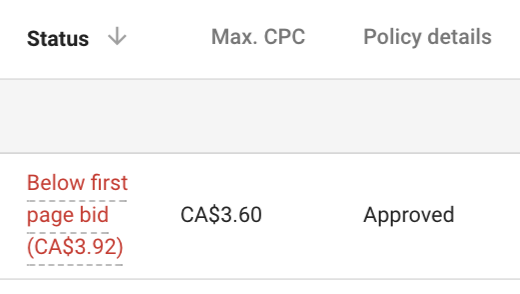 ii. Calculate Profit
More important than knowing how much a conversion is costing you is knowing if your ads are actually making you money.
Consider your average cost per click and cost per conversion. What is the average order value you're getting from that conversion?
Does the math add up?
If you're spending $20 to make a sale but your average order value is only $10, you're not running a profitable AdWords campaign. You're losing money.
If your cost per conversion is too high, try targeting your ads to a more defined audience. Narrow down your keywords so they're specific to the type of customer who will spend more and make your campaign profitable.
Tighten up your geographic targeting, too. If you're not profitable targeting several countries, focus on only one, or even a few major cities.
iii. Review Google's Suggestions
AdWords offers suggestions on how to improve your ads, found in the upper right corner.
Don't accept all their suggestions, but consider them.
Google may suggest splitting up ad groups to form more targeting groupings of keywords, or suggest new keywords you hadn't thought of before.
This is also where you want to check for any ad issues.
AdWords will offer suggestions to improve ads with low-quality scores. So, when you login, pay attention to any relevant notifications.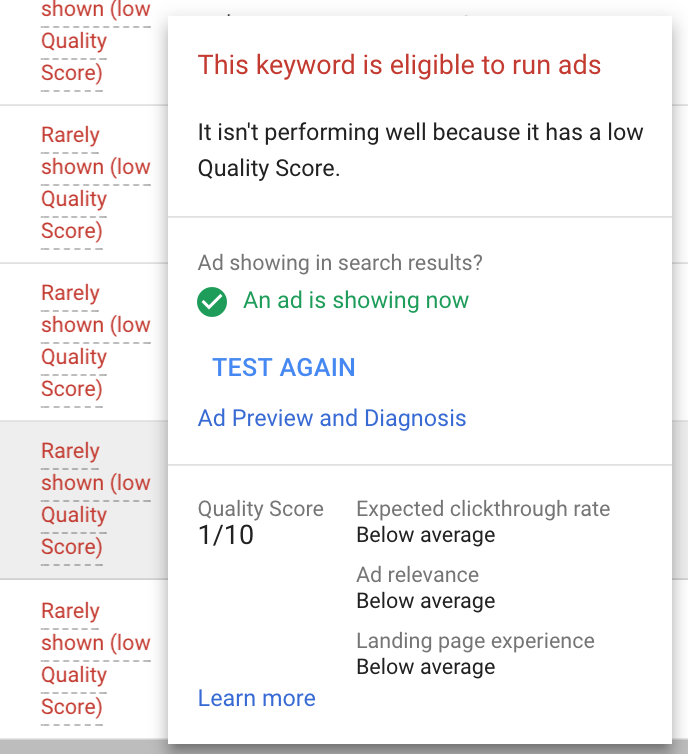 For more on how to increase your customer lifetime value, read this article.
Conclusion
Running a Google AdWords campaign can scale your store fast and add a lot to your bottom line.
But, it also takes work to optimize, maintain and test new ads to get the best results.
Unlike long-term strategies like SEO, you can see immediate success with AdWords.
And while it's not a marketing plan on its own, it is a great addition to a strong marketing strategy for your e-commerce business.