There's no lack of analytics platforms these days. A search for "web analytics" generates 264 million results.

You can get data and create reports on practically anything under the sun.
But at the end of the day, there's one platform that stands out above all others.
Unsurprisingly, it's Google Analytics.
In fact, 59.48 percent of the top 10k sites on the Internet are using Google Analytics.

I like to think of it as the universal analytics platform. It's what seemingly everyone is using.
Since its inception back in 2005, Google Analytics has undergone a lot of changes and has gotten a heck of a lot more sophisticated with its reporting over the years.
And this has been a godsend for e-commerce business owners.
By examining the right data, you can get an in-depth snapshot of how your site is performing and what needs tweaking.
Whether you're just looking at the surface level or digging down really deep, it's all there.
In turn, you can make highly informed decisions based on concrete data rather than mere hunches.
But for it to truly be practical and actionable, you need to know which reports to focus on.
With that being said, here are some of the top Google Analytics reports you should be using to make your e-commerce business run like a well-oiled machine.
Table of Contents
1. Traffic Channels
Let's start from the top.
One of the more basic but important reports is your traffic channels, which can be accessed by clicking on "Acquisition."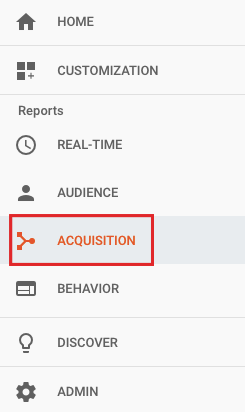 Then "All Traffic."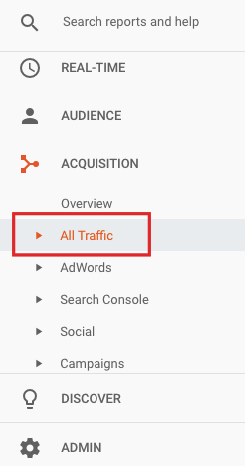 Then "Channels."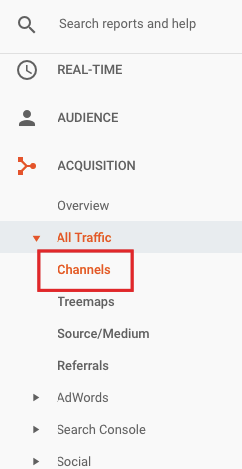 You'll then see something that looks like this:
This is a good way to quickly get an idea of which channels are bringing in the most traffic and if there are any areas that demand your attention.
In this specific report, it's clear that email is the weak link in terms of traffic generation and would be a top priority considering that it's only generating a fraction of the traffic when compared to all other channels.
As a result, you would probably want to reexamine your email campaign and try to pinpoint weaknesses.
Maybe your headlines are weak. Or maybe your copy could use some polishing.
Whatever the case, you can use this data to prioritize your marketing efforts and ultimately create a better balance.
In some cases, you may even want to scrap a channel altogether if the time you're putting into it simply isn't worth the payoff.
Now let's break traffic channels down even more and take an up-close look at specific channels that are most important.
2. Organic Search
SEO is the nucleus of many modern marketing campaigns. And it's easy to see why.
With 93 percent of online experiences beginning with a search engine, it stands to reason that marketers would want to make a concerted effort to be found in SERPs.
That's why you'll want to get the skinny on your organic search traffic and see which keywords are bringing in the bulk of your traffic.
To do so, simply click on "Organic Search."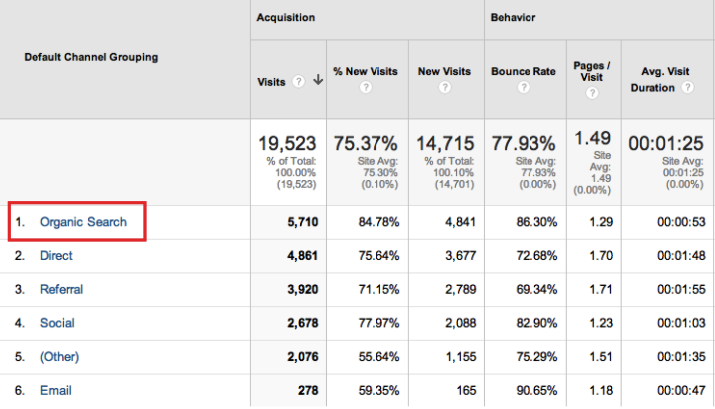 You'll then see something like this: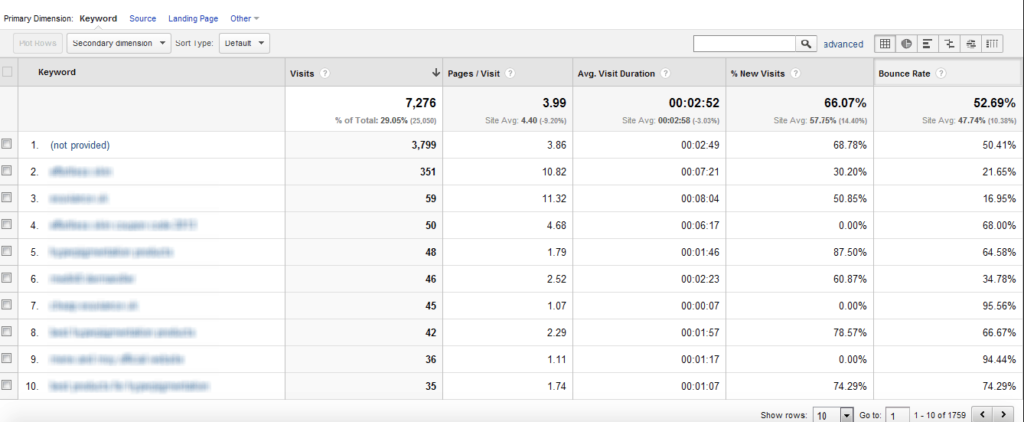 Just like that, you can figure out what your top keywords are as well as which ones are underperforming.
Maybe keywords involving a particular subject or product are generating a ton of traffic and vice versa.
Or if you find that a recent SEO technique led to a traffic breakthrough, you would want to rinse and repeat.
You can then use that knowledge to shape your SEO strategy moving forward.
3. Direct Traffic
It's also smart to take a close look at your direct traffic.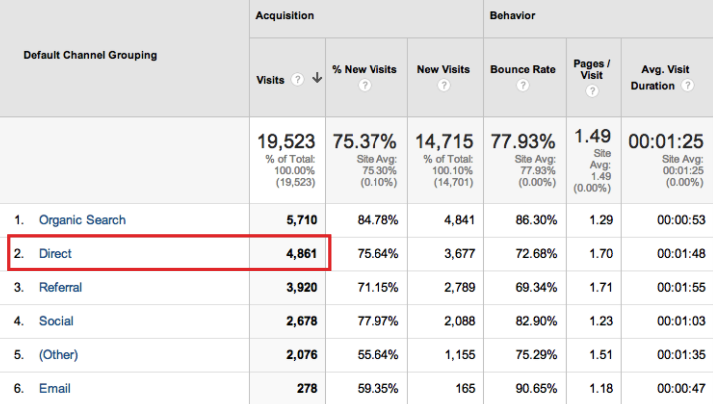 Why?
The percentage of your traffic that's "direct" correlates into brand awareness.
That's because the bulk of direct traffic comes from someone either typing in your URL directly or clicking on your site via a bookmark.
This is important because these visitors already know about your brand if they're visiting your site directly. There's a certain level of brand awareness.
So if you notice an upswing in direct traffic, this is usually an indicator of rising brand awareness, which should bode well for you in the long run.
The bottom line is that traffic channels are an effective way to gauge the current state of your marketing and figure out the paths visitors are taking to get to your e-commerce site.
From there you can decide which channels are most deserving of your attention.
4. Behavior Flow
It's critical to understand what your average visitor's journey is like.
You want to know the path they're taking from the moment they land on your e-commerce site all the way until they ultimately make a purchase.
Or if they drop off, you want to know which factors contributed to them leaving so that you can make the necessary corrections.
Fortunately, Behavior Flow can tell you all of this and then some.
You can access it by clicking on "Behavior" from your dashboard.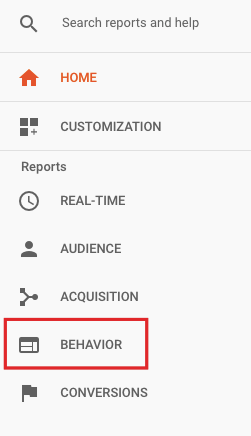 Then click on "Behavior Flow."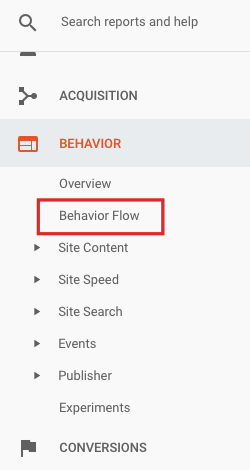 You'll then see a slightly funky report that looks like this: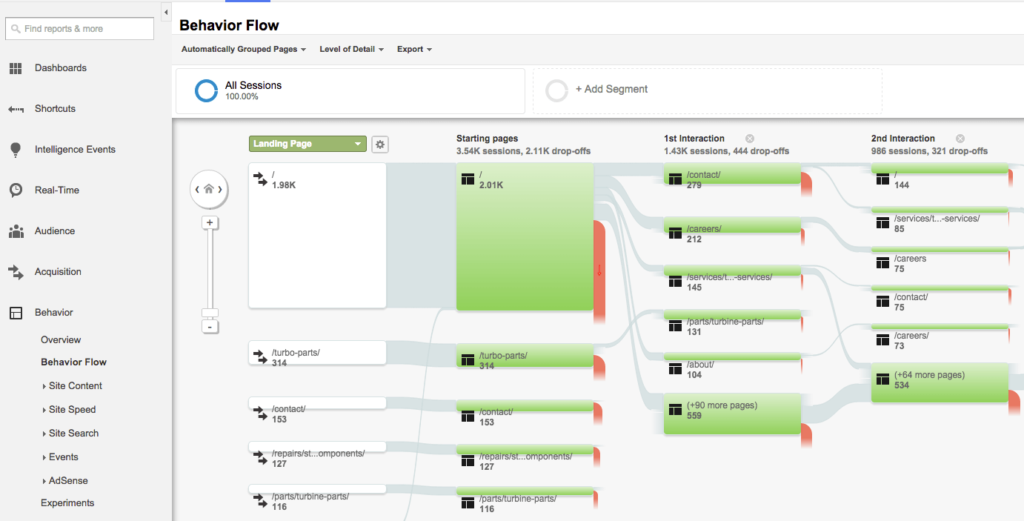 It can be a little confusing at first look, so in order to decipher the data, you'll want to move from left to right.
A quick look at "Starting pages" will tell you which page visitors are landing on initially.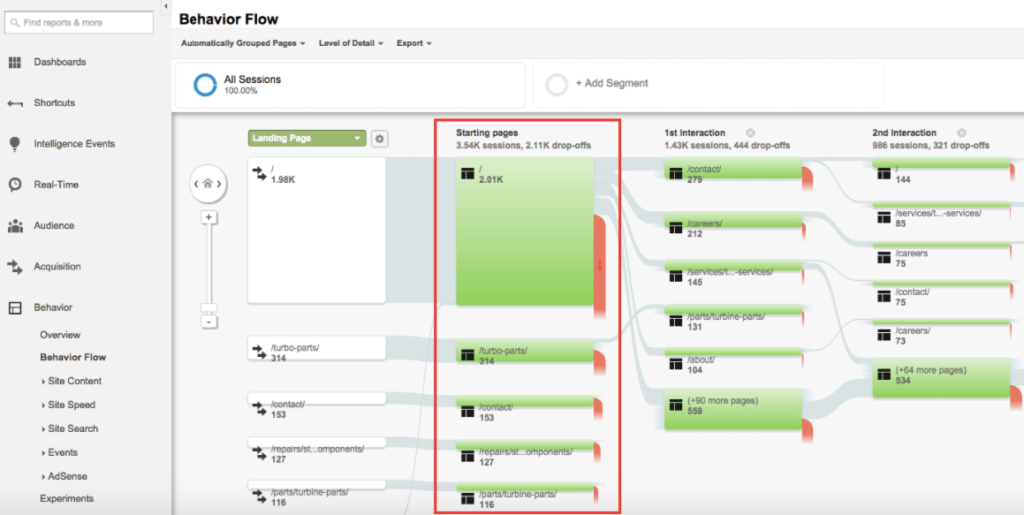 From there, you can follow their path as they move on to their 1st interaction (the next page they click on)…
…to their 2nd interaction (the page they click on after that).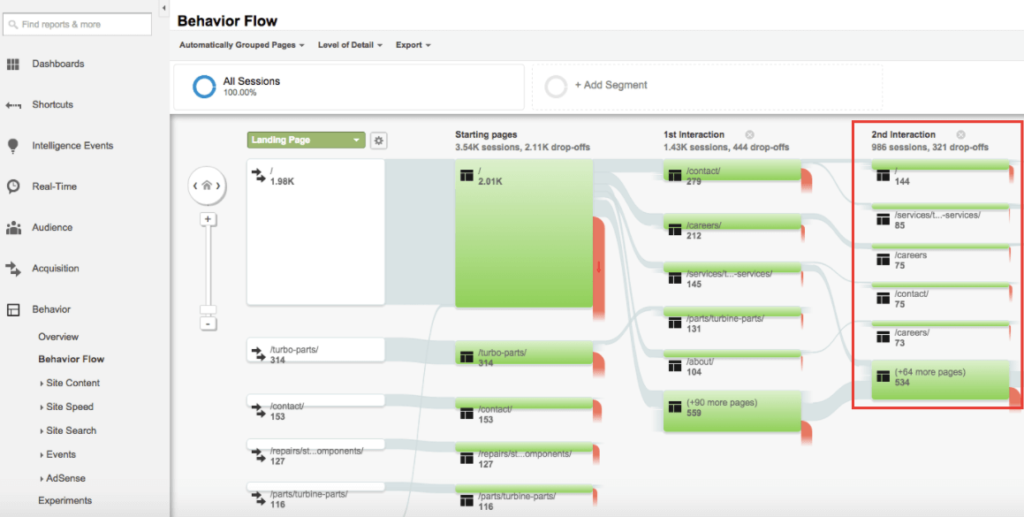 Follow the grey lines to tell the exact path that visitors are taking.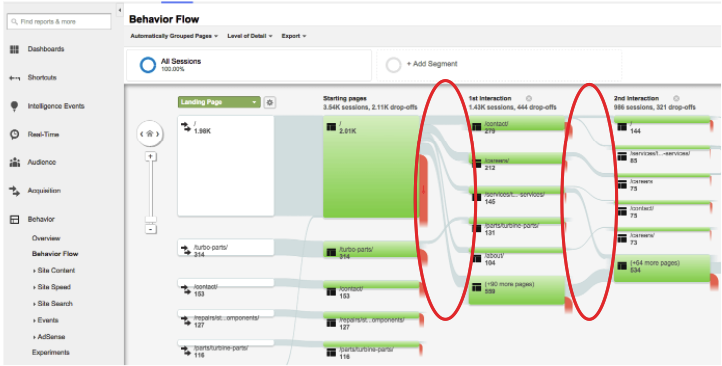 And there's one more important thing to look at—the drop off rate.
You can check this by looking at the red section directly to the right of each green box.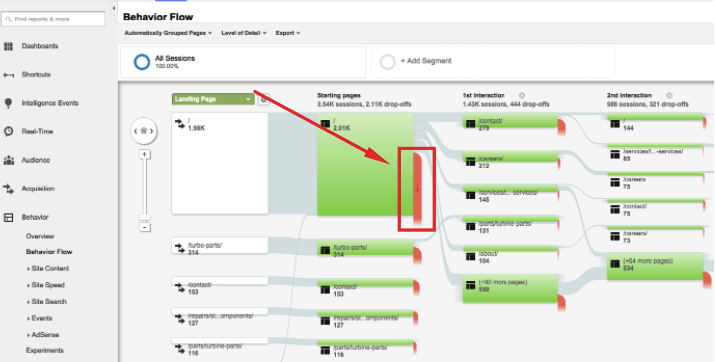 Hover your cursor over each red section to see the exact number of drop-offs and what percentage of the overall traffic dropped off from that page.
If you find pages with high drop off rates, you'll want to identify potential issues and resolve them because this is hindering visitors from ultimately converting and becoming customers.
For example, you may need to improve your copy, reposition your CTA or add trust indicators.
Sometimes the issue will be immediately obvious. Other times it may take a bit of sleuthing and experimentation.
But with the right changes, you should be able to reduce any friction that's clogging up your sales funnel and boost conversions.
5. E-Commerce Overview
Now let's get down to the nitty-gritty.
You can learn a heck of a lot by accessing your Ecommerce Overview.
To do so, first, click on "Conversions."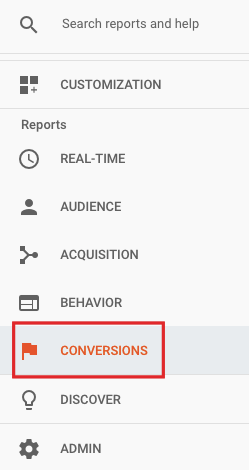 Then "Ecommerce."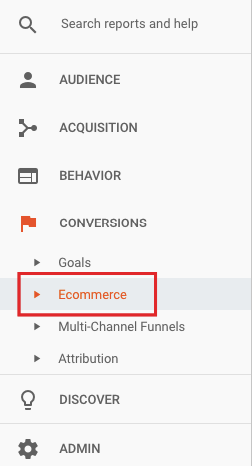 Then "Overview."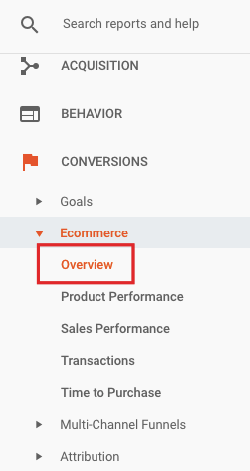 You'll get a report that looks like this: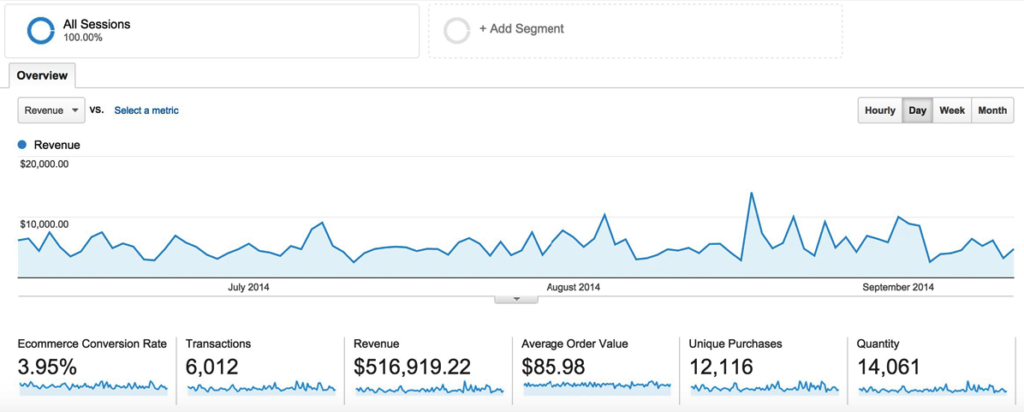 This instantly provides you with some very helpful information.
For starters, you'll see your store's "Ecommerce Conversion Rate" on the bottom left-hand side.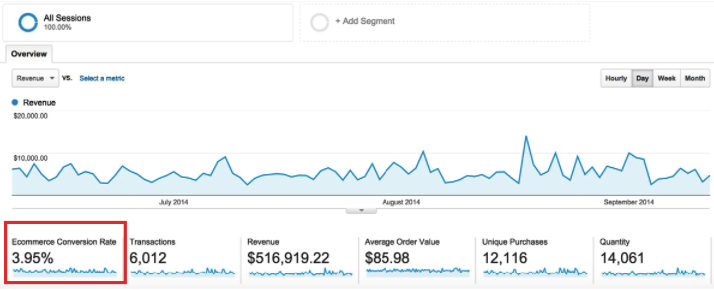 This lets you know what percentage of visitors ultimately ended up converting and made a purchase.
Knowing your conversion rate is important for obvious reasons and lets you know if it's healthy or if work needs to be done in order to raise it.
Cruise along from left to right, and you'll see your total number of transactions during a given time period…

…your total amount of revenue…

…the average order value and more.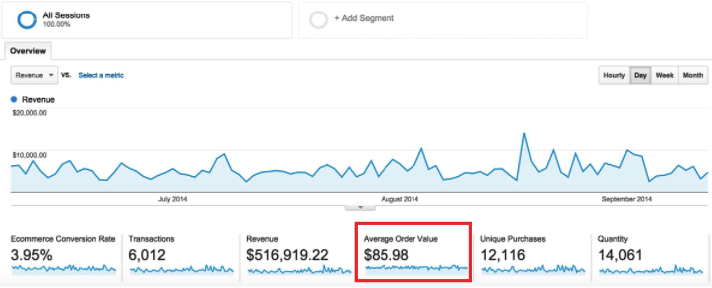 These metrics are pretty self-explanatory and will give you a good idea of how well your e-commerce site is performing.
6. Product Performance
You can take it one step further and check the performance of individual products by clicking on "Product Performance."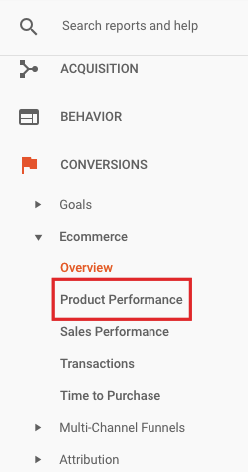 This will produce a report that looks like this:

There are a few pieces of information that you can extract from this.
First, you can determine which products are selling the most by looking at "Quantity."

This specific report only displays data for six products, so the insights aren't exactly overwhelming.
But if you've got a huge online store that sells dozens or even hundreds of products, the insights you get could provide guidance on which are most popular, which aren't generating much interest and so on.
This data can also help you figure out which promotional campaigns are working the best.
For instance, if you placed an emphasis on promoting a particular product recently, you could determine how effective it was based on the number of sales.
You can also check out "Product Revenue" to see how much money each product brought in during that given time period.

You can determine both the dollar amount as well as the overall percentage.
All of this data can help you figure out how well your products are performing individually, and you should be able to spot patterns that can help with your future decision-making.
Note: you first need to set up Ecommerce tracking before you can begin generating data.
This simply requires you to include a snippet of code on your site so that Google Analytics can gather data.
This guide from Google will walk you through the setup process step-by-step.
7. Acquisition Device Report
It's no secret that mobile is now the preferred means of exploring the Internet.
According to Statista, traffic from mobile devices accounted for over half (52.21 percent) of Internet traffic during Q2 of 2017.
You can see how the amount of mobile traffic has steadily grown and continues to grow by looking at this graph.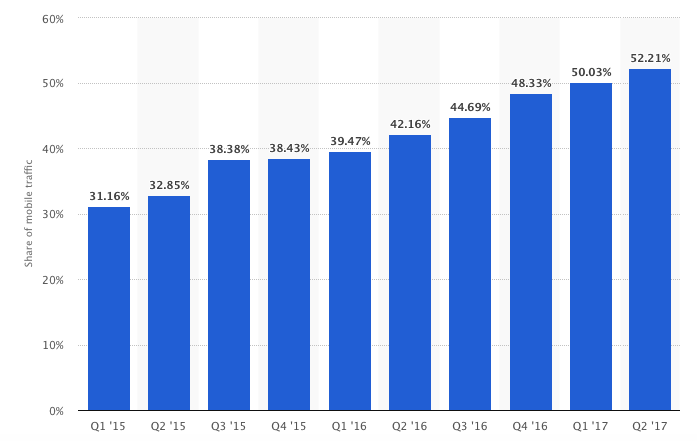 That's a nearly 20 percent increase between Q1 of 2015 and Q1 of 2017.
Just imagine where it's likely to be by 2020.
This ultimately means that a sizable number of shoppers will be accessing your e-commerce site through either a smartphone or tablet.
Generating relevant data can be extremely helpful because you'll have a clear idea of what percentage of your traffic is coming from which device.
To access this report, click on "Audience."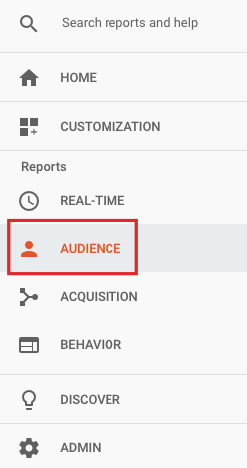 Then "Mobile."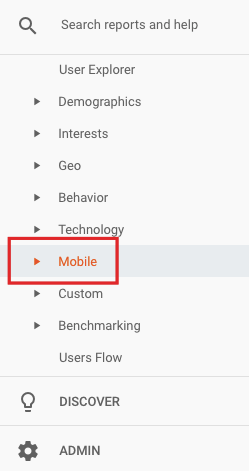 Then "Overview."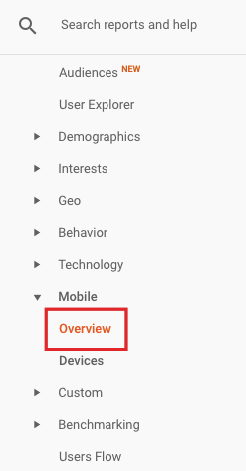 This will generate a report that looks like this:

A quick glimpse of "Sessions" will let you know how much traffic each type of device is generating.

You can also figure out:
What the bounce rate is for each device
How much revenue it's leading to
The number of transactions it's resulting in
What the overall conversion rate is
This information is helpful for several reasons.
First, you can tell which devices are resulting in the most sales and the most revenue.
By looking at this specific report, there is a definite disparity between desktop and mobile devices (as in mobile devices are only bringing in a fraction of the leads and money that desktop is).
The bounce rate should shed light on what the user experience is like on a particular device.
In this case, mobile has a 73.26 percent bounce rate and only a 0.58 percent conversion rate, which isn't ideal.
If more than 70 percent of visitors are leaving without exploring additional pages, there's likely an issue.
Therefore, there are probably adjustments that could be made to the site to improve the mobile experience.
For instance, you might want to invest in responsive web design to ensure that there's a smooth and fluid UX regardless of screen size.
In turn, this should inevitably lower the bounce rate and increase conversions.
Conclusion
Google Analytics reports can produce a wealth of information. It's truly like a Swiss Army knife of data.
But in order to fine-tune your efforts and get your e-commerce business running at its peak, you need to know which specific reports to zero in on and examine.
While the ones mentioned here are by no means the be-all end-all, they should serve as a great starting point and provide you with the necessary insights you need for optimal decision-making.
From there you can use this information to make some key changes and turn your e-commerce site into a conversions beast.