Spring is just around the corner, and so is Easter.
When it comes to e-commerce, holidays are a great excuse to run sale campaigns and promote your online store with a hint of festivity. Easter is no exception to this rule.
Often signaling the beginning of spring, the Easter holiday is the perfect time to engage your subscribers with colorful, merry emails and invite them to your website.
To help prepare your email marketing for this ecommerce holiday, I took a deep dive into my inbox and put together the 11 best Easter email examples I've seen—all from top e-commerce brands, broken down into six strategies.
Let's get crackin'. 🐣
Table of Contents
1. Promote Relevant Products
Although Easter is commonly associated with eggs and bunnies, you don't necessarily need to sell Easter-themed products to leverage this holiday.
If you're selling products or offering solutions that can help prospects enjoy this holiday better, use them in your emails and frame them around Easter.
Crate and Barrel is one company that does this right. Check out this email they send with the subject line "Ready for Easter? We are. 🐣":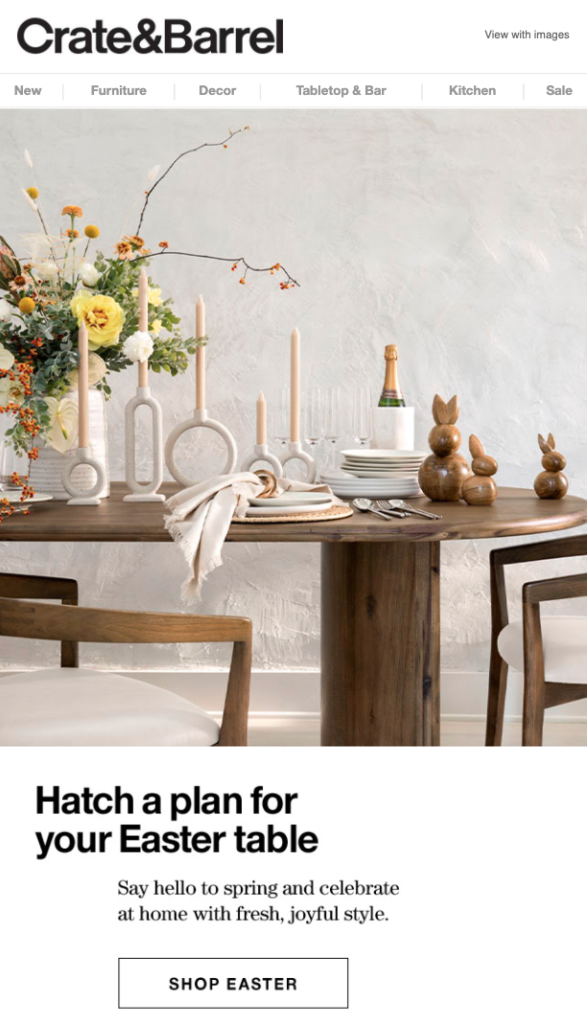 Even before you open its email, Crate and Barrel make you reconsider if you're ready for the holiday ahead. In the email, the company suggests that you already plan for your Easter table and recommends its relevant products to help you do so: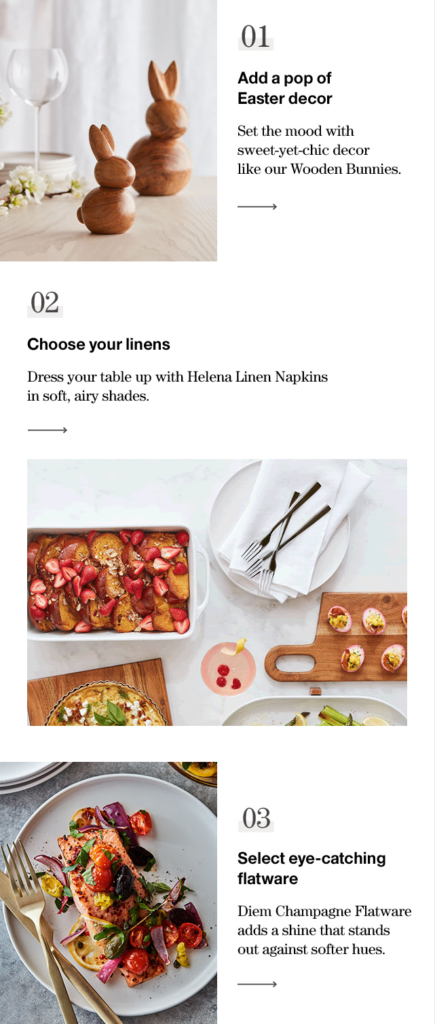 Crate and Barrel are aware that you'll celebrate this holiday (and the arrival of spring) at home with close family only. That's why they give you five tips to get ready for Easter, as well as enjoy being home.
Each tip includes one of the company's products and links that take you to its product pages. It's a perfect disguise for product marketing while being helpful and relevant to subscribers.
If you're looking for an even quicker way to promote your products around Easter, you can take inspiration from West Elm: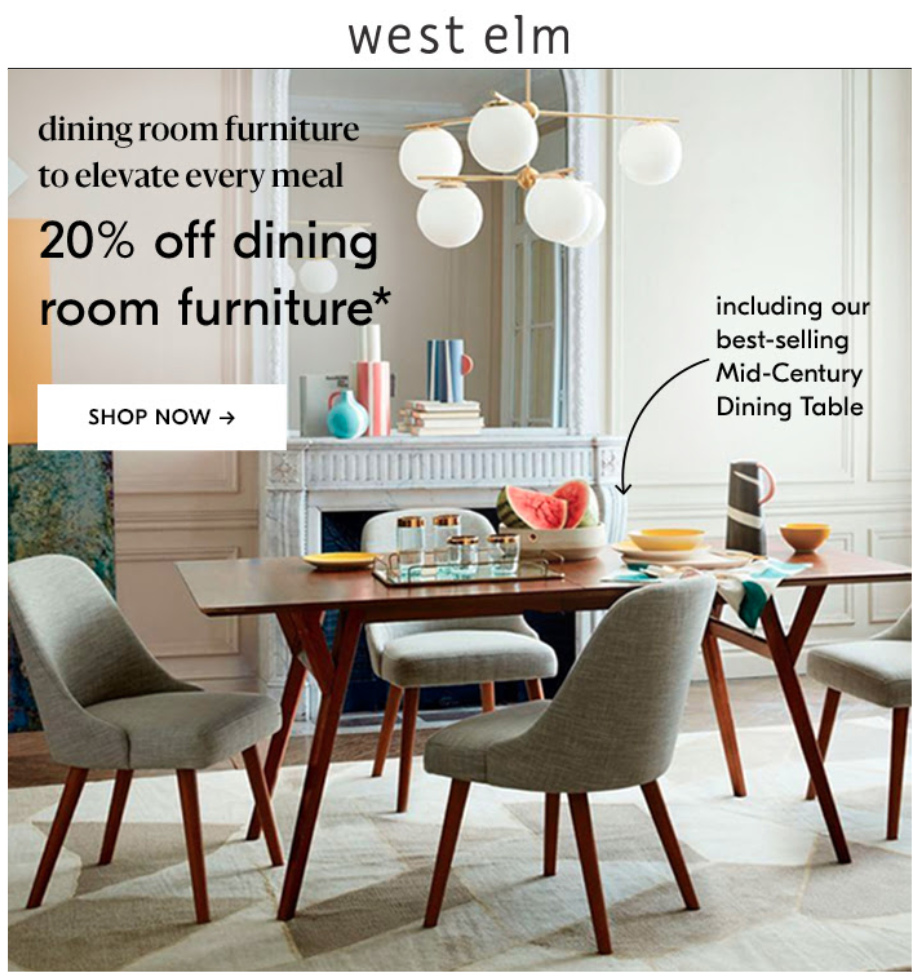 Sent with the subject line "Get Easter ready with 20% off dining styles 🍴" West Elm's email is easy to replicate. Other than the word Easter added to the subject field, the company's offer is just a regular sale. However, since West Elm cleverly puts it in the holiday frame, it gives you a reason to shop the sale: being ready for Easter.
It's a smart addition you can use in your sale subject lines in this season, especially if your products aren't necessarily Easter material.
In the remainder of the email, the company cross-sells with items from other categories by using Easter as an anchor: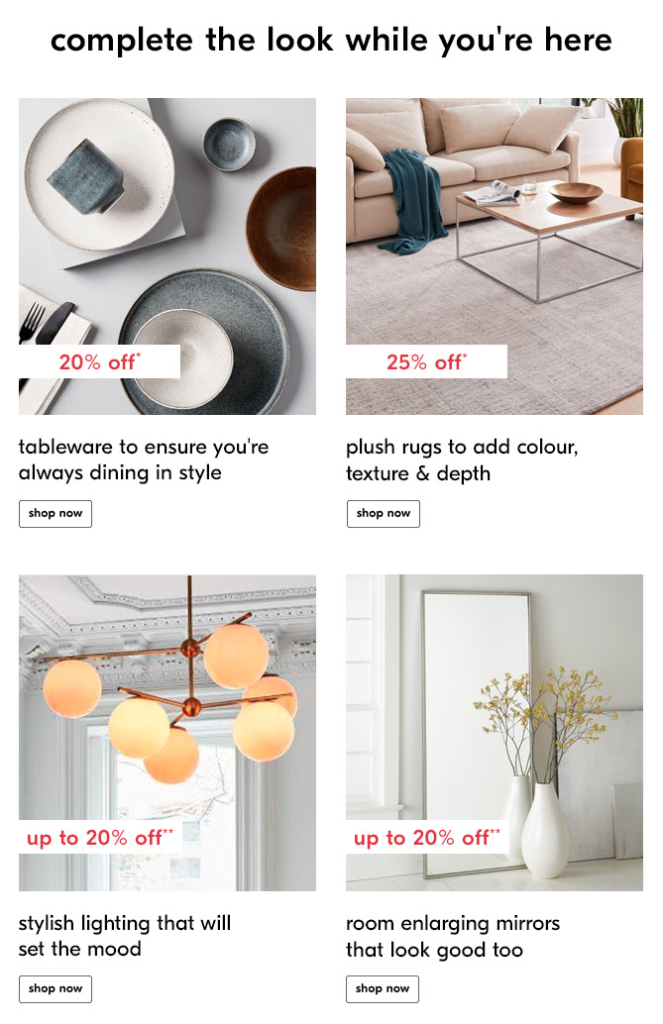 Borrowing the famous fashion term "complete the look," West Elm casually invites you to check out other categories that are on sale and, hopefully, grabs your attention with one of its many offers, even if you're not interested in its initial deal.
2. Run an Easter Sale
While the above emails are ideal for online stores that refrain from running Easter sale campaigns, this strategy is perfect for those who're planning a holiday sale.
Similar to any other sales campaign, well-crafted promotional emails are a must-have for bringing as many subscribers back to your store as possible.
Frank and Oak knows this well and sends a simple, yet effective email announcing its Easter sale: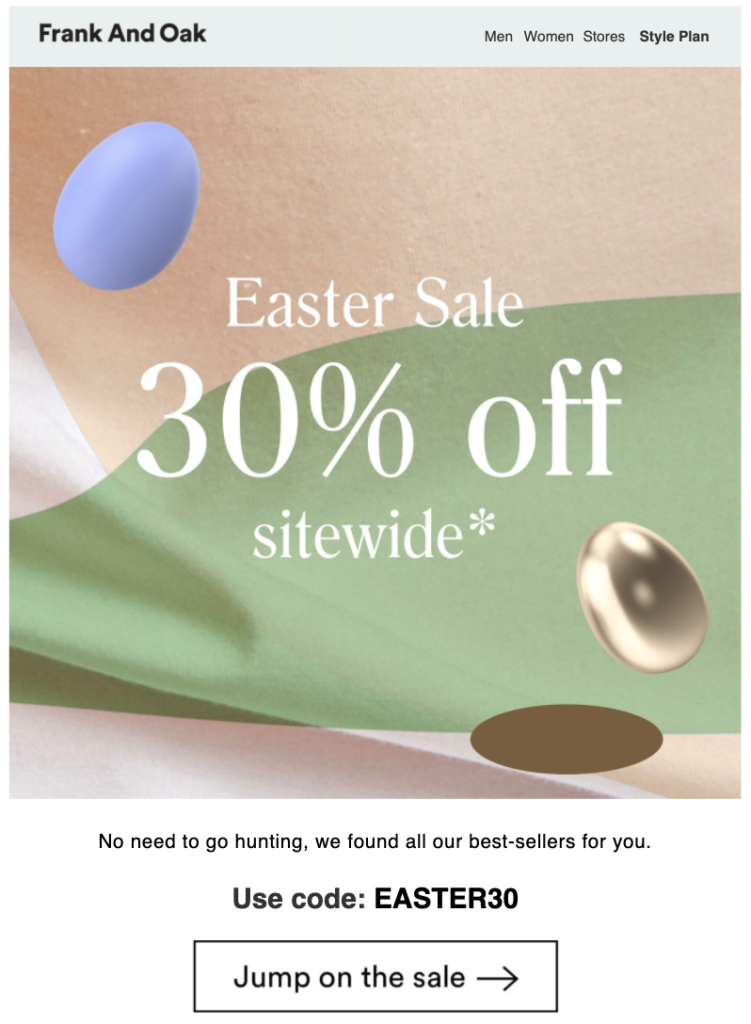 With its clean design, this email does the job: It communicates the discount level you should expect and tells how you claim it. In fact, Frank and Oak simply curates its bestsellers in this email and offers you 30 percent off them.
In the remainder of its email, the company features a few bestsellers you can start from and ends with a note on its egg hunt: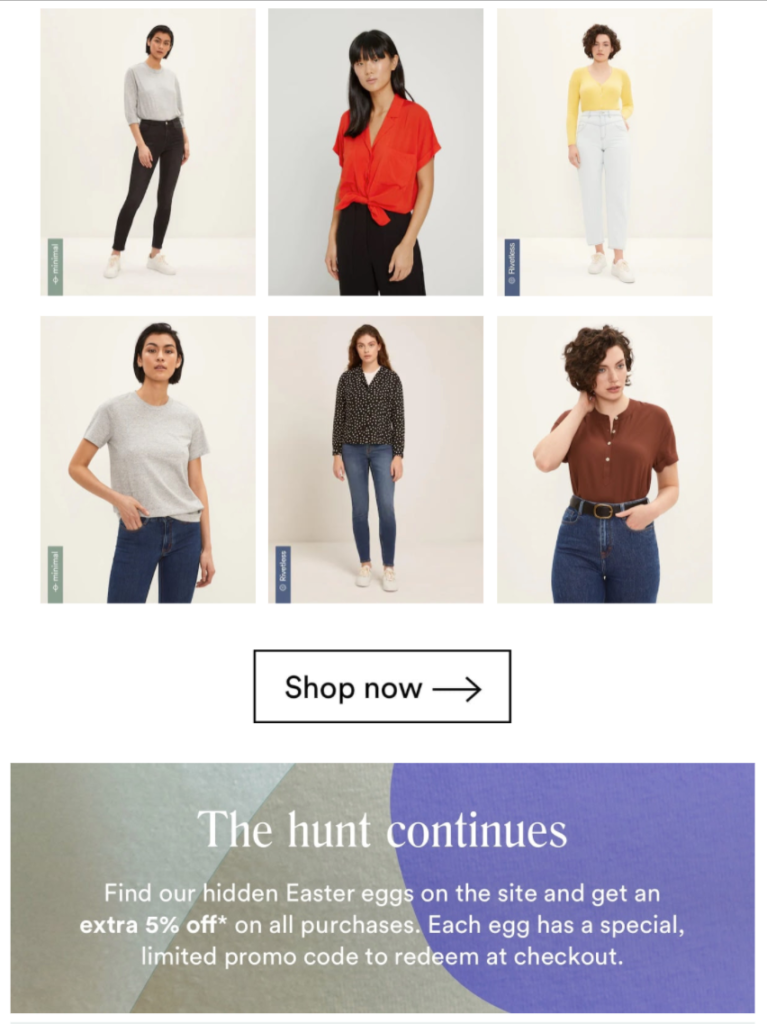 Frank and Oak offer you an additional 5 percent off when you find the Easter eggs hidden on its website. All the more reason to click the company's email and start browsing the sale.
While Frank and Oak prefer a minimalist Easter email, Forever 21 goes all-in on email design, accompanied by the subject line "AN EGG-STRA SPECIAL SALE 🐣":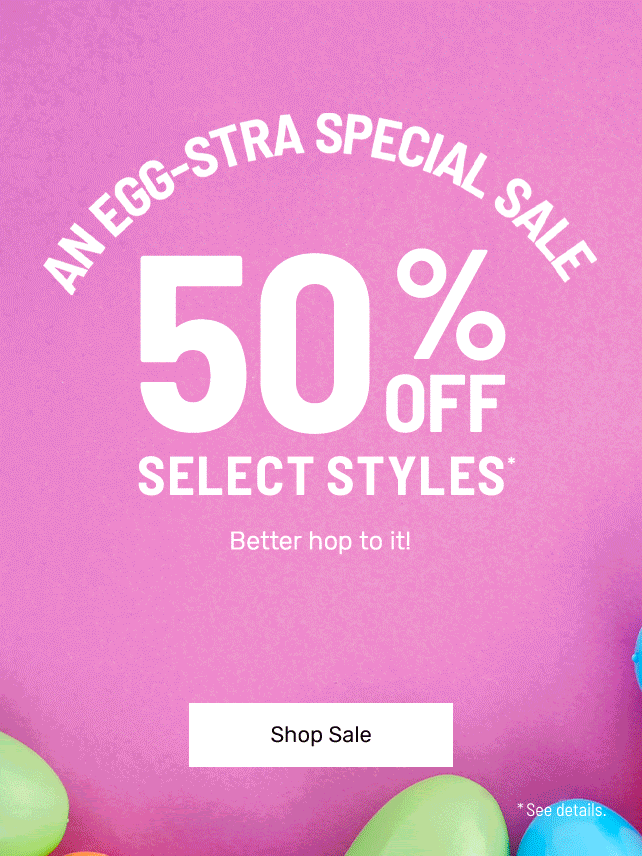 The wordplay on the subject line aside, in this email, Forever 21 uses a colorful design with a GIF that screams Easter. The fashion retailer clearly gives its message with a bold headline that reads "50% Off". No more copy, images, or buttons needed.
It's a typical Easter email you can model if design is your brand's strong suit.
3. Offer a Limited-Time Deal
Although discounts are effective in convincing prospects to take action, they're not the only incentives you can use around Easter. Due to their natural urgency, holidays are ideal for running limited-time deals that go beyond simple discounts. Whether it's a free shipping code, additional gifts, or a mystery deal you want to offer, make sure to limit it by time and evoke a sense of urgency.
EyeBuyDirect uses this tactic smartly and couples it with a classic example of a Buy One, Get One offer: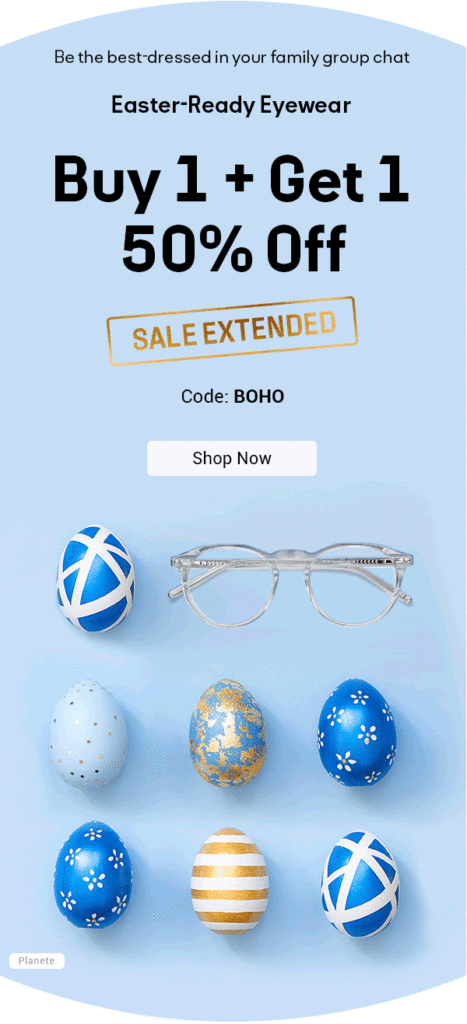 Sent with the subject line "Easter Looks Made Easy," EyeBuyDirect's email invites you to be "the best-dressed in your family group chat".
The company's approach is clever, realistic, and relatable. They know how we celebrate holidays this year, so they try to create demand for their glasses by using this angle.
Although EyeBuyDirect's email does the job of promoting its limited-time offer, it could be improved with a countdown timer. Especially because they extended this sale, there's almost no urgency for a subscriber to shop. (Something to consider if you're planning to repeat EyeBuyDirect's approach.)
4. Throw an Easter Egg Hunt
While seasonal sales and limited-time deals are all-year-round e-commerce strategies, there's one little playful tactic you can only use around Easter, and that's throwing a virtual egg hunt.
Don't get me wrong, I don't mean a full-blown gamified online store experience. I'm talking about a simple mystery deal where you discount some of your products and position it as an Easter game.
Check out how Too Faced runs an egg hunt and invites subscribers to play along via email: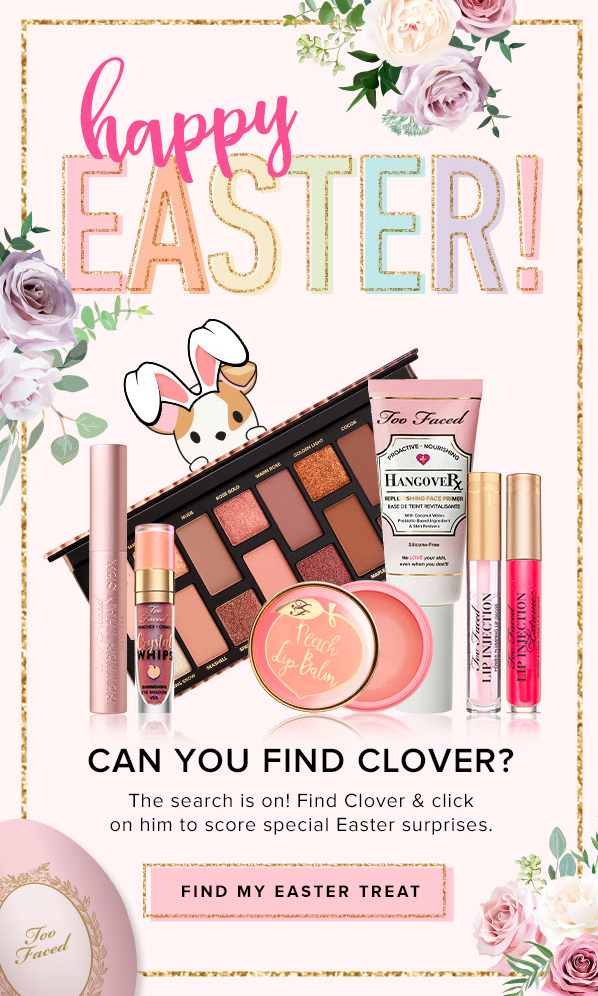 Carrying the subject line "EASTER IS HERE! 🐰," Too Faced's email, first, wishes you a happy Easter and then invites you to join the hunt. With it, the company simply asks you to visit its store and find its mascot on the website. Once you find Clover, you can reveal your surprise and find your "Easter treat" (which is likely a discount offer.)
A virtual egg hunt like the above is a great excuse to invite subscribers back to your store by evoking curiosity.
Another brand that uses this tactic in their emails is Man Crates. Yet, the company makes it even simpler: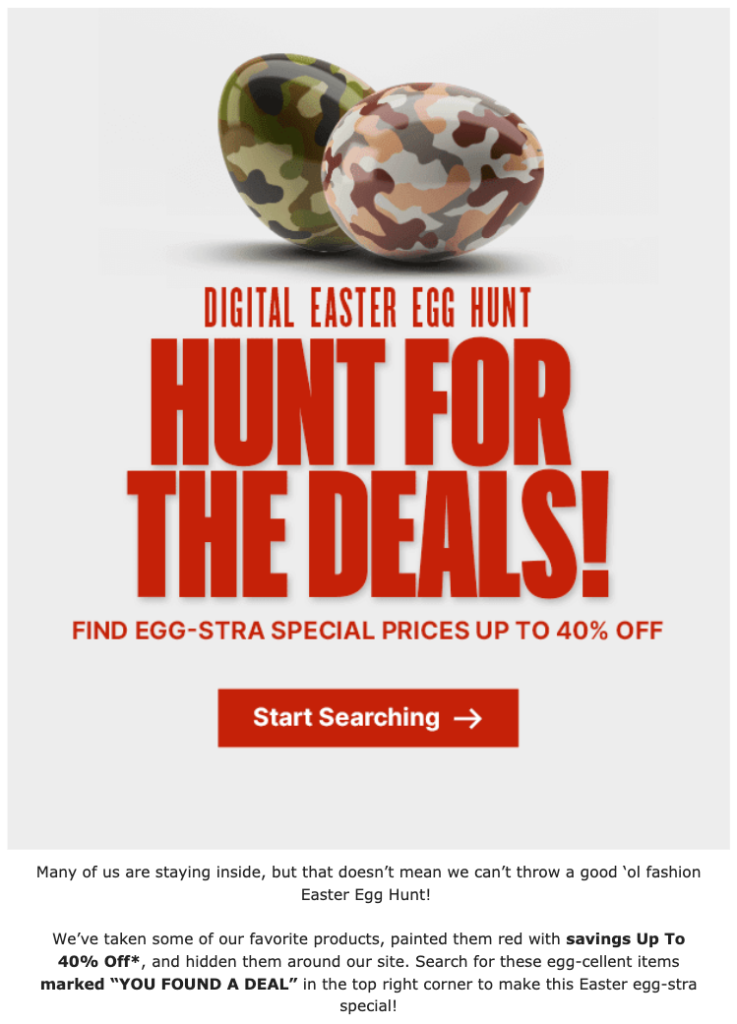 In this digital Easter egg hunt, you hunt for Man Crates' deals and find egg-stra special discounts.
Yes, it's just a sale. But instead of adding a sale label to its discount products, Man Crates cleverly makes them a part of the hunt. This way, you get a sense of accomplishment when you find a deal and likely grab it before it's gone.
In the email, the company also gives you a sneak peek at some of the deals, so you can click through and claim instantly, without even looking for them: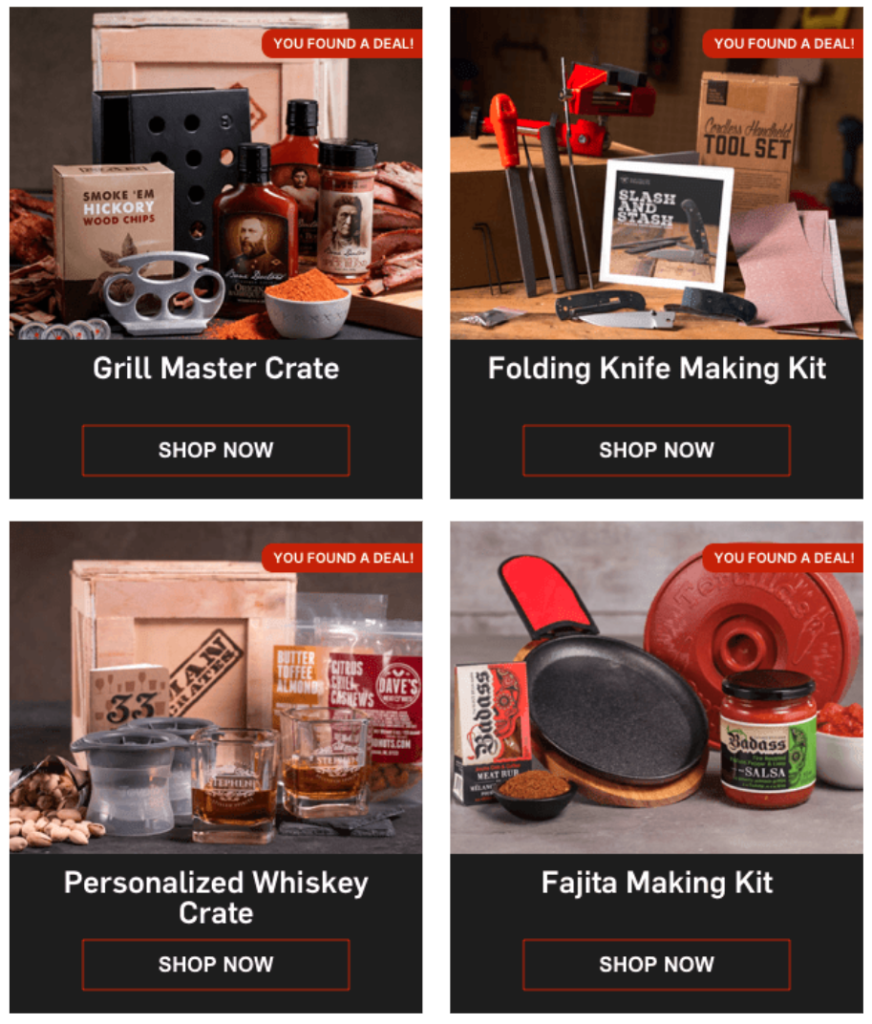 It's a quick win you can apply to your store before Easter and turn an otherwise regular sale into a virtual event, as Man Crates does.
5. Suggest Gift Options
You're likely preparing gift guides and recommending different gift options for Christmas and Valentine's Day. What you may not be doing is repeating the same for Easter.
Especially during these times when we could all use an unsolicited pick-me-up, recommending gift ideas for Easter can put you ahead of the competition.
Poo~Pourri is one of the brands that do this well: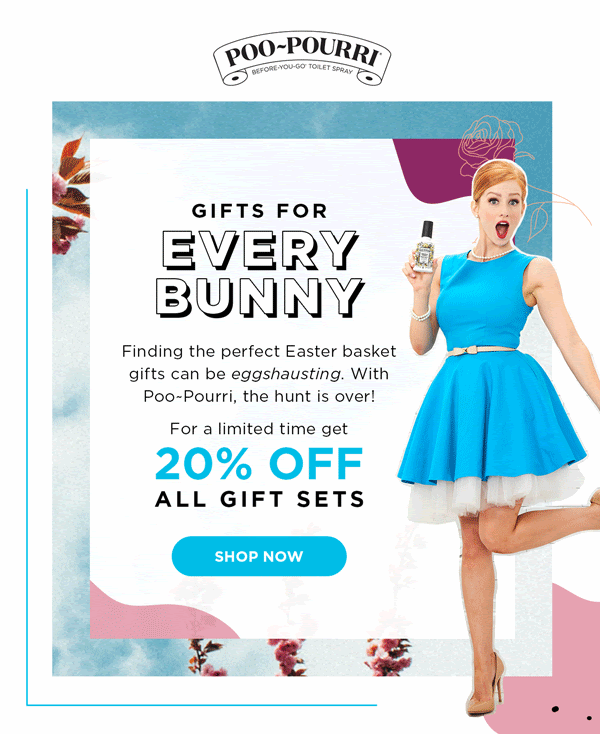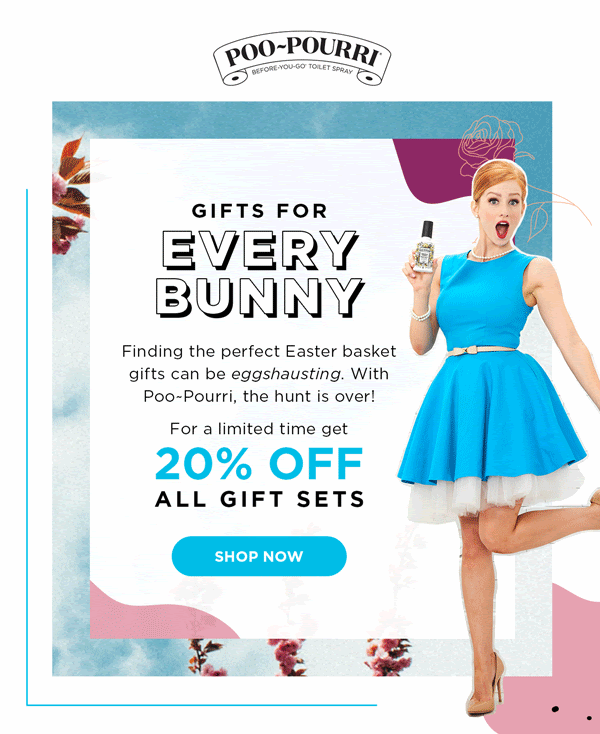 Written in Poo~Pourri's typical humorous tone and embellished with wordplay, this email offers you the perfect Easter gift basket for everyone on your list. What's more, you can get 20 percent off for a limited time only and end your gift hunt.
In the remainder of the email, Poo~Pourri cleverly recommends gift options, divided by price for convenience:


While Poo~Pourri's email might work well on prospects who are actively looking to buy Easter gifts, Skandinavisk's approach can make you consider gifting your loved ones, even if you haven't thought about it before: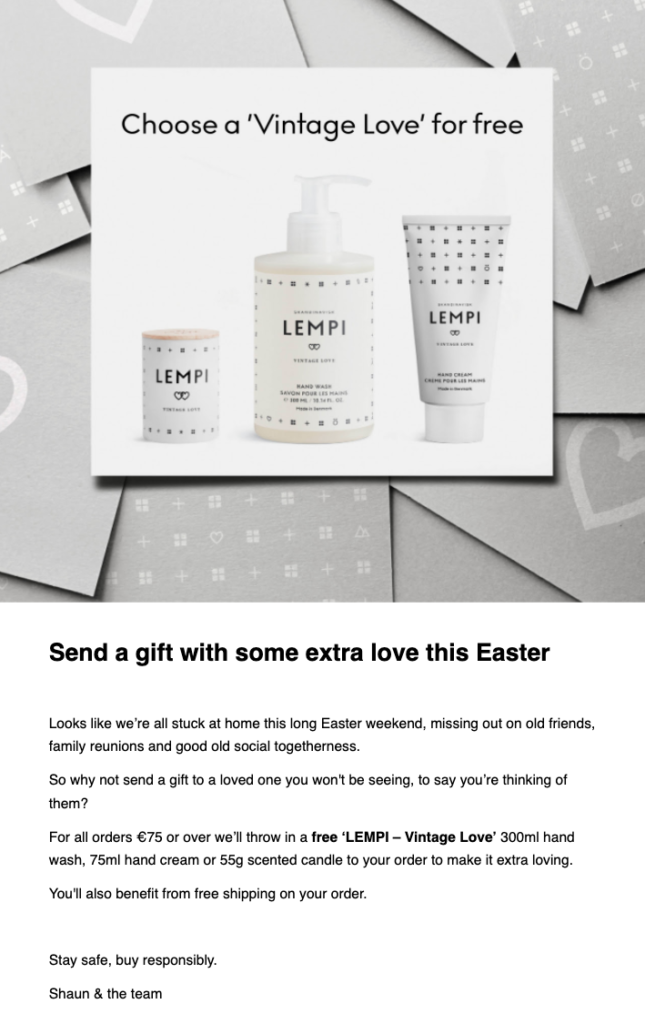 Sent with the subject line "Send a gift with some extra love this Easter," the company positions its products as thoughtful gift options with this email.
While doing that, Skandinavisk explains why you should buy gifts for your loved ones, especially this Easter. To help you even further, the company also adds a gift to your order, to make it "extra loving".
Skandinavisk's Easter email, addressed by its founder, feels personal and it successfully promotes the company's products without sounding salesy.
6. Engage Your Email List
While a sale campaign or a limited-time deal can help activate your email list around Easter, you don't necessarily have to run a big sale to leverage this holiday.
You can engage your subscribers with an appreciative, subscriber-only discount code, or relevant, interesting email content.
MORI chooses the first option in this email: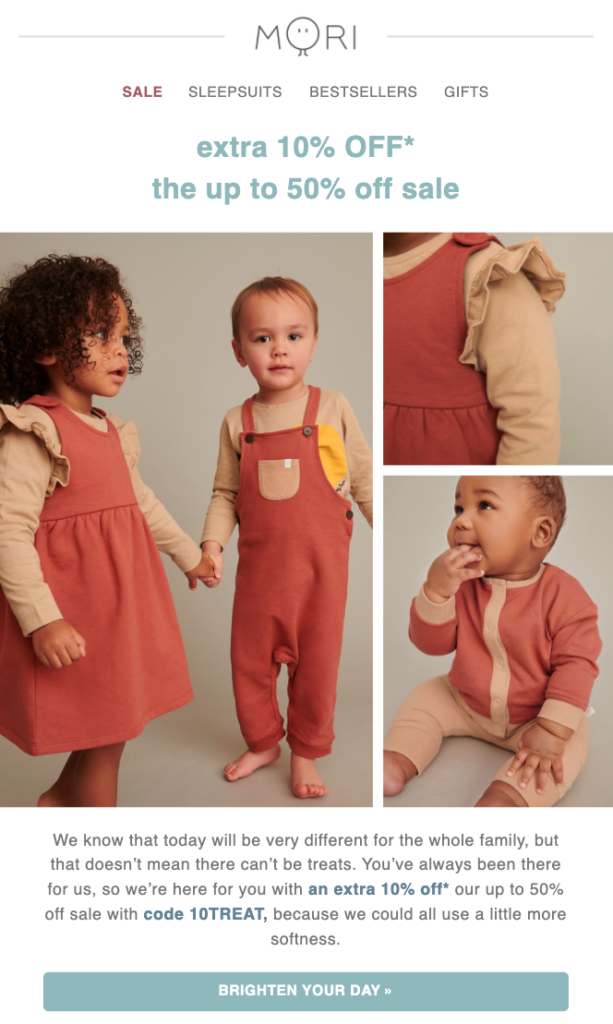 In the email copy, MORI empathizes with you for how you're likely feeling about celebrating this holiday without the whole family. The good news is, the company is giving you an extra 10 percent off just for being on their email list.
By "brightening their day" with a treat, MORI appreciates its subscribers and nudges them to shop for Easter.
If your primary goal isn't to increase holiday sales or you don't want to offer any discounts at the moment, you can still email your subscribers with engaging content. That's what Zanzan does: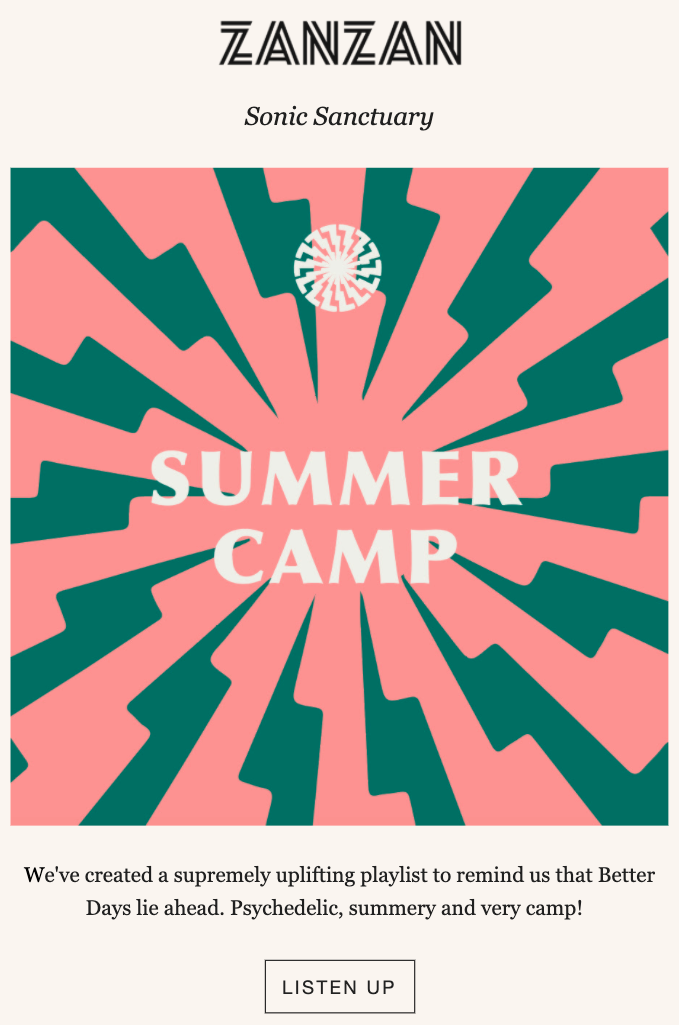 In this email, with the subject line "A Supremely Uplifting Playlist for Easter Sunday," Zanzan—a sunglasses company—shares a Spotify playlist they curated for you.
Looking at the situation through rose-colored glasses (pun intended,) Zanzan wants to remind you that better days are ahead, in case you're feeling the holiday blues.
Things get even more interesting in the remainder of the email: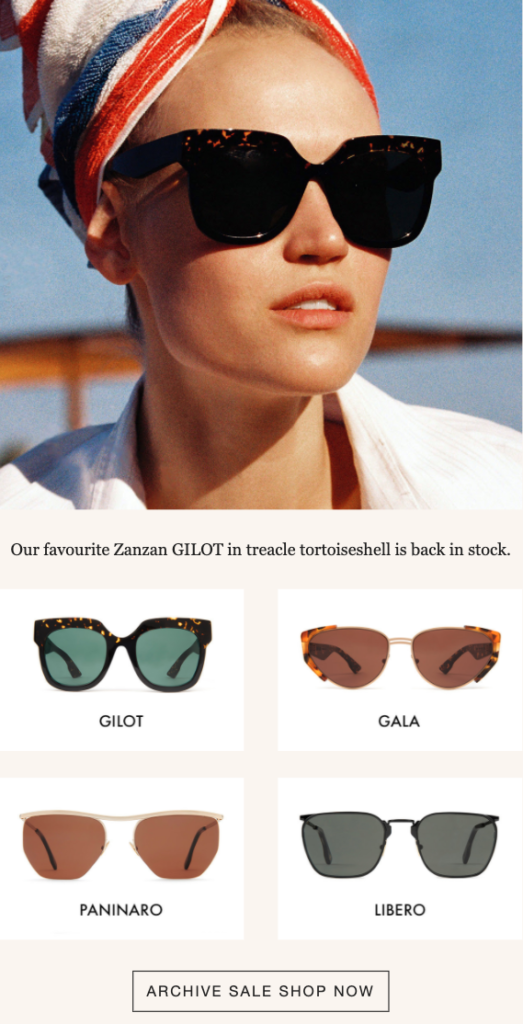 Once Zanzan lifts your spirits up and gets you in the spring mood, they promote a few of its products. And it makes sense: Better, sunny days call for sunglasses.
It's a clever email you can copy to engage your email list while subtly promoting your products. Best of all, it costs zero dollars.
Conclusion
Not all Easter emails are created equal. Some are overly salesy, whereas others rely too much on cheesy wordplay.
For this post, I wanted to put together only the best Easter emails that stand out from the crowd. (Hopefully, I did a good job.)
Whether you're planning to run a big Easter sale or keep it low-key this year, you can take inspiration from these 11 inventive Easter email examples.