If you've ever sat down to write a marketing email, you're likely familiar with what I'm about to say: Crafting click-worthy subject lines that'll get your emails opened is tough.
Writing memorable subject lines, however, is even tougher.
A good subject line that sticks to the reader's mind doesn't only improve your open rates and email conversions, but it also keeps your brand top-of-mind throughout any season.
One of the keys to writing high-converting subject lines is to be topical and seasonally relevant to your subscribers. (After all, no one wants to open a Black Friday email once the party is over.)
If you need a little inspiration while crafting your spring subject lines, this blog post is perfect for you.
I've gathered 33 of the best spring subject line examples I've seen to inspire you—spotlighting the most memorable ones and why they work.
6 of the Best Spring Subject Lines from Top Brands
1. "Spring cleaning Sale starts now! 🌸🌻🌿"
Whether you're designing email newsletters, landing pages, or website popups, you know the importance of visuals and how they help us process information more quickly.
Using emojis in your subject lines can help the reader easily understand what to expect from your emails. Plus, they help you stand out in crowded inboxes.
In this great example, Johnny Cupcakes gives you the spring feeling even before you open their email:

With three simple flower emojis and straightforward copy, the company invites you to their clearance sale with the added spring vibe.
Johnny Cupcakes makes sure to carry this feeling into the email itself, too: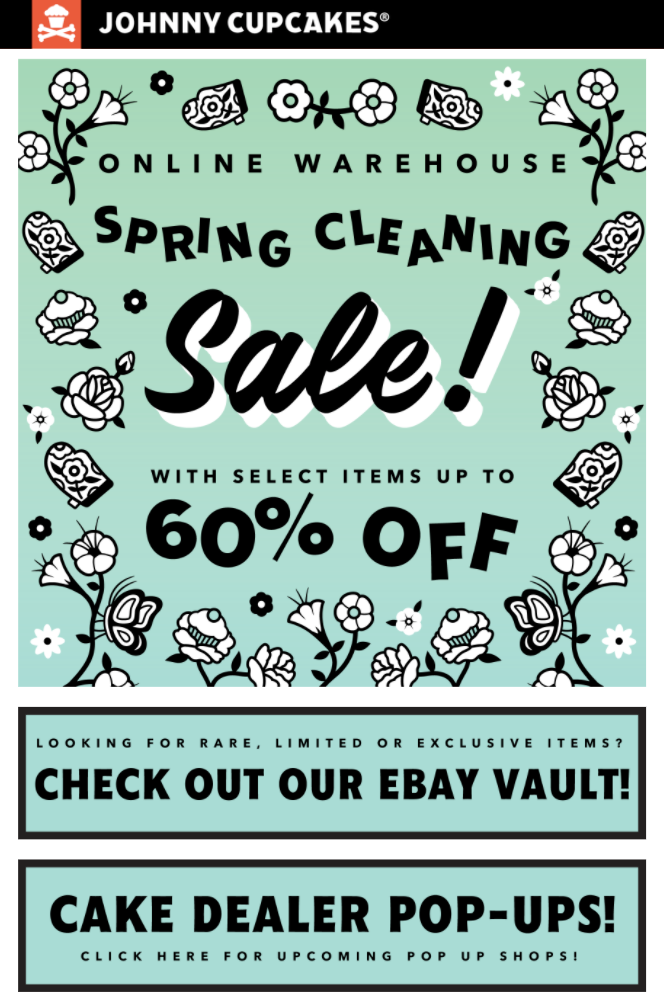 Designed in the brand's style, Johnny Cupcakes' spring email shows us a simple, yet effective, execution of how to write seasonally relevant promotional emails.
If your brand tone allows, try adding a few spring emojis to your subject lines. Be careful not to overdo it, though. Otherwise, you may risk getting stuck in spam filters.
More Like This…
Cravory Cookies: 🌼🍪 Spring Treats 🍪🌼
Bath & Body Works: 🌷spring—but bring it inside. 🌷
Bath & Body Works: hand soaps. ✔️spring scents. ✔️self-care. ✔️
Pura Vida Bracelets: NEW now: spring florals 🌺💐🌼
Torrid: 🌼🌱💐 Time to spring forward 🌷🌈🍃
2. "Our version of spring cleaning"
Whether you're writing for winter, spring, summer, or fall, you need to stay seasonal—that's a given.
As spring is the time when people look for a change and begin decluttering their closets, apartments, skincare routines, or daily habits, the spring cleaning angle never gets old in seasonal marketing.
However, your competition is aware of this, too. That's why you see the concept of spring cleaning often being used (and maybe overused) in your inbox and throughout this post.
If you want to benefit from this highly relevant spring angle, make sure to tweak your subject line to stand out among the crowd.
Evoking curiosity in subject lines is one of the smartest paths to choose, and it's the one Buffy follows in their spring cleaning email:

Knowing that their subscribers see tens of emails of this sort every day, Buffy invites you to explore their version of spring cleaning.
With the immediate objection of "How many versions can there be?" in my mind, Buffy convinced me to open the email. And it wasn't what I expected.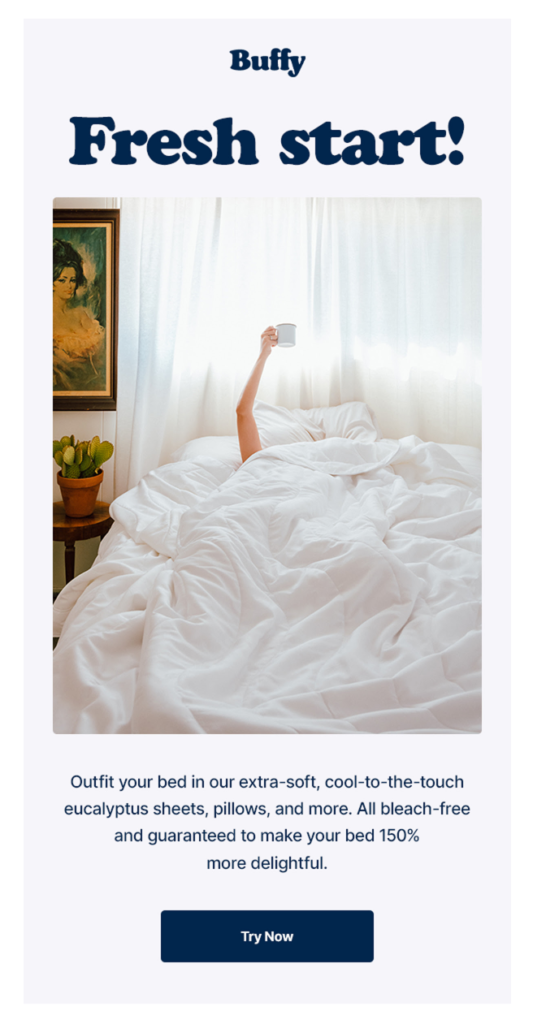 In it, Buffy promised a fresh start with their bedding products. While doing that, notice how they described their products by appealing to my senses with strong adjectives and a pleasant image. (More on that in Example #5.)
Next, to narrow down its broad call-to-action (CTA) that reads "Try Now," Buffy recommended product categories I could quickly start from.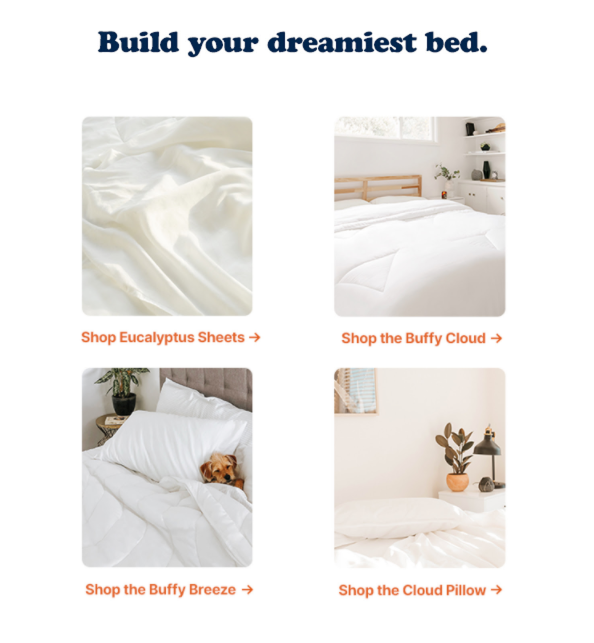 Buffy showed a great example of how to write a curiosity-evoking subject line that was distinguishable from the rest, and how you can use the spring cleaning angle without necessarily hosting a sale.
More Like This…
Design Within Reach: Spring cleaning complete?
Forever 21: 3 WORDS: Spring Cleaning Time🌻
Poo Pourri: This year, Let Poo~Pourri be your spring cleaning ally
J.Crew Factory: FLASH SALE: spring cleaning made fun
west elm: Refresh your kitchen for spring with 20% off kitchen & dinnerware
Bed Bath & Beyond: Up to $100 OFF Shark vacuums to finish your spring cleaning 🌸
3. "Spring Is Here. So Are Spring Socks."
As an e-commerce marketer or a webshop owner, you know your products inside out, including their best use cases and high seasons.
Your prospects, however, can't always build the association between your products and the season—unless you show them how.
To keep your brand top-of-mind and to create demand for your products this season and onwards, build a clear connection between spring and your products in your email marketing.
See how Bombas does that, starting from their subject line:

When you think about the arrival of spring, socks are probably not the first thing that comes to your mind. But if you're on Bombas' email list, you're drawn into that kind of thinking.
What I also like about this email is how they bring the spring to you, alongside their products.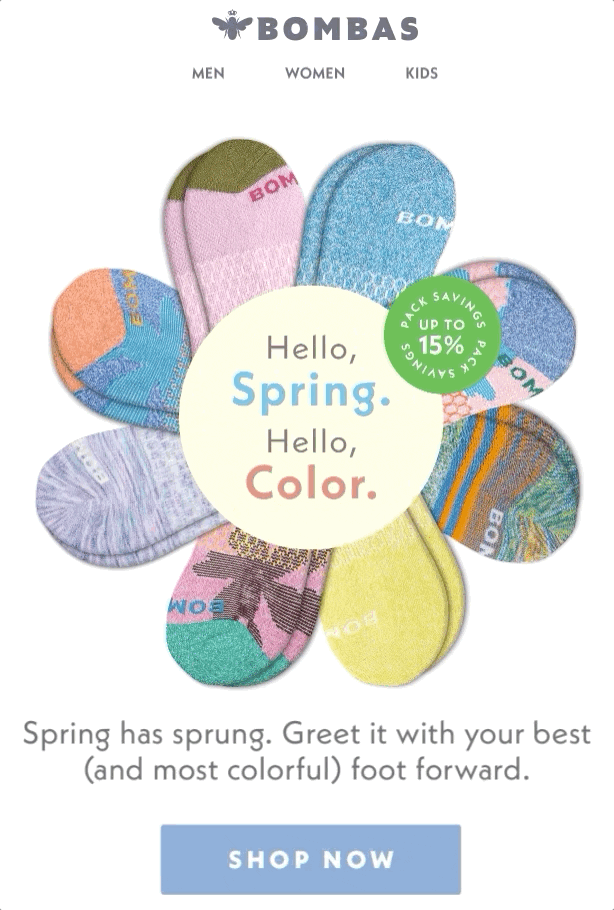 In the email, Bombas promotes their ankle socks and colorful product lines, simply because spring is the perfect time to do that.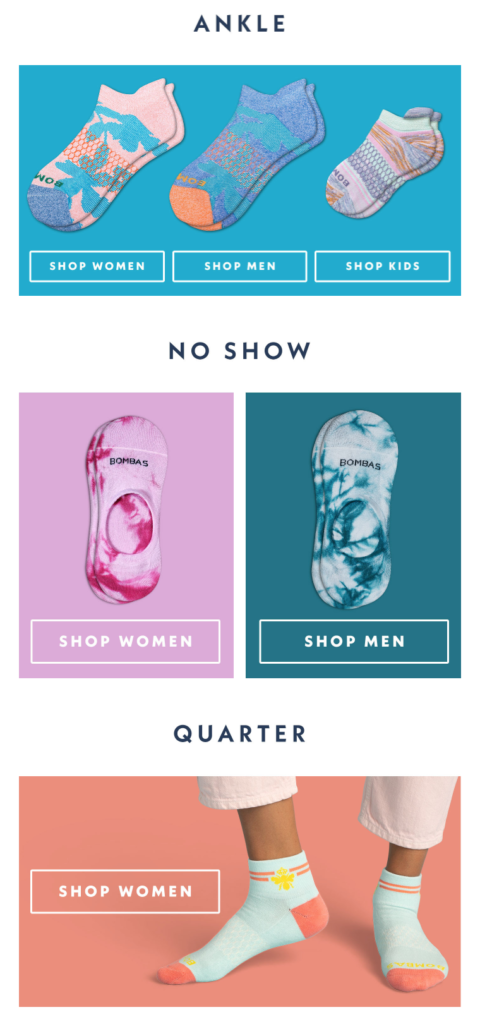 This type of seasonal product promotion is nothing new for Bombas. In November, it was the tall boots season, and now, it's time for spring socks.
The bottom line is that you need to stay seasonal with your products, emails, and subject lines all year round, regardless of what you're selling.
More Like This…
MORI: Hop into Spring with our new collection 🐰
Bed Bath & Beyond: 🌞⛱️ Sun's out, fun's out! Everything you need to get your backyard spring-ready.
Birchbox: Spring has sprung
Levi's: Feels like spring
The Frye Company: Spring is Here
Fabletics: Hey (it's spring)! 🌼
4. "15% Off — Mom can't drink flowers"
Although the most popular holidays, such as Thanksgiving and Christmas, fall in autumn and winter, spring isn't completely free from special days.
Whether your customers are celebrating Easter, Passover, Ramadan, or shopping gifts for Mother's Day, you should leverage the spring holidays in your emails.
Bean Box chooses the latter and adds a clever twist to it:

With this simple subject line, Bean Box challenges a common phenomenon (buying flowers to your mom) by stating the obvious. What's more, the company features the amount of discount you should expect in the email to make it more open-worthy.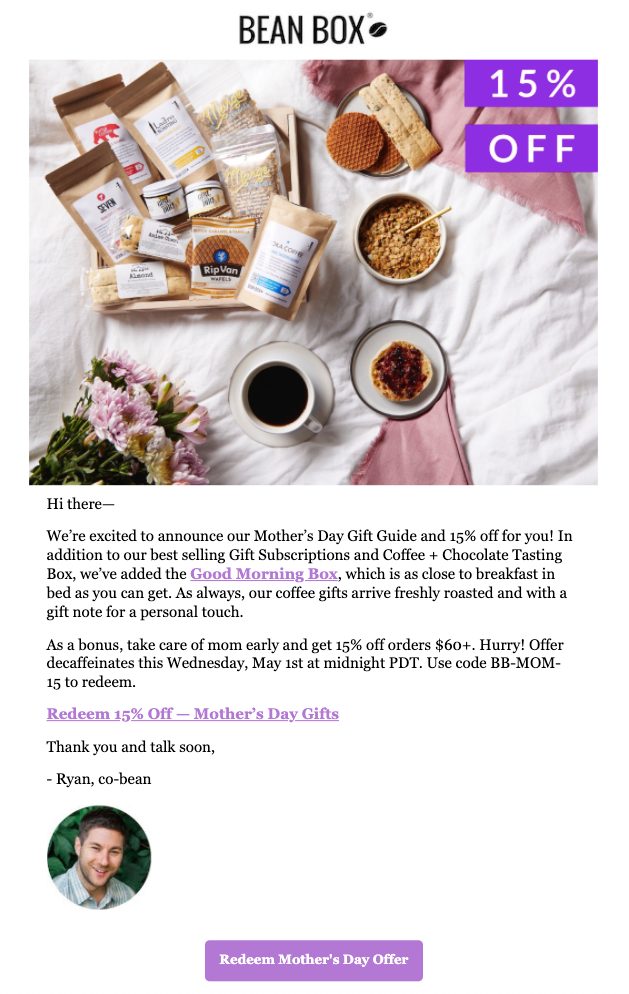 As clearly stated in the subject line, you find a 15 percent discount valid for a limited time in the email. So, no surprises there.
While most brands embellish their subject lines with fancy words or witty wordplay, Bean Box goes the other way with a statement that you can't possibly disagree with. And, in my opinion, it succeeds in sticking to the reader's mind.
Moreover, with the use of numbers, Bean Box grabs your attention as you scroll through your inbox.
Even if you can't find an obvious statement for your subject lines as the above, try using numbers in your holiday emails to steal attention from your competition.
More Like This…
Estee Lauder: Think Spring 🌸 Try 6 Free Best Sellers, with your purchase.
Urban Outfitters: DEAL OF THE DAY 🌸 50% OFF spring faves
Macy's: 👀 Spring peek! Extra 20% off season-perfect picks.
5. "Bring the scents of Spring inside 🚽🌸"
Spring appeals to many senses with the trees blooming, the sun shining, and the birds singing.
When you address these spring senses in your subject lines, your subscribers can easily relate to your words and, therefore, can more quickly act on them.
Poo~Pourri has a great example of that:

With this action-driven subject line, the company targets your sense of smell. Beginning with a verb, it's a sensory call-to-action that's easy to imagine.
The smell is, naturally, the go-to sense for Poo~Pourri because they're selling toilet sprays. But the company knows that it's hard to tease a nice-smelling toilet. So, instead, they go for the bigger picture and ask you to invite the scents of spring inside.
Once they make you imagine something bigger and get you to open their email, they narrow the focus down to their niche: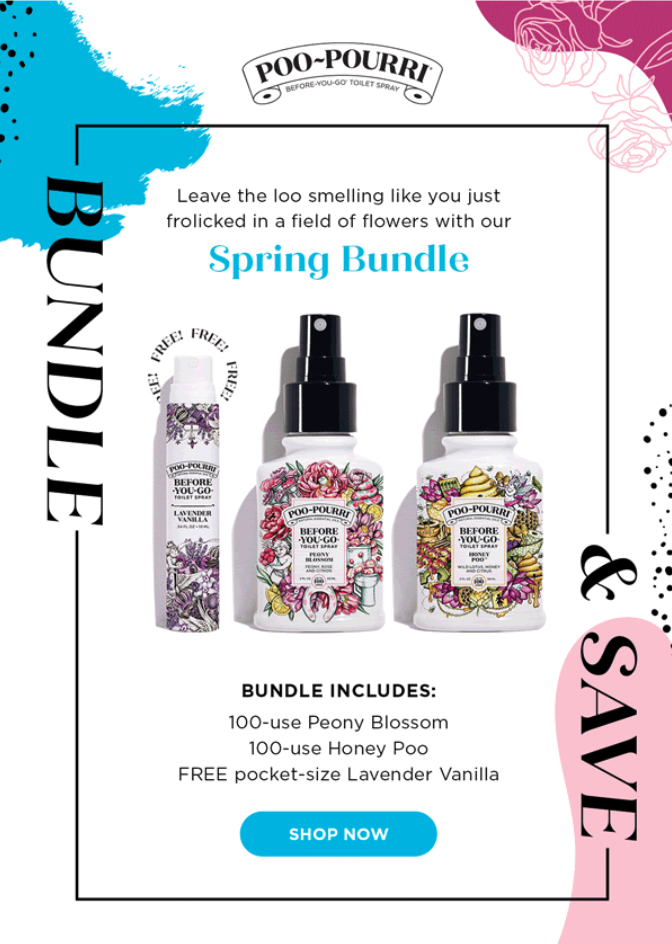 Reaching out to your sense of smell once again, Poo~Pourri's call-to-action is simple: Leave the loo smelling like you just frolicked in a field of flowers. (Quite an imagination, isn't it?)
Whether your products are appealing to the eye, ear, touch, taste, or smell, align them with the senses of spring and invite prospects to open your emails with action-driven copy.
More Like This…
Nordic Nest: Add a touch of spring to your home
Joybird: Pairs well with a rainy spring day + cup of tea ☕
6. "Make Room in that closet"
Some deals are just too good to miss, and some trends are too popular to miss out on.
To tease this sense of greed and fear-of-missing-out, you can position your products as "must-haves" all year round. But if you're willing to go one step further, try being seasonally relevant, just as Forever 21 does with this brilliant subject line:

Forever 21's bold subject line is a perfect match for the season for two reasons:
It invites you to spring clean your closet, so you can buy Forever 21 products to fill your newly-emptied shelves; and
It implies that you need new clothes (as the season is changing,) which you can find in the company's spring line.
In the email, Forever 21 promotes its new arrivals along with several seasonal product recommendations.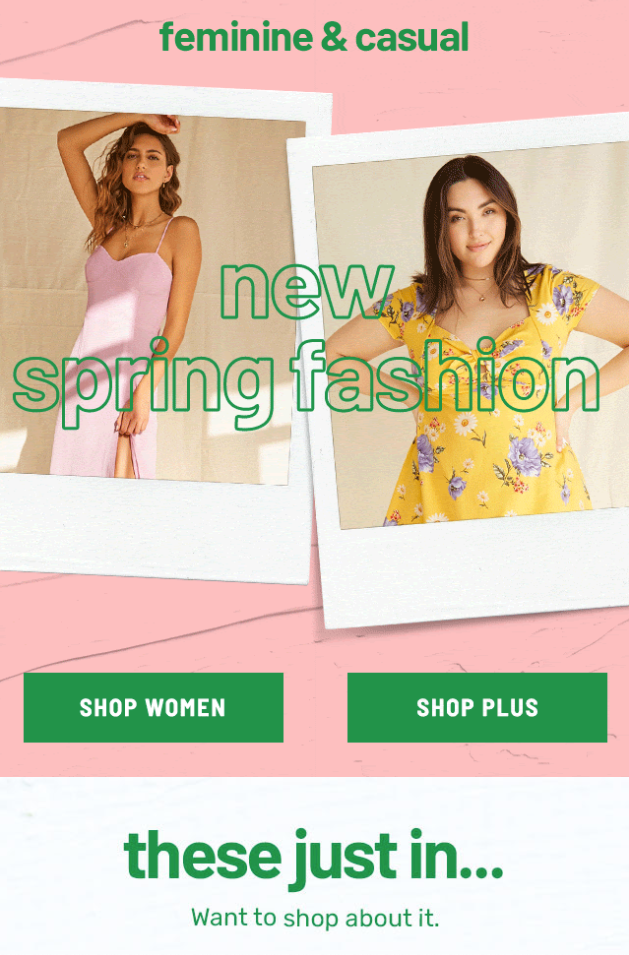 While this type of subject line can get prospects to take action quickly, you should use it with caution. If you sound too patronizing, you may end up annoying some of your subscribers.
More Like This…
Anthropologie: Re: your spring uniform (it's 30% OFF)
One Kings Lane: The best of spring (so far!)
Marc Jacobs: Spring's Must-Have Color
Forever 21: Voted Spring's Best Dressed 🏆
J.Crew: The spring stack: white denim & stripes
Conclusion
If your subscribers are talking about A and you're all about B, they can't easily find a junction between themselves and your brand.
While you can't likely write a personalized email for each, you can easily meet your subscribers on common ground by sending out timely, relevant, seasonal emails.
Use these spring subject line examples as inspiration and experiment with the tips that would work best for your brand.