Statista estimates that there will be 2.14 billion global digital buyers by the end of 2021. This means a lot of potential customers for your store, provided you run effective marketing campaigns.
But to know how your e-commerce marketing is performing, you need to track the metrics that matter.
Measuring the right e-commerce marketing metrics effectively means you can make informed decisions about your campaigns, learn more about your audience, and weed out what does and doesn't work.
Without the right metrics, you waste both time and money. And worse, you can't capitalize on the ever-increasing number of online shoppers.
It's time to let go of the vanity metrics and start focusing on the numbers that mean something for your business. Here are five of the most important metrics to help you with that.
Table of Contents
What E-Commerce Marketing Metrics Should You Track?
In a perfect world, you would track everything.
But if you're short on time and resources, or you want to focus on the metrics that matter most, here are the five most important ones you should be tracking:
Conversion rate;
Cart abandonment rate;
Website traffic; and
Email click-through rate.
If you start tracking these five metrics, you'll move in the right direction. However, tracking itself isn't where the magic happens—it's all about what you do with the knowledge you've acquired.
Make sure to approach each metric proactively and ask yourself: "How can this data help improve my e-commerce business?"
With that in mind, let's dive into the details of each metric, why you should track them, and how they can improve your e-commerce business.
1. Conversion Rate
I'll go as far as to say that conversion rate is the most important metric for your e-commerce business to track. Without tracking your conversions, you won't know how your products are performing.
If you're suffering from low conversion rates in your online store, there might be something fundamentally wrong with your site (assuming you have a product people demand and you're focusing on the right market.)
First, check the promises you make in your marketing copy—do they align with the final product you deliver?
If the answer is yes, have a look at your product images and the information you provide on your product pages. Are the images high-quality? Do they show your marketing promises in action? Do you offer multiple images of the product?
If your images and product pages aren't the problems either, you should analyze the customer journey in your store. Is it clear what a visitor is supposed to do next? Do you clearly signpost the way to purchase?
The conversion rate is much more than a percentage. Tracking the numbers only won't give you the answers lurking behind that figure. But tracking it consistently can help you identify patterns that can spark your investigation into why your conversion rate is below your expectations.
Keep in mind that although conversion rate is a single metric, every element of your marketing strategy contributes to it.
2. Cart Abandonment Rate
Abandoned carts mean lost revenue. But it's a loss you can reduce significantly—by measuring your cart abandonment rate and implementing fixes.
According to Baymard Institute, top reasons for cart abandonment include:
A long checkout process;
The requirement to create an account; and
High additional costs (e.g. shipping or taxes).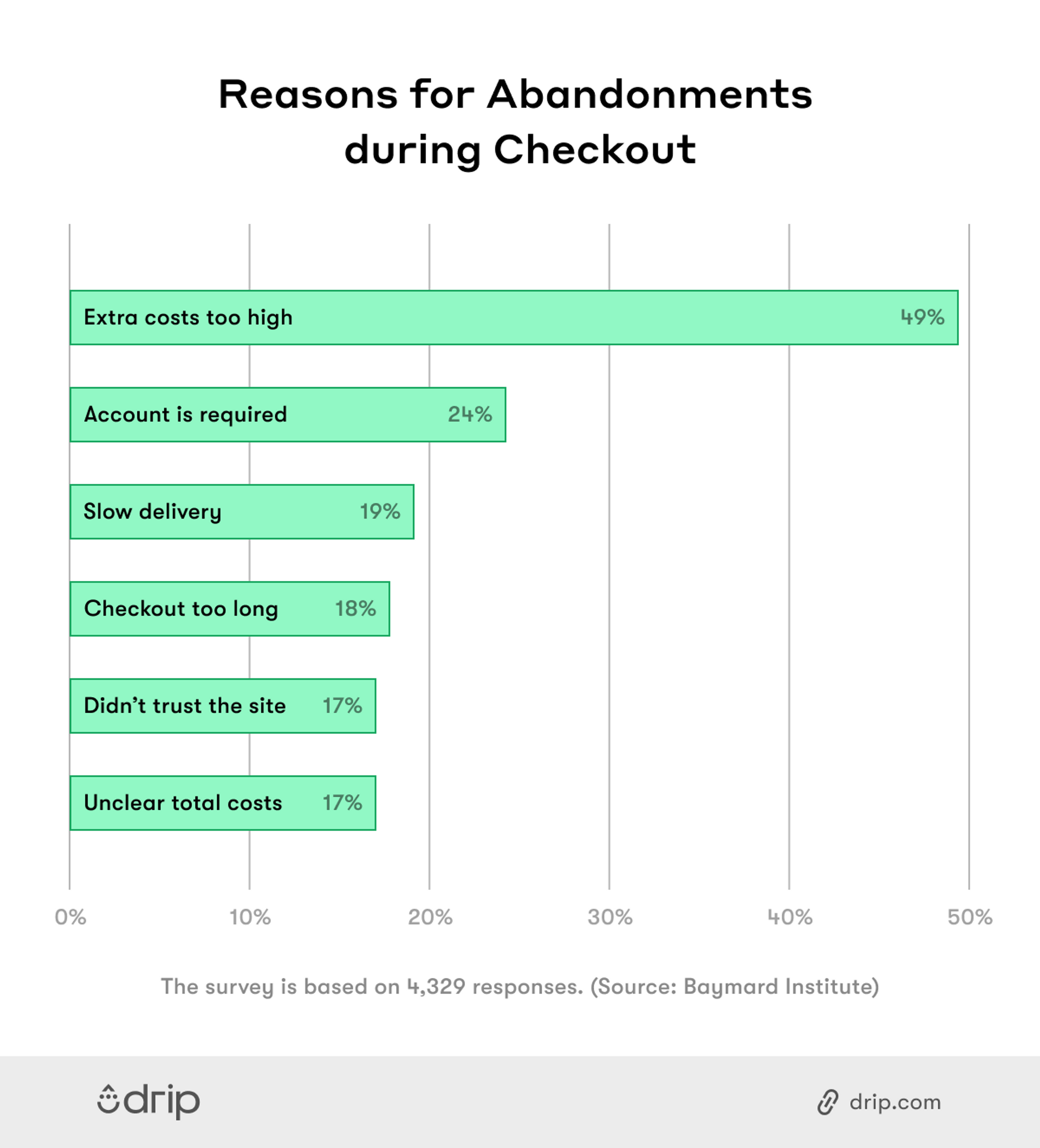 The same research by Baymard Institute also shows that an improved checkout experience can increase your conversions by 35 percent. So, simplifying your checkout process is the best place to start to reduce your abandonment rate.
Remember that conversion optimization is hardly a one-time fix. Keep measuring this metric and optimize your store to reduce cart abandonment rates all year round.
3. Average Order Value
Order value clearly has an impact on your bottom line, so understanding average order value helps you pinpoint how much a customer spends on average in your e-commerce store.
Increasing your customers' average order value even by one percent means a lot more revenue. Here are a few sustainable ways to increase average order value in your store, tried and tested by e-commerce brands.
Offer Free Shipping (For a Limited Time)
The retail giant, Missguided has a perfect example of this tactic.
In its website footer, the company offers £1.99 for next-day delivery. However, the offer is only valid for orders placed within the next hour and 20 minutes.

Time-sensitive offers like the above have been proven to work well for e-commerce since they play nicely on shoppers' fear of missing out.
Bundle Products
Mother Dirt is a company that uses this strategy well.
The e-tailer knows that its customers have skin issues, so they bundle products that complement the items being viewed.
The offer is attractive because it's cheaper to buy a bundle than buy the products separately, and it's a great tactic to take shoppers up to a higher price point.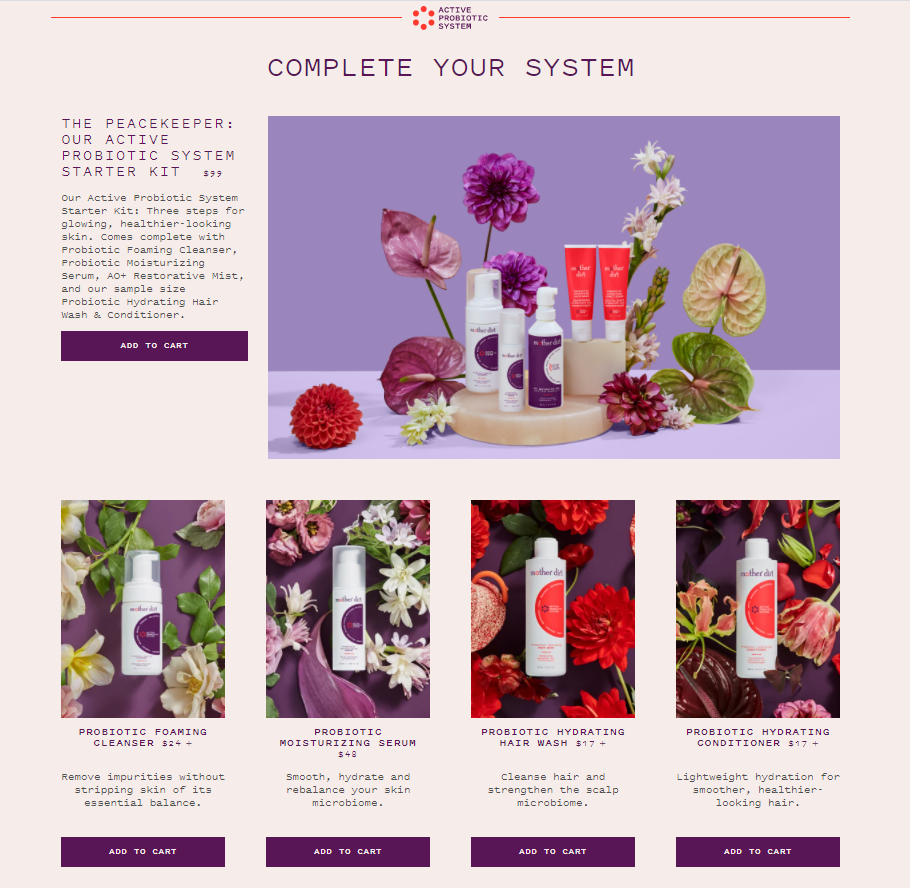 Use Cross-Selling
Cross-selling is another brilliant way to bump up buyers' average order value.
ASOS consistently uses this strategy on its website. While browsing a product, you always see a carousel of product recommendations with items to complete your look.
If you like what the model is wearing, you can buy the entire outfit without searching for elements separately—saving you time and increasing your order value.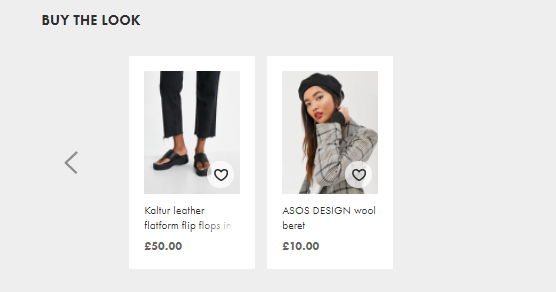 4. Website Traffic
Although many marketers consider it to be a vanity metric, tracking your website traffic can help you understand the success of your marketing efforts.
By website traffic, I don't only mean the number of visitors, though. You should dig deeper into your Google Analytics, and analyze how your visitors behave when they land on your website.
What pages are visitors viewing before bouncing off? What pages are they exiting on? Find the problems and solve them before they impact your conversions even more.
Onsite campaigns come in handy here to help you make the most out of your traffic. With exit-intent popups, for example, you can catch abandoning visitors before they leave your site and turn them into email subscribers.
5. Email Click-Through Rate
Email is essential in e-commerce. When someone subscribes to your newsletter, there's a pretty good chance they like what you're talking about, what you're sharing, or what you stand for.
What's more, email marketing is still the channel with the highest ROI, generating $42 for every dollar you spend.
You should surely measure your number of subscribers and keep an eye on your email open rates, but more importantly, you should be tracking your email click-through rate (CTR).
Once you grow your email list and improve your open rates with better subject lines, you should focus on improving your CTR. This metric can help you determine whether your campaigns are really making an impact on your conversion goals and revenue.
You should regularly analyze the links your subscribers are clicking on and whether or not they're making a purchase after clicking through.
While measuring your list growth, open rates, and CTR, don't forget to keep an eye on your email bounce rate, too. Cleaning your mailing list regularly can help improve the health of your list.
Final Thoughts
As I've said in the beginning, it all comes down to what you do with the insights you uncover, rather than the metrics themselves.
Knowing which e-commerce marketing metrics to track and understanding how each one can impact your bottom line is crucial to sustainable e-commerce growth.
By tracking these five metrics consistently, you'll gain a deeper insight into how your customers buy your products and the overall impact of your marketing efforts.