Mega brands like Amazon have set the bar for e-commerce fulfillment. They're incredibly fast, efficient, and make it a breeze for customers to order online and quickly receive their products.
Amazon Prime is perhaps the best example. This program gives shoppers free two-day delivery coast-to-coast on more than 100 million items with no minimum purchase.

It gives them free one-day delivery on more than 10 million items.

And there's even free same-day delivery on more than three million items in select cities.

What else could shoppers ask for?
Amazon has revolutionized the digital shopping experience, and with just a few clicks, shoppers can order a product and have it arrive at their door in two days max.
And considering that "38 percent of shoppers will never shop with a retailer again if they had a poor delivery experience," it's clear that e-commerce fulfillment is something digital brands need to get right.
In this post, I'll cover the core aspects of e-commerce fulfillment that are most important to your customers. That way, you can fine-tune this part of your business, create a better customer experience, and improve your overall bottom line.
Table of Contents
1. Transparency
Transparency is vital for modern businesses in many ways and heavily impacts consumer perception. In fact, "Almost nine out of 10 Americans believe transparency from businesses is more important than ever before."
This is especially true when it comes to e-commerce fulfillment. Being transparent about shipping policies, costs, and how long the delivery time is helps build trust and rapport.
It also reduces the likelihood that shoppers will be hit with a last-minute curveball when completing their orders. So this is one of the first things things to focus on.
One of the best ways to go about this is to create a section on your e-commerce site that's solely devoted to answering common fulfillment questions shoppers have.
Take Bean Box, a company that sells gourmet coffee samplers, for example.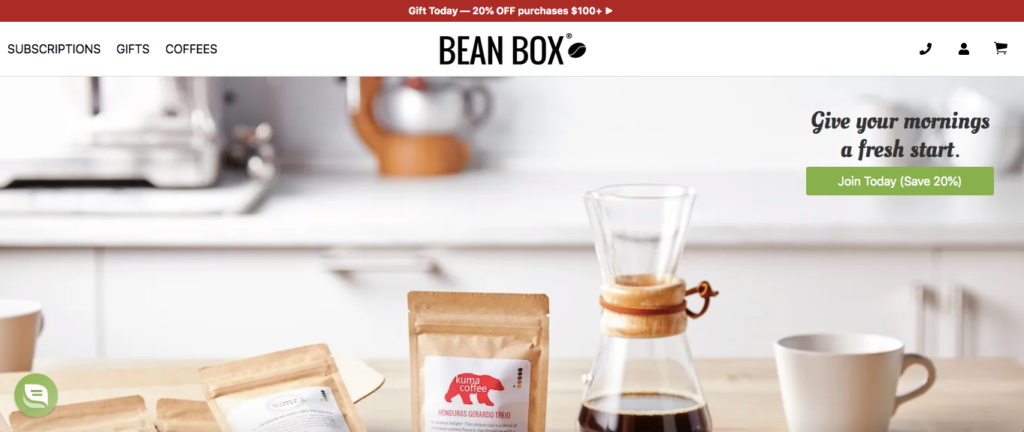 They have an FAQ section located in the footer of their site.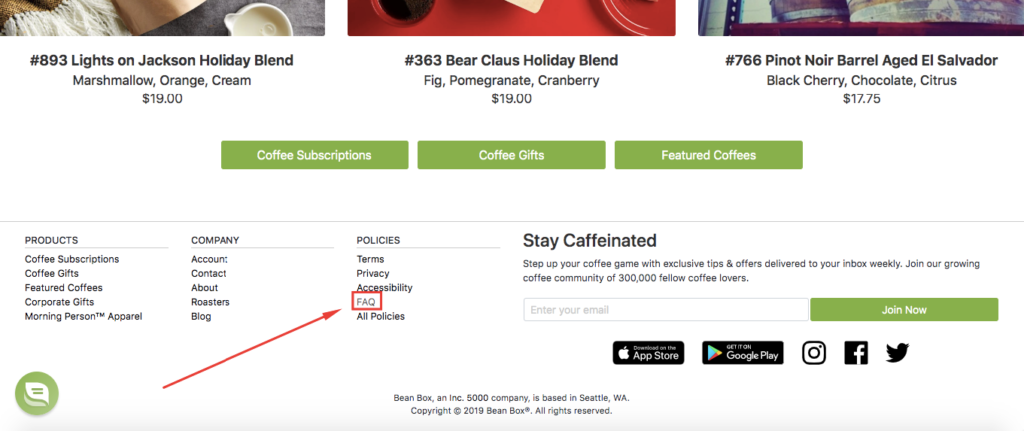 There, shoppers can find a ton of helpful information, including everything they need to know about shipping.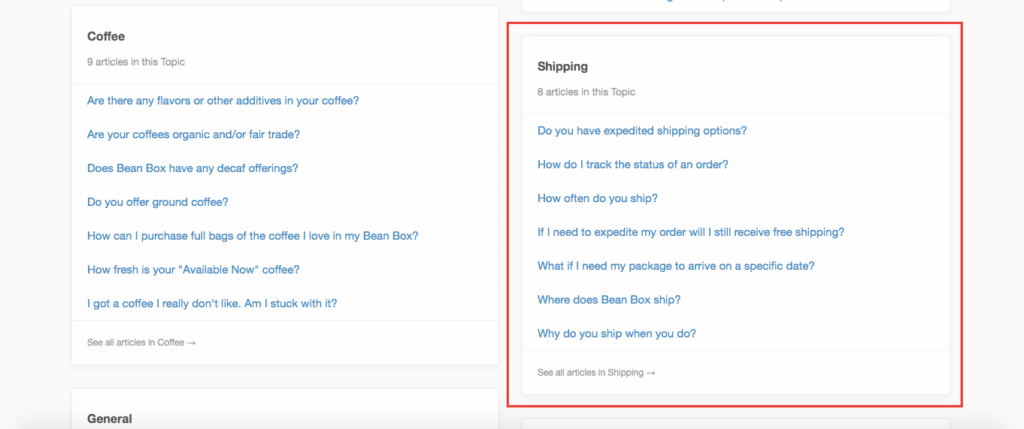 If someone wanted to know if Bean Box has expedited shipping options, they can simply click on this link and get the details.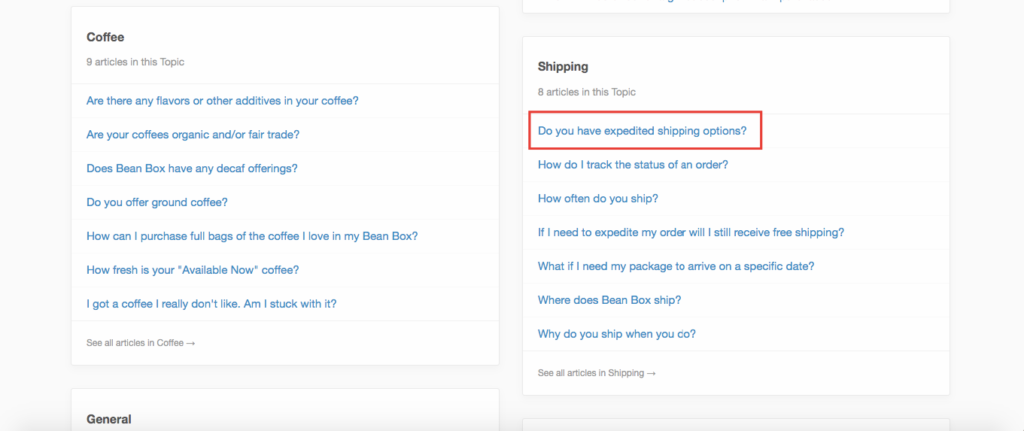 That way, shoppers know how it works and what they can expect.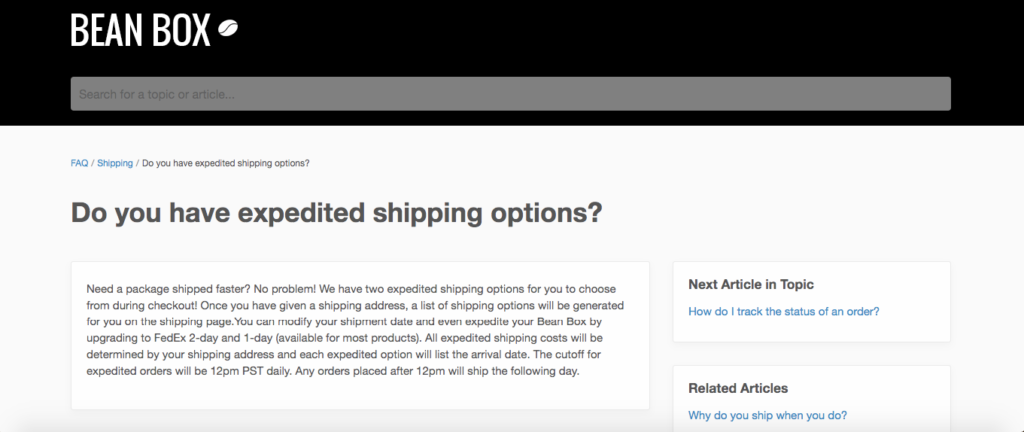 And they don't have to do a lot of digging to get this information. It's in a logical place and also contains related articles like how to track the status of an order and why Bean Box ships when they do.
Aiming for this level of transparency helps streamline the digital shopping experience and should raise your overall customer satisfaction.
2. Flexibility
Like most other elements of business, a one-size-fits-all approach won't cut it with e-commerce fulfillment. These days, it's more about offering a more personalized approach where you cater to the needs of each customer.
For example, the main concern for some customers is speed, and they're gladly willing to pay extra for faster service. For others, they're more interested in saving money and don't mind waiting a little longer if it means lowering their delivery costs.
That's why it's essential to be flexible with your e-commerce fulfillment.
"Due to the wide variance in customer demographics, behaviors and preferences, it's essential to provide an array of e-commerce delivery options with each clearly setting the expectation level," explains Brian Bourke, vice president of marketing for SEKO Logistics.
One brand that offers a lot of flexibility is footwear and apparel company TOMS.
After quickly browsing through their "Shipping Methods and Times" section, you can see that they have four main options, which can accommodate most needs and budgets.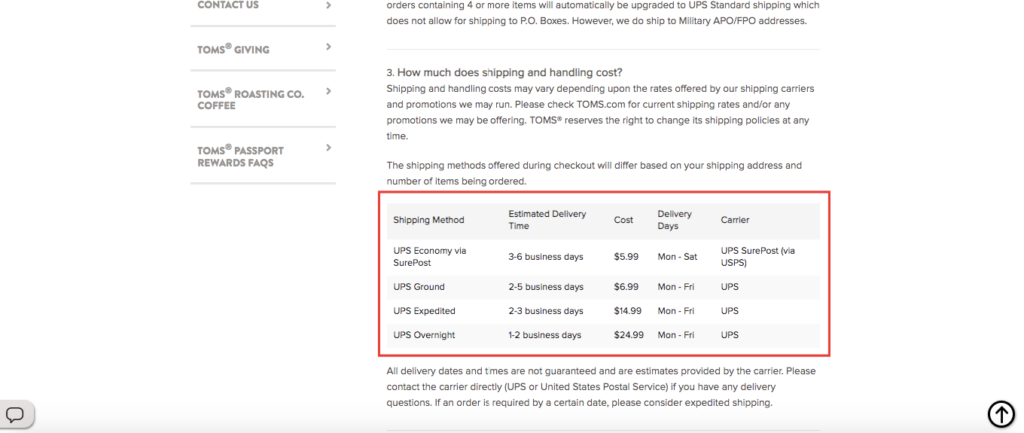 That way, each customer can find their ideal shipping option without any hassle. This a strategy I highly recommend that your brand uses as well and one that can help maximize conversions.
3. Expedited Delivery Options
As I just mentioned, receiving items as quickly as possible is a top priority for many customers.
"Fifty-three percent of shoppers say that speed of delivery is an important factor when it comes to evaluating their online orders."
Furthermore, "25 percent of shoppers have canceled an order because of slow delivery speeds."
If they're faced with choosing between ordering from two similar e-commerce brands, the vast majority of shoppers will opt for the one that offers quicker delivery. It's that simple.
While you may not be able to match Amazon's one-day or same-day delivery, it's important to have at least some type of expedited delivery option—ideally at an affordable price.
For instance, tech accessories brand Native Union mentions that they offer expedited shipping on orders in the US and that packages usually reach their destination with two or three days.
Of course, having this as a realistic option requires a lot of planning, and you certainly don't want your profits to take a major hit in the process.
To figure out the logistics behind expedited shipping, I recommend reading this guide from ShipMonk to learn more about two-day shipping and how to offer it without killing your profit margin.
4. Free Delivery Options
On the other end of the spectrum is the shoppers who are less interested in delivery speed and more interested in low shipping cost—more specifically, free shipping.
Nearly four out of five (79 percent) of people are more likely to shop online if they could get free shipping in 2018. So you can bet that having free delivery options is important to a good chunk of your customers and something you should offer if at all possible.
Of course, you need to consider the impact free shipping will have on your profitability. That's why many e-commerce brands have some type of order threshold that must be reached for a customer to become eligible for free shipping.
For example, upscale golf and sports clothing company Cutter & Buck has a $50 threshold that's clearly outlined in their shipping and returns section.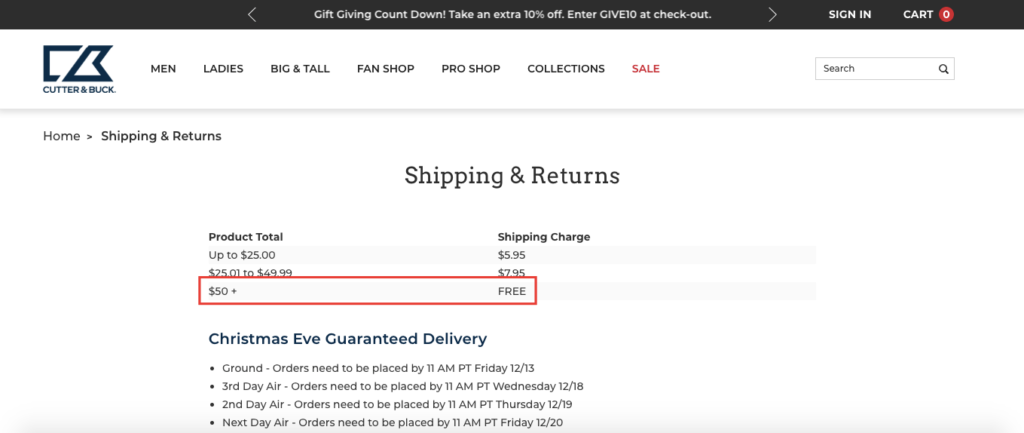 This is extremely important to many shoppers and should provide the incentive needed to get a larger percentage of them to buy.
5. An Accurate Delivery Date
It's also crucial that e-commerce customers know exactly when they'll receive their package. After all, 53 percent won't go through with a purchase if they're unsure when it will arrive.
But on the other hand, 54 percent will become repeat customers when a brand correctly predicts when a package will arrive. The bottom line here is that you want to provide each customer with an accurate delivery date and follow through with your promise.
Here's a simple example where you can see that the estimated shipping time will take two days from 5/29 to 5/31.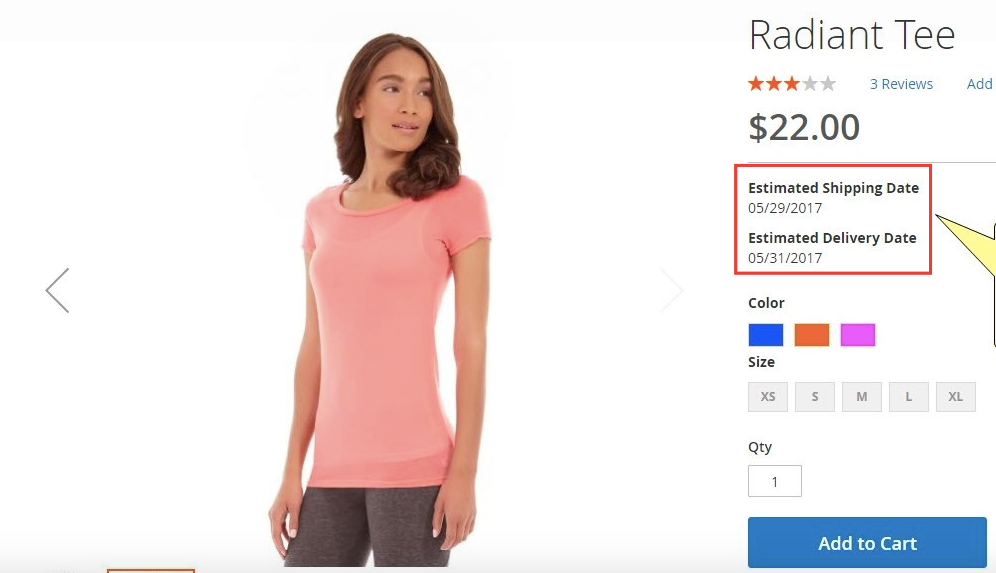 Fortunately, adding this feature is fairly easy to do. Most e-commerce platforms have plugins you can install that will let shoppers know how long it will take to receive their order.
For Shopify, there's the Delivery Date plugin.
And for Magento, there's the Estimated Delivery Date extension.
You can take it one step further by incorporating an order tracker into your e-commerce site. This is a nice visual element that shows customers exactly what stage of the fulfillment process their order is at, and they can conveniently check it whenever they like.
A lot of today's top brands are using an order tracker, with this one from Swedish clothing company H&M being a good example.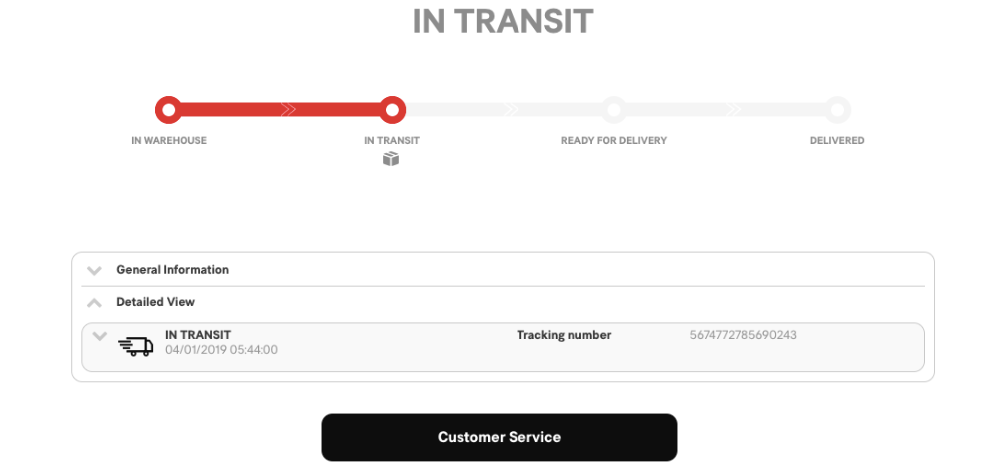 With just a glance, customers can see what's going on. From the time a product is still in the warehouse to the moment it's delivered, customers are always informed.
6. Clear Communication
Research has also found that e-commerce customers want to stay in the loop with the brands they purchase from.
In fact, "Shoppers want more communication from brands than ever before; 83 percent of those surveyed said they expect regular updates about their purchases."
So you must offer streamlined customer service and make it easy for shoppers to find the information they're looking for.
This usually starts with sending a customer an initial email confirmation that their order has been successfully placed.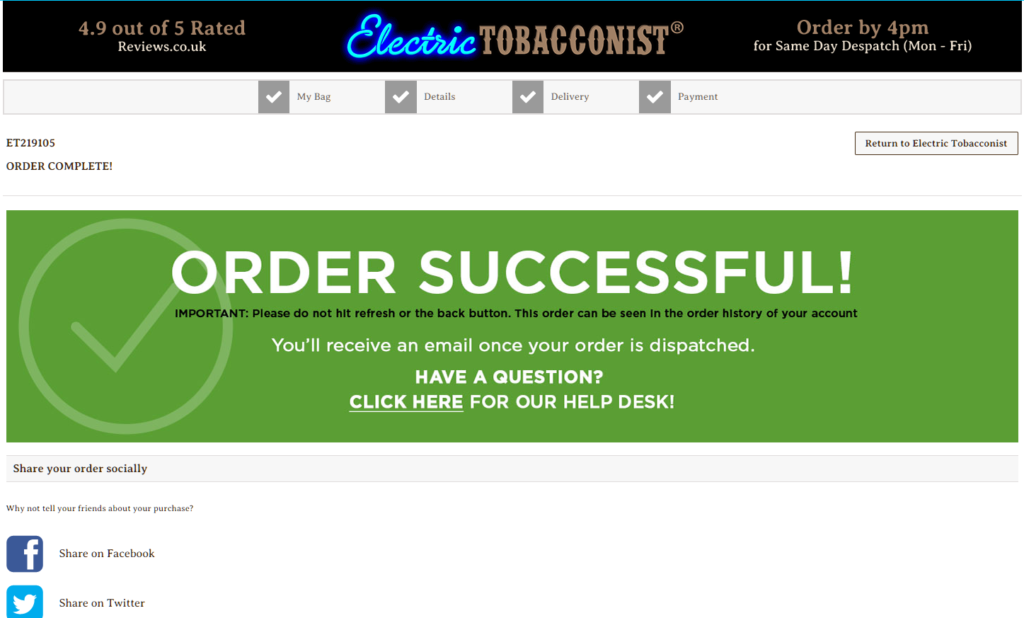 That way, they know for sure that you've received it. Then you'll want to send another email once it's being processed.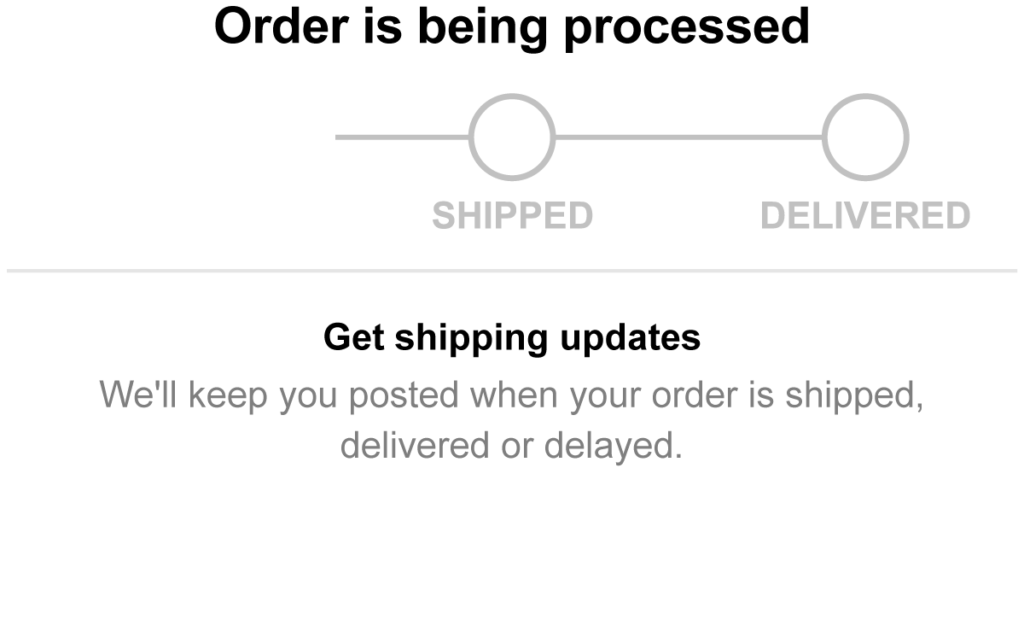 And then another once an item has been shipped.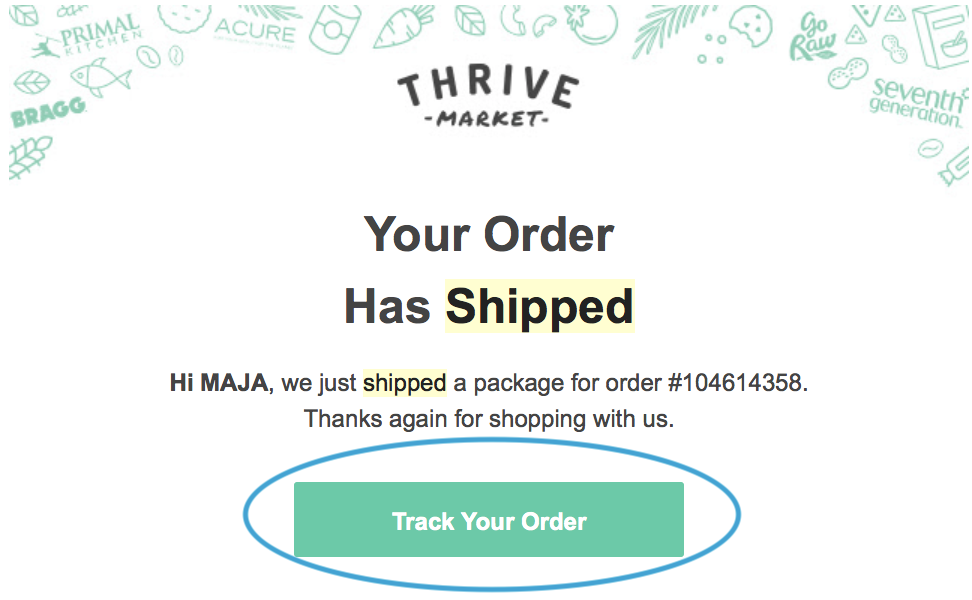 And of course, if there are any delays, you'll want to promptly notify customers about this as well and let them know what you're doing about it.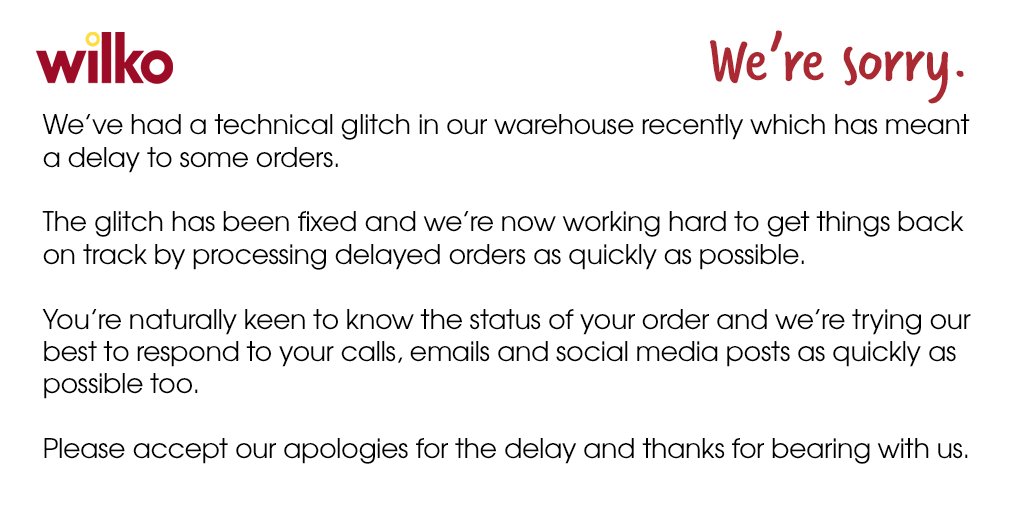 This can often mean the difference between some minor friction and a potential deal-breaker where a customer ends up canceling their order and turning to a competitor. Beyond that, it's important that customers can quickly reach you if any questions arise.
Online women's boutique Pink Lily does a great job of this by letting their customers know how to get in touch with them whenever they have questions regarding orders on their contact page.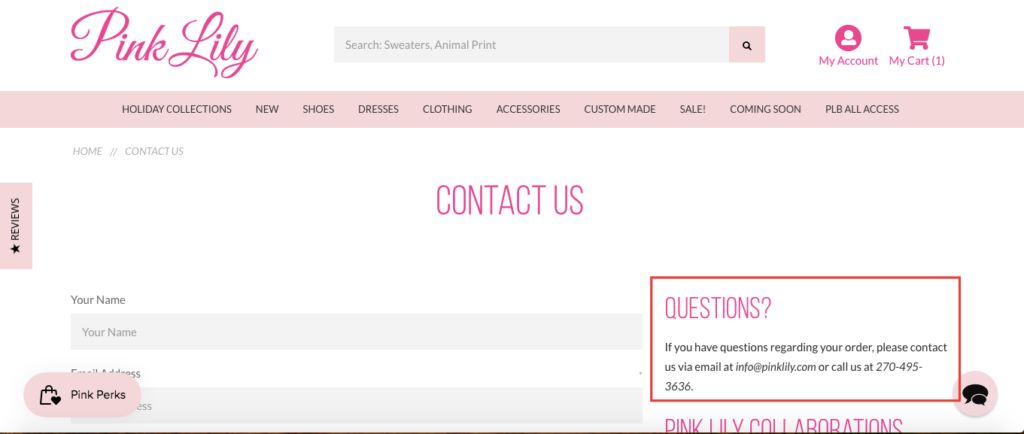 They have the choice of either sending an email or calling Pink Lily to speak directly to a customer service rep.
That way, any pressing questions regarding orders don't go unanswered, and customers can feel confident that they're in good hands by doing business with Pink Lily.
Something else you may want to consider is using a chatbot to help answer ordering questions.
In 2018, 29 percent of consumers used or planned to use chatbots to shop online. Among the top reasons why consumers liked using chatbots were their 24/7 availability and the fact that they could offer fast responses.

While you probably don't want to rely on chatbots for all of your customer service interactions involving ordering, they can certainly work for answering basic questions.
7. A Simple Returns Process
One final aspect of e-commerce fulfillment that's highly important to your customers is making it easy to return items. Forty-two percent of online shoppers have made a return within the last six months, so you must have a simple returns process in place.
And considering that 63 percent of shoppers won't make a purchase if they can't find a return policy, this is another piece of information that needs to be readily available.
One brand that does an excellent job of this is Verge Girl, an Australian women's online fashion store. Notice how they say in a big, bold font that they have easy returns and refunds on the header of their website.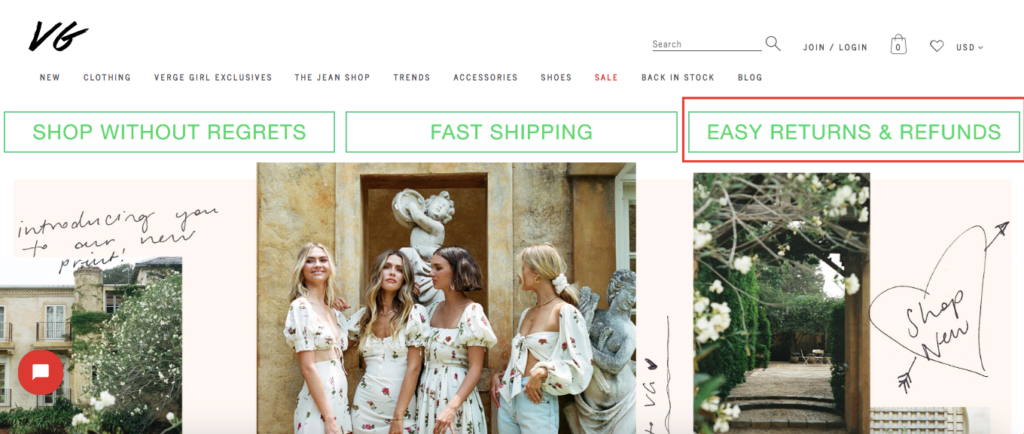 This should help set many of their shoppers' minds at ease and make them feel more comfortable making a purchase. And they also have a section in their website footer that's specifically devoted to helping customers with their returns.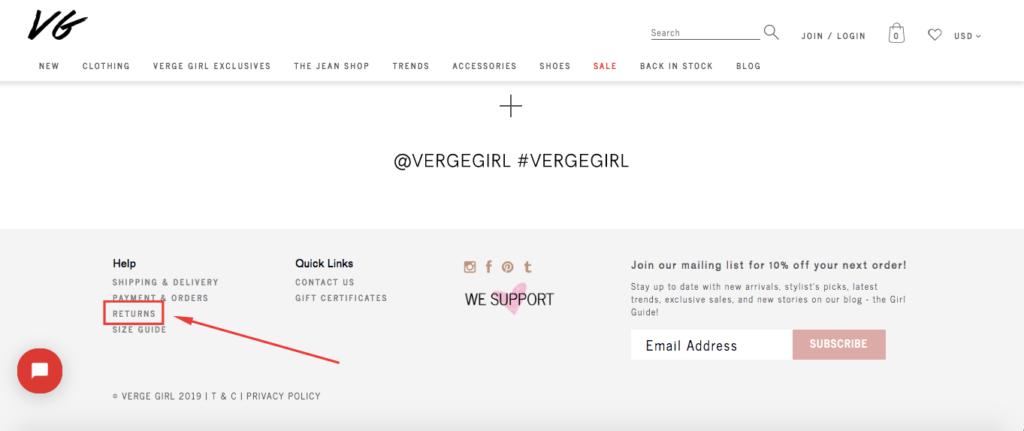 I like their fun, playful copy where it says, "Hey Lady, It didn't work out? No sweat, it happens!"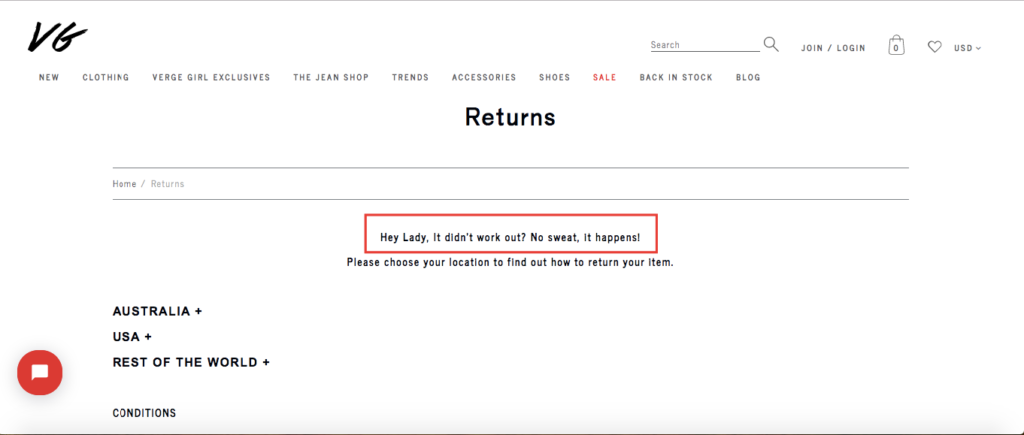 I'm sure it's helped diffuse at least a handful of potentially volatile situations. Customers simply choose where they're located, and Verge Girl breaks down how to go about making a return.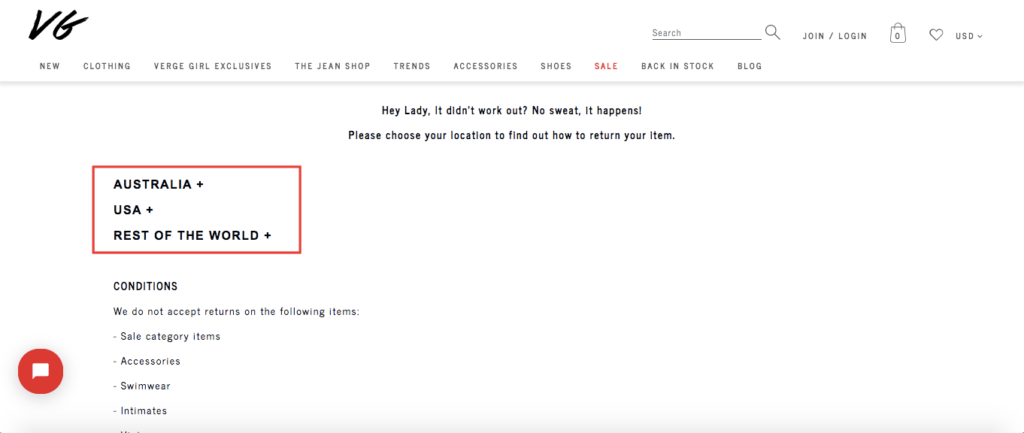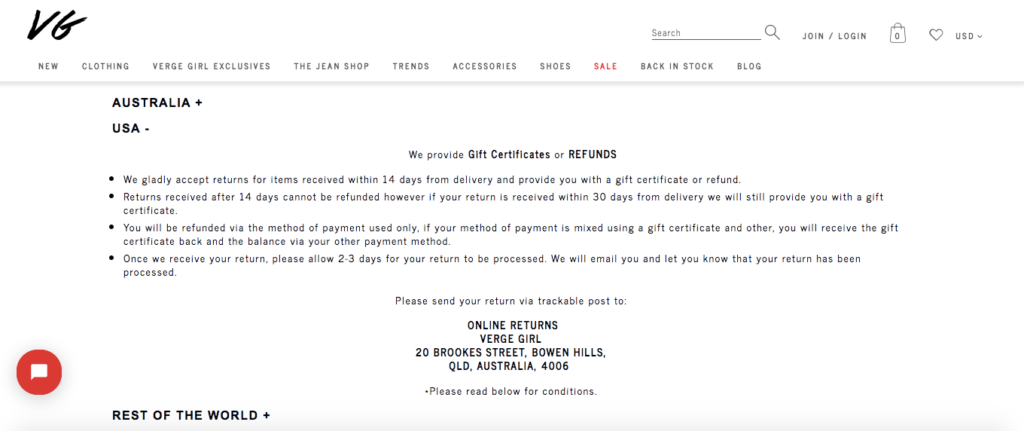 It's straightforward and streamlined. So this is a great template to model your brand's returns policy after and is the final piece of the e-commerce fulfillment process.
Conclusion
There are a lot of components that go into making a successful e-commerce brand. You need quality products, professional design, and intuitive website navigation.
But another critical yet sometimes overlooked area is the e-commerce fulfillment process.
Shoppers want to know that they'll receive their orders within a reasonable timeframe and won't have to deal with any unnecessary drama along the way. And if they need to make a return, they want it to be as painless as possible.
Understanding what's most important to your customers with e-commerce fulfillment and addressing their needs is your ticket to creating a positive experience, which should help increase your conversions and improve customer loyalty.