It's easy to forget when you're wading through an inbox filled with ads, newsletters, and mass updates. But email can actually be an incredibly personal medium.
At its best, opening your inbox is a chance to be surprised by thoughtful messages that are truly just for you, creating a moment of one-to-one connection.
Maybe it's your birthday, and you find a heartfelt note from a friend you haven't seen in years.
Or an old colleague has passed along an article that immediately made her think of you.
Or a friend in another time zone happened to come across an interesting event in your town, and wanted to make sure you knew about it.
And you undoubtedly send the same kinds of emails to your friends and family.
So if you're an email marketer, wouldn't you want to create these kinds of serendipitous experiences for your customers?
With the right email tools, you can—and it's simpler than you may think. Here are three of my favorite kinds of truly customized customer appreciation emails you should consider adding to your email marketing.
Done right, these kinds of emails can do more than create a pleasant surprise for your customers. They can also …
Make customers likelier to open future emails
Turn already-satisfied customers into brand ambassadors
Inspire repeat purchases or upsells
Have you ever gone into a coffee shop on your birthday to get a free drink (and maybe added on a pastry and a pound of beans while you were there)? "Special day" emails operate on the same principle. You can take advantage of existing significant events or make your own.
Send an anniversary email to recognize your customer relationship. An anniversary email is a great way to turn an otherwise mundane day (or even a potential renewal notice) into an opportunity to build connection to your existing customers. Just checking in to see how they're doing with your product, and asking how things are going, is a great way to show you care about their success.
You might want to email a subscriber on the one-year anniversary of when they purchased your product or service, to check in and ask how things are going for them with your product.
You could even use this email as an opportunity to turn happy customers into testimonials or affiliates and rescue customers who might be ready to churn.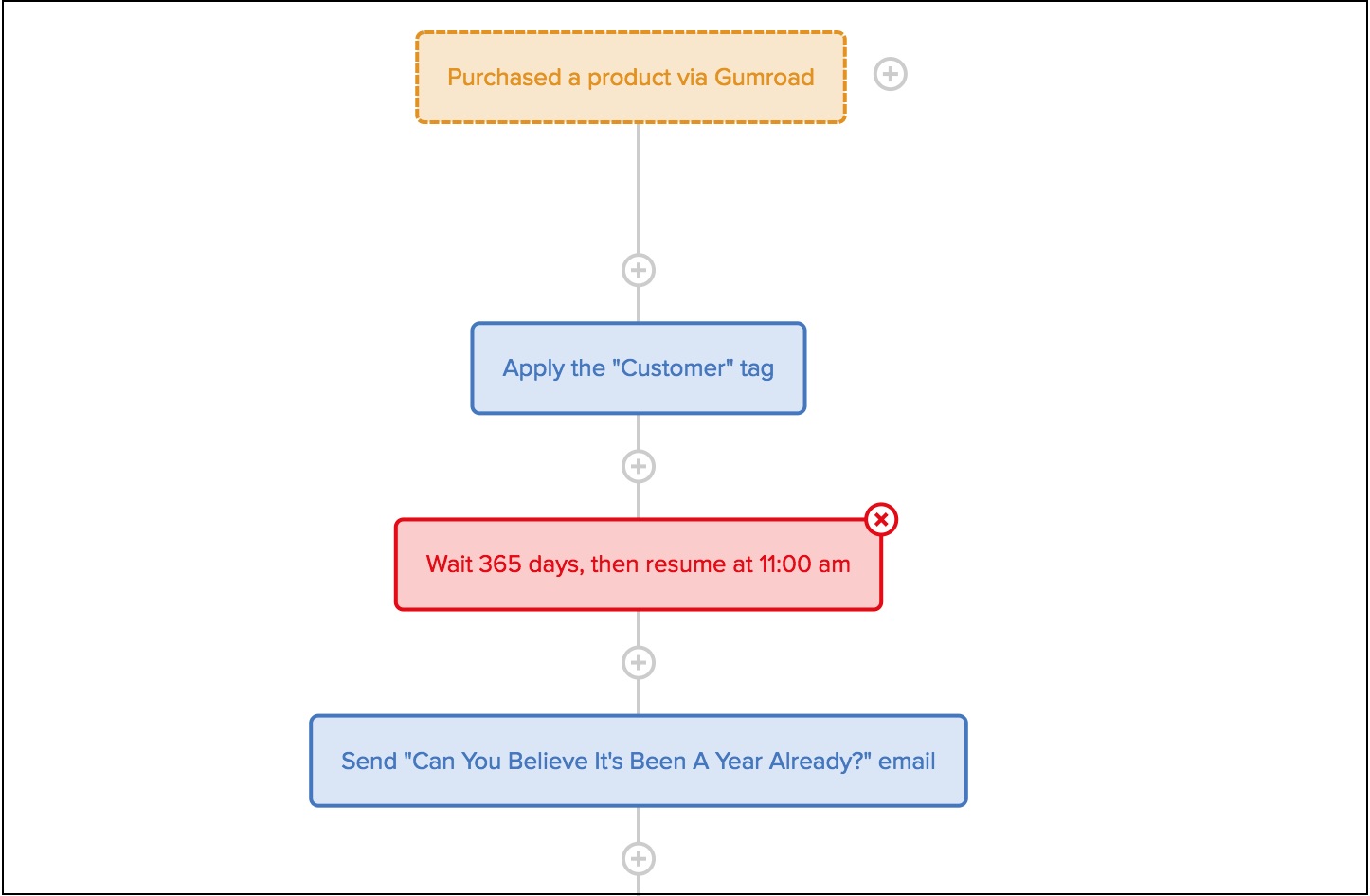 This workflow couldn't be easier to set up. First, tag new customers in your payment processor. This lets you track new customers and be able to send customer-specific information in the future.
Then, add a 365-day delay, and send a one-off email celebrating their "customer anniversary."
Share a discount code in birthday emails Take a cue from just about every coffee shop ever and use your customer's birthday as an opportunity to surprise and delight them with a coupon code or freebie.
This birthday workflow might look complicated at first glance, but once you set it up, it will automatically email subscribers on their birthday month after month.
To get started, set up a workflow triggered when a subscriber's birthday field is updated. This workflow is designed to take that information and convert it into their next birthday (adding the appropriate year) so that you can send the email automatically on the correct date.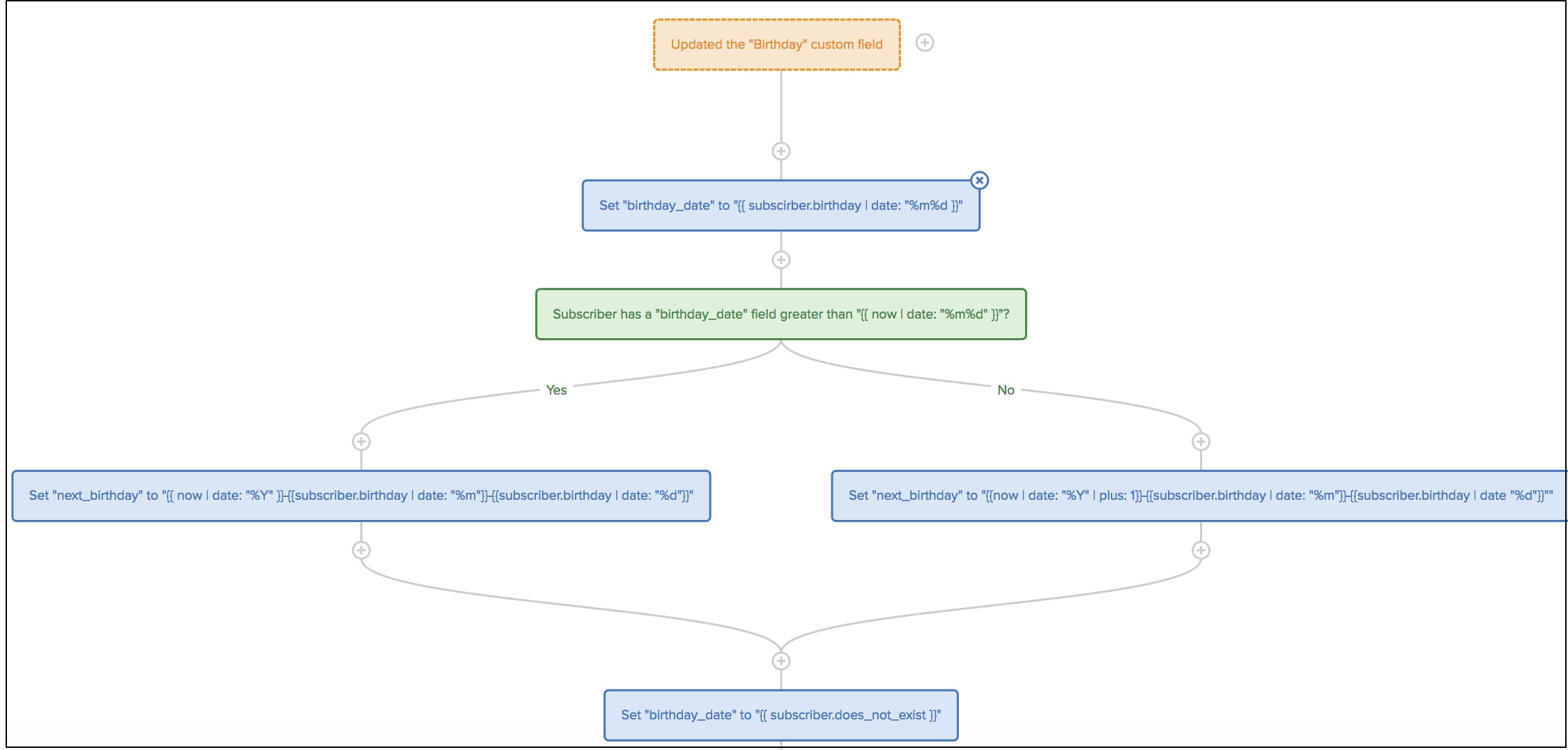 Here's how to do this:
Add an action to set a custom field. We call the custom field "birthday_date." Put this exact Liquid code in for the value: . This will convert the format of the date into a month and date and set a new custom field with that information.
Add a decision that tests whether "birthday_date" is greater than (Liquid's way of recording today's date). This will determine when the subscriber's next birthday is (when we want to send them an email).
Under the decision's "yes" side, add an action to set a custom field, which we call "next_birthday" to --. This will set the year of the subscriber's birthday to this year.
Under the "no" side of the decision, add an action to set the custom field "next_birthday" to --". This will set the subscriber's birthday to next year.
Add an action to set the custom field "birthday_date" to . This is just good practice to keep your fields clean, since you won't need this anymore.
Now, set up the rule that actually sends the birthday email.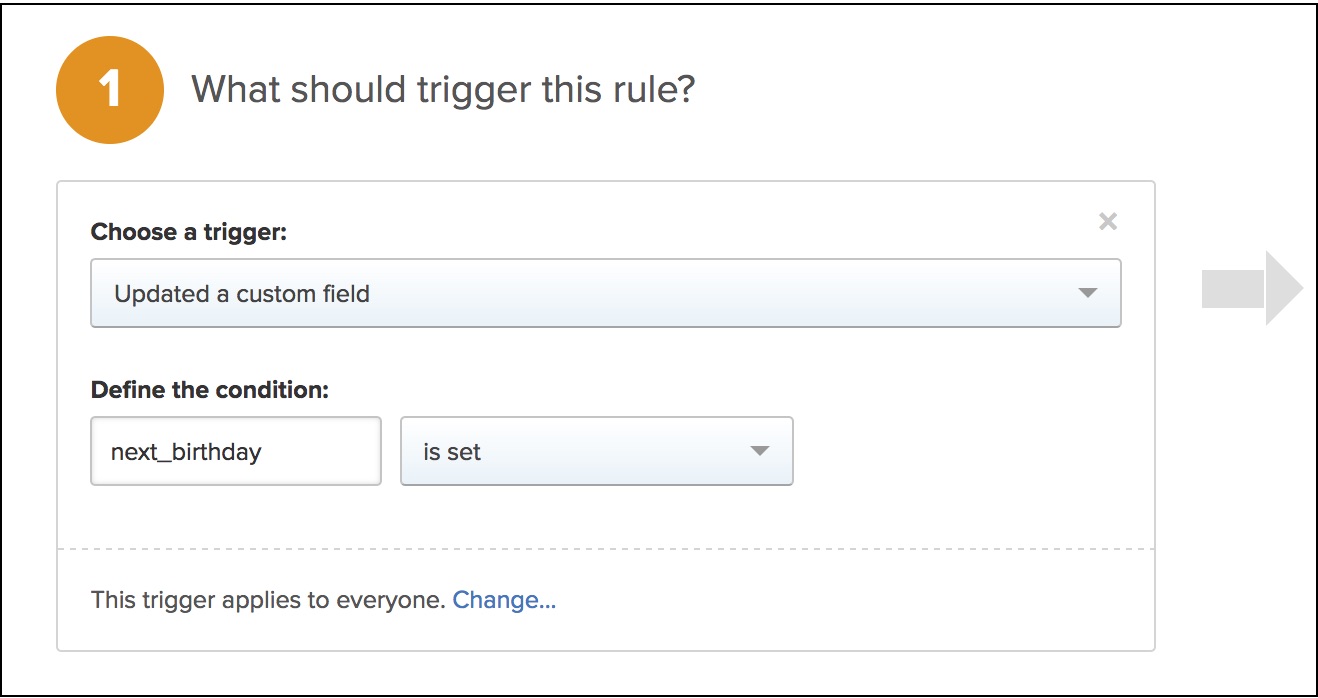 We trigger the rule by updating the next_birthday field, so that this rule only applies to subscribers who have a birthday set in Drip and have gone through the previous workflow.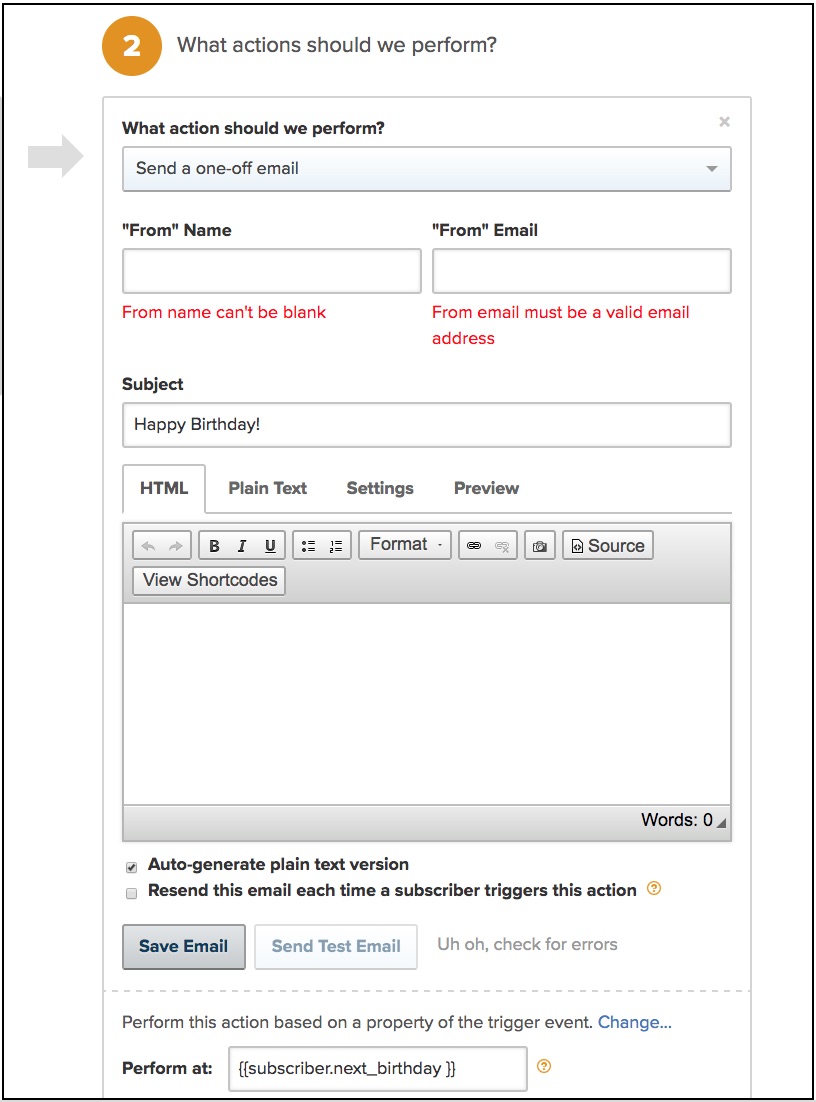 Then, fill in the email with all of the details and the special offer that you want to include, and just change the "perform at" to fire on the subscriber's next birthday. Now, you've got your automatic birthday email all set up.

To keep sending birthday emails year after year, you can add another action to the same rule, which sends a subscriber back through the same workflow again. This will automatically update the year in the next_birthday custom field, so you can email them again next year.
2. Upsell Appreciation Emails
The best customer appreciation offers boost your revenue by making customers feel special. Take your upsell to the next level by building in elements of customer appreciation.
Send limited-time discounts for existing customers. It's easy enough to send a thank you broadcast, but by including an upsell in your workflow just for existing customers, you can turn a thank you into a reason to make a purchase.
You can actually set up this workflow to send a thank you email to all of your new customers, but then follow up with customers who haven't yet invested in your high-level product.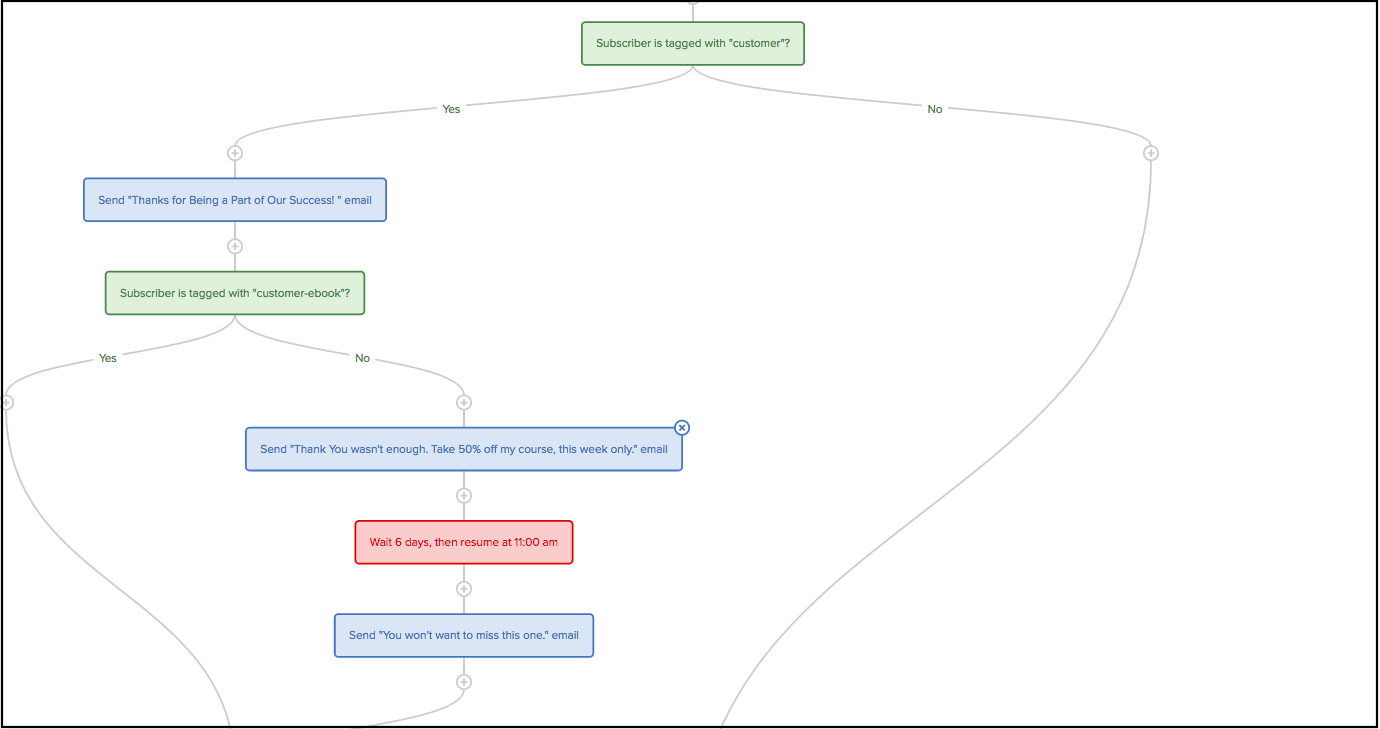 By sending a thank you email first, you'll be warming up your customers for an upsell proposition.
Then, add a delay and send a follow-up email that offers a special discount if they upgrade or make an additional purchase. Be clear that they're getting your email only because they're an existing customer—a more exclusive deal feels like a better deal.
Another way to do this would be to create a welcome campaign with the upsell and appreciation built right in.

In this example, for instance, I start off with a thank you email, then follow up with an accountability email to see if they're enjoying what they purchased, and finally, offer a special deal on my upsell product.
By making it more about giving than taking, you provide the advantages of both a customer appreciation campaign and an upsell campaign, all in one.
3. Surprise and Delight Emails
Of course, you don't really need any special occasion at all to reward your most loyal customers or biggest fans. Some indications that you might want to send something special to a certain customer include:
They frequently (or always) open your emails.
They are high-value customers.
They are repeat customers.
Email repeat customers about your affiliate program. If someone trusts you enough to invest in more than one of your products, these loyal customers might be a great fit for your affiliate program. Send them an email automatically to be sure they have all the details they need to join your program and become an affiliate.

This workflow is simple if you're already tagging customers of your different products. It's triggered by applying a customer tag for a certain product, and then it checks for another customer tag. Consider this the counterpart to your upsell campaign.
If your customer already has a tag for your other product, send them an email and let them know about the perks of joining as an affiliate, automatically turning them into vocal supporters of your brand.
Send a sincere thank-you to high-spend customers. By setting up a custom field that tracks how much a customer spends on your products, you can email them when they reach a certain spending threshold. This could be an effective way to track loyalty across a number of products, or time spent with your company if you use a subscription-based model.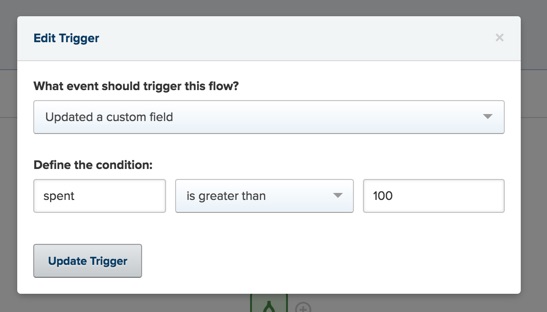 When your customer reaches a high-spending threshold (whatever you determine that is for your brand), send them a special thank-you email for their loyalty.
Reward frequent email openers. One of the easiest of these examples is to send something special to customers who frequently open your emails. Clearly, they're some of your most engaged readers, so you can take a moment to say thank you.
Just create a segment of customers who have opened your most recent emails (choose as many emails as you want, depending on how frequently you email your list).

You could hold a contest for branded swag with this segment of super-loyal readers. But whatever you send, be sure to say "thank you" for their continued loyalty and engagement–this is a segment of your list that will really appreciate it.
The ideas for customer appreciation emails are endless, but whatever you send, you have the chance to keep your customers happy and raving about you and your product. Take the opportunity to say thank you and let your customers know how much you really appreciate them.
Have you ever received an email from a company that truly made you feel appreciated? Tell us in the comments.