Your customers deserve the best. When they're happy, your business will flourish.
So it's important to choose a payment service that will not only allow your customers to pay conveniently — but also protect them from fraudulent transactions.
Consumers are becoming more confident in making both online and in-store purchases with their bank cards. This trend is expected to grow by 90% over the next few years — surpassing $1.6 trillion by the end of 2022.
From accepting credit and debit cards to processing cardless transactions and in-store payments, the best payment gateways can help you maximize conversion rates and deliver the best customer experience.
In this in-depth guide, I reviewed the 10 most reliable payment gateways.
What Are The Best Payment Gateways For 2023?
Listed below are the 10 trusted payment gateways for your business:
What is a Payment Gateway?
A payment gateway is a technology provided by an ecommerce application service provider that lets merchants accept debit or credit card purchases from customers.
Payment gateways are important in ecommerce — when it comes down to it, it's about making purchasing from your store more secure and less of a hassle for your customers.
For example, if a potential customer trusts and likes using PayPal, not offering that solution could turn a customer towards one of your competitors.
It's important to do your homework and understand exactly what each payment gateway brings to both your store and your customers.
Luckily, we've done part of that work for you.
The Best Payment Gateways (Reviewed)
Here's the breakdown of the different payment gateways that are used by both large and small ecommerce businesses:
1). Best For Online & In-Store Payments (Paytm For Business)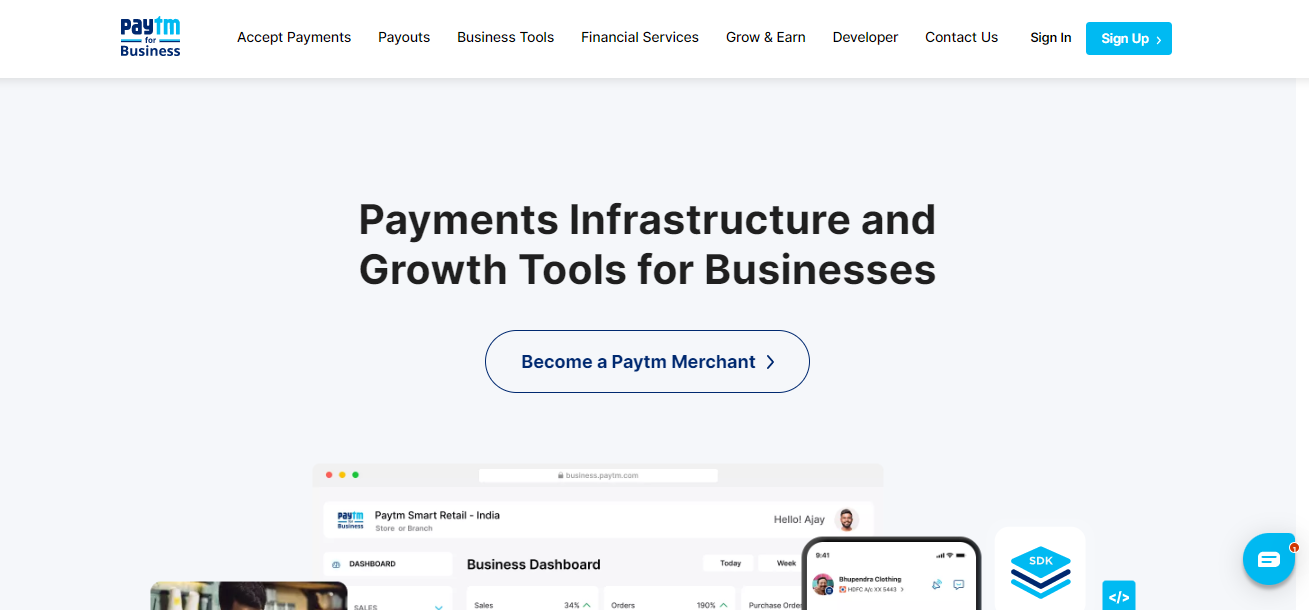 Paytm for Business offers a one-stop solution for both online and in-store payments, with features tailored to your business needs.
Whether you're a merchant or business partner, this solution helps you grow your business, manage day-to-day payments, and disburse payments.
Use Paytm for Business to collect recurring payments, generate payment links, and send invoices to your clients.
Paytm for Business provides you with a centralized ledger of payments. You can track settlements and download monthly statements.
You'll also have access to the merchant helpdesk. This helps you to resolve customer issues and access real-time reports.
In addition to this, you can track your transactions without waiting for confirmation.
You can even manually transfer money to your bank accounts — with zero transaction cost.
Pros
A secure credit card processor
Easy-to-use mobile payment processing app
Seamless integration with 3rd party applications
Useful UPI transaction on the go
Multiple payment options
Cons
The web interface can be more intuitive
Transactions can be faster
The Online Convenience fee is a bit high compared to some payment gateways
2). Best Payment Gateway for Platforms (Stripe Connect)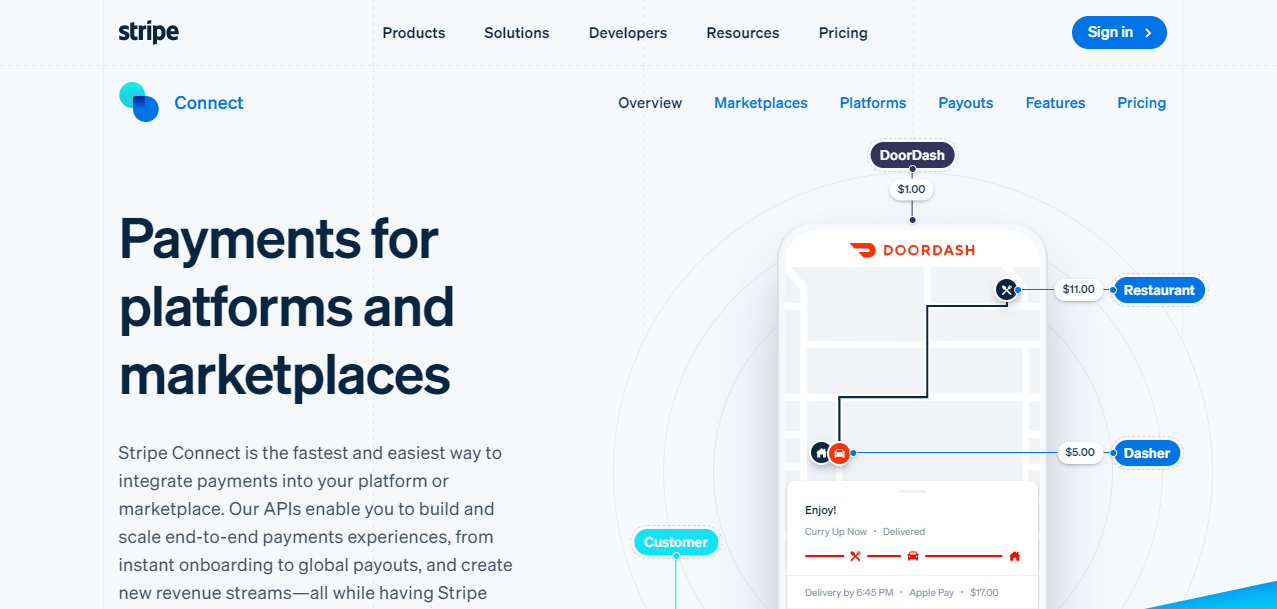 Stripe Connect offers intuitive payment solutions for platforms and marketplaces.
You can quickly build and scale end-to-end payment experiences, without going through the complicated backend.
Besides enabling ecommerce applications to accept payments, Stripe
Connect also provides an easy-to-use API for integration with other systems and helps meet payment compliance requirements.
Its features include payment logging, payment rollback, and payouts.
It also allows users to set a separate charge for subsites and charge commission for paid subscriptions.
It supports one-to-many payments. It handles payment compliance, user onboarding, account management, and payouts.
Its customer support is available around the clock. It also has an easy-to-use billing module that fosters recurring business relationships.
Depending on your payment needs, you can create a custom account.
The connected account type is the most straightforward route for most users. It gives you full control over your user experience.
Get started with the free standard plan, which offers zero platform fees. You get a co-branded dashboard for your customers. Paid plans start at $2/monthly active account.
Pros
Easy integrations with pre-built ecommerce plugins
Super easy-to-use credit and debit card processor
Lots of payment options — including digital wallets, automatic payments, etc.
Excellent customer support
Cons
It can't only be used by merchants in the U.S. and 44 other countries
Limited in-person transactions
3). Best All-in-One Payment Solution (PayPal)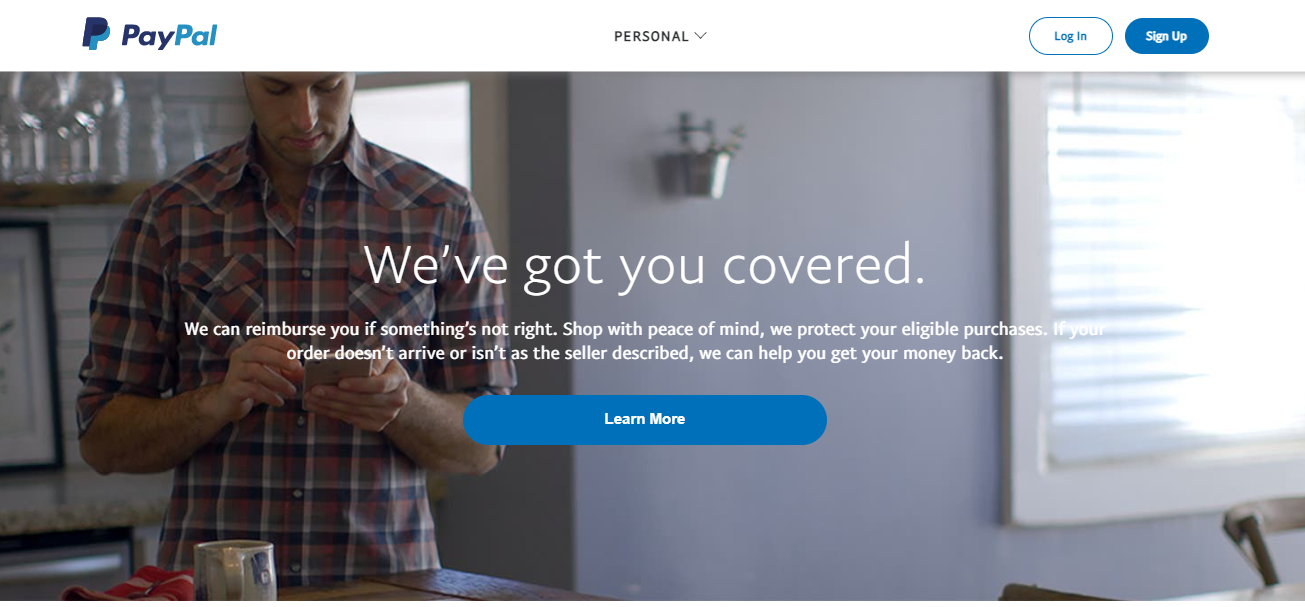 Whether you're a buyer or a seller, PayPal is a safe way to receive and send money online.
It's been around for nearly two decades. It's one of the largest online payment platforms in the world, with over 450 million active accounts.
While you can use PayPal for personal purposes, the business account offers robust features for merchants.
It's easy to accept credit cards or debit cards on the go with your PayPal business account. You can also access your purchase history, add new bank accounts, and do a lot more.
For personal accounts, you can choose between three account types. These include a free personal account, a free "basic" account, and a "pro" account.
When it comes to PayPal fees, they can vary a lot depending on the source of the funds.
For instance, there's no charge for buying or selling items, but you do have to pay a 2.9% processing fee for sending money. International transactions may also incur up to a 5% fee for international transactions.
Pros
A secure payment gateway that doesn't reveal your credit card details
Enables end customers to

pay over several months

— giving you the freedom to automatically offer that option.
Fast online and in-person payment tools
Useful merchant support tools
Accepts payment from around the world
Cons
Disputes take time to resolve
Annoying customer service
Customers are losing confidence in PayPal due to the seizure of funds
4). Best For Cross-Border Businesses (Payoneer)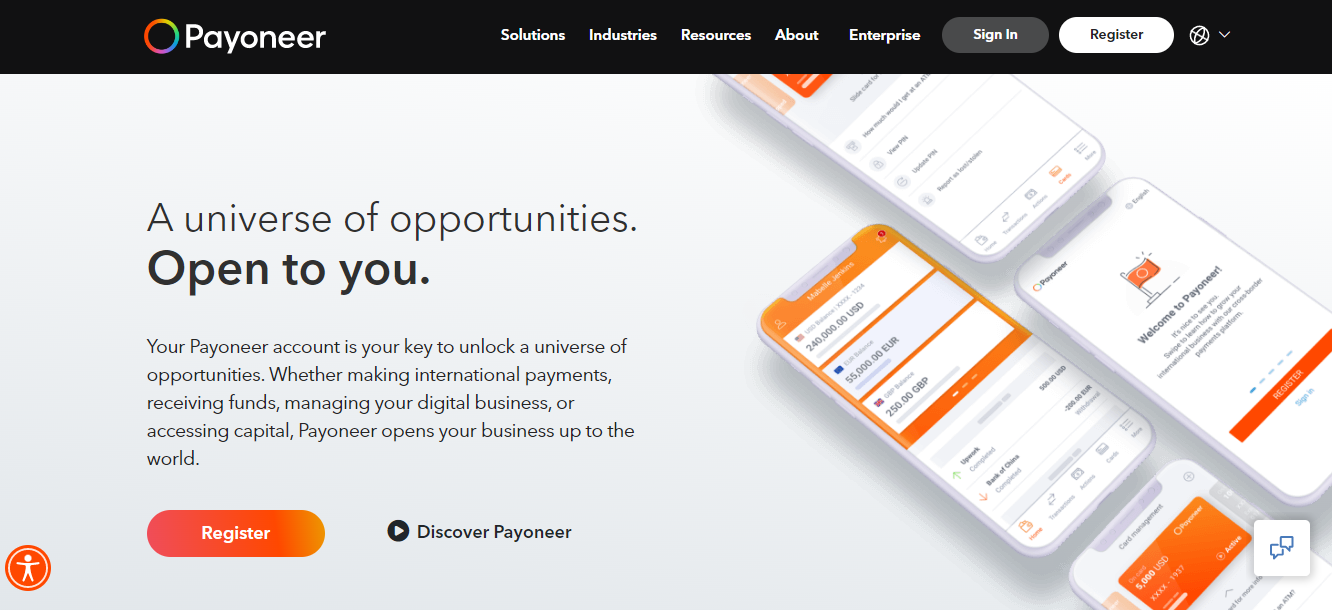 Payoneer is an all-in-one payment platform for cross-border businesses.
With your Payoneer account, you gain access to a variety of services such as online money transfers, international payments, funding opportunities, etc.
While Payoneer can be used by individuals, it is also a popular tool among businesses.
Companies and service providers use Payoneer's robust payment gateway to manage their working capital. It's a great way to receive payments from customers from all over the world.
The Payoneer system is easy to use. You can track your account balance and transaction fees, and you can even receive free money transfers — via P2P.
Payoneer opens your business to the world. It lets you send and receive money across 200 countries.
You can also receive a free prepaid MasterCard credit card. This card can be used to withdraw money from ATMs in most countries.
Pros
Faster processing of payments
No setup fee
Excellent customer support that listens to customers
Unique U.S. and U.K bank accounts even for non-residents of these countries
Cross border payments made easy
Cons
Verifying accounts takes a lot of time
Frequent technical issues when making payments
Limited integrations with third-party apps
5). Best for Making Payment on the Go (Apple Pay for Merchants)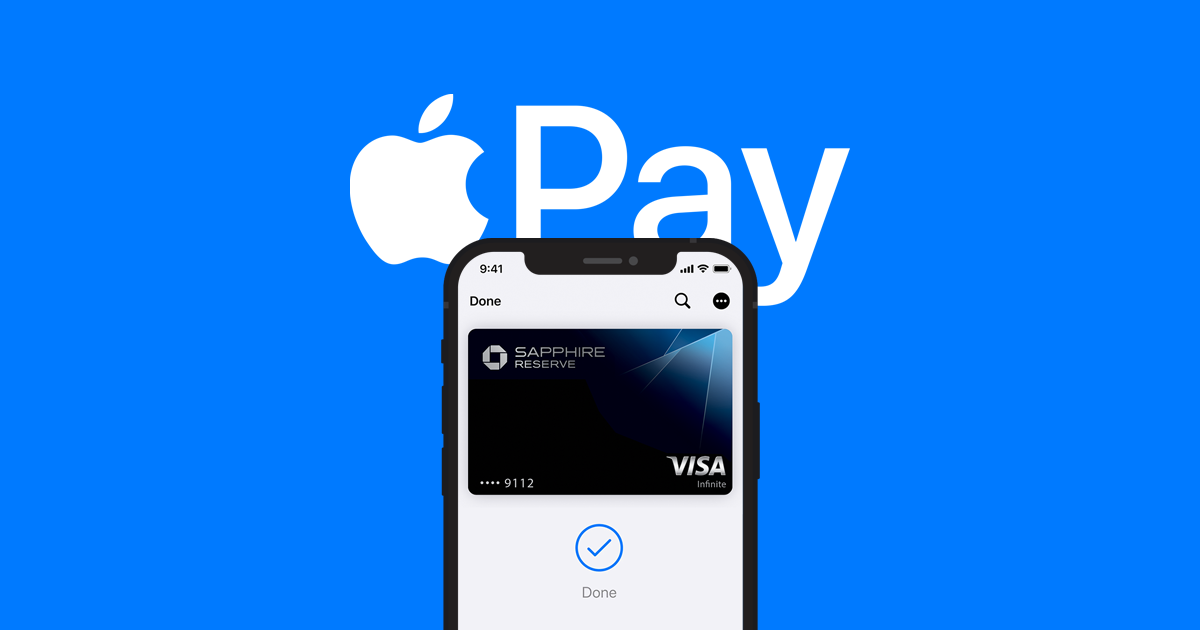 Providing your customers with a payment option such as Apple Pay for Merchants is a great way to add value to your store.
Apple Pay For Merchants is a convenient way to receive payments online, in stores, and in-apps. It's easy to set up, private, secure, and fast.
It offers flexibility and personalization for your customers. They will feel more comfortable making a purchase and you will see improved conversions.
There are a few steps to take before you can begin accepting payments using Apple Pay.
First, you will need a payment processor that supports Apple Pay and an NFC-enabled POS terminal.
Next, you will need to generate an Apple ID for your business. This will be used across multiple apps. You will also need to get a payment processing certificate.
These certificates are used to secure your transaction data.
Once you've completed these steps, you can add Apple Pay to your website or app.
Pros
Convenient and secure payment service
No hidden fees
No internet connection is required to complete a payment
Great for in-store payment transactions
Transactions can be completed quickly
Cons
The setup process is complicated
Basic user interface (it can be improved).
Potential security breaches
6). Best Payment Gateway for Emerging Markets (Flutterwave)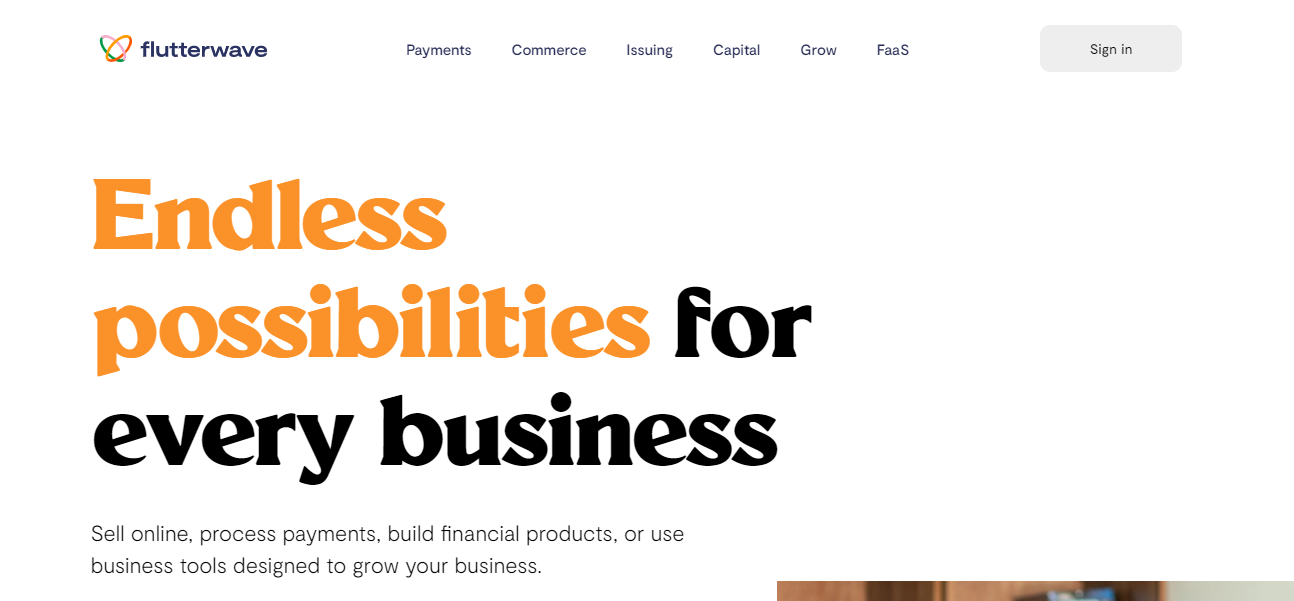 Flutterwave is a powerful payment gateway that offers endless possibilities for your business.
It allows you to sell products and services online, process payments securely, build financial products, and gain access to merchant tools designed to improve your business.
As a fintech company, Flutterwave provides payment infrastructure for global merchants.
It works with several banks across several countries — with offices in the US, the UK, and several African countries.
It also supports mobile payments, virtual dollar cards, and web payments.
Flutterwave focuses on emerging markets. Its main operations are in 11 African nations.
While its headquarters is located in San Francisco, it has plans to expand to Canada and other Asian countries.
If you're tight on budget, Flutterwave offers a free online store to help businesses manage their finances — especially at the early growth stages.
New users can start with a free trial to see how the payment tool works before upgrading to a pro plan with varying transaction fees.
Pros
Clean and modern user interface
Integrates well with PayPal for international payment transactions
A convenient payment processor in emerging markets
An extra layer of security protects customer transactions
Cons
It doesn't support all African countries
Customer support can be more responsive
The KYC (know your customer) process can be frustrating
7). Best for Automated Payments (GoCardless)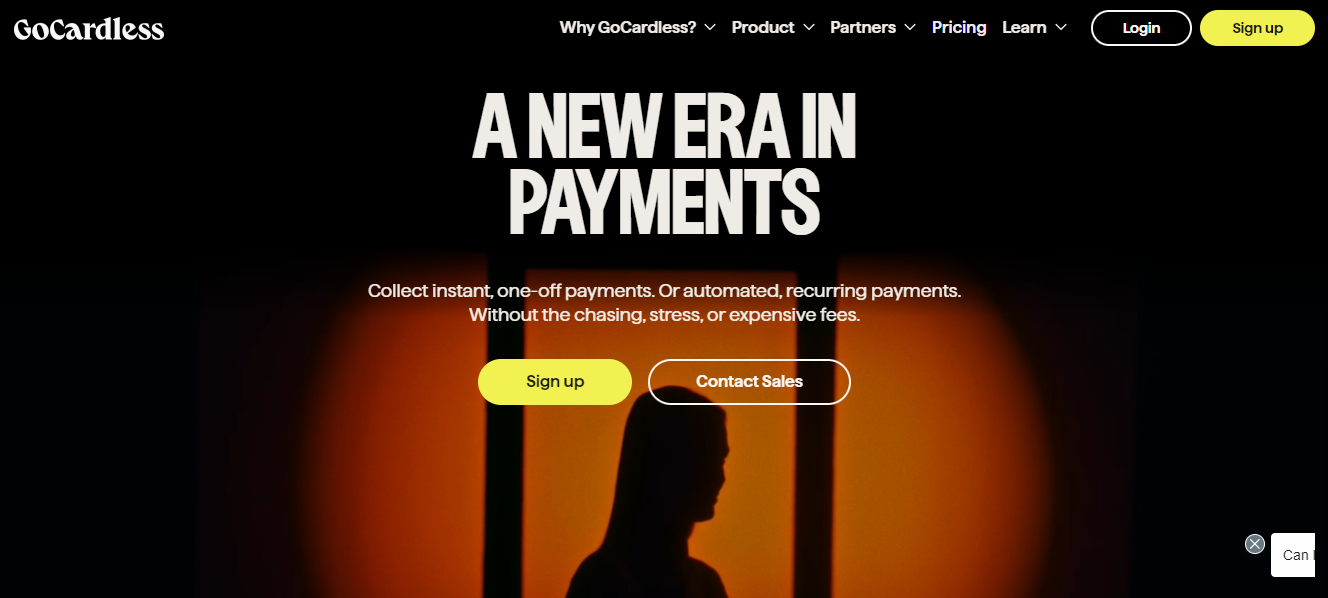 GoCardless is a payment processing service that allows businesses to accept debit payments.
With GoCardless, you can accept direct bank payments with no card fees or delays.
This method of payment is not only cheaper than credit card networks, but it also eliminates the hassle of dealing with banks. It's quite easy to use, and it's available in over 30 languages.
The GoCardless payment service is primarily designed for companies that bill customers repeatedly.
They collect payments from customer bank accounts and release money according to collection dates.
The company offers different payment plans to suit a variety of needs. They charge a fixed percentage fee per transaction, but this can vary depending on the size of your business.
Smaller businesses might pay higher fees, as they're less likely to process as many transactions. There's no setup cost, but a 1% + £/€ 0.20 transaction fee applies.
Pros
The setup and onboarding process is easy
An intuitive and clean user interface
Rich reporting of transactions
Supports multiple languages and currencies
Cons
Reconciliation of payment could be faster
Customer support is almost non-existent
8). Best For Tracking Payments Efficiently (Razorpay)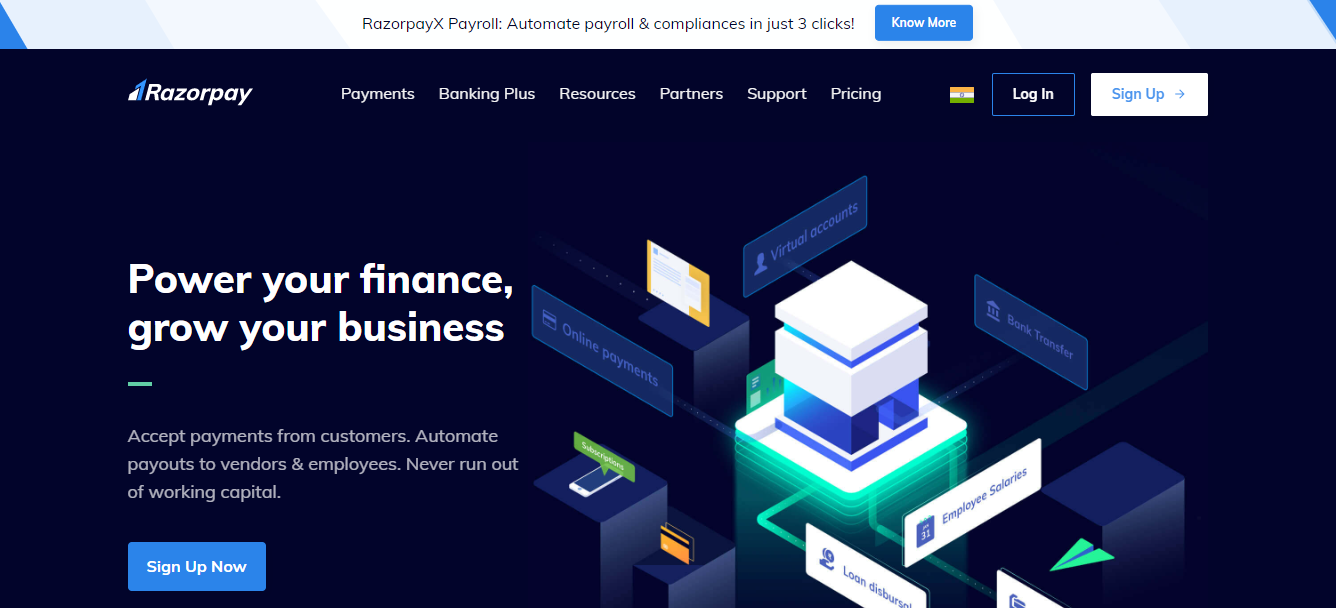 Razorpay is a fast-growing payment processing company in India. It's considered the biggest fintech success story in India.
The company was started by a group of young entrepreneurs. They wanted to create a simple payment gateway for businesses. They contacted the RBL bank and received a license to process payments.
With Razorpay, merchants can process credit and debit cards, eWallets, and UPI.
It supports major virtual wallets such as FreeCharge, OlaMoney, and PayZapp. Its API allows businesses to easily integrate its services with other systems.
It's also recommended for automating and tracking payments to vendors and employees.
Razorpay offers two different plans, one for emerging companies and the other for small and medium-sized businesses. Each plan comes with a separate account manager.
The control panel is user-friendly and allows you to access key statistics. It can help you to manage your payments, process refunds, and generate invoices.
Pros
Fast and secure payment processor
User-friendly dashboard
Easily processes refunds in real-time
Quickly generate visually-appealing invoices for your clients
Cons
It takes 8 to 10 days to get your merchant account approved.
Limited wallet and EMI options
Flat payment charges are higher than some of the competitors'
9). Best for Customers Using Mobile Devices (Authorize.net)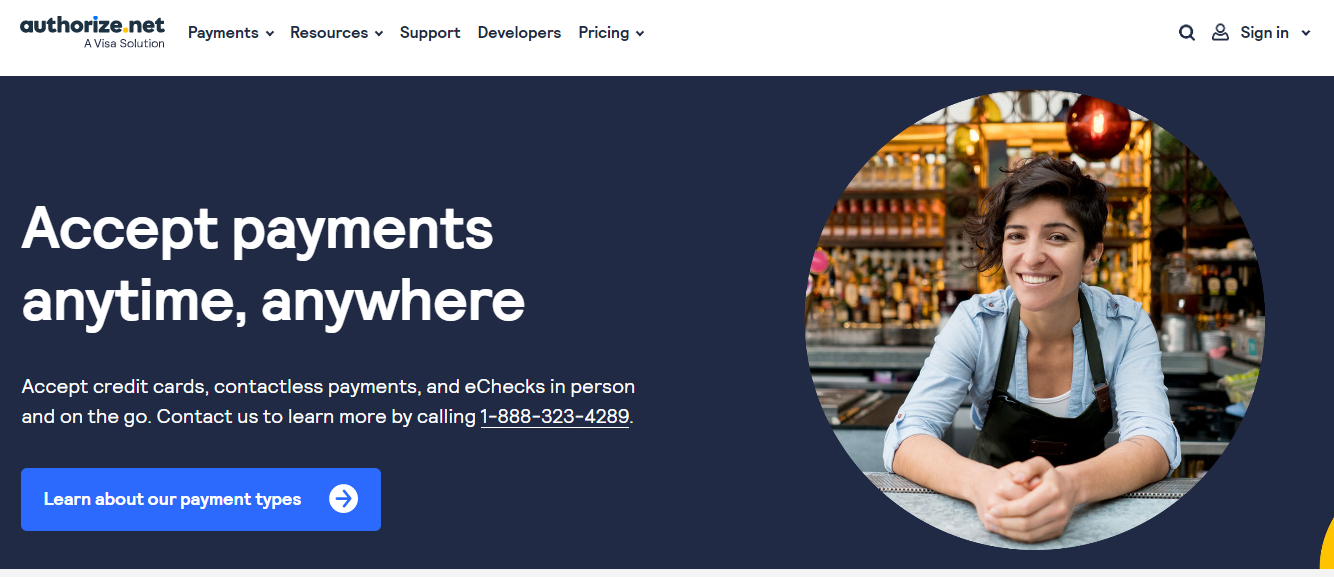 Authorize.net is a trusted payment gateway for accepting credit cards, processing contactless payments, and facilitating eChecks in person.
Unlike some payment solutions, Authorize.net has been around, weathered the storm, and helped millions of merchants in the past decades to process payments.
Using a service such as Authorize.net can help you to get paid on time, every time.
Whether you're a start-up looking to grow, or a seasoned business executive, you can rely on their payment solutions to take care of the heavy lifting.
You'll find the company's robust suite of payment services to be both reliable and cost-effective, and their commitment to customer service is unrivaled.
As the go-to payment processor for many of the largest banks and credit unions in the country, you can rest easy knowing that they'll take care of the details for you.
Founded in 1996 as Authorize.net, Inc., the company is a subsidiary of Visa Inc.
There's no setup fee and monthly gateway pricing starts at $25.
Pros
Easy to set up
Customers locate previous transactions with ease
Advanced fraud detection tools
Supports multi-currencies
Cons
Poor customer support
Reporting can be improved
10). Wise (formerly TransferWise)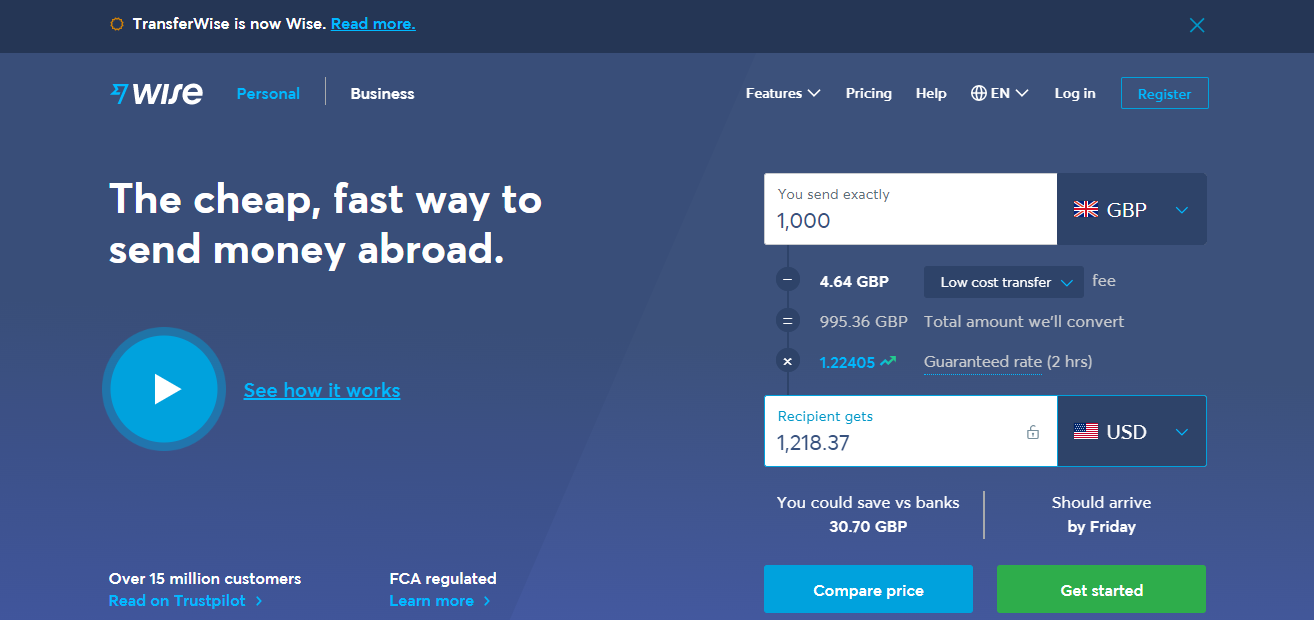 Wise (formerly TransferWise) offers an affordable and fast payment solution.
It's best suited for sending or receiving payments abroad.
The service offers a quick and easy way to make money transfers, and the funds usually arrive within 1 business day for wire transfers and 1 to 3 business days for ACH transfers.
There are no hidden fees.
Unlike other money transfer services, Wise uses a real exchange rate.
It charges a small percentage for commission, and the rates are calculated upfront, so you know what you are paying.
Wise offers a multi-currency account that allows you to hold money in over 50 currencies.
You can receive payments from foreign countries without paying any fees. It's easy to fund your transactions with a credit card or debit card.
Pros
Low transaction fees and reasonable rates
Fast and easy signup process (with no complex KYC verification)
Easily pay for transfers in cash or credit
Borderless and trusted payment solution
Cons
Transfer speed may be low (sometimes)
Account deactivations (with no prior warnings)
Wise doesn't accept all types of credit/debit cards (unfortunately)
Conclusion
Essentially, the cost of using a payment gateway will vary depending on how many transactions you make, as well as the value of each transaction.
Some of these costs include a set-up fee, a monthly fee, and a transaction fee.
Your payment gateway should also be PCI-compliant. This is a security standard developed to protect the privacy of your customers' information.
Ultimately, you will want to find a payment gateway that is easy to use and has a quick and convenient checkout experience.
It's even easier to choose when you consider what your ecommerce tech stack already integrates with. You'll want a payment gateway that plays nice and integrates seamlessly with your ecommerce platform, as well as your marketing automation solution.
Drip offers hundreds of integrations with the payment gateways and ecommerce tools that you're likely already familiar with.
The best part? You can try it free for 14 days!