Buy now, pay later (BNPL) solutions aren't exactly a "new thing".
But against the backdrop of coronavirus, with brands striving to encourage spending and consumers looking to offset payments, they've become extremely relevant.
According to McKinsey, credit originating at point of sale (or "BNPL credit") represented only seven percent of unsecured lending balances in the US in 2019.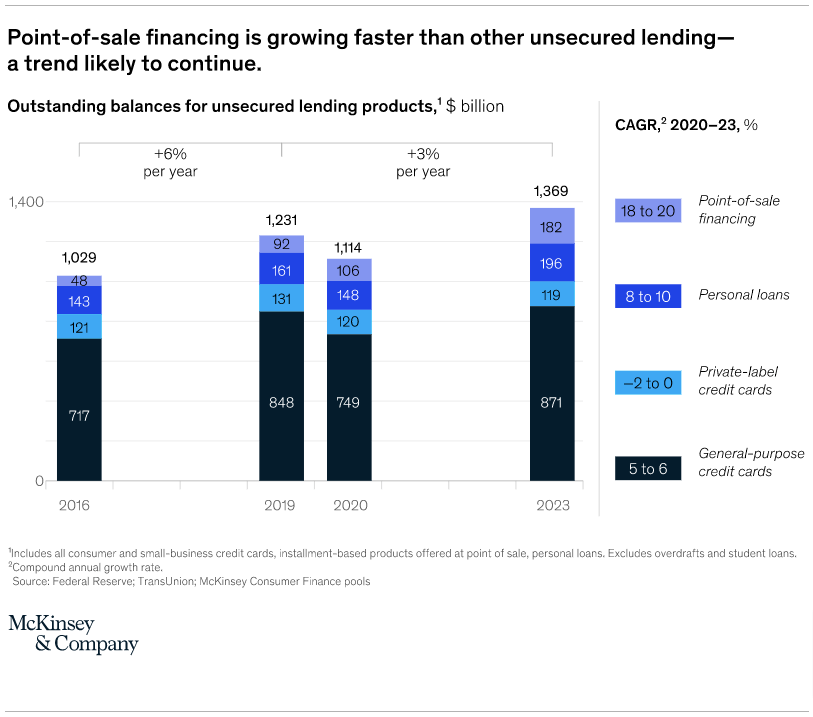 By 2023, that figure is expected to reach 13-15 percent, making it the only form of unsecured lending to see high double-digit growth during the pandemic.
Consumers are becoming increasingly aware of buy now, pay later services. In July 2020, The Ascent found that over one-third of American adults had used BNPL. That number had surged to more than half by March 2021, an increase of 48 percent in less than a year.
Unsurprisingly, buy now, pay later is most popular among younger audiences, with Finder discovering 54 percent of Millennials and 50 percent of Gen Zers have used it:
Figures from C+R Research show clothing has been the most popular type of BNPL purchase during COVID-19. But it's also commonly used to pay for big-ticket items like electronics, furniture, appliances, and housewares.
The appeal for consumers is obvious. According to Finder, three of the six main reasons shoppers use buy now, pay later services are directly related to deferring payments:
As you'd expect, the upside for retailers can be even greater. Indeed, McKinsey's research found that BNPL solutions:
Improve cart conversion;
Attract new, younger consumers.
Now let's take a look at five brands that have successfully integrated these buy now, pay later examples into their checkout process.
Our Favorite Buy Now Pay Later Examples
1. Charlotte Tilbury
Charlotte Tilbury is a high-end makeup brand, with prices to match.
Perhaps, as a result, its customers skew older, with data from Facebook Audience Insights revealing less than 6.5 percent of its audience is aged 18-24.
That might explain why the company has integrated BNPL provider Klarna so prominently into its user journey. Arrive on a product page and you'll see the Klarna proposition displayed just below the price tag: break down your purchase into three payments, with no fees.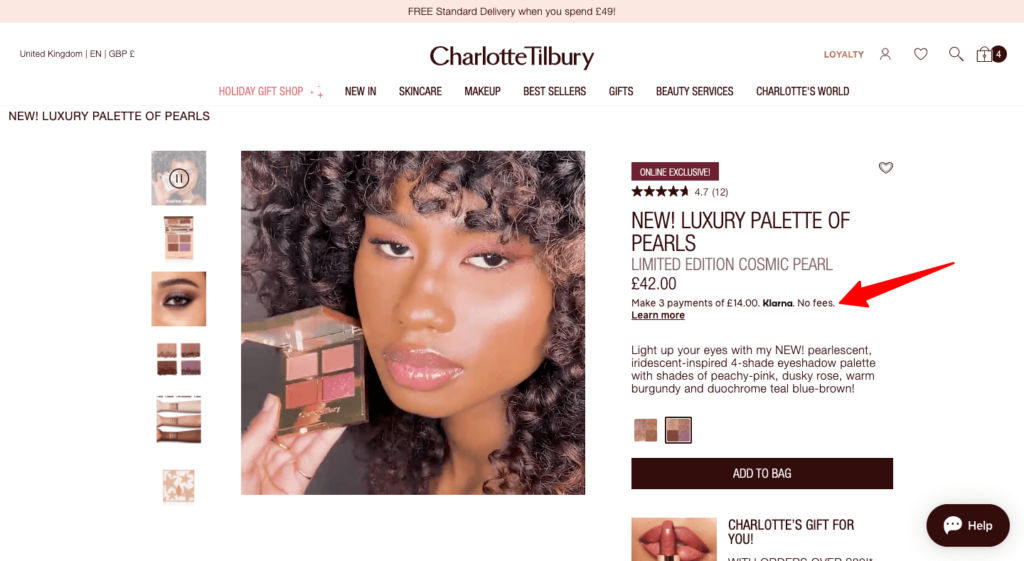 Klarna becomes even more prominent once you've added-to-bag. The first page of the checkout process features no fewer than three references to Klarna:
A top-of-page banner urging shoppers to "pay in 3"
An explanation of how those payments break down, listed beneath the price in the "Your Bag" section
A Klarna logo just beneath the checkout button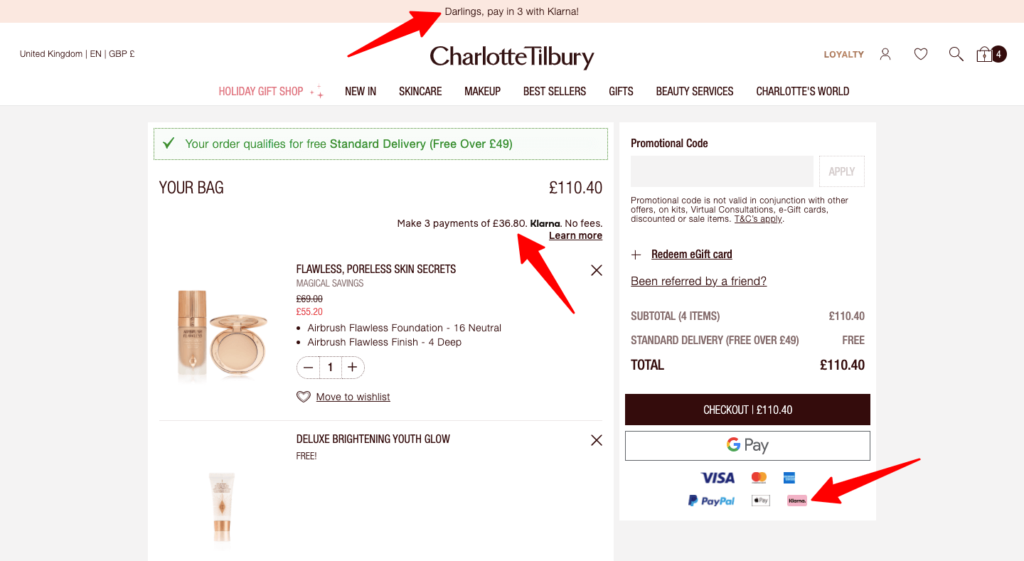 The payment page then offers more detail around how BNPL actually works, providing a timeline for when each payment will be made.
Below that explainer, you see three "unique selling points" of Klarna:
Buy now, pay in three installments
No interest
No fees
And there's also a trust signal in the form of the Visa and Mastercard logos, reinforcing the idea that Klarna is a "legit" form of payment supported by big names: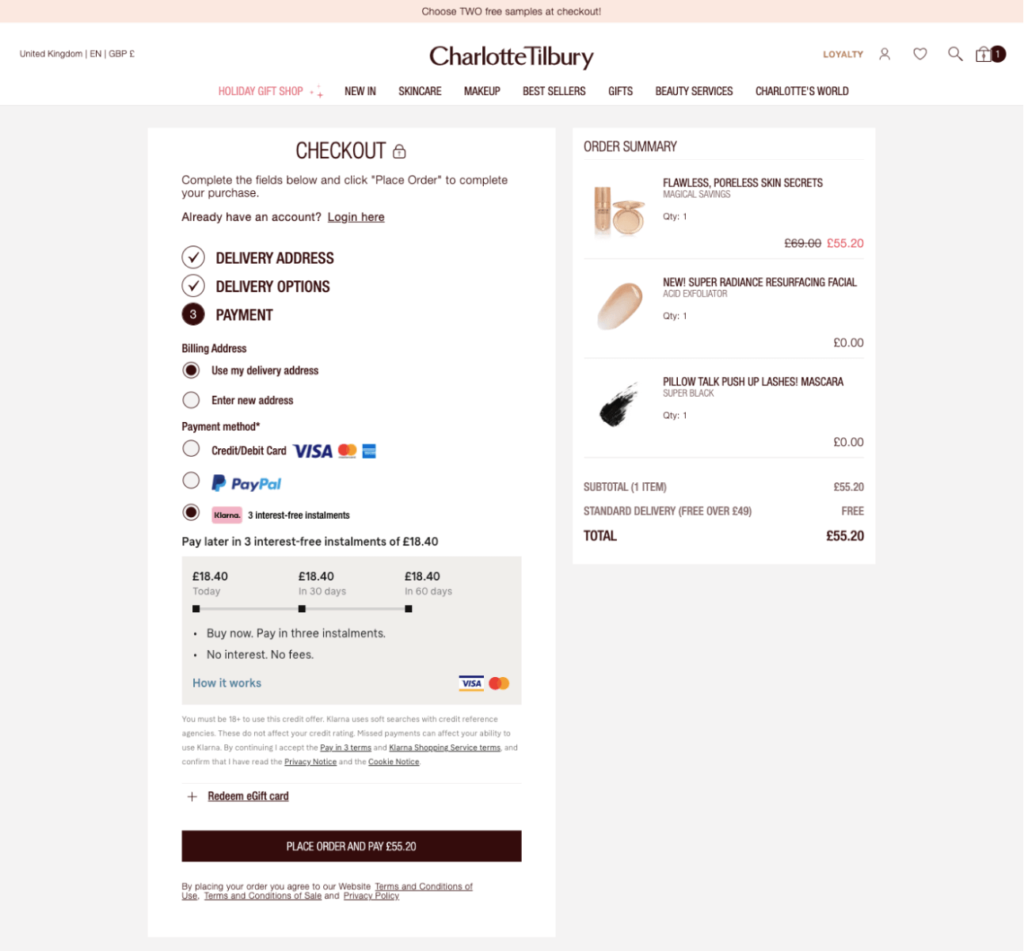 The only slight surprise, after all that positive messaging, is that Klarna is listed beneath the other two payment methods—Visa and PayPal. Presumably, Charlotte Tilbury has A/B tested the layout and determined that this version delivers the highest conversion rates.