Buy now, pay later (BNPL) solutions aren't exactly a "new thing".
But against the backdrop of coronavirus, with brands striving to encourage spending and consumers looking to offset payments, they've become extremely relevant.
According to McKinsey, credit originating at point of sale (or "BNPL credit") represented only seven percent of unsecured lending balances in the US in 2019.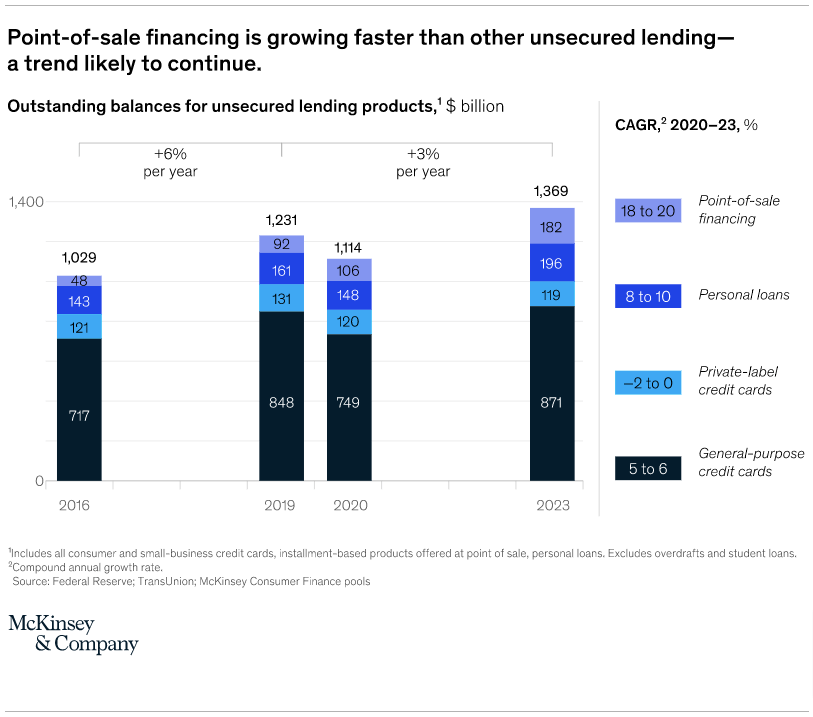 By 2023, that figure is expected to reach 13-15 percent, making it the only form of unsecured lending to see high double-digit growth during the pandemic.
Consumers are becoming increasingly aware of buy now, pay later services. In July 2020, The Ascent found that over one-third of American adults had used BNPL. That number had surged to more than half by March 2021, an increase of 48 percent in less than a year.
Unsurprisingly, buy now, pay later is most popular among younger audiences, with Finder discovering 54 percent of Millennials and 50 percent of Gen Zers have used it:
Figures from C+R Research show clothing has been the most popular type of BNPL purchase during COVID-19. But it's also commonly used to pay for big-ticket items like electronics, furniture, appliances, and housewares.
The appeal for consumers is obvious. According to Finder, three of the six main reasons shoppers use buy now, pay later services are directly related to deferring payments:
As you'd expect, the upside for retailers can be even greater. Indeed, McKinsey's research found that BNPL solutions:
Improve cart conversion;
Attract new, younger consumers.
Now let's take a look at five brands that have successfully integrated these buy now, pay later examples into their checkout process.
Our Favorite Buy Now Pay Later Examples
1. Charlotte Tilbury
Charlotte Tilbury is a high-end makeup brand, with prices to match.
Perhaps, as a result, its customers skew older, with data from Facebook Audience Insights revealing less than 6.5 percent of its audience is aged 18-24.
That might explain why the company has integrated BNPL provider Klarna so prominently into its user journey. Arrive on a product page and you'll see the Klarna proposition displayed just below the price tag: break down your purchase into three payments, with no fees.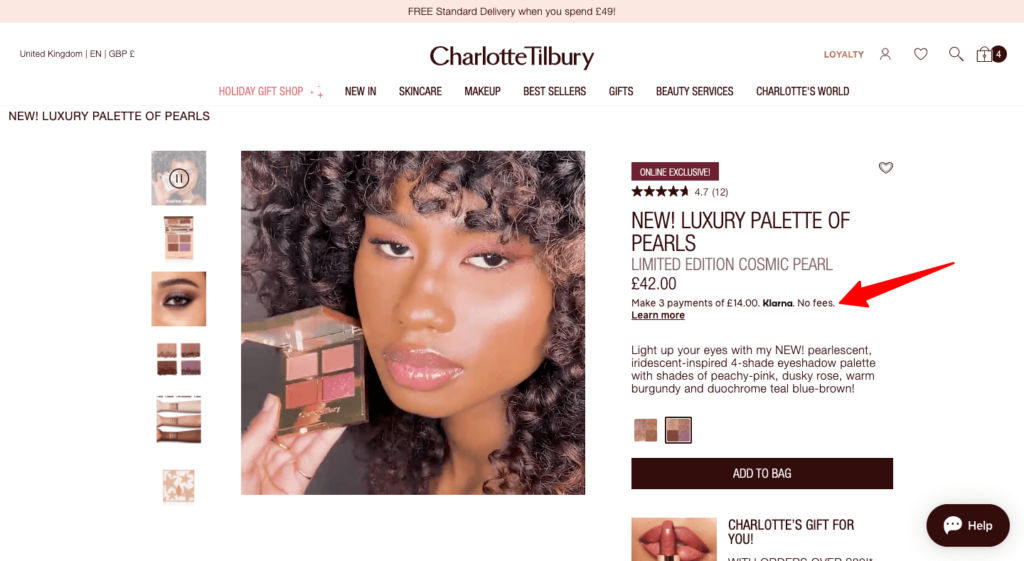 Klarna becomes even more prominent once you've added-to-bag. The first page of the checkout process features no fewer than three references to Klarna:
A top-of-page banner urging shoppers to "pay in 3"
An explanation of how those payments break down, listed beneath the price in the "Your Bag" section
A Klarna logo just beneath the checkout button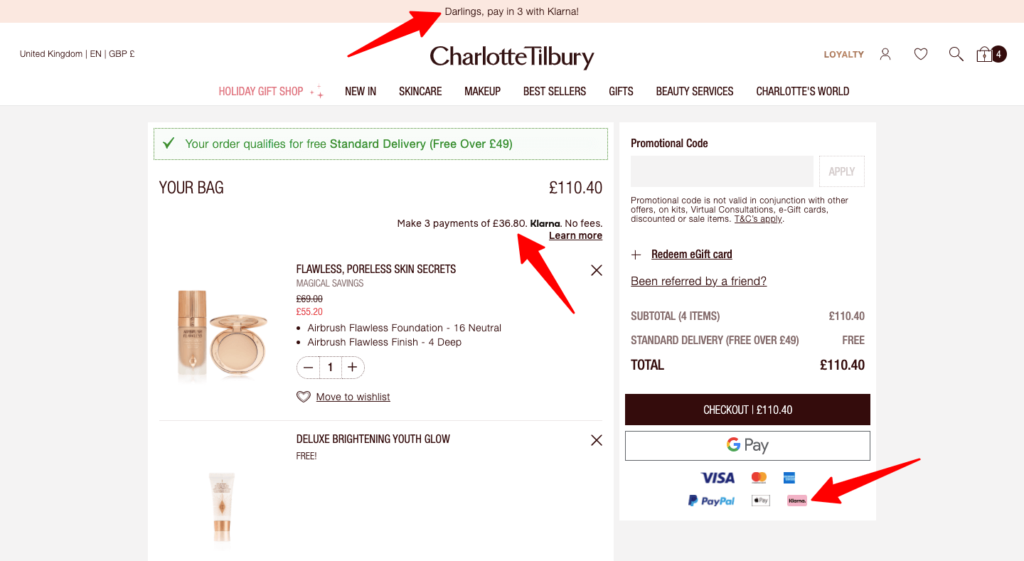 The payment page then offers more detail around how BNPL actually works, providing a timeline for when each payment will be made.
Below that explainer, you see three "unique selling points" of Klarna:
Buy now, pay in three installments
No interest
No fees
And there's also a trust signal in the form of the Visa and Mastercard logos, reinforcing the idea that Klarna is a "legit" form of payment supported by big names: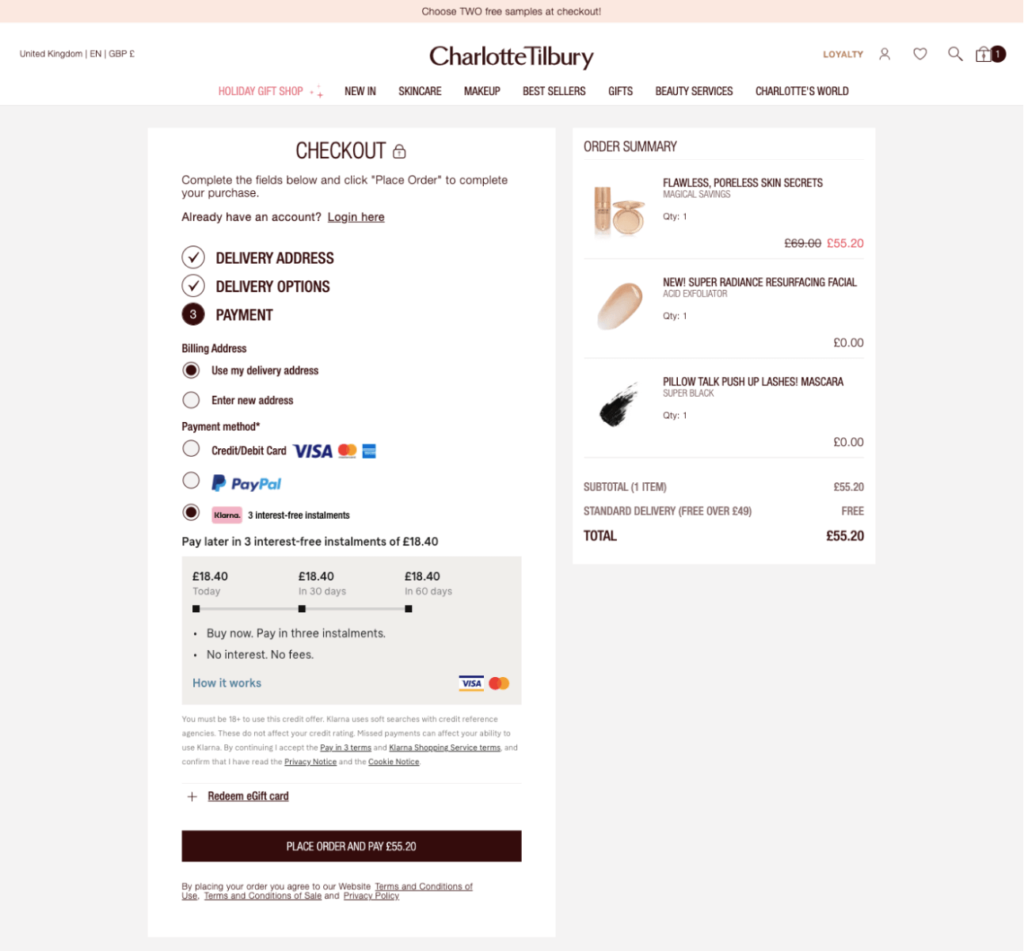 The only slight surprise, after all that positive messaging, is that Klarna is listed beneath the other two payment methods—Visa and PayPal. Presumably, Charlotte Tilbury has A/B tested the layout and determined that this version delivers the highest conversion rates.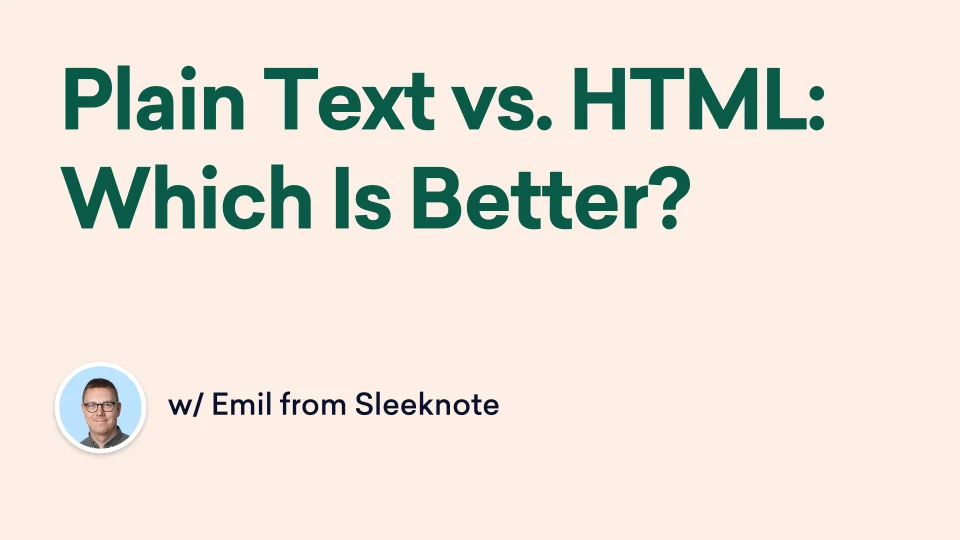 2. Canyon Bicycles
Canyon Bicycles undoubtedly fall into the category of "big-ticket purchases". Even the cheapest models run to hundreds of dollars, and top-tier bikes cost more than a basic family saloon.

Predictably, its audience is older (and presumably more financially secure), with three-fifths aged 35 and above. Again, that makes it ripe for the BNPL picking.

Interestingly, Canyon's use of buy now, pay later is a little subtler than Charlotte Tilbury. Whereas the makeup brand splashes Klarna all over its product pages, Canyon doesn't mention Splitit—its chosen BNPL payment provider—at all. Instead, it mentions in passing that you can split the cost of its bikes into smaller monthly payments: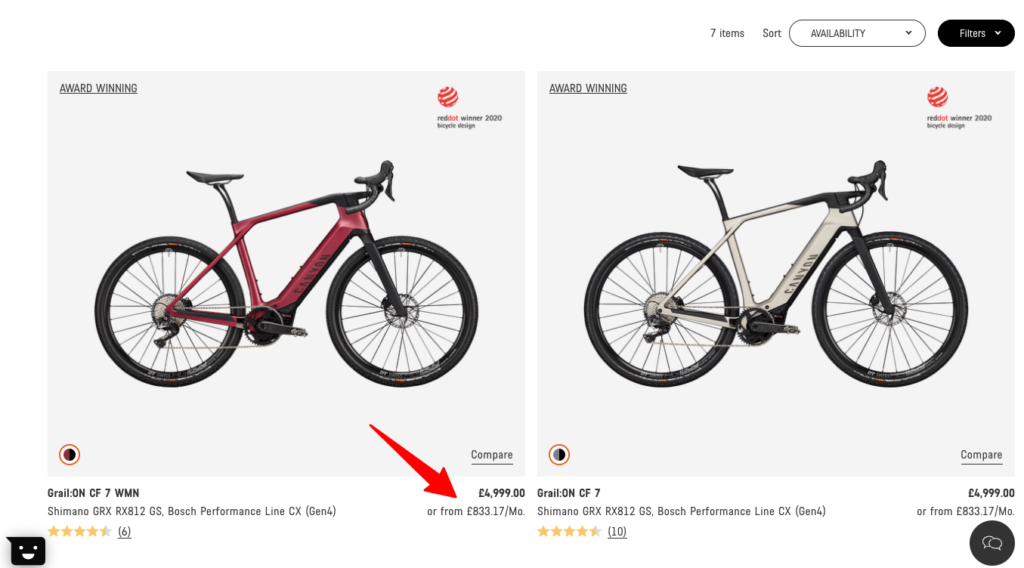 It's more or less the same story when you click through to a product page. While there's a mention at the top of the page about how the total price can be broken down…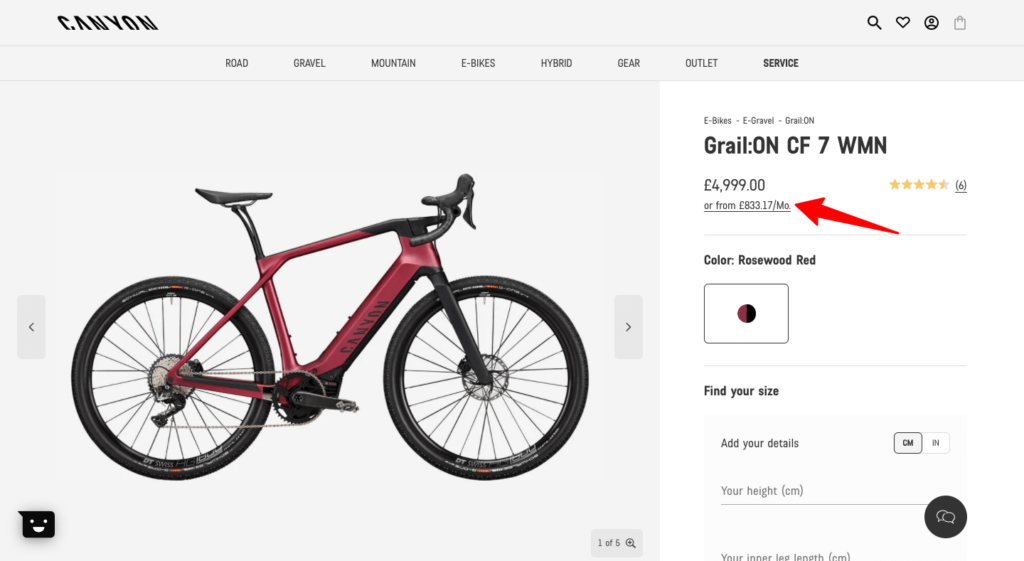 ...You have to scroll down the page multiple times to find the only mention of Splitit: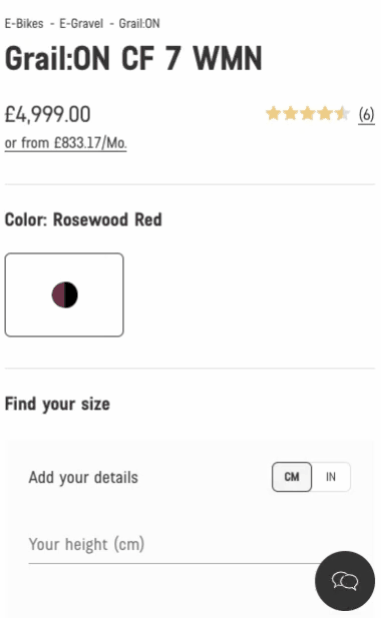 Perhaps that's because Splitit's brand awareness isn't that high; as of November 2020, only about 300,000 Americans were using it.

Or perhaps it's because there's a degree of snobbery about buy now, pay later; maybe it'd be off-putting to Canyon's core audience.

Either way, it's not until you click the "From $X" link or the "Financing with Splitit" CTA that you're presented with any prominent Splitit messaging: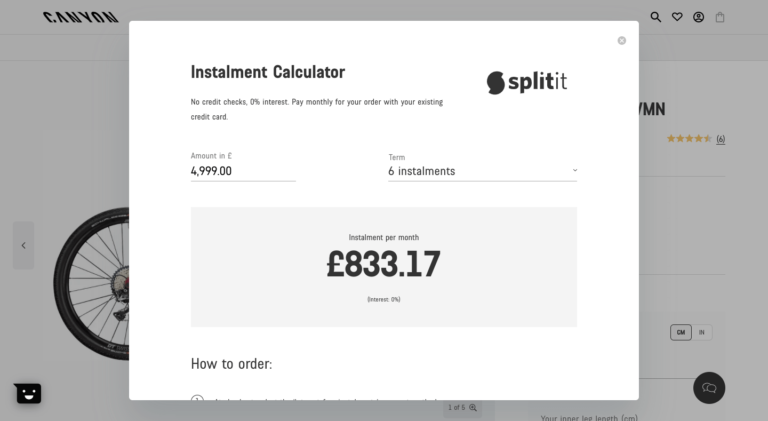 Surprisingly, once you add-to-bag and start the checkout process, Splitit is nowhere to be seen. Not only that, but there's no further mention of breaking down the total price into smaller sums: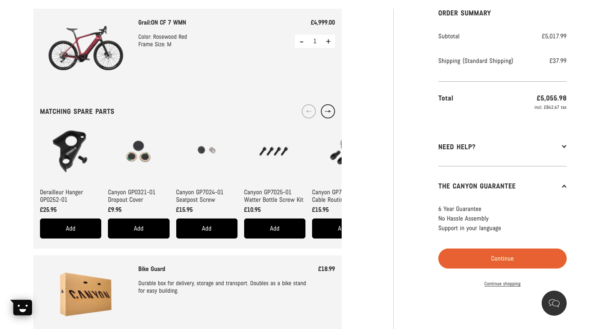 Finally, when you arrive at the payment screen, Splitit appears way down the list of payment options.

No click triggers, CTAs, or trust signals compelling you to choose the buy now, pay later option. Just the name "Splitit" and the words "interest-free installments":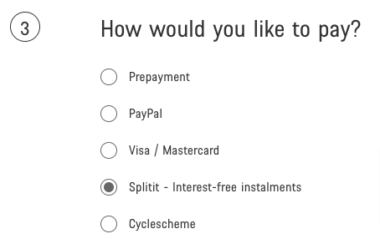 In short, it's there if you want it, but you'll have to do a little digging to find it.

There's no shortage of negative press about buy now, pay later schemes, so maybe Canyon is taking a pragmatic view: we offer BNPL, but we don't want to shout about it.
3. Boohoo
Boohoo is backing buy now, pay later in a big way.

In the US market, the fast-fashion giant offers no fewer than three BNPL solutions, each of which is referenced in a homepage-spanning banner:



Sure, it's not taking up the highest-value real estate on the Boohoo site, nestling just above the footer navigation menu. But it's still a far cry from Canyon's "maybe we offer BNPL, maybe we don't" approach.

Unsurprisingly, those three solutions appear prominently when you click through to a product page: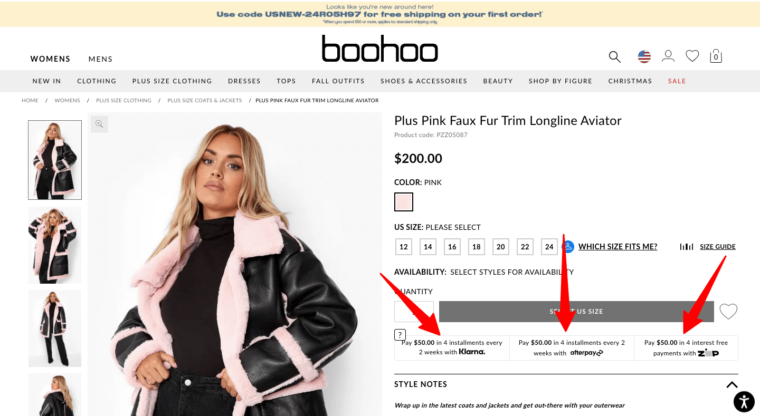 Each option offers slightly different terms and conditions. For instance, Klarna can be used on purchases over $10, whereas Afterpay is only available if you're paying more than $35.

The buy now, pay later party continues when you hover over your shopping cart:



As you can see, Klarna, Afterpay, and Zip are referenced above the "Checkout" and "View Cart" options—it's hard to imagine them being any more prominent. And here they all are again, at the bottom of the Order Summary menu:



Research from Zip (which, as you've likely noticed, is one of the three BNPL solutions offered by Boohoo) shows there are legitimate benefits to working with multiple BNPL providers—or "dual apping", as it's known in the trade. It found that consumers seek out and use multiple BNPL providers for a range of reasons, such as:
Taking advantage of signup incentives;
Accessing favorable interest rates; and
Leveraging better repayment schedules.
For instance, one-quarter of shoppers noted some BNPL brands are better for smaller purchases, whereas others offer better terms for larger baskets:



To be honest, if you're going to dive into the BNPL ocean, you might as well offer customers a range of providers.

The only real downside I can see is that you risk drowning shoppers in choice. So it's important you clearly explain the terms of each solution, making it simpler for people to pick the option that best fits their needs.
4. Target
Another popular BNPL provider is Sezzle, with 1.8 million Americans using it as of November 2020. And one of the big-name brands to have adopted Sezzle is Target.

Now, Target is your classic, middle-of-the-road retailer that doesn't take too many risks when it comes to technology. It only launched its own independent e-commerce proposition in 2011, having previously entrusted Amazon to look after online sales.

So it's no big surprise that Target's approach to buy now, pay later is a little less in your face than Boohoo's.

You'll find nary a mention of Sezzle on the Target homepage, and it doesn't show up on category pages either. It's only when you arrive on a product page that you're first told about the possibility of dividing your payment into smaller chunks: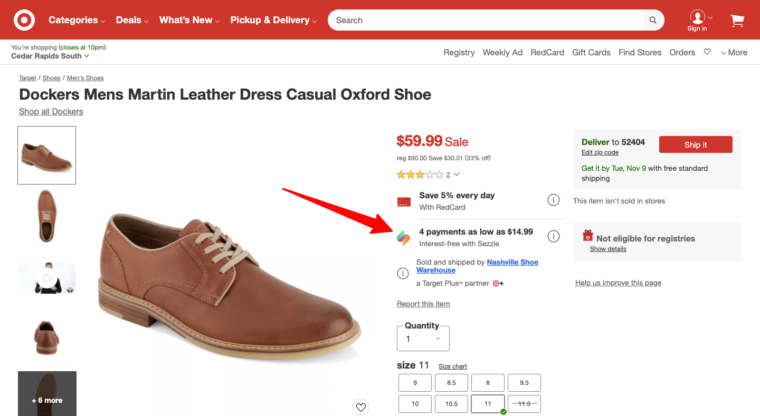 Click for more information and you're presented with a super-clear breakdown of how Sezzle works. Honestly, it's comfortably the best explanation of BNPL of any of the retailers I've looked at while researching this article: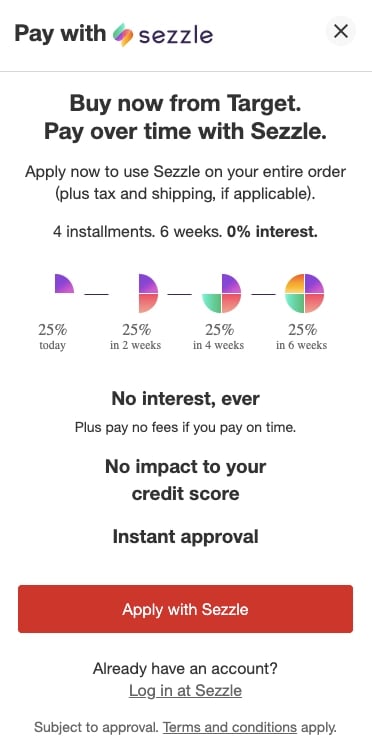 The pie charts are a fantastic touch, giving an easy-to-understand visual representation of exactly what it means to split payments into multiple installments.

The timelines are clearly laid out too, and there are lots of benefits listed.

I suspect this is at least partly because Target believes a large segment of its customer base won't be familiar with how buy now, pay later works.

However, I truly believe that every retailer offering BNPL should take the time to create an equally simple-yet-detailed explanation of the buy now, pay later process.

After all, it's in no one's interest (other than the providers) to have your customers missing payments and racking up additional fees because they didn't fully understand what they were signing up for.
5. Casper
Casper sells mattresses, a comparatively big-ticket item.

Theoretically, you'd think that makes it a prime candidate for leveraging buy now, pay later. It makes sense that customers might want to split up a purchase of hundreds, or even thousands, of dollars, right?

Yet as we've seen from Canyon Bicycles, just because a retailer sells high-priced products, that doesn't necessarily mean it wants to push BNPL.

Casper takes a different tack to Canyon, displaying messaging about its chosen provider (Affirm) in a prominent homepage banner: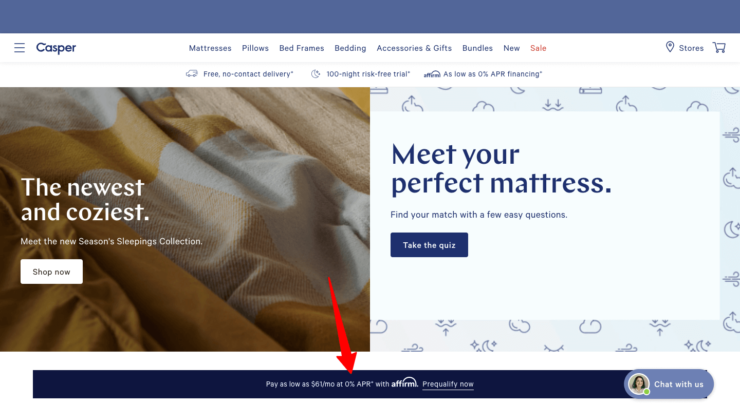 Of the other retailers in this article, Casper and Boohoo are the only ones to reference BNPL on their homepages—and Boohoo does it far less prominently.

This approach is replicated across the Casper site, from its mattresses category page…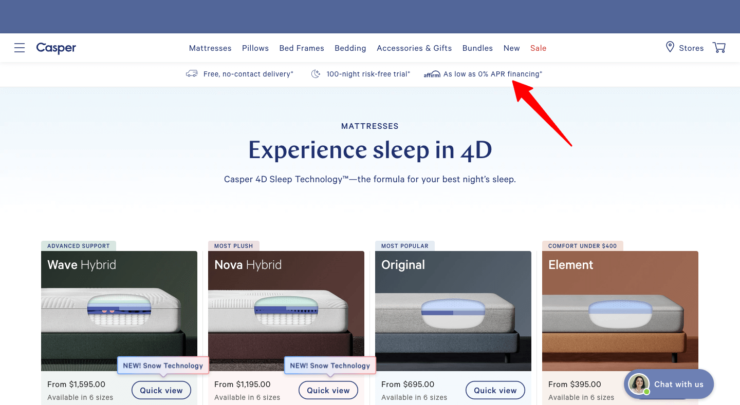 ...to individual product pages: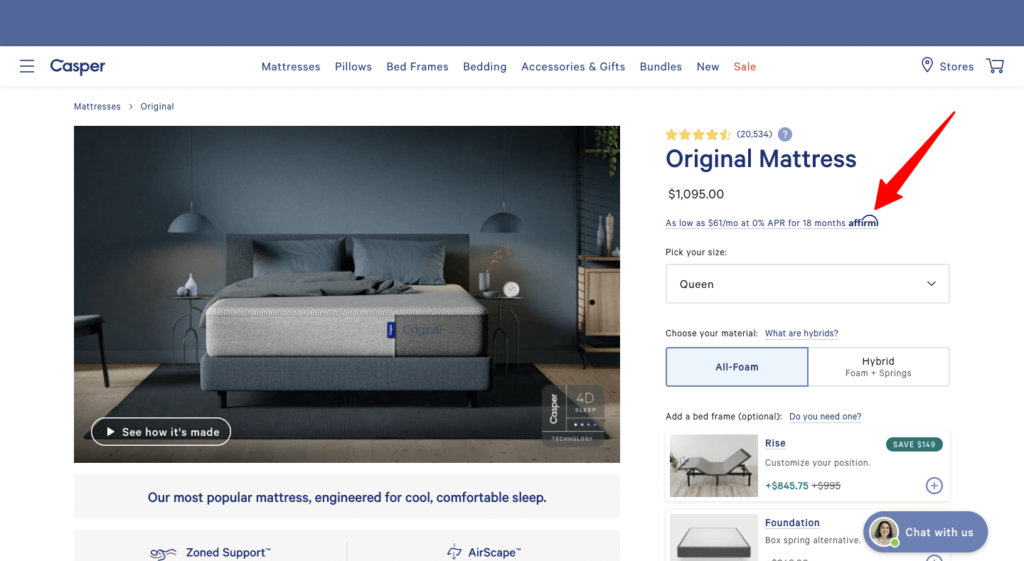 Click for more information and you're shown a popup window demonstrating three example monthly payment options: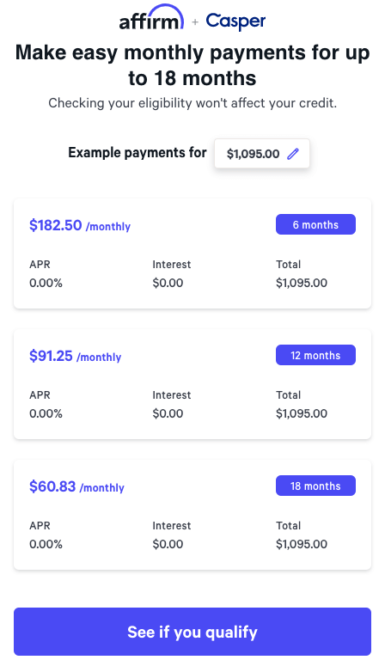 I like how the "Affirm + Casper" branding at the top of that popup makes it feel like a genuine partnership; a mutually beneficial collaboration between two companies.

It feels safe and reassuring, particularly because Casper is such a well-known brand. As such, it's a big trust factor for customers who might otherwise be unsure about BNPL.


Conclusion
There's a wide range of ways to demonstrate buy now, pay later solutions to customers.

You might take the subtle approach like Canyon Bicycles and Target, or be a lot more overt and pro-BNPL like Casper and Charlotte Tilbury.

You might link up with a single provider like most of the brands in this article, or offer a choice of buy now, pay later solutions like Boohoo.

There's no "wrong answer" here. But whatever your approach, remember BNPL is still new to a lot of customers. Some will be skeptical—particularly when it comes to big-ticket purchases.

So be sure to clearly break down exactly what your BNPL offering entails: what it costs, when those payments come out, and what advantages it offers to shoppers.