Today's consumers might as well have a mega mall in their pocket. All they have to do is go on their phones and they have a wealth of e-commerce stores at their fingertips.
So the question remains, how do you get customers to return to your site and not go elsewhere?
In e-commerce, you need to find the right balance between acquiring new customers and retaining existing ones. Experts suggest that a good benchmark for repeat customers is around 20-30 percent.
If your customer retention rates don't stack up or you want to be even slicker than your average e-commerce store, you need to increase customer loyalty. Naturally, one of the most effective ways to do this is by introducing a loyalty card app.
Best Loyalty Card Apps: What You Need to Know
What is a Loyalty Card App?
A loyalty card app is a piece of software that allows you to run loyalty programs on your e-commerce store.
Most providers offer ready-made solutions, such as programs in which customers earn points for making purchases or completing other actions, like following your brand on social media. When customers rack up points, they may earn perks or discounts.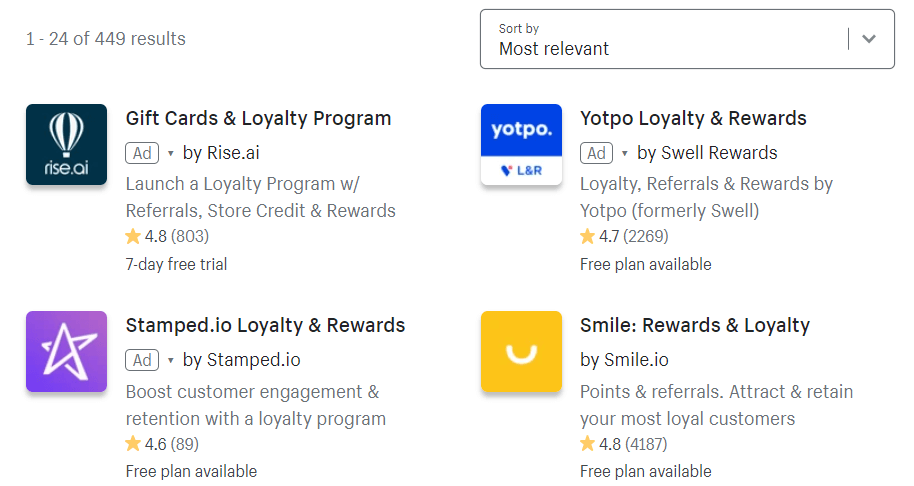 There are a bunch of loyalty card apps that integrate with different e-commerce platforms. Usually, you'll pay a monthly subscription to keep the app running on your site.
Why Use a Loyalty Card App?
If we're purely talking about cash money, loyalty card apps encourage repeat purchases. As such, you increase profits and the lifetime value of customers.
It's also a simple and economical way to hold onto customers. You don't have to worry about implementing various bottom-of-the-funnel ad and marketing campaigns.
A loyalty card app is an easy and effective means of building and maintaining long-term customer relationships.
The great thing is, an increasing number of consumers (68 percent) are up for joining loyalty programs. And 56 percent of consumers are willing to spend more with brands they're loyal to, even if there are cheaper options out there.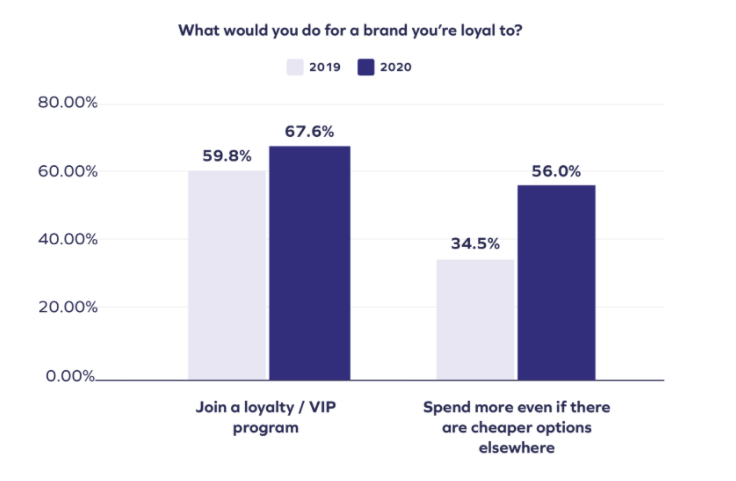 Customers that are part of your loyalty program are your best customers. They're the ones who are most likely to keep spending a lot of money with you regardless of what else is out there.
Plus, when they receive great perks and incentives, they're more likely to become superfans of your brand and recommend your store to others.
The 5 Best Loyalty Card Apps for E-Commerce Stores
Now that you know the whats and whys of loyalty card apps, here are my top picks from the market. There are options to suit different requirements and different kinds of businesses.
1. Yotpo
Yotpo is something of an all-rounder as a customer loyalty platform. It offers a range of solutions for customer reviews, SMS marketing, and for what we're interested in, loyalty programs and referrals.
It's an excellent platform for beginners as you can work off of carefully-designed, pre-built loyalty programs. You simply customize the program to fit your brand.
What's particularly interesting about Yotpo is the sheer number of actions you can reward customers for. These include signups, social shares, birthdays, reviews, and referrals as well as purchases.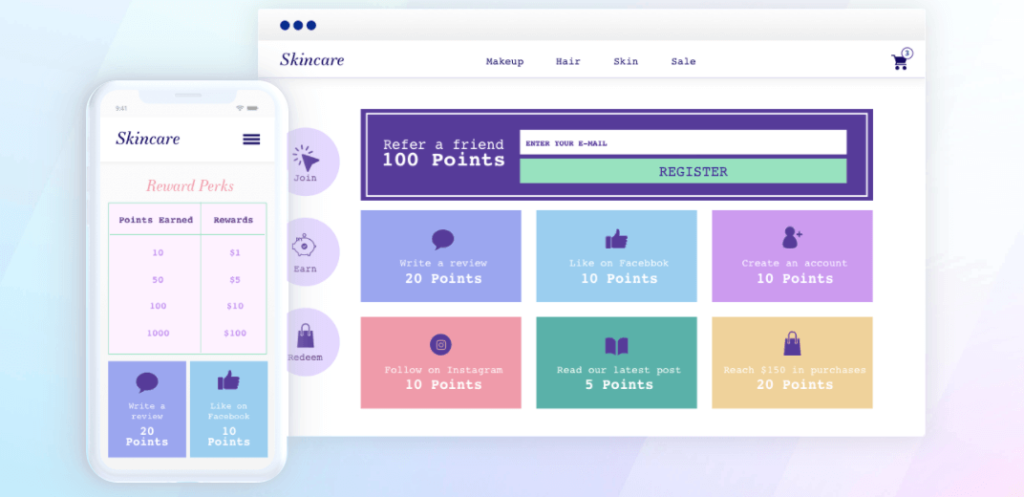 As you can imagine, this makes the tool great for customer engagement as the program counts and encourages so many interactions.
What also stands out is the number of integrations available for Yotpo. It, of course, works on the main e-commerce platforms, i.e. BigCommerce and Shopify.
But it also integrates with a number of marketing, development, and sales tools. So the platform fits in nicely with the tools you already use.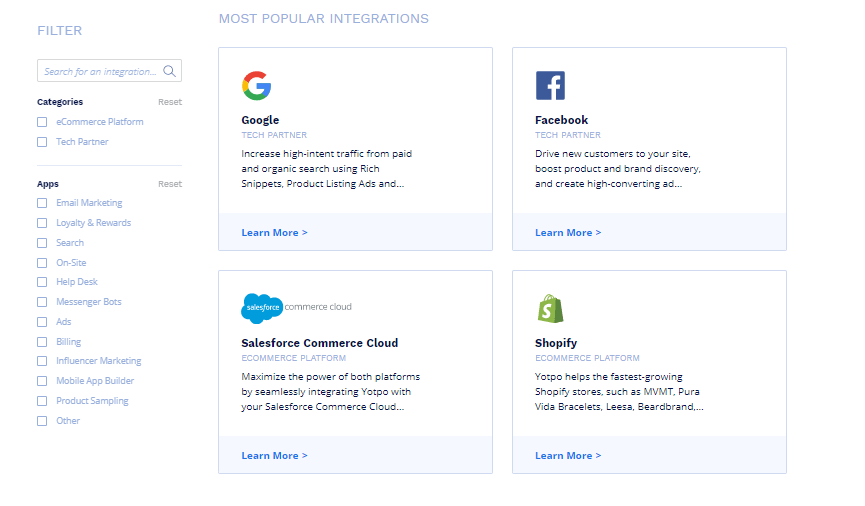 Moreover, Yotpo offers in-depth analytics. This means you can monitor and optimize your loyalty programs to get the biggest return on your investment.
Yotpo has a free plan. But it would only be suited to brand new e-commerce stores as it covers stores that receive fewer than 100 monthly orders.
The Silver plan starts at $29 per month and covers everything a growing store might need to get a loyalty program started, e.g. customizable programs and rewards plus social media tools. Or you can opt for Gold which starts at $249 per month and has many more advanced features such as email marketing integrations and a customer loyalty page builder.
2. Smile.io
Smile.io is a loyalty program platform aimed at small businesses. It operates on the four main e-commerce platforms: Shopify, Shopify Plus, BigCommerce, and Wix. The product also integrates with a number of email marketing and online marketing tools.
Smile.io keeps it simple with three main types of loyalty programs: Points, VIP, and Referrals.

This solution is perfect if you want complete control over the look and feel of your loyalty program. If you're a design-driven brand you can use Smile UI to build your own customer experience without the need of a developer.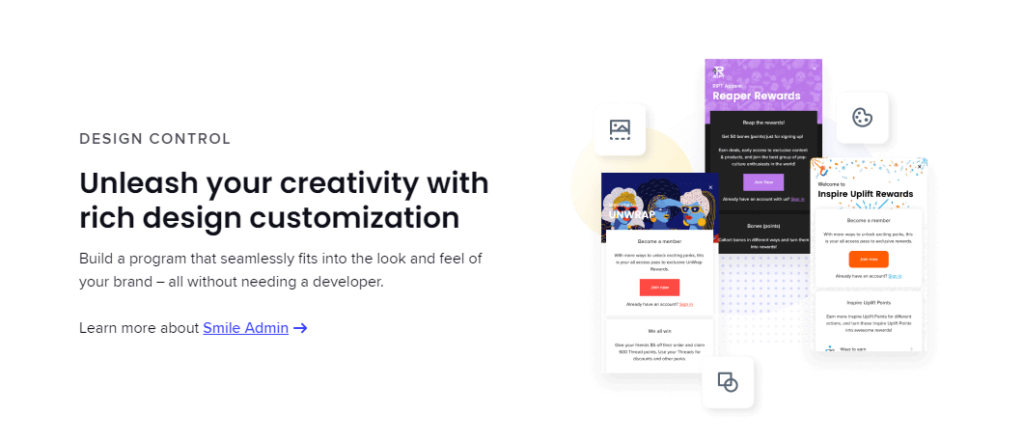 What's more, you can build a program that provides a great user experience both on-site and on mobile devices.
You can use the Smile Admin panel to gain insights via analytics and tweak your rewards programs from directly within the platform. You can also view details about the members of your program and their interactions. All in all, there's a lot of useful data available that you can utilize.
With Smile.io, you also have the option to add customer nudges. When a customer browses your store, they'll get a reminder of the points or discount they have available along with the option to redeem their reward. Naturally, this encourages customers to engage with your program and complete more purchases.
Smile.io's free plan allows you to set up points and referral programs. Entrepreneurs and small businesses can opt for the Starter plan at $49 per month which adds branding and email features. Both these plans provide basic access to analytics.
The Growth plan at $199 per month is aimed at mid-sized businesses and includes the nudges feature as well as complete access to the analytics dashboard. Pro and Enterprise plans are also available with complete access to the suite of features.
3. Antavo
Antavo isn't for small fries. It's a more advanced loyalty management platform for large businesses and enterprises, offering both in-store and online solutions.
What stands out here is the wide range of loyalty program types. Naturally, you have the classic points-based, tiered, and perks programs. Yet, there are some unique offerings you may not find elsewhere.
For example, you can create gamified programs based on challenges and earning badges. You can create loyalty communities in which you reward certain sub-sections of your customer base. There's also a hybrid program where you can bring these different options together.

These options are available for large e-commerce businesses. Antavo integrates with Shopify, Shopify Plus, Magento, and Salesforce Commerce Cloud.
And there's seamless integration between e-commerce stores and brick and mortar if you have them. The platform is particularly focused on helping online stores engage customers outside of the buying cycle.
The software behind the loyalty program is top-notch. There's a no-code loyalty engine you can use to build programs. Or opt for the API if you wish to integrate Antavo into your existing software.
There's comprehensive analytics you can use to monitor your campaigns. Plus, workflows for sophisticated campaign management.

Seeing as Antavo offers more complex, tailored solutions to large companies, you'll need to get in touch to talk about pricing.
4. LoyaltyLion
LoyaltyLion is a customer loyalty platform with a number of unique features. The app is available for major e-commerce platforms including Shopify, BigCommerce, and Magento.
This solution will suit data-driven companies in particular as there's a focus on analytics and loyalty program optimization.
LoyaltyLion allows you to take a more personalized approach and create programs based on a combination of points, rewards, and tiers. You can even use the software to target at-risk customers and re-engage them with rewards via personalized emails and on-site notifications.

You can add your branded loyalty program components, such as a points slider, to product or post-purchase pages. Or there's the option to build a unique, full-page program.
In terms of analytics, you can use the dashboard to get an overview of how your campaigns are performing. Or drill down into individual customer information.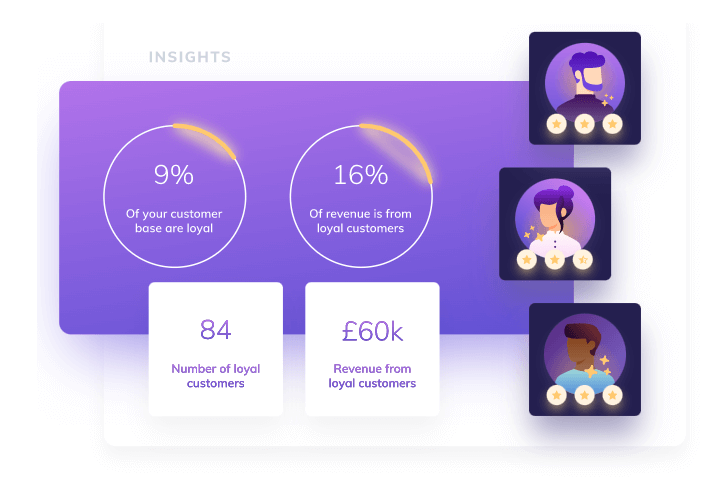 But, what makes this tool really stand out among other loyalty card apps is the ability to run A/B tests to help you optimize your programs. You can also view real-time statistics to make impactful changes quickly.
LoyaltyLion's free plan will help you build a basic loyalty program and provide access to the analytics and reporting features. The Small Business plan is for stores that take up to 400 monthly orders and starts at $150 per month. It allows you to build more complex programs with points for on-site activities and discount vouchers, for instance.
But if you want access to the premium features and greater customization you'll need a Classic, Advanced, or Plus plan depending on the size of your business. These plans come with a heftier price tag.
5. Stamped.io
Stamped.io is an e-commerce marketing platform that offers solutions in two main areas: customer reviews and customer loyalty. It's another superb option for those new to loyalty programs as it's so straightforward.
With this platform, you can create a points-based program and/or a tier-based VIP program. Both allow for great customization and branding.
Stamped.io also lets you set up on-site notifications, add loyalty program widgets to relevant pages, and include rewards properties in your email marketing.
One of the differentiating features of Stamped.io is the option to incentivize user-generated content (UGC). This is great as we all know the importance of this kind of social proof marketing in e-commerce.
The analytics dashboard is insightful. For instance, you can see a list of top customers and top redeemed rewards alongside your metrics.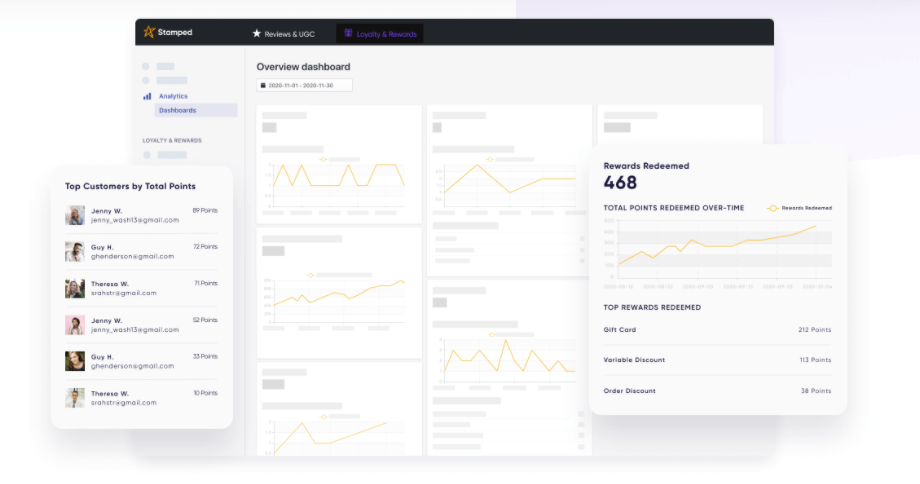 Add the Stamped.io app to WooCommerce, Shopify, BigCommerce, Magento, and other major e-commerce platforms. Furthermore, this is another loyalty card app that has a ton of available integrations in the realms of marketing, social media, and even shipping tracking tools.
For stores that take up to 100 monthly orders, there's a free plan which comes with starter loyalty programs and themed branding. The Premium plan starts at $39 per month and also includes email customization and widgets.
With the $149 per month Business plan, you can create personalized referral codes for customers and integrate your loyalty program with a POS system. If you want to use the VIP program, you'll need the Professional plan which costs $479 per month.
How to Choose the Right Loyalty Card App for Your Business
You must choose a loyalty card app that's the right fit for your e-commerce business. The right choice may depend on:
You or your team's skill level in working with such software;
Your budget, though that's not to say you should always go for the cheapest option as you have to consider the return on investment;
The size of your business;
If you need integrations with existing software;
The level of customization you require; and
Any specific features you're looking for.
These are some of the variables. But one thing that isn't up for question is that you must choose a loyalty app that's easy to use for your customers and helps you provide an excellent customer experience.
Conclusion
All corners of the e-commerce market are as saturated as the towels on a college student's floor. Thus, you need to create and retain loyal customers.
Install a loyalty card app on your e-commerce store to encourage users to engage with your brand and make repeat purchases. It's a solid strategy for building long-term relationships.
Your next step is to figure out what exactly you need from a loyalty card app. Perhaps, you want an app with pre-built programs so you can get started quickly or one with superior analytics so you can tweak the hell out of your campaigns.
Then you'll be able to explore the loyalty card app you feel is most suited to your e-commerce business further.